Chicken and Stuffing Casserole is a simple casserole recipe that makes for an easy weeknight dinner. We used rotisserie chicken and pantry ingredients.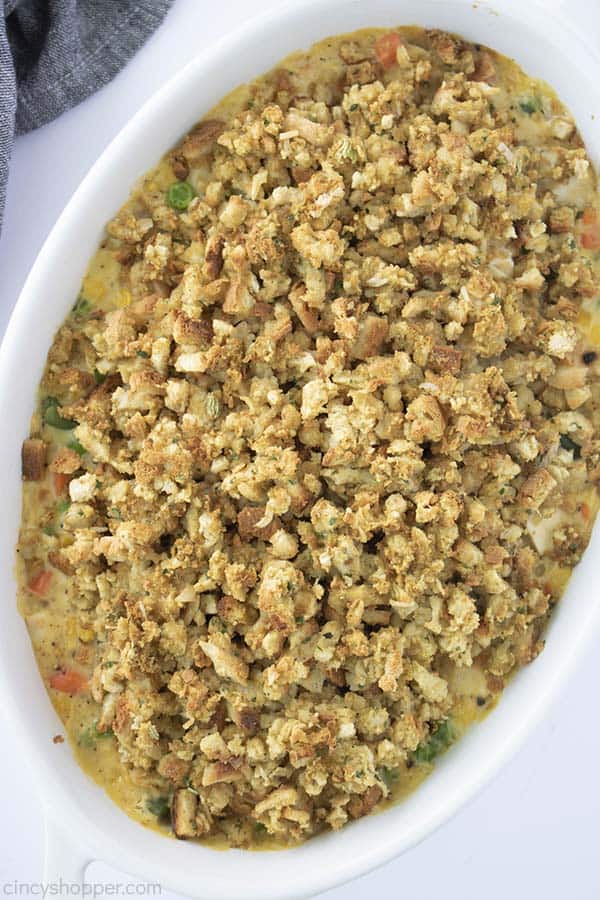 Chicken and Stuffing Casserole
When it comes to easy, filling weeknight dinners for big families, chicken is usually the answer. While I'll definitely say that beef and pork are just as delicious as everyone's favorite poultry, chicken's a bit of a switch-hitter. You can pair it with all sorts of recipes or you can use it in all sorts of bakes, casseroles, and slow cooker dishes. It also certainly helps that it's usually cheaper than most other meats and poultry at the supermarket!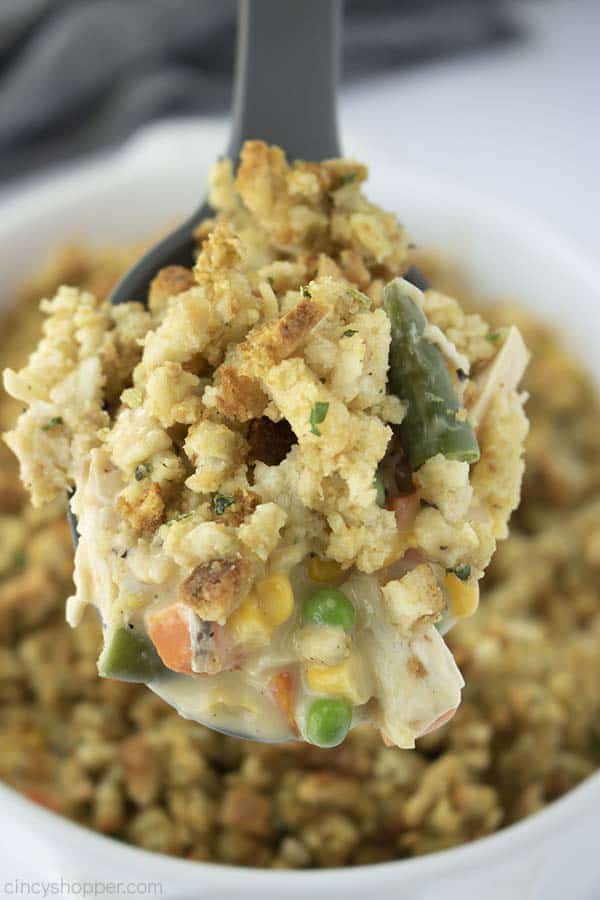 This Chicken and Stuffing Casserole is another warm, comforting weeknight dinner you need to try. We made use of some pre-made chicken, frozen veggies, and some stovetop stuffing mix to get this casserole made. All of these convenient ingredients came together to make a delicious chicken stuffing casserole.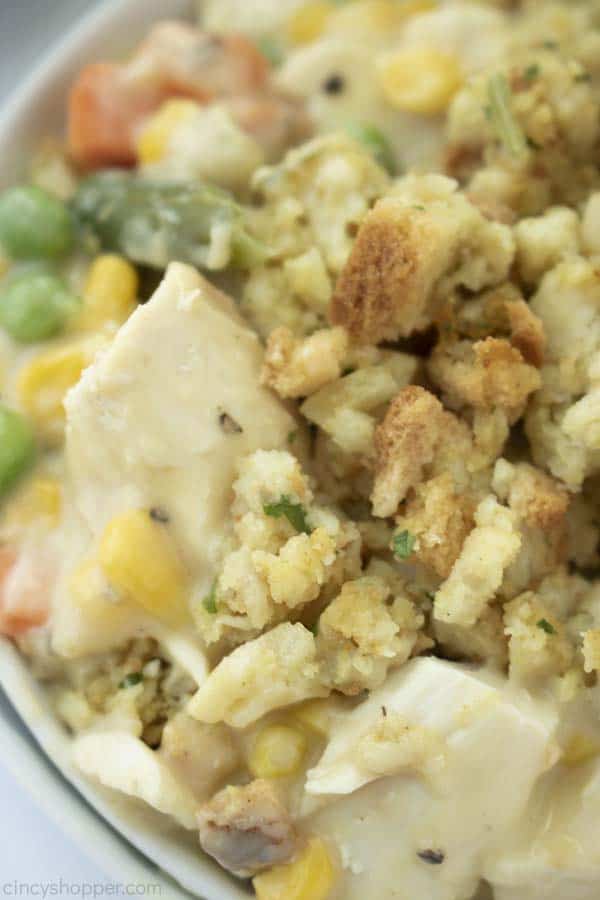 There's plenty of delicious and easy chicken recipes here on the site. Give a few of them a quick look- they're perfect for low-effort weeknight dinners!
Our

Easy Slow Cooker Chicken and Stuffing

is a comforting, creamy meal that's perfect for the incoming colder months

. This slow cooker recipe is

surprisingly

easy to make with

just

4 ingredients!

Slow Cooker Chicken and Gravy

is a rich and delicious chicken recipe that's perfect for serving over rice or potatoes

.

Slow cooking our chicken in the gravy helps both pick up plenty of flavors that only serve to make this easy recipe even tastier

.

Who's not a fan of

Easy Chicken Pot Pie

? Our recipe is

generously

packed with chicken, potatoes, and veggies. Premade pie crusts make this an easy recipe to whip up!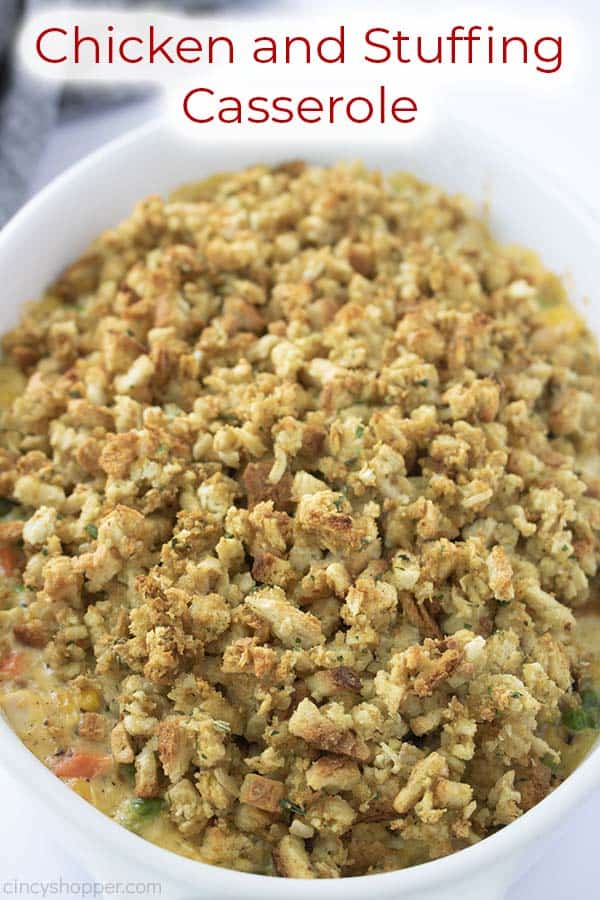 Everything came together really well with this recipe. Our stuffing topping was perfectly crisped but not burnt. Our casserole filling stayed nice and creamy. All together, you've got a delicious, comforting casserole in store for you with this recipe. We know you'll love it when you try it tonight!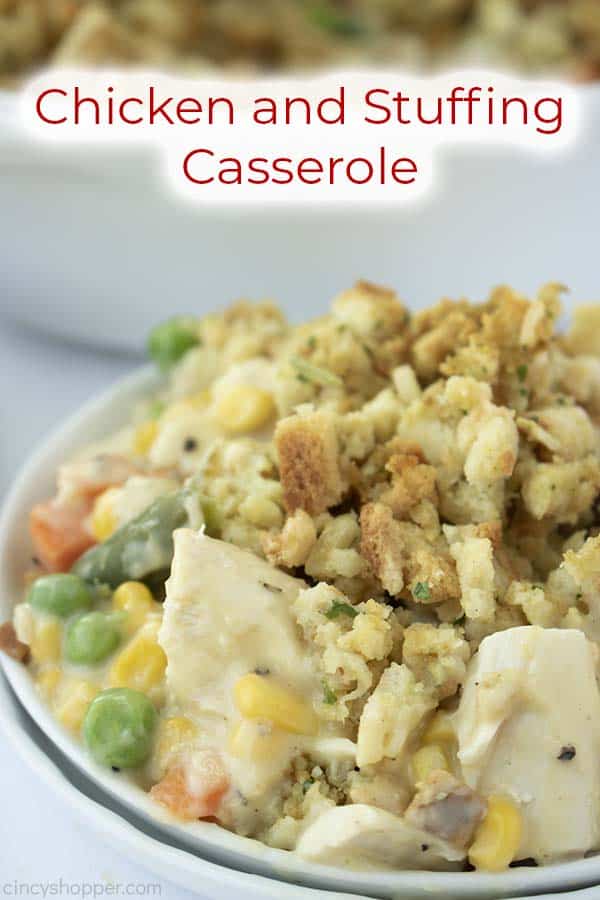 Ingredients for Chicken Casserole with Stuffing
Chicken – We used this rotisserie chicken from the store, but you could also make some chicken breast yourself

! Making some

Baked Chicken Breast

will warm up the oven for the casserole when it's done.

Air Fryer Chicken Breasts

, meanwhile, get very crispy and stay juicy which also makes them great for this casserole

.

Stovetop Stuffing – If you have a favorite homemade stuffing recipe, feel free to use it here.

Just

make sure you are using chicken or Turkey stuffing.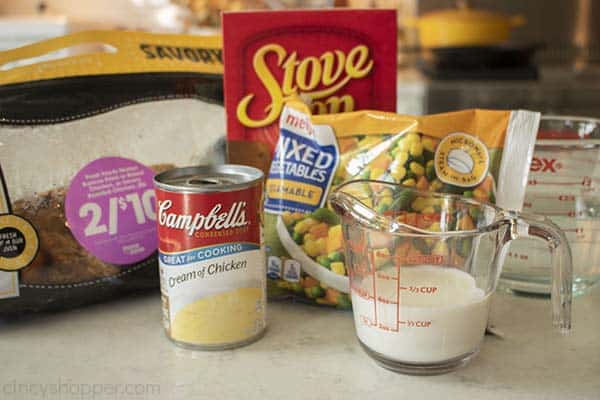 How to make our Casserole Recipe
Before we can start assembling our casserole, we have to prep all of our ingredients first. So, while the oven warms up to 400 degrees, we'll focus on that. Start by getting your frozen veggies thawed- a quick rinse of hot water will probably do the trick. Next is the chicken: roughly chop your chicken into smaller, bite-size chunks or cubes.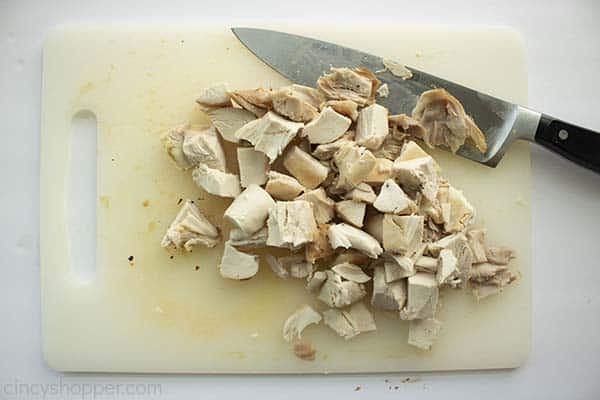 The next thing on the agenda is our stuffing. Like we mentioned before, if you have a favorite homemade recipe, feel free to make that here. Elsewise, you'll probably just want to take your stovetop stuffing mix and add some hot water to it before mixing well.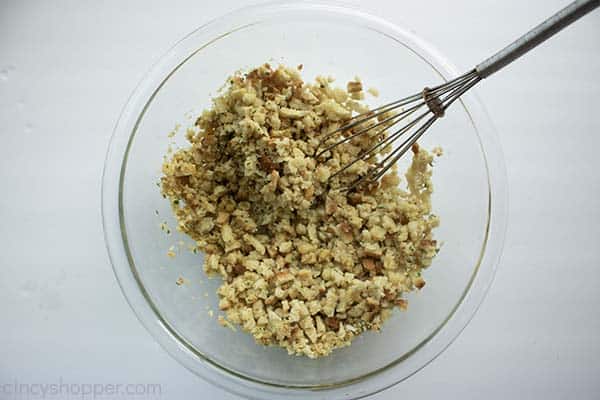 With two parts of our filling done, the only thing left is a creamy soup for our chicken and vegetables to sit in. For that, we'll mix together our cream of chicken soup and our milk. It should mix in easily enough, but if needed, you could give it a quick 10-20 seconds in the microwave- just don't scald the milk!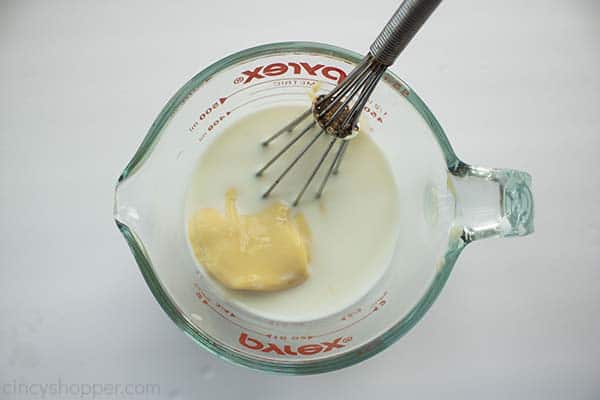 That's all of our ingredients prepped and ready to go! To start assembling our casserole, first, you'll want to get the filling mixed up. For the filling, mix together the chopped chicken, soup mix, and thawed veggies in a large bowl. It's at this point you'll also want to add any seasonings.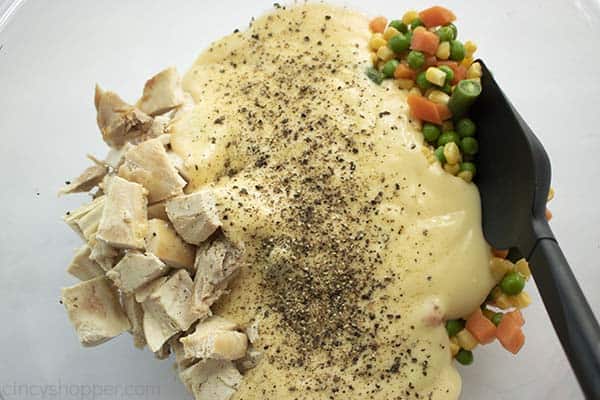 With your casserole filling all mixed up, you can now transfer it over to your casserole dish of choice. We highly recommend that you grease your dish!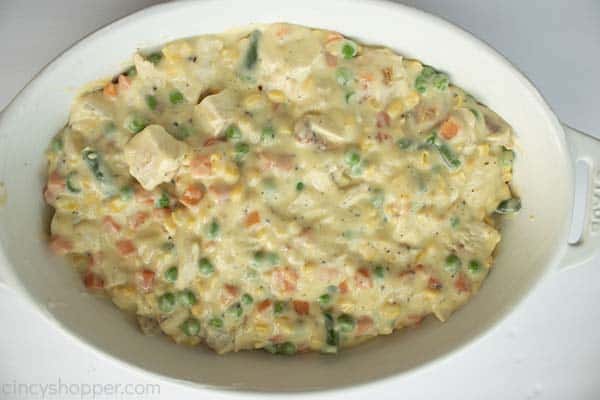 Top your casserole filling with your stuffing from earlier.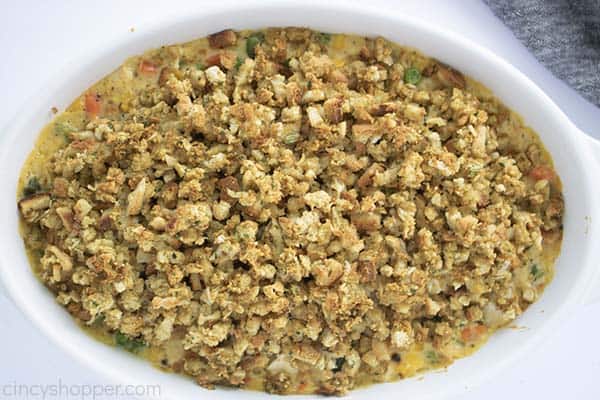 All that's left is to let your casserole bake. In half-an-hour, you should notice the casserole is nice and bubbly and your stuffing topping has browned somewhat. When it gets to that point, you're done! Pull it from the oven, scoop out a portion, serve, and enjoy!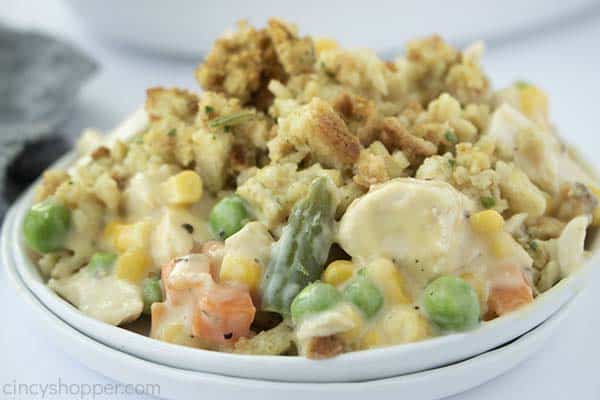 Chicken and Stuffing Casserole
Chicken and Stuffing Casserole is a simple casserole recipe that makes for an easy weeknight dinner. We used rotisserie chicken and pantry ingredients.
Ingredients
6

oz

Stuffing Mix

1 1/4

cup

hot Water

1/2

cup

Milk

10.5

oz

Cream of Chicken Soup

2

cup

Chicken

cooked and diced

12

oz

frozen Mixed Vegetables

thawed

1/4

tsp

Pepper

1/8

tsp

Salt
Instructions
Preheat oven to 400.

Grease a casserole dish (9x13" or equivalent) and set aside.

In a medium bowl, combine stuffing mix and hot water. Set aside.

In another bowl, add soup and milk. Whisk to combine.

Add chicken, vegetables, salt and pepper.

Stir and add to prepared casserole dish.

Top with stuffing mixture.

Bake 25-30 minutes or until filling is bubbling and topping is browned.
Nutrition
Calories:
344
kcal
|
Carbohydrates:
53
g
|
Protein:
15
g
|
Fat:
8
g
|
Saturated Fat:
3
g
|
Cholesterol:
27
mg
|
Sodium:
992
mg
|
Potassium:
827
mg
|
Fiber:
5
g
|
Sugar:
9
g
|
Vitamin A:
4706
IU
|
Vitamin C:
9
mg
|
Calcium:
100
mg
|
Iron:
3
mg