If you are looking to make an adorable treat for the holidays, you have got to make these quick and easy Strawberry Cheesecake Santa. we had family over during the Thanksgiving break and my hubby was getting a bit creative with my cheesecake filling I had made for another project. He begged for some of my filling so I allowed him just a bit, ha ha! He whipped up these cute little Strawberries filled with cheesecake and had them looking like a Santa Clause in just a few minutes time. I immediately dropped the recipe I was working on and HAD to have him make more of these little guys. They were just to adorable. He even got so creative and put little boots on him made with Tootsie Rolls.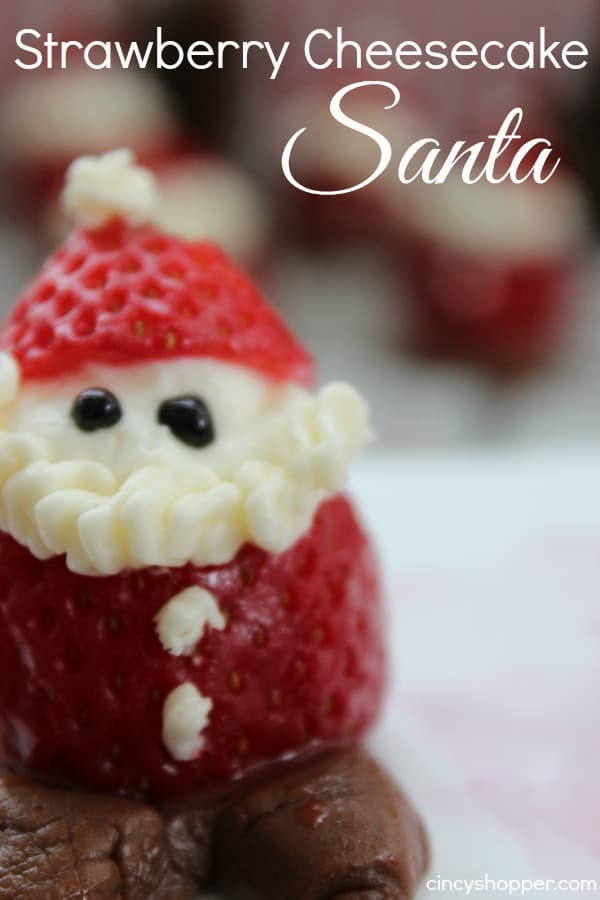 Strawberry Cheesecake Santa
We served these up to our family when they arrived and I can not tell you how much everyone adored these. They are so cute that my guests were worried about eating the poor little guys up. But, I will admit it did not take long when they heard they had cheesecake filling in the middle ha ha! We had just a basic no bake cheesecake mixture we added and some yummy butter cream icing to decorate. Pretty simple I must say. You can make these with or without the Santa Boots.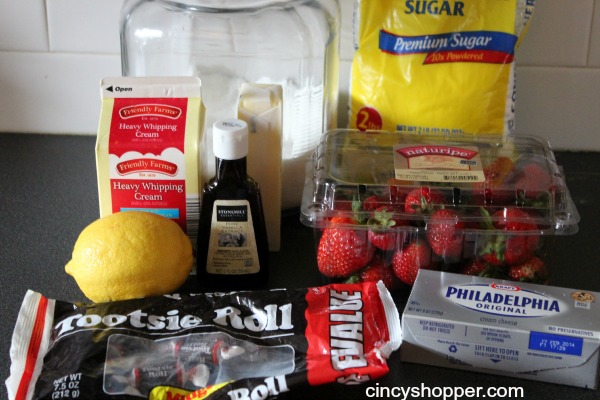 INGREDIENTS
8 oz Cream Cheese
8 oz Heavy Whipping Cream
1/2 tsp Vanilla extract
1/2 tsp Lemon juice
1/2 cup Sugar
1 lb Strawberries trimmed
1 cup butter, softened
1 tsp vanilla extract
4 cups confectioners sugar
2 tbsp milk.
1 bag Tootsie Rolls (Optional)
Black gel icing.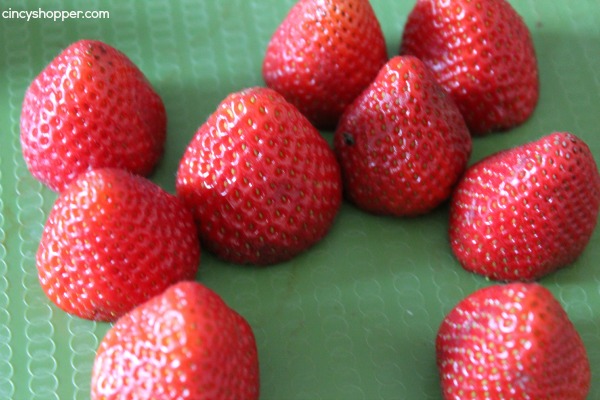 DIRECTIONS
Unwrap Tootsie Rolls 10 at a time and heat in microwave for 10 seconds.
Flatten back of Tootsie Roll to form a place for strawberry to rest. Split front in half and round each side to form fronts of boots (see pictures).
Beat together cream cheese, lemon juice, 1/2 tsp vanilla and sugar until creamy.
In a large bowl whip the heavy cream until peaks form.
Fold whipped cream into cream cheese mixture.
Transfer to the corner a large zippered bag and cut off corner for piping heads.
slice off small end of strawberry to make hat.
Pipe round ball of cheese cake mixture onto each cut strawberry to make head.
Replace hat on top and pres in place.
Place in refrigerator for 1 hour or freezer for 15 minutes.
In a large bowl, cream the butter and add 1 tsp vanilla.
Mix in the confectioners sugar one cup at a time.
Beat in the milk mixing until fluffy.
Tranfer icing to the corner of large size zipper bag, try to minimaize trapped air and close. Clip a small piece off the corner to pipe.
On each strawberry, use black icing and make 2 dots for eyes.
Using a scrolling motion, pipe butter cream icing to make a beard and 2 dots for buttons on suit and ball on top of hat.
Place each strawberry on set of boots.
Refrigerate until ready to serve.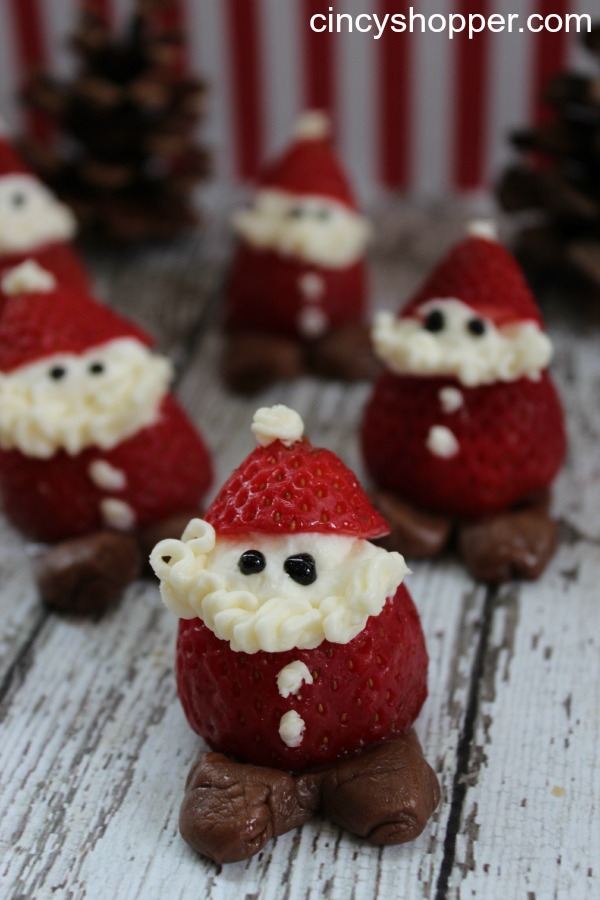 If you are doing some entertaining for the holidays I am SURE your guests would really think these Strawberry Cheesecake Santas are perfect too! You can have them ready to serve in just a small amount of time. The yummy cheesecake filling and icing is for sure going to fill them up. If you can get the to quit talking about them and actually eat them, ha ha!