If you are looking to add an appetizer to your holiday entertaining menu consider making these Philly Cheesesteak Sliders. These sliders are super easy and are SUPER yummy. My hubby made these yummy sandwiches this afternoon for us to enjoy for dinner. I just had one for a late lunch at they are absolutely delish! I can not wait to enjoy the rest. Having quick easy finger food items is great when entertaining year round. With all of the Christmas entertaining, New Years and of course the Super Bowl just around the corner, we can never have enough appetizer ideas.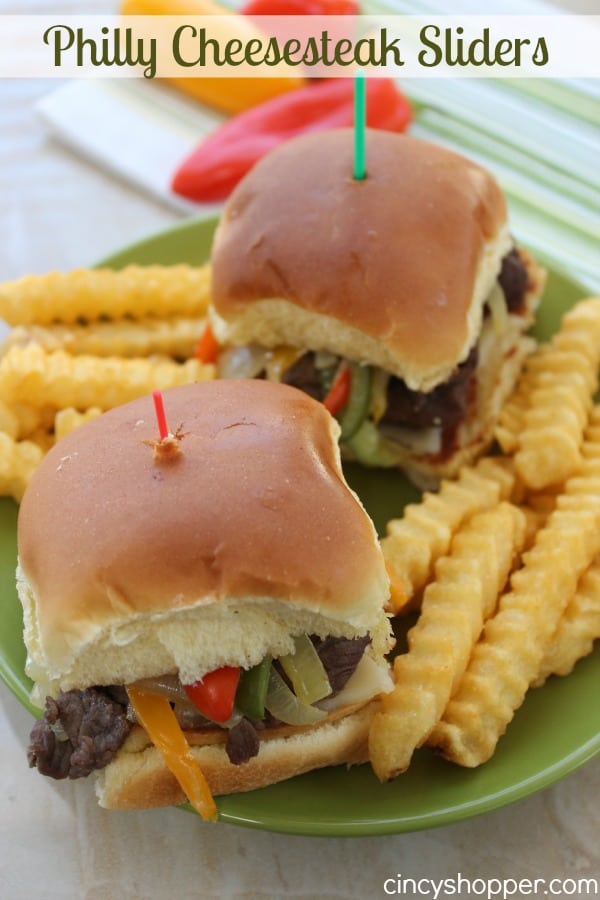 Philly Cheesesteak Sliders
I shared the Buffalo Wings I made this morning with you earlier today. I mentioned how they remind me of being back home in upstate NY. Philly Cheesesteaks were also a staple when I lived up north. We had a hoagie shop that ordered in their Amarossa Rolls straight from Philly each day. I find it difficult to find a cheesesteak here in Cincinnati that can make them quite the way I am use to. I think this is the reason we make homemade as frequently. As I am typing up this recipe to share with you I am once again finding myself missing my hometown. All this talk of food that I was use to has me a tad bit emotional, lol. Maybe I am missing family and friends this year more than I had thought. I normally make the trip the day after Christmas. This year I have decided to wait until early spring.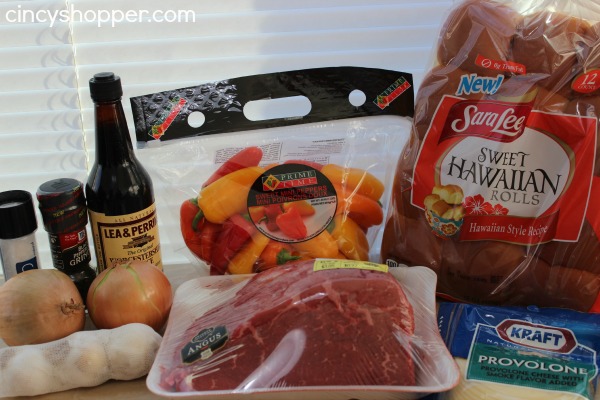 INGREDIENTS
2 lb Boneless Round Roast (or similar)
1 lb Mini Sweet Peppers (or Colored Bell Peppers)
2 large Onions
2 cloves Garlic
2 tbsp Worcestershire Sauce
12 Hawaiian Dinner Rolls
6 slices Provolone Cheese
1 Stick Butter
Salt
Pepper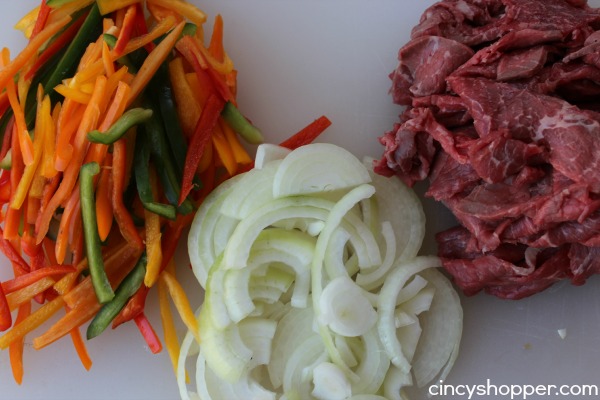 DIRECTIONS
Slice the roast as thin as possible.
Place 2 tbsp butter in a large skillet over medium heat.
Peel and dice garlic and add to skillet.
Peel and slice the onions and put in skillet.
Cut off the tops of peppers, halve and remove any seeds.
Slice lengthwise and add to skillet.
Cover skillet and stir occasionally cooking for about 20 minutes.
Take each roll and split in half to make bun. Butter both sides where split.
Place on large skillet over medium heat until toasted.
Remove bun from skillet. Take 1/2 slice of Provolone and fold it in half and place on toasted inside of bun and set aside.
Repeat this for remaining rolls.
Place 2 tbsp of butter in large skillet you have been using for toasting.
Add 1 tbsp Worcestershire.
Raise temperature to medium high.
Add meat and stir until no longer pink.
Take a bun.
Add meat on top of the side with cheese.
Add Onion and pepper mixture on top of meat and top with other half.
Salt and Pepper to taste.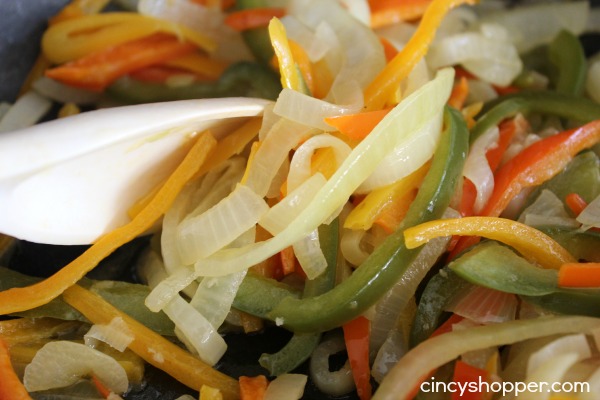 We will quite often find a great markdown on meat and whip up Philly Cheesesteaks at home. I have been wanting to try some Philly Steak Meat on some of the Hawaiian Sliders. I thought the combination would be great with peppers, onions and provolone. I was right. Wow, these are yummy. We are having guests over on Sunday evening and will be serving these Philly Cheesesteak Sliders to our guests. They are just too yummy and perfect sized.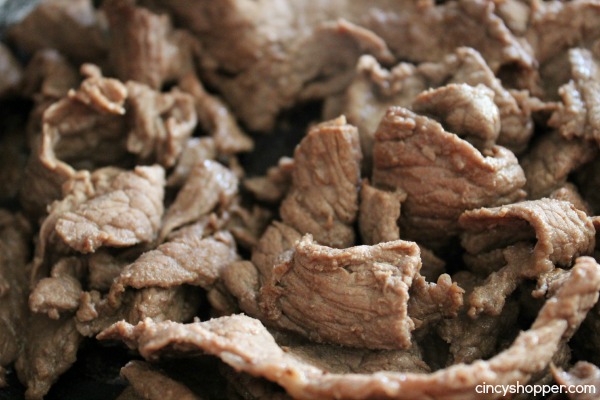 After slicing up your veggies and meat, this recipe is quite simple and quick. You will just need to be careful about how much you taste test. You will quickly find yourself eating all the meat (that is if you are like me, ha ha) and not have any left for your sliders.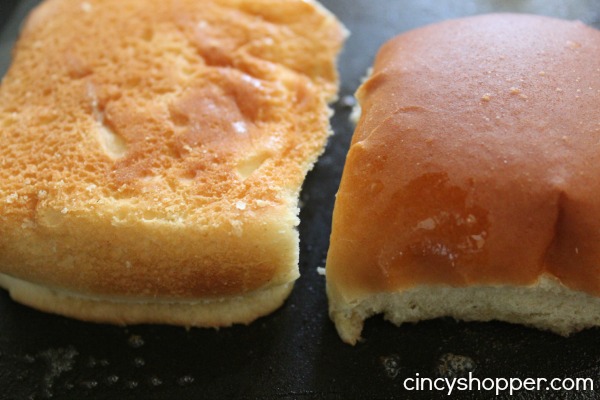 Toss your meat and veggies on your rolls, top with cheese and Voila! You have yourself a tasty and filling slider. I promise your guests will love these and will leave the plate empty. You can make some with peppers and onions an some without for your non-onion eaters (who doesn't like onions?).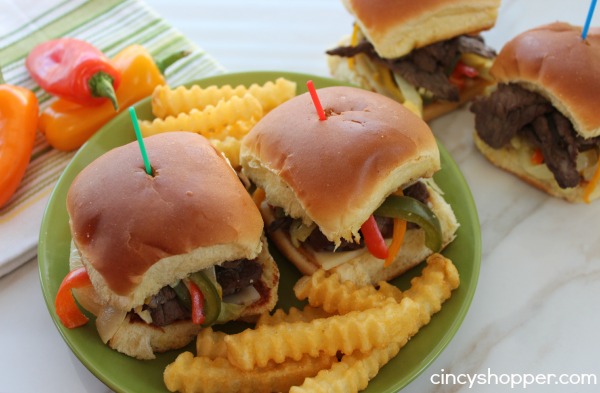 If you are looking for other appetizer ideas for your upcoming entertaining check out my No Bake Buffalo Wings, Bacon and Jalapeno Cheese Ball, Filet Mignon Bites with Bernaise Sauce and my other recipe ideas here.