Peppermint Bark is incredibly easy and simple to make- you just need 5 ingredients. Make this delicious homemade mint candy for the holidays!
If you love some chocolate and peppermint sweets, you just have to try some homemade Peppermint Bark! Our recipe for this delicious homemade candy is kept easy and simple- give it as a gift or enjoy some yourself.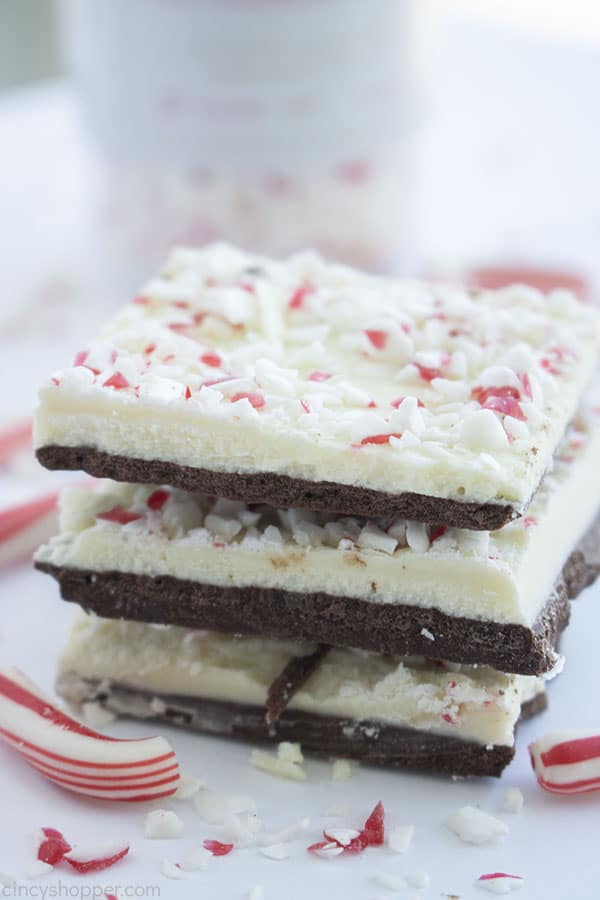 Peppermint Bark
We're big fans of holiday candy in this house. There are all sorts of delicious homemade candy recipes out there that are just perfect for the holiday season. We'll put a few links further below to some of our favorites- today, we're going to focus on another recipe we've made year after year: Peppermint Bark.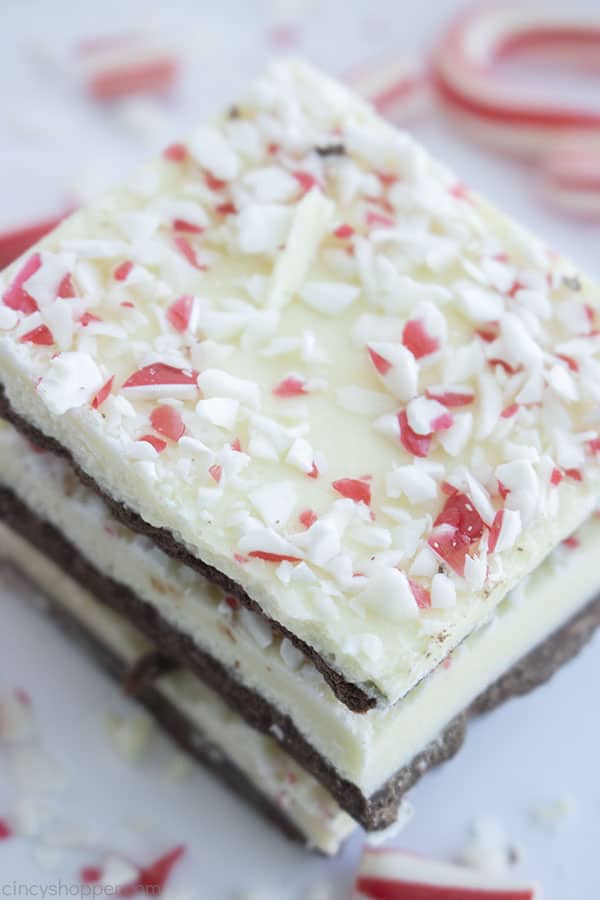 Chances are, you've seen peppermint bark a few times on some store shelves. Ghirardelli, the famous chocolatier, sells their own alongside their chocolates. I've even seen Williams Sonoma start selling some once the holidays start up. But there's no need to go with store-bought when you can make some up at home! It's not even that hard- if you know what to look out for, you can make up a batch of homemade peppermint bark with no trouble at all.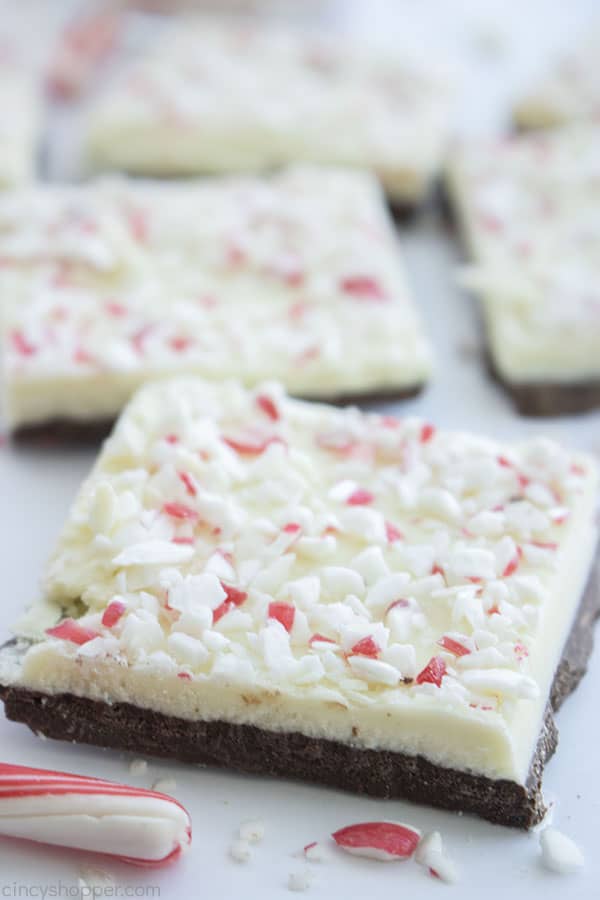 It's worth it to make this stuff from scratch too! Getting to use your favorite chocolates, tweaking the peppermint flavor to your liking- just a few reasons to make this at home. Hope you enjoy this Peppermint Bark Recipe- it makes for a great candy gift or a sweet treat for yourself!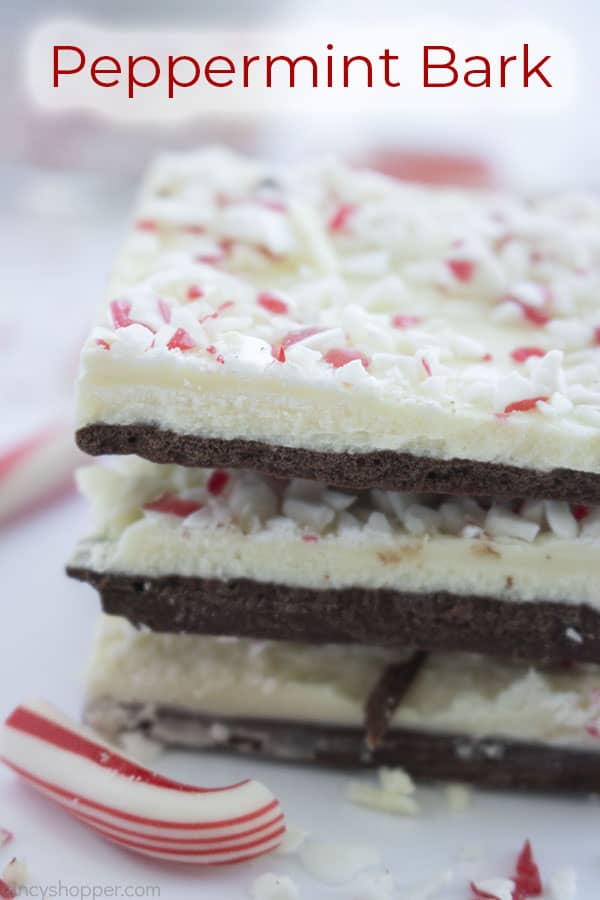 If you loved our Peppermint Bark, you'll enjoy these Christmas candy recipes!
When it comes to Christmas candy,

Butter Toffee

is definitely one of the best!

This timeless treat uses delicious layers of toffee candy, sweet chocolate, and that recognizable nutty topping

. We keep our recipe simple and easy so you can make this classic candy at home!

Christmas Crack

is a lot like toffee but with a few noteworthy changes.

For one, a layer of saltines adds a bit of crunch and some salt to your finished candy- chocolate, caramel, and salt make an amazing flavor combo, by the way

! You can also use all sorts of toppings: top with sprinkles, nuts, or even some mini M&M's.

If we're talking about classic Christmas candies, we can't forget

Homemade Peanut Brittle

. While you could make this any time of the year, the holidays are perfect to make this old fashioned sweet! Enjoy for yourself or give out as a gift.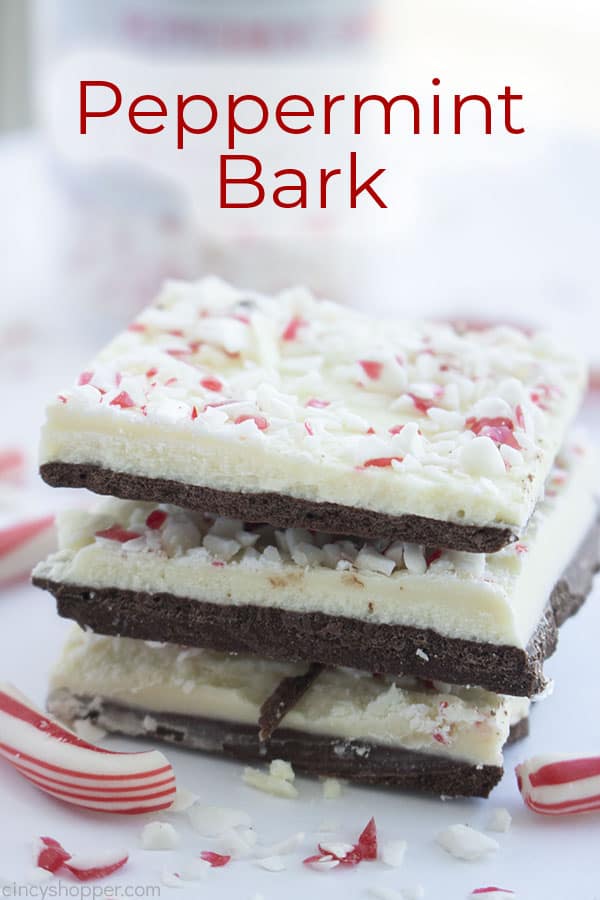 Ingredients for Peppermint Candy
Real short ingredients list today! All you need is…
Milk/Dark Chocolate – Go with your favorite pick here. we settled on some semi-sweet chocolate from Ghirardelli.

Peppermint Extract – To add in some more minty flavor.

Vegetable Shortening – Like Crisco.

Candy Canes, crushed – I happened to find this "peppermint snow" over at Williams Sonoma and used that instead

!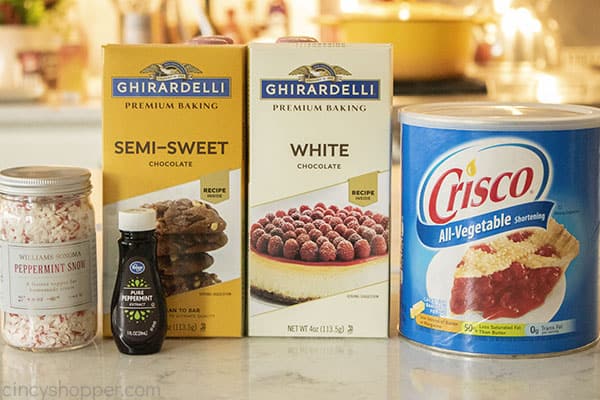 How to make Peppermint Bark
In order to make this recipe real simple and to cut down on clean up, we're going to use the microwave to melt our chocolates. We'll start, first, with the dark chocolate. Chop your chocolate fairly fine and transfer it to a microwave-safe bowl. You're now going to start melting your chocolate in the microwave at 50% power in 30 second intervals. After the first interval or two, drop in some of your Crisco and start stirring it in. Keep up the microwaving and stirring until your chocolate is just fully melted. Once it's melted, pour onto a parchment-lined baking sheet and spread evenly using an offset spatula.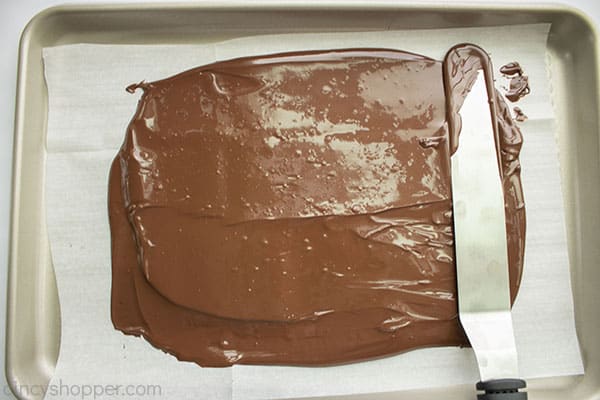 Transfer that to the fridge and keep an eye on it while you work on the next steps. We're going to repeat this melting process with our white chocolate now. Start melting your chocolate in 30 second bursts- adding in some Crisco and our peppermint extract early on.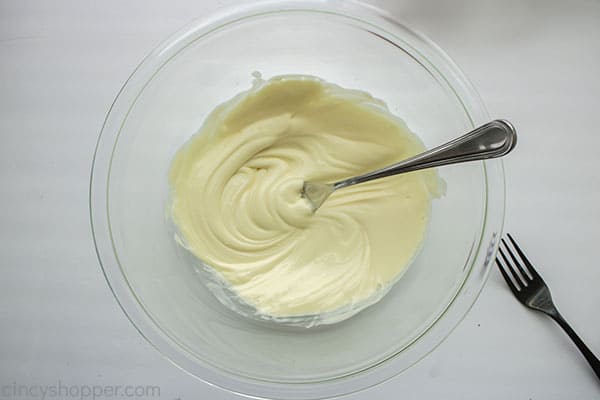 Once your dark chocolate has almost completely set, pull it from the fridge- this should be about 15 minutes of chilling later. If your white chocolate has re-set, melt using the 30 second technique from earlier. Pour your melted white chocolate over your set dark chocolate, again using an offset spatula to spread evenly.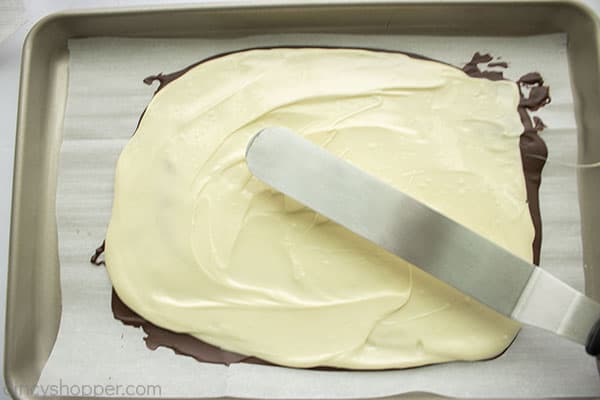 While the white chocolate is still melty, spread some finely-crushed candy canes over top. Allow your bark to sit at room temperature until set before breaking into pieces and enjoying!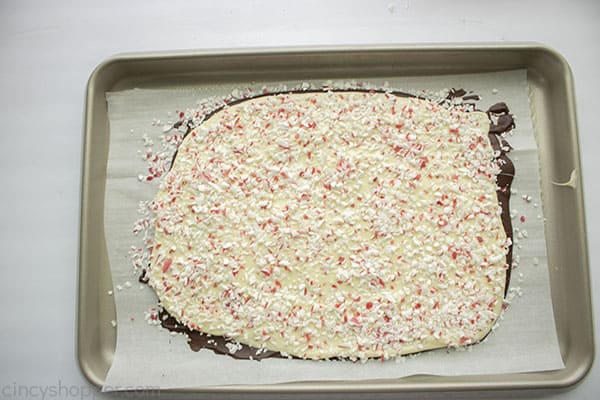 Tips for this Recipe
How to keep Peppermint Bark from separating?

There's one of two reasons why your Peppermint Bark's layers keep separating.

The most likely reason is that you let your dark chocolate layer set a bit too much before adding the white chocolate layer

. You want the chocolate to not be set

fully

before you add another layer.

If it's not this, then there might be an issue with your white chocolate- check the ingredients list: does it contain cocoa butter

? Chocolate made with cocoa butter is best. If your white chocolate isn't working, try another brand.

How to cut Peppermint Bark?

There are two approaches you can take to cutting up your Peppermint Bark for serving.

You could take a more toffee-like approach and break your bark into a bunch of randomly-sized pieces

. Elsewise, you could use a knife to score some lines into your bark before breaking by hand.

How to store Peppermint Bark?

I'd recommend keeping storage simple but putting your finished bark into a resealable plastic bag

. You can keep your bark at room temperature for 2 weeks or put it in the fridge and keep it for 3.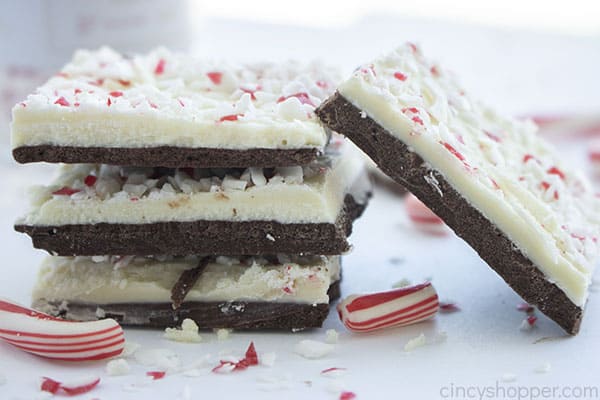 Peppermint Bark
Peppermint Bark is incredibly easy and simple to make- you just need 5 ingredients. Make this delicious homemade mint candy for the holidays!
Ingredients
8

oz

White Chocolate

8

oz

Semi-Sweet Chocolate

1

tsp

Crisco

divided

1/2

tsp

Peppermint Extract

12

Candy Canes
Instructions
Place candy canes in food processor and crush. Set aside.

Line sheet with parchment paper.

Melt semi-sweet chocolate in microwave in bursts of 30 seconds on 50% power.

1/2 teaspoon of Crisco gets added and stirred for smoother chocolate.

Once most chocolate is mostly melted, stir remaining chunks until fully smooth.

Spread in a layer on prepared pan.

Refrigerate first layer of chocolate while making second white chocolate layer.

Melt white chocolate in microwave in bursts of 30 seconds on 50% power.

Add 1/2 teaspoon of Crisco and the peppermint extract goes into the white chocolate layer.

Once the peppermint white chocolate is layered on top of the chocolate, add crushed peppermint to the top, and let sit at room temperature until set.
Nutrition
Calories:
404
kcal
|
Carbohydrates:
52
g
|
Protein:
3
g
|
Fat:
21
g
|
Saturated Fat:
12
g
|
Cholesterol:
8
mg
|
Sodium:
28
mg
|
Potassium:
242
mg
|
Fiber:
2
g
|
Sugar:
43
g
|
Vitamin A:
23
IU
|
Vitamin C:
1
mg
|
Calcium:
74
mg
|
Iron:
2
mg