Christmas Crack Toffee is a sweet, salty, and delicious candy treat for the holidays. This old fashioned dessert is so easy to make!
Also known as Saltine Toffee or Cracker Toffee, this holiday treat is an all-time favorite. We make ours simple and easy- you don't even need an oven to make this classic candy!
Christmas Crack Toffee
Toffee is an all-time favorite candy of mine- sweet, caramel and chocolate all coming together into a treat you can make homemade! With such a classic recipe, it's hard to make too many improvements on it… but I think I found a way! Using some saltines, we can make up a delicious batch of some Christmas Crack!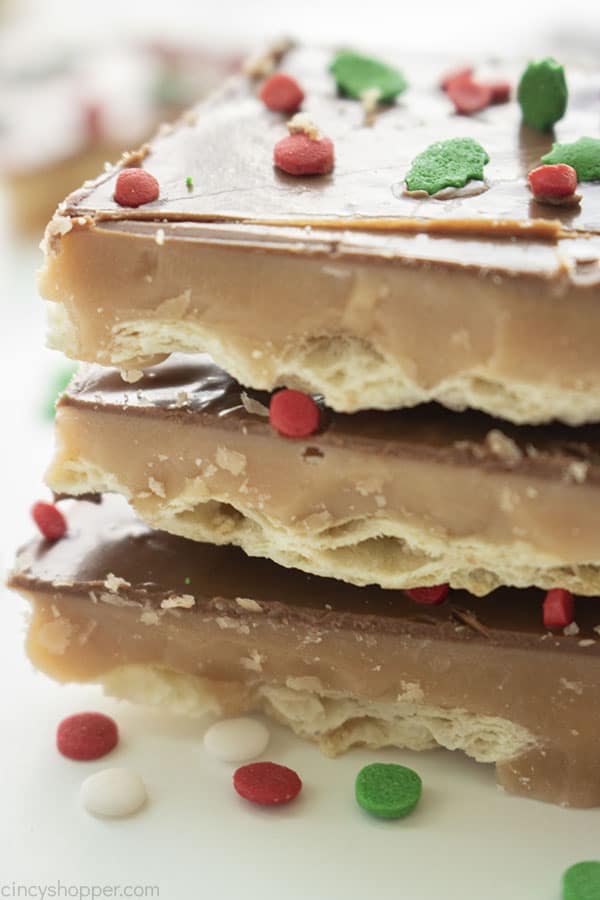 Christmas Crack is like toffee's cooler cousin: a lot of similar ingredients, but those saltines change everything! Obviously, there's a lot of salt that gets added- and salt, caramel, and chocolate flavors are all perfect together! On top of that, Christmas Crack doesn't usually use nuts- opting, instead, for usually some decorative sprinkles. However you make it, you're certain to love it!
The best part about our recipe here is how simple we keep it. Most recipes will call for the oven when, really, we don't need it! It's much easier to make our Christmas Crack as a no-bake. The only cooking you'll have to do is making the toffee itself and melting our chocolate. Outside of that, this recipe is incredibly simple! We hope you enjoy!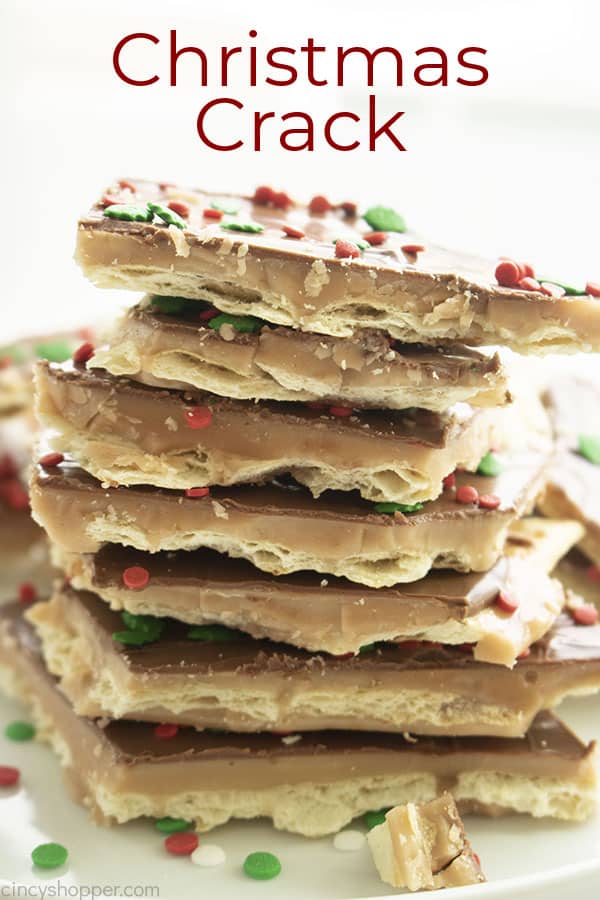 More Christmas Candy Recipes to try
Enjoyed this recipe for Christmas Crack? You'll love our

Butter Toffee

!

Homemade Butter Toffee is a delicious, classic candy recipe with caramel and chocolate flavors

. A sweet gift for the holiday season!

If you want the same,

crackly

texture with delicious, nutty flavors, you'll want to make some

Homemade Peanut Brittle

. We loaded this homemade candy up with plenty of peanuts and sweet, sugary flavor! Another treat perfect for gifting.

For any peppermint-lovers out there, we've also got our

Oreo Peppermint Bark Recipe

. A tasty chocolate and vanilla dessert with plenty of minty bite to it!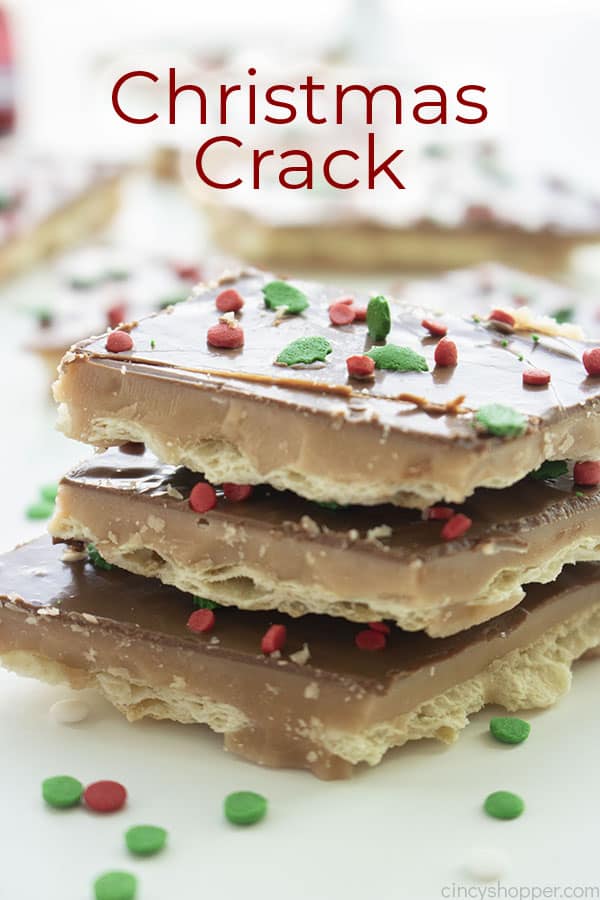 Ingredients for Saltine Toffee
Butter – We used salted butter, but you can use unsalted if you want a bit more control over how salty your Christmas Crack turns out

.

Sugar – Brown or white, whatever you prefer

Chocolate – Semi-sweet is the usual pick here.

Shortening – Like Crisco.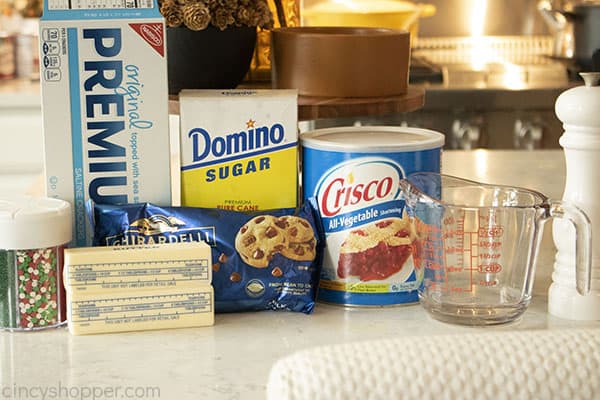 How to prepare our Christmas Crack Recipe
First thing's first, we have to get some toffee cooked up! For that, simply melt some butter in a saucepot along with our sugar and salt. Cook this mixture and stir constantly until it reaches 300 degrees- what's called the "hard-crack" stage in candy-making.
Once it's reached this point, we can pull it from the heat and start pouring it over a layer of saltine crackers placed in the bottom of a baking sheet. Ensure your crackers are getting as even a coverage as possible- an offset spatula helps here!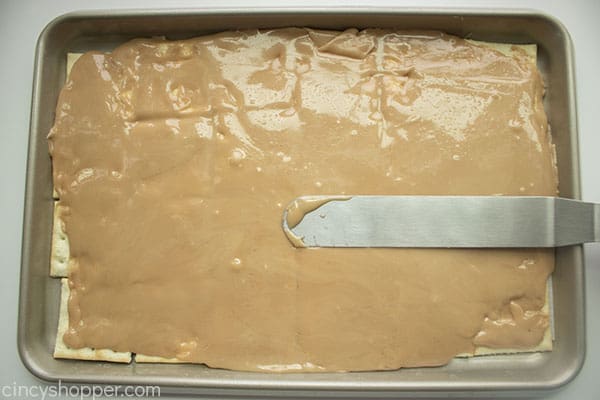 While that's cooling, we're going to get our chocolate topping prepped as well. For that, combine our shortening and chocolate in a microwave-safe bowl. Toss the bowl into the microwave and cook the chocolate in 30-second increments, stirring between each stint in the microwave. Do this until the chocolate is fully melted and thin before pouring and spreading it over our cooled toffee.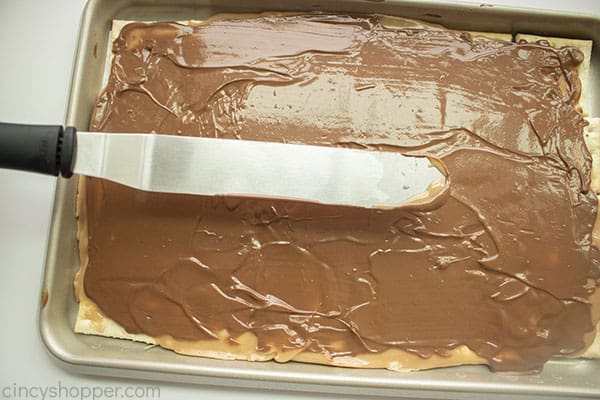 While that chocolate topping is still kind of melty, we're going to get our sprinkles on there. If you want to use another topping, go right ahead- we'll even give some suggestions at the end! Let everything cool- either on the countertop for a few hours or in the fridge for 30 minutes- before cracking into bite-sized pieces and enjoying!
Christmas Crack/Toffee Topping Ideas
M&M's – Especially those red and green ones!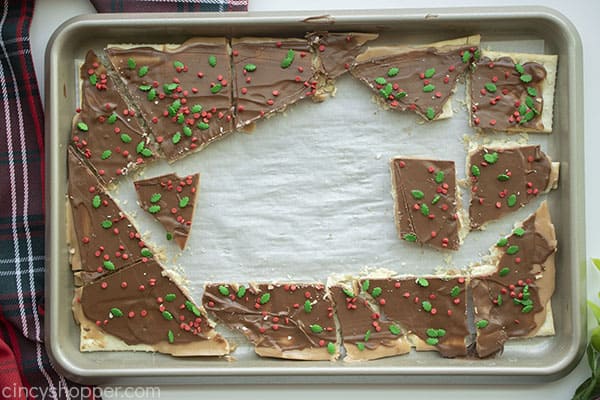 Storing your Saltine Cracker Toffee
Once you've finished making your Cracker Toffee, you'll want to store it in some sort of airtight container

. Kept this way, we guess it'll last for a good couple weeks- kept in the fridge,

maybe

an extra week or two on top of that.

Can you freeze Christmas Crack?

You should not freeze your Christmas Crack when it's done.

Freezing it will not only mess with your chocolate's temper- it'll melt much quicker after it's frozen- but it can also ruin the whole thing

! If it freezes, it's possible for the chocolate and cracker layers to seperate. If you want to chill this dish,

just

keep it in the fridge.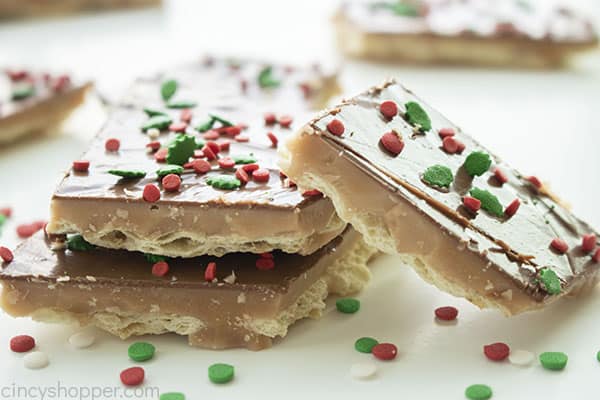 Christmas Crack
Christmas Crack Toffee is a sweet, salty, and delicious candy treat for the holidays. This old fashioned dessert is so easy to make!
Ingredients
2

stick

Butter

1

cup

Sugar

1/4

cup

Water

1/2

tsp

Salt

24

Saltine Crackers

1/2

cup

Semi Sweet Chocolate Chips

1

tbsp

Vegetable Shortening

Christmas sprinkles for garnish
Instructions
Line a baking sheet with parchment paper.

Place a layer of saltines in sheet and set aside.

In a medium pan over medium high heat, melt butter.

Add sugar, water, and salt.

Cook stirring constantly until candy thermometer reads 300 (hard crack stage).

Evenly pour mixture onto prepared baking sheet over crackers.

Allow to cool until set.

In microwave safe bowl, combine chocolate chips and shortening.

Melt this in the microwave, cooking and stirring in 30 second intervals until fully melted and thin.

Pour melted chocolate over the cooled candy and spread to even layer.

Sprinkle chocolate with holiday sprinkles.

Let stand on counter for several hours.

Break into bite-size pieces.
Nutrition
Calories:
416
kcal
|
Carbohydrates:
38
g
|
Protein:
2
g
|
Fat:
30
g
|
Saturated Fat:
18
g
|
Cholesterol:
61
mg
|
Sodium:
441
mg
|
Potassium:
85
mg
|
Fiber:
1
g
|
Sugar:
29
g
|
Vitamin A:
706
IU
|
Calcium:
16
mg
|
Iron:
1
mg