Mummy Dogs are like pigs in a blanket- wrapped in buttery crescent rolls- but spooky! Our Mummy Hot Dogs are great for Halloween parties.
If you need a buttery and cheesy appetizer for your next fall or Halloween get-together, try making these Mummy Dogs. For some more mummy-themed recipes, check out our Halloween Twinkie Mummies or our Halloween Rice Krispy Mummies!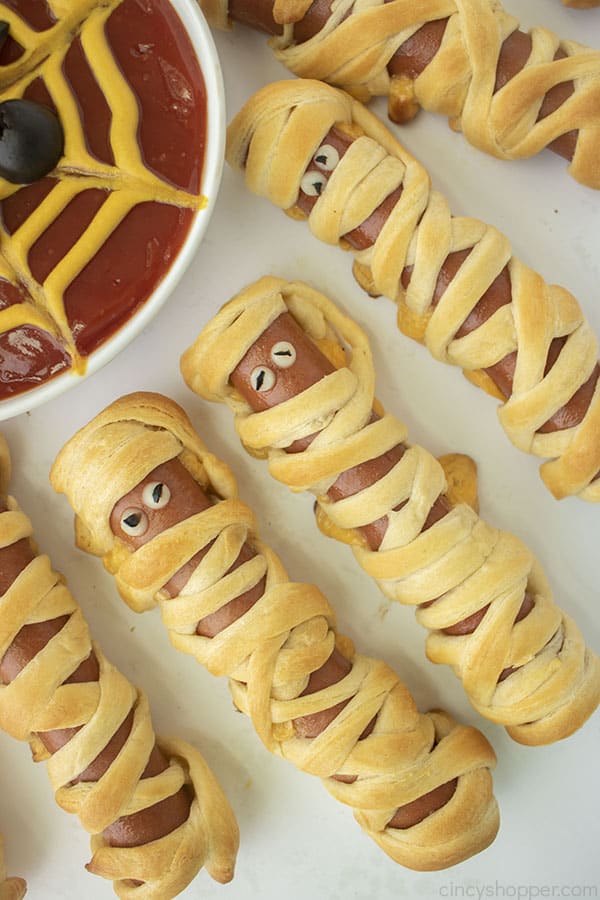 Mummy Dogs
Pigs-in-a-blanket are a classic party snack and appetizer that I love making up whenever I've got company coming over. Buttery crescent rolls wrapped around some good hotdogs- with a little bit of dip, there's not much that's better! With October and the Halloween season finally upon us, we figured we'd mix up this classic party favor a bit- give it a bit of a holiday spin. With that in mind, check out how our Mummy Dogs turned out!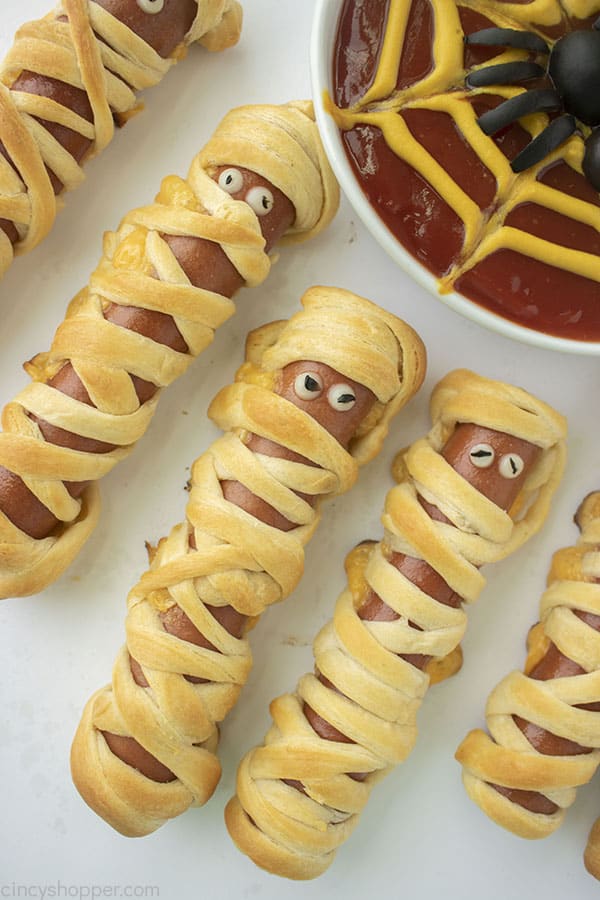 These crescent roll hotdog mummies are sort of like a jumbo-sized version of the classic pig-in-a-blanket. Instead of smaller, cocktail weenies, we use full-size franks. Wrapped up in some melty American cheese and buttery crescent dough, these make for an amazing Halloween party snack or even a fun dinner! The recipe below is super-easy to follow and we've even included a fun spiderweb ketchup dip that looks great served with these things. We know you're gonna love them- happy Halloween!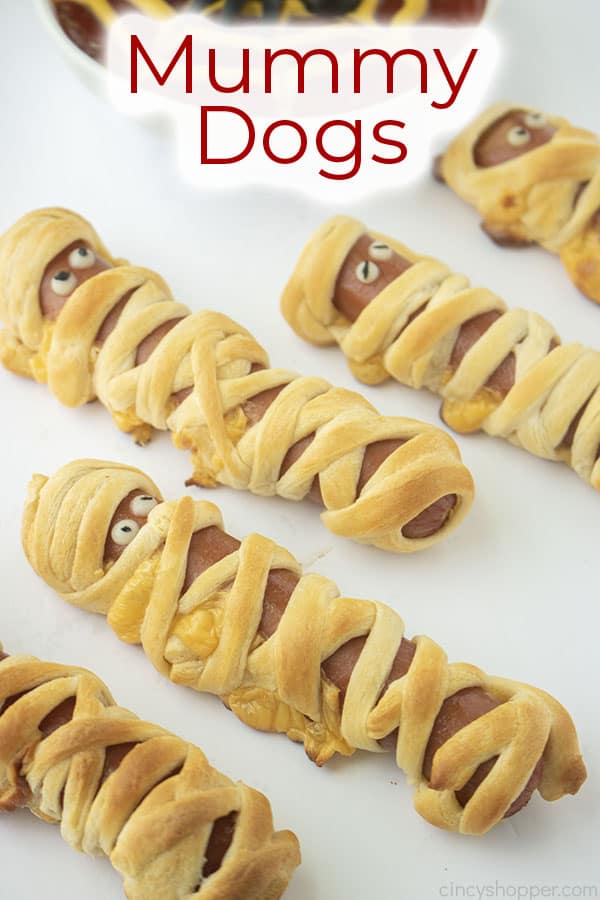 Loved our hot dog mummies? Try giving these sweet Halloween treats a taste!
I'm always looking forward to the Halloween season because I get the chance to make some

Pumpkin Rice Krispie Treats

! These fun little treats are great for any parties you've got coming up for

just

for snacking on at home. So simple to make too- I hope these become one of your favorites!

For a fun spin on the classic peanut butter blossom cookie, try these

Halloween Spider Cookies

next

.

These cookies are so cute and so tasty too: they're topped with Reese minis and a bit of decorative chocolate- what's not to love there

? Another great party treat or a fun little dessert for any packed lunches.

If you need something that's super simple but still fun and festive-looking, go with our

Halloween Witch Hats

. These treats only need 3 ingredients and come together real quick. When you're pressed for time or got a big crowd to make treats for, these Witch Hats are a life-saver!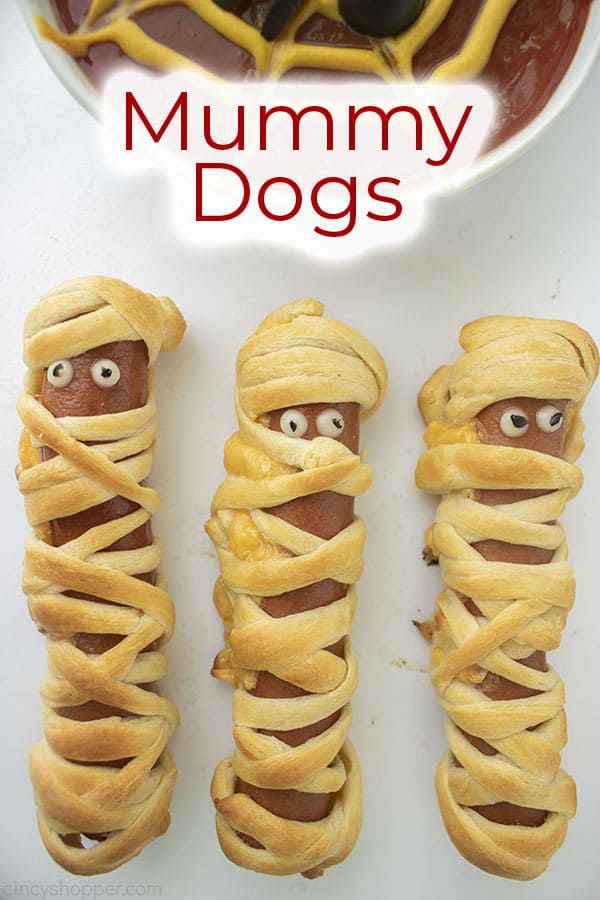 Ingredients for Mummy Hotdogs
Hot Dogs

– While something classic like Ball Park franks will work

perfectly

for this recipe, feel free to try your favorite brands and types of hot dogs

! I've seen people using beef hot dogs, turkey dogs, sausages, and even veggie dogs for recipies like this.

Canned Crescent Roll Dough

– We used a can of Pillsbury Crescents here.

American Cheese

Decorative Eyes

– You can do all sorts of stuff to put eyes on your Mummy Dogs.

Cut out dough rounds and use small pieces of black olives for pupils, do some simple dot eyes with ketchup or mustard, or

just

skip out on the eyes

entirely

. Whatever looks best to you!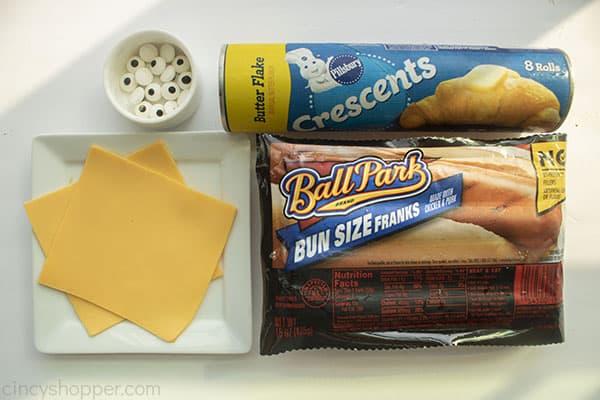 How to make Mummy Dogs
One of the best parts about our Mummy Dogs is that they're so easy to make! Here's all you need to do:
Prep your cheese and crescent dough by cutting into strips

. Dry off your hotdogs with paper towels.

Put a cheese strip on your hotdog

before

wrapping with crescent dough strips

until it looks like a mummy.

Bake mummy dogs in a 375 degree oven for about 15 minutes

or until hotdogs are hot and dough is golden brown.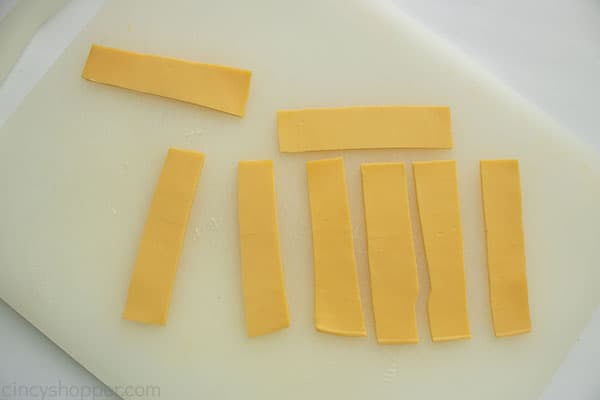 Before we make our mummy hot dogs, we need to get some prep out of the way. First, take your slices of cheese in cut each of them into 4 long strips. Open up your crescent dough and pinch the perforations shut to keep the dough in sheets. Take those sheets and cut them into long strips.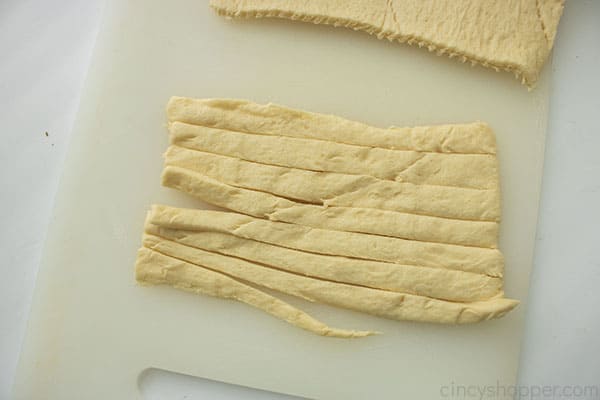 To make wrapping the mummies later easier, pinch some of the dough strips together to make them longer.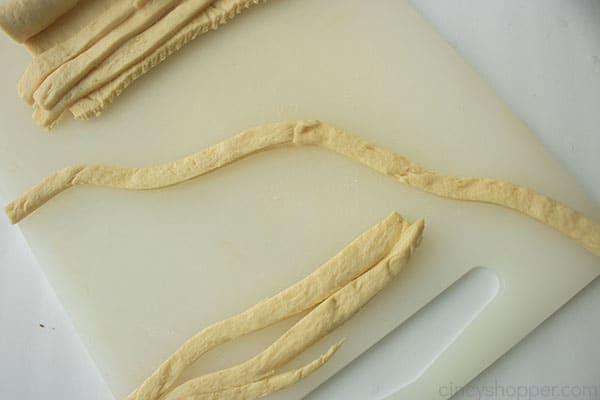 Lastly, in terms of prep, you'll want to get your hotdogs out of the packaging and dry them off. They'll cook better this way and keep things from getting soggy.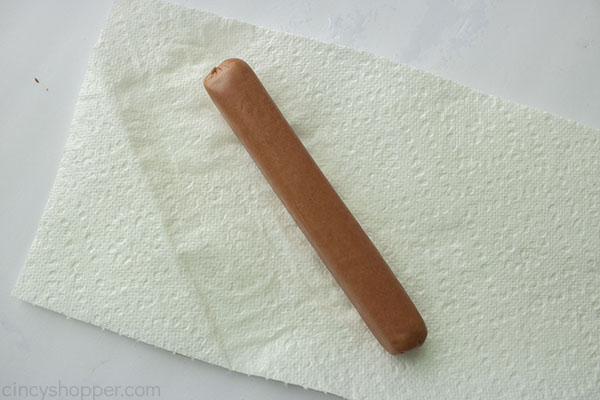 Now: assembly. Start by setting one of your cheese strips on the hotdog- we prefer the end that'll end up being the "head" of our mummies.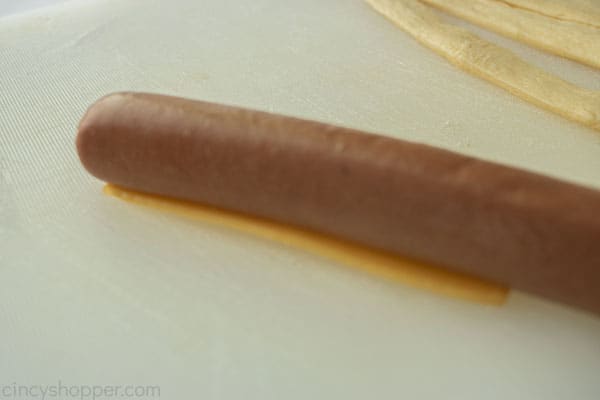 Keep that cheese in place while you take the long strip of crescent dough and wrap it around your hotdog. Wrap it up until it looks like a mummy- leave room for the eyes if adding any.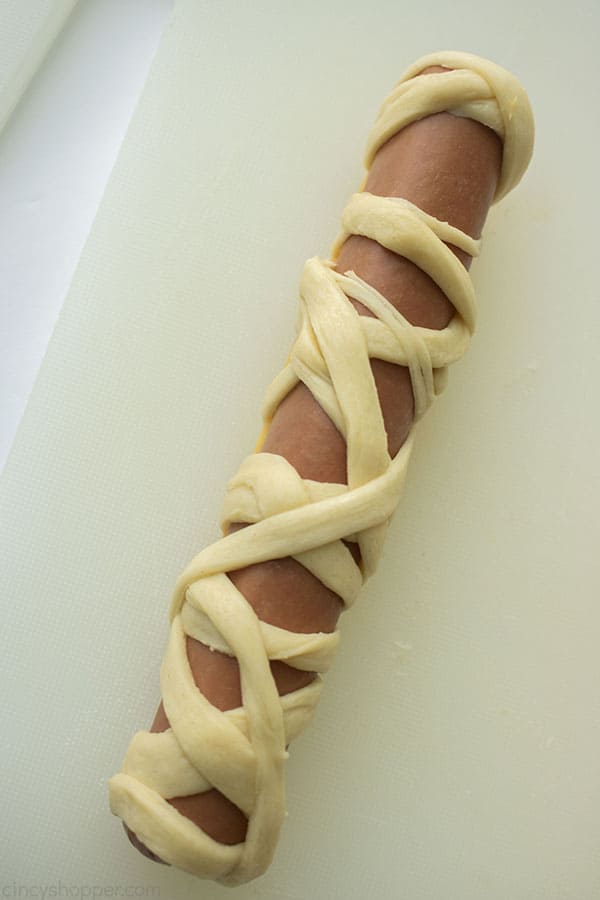 Speaking of eyes, for ours we used a straw to make some eyes from white cheese. We cut little bits of olives to use as pupils. Once the dogs are assembled, toss them into an awaiting 375 degree oven and let bake for about 15 minutes.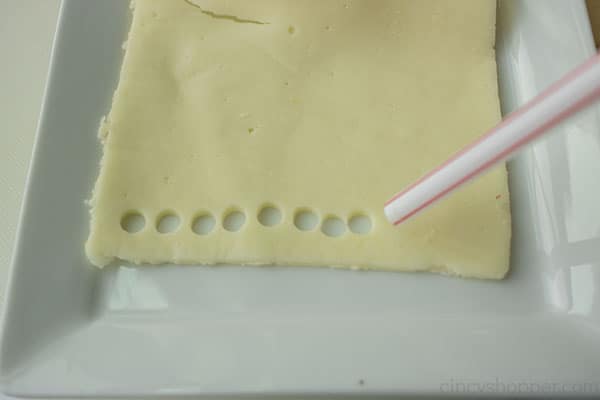 Bonus: How to make spider-web ketchup dip
We think that our Mummy Dogs look real good served up with this decorative spider-web dip. To make it start by filling your dip bowl with ketchup. Once that's filled, draw a sort of "bullseye" pattern with your mustard.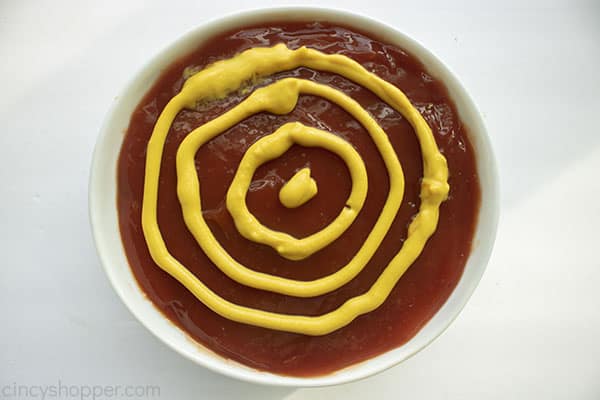 To turn this into a spiderweb, simply use something like a toothpick to draw out from the center of the bullseye out to the edge of the bowl. Repeat until you've pulled about 8 lines and made a decent spiderweb shape.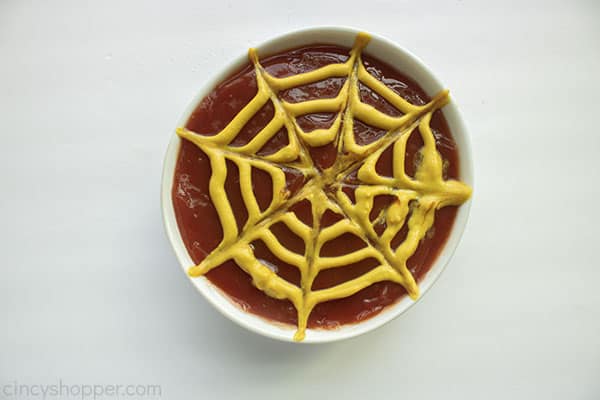 For another little added bonus, take a few olives and cut them to make a little spider in the middle of the bowl. The spider is definitely optional but he does help cover up the center of the web which tends to look little messy.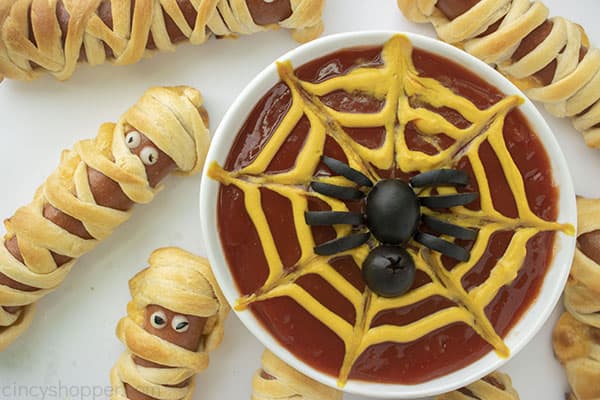 Serve your spider dip up with your hotdog mummies while they're still warm. Enjoy!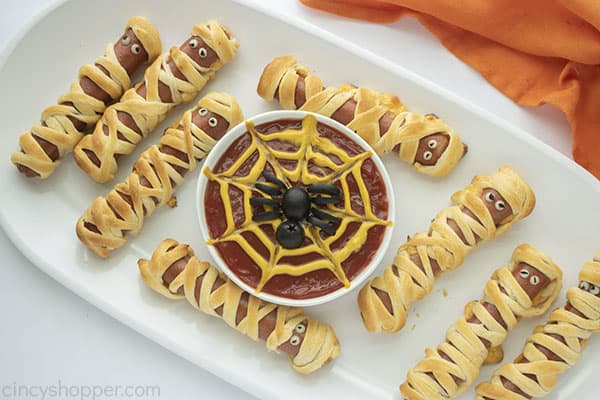 Mummy Dogs
Mummy Dogs are like pigs in a blanket- wrapped in buttery crescent rolls- but spooky! Our Mummy Hot Dogs are great for Halloween parties.
Ingredients
8

Hot Dogs

1

can

Crescent Roll Dough

4

slices

American Cheese

16

Decorative Eyes

or white cheese and an olive.
Instructions
Preheat oven to 375.

Cut cheese into about 16 long strips. Set aside.

Pich crescent dough to eliminate perforations. Then cut into strips.

Dry off your hotdogs with paper towels.

Cut a slit in each hotdog to create a pocket to insert cheese strips.

Put a cheese strip in your hotdog before wrapping with crescent dough strips until it looks like a mummy.

Place on baking sheet.

Bake mummy dogs in a 375 degree oven for about 15 minutes or until hotdogs are hot and dough is golden brown.

With a straw, punch out circles from a slice of white cheese to make eyes. Blow into straw to release each circle.

Slice up an olive to make tiny pupils.

Place eyes on each mummy while still warm.
Nutrition
Calories:
249
kcal
|
Carbohydrates:
20
g
|
Protein:
8
g
|
Fat:
16
g
|
Saturated Fat:
7
g
|
Polyunsaturated Fat:
3
g
|
Monounsaturated Fat:
5
g
|
Trans Fat:
1
g
|
Cholesterol:
31
mg
|
Sodium:
705
mg
|
Potassium:
80
mg
|
Sugar:
3
g
|
Vitamin A:
99
IU
|
Vitamin C:
1
mg
|
Calcium:
121
mg
|
Iron:
1
mg