Low Country Boil Packets are a quick and easy way to make good Cajun style food! Simply make them on the grill or in the oven.
This recipe for Oven Low Country Boil Packets is a perfect way to scratch that itch for good, well-seasoned seafood! For more foil meals and sides, check out our Hobo Dinner Packet recipe and our Campfire Potatoes.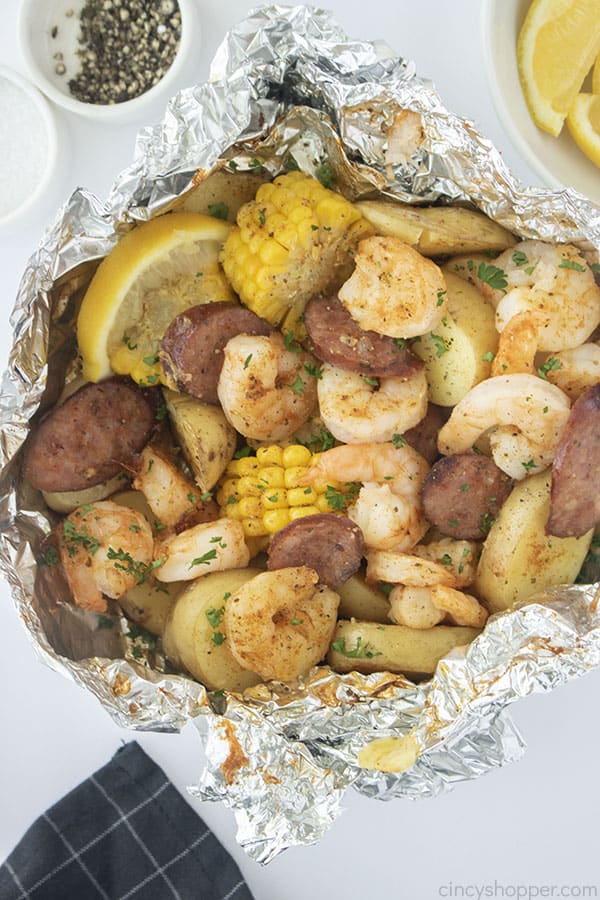 Low Country Boil Packets
There's something about Cajun food that you can't help but love. It seems like the perfect blend of delicious, comforting food and cooking with the zest and spice of fun Caribbean and Southern cooking. One of the hallmark recipes of modern Cajun cooking is the Low Country Boil- also known as Frogmore Stew in some locales.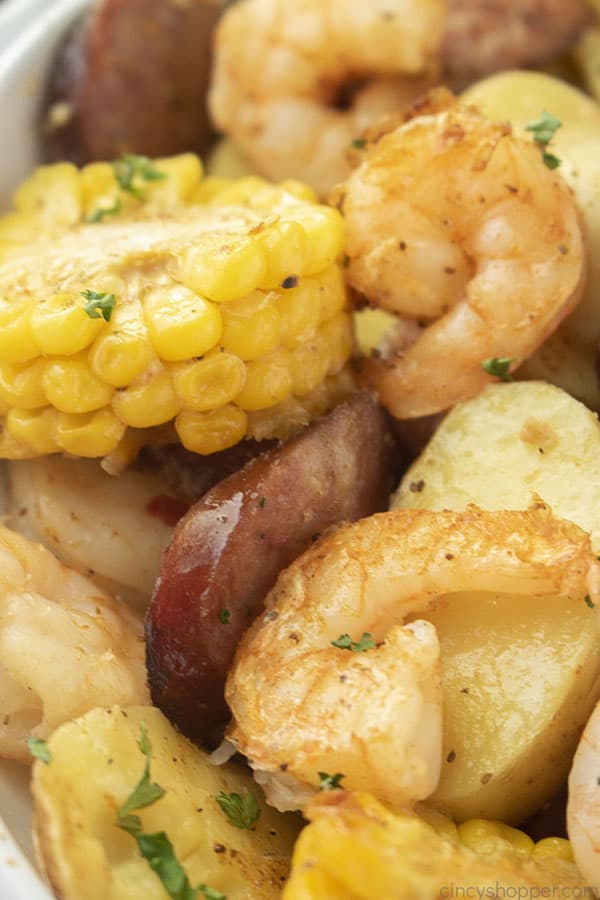 One of the issues with Low Country Boil, however, is that you have to make a whole boil if you want some. That means busting out a stockpot, several pounds of ingredients- all for something that you might not be able to eat all of. We've fixed the problem by making these Low Country Boil Packets. Not only does it help make single servings of those delicious Boil ingredients, but it also lets you make them quicker! Less prep time + quicker baking in the oven = quick, delicious Cajun cuisine!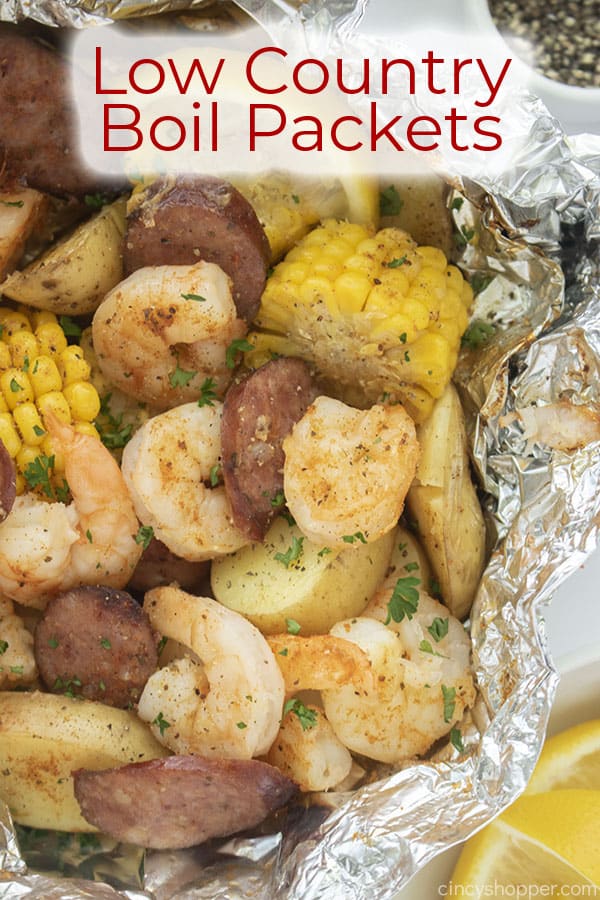 Even though these foil packet meals are quick and simple to make, they pack tons of flavor. The andouille sausage we used had the perfect amount of heat and a generous shake of Old Bay over everything pulled the meal together. You can even tweak things and add other ingredients if you'd like! You're going to love these quick and easy packet meals- great for grill-outs, tailgates, and even camping trips. Cook in the oven, on the grill, or over a fire- no matter how you cook it, it'll taste delicious!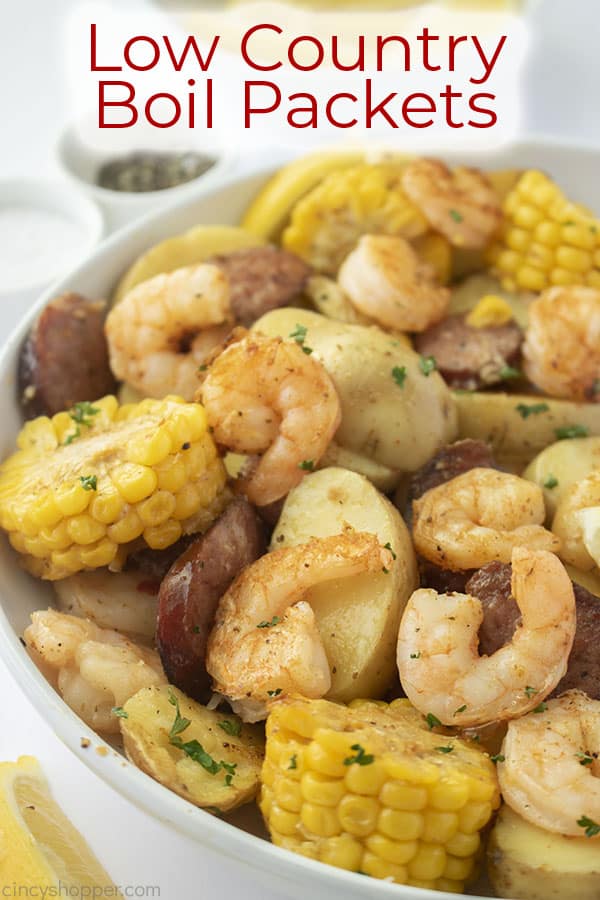 Loved this seafood recipe? Try these ones next!
We've also got a quick and easy recipe for

Crispy Fried Fish

.

Whether you are getting through Lent or

just

looking for delicious fish, this recipe is perfect

! This well-seasoned and crispy fish is great on a sandwich or served up with a side of fries.

Need a delicious appetizer that's easy to make? Go with our

Fried Coconut Shrimp

. This stuff makes for perfect finger food that tastes

just

like the tropics! Expect a clean platter by the end of the night- these things will get eaten up fast.

Many seafood recipes need a good sauce- so go with our

Homemade Cocktail Sauce

. This from-scratch sauce tastes way better than anything pre-made or store-bought! Quick and easy to make with ingredients you

probably

already have in your pantry.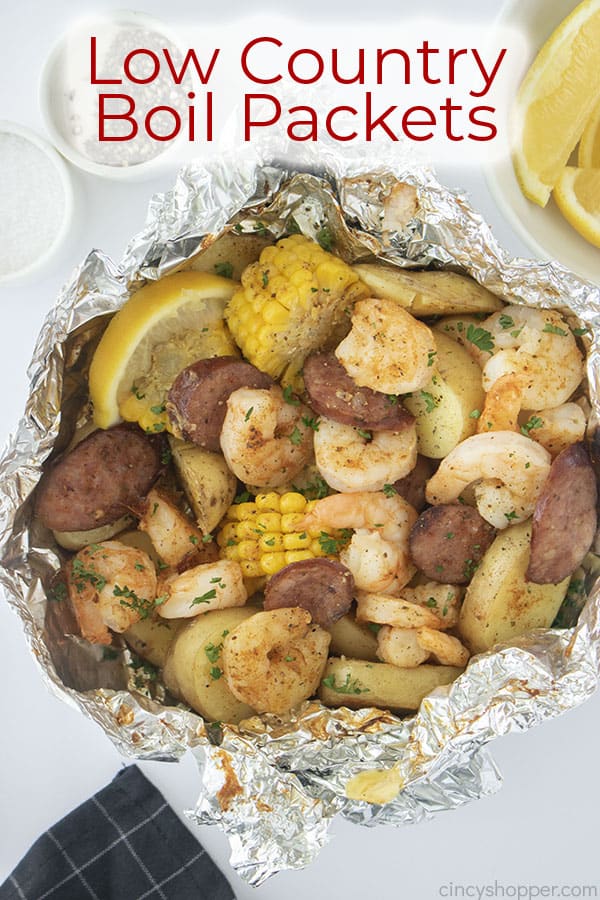 What is a Low Country Boil?
A Low Country Boil is
basically
the Cajun/Southern version of something like a clambake.
In it's simplest form, it's a bunch of fresh fish cooked up with plenty of veggies and some leftovers you have sitting around
. Our packets will use some of the most popular ingredients in classic Low Country Boil dishes:
Shrimp

Corn

– We like ours on the cob.

Potatoes

– These petite gold potatoes are the perfect size for packets. If you can't find any,

just

use regular golds and cut into smaller pieces.

Andouille Sausage

Butter

Old Bay Seasoning

– It's not exactly Cajun, but this stuff makes fish taste great- plain and simple!

Lemon Juice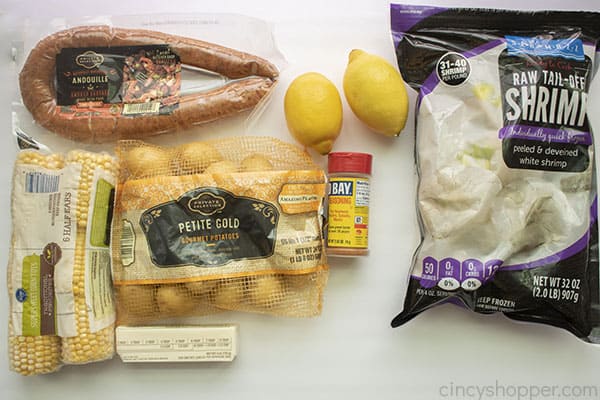 How to make Low Country Boil Packets
Prep for these foil packet meals is quite simple. Here's all you need to do…
Chop up your veggies and sausage

and

prep and devein your shrimp if using fresh

.

Assemble your packet ingredients

on the foil and

top with Old Bay and butter

.

Close your packets

before letting

bake in the oven until fish

is cooked

and veggies are tender

.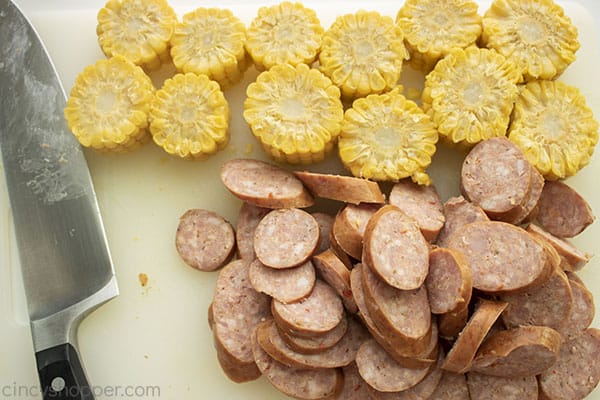 The first step to this recipe is getting everything chopped and prep. No need to dice anything, we just want nice, bite-sized pieces. We ended up cutting our corn into mini-cobs, our sausage into little medallions, and our potatoes into smaller pieces. Also, if using fresh shrimp, devein it real quick if it isn't already deveined.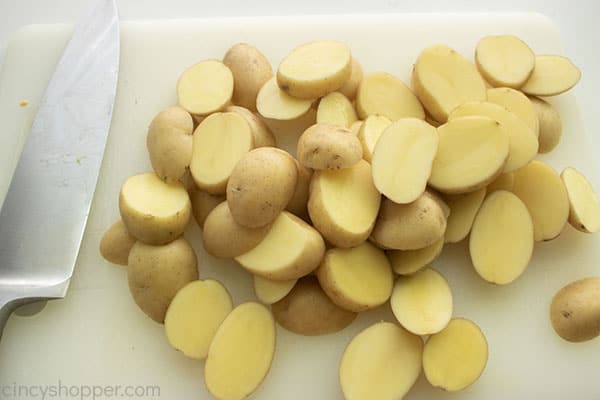 Prepare a sheet of foil that's about 12″x24″ and set your boil ingredients in the middle.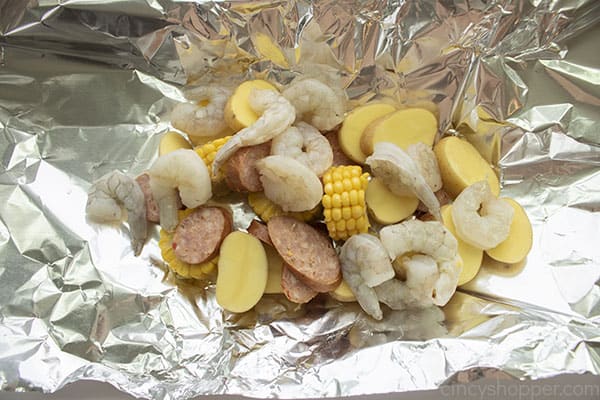 We hit ours with a bit of olive oil at this point. Just something to help our seasonings stick.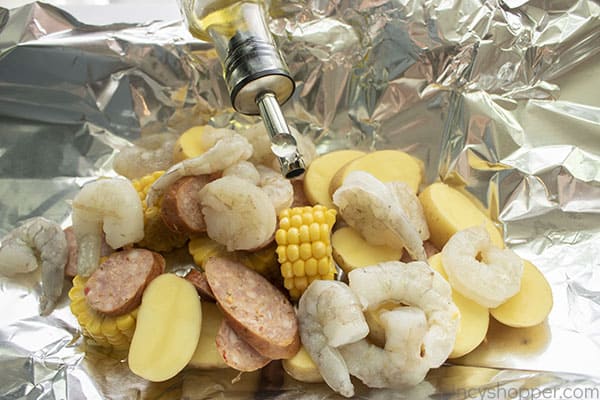 Speaking of seasonings, let's add some. You could easily get away with just topping everything here with Old Bay- this stuff has plenty of flavor to it! Optionally add some salt and pepper as well.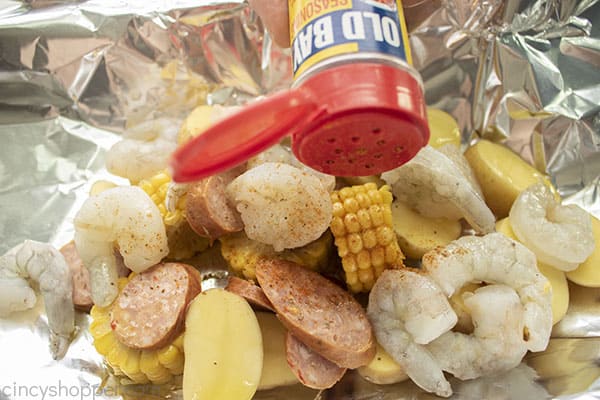 Last, but not least, we're going to top our Low Country Boil ingredients with a few pats of butter.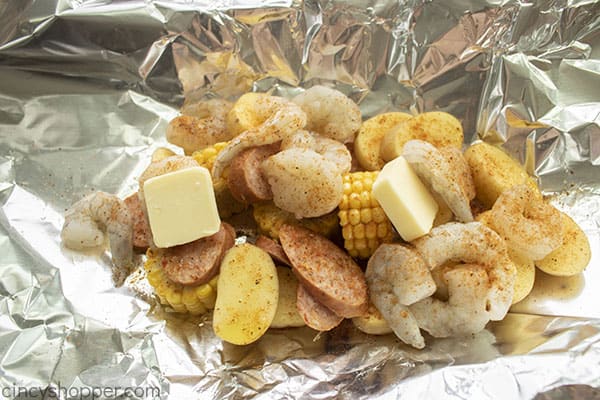 All we have left to do is bake. First, close up the packets by bringing the sides up to the middle and folding together. Crimp, seal, and the roll up the open ends of the packet to close everything in. Once sealed, transfer to an awaiting 425 degree oven and allow to bake for 20-25 minutes. Once the fish is cooked through and the veggies are tender, crack open the packet, top with a bit of parsley and lemon, and dig in!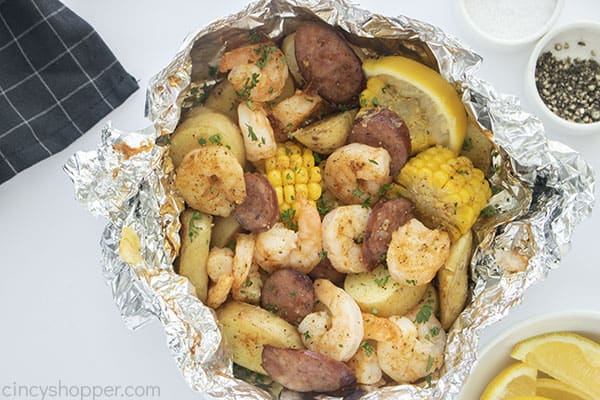 Other Possible Ingredients
The real charm of a Low Country Boil is that you can add all sorts of stuff to it! Here's
just
a few other things you might consider adding to your foil packet meals:
Crab

– Another popular seafood you see in these boils.

Sweet Onions

Smoked Sausage

– Andouille is

just

one of many pork sausages you could try in your boil! Try using some chorizo or

maybe

some kielbasa next time.

Red Potatoes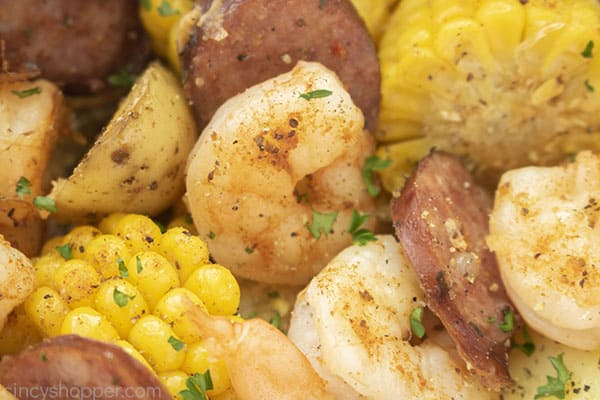 How long are foil packet meals good for?
After you bake these meals, they should keep in the fridge for 2-3 days.
If making ahead for something like a grill-out or camping trip, the raw meals should be good for 2-3 days in the fridge or kept in a good cooler
. Your best bet is to freeze them if making ahead: frozen, they'll keep for up to 4 months.
When it comes time to make them, toss them in a cooler: by the time you get to the grill-out or a camp-site, they'll
be thawed
and ready to cook
!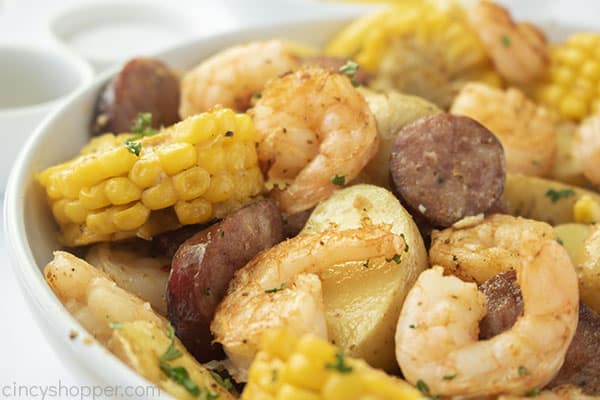 Low Country Boil Foil Packets
Low Country Boil Packets are a quick and easy way to make good Cajun style food! Simply make them on the grill or in the oven.
Ingredients
2

lb

Shrimp

thawed

12

oz

Andouille Sausage

thin sliced

1

lb

Baby Potatoes

sliced

3

ears Frozen Corn

thawed and cut in 1" pieces (I used 6 half ears)

2

tbsp

Olive Oil

4

tsp

Old Bay Seasoning

1

stick

Butter

in pats

2

Lemons

cut in half
Instructions
Get 4 24" long sheets of heavy-duty aluminum foil.

Divide andouille slices and corn cob sections across 4 sheets.

Divide potato slices and shrimp across 4 sheets.

Drizzle each with olive oil.

Sprinkle each with Old Bay.

Distribute butter across each packet.

Close packets and fold edges to seal.

Place on a baking sheet(s)

Cook 20 minutes until potatoes are tender.

Open the packet and squeeze lemon over the contents.

Garnish with fresh chopped parsley.
Notes
These foil packets are great for making on a campfire or on the grill.
Nutrition
Calories:
889
kcal
|
Carbohydrates:
26
g
|
Protein:
66
g
|
Fat:
58
g
|
Saturated Fat:
24
g
|
Trans Fat:
1
g
|
Cholesterol:
704
mg
|
Sodium:
2734
mg
|
Potassium:
1004
mg
|
Fiber:
4
g
|
Sugar:
2
g
|
Vitamin A:
808
IU
|
Vitamin C:
61
mg
|
Calcium:
394
mg
|
Iron:
8
mg