Instant Pot Teriyaki Chicken is so easy to make with only 2 ingredients. Our homemade recipe tastes way better than takeout- give it a try!
Save yourself the drive and make some takeout at home tonight with our Chicken Teriyaki recipe. Goes great with a side of our Instant Pot Rice.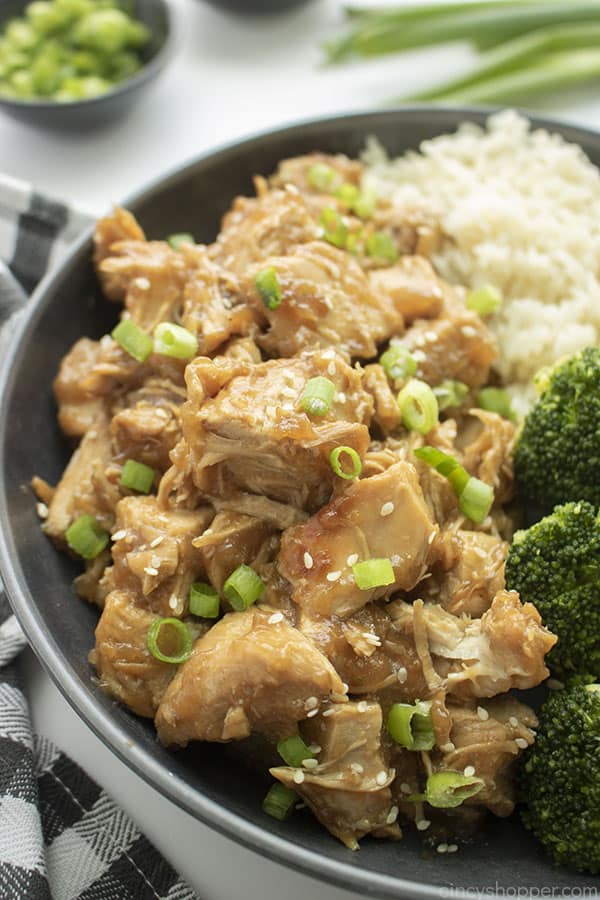 Instant Pot Teriyaki Chicken
Like a lot of people, I like having some Chinese takeout for dinner every now and then. Yeah, maybe it's not the best stuff to be eating- with all that sugar and MSG- but it tastes so good and comforting! While it's easy to stop in at the takeout place, put in an order, and have them make food for you, I've learned over the years that some of our favorite takeout recipes aren't that hard to make. We've covered a few in the past but today we've got another classic dish that's made easy in the Instant Pot: Chicken Teriyaki!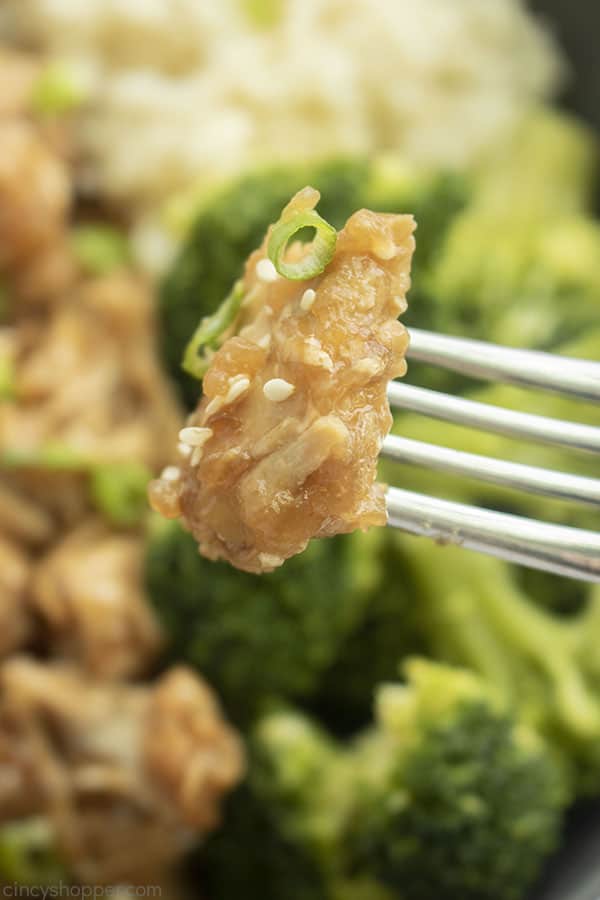 Making chicken in the Instant Pot has been a sure-fire way for me to get perfectly cooked chicken every time. By cooking the chicken with some teriyaki sauce, not only do you get plenty of flavor in the chicken itself but it's also really easy to cook the sauce down into a delicious, takeout-style coating. Served up with some rice and some steamed veggies, it makes for an quick and easy takeout dinner at home!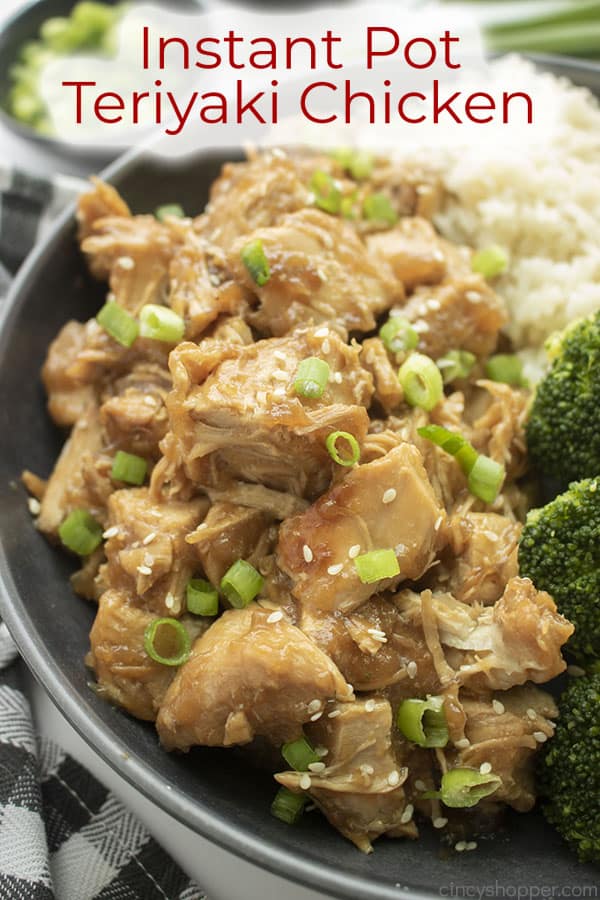 Our recipe for Instant Pot Teriyaki Chicken works well with both bottled teriyaki sauce bought from the grocery as well as homemade teriyaki sauce. You could use chicken breast or chicken thighs for your teriyaki- it can even be frozen chicken if you want! Best of all, we kept this recipe fast and simple: all you need is 3 ingredients and it cooks up in less than an hour. If you love homemade takeout or Chinese cooking, this is a recipe we're certain you'll love!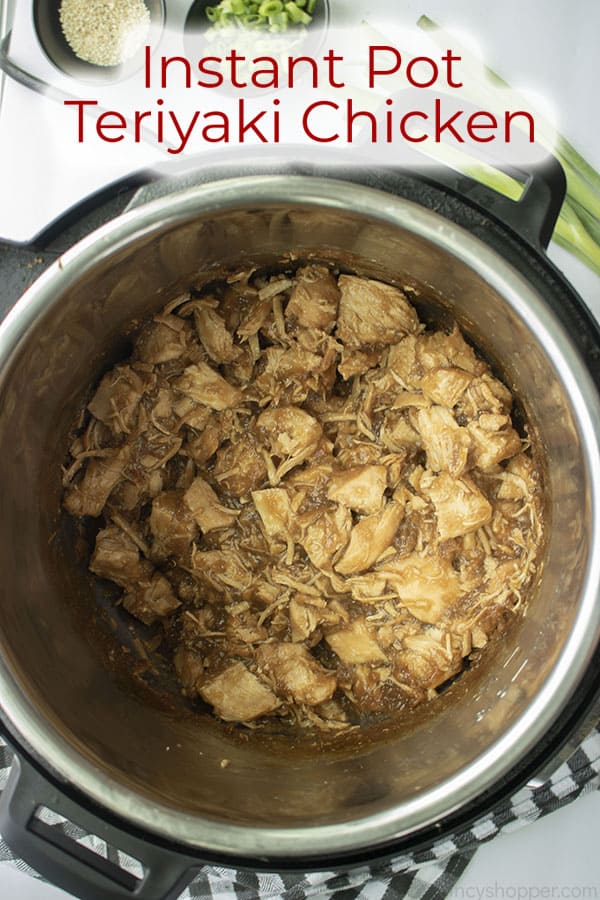 Liked this recipe? Try these other takeout recipes next!
If you've ever been to Panda Express, then you'll recognize our recipe for

Orange Chicken

.

Our copycat recipe strikes a perfect balance between sweetness and citrus, all with crispy breading and juicy chicken

.

It's easy too: once the sauce

is made

, all that's left is frying and then tossing the chicken with the sauce- I'm hungry already

!

For something a little close to our Instant Pot Teriyaki Chicken, you could go with a classic:

Easy General Tso's Chicken

.

Making this takeout favorite is much simpler than you might've thought- no woks, special tools or secret sauces needed

!

Chances are, you can find most of the ingredients at your local grocery or supermarket- give this recipe a try

.

We also love this recipe of ours for

Simple Mongolian Beef

.

While the frozen meals from P.F. Chang's have saved dinner for us before, they don't compare to making the stuff from scratch

!

Not only is it

just

as easy but everything tastes so much better when it's fresh- from the beef and veggies to that tasty sweet-and-spicy sauce

.
Instant Pot Chicken Teriyaki Ingredients
Chicken – Chicken breast or chicken thigh or going to work best for this recipe.

Teriyaki Sauce

– You could go with store-bought, but why not use some

Homemade Teriyaki Sauce

instead

?

Using sauce made from scratch will help your Instant Pot Teriyaki Chicken taste

just

right

!

Cornstarch

– To help our sauce thicken back up after cooking with it, we'll add a bit of cornstarch

.
That's all you'll need for the chicken itself.
For serving, you may want some
rice
and some
vegetables
on the plate and some
green onions
and/or
sesame seeds
for garnish
.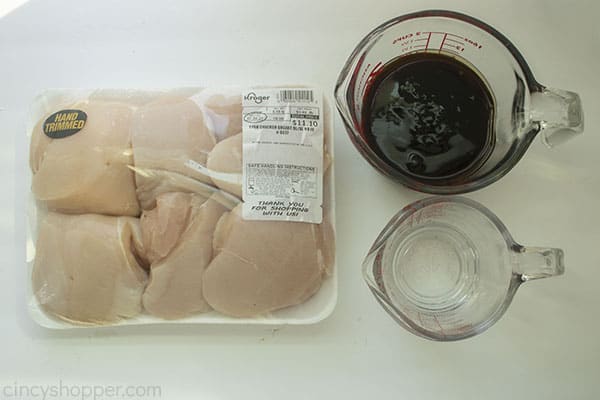 How to make Teriyaki Chicken
Making Chicken Teriyaki in the Instant Pot is very simple and quick. To get it done, here's what you'll have to do:
Pressure cook the chicken

in the sauce

on high for 12 minutes

.

Remove chicken from the pot

, set Instant Pot to saute, and

add cornstarch to the sauce

.

Cook sauce down

to desired thickness.

Shred or chop the chicken

to bite-sized pieces and return to the pot.

Stir to coat with sauce

before serving.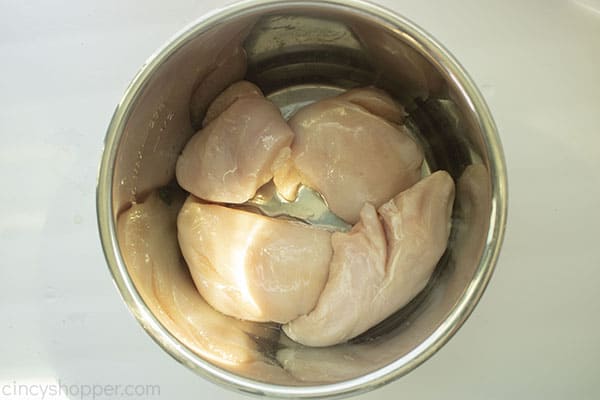 Start by adding your chicken to an Instant Pot. To that, you're going to add your sauce.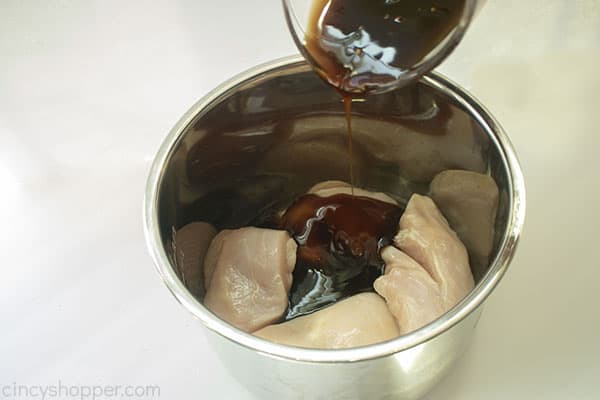 Since the sauce is pretty thick and flavorful, we're going to cut it with some water.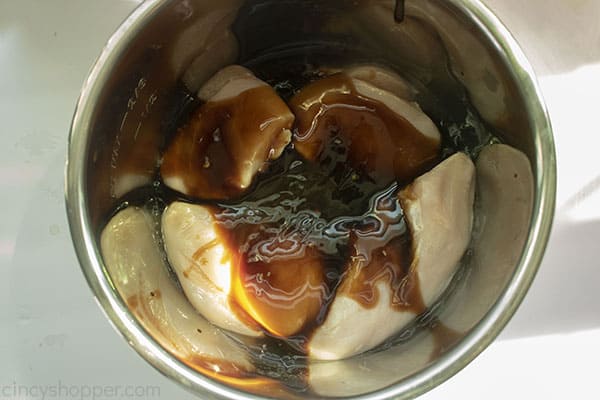 With everything prepped, we can get to cooking. Close the Instant Pot up and set your Teriyaki Chicken to cook on high pressure for 12 minutes. When it's done, let the pressure valve naturally release for about 5 minutes.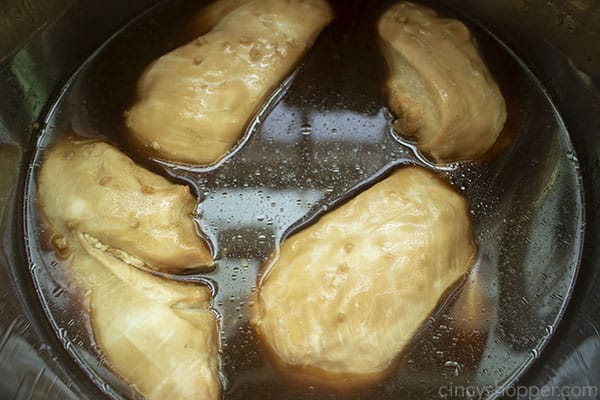 When that's done, pull your chicken from the pot and set the Instant Pot to it's saute setting. Add the cornstarch to the sauce and mix until it's fully dissolved. Cook the sauce down to your desired thickness.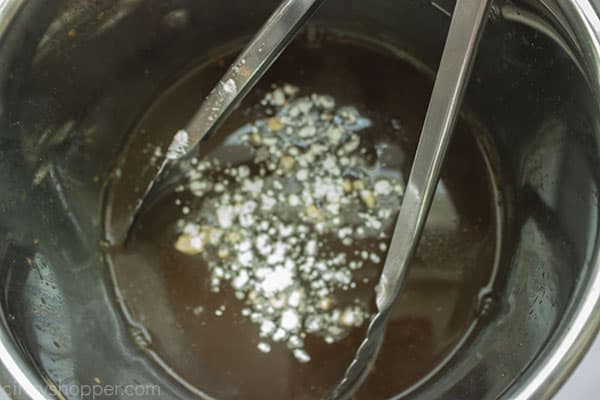 Off on the side, chop your chicken to bite-sized pieces. You could also shred it.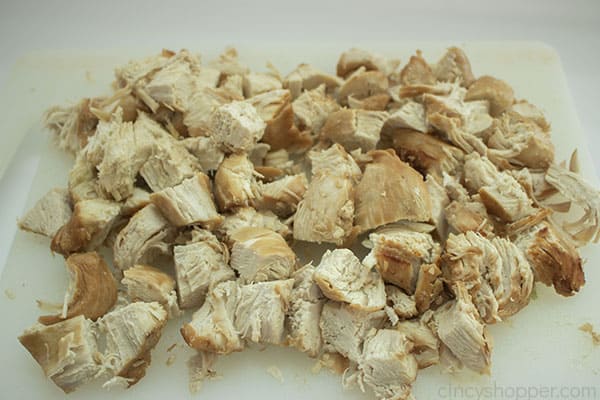 Once the sauce has thickened up, add the chicken back in and give it a nice stir to coat it.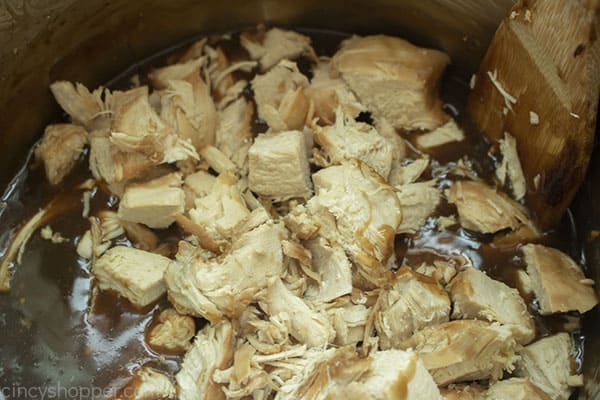 With that, your Instant Pot Teriyaki Chicken is good to go. For serving, plate it with some rice and steamed veggies and top the chicken with some sesame seeds and/or thinly-sliced green onions. Enjoy!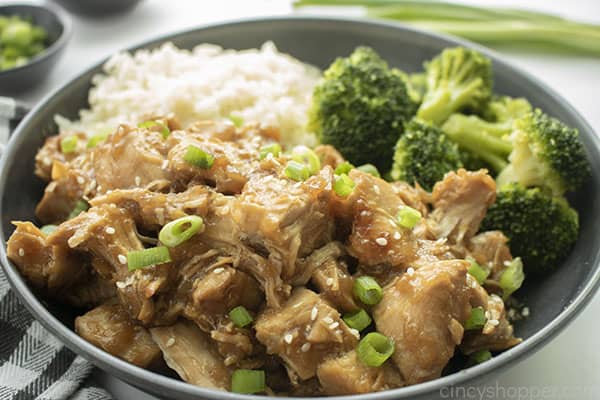 Storage & Cooking Tips
After cooking your Chicken Teriyaki, allow it to cool completely before storing it. Kept in an airtight container, it'll last about

3-4 days in the fridge

and about

4 months in the freezer

.

For reheating, we'd recommend either warming it back up on the stovetop or in the Instant Pot. Warm it up slow-and-low. For single servings, the microwave is quicker.

One of the best parts about the Instant Pot is that you can cook chicken from frozen in it.

For this recipe,

we'd recommend adding an extra 8-10 minutes to the cook time if using frozen chicken

– try to keep them from touching to ensure even cooking

.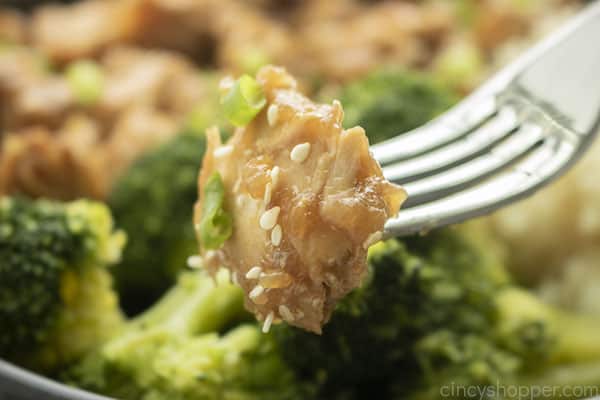 Instant Pot Teriyaki Chicken
Instant Pot Teriyaki Chicken is so easy to make with only 2 ingredients. Our homemade recipe tastes way better than takeout- give it a try!
Ingredients
2

lb

Chicken Breast

1/2

cup

Water

1 1/2

cup

Teriyaki Sauce

2

tbsp

Cornstarch
Instructions
Place the chicken in the Instant Pot.

Pour teriyaki sauce over chicken.

Add water to Instant Pot.

Close and seal the lid.

Cook on high pressure, for 12 minutes and allow natural release.

Remove chicken from the liquid and set aside.

Set Instant Pot to the saute setting, add the cornstarch and whisk until it thickens.

Chop chicken into bite-sized pieces and place back in pot.

Stir to coat.

Serve over cooked rice with steamed vegetables.

Garnish with green onions and/or sesame seeds.
Notes
Use store-bought or my Homemade Sauce found here.
Nutrition
Calories:
247
kcal
|
Carbohydrates:
14
g
|
Protein:
36
g
|
Fat:
4
g
|
Saturated Fat:
1
g
|
Polyunsaturated Fat:
1
g
|
Monounsaturated Fat:
1
g
|
Trans Fat:
1
g
|
Cholesterol:
97
mg
|
Sodium:
2936
mg
|
Potassium:
722
mg
|
Fiber:
1
g
|
Sugar:
10
g
|
Vitamin A:
45
IU
|
Vitamin C:
2
mg
|
Calcium:
26
mg
|
Iron:
2
mg