Gooey Butter Cake is such a delicious and simple cake that's so rich, sweet, and melty. Made just like Paula Deen's classic dessert recipe!
Southern desserts are always so tasty and comforting and using cake mix makes things easy. For other simple cake mix recipes, check out Strawberry Cheesecake Poke Cake and 2 Ingredient Pineapple Cake.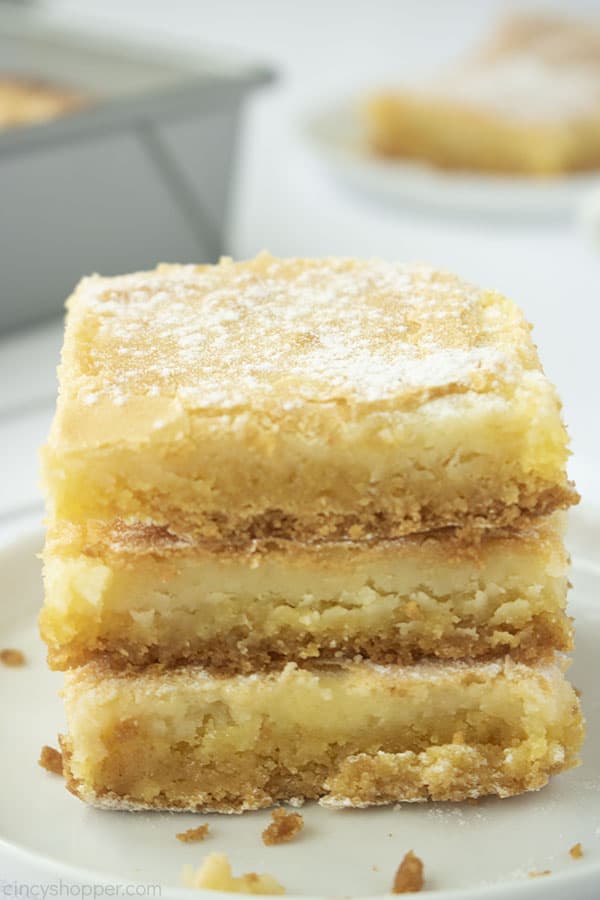 Gooey Butter Cake
Paula Deen is probably one of the most famous cooks in America thanks to all of her classic southern recipes. She's made plenty of delicious dishes: meatloafs, gumbos, biscuits, and casseroles. However, her desserts seem to stand head and shoulders above a lot of her work. There's one dessert recipe especially that she's most well-known for- and for good reason too! Today, we're making her famous Ooey Gooey Butter Cake.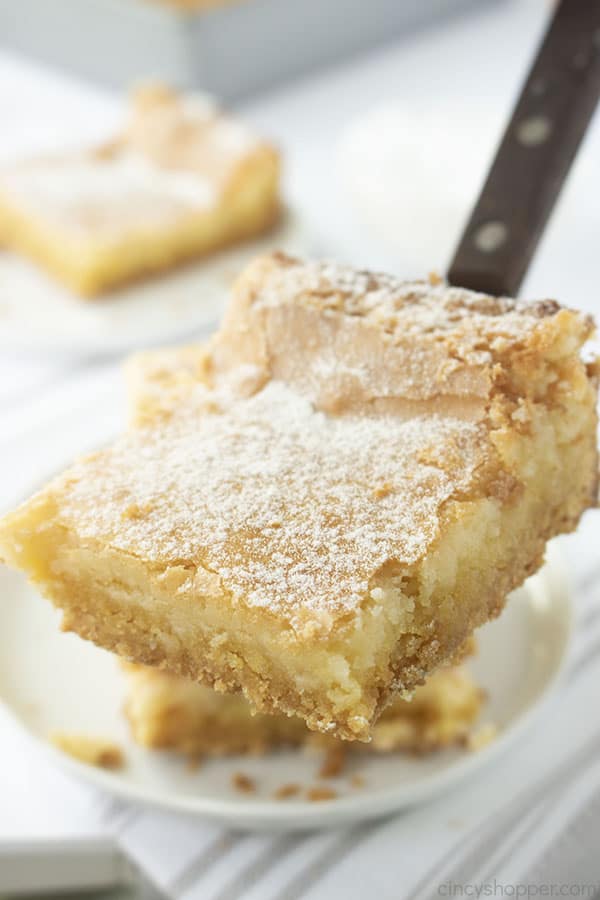 There's plenty of debate about who invented Gooey Butter Cake- it probably came from St. Louis- but Paula Deen definitely helped make it popular. If you've never had some sort of Gooey Butter Cake before, you're missing out. Butter Cakes are- obviously- cakes made with plenty of butter. Using so much butter might not be the best for your waistline but the finished product is so rich and sweet! The best part? Cook it just right, and you get a melty and gooey center to this cake- it's so good!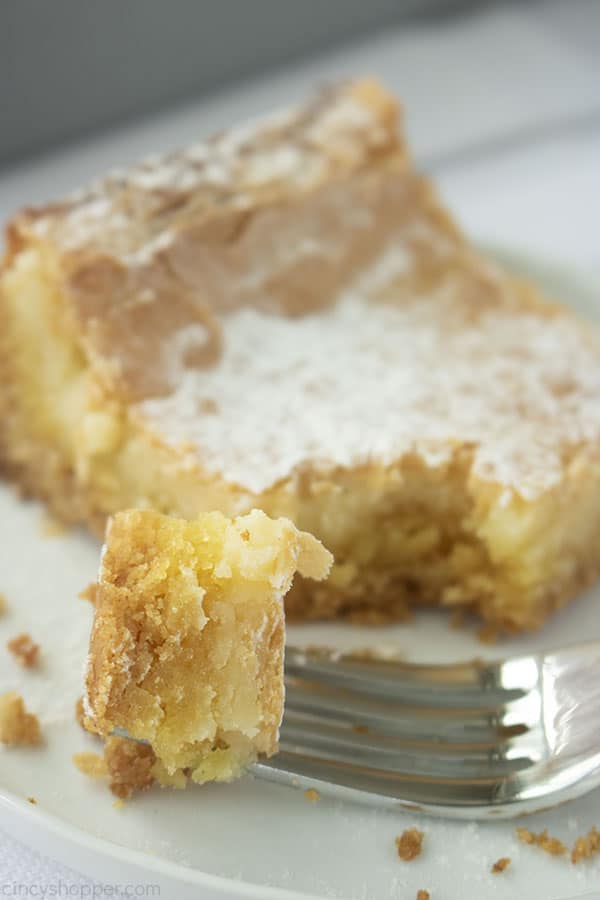 This classic Paula Deen recipe is a must-make dessert. There's plenty of other attempts at this classic dessert on the web but this Simple Butter Cake Recipe is definitely the best. Hope you all love it!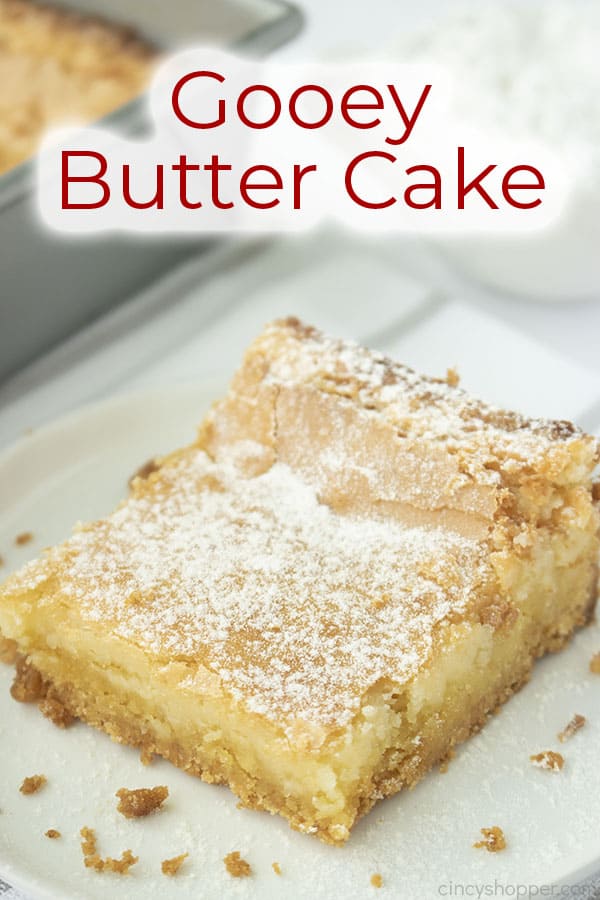 Liked this cake recipe? Try some of our favorite cake recipes next!
Another old fashioned cake recipe that we love to make is our

Peanut Butter Cake

.

You get moist cake loaded with peanut butter flavor topped with the best peanut butter frosting as well

! It's not hard to make at all- very easy and comes together quick too.

If you've never made

Chocolate Wacky Cake

before, it's definitely worth a try! You'll

be shocked

when you get a delicious cake that's easy to make that doesn't even use any eggs or butter. This is a real inexpensive recipe that's real light on the dishes too, which means clean-up is a breeze!

Doubling down on the chocolate and fudge flavors, we'll close things out with our

Copycat Cracker Barrel Coke Cake

. Using some soda helps add an extra punch of flavor to what's already a rich chocolate cake recipe. It's well worth it though: served up with a side of vanilla ice cream, this makes for an amazing dessert!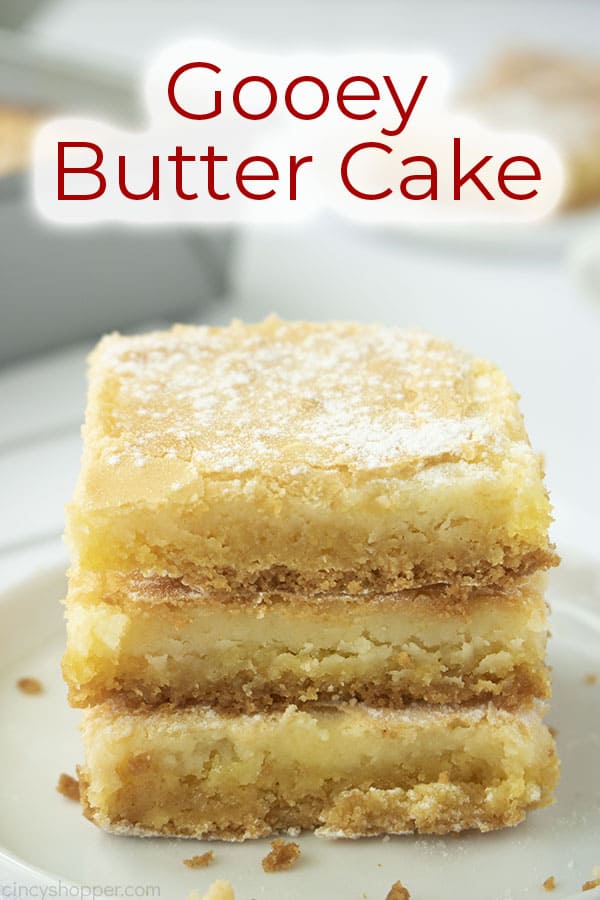 Gooey Butter Cake Ingredients
Yellow Cake Mix

– We like using this Duncan Hines Cake Mix for our Gooey Butter Cake.

Eggs

Butter

Vanilla Extract

Confectioners / Powdered Sugar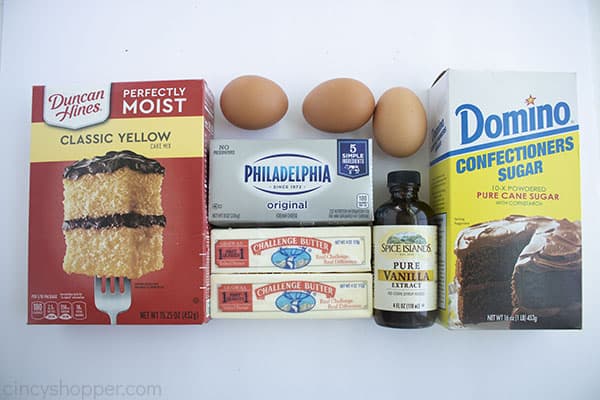 How to make Butter Cake
Making this classic Ooey Gooey Butter Cake couldn't be much easier. Here's all we had to do:
Beat together cake mix, egg, and some butter. Press batter into bottom of baking dish.

Beat cream cheese

until smooth then

mix in eggs, vanilla extract, and remaining butter

.

Add in powdered sugar

, mix well, then

spread over cake batter

.

Bake cake at 350 degrees

for

40-50 minutes

, trying to leave the center of the cake gooey.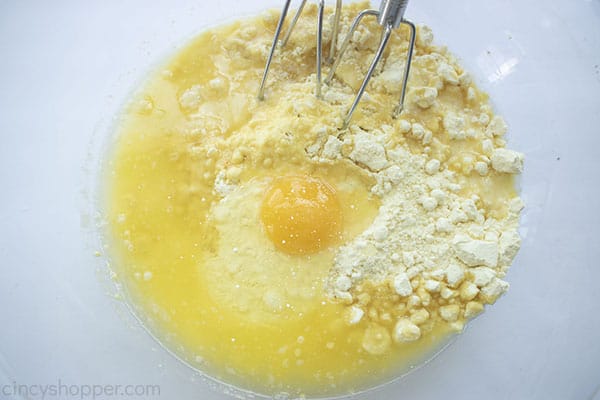 The first part of this cake recipe is to make the cake. Beat the cake mix and the egg together until combined. Once mixed, add in some butter- softened or melted and cooled- and mix it all together again until a firm batter forms. Take that batter and press it into the bottom of a greased baking dish- a 9×13 works.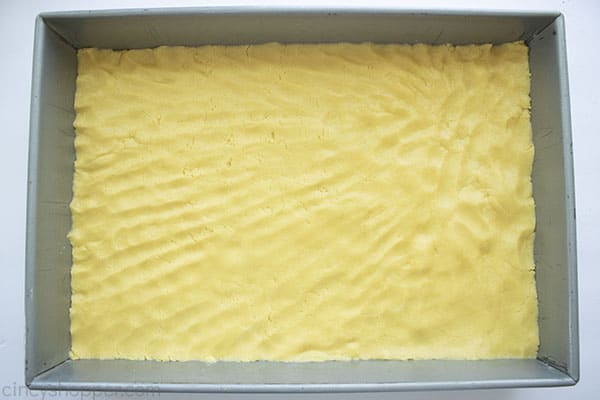 Now for the cream cheese layer. Start by beating the cream cheese until smooth then add the eggs, remaining butter, and vanilla.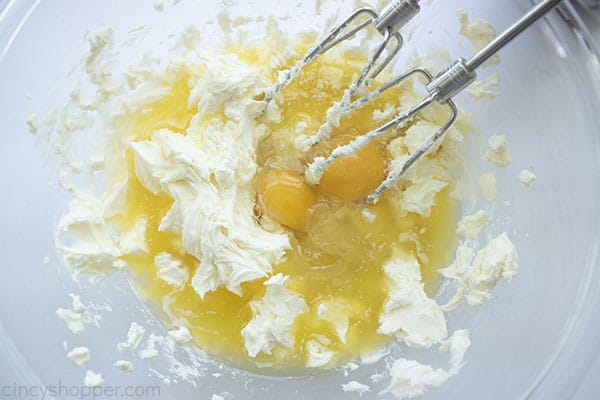 Beat everything together…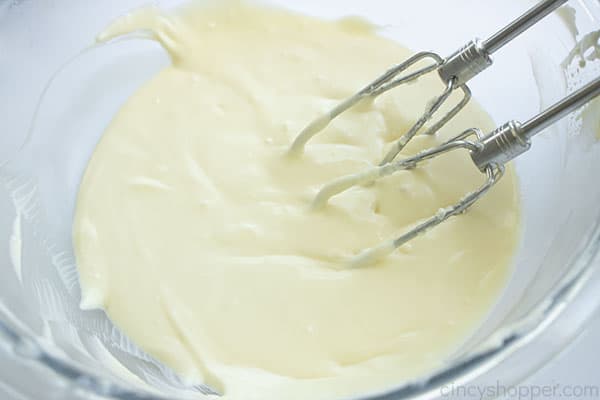 … until a smooth mixture forms.
At this point, we're going to sift in our powdered sugar- we're sifting to make sure there's no big clumps.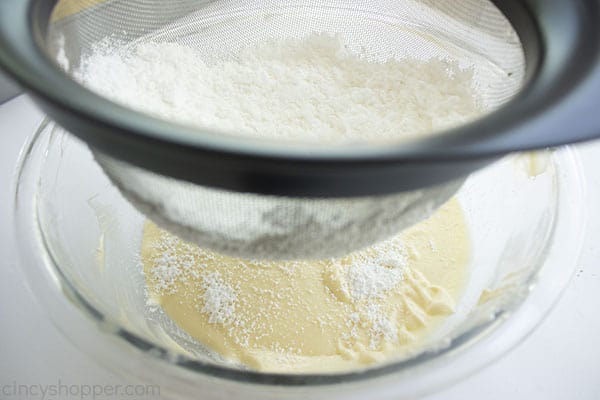 After adding the sugar, we're going to stir it in with the cream cheese mixture.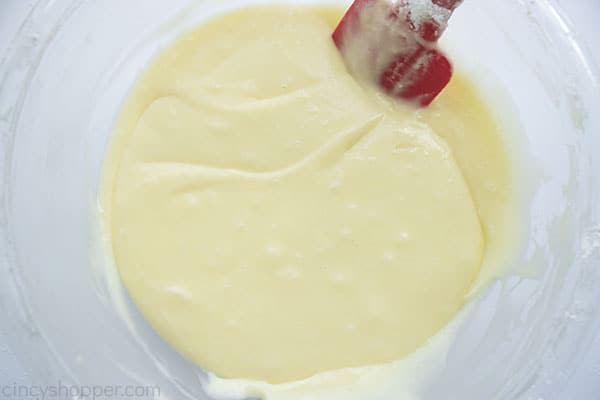 Now we can spread this over the top of our cake batter layer.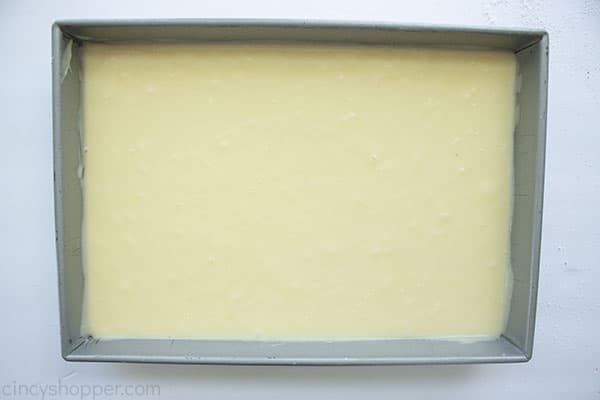 Time to bake! Send the cake into an awaiting 350 degree oven and let it bake for 40-50 minutes. Keep an eye on things: we want a nice, bronzed crust while the center stays melty and gooey.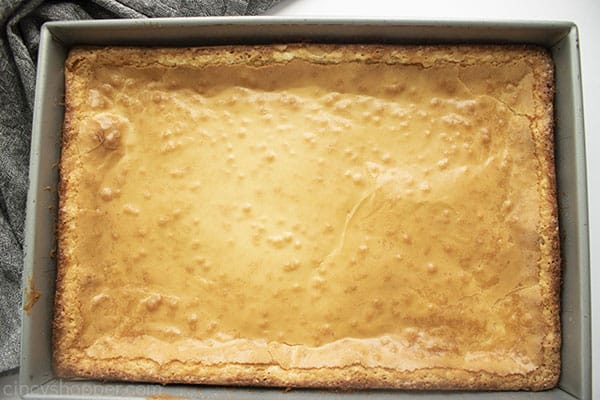 Once baked, pull the Gooey Butter Cake from the oven and hit with a dusting of powdered sugar if you'd like. Serve while warm and melty and enjoy!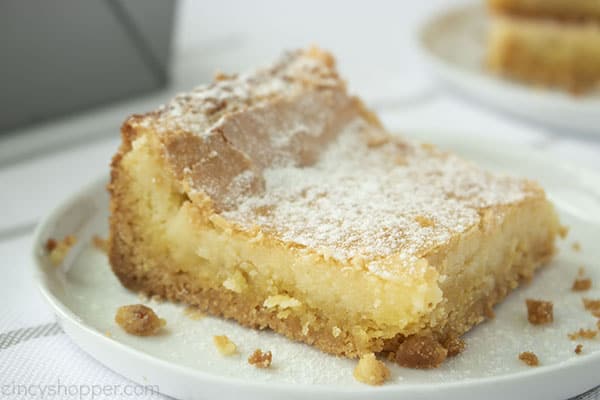 How long is it good for?
Your Ooey Gooey Butter Cake will last quite a while- given you store right. Store leftovers in an air-tight container or wrap tightly in plastic wrap before moving to the fridge. Kept this way, your Butter Cake will last a good 7 days. You can also wrap in foil and keep in the freezer for around 4-6 months.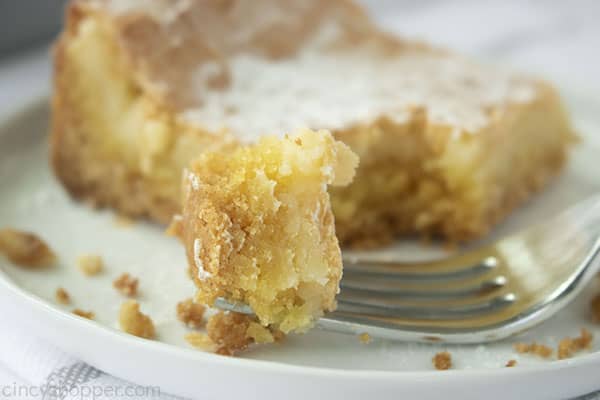 Ooey Gooey Butter Cake
Gooey Butter Cake is such a delicious and simple cake that's so rich, sweet, and melty. Made just like Paula Deen's classic dessert recipe!
Ingredients
1

box Yellow Cake Mix

18.25 oz

3

eggs

divided

2

sticks Butter

melted, divided

8

oz

Cream Cheese

softened

1

tsp

Vanilla

16

oz

Powdered Sugar
Instructions
Preheat oven to 350.

Grease bootom of 9x13" pan. set aside.

In a large bowl, beat together cake mix, 1 egg and 1 stick of melted butter (8 tablespoons).

Press the mixture into the bottom of prepared pan.

In another bowl, beat the softened cream cheese until smooth.

Add the remaining 2 eggs, remaining butter and vanilla and beat until smooth.

Sift the powdered sugar into the mixture and stir until combined.

Spread mixture over the top of the cake batter.

Bake for 40-50 minutes, until top is golden but center is a little gooey.

Dust with a little extra powdered sugar before serving.
Nutrition
Calories:
381
kcal
|
Carbohydrates:
67
g
|
Protein:
3
g
|
Fat:
11
g
|
Saturated Fat:
4
g
|
Polyunsaturated Fat:
1
g
|
Monounsaturated Fat:
2
g
|
Trans Fat:
1
g
|
Cholesterol:
60
mg
|
Sodium:
369
mg
|
Potassium:
41
mg
|
Sugar:
53
g
|
Vitamin A:
313
IU
|
Calcium:
67
mg
|
Iron:
1
mg
Adapted from: Paula Deen!