Wacky cake is a rich, moist vegan chocolate cake that you make without any eggs or butter. The recipe is SO easy to prepare, your kids can help you make it!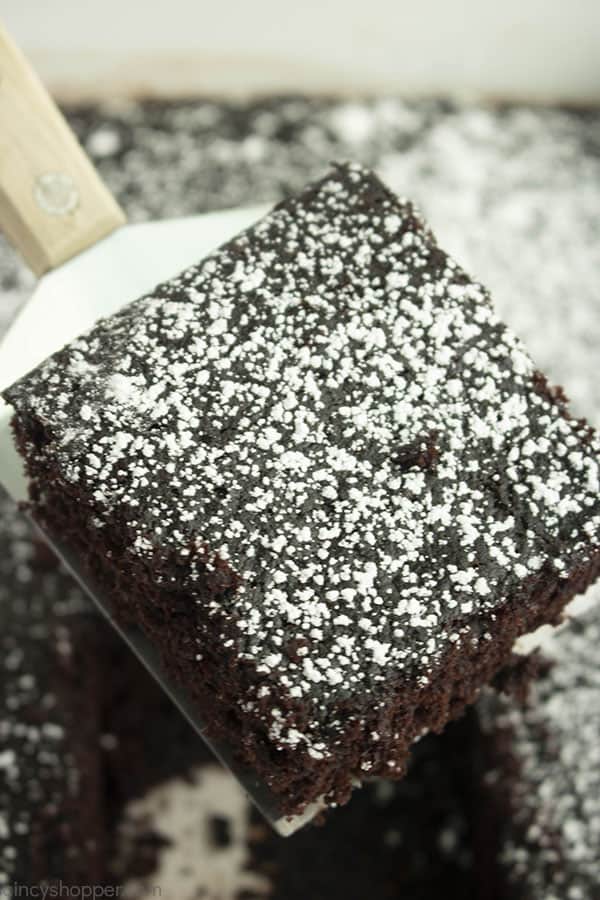 Why is it called Wacky Cake?
This cake recipe has been around since the depression era. For this reason, it is also known as depression cake.
In the years during and after the war, dairy products and eggs were difficult to come by. Also, when you could find them, they were very expensive.
As a result, making versions of this vegan chocolate cake became all the rage. By making cake without dairy products, people were able to indulge in dessert without spending a lot of money to make it.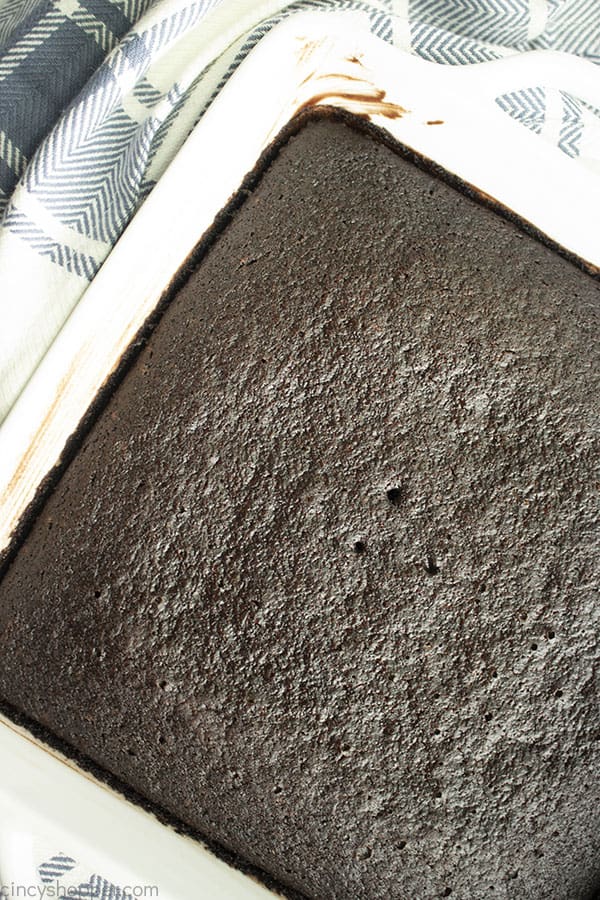 Additional depression cake history
Years later, as the recipe became more popular, some people said that making cake without eggs or milk was "whacky". That's most likely when the whacky cake was given its new, shorter name, Wacky Cake.
There are also recipes around that call it crazy cake. That's appropriate too, because it's definitely a crazy delicious chocolate cake!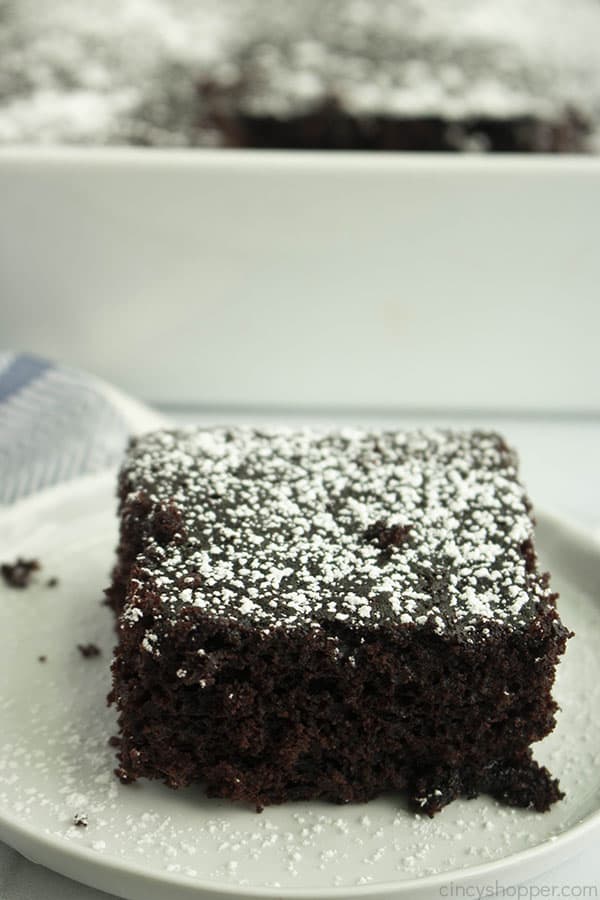 Benefits of making this vegan chocolate cake recipe:
Inexpensive – As mentioned earlier, the ingredients in this recipe are all very inexpensive. In fact, you can probably make an entire cake for around the same cost as buying a slice of cake from a restaurant.
Less dishes to wash –

Aside from the low cost, another benefit of making this recipe is the fact that you can prepare it right in the baking pan. No extra bowls to wash is always a good thing!

Customizable – If you're looking for a sturdy cake that holds up well to frosting, this is the recipe for you! Go ahead and make a chocolate layer cake if you want to. Or, keep things simple! I like it with a dusting of confectioner's sugar. You could also make a quick sugar glaze, or even Peanut Butter Buttercream Frosting for the top.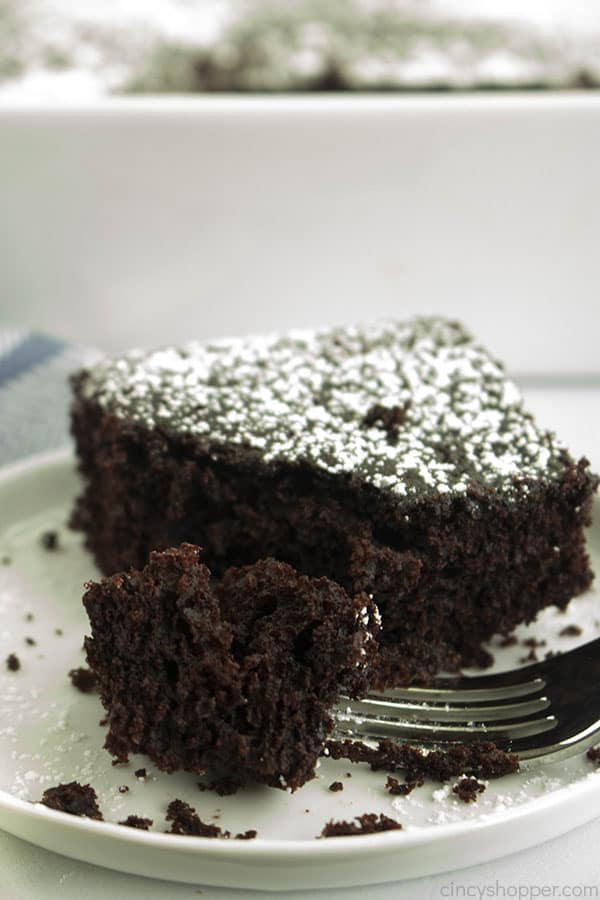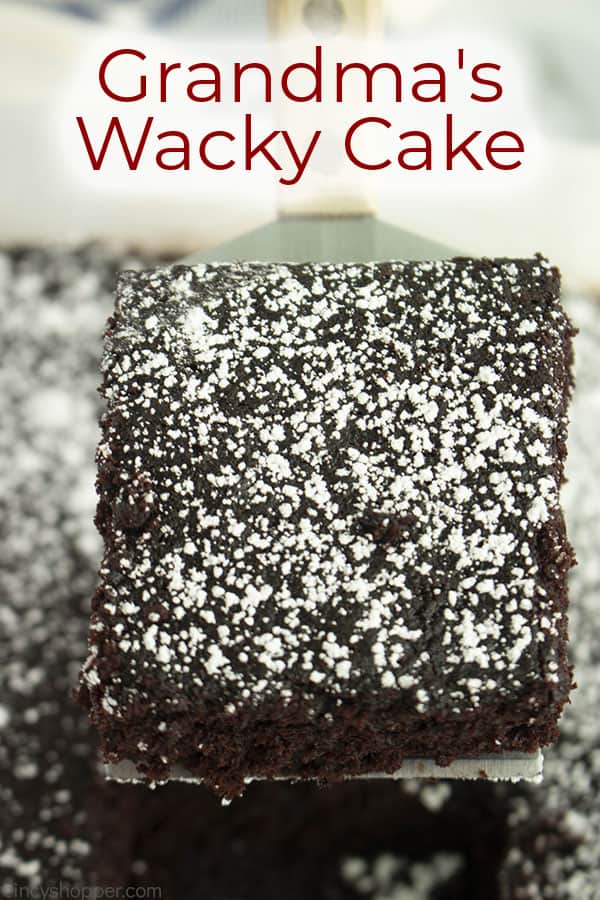 Ingredients
Here are the ingredients you'll need to make this wacky chocolate cake:
All purpose flour – I use all-purpose flour. Honestly, don't know of a wacky cake recipe using a different type of flour. You're welcome to try it, of course. But, I can't guarantee that you will have good results.
White sugar – If you would like to reduce the calories, your favorite cup-for-cup sugar substitute should work.
Baking soda – This helps the cake to rise.
Unsweetened cocoa powder – There are two types of unsweetened cocoa powder available, natural and "Dutch processed". The difference is that the beans for Dutch cocoa powder go through an alkaline wash during processing. You can learn more about the differences between the two cocoa powders in this article.
Important note: When you make this recipe, it's important that you ONLY use natural unsweetened cocoa powder. If you use Dutch cocoa powder, your cake won't rise!
Salt – Kosher salt or sea salt are going to give you the most flavor.
Vinegar – When you mix vinegar with baking soda, hydrogen bubbles form. As a result, the bubbles help the cake to rise. Unfortunately, the reaction doesn't last very long. So, be sure to put your whacky cake in the oven as soon as possible after combining the ingredients.
Vanilla extract
Oil – Vegetable oil is the preference for most people, but any neutral flavor of oil will work just fine.
Water
How to make wacky cake
Preheat your oven to 350 degrees F.
Add the dry ingredients to an ungreased 8-inch square baking pan, then whisk to combine.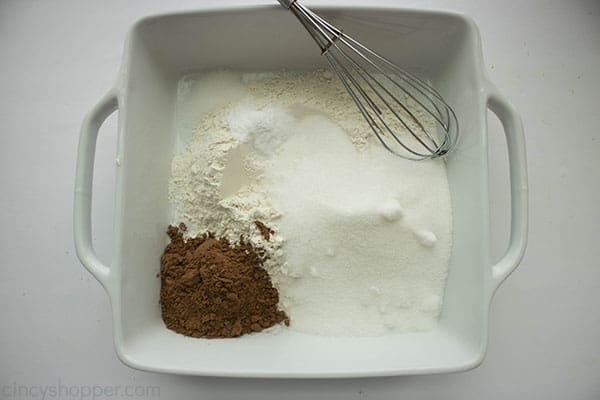 Make three wells in the dry mixture. To do this, you can use the tip of your whisk or the back of a spoon.
Add one wet ingredient to each well. The vinegar in well #1, vanilla extract in well #2, and the oil in well #3.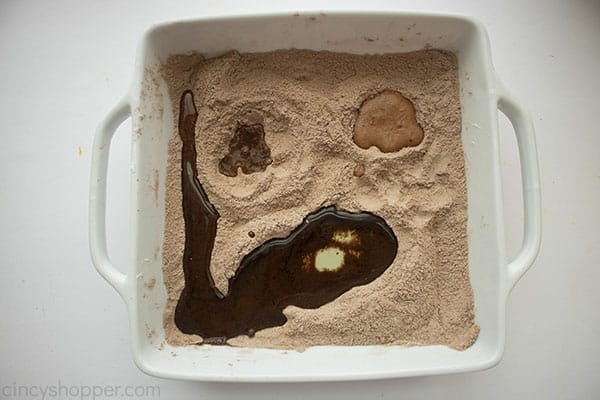 Pour water over everything and whisk to combine.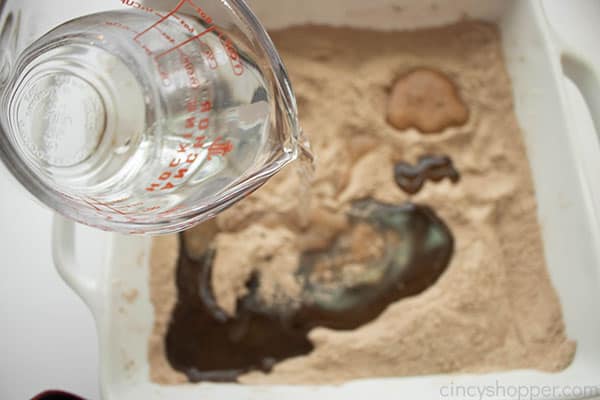 Bake for 30 to 35 minutes, or until a toothpick inserted into the center of the cake comes out with a few moist crumbs.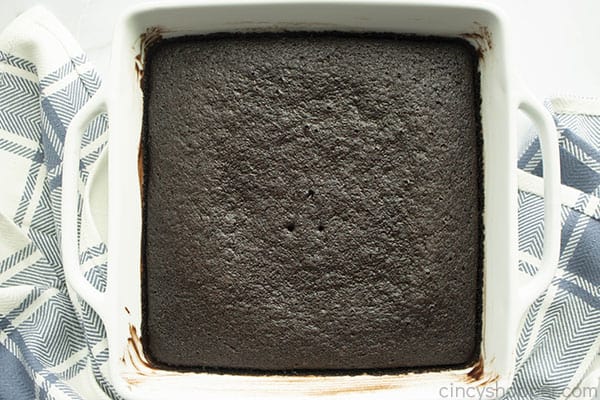 Allow the cake to cool, then frost or glaze if desired. Serve and enjoy!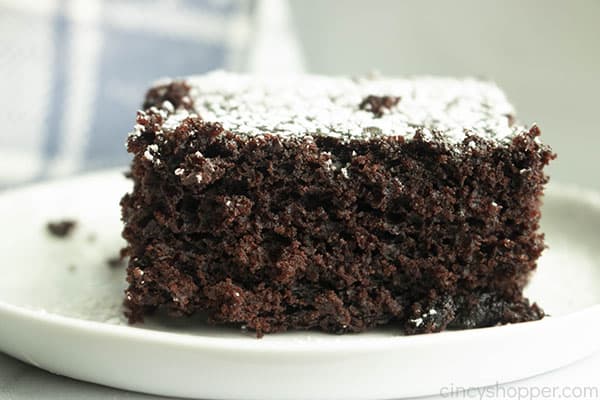 Storing instructions
To keep it moist, be sure to keep the cake in an airtight container. It does not need to be refrigerated unless you frost it with buttercream frosting or cream cheese glaze.
It will keep fresh for about a week. If there are no toppings, you can also freeze it for up to three months.
Wacky Cake (Depression Cake)
Wacky cake is a rich, moist vegan chocolate cake that you make without any eggs or butter. The recipe is SO easy to prepare, you kids can help you make it!
Ingredients
1 1/2

cup

Flour

1

cup

Sugar

1

tsp

Baking Soda

4

tbsp

Cocoa Powder

1/2

tsp

Salt

1

tbsp

Vinegar

1

tsp

Vanilla

1/2

cup

Oil

1

cup

Water
Instructions
Preheat oven to 350.

In an 8x8" ungreased pan, add flour, sugar, baking soda, cocoa powder and salt.

Sir until mixed.

Make 3 holes in dry ingredients.

Pour vinegar in one, vanilla in another and oil in third.

Pour water over all and mix until combined.

Bake 30-35 minutes, until toothpick inserted in center comes out clean.
Nutrition
Calories:
279
kcal
|
Carbohydrates:
40
g
|
Protein:
3
g
|
Fat:
13
g
|
Saturated Fat:
1
g
|
Sodium:
272
mg
|
Potassium:
59
mg
|
Fiber:
1
g
|
Sugar:
22
g
|
Calcium:
6
mg
|
Iron:
1
mg