Gingerbread Cheesecake Dip is perfectly sweetened and flavored with baking spices. This recipe makes the perfect easy Christmas appetizer!
For a delicious holiday spin on some classic cheesecake dip, whip up some of our Gingerbread Cheesecake Dip. A bit of molasses and some baking spices take this sweet spread to the next level!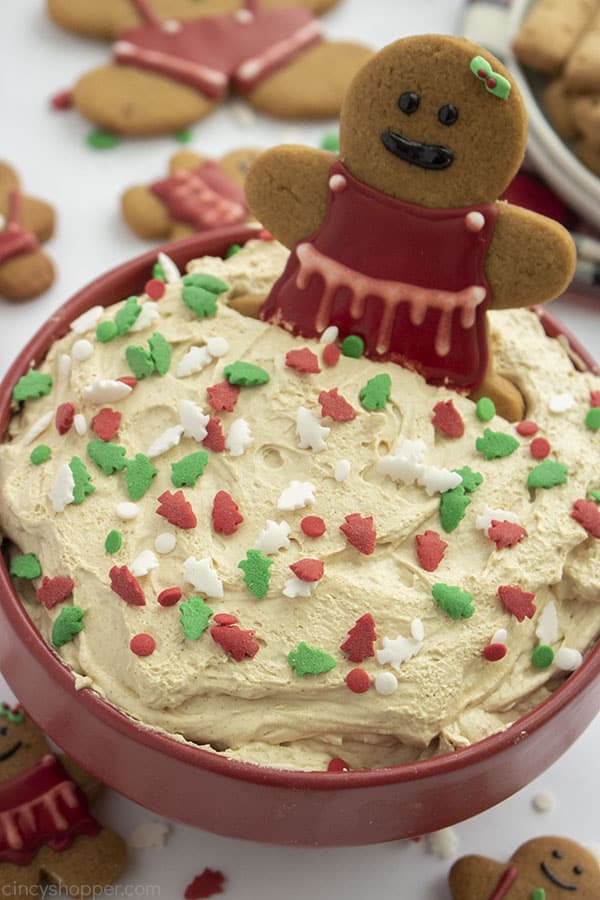 Gingerbread Cheesecake Dip
If you're looking for tasty, easy desserts to serve up at any upcoming holiday parties, look no further than Christmas dips. Once the snow starts falling, everyone seems to be in the mood for these delicious dessert dips- you'll find all sorts of varieties out there. Today, though, we've got an interesting one for all of you to try out: Gingerbread Cheesecake Dip!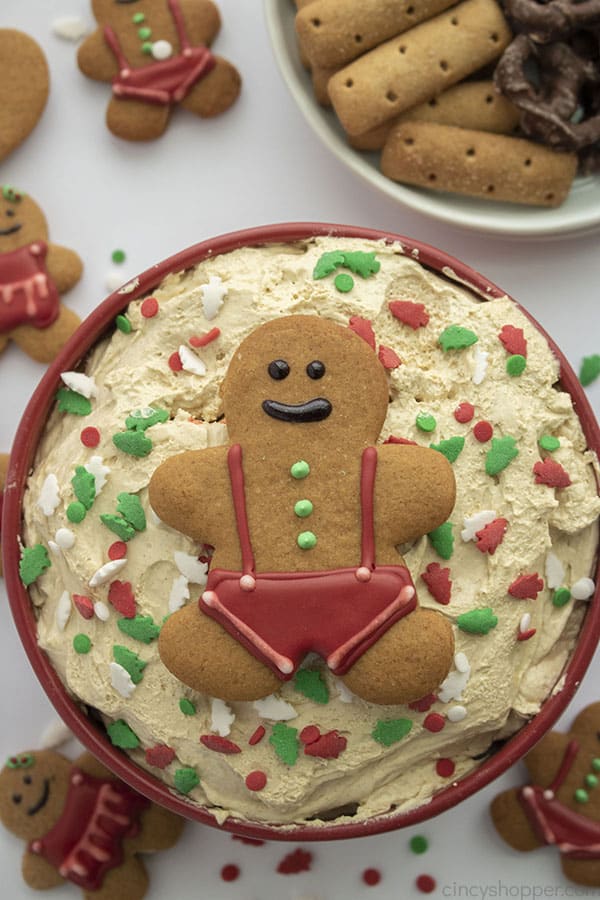 If you've already tried cheesecake dip, you know how delicious it is already. We decided to amp up the flavor by adding in some traditional gingerbread ingredients. To add a bit more sweetness, we added some molasses. Obviously, molasses isn't what makes gingerbread cookies taste so good- that has to be the spices. A simple blend of cinnamon, ginger, and nutmeg gives this delicious cold dip to those recognizable baked flavors.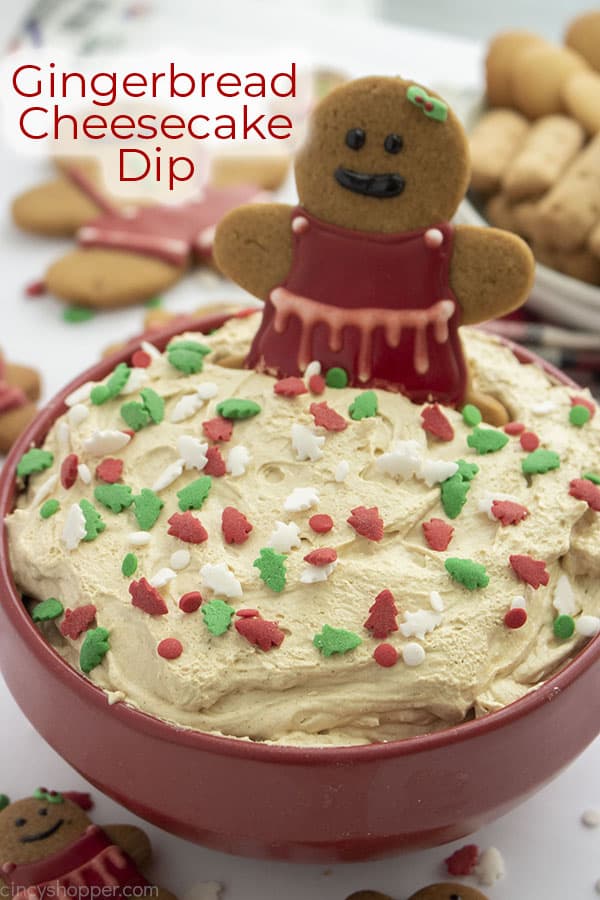 This dip would be great for serving up to a crowd at any Christmas parties you have planned. Whip this sweet spread up to a week in advance and garnish it with all sorts of decorative toppings! We loved it and hope you all do too!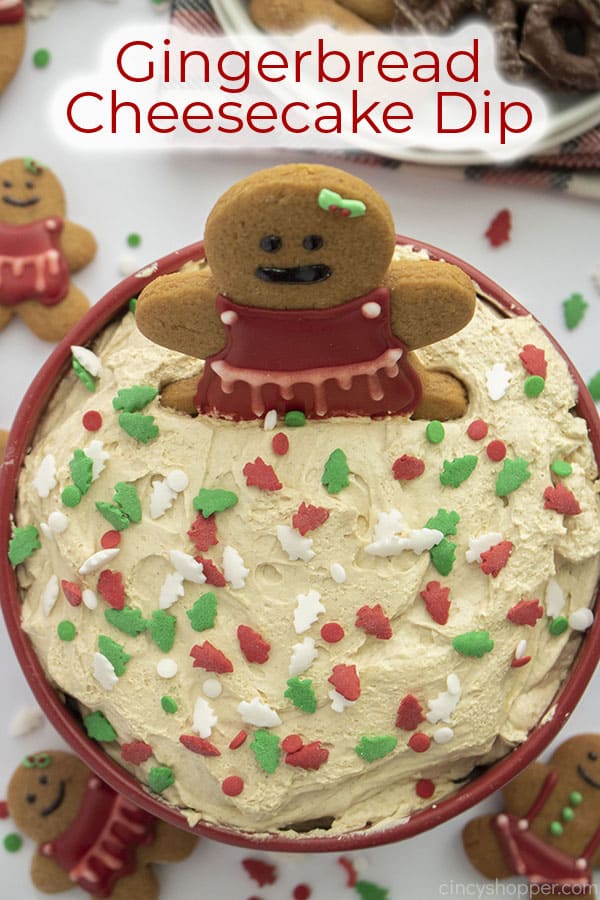 Did you enjoy our Christmas Dip? Try these gingerbread recipes next!
Of course, you can't go wrong with some classic

Gingerbread Cookies

. These delicious spiced treats are a timeless holiday favorite- and what's not to love? You can bake them soft or crispy, cut them out in whatever shapes you please, and icing them is so much fun!

Old Fashioned Gingerbread

is one of the best traditional holiday desserts.

Our recipe for this classic confection yields a moist, flavorful, and almost cake-like treat

. Perfect with a topping of powdered sugar or whipped cream!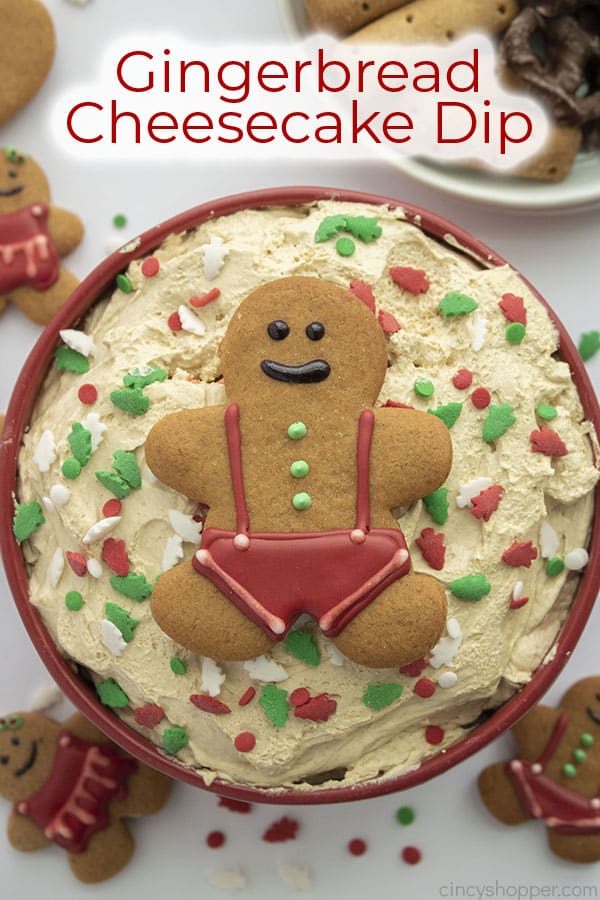 Ingredients for Christmas Cheesecake Dip
Whipped Topping – Like Cool Whip.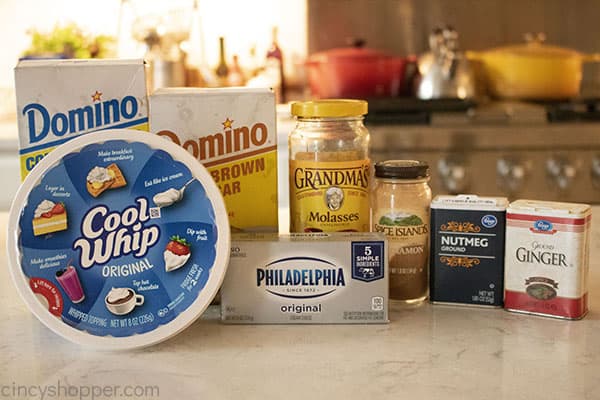 How to make Gingerbread Dip
Before we can start whipping this dip up, we need to let our cream cheese soften up. Either let it sit on the counter for a bit or pop it- unwrapped and on a plate- into the microwave for 15-20 seconds. Once it's softened up, drop it into a mixing bowl and beat until smooth. A hand or stand mixer will make this job easy!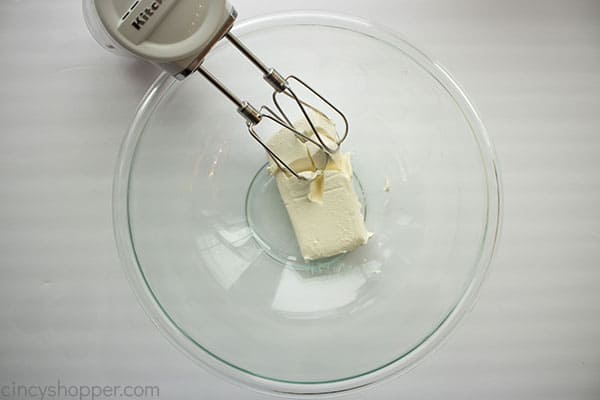 Now set your mixer to medium speed and add in both of your sugars. It should only take a minute or two to mix these in with our cream cheese.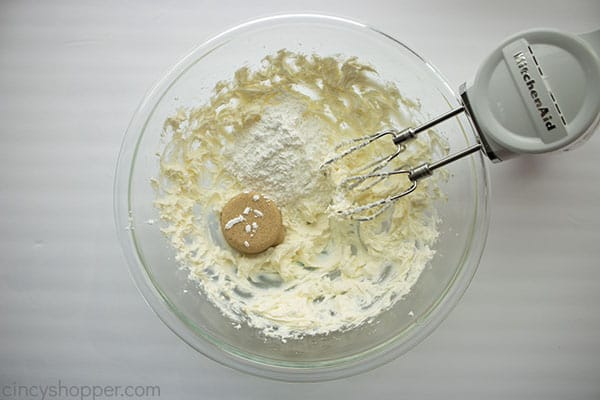 Next, our molasses. Drop it into the bowl and beat it in to combine. Again, this should only take a minute.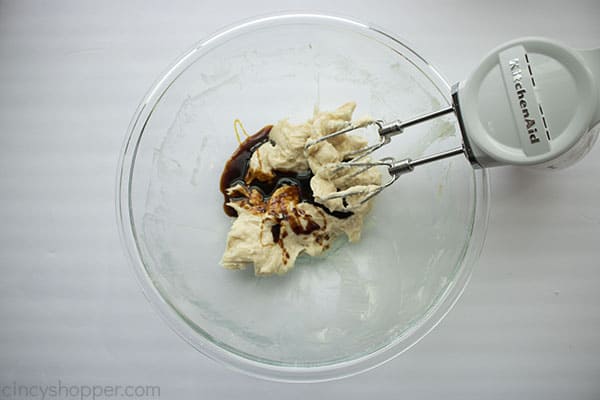 Once the molasses is mixed in and our dip starts looking like peanut butter, we can add in our spices. We went with the classic picks- cinnamon, ginger, and a bit of nutmeg. If you have any other preferred spices, add them here as well.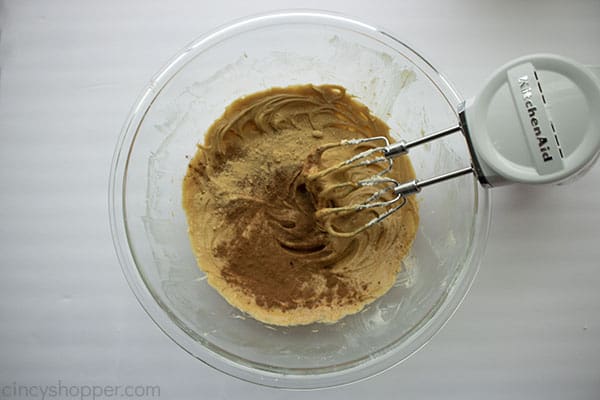 All that's left at this point is to add in our whipped topping. Drop your Cool Whip into the mixing bowl and use something like a silicone spatula to fold it in with our dip.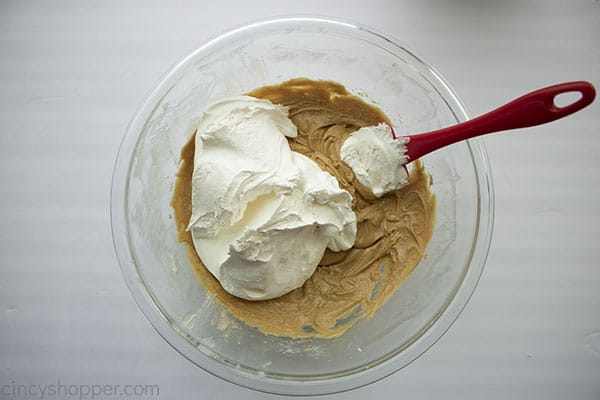 With our dip all whipped up, we can now transfer it to the fridge to chill. If you're making this ahead of time, you can store your dip in an airtight container and it should last for around a week.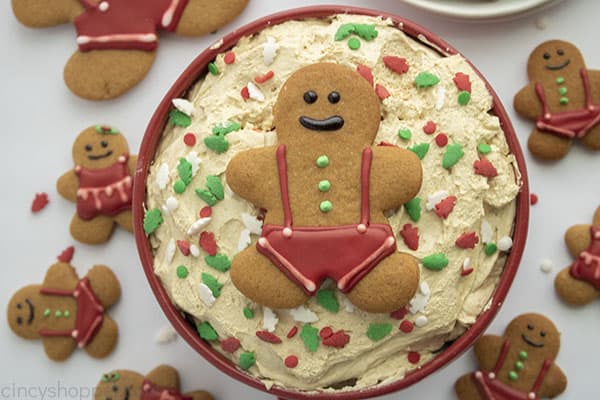 When it comes time to serve your dip, feel free to garnish it with some decorative sprinkles. Serve up with some graham crackers- we really liked serving these with those graham cracker sticks- or some vanilla wafers. Hope you enjoy!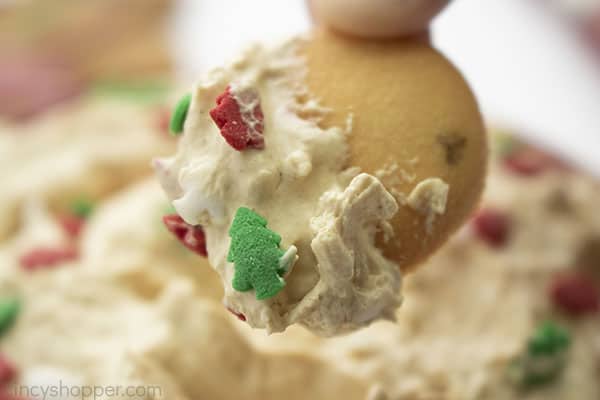 Gingerbread Cheesecake Dip
Gingerbread Cheesecake Dip is perfectly sweetened and flavored with baking spices. This recipe makes the perfect easy Christmas appetizer!
Ingredients
8

oz

Cream Cheese softened

1/4

cup

Brown Sugar

1/2

cup

Powdered Sugar

3

tbsp

Molasses

1

tsp

Ground Ginger

1

tsp

Ground Cinnamon

1/8

tsp

Ground Nutmeg

4

oz

Cool Whip
Instructions
Beat the cream cheese until smooth.

Add the brown sugar and powdered sugar. Beat until incorporated.

Add molasses and beat until incorporated.

Add the ginger, cinnamon, and nutmeg and beat until smooth and combined.

Fold the Cool Whip into the mixture until blended.

Refrigerate until ready to serve.
Nutrition
Calories:
131
kcal
|
Carbohydrates:
17
g
|
Protein:
1
g
|
Fat:
7
g
|
Saturated Fat:
4
g
|
Cholesterol:
22
mg
|
Sodium:
71
mg
|
Potassium:
116
mg
|
Fiber:
1
g
|
Sugar:
15
g
|
Vitamin A:
270
IU
|
Calcium:
45
mg
|
Iron:
1
mg