Corn Salsa is a simple and tasty taco topping & chip dip made like pico de gallo. This delicious condiment tastes just like Chipotle made!
This delicious Mexican Corn Salsa is an amazing condiment and dip! Goes great with chips or served with some Slow Cooker Carnitas or Slow Cooker Barbacoa.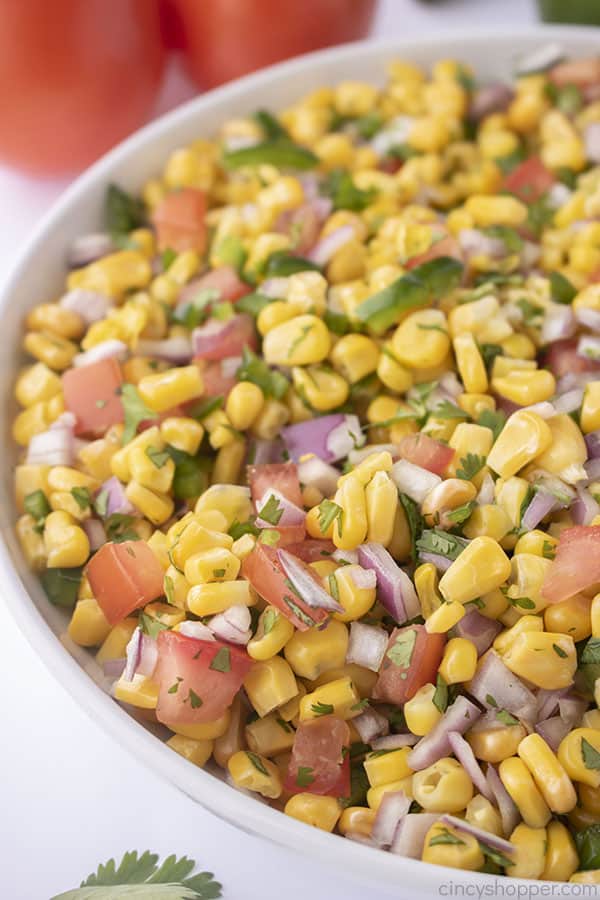 Corn Salsa
Imagine my shock and disappointment when I heard that my local Chipotle stopped serving their delicious corn salsa! Chipotle's Corn Salsa was, without a doubt, one of my favorite things that they served- great as a chip dip and as a topping. I was upset for a good while… until I realized I could make some myself!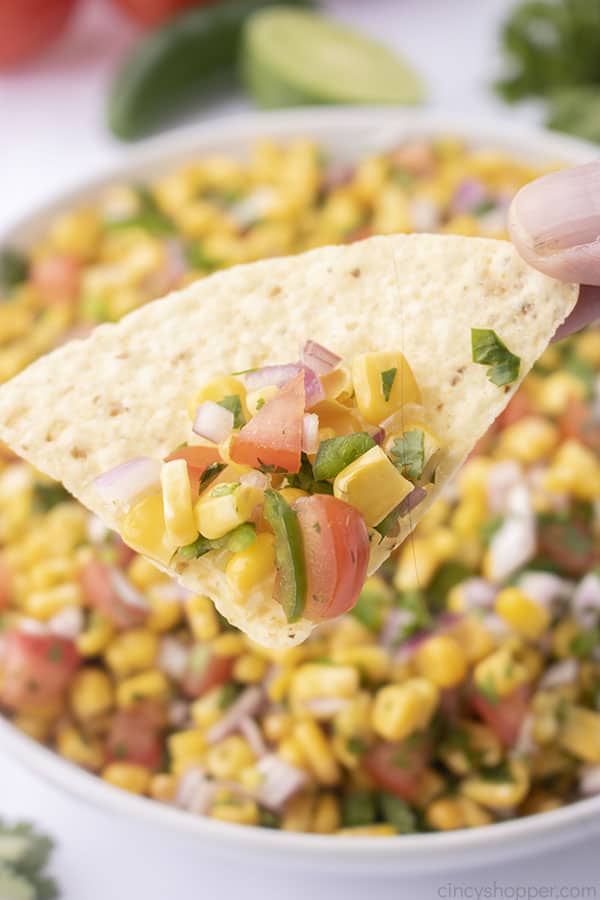 This Corn Salsa is made in more a pico de gallo-style. Chipotle usually went very heavy on the corn with theirs: I decided to mix things up and include a bit more of the traditional pico de gallo fillings. I actually prefer this way! If you'd like to make yours more as Chipotle did, I'd recommend doubling up on the corn.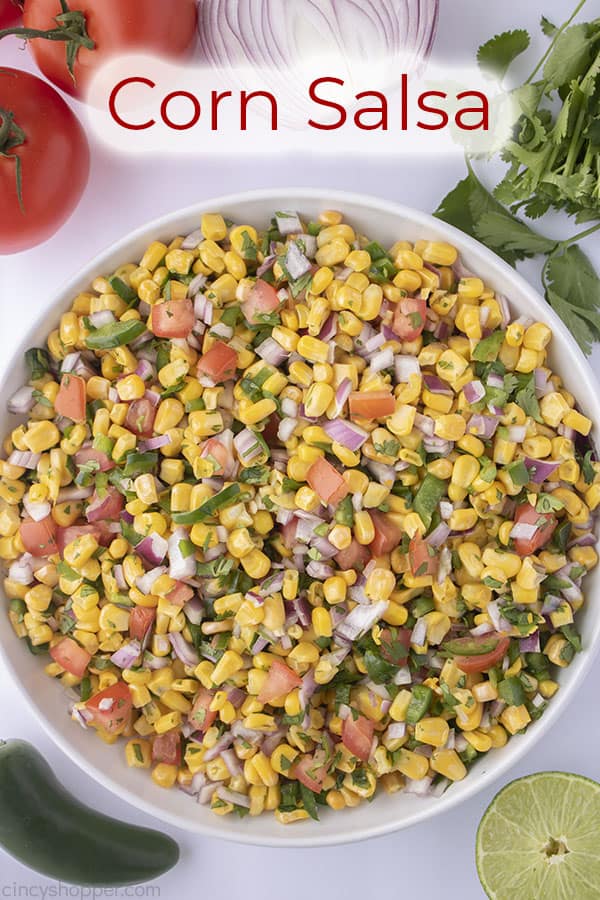 Whether you prefer it our way or their way, you're going to love this recipe for Easy Corn Salsa. The slight sweetness of corn plays perfectly with those crisp, fresh ingredients in a pico de gallo. This stuff works great as a taco topping but it's an amazing dip for some good tortilla chips! We know you're going to love this one- hope you enjoy it!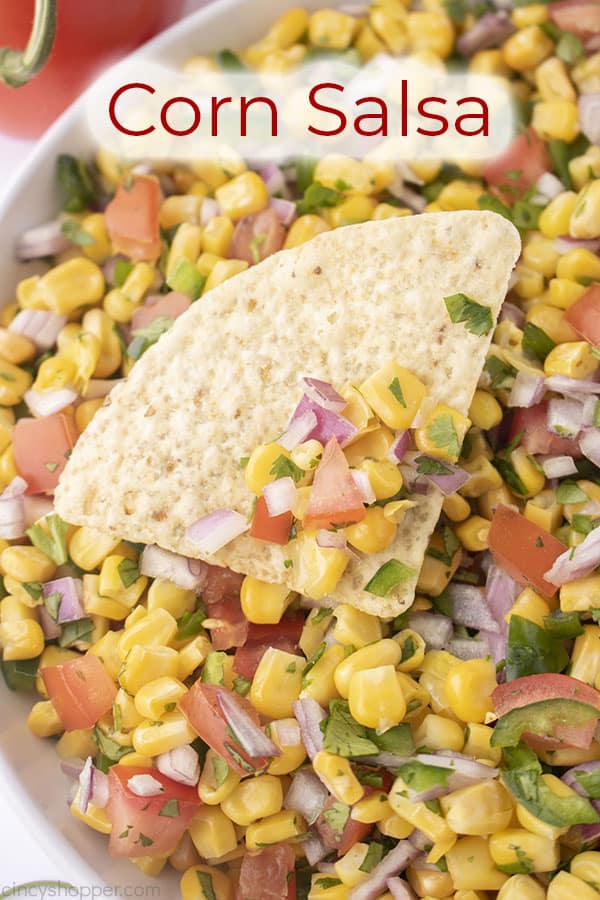 Enjoyed our recipe? Try these salsa recipes next!
Corn isn't the only thing you can add to pico de gallo- we did something similar with our

Strawberry Salsa

!

The fruity sweetness of diced strawberries is perfect set against the heat of jalapenos and crisp red onions

. Crank the heat up by using some habaneros or scotch bonnets or cool it down by deseeding your peppers.

Of course, you could also keep things simple with our recipe for

Easy Pico de Gallo

.

Making this classic Mexican topping and condiment is simple: all you need is tomatoes, onion, jalapeno, and cilantro

.

Season to your taste with some lime and some salt and you've got a perfect taco topping or a simple and delicious chip dip

.

If you're wanting some good, restaurant quality salsa, we can't recommend our

Homemade Salsa

enough

! This is the perfect recipe for fresh garden tomatoes- but you can use canned too if that's all you've got. Run the ingredients through your food processor- goes as chunky or as smooth as you'd like!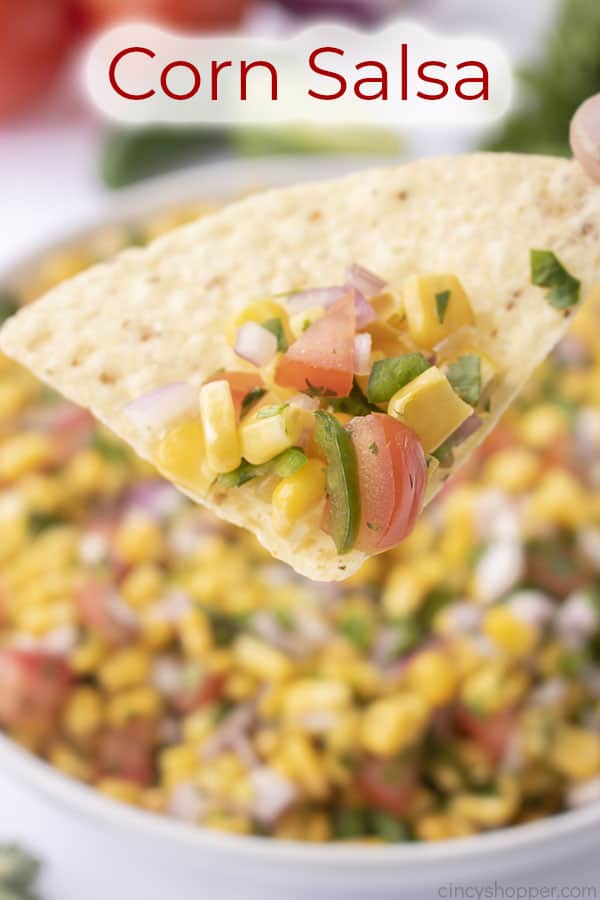 Ingredients for Corn Pico de Gallo
Corn

– We used thawed frozen corn for our salsa but any cooked and cooled corn should work for this recipe.

Jalapenos

Onion

– Red onion works best in any sort of pico de gallo-style salsa.

Tomato

Cilantro

– Parsley and a bit of extra lime work as a cilantro substitute.

Lime Juice

Salt & Pepper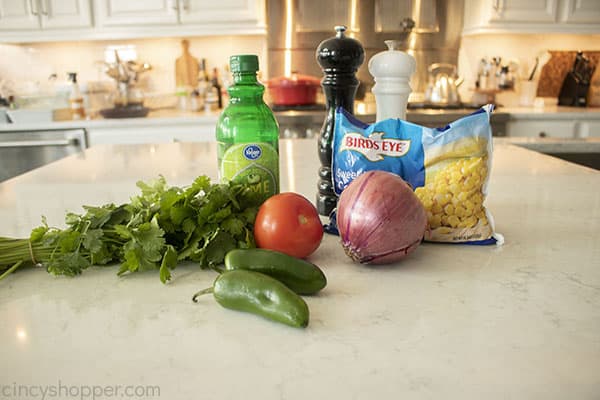 How to make Chipotle Corn Salsa
If you're wondering how to make a corn salsa, it's very easy. Here's all you'll need to do…
Prep your salsa ingredients by

thawing your corn

and

dicing your vegetables and herbs.

Mix your corn, vegetables, and herbs

in a large bowl.

Season your salsa to taste with lime juice, salt, and pepper.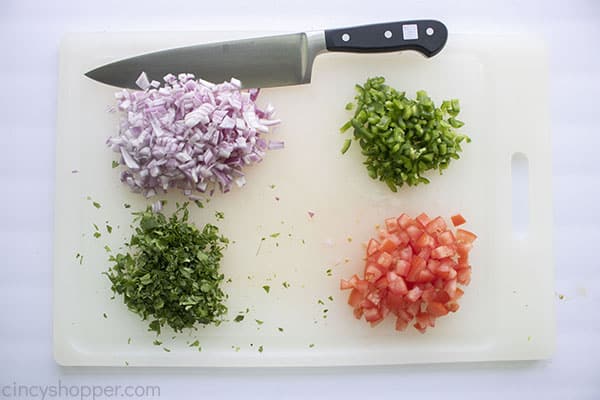 Start by thawing out your corn- if using frozen- and giving the peppers, onion, tomato, and cilantro a quick dice. We want the pieces small enough for scooping up on tortilla chips but there's no need to go super-fine. Once those are all diced up, add to a bowl with the corn.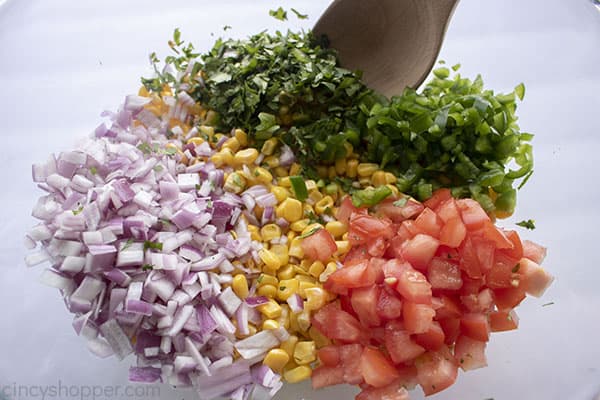 Give those a quick mix and your salsa is technically done. However, you'll want to season it to taste with lime juice and salt & pepper. So add those to taste- using a bit more lime juice if using parsley in place of cilantro.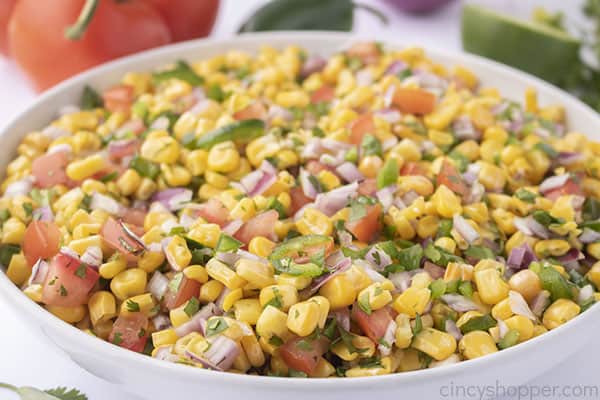 Your salsa is good to go once it's mixed up-but it'll taste great after a brief hour in the fridge. If you have any leftover salsa, put it in an airtight container and keep it in the fridge for up to 4 days. I've been told that this salsa should also hold up pretty well if canned- most canned goods are good if used within one year. However you store it, optionally strain out any excess juice before serving.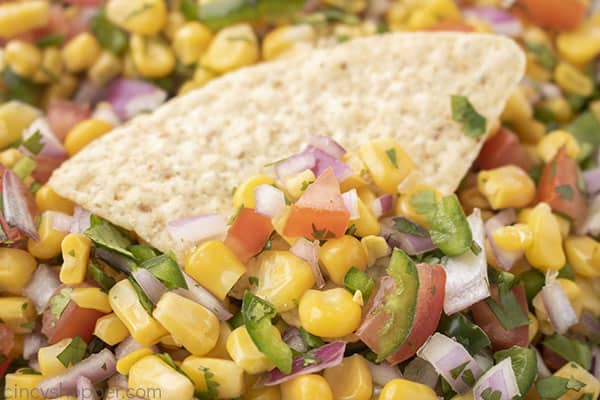 Corn Salsa
Corn Salsa is a simple and tasty taco topping & chip dip made like pico de gallo. This delicious condiment tastes just like Chipotle made!
Ingredients
12

oz

Frozen Corn

thawed

2

Jalapenos

diced and seeds removed.

1/2

Red Onion

finely diced

1

Tomato

diced

1/4

cup

Cilantro

chopped

2

tbsp

Lime Juice

1/2

teaspoon

Salt

1/2

teaspoon

Pepper
Instructions
Add thawed corn to a medium bowl making sure to drain excess moisture.

Add diced jalapenos, onion, tomato, and cilantro.

Add lime juice, salt, and pepper then mix it well.
Notes
Leave some seeds in jalapenos if more heat is desired.
Nutrition
Calories:
99
kcal
|
Carbohydrates:
24
g
|
Protein:
3
g
|
Fat:
1
g
|
Saturated Fat:
1
g
|
Sodium:
298
mg
|
Potassium:
378
mg
|
Fiber:
3
g
|
Sugar:
2
g
|
Vitamin A:
408
IU
|
Vitamin C:
22
mg
|
Calcium:
13
mg
|
Iron:
1
mg