Copycat Cracker Barrel Meatloaf is so tasty, made with crackers and cheese. We love this restaurant recipe and now you can make it at home!
Meatloaf is always a safe and delicious dish you can make for dinner and this copycat recipe brings in a few more tasty ingredients. Goes great with other Cracker Barrel favorites like Fried Apples, Coke Cake, or some of The Best Mashed Potatoes!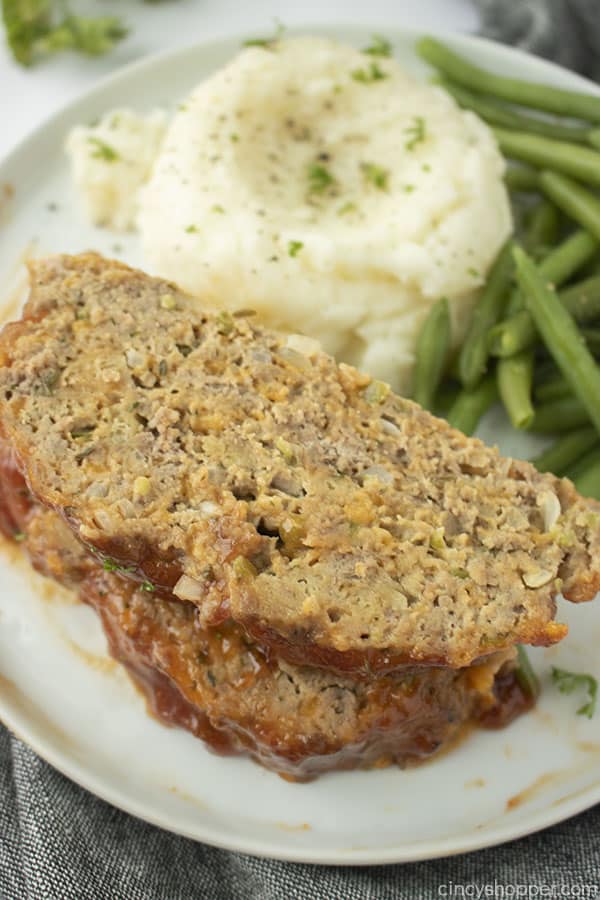 Copycat Cracker Barrel Meatloaf
Cracker Barrel is definitely one of the best restaurants when it comes to comforting Southern food. I love it- just check out some of the copycat recipes we've posted over the years. Unfortunately, Cracker Barrel always seems to be just out-of-the-way enough that I can't eat there too often. Thankfully, we're pretty crafty in our kitchen and we think we've made a good copycat of one of our favorite Cracker Barrel menu items: the meatloaf.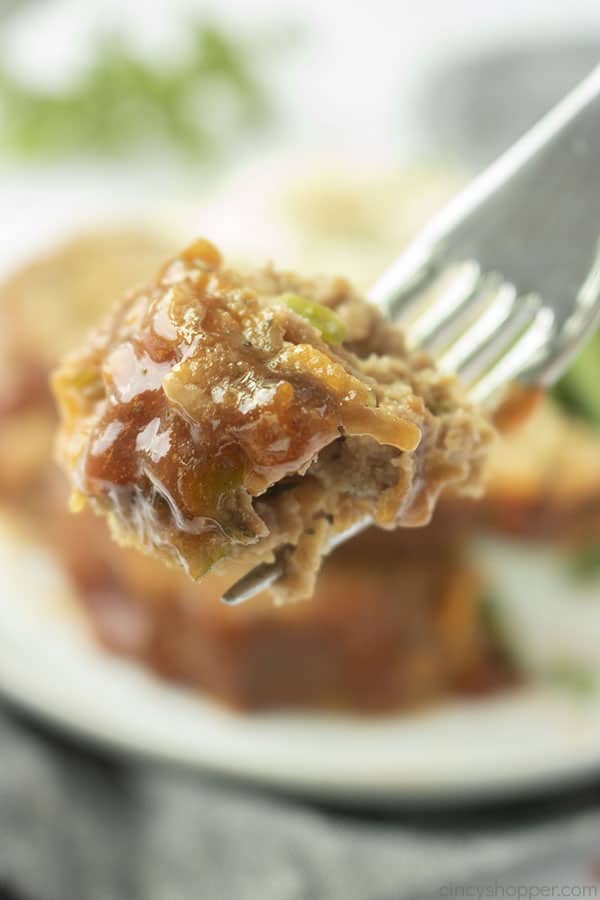 This Cracker Barrel Meatloaf with Ritz crackers definitely checks all the boxes for a good meatloaf. It's juicy, it's easy, and it's topped with a sweet-and-tangy meatloaf glaze. What makes it unique is some of the extra ingredients mixed in with the meat. In addition to some diced onions, we've also got some bell peppers and- strangely- some shredded cheddar cheese. All of these ingredients come together to create a unique and delicious meatloaf you've gotta try!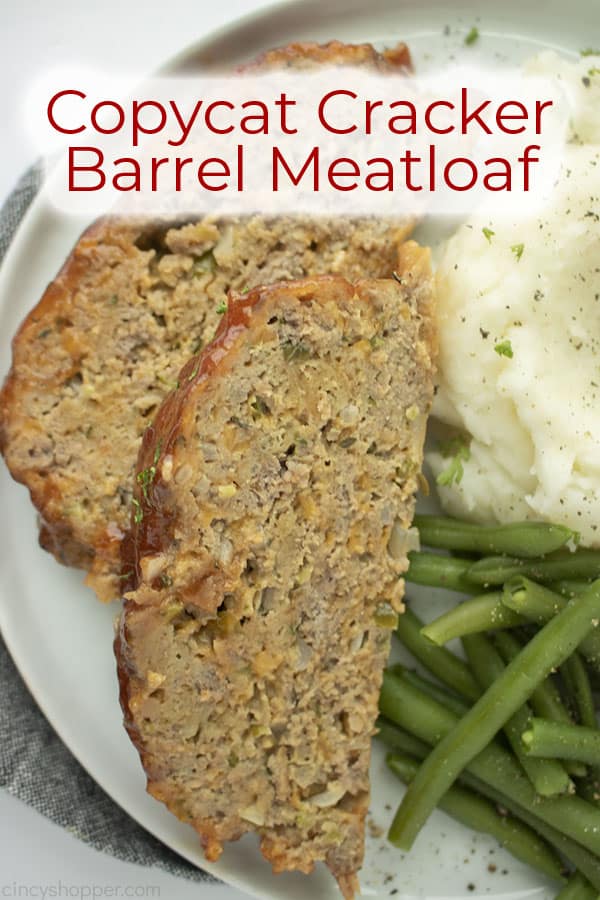 It's worth making this meatloaf at least once. If anything, you'll have a few new ingredients you can try adding to your own meatloaf recipes! But I guarantee you'll come back to this recipe again- there's just something about this Cracker Barrel Meatloaf that has me hooked.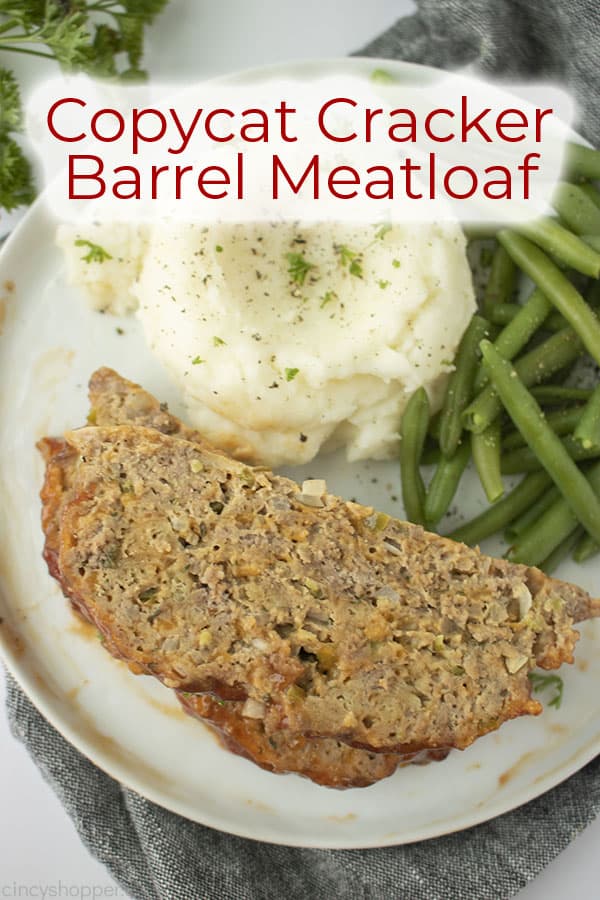 Loved this recipe? Try these other meatloaf recipes next!
Few things are better than a

Classic Meatloaf

. This easy dinner favorite has always been a go-to for families around the world!

Our take on this timeless dish is juicy, delicious, packed with flavor, and topped with a tangy ketchup glaze you

just

have to try

.

To keep things real simple, consider making our

Slow Cooker Meatloaf Recipe

.

You'll

be shocked

how easy it is to make meatloaf in the slow cooker- and it turns out

just

as tasty and juicy as baked meatloaf

. Toss some carrots and potatoes in with your loaf- you can make an entire dinner all in one slow cooker or crockpot!

For a fun and fresh take on this classic dish, try making some of our

Meatloaf Cupcakes

. These are great for serving up to a big family or at your next party or potluck.

They hold together real well,

are packed

with flavor, and taste perfect with a little mashed potato on top as "frosting

!"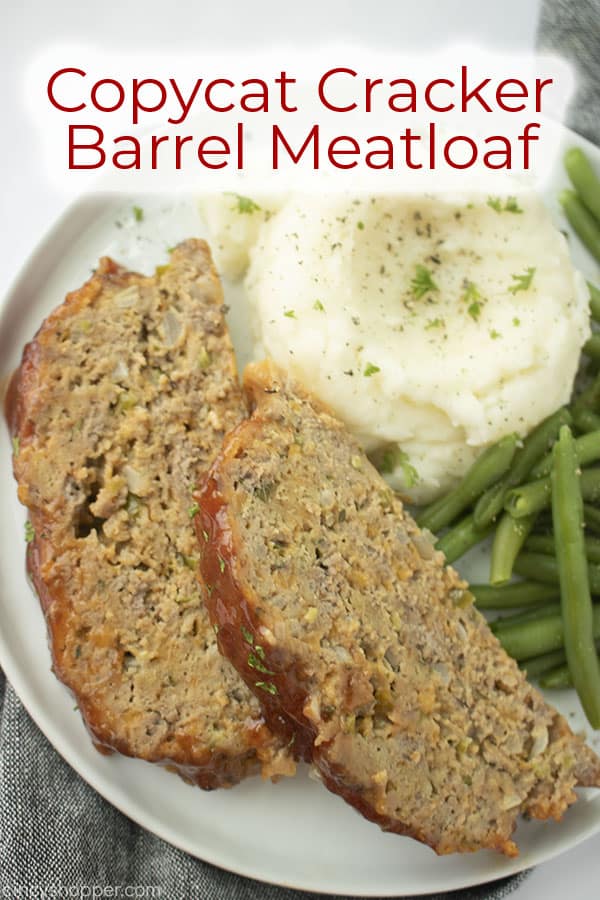 Meatloaf Ingredients
Onion

Bell Pepper

– You can go with red or green.

Cheddar Cheese

– We went with a sharp cheddar, but you can use a mild if you prefer. Don't use pre-shredded cheese though- it won't turn out right!

Eggs

Ritz Crackers

– Crush these beforehand.

Milk

Ground Beef

– The best meatloaf recipes will usually call for a fatty ground beef- we're talking at least 80% lean and 20% fat

. If you're worried about the fat, we don't recommend going much lower than 85/15.

Worcestershire Sauce

Seasonings

– Salt and pepper are a couple of obvious picks. Outside of that, go with some classic herbs like parsley, oregano, and thyme. A touch of garlic powder is great too!
For the meatloaf glaze, you'll need the following:
Brown Sugar

– Light brown sugar or dark brown sugar- it's up to you!

Ketchup

Mustard

– A yellow mustard works best here.

Apple Cider Vinegar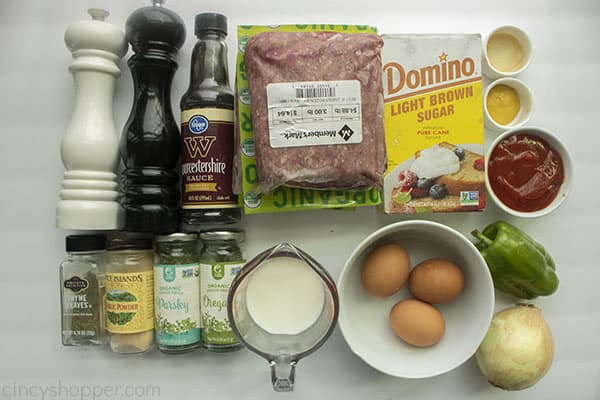 How to make Meatloaf like Cracker Barrel
We're looking at classic meatloaf prep for this Cracker Barrel Meatloaf recipe- it's not hard to make at all
! Here's what you need to do:
Prep each of your meatloaf ingredients

.

Add to a bowl

and

mix by hand

until

thoroughly

combined.

Form meat mixture into a loaf

in the center of a foil-lined baking dish.

Bake at 350 degrees

for

30 minutes

.

Combine the glaze ingredients

and

spread over the top of your meatloaf

before

baking another 20-30 minutes

. Remove from oven when cooked to your liking and

let rest before slicing

and serving.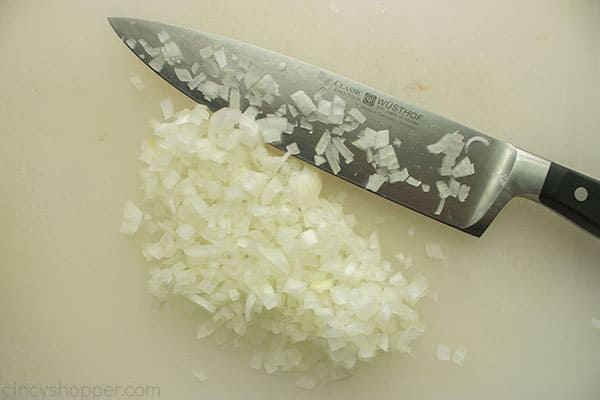 Start off by getting everything prepped. Chop your onions and bell peppers.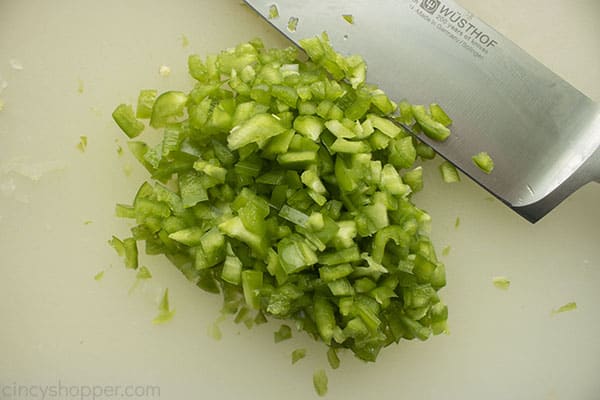 Get your cheese shredded- no need to go super-fine here.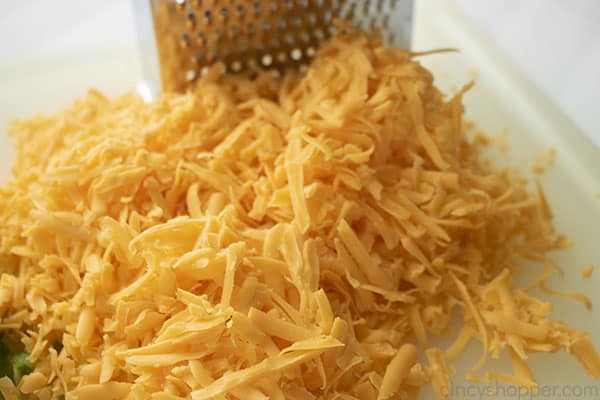 In a separate bowl, crack and beat your eggs together.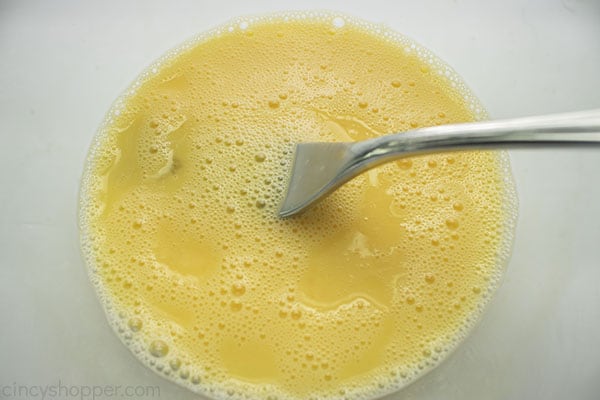 To get your crushed Ritz crackers moist, mix them up with your milk now.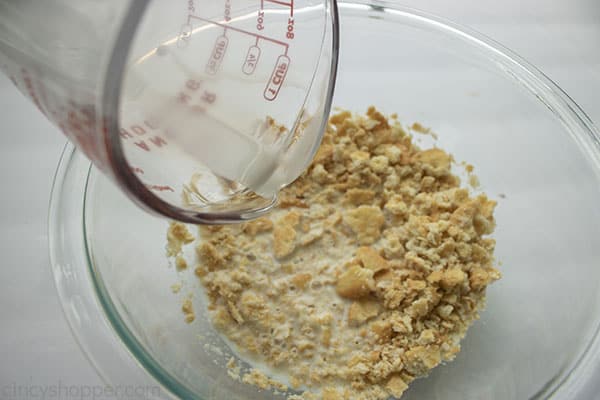 Now we can start mixing our meat. Before you start adding everything to the bowl, break the ground beef into large chunks. Add in everything except our crackers and the eggs and give a quick mix with your hands.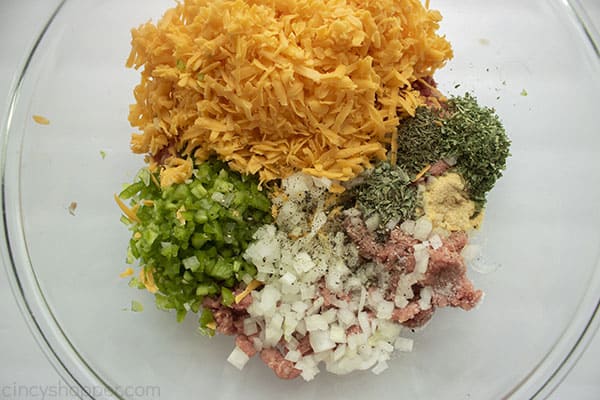 Once those are mixed up some, feel free to toss in the Ritz crackers and the beaten eggs and mix those in. These ingredients tend to mix in better when you add them last.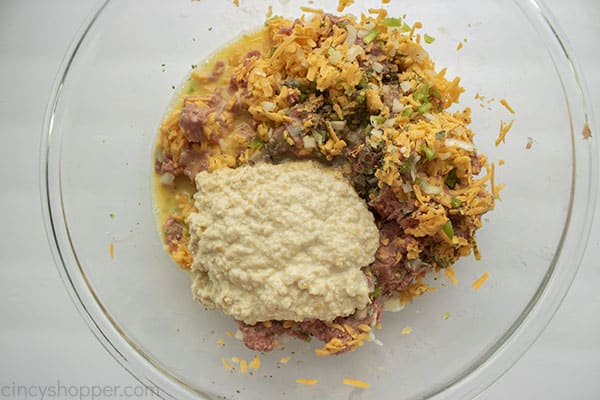 Around this time, you might want to get the glaze ready as well. For that, just mix the mentioned ingredients until fully combined.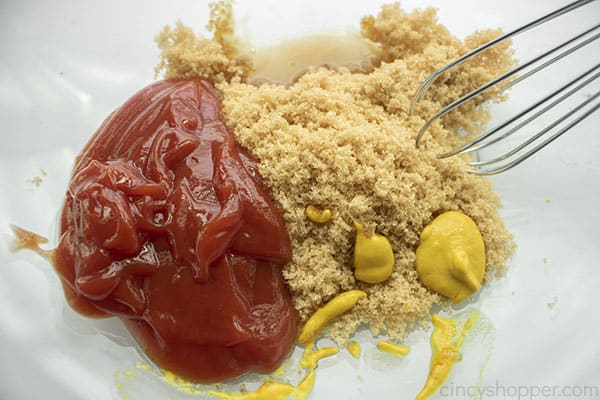 Line a baking dish with foil and grease with a bit of oil or cooking spray. Take your meat mixture and start forming it into a loaf in the center of the dish.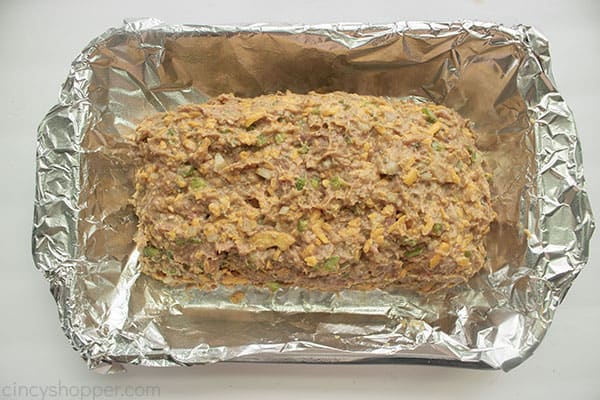 What temp to cook meatloaf at?
Now it's time to start baking our Cracker Barrel Meatloaf. We usually cook ours at 350 degrees and that's what we did this time around. However, if you're cooking a bigger meatloaf using 2+ lbs of beef, you might want to bump the temp up to as high as 425 degrees. This will help your meatloaf cook just as fast as a smaller one. Back to our meatloaf though: pop it into the oven at 350 degrees for 30 minutes. When it comes out, spread that glaze over top.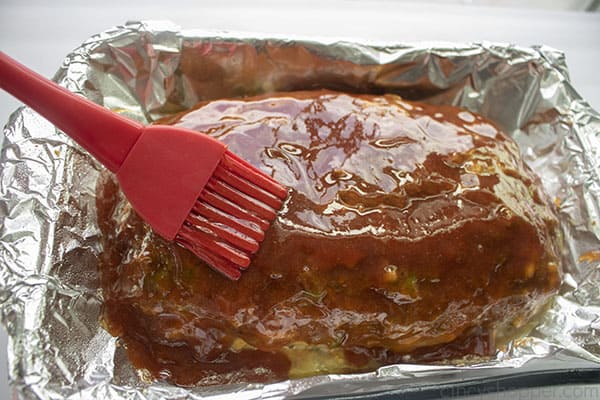 Now send it back into the oven for another 20-30 minutes. This will let that glaze get all nice and caramelized and let the loaf finish cooking fully. Pull the meatloaf from the oven when it's cooked to your liking- if you have a food thermometer, it's done anywhere between 150 and 165 degrees.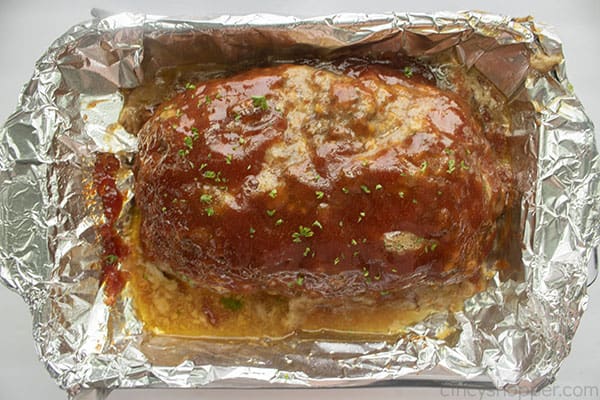 Let the meatloaf rest for a good 5-10 minutes before slicing into it. To double-check doneness, cut it half so you can see the center before cutting into individual slices.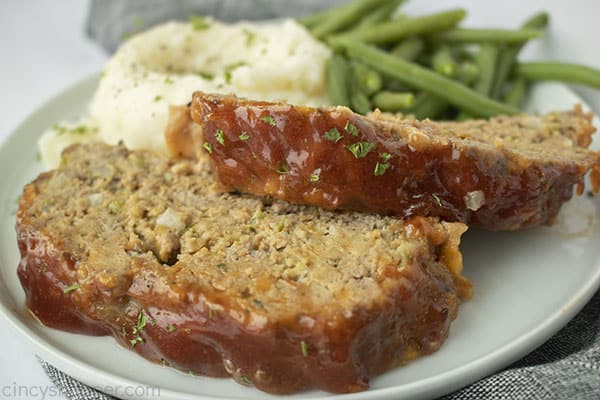 Serve up with your favorite sides and enjoy!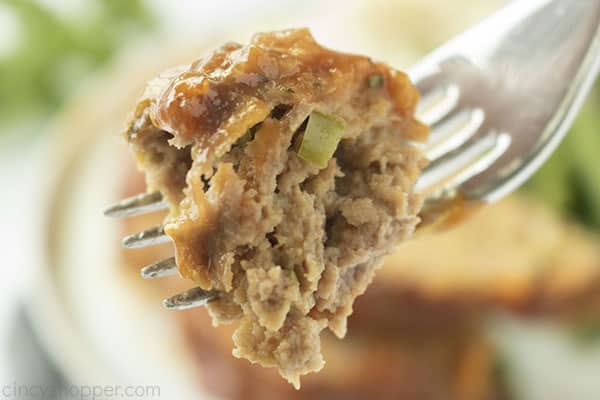 Copycat Cracker Barrel Meatloaf
Copycat Cracker Barrel Meatloaf is so tasty, made with crackers and cheese. We love this restaurant recipe and now you can make it at home!
Ingredients
Meatloaf
1

Onion

finely diced

1/2

Green Bell Pepper

finely diced

8

oz

Cheddar Cheese

shredded

3

large Eggs

beaten

29

Ritz Crackers

crushed

1/2

cup

Milk

1 1/2

lb

Ground Beef

80/20 works best

1

tsp

Oregano

1

tsp

Thyme

1

tsp

Garlic Powder

2

tbsp

Parsley

1

tbsp

Worcestershire Sauce

1/2

tsp

Salt

1/8

tsp

Pepper
Glaze
1/2

cup

Ketchup

1/2

cup

Brown Sugar

1

tsp

Yellow Mustard

1

tsp

Apple Cider Vinegar
Instructions
Preheat oven to 350.

Line a large baking dish with aluminum foil. Set aside.

In a medium bowl mix together crushed crackers and milk. Allow to sit.

In a large bowl break up ground beef.

Add the remaining ingredients except eggs and crackers and mix with hands to combine.

Add eggs and crackers for final mix and form into a loaf shape.

Place in center of prepared dish.

Bake in the preheated oven for 30 minutes.

In a medium bowl, combine glaze ingredients and stir to combine.

After the 30 minute bake, spread the glaze over the meatloaf and bake another 25 minutes.

Remove from oven when internal temperature reaches 160.

Allow io rest at least 5 minutes before slicing.
Nutrition
Calories:
663
kcal
|
Carbohydrates:
38
g
|
Protein:
34
g
|
Fat:
41
g
|
Saturated Fat:
19
g
|
Polyunsaturated Fat:
3
g
|
Monounsaturated Fat:
15
g
|
Trans Fat:
2
g
|
Cholesterol:
204
mg
|
Sodium:
898
mg
|
Potassium:
594
mg
|
Fiber:
1
g
|
Sugar:
26
g
|
Vitamin A:
807
IU
|
Vitamin C:
13
mg
|
Calcium:
387
mg
|
Iron:
4
mg