Peach Crisp is such a tasty dessert, made from fresh peaches with a crumbly crisp topping. An easy recipe that makes a perfect summer dessert!
Peaches are some of the tastiest summer fruits: we used a haul of some extra sweet peaches for this delicious Peach Crisp recipe! For more tasty peach recipes, try our Custard Peach Pie and our Blender Peach Ice Cream.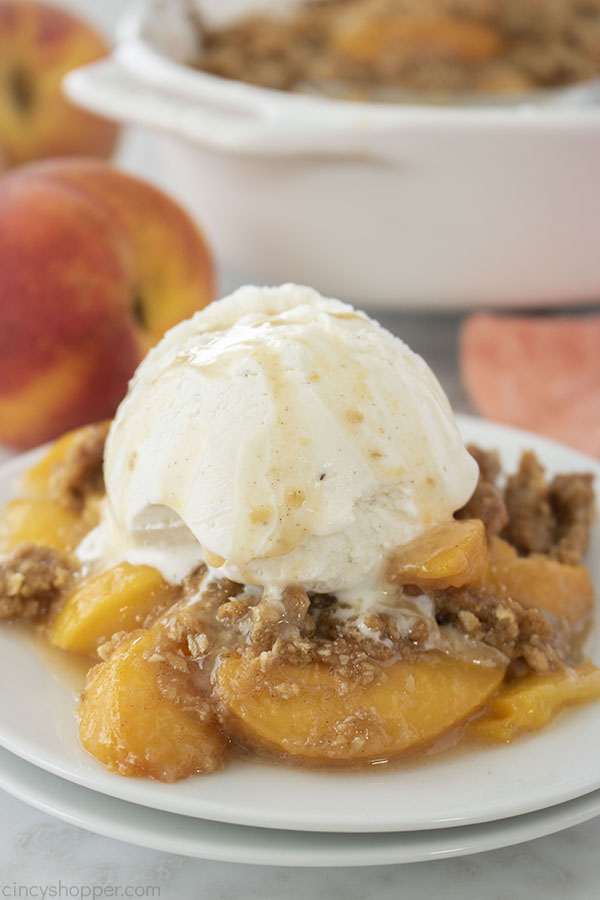 Peach Crisp
One of the biggest reasons the summertime is perfect for foodies and dessert fans is that some of the tastiest fruits are back in season. All sorts of berries- perfect for all sorts of baked desserts-, watermelons, and plenty of sweet, tasty peaches too! We stopped into the grocery recently and picked up plenty of peaches for snacking and recipes. It was a good batch too: so sweet you could eat them right there- but I thought they'd taste even better in a delicious homemade Peach Crisp!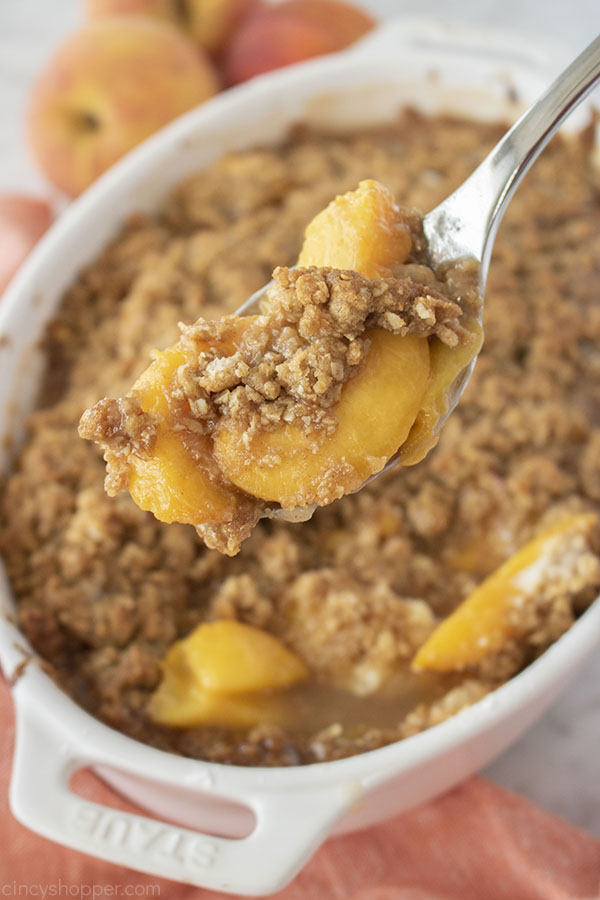 Crisps are such simple and easy desserts: a melty fruit filling topped with a buttery, crumbly crisp topping. Prep is easy, cooking is quick, and the end product is perfect when topped with some ice cream! This Easy Peach Crisp with fresh peaches was no exception. Once the peaches were blanched and peeled, the turnaround time on this delicious dessert was so quick!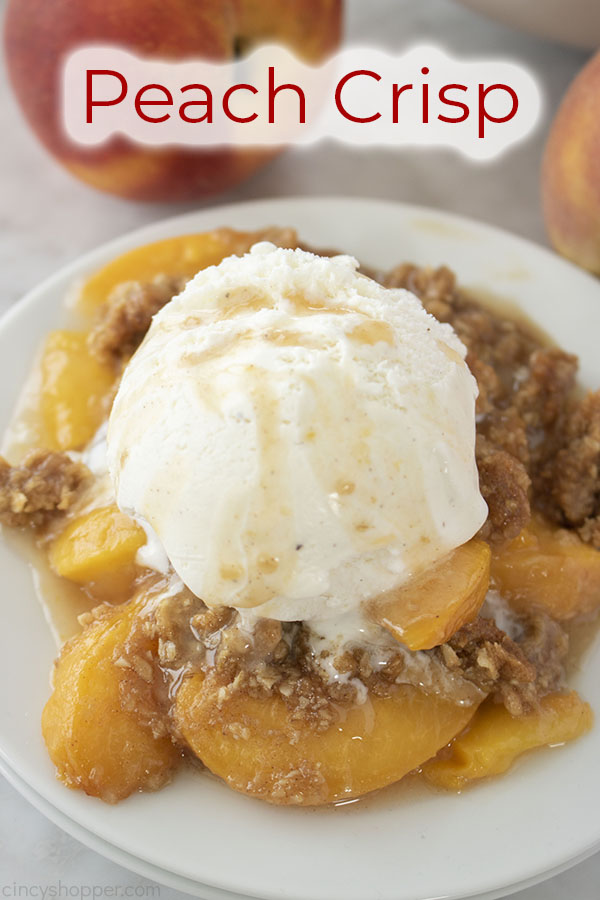 This is a summer dessert recipe you'll want to try before the season's through! Fresh Peach Desserts are always going to taste so much better than anything from a can. You're going to love this recipe: it might be your new favorite summer dessert!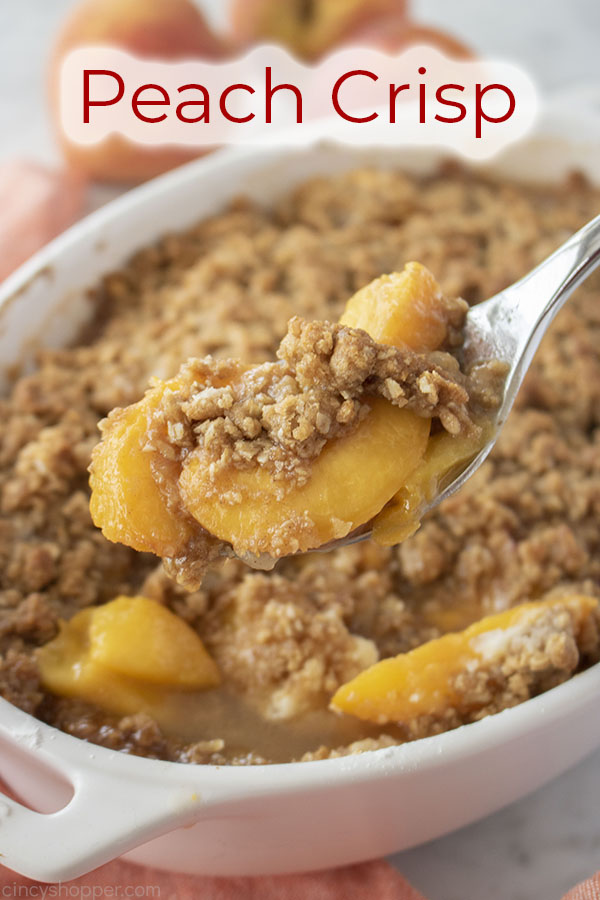 Loved this recipe? Try these crisp recipes next!
If you're wanting a tasty crisp recipe for the fall, you'll want to try our

Pumpkin Crisp

.

This is a simple dessert recipe that you can whip up easy with a few pantry staples: canned pumpkin, evaporated milk, and some quick oats

. With a delicious creamy filling and a crisp crumbly topping, it's the perfect fall dessert!

Strawberries are one of our favorite fruits, and that's why we love our

Easy Strawberry Crisp

recipe

.

Prep is very

similar to

our Peach Crisp here- so you'll have a warm, delicious, melty Strawberry Crisp ready in no time

!

With the warm strawberries and crunchy oat topping, you'll definitely want to top this off with some ice cream

.

Lastly

, we couldn't forget about our

Traditional Apple Crisp

!

This has always been one of our go-to family desserts every fall: melty apples with that streusel topping is

just

peak comfort food

. With such a short ingredients list, you'll be able to whip this crisp recipe up in no time any time you want!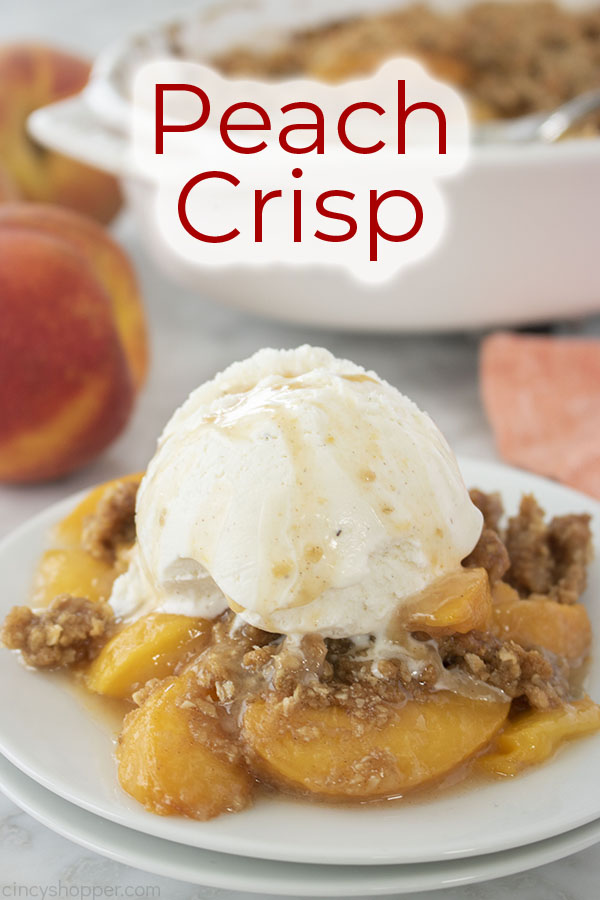 Peach Crisp Ingredients
Flour

Brown Sugar

Old-Fashioned Quick Oats

– Uncooked old fashioned quick oats will work best for this recipe.

Cinnamon

Butter

Vanilla Extract

Peaches

– We need peeled peaches for this recipe and we recommend blanching them instead of using a vegetable peeler

. Blanching peaches is going to save much more of the flesh of the fruit. For a quick guide on how to blanch peaches, check out

this article from MasterClass

.

Granulated Sugar

Cornstarch
This Peach Crisp Recipe tastes great topped with a healthy scoop of
vanilla ice cream
, so don't forget that either
!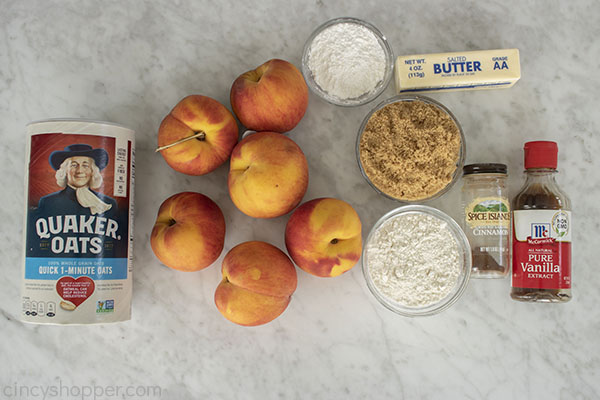 How to make Peach Crisp with Fresh Peaches
Crisps are such easy desserts to make, and our Fresh Peach Crisp isn't any different! To make some yourself, here's what you'll do:
Mix together flour, brown sugar, oats, and cinnamon

before

adding vanilla and butter

. Using something like a pastry blender or fork,

work together until large crumbs form

.

Blanch and peel peaches

before

cutting into small slices

.

Toss with granulated sugar and cornstarch

to coat before

setting in baking dish

.

Cover coated peaches with crisp topping

and

bake at 375 degrees

for

30-35 minutes

or

until topping

is browned

and

peaches are soft

.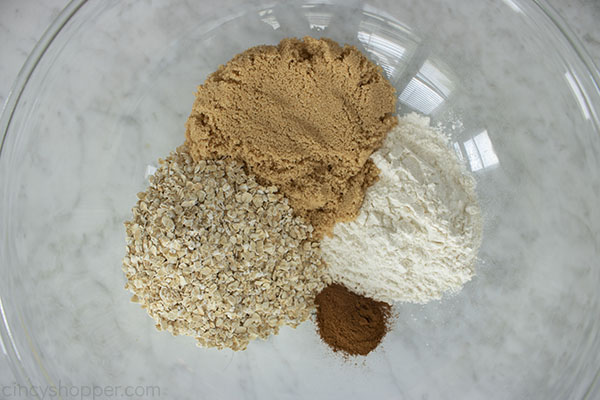 We'll start with the topping. In a bowl, mix together the flour, brown sugar, oats, and cinnamon. Once mixed, add in the vanilla extract and the butter- cut into pats. Use a pastry blender to work into large crumbs and set aside.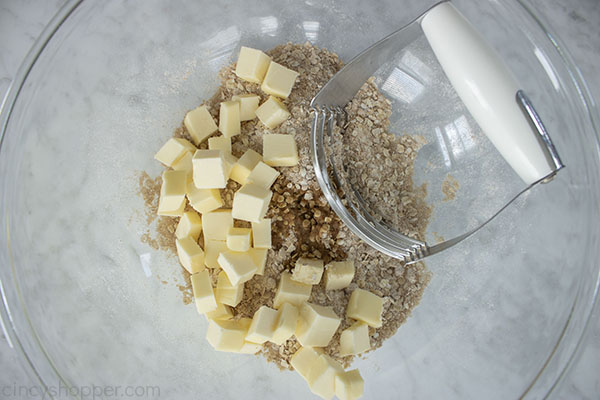 Next, our peaches. First, score the peaches with a large X pattern.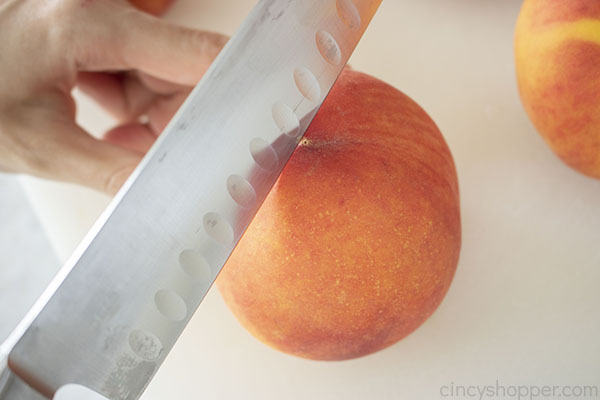 Carefully transfer the peaches to boiling water and let boil for 10-20 seconds. After that, transfer to an ice bath and let cool before peeling.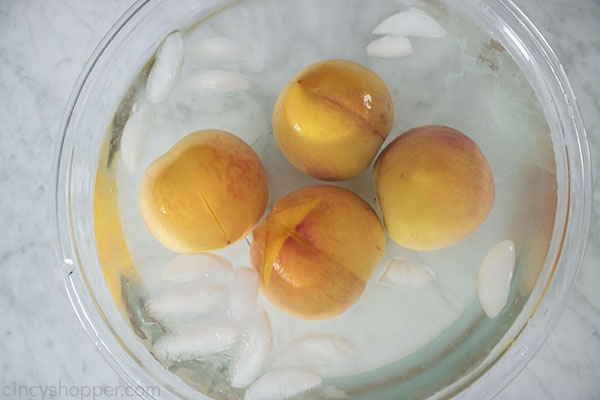 Once peeled, cut the peaches into smaller slices and set in a baking dish. Pour granulated sugar evenly over peach slices and toss to coat.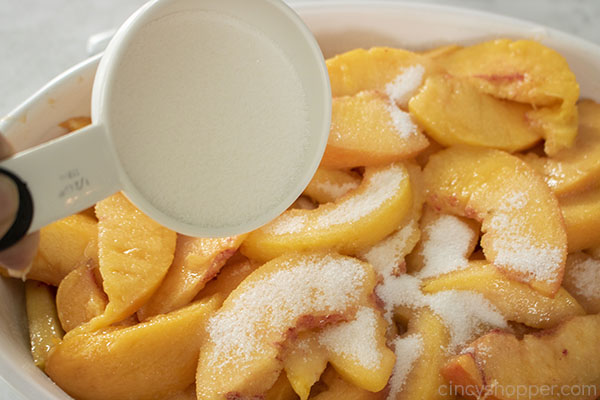 Do this with the cornstarch as well.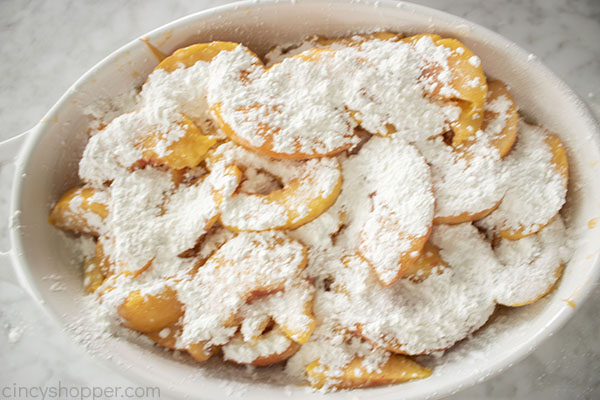 Now we can get back to our crisp topping.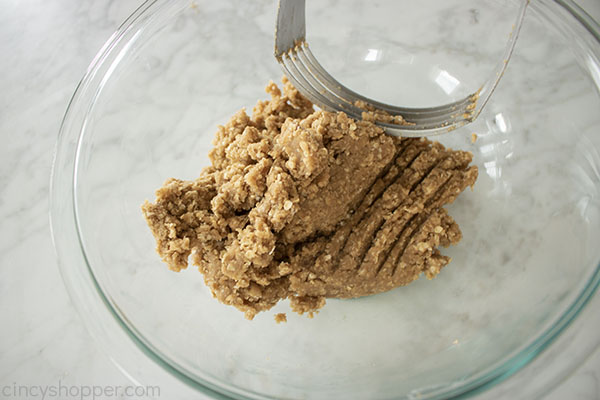 Take your crisp topping and spread evenly over top the peach slices.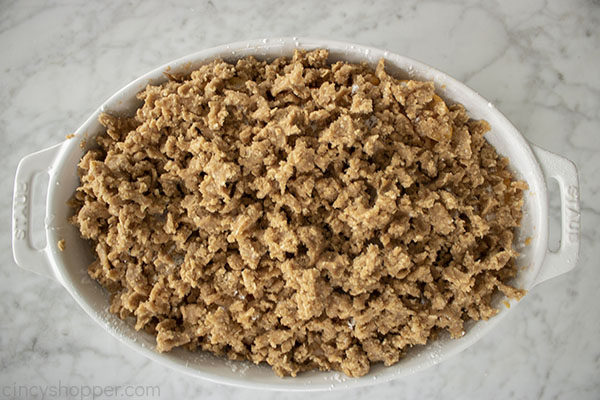 Transfer your topped peach crisp to an awaiting 375 degree oven and let bake for 30-35 minutes.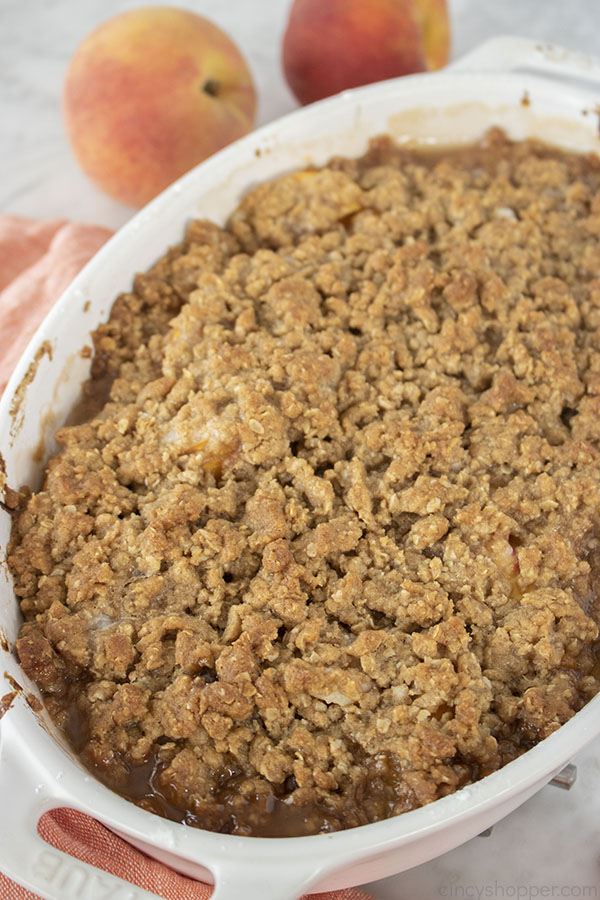 You'll know your crisp is done when the topping is crisp and brown and the peaches are softened up.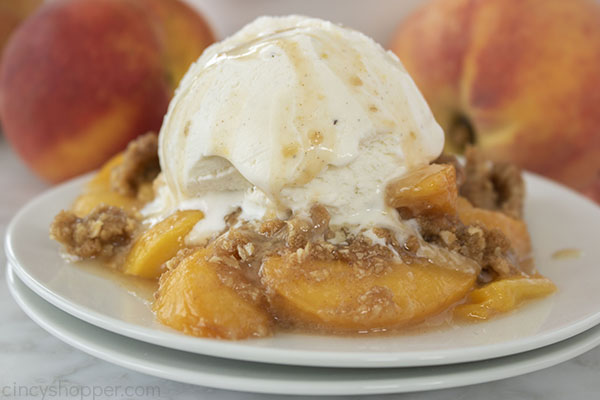 Enjoy while it's warm and top with ice cream if you'd like. Enjoy!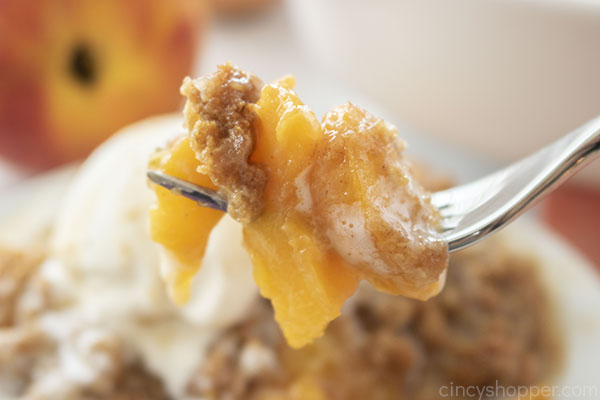 Peach Crisp
Peach Crisp is such a tasty dessert, made from fresh peaches with a crumbly crisp topping. An easy recipe that makes a perfect summer dessert!
Ingredients
1

cup

Brown Sugar

1

tsp

Vanilla

3/4

cup

uncooked Old Fashioned Oats

1/2

cup

Flour

1

tsp

Cinnamon

1/2

cup

Butter cold

6

small Peaches

or 5 medium

1/2

cup

Sugar

1/3

cup

Cornstarch
Instructions
Preheat oven to 375.

Mix together flour, brown sugar, oats and cinnamon in a bowl.

Add in vanilla and cut in butter with a pastry blender or fork.

Work until mixture forms large crumbs. Set aside.

Blanch peaches to loosen skin.

Peel and slice peaches away from the stone.

Toss peaches in sugar and cornstarch.

Layer peaches into baking dish (appoximately 9x13").

Sprinkle crumb mixture over peaches.

Bake 30-35 minutes or until topping is browned and apples are soft.
Notes
You can substitute canned peaches for fresh by draining juices before adding.
Nutrition
Calories:
381
kcal
|
Carbohydrates:
67
g
|
Protein:
3
g
|
Fat:
12
g
|
Saturated Fat:
7
g
|
Polyunsaturated Fat:
1
g
|
Monounsaturated Fat:
3
g
|
Trans Fat:
0.5
g
|
Cholesterol:
31
mg
|
Sodium:
115
mg
|
Potassium:
215
mg
|
Fiber:
3
g
|
Sugar:
49
g
|
Vitamin A:
722
IU
|
Vitamin C:
5
mg
|
Calcium:
39
mg
|
Iron:
1
mg