Apple Pie Tacos are a tasty Mexican dessert for taco night. These dessert tacos are perfect filled with cheesecake filling or whipped cream!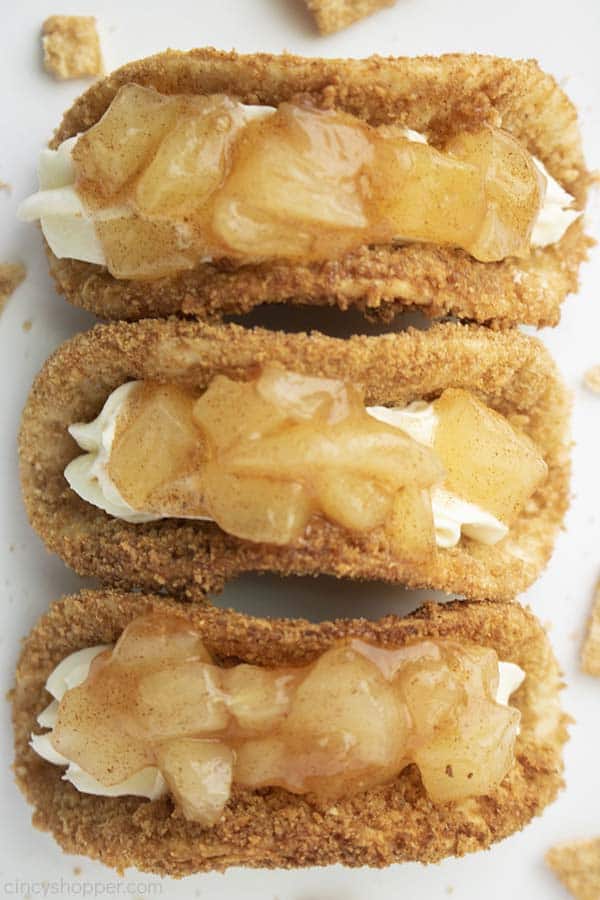 Apple Pie Tacos
Dessert for taco night has always been an difficult task to tackle. There's tons of Mexican desserts out there to pick from but they're often some very high-effort dishes. The big appeal of "Taco Tuesday" is the care-free feel behind it: tacos aren't terribly difficult to make, so it's not too stressful to make meat for the family. A taco night dessert, I feel, has to be as easy to make but still plenty flavorful.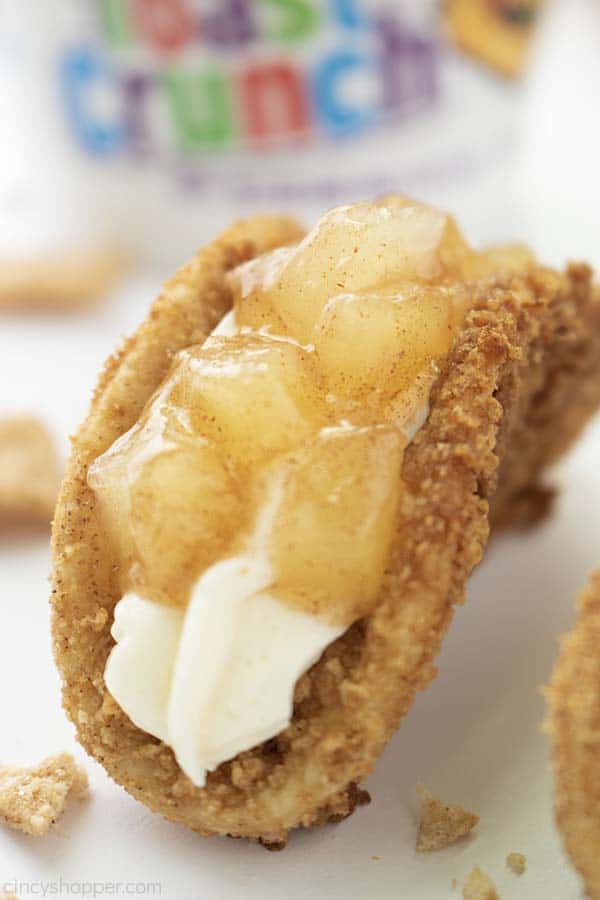 This is where our Apple Pie Tacos come into the picture. We built these delicious mini-tacos around a Cinnamon Toast Crunch Cereal coated mini tortilla. Inside that tortilla, we added an easy-to-make cheesecake filling that we topped with some apple pie filling. It's a simple dessert to whip up and you can even make it ahead if you need! This has got to be the perfect dessert for taco night!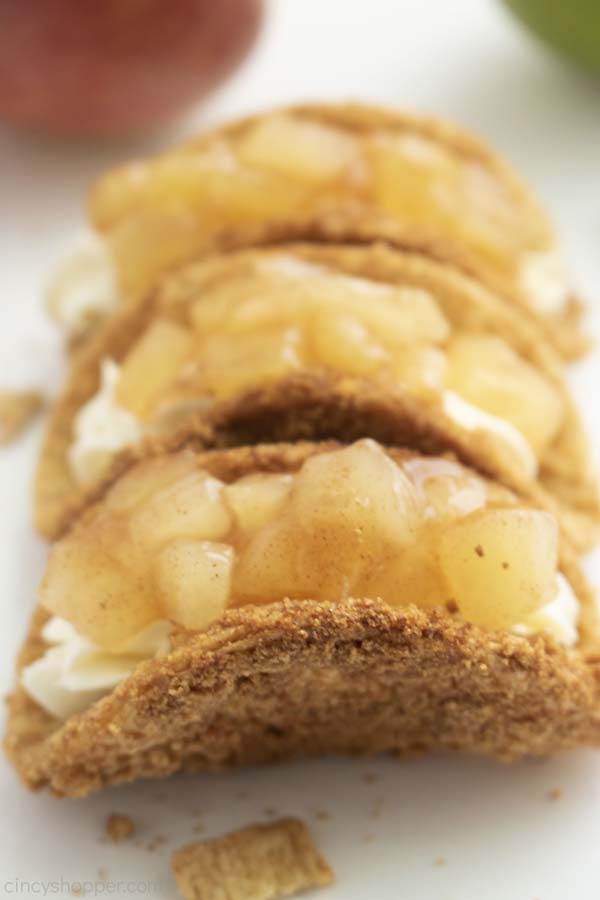 There's plenty of easy apple desserts we've made for you folks to enjoy. Here's
just
a few others we have here on the site. Take a peek!
Another delicious dessert for taco night we have are our

Caramel Apple Taquitos

.

Similar to

these Apple Pie Tacos, these little fall treats pack in a few more recognizable fall spices

. Certain to be a big hit with the kiddos!

Even though it's discontinued, there's no reason you can't enjoy some

Apple Dessert Pizza

. You can make this long-time pizza place dessert classic at home easy!

This apple pie-like dessert tastes great with it's simple glaze, streusel topping, and generous doses of spiced sugar

.

Our

Apple Pie Bites

are great for breakfast or dessert! These muffin-sized pies are easy to make and taste great. All you need is some pie filling and some crescent roll dough for this simple dessert recipe.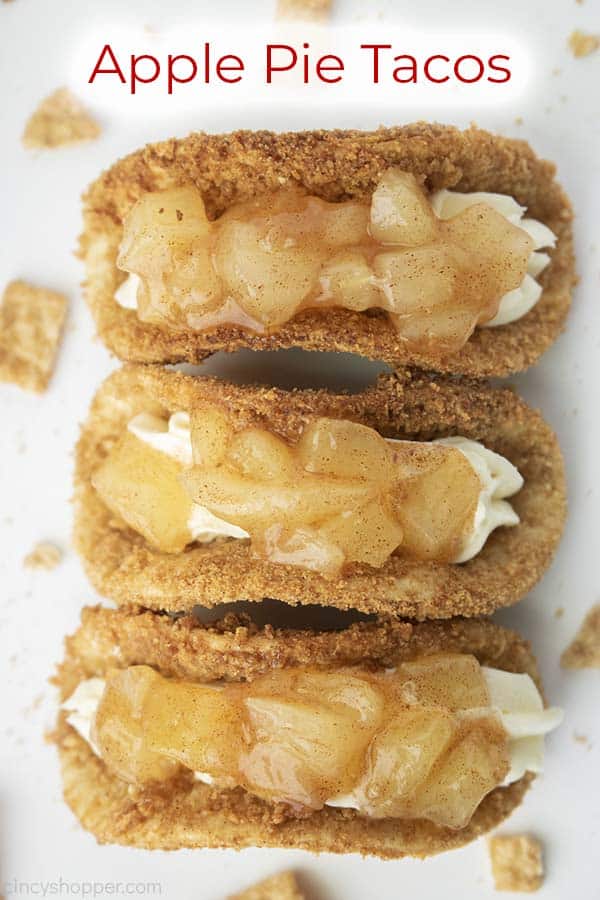 We're certain you'll love all of these easy apple desserts! These Apple Pie Tacos, especially, will keep you company through the fall season and well beyond! Hope you enjoy Taco Tuesday now that you have this interesting new dessert recipe on hand.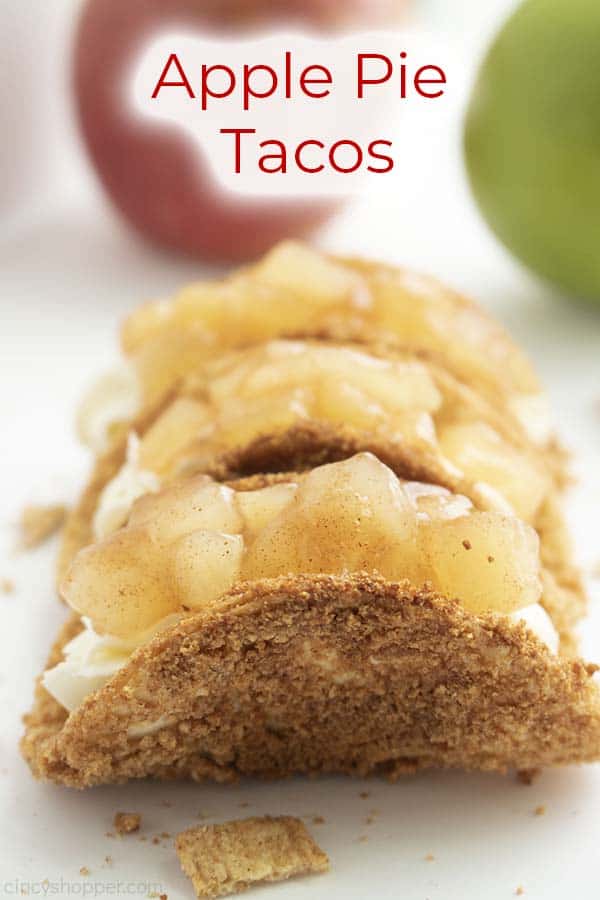 Ingredients for Apple Dessert Tacos
Tortillas – We used the small 8 inch rounds. You can use street size torts too!

Cinnamon Toast Crunch – These little 2oz containers cost around $1.25 and gave us the perfect amount for coating our tortillas

!

Cinnamon – We added

just

a little bit more cinnamon flavor to the Toast Crunch cereal.
For the cheesecake-style filling, you'll need a few things…
Not a fan of cream cheese fillings? Use some Homemade Whipped Cream instead! Or fill with some ice cream!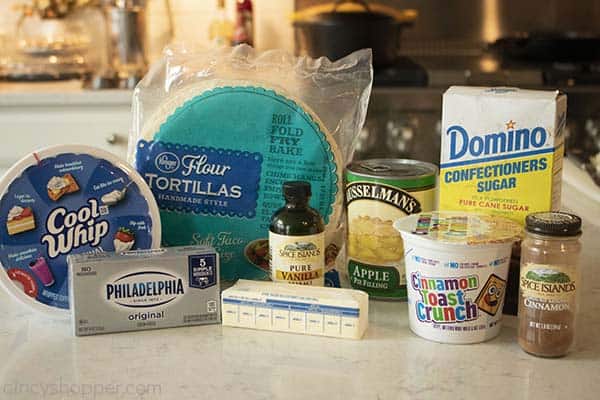 How to make our Mexican Apple Dessert
While our oven warms up to 400 degrees, we're going to get a bit of prep work done. First, we're going to get our Cinnamon Toast Crunch crushed. You can do this by hand in a plastic bag or in a food processor. Make sure you mix in your cinnamon as well!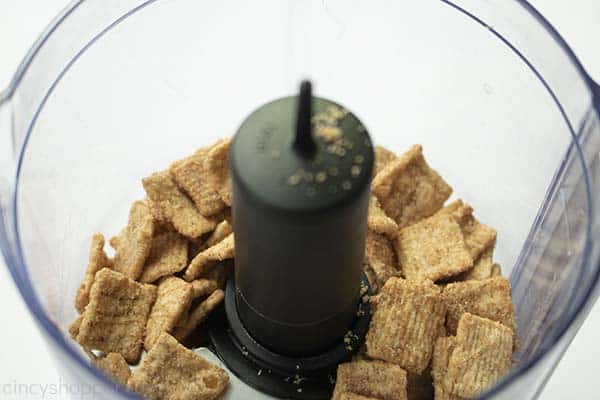 We're also going to get some smaller tortilla rounds cut. A glass gave us the perfect round size that we were looking for. You will want to get around 3 rounds out of an 8-inch tortilla.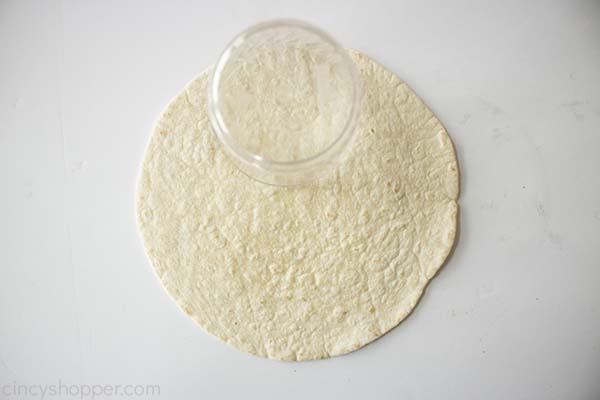 With our round cut, we can get them dipped in some butter real quick. Melt some butter in the microwave real quick and then toss your tortillas in it- this will help our Toast Crunch stick.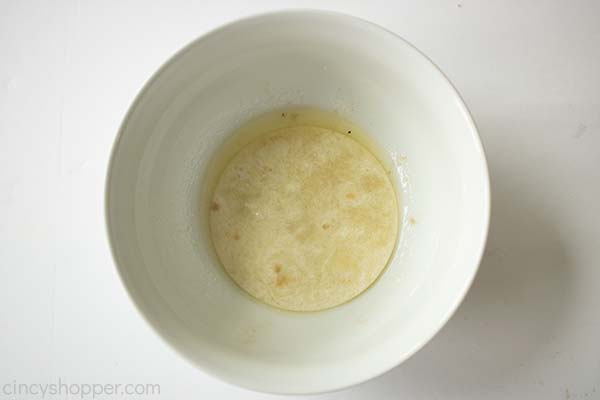 Toss your buttered tortillas in with your Cinnamon Toast Crunch coating. Get a generous coating on them!
To get these rounds to bake into shape, we're going to invert a muffin pan. Curling our tortillas between the individual tins will shape our tortillas perfectly.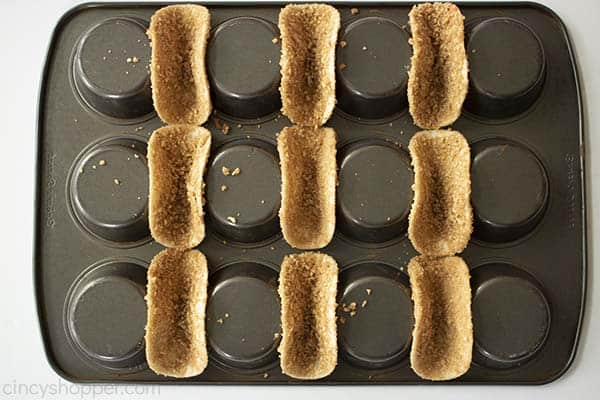 We're going to let our rounds bake in the oven for about 10 -15 minutes. Once they've firmed up and turned a delicious-looking golden brown, they're ready to pull. Let those cool off on the side while we focus on our dessert taco fillings.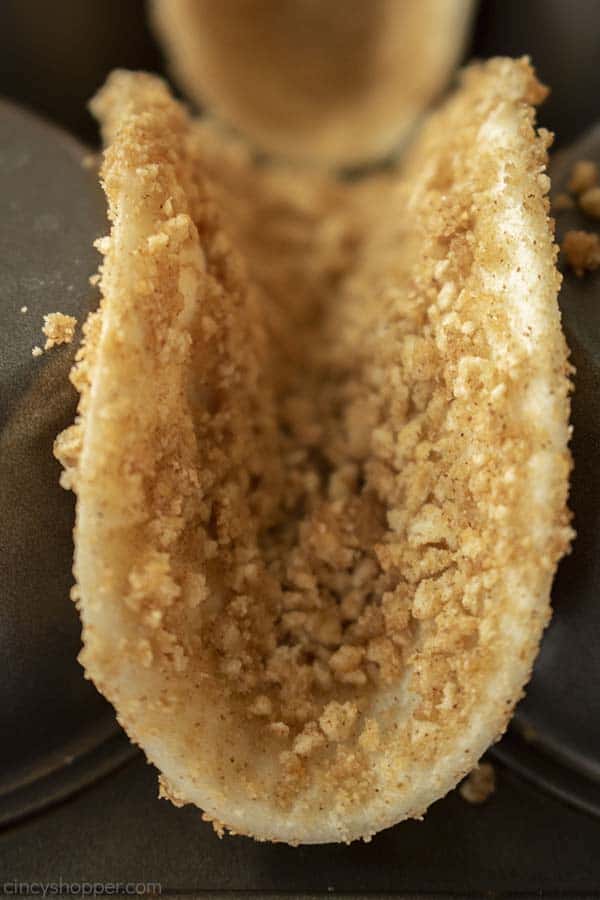 Just so our pie filling fits in our tacos a little better, we're going to dice it. Dice all the apple pieces until they're nice and small. Set off to the side.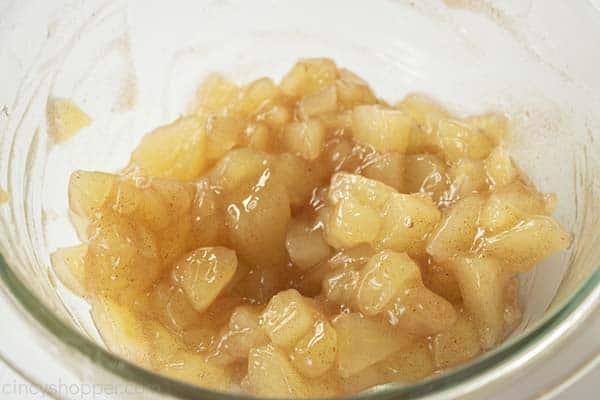 For our cream cheese filling, we're going to beat all the ingredients together in a bowl until thick and consistent. Set this filling in the freezer for 10 minutes before transferring to a piping bag. Pipe the filling into your dessert taco shells.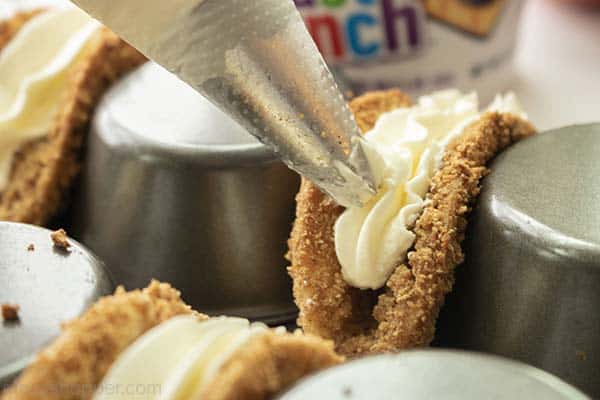 With the cheesecake filling added, top off your Apple Pie Tacos with our apple pie filling. Give each dessert taco a generous spoonful of pie filling on top.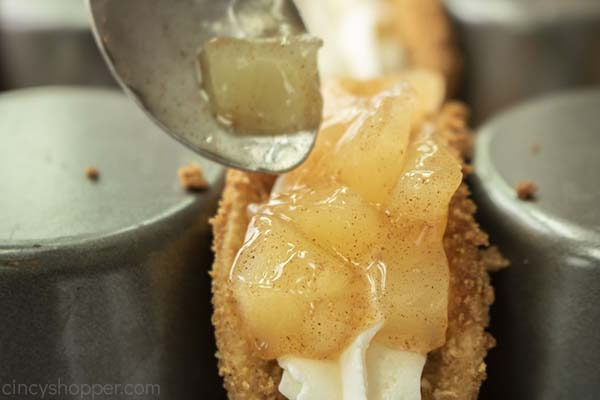 If you have any of your Cinnamon Toast Crunch left over, feel free to sprinkle it over your tacos as a little extra topping. Another topping idea could be a quick drizzle of Homemade Caramel Sauce.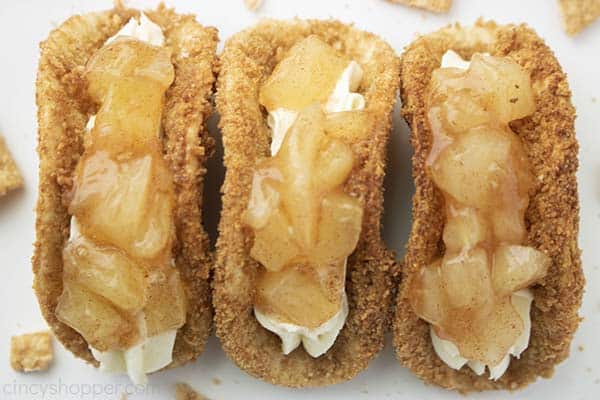 If you were planning on serving these at a party or a taco bar, you might be able to make these ahead! The shells will stay crispy in the fridge if kept in an air-tight container. Whenever you're ready to serve, whip up some of the cream cheese filling, pipe it in, top with pie filling, and serve. We hope you enjoy!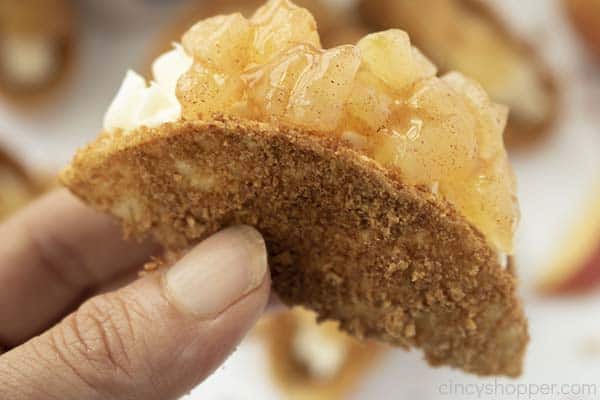 Apple Pie Tacos
Apple Pie Tacos are a tasty Mexican dessert for taco night. These dessert tacos are perfect filled with cheesecake filling or whipped cream!
Ingredients
3

8" Tortillas

makes about 9 rounds

3

tbsp

Butter melted

2

oz

Cinnamon Toast Crunch

about 1 1/2 cup

1/2

tsp

Cinnamon

1/2

cup

Apple Pie Filling

diced small

1

cup

Cool Whip

2

oz

Cream Cheese softened

1/4

tsp

Vanilla

3

tbsp

Powdered Sugar
Instructions
Preheat oven to 400.

Crush Cinnamon Toast Crunch in food processor or by hand in a plastic bag.

Place cinnamon and crushed cereal in a shallow dish and mix. Set aside.

Using a mason jar lid (or some other round cutter) cut 3 circles out of each tortilla.

Dip each circle in melted butter then coat both sides in the cereal mixture.

Invert a muffin tin and place each tortilla circle between the cups to form a taco shape.

Bake for 10 minutes until golden and firm.

Allow to cool on muffin pan.

In a bowl, beat cream cheese, vanilla and powdered sugar until fluffy.

Fold in whipped topping until blended.

Place in freezer for 10 minutes.

Transfer chilled mixture to piping bag and pipe into each shell.

Spoon diced apple pie filling over each taco.
Nutrition
Calories:
169
kcal
|
Carbohydrates:
20
g
|
Protein:
2
g
|
Fat:
9
g
|
Saturated Fat:
5
g
|
Polyunsaturated Fat:
1
g
|
Monounsaturated Fat:
1
g
|
Cholesterol:
24
mg
|
Sodium:
190
mg
|
Potassium:
50
mg
|
Fiber:
1
g
|
Sugar:
9
g
|
Vitamin A:
280
IU
|
Vitamin C:
1
mg
|
Calcium:
46
mg
|
Iron:
1
mg