Air Fryer Apple Crisp is a comforting dessert recipe perfect for autumn. Apples and streusel topping come together for this easy dessert dish.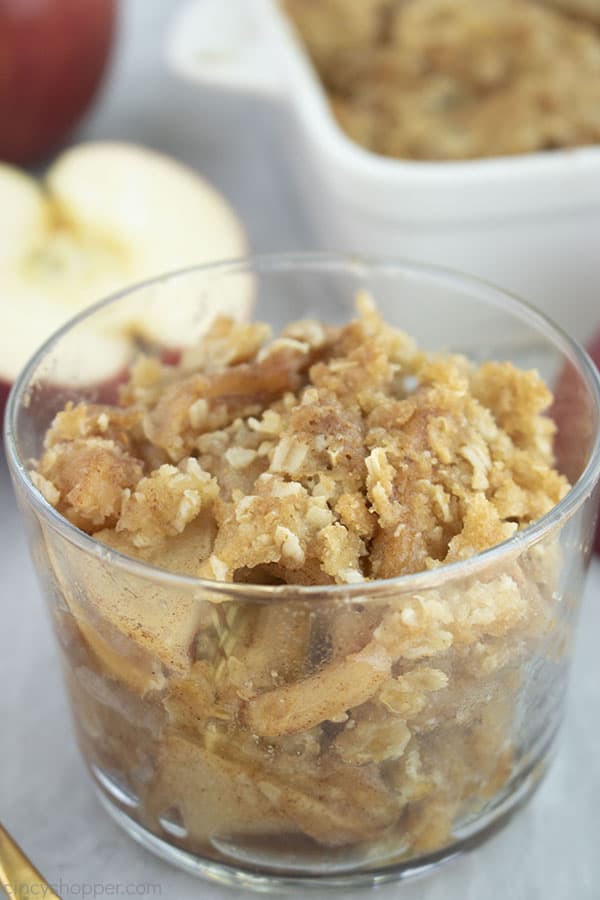 Air Fryer Apple Crisp
Air Fryer dessert recipes are an interesting challenge to tackle. When you think of air fryer recipes, what often springs to mind are things like French Fries or Chicken Wings. You usually don't think of baked desserts- they're baked, right? Can't you only make them in the oven? Well, the air fryer is an amazing kitchen gadget with plenty of uses- making classic desserts happens to be one of them!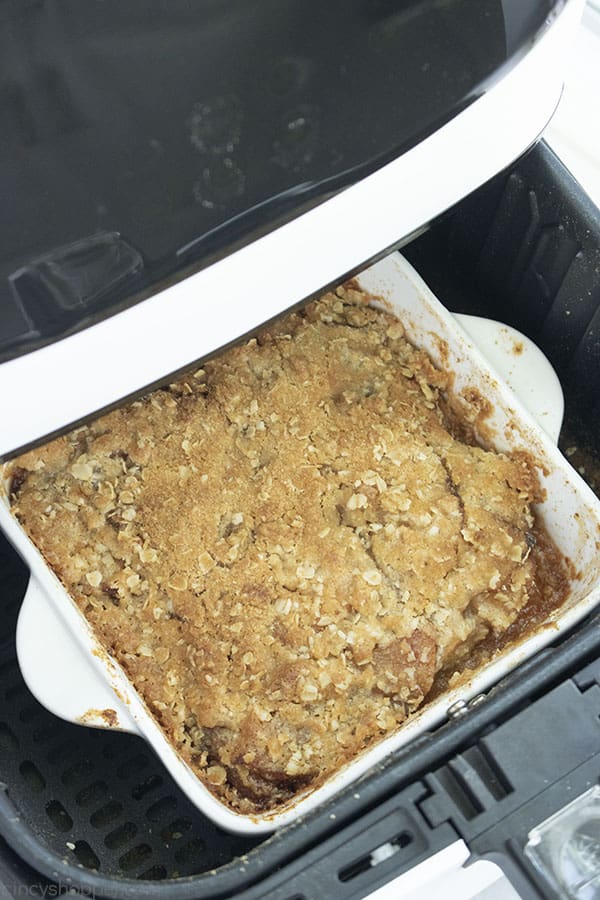 Apple crisp is a delicious, classic apple dessert that you'd usually fix up in the oven or in a slow cooker. Our Air Fryer Apple Crisp recipe, however, is an interesting way to make this warm, comforting dessert dish with this popular kitchen tool. It's all fairly easy too and cooks in about half-an-hour!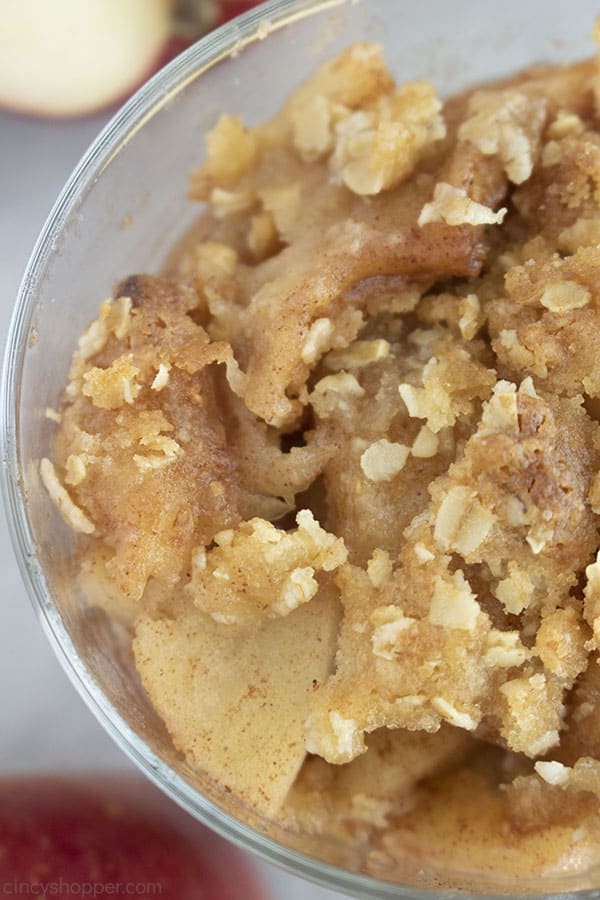 We've covered all sorts of ways to make apple crisp desserts. Give some of the others a peek and find the crisp you like the best!
A great starting point has to be our

Traditional Apple Crisp

.

There's nothing quite as comforting as a warm, soft apple filling topped with that crumbly crisp topping

!

If you have a Crock-Pot or slow cooker on hand, our

Slow Cooker Apple Crisp

is a great dessert recipe to make in it.

Using a slow cooker makes the job of cooking apple crisp a bit easier while still keeping all those delicious flavors

!

Want all those delicious crisp flavors but in an interesting, new form? You've got to try some of our Apple Crisp Bars!

These delicious morsels use shortbread crust, spiced apple filling, and that streusel topping you love

!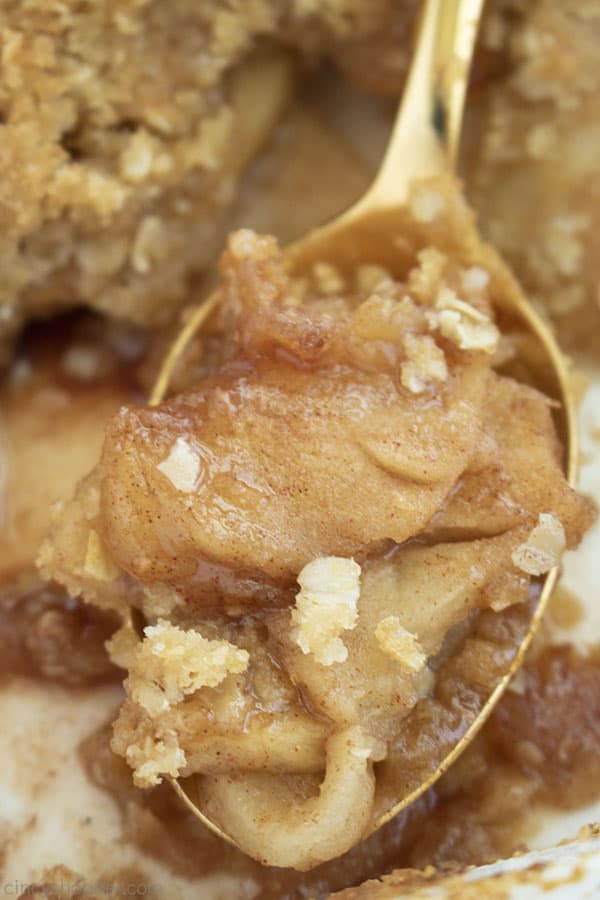 If you've ever wanted to take the dive into the world of air fryer desserts, our apple crisp recipe here is an excellent starting point. A warm, gooey apple filling with that delicious crisp topping- we know you'll love it!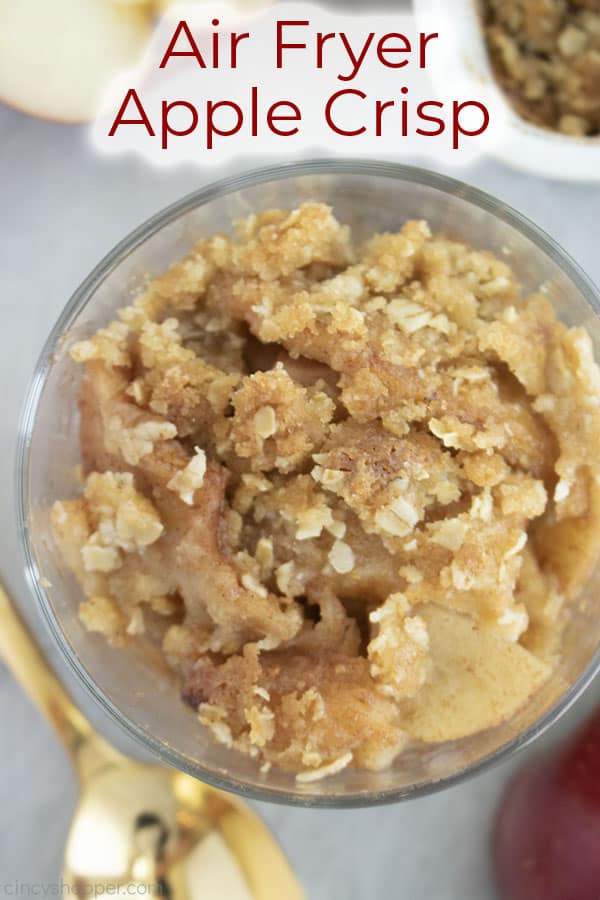 Ingredients for Air Fryer Dessert
Apples – We used some Granny Smiths for our apple crisp, but feel free to use your favorite apples here.

Oatmeal – You want to use quick oats for your streusel topping- other oats like steel-cuts/old-fashioned or instant won't work

.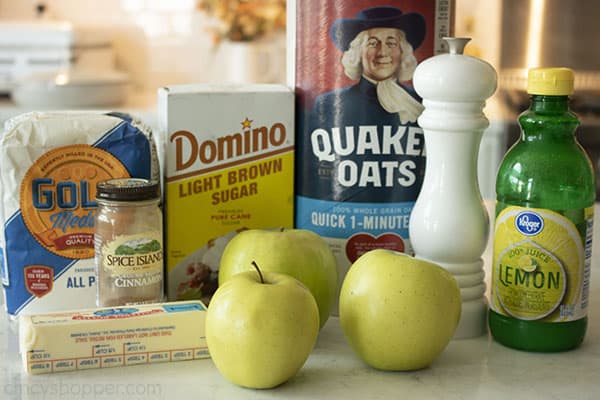 How to make Apple Crisp in Air Fryer
For this recipe, you'll want to peel and core your apples of choice.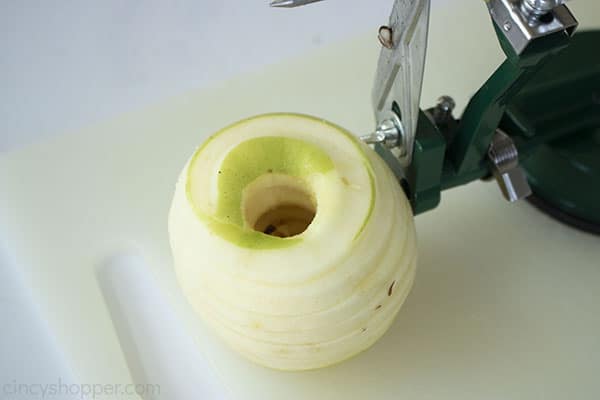 Before you slice your apples, you'll want to get a quick spice-and-lemon mixture prepared. This'll slow the browning of your slices and also give them those recognizable fall flavors. For this mixture, you'll need some brown sugar, cinnamon, and lemon juice.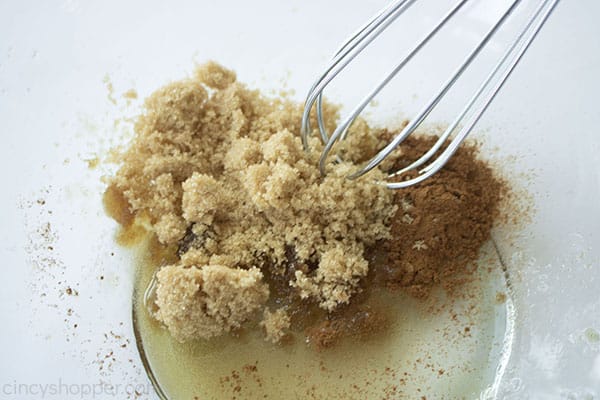 Once you've quickly blended that mixture together, then you can cut your apples into thin slices. You'll want these pretty thin for your apple crisp. Once you've sliced them, get them tossed in your spice-lemon mixture- make sure you get an even coating going on your apples!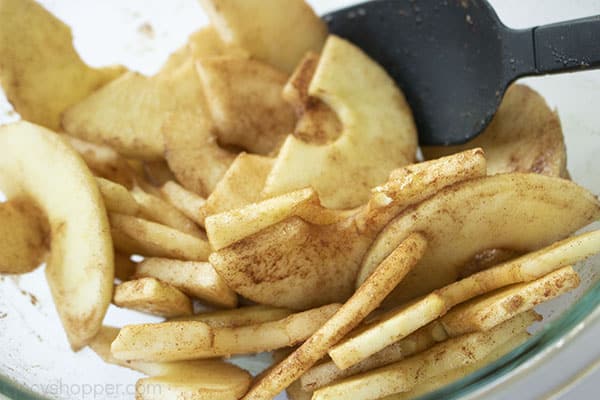 With our apples coated, we now have to contend with our baking dish. Even though we're using an air fryer, you can use any baking dish that'll fit inside of it that is also oven-safe. Once you've found a dish that fits, dump your apples in and spread out evenly.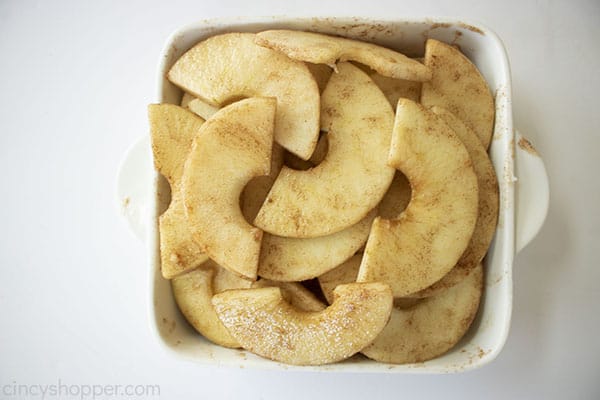 The other key ingredient of apple crisp is the streusel topping. You can make this simple enough by mixing some of your brown sugar, flour, oats, and salt together in a mixing bowl.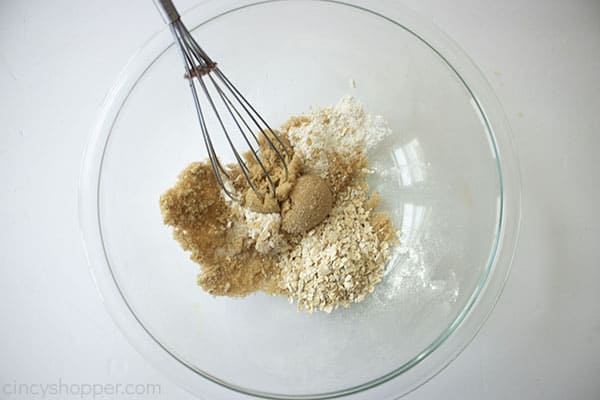 Once that's mixed, you're going to make a crumbly streusel topping by working some butter into our ingredients. Take your butter and cut off a few pats and drop them around in the mix. Using something like a dough/pastry blender, work the butter in until your crisp topping has formed.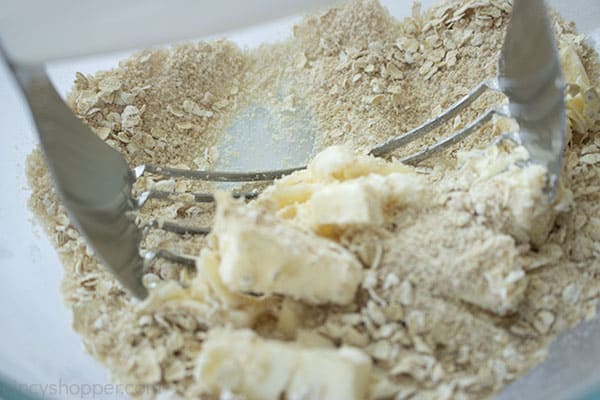 We're going to have to bake our crisp's apple filling before we hit it with our streusel topping. To bake in our air fryer, you need to cover your baking dish with some aluminum foil. The problem with foil in the air fryer is that all the air blown around inside can easily knock your foil out of place. To fix that problem, find something you can weight the foil down with- we found this Instant Pot wire rack that kept our foil through the cooking time.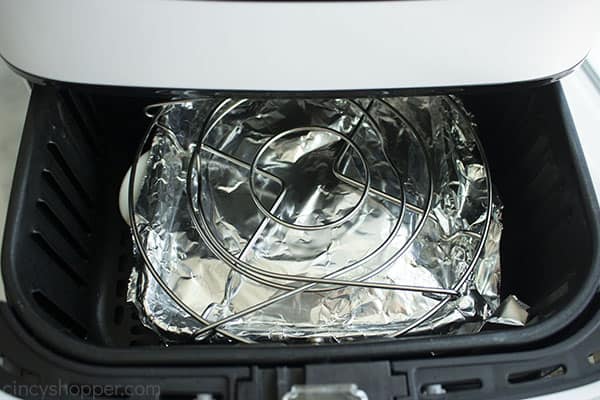 Pop that into your air fryer and set it to 350 and allow to cook for about 15 minutes. Once that 15 minutes is through, pull it from the fryer, remove the foil. After that, you'll finally be able to top your crisp with the streusel topping- make sure you're topping gets layered nicely and even!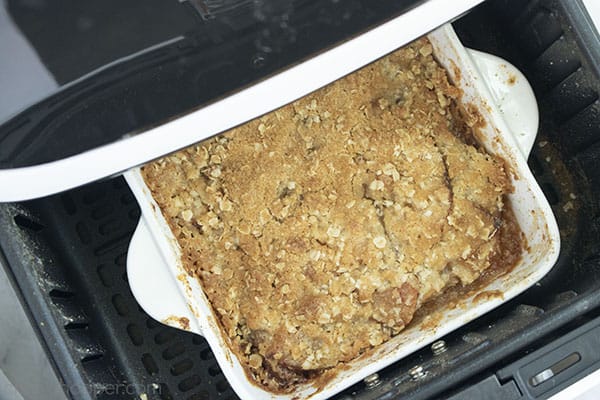 With that topping on there, all that's left is one final bake in the air fryer. Again, you'll pop it into the fryer for another 10 minutes at 350 degrees. That'll give your topping time to crisp up.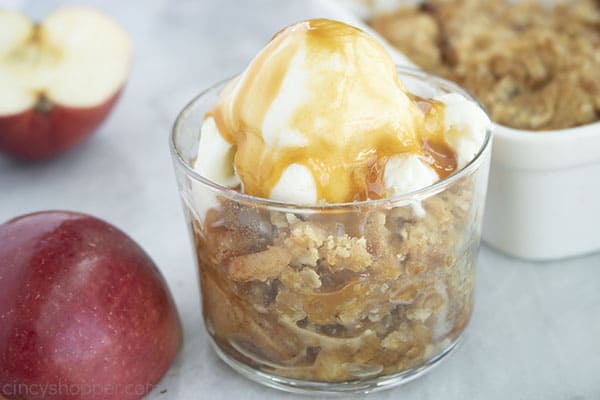 After that last stint in the fryer, you'll want to carefully pull your dish- it's extremely hot and might be a little tricky pulling it from the basket. After it's pulled, you might want to let it cool for a few minutes before serving. Serve it while it's warm though- the best apple crisp is warm, melty, and tastes best with a scoop of ice cream and maybe carmel over top! Enjoy!
Air Fryer Apple Crisp
Air Fryer Apple Crisp is a comforting dessert recipe perfect for autumn. Apples and streusel topping come together for this easy dessert dish.
Ingredients
2

Apples

peeled and chopped

1

tsp

Cinnamon

1

tsp

Lemon Juice

4

tbsp

Brown Sugar

divided

2 1/2

tbsp

Flour

1

Pinch

Salt

3

tbsp

Old Fashioned Oats

3

tbsp

cold Butter
Instructions
In a bowl combine 2 tablespoons brown sugar, cinnamon, and lemon juice until combined.

Add apples to bowl and toss to coat evenly.

Grab an oven safe dish that will fit in your air fryer, heavily grease dish and place apples into it.

Cover with aluminum foil and place something oven safe on top to hold in place.

Cook at 350 for 15 minutes.

In another bowl, combine remaining brown sugar, flour and oats.

Cut butter into pats and add to mixture.

Use a pastry cutter or forks to cut butter into mixture and form crumbs.

Remove dish from fryer. Remove weight and discard foil.

Add topping and cook at 350 for additional 10 minutes until golden brown.
Nutrition
Calories:
408
kcal
|
Carbohydrates:
63
g
|
Protein:
3
g
|
Fat:
18
g
|
Saturated Fat:
11
g
|
Cholesterol:
45
mg
|
Sodium:
179
mg
|
Potassium:
259
mg
|
Fiber:
6
g
|
Sugar:
42
g
|
Vitamin A:
623
IU
|
Vitamin C:
9
mg
|
Calcium:
49
mg
|
Iron:
1
mg