Here is an awesome collection of 20+ Homemade Ice Cream Recipes that are perfect for summer. All of these are no churn recipes so NO ice cream machine is needed! So simple and full of some really great flavor combinations.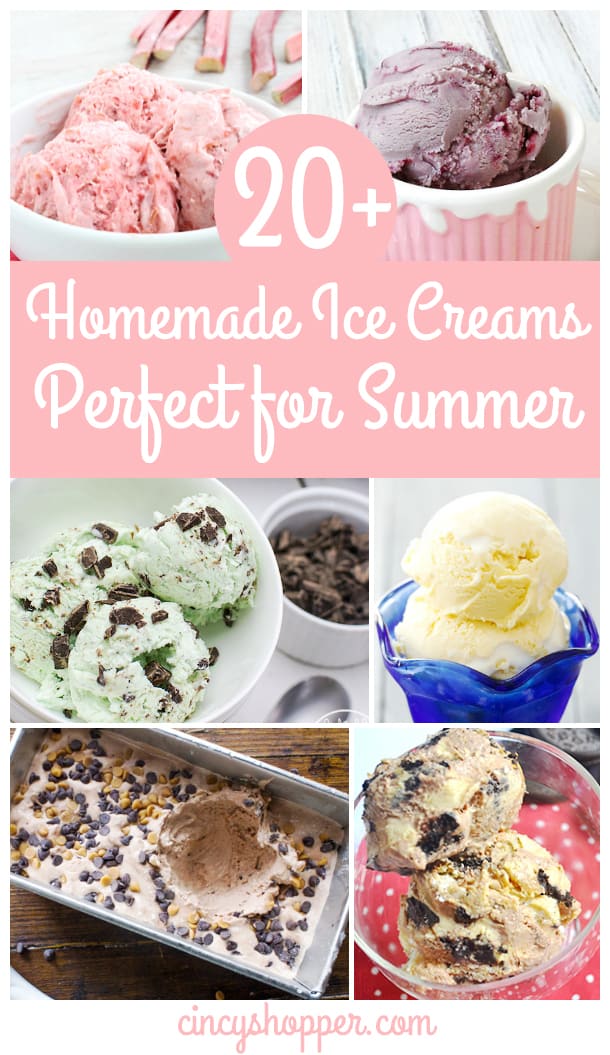 20+ Homemade Ice Creams Perfect For Summer
We love our own Homemade Ice Cream Recipes. I have shared quite a few of our favorites with you here on my blog. There are so many fun and tasty options when making ice cream at home. Did you know that you do not even need an ice cream maker to make your own ice cream right at home?
This summer, I decided I want to try some of the concoctions other bloggers have made. This list contains 20 drool-worthy ice cream recipes. You know, an ice cream to do list. Okay, maybe I shouldn't make all 20 of them, but the temptation is there! Check them out and let me know which ones you decide to try this summer.
Homemade S'mores No-Churn Ice Cream from Taking Time for Mommy – You will find chocolate, marshmallows and graham crackers loaded in this fun no churn ice cream. Perfect summer treat!
Raspberry and Peach No Churn Ice Cream from Sweep Tight – You will find fresh peaches, whole raspberries and a hint of vanilla in this tasty no churn ice cream.
No-Churn Rhubarb Ice Cream from Our Table for Seven – Creamy, refreshing and packed with sweet rhubarb.
Nutella Peanut Butter Chip No-Churn Ice Cream from An Italian in My Kitchen – Made with cream, sweetened condensed milk, nutella and mini peanut butter chips.
No-Churn Dairy Free Strawberry Ice Cream from Smashed Peas and Carrots – Super healthy and super yummy ice cream that can be made in your blender.
Nutella Swirl Cheesecake Ice Cream from Amanda's Cookin' – Just like eating a piece of nutella cheesecake, only in ice cream form!
Peppermint Chocolate Chip Ice Cream from My blog CincyShopper – Perfect ice cream for summer and the holidays!
Snickerdoodle Ice Cream  from Our Best Bites-  Loaded up with loads of Snickerdoodle Cookies!
Toasted Marshmallow Swirl Ice Cream from Love and Olive Oil – All the flavors of a toasted marshmallow in a no churn ice cream.
Oreo Explosion Ice Cream from Miss Mamao's World – You will find chocolate spread, peanut butter & the new peanut butter limited edition Oreo loaded up in this tasty ice cream.
Vietnamese Coffee Ice Cream from Sidewalk Shows – If you are a fan of coffee you are going to love this speckled ice cream dessert.
Cookies and Cream Ice Cream from Like Mother Like Daughter – An easy ice cream loaded with Oreo cookies. YUM!
3-Ingredient Lemon Ice Cream from The Kitchen is My Playground – Tasty served on its own, alongside angel food cake or pound cake, or with gingerbread.
Apple Pie Ice Cream from Our Best Bites – Includes all the ingredients of you would find in an apple pie.
Homemade Galaxy Ice Cream from Some of This and That – Super fun and colorful ice cream for summer.
Vanilla and Blackberry Jam Ice Cream from Amanda's Cookin' – The flavor is sweet at first bite, then smooth and creamy and full of smile inducing yumminess.
No-Churn Mint Chocolate Chip Ice Cream from Like Mother Like Daughter – Seriously creamy, perfectly mint ice cream with those glorious chunks of chocolate throughout.
Horchata Ice Cream from Love and Olive Oil – As perfect as horchata is in liquid form, it's even more brilliant churned into ice cream. Talk about refreshing… It's all kinds of awesome.
Cookie Monster Ice Cream from Our Family of Seven -Simple kid friendly No Churn Cookie Monster Ice cream is loaded with Oreo cookies and chocolate chip cookies.
Blackberry Ice Cream from My Site CincyShopper – Plump blackberries are a perfect blend with the ice cream mixture.
Be sure to see My 10 Easy Ice Cream Recipes that Require No Machine post that I shared with you last summer…