What is an Instant Pot? The Instant Pot is a SUPER handy small kitchen appliance. It is a pressure cooker, a steamer, a slow cooker, rice cooker, warming pot, yogurt maker, and so much more! You can cook just about anything right in a Instant Pot. It's my new favorite cooking appliance.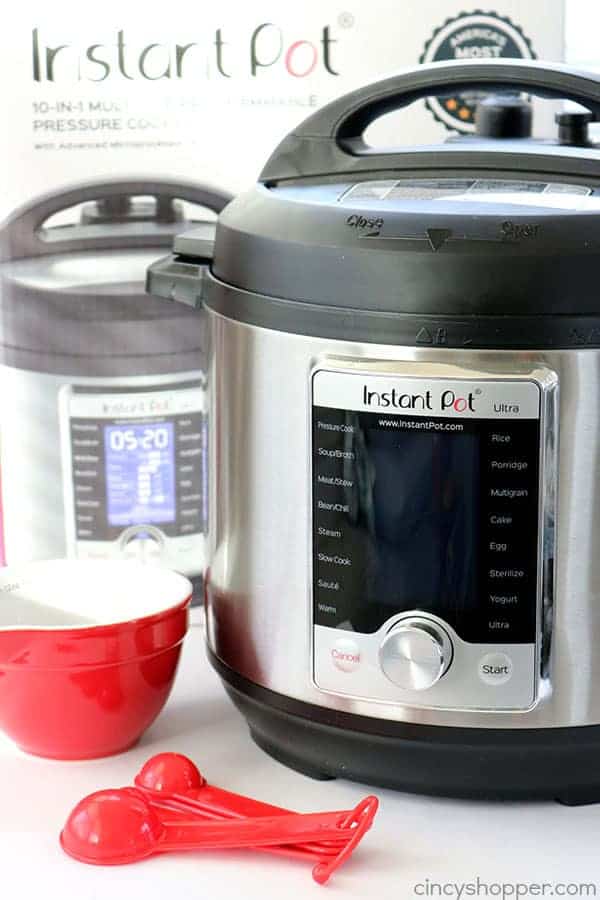 I wondered exactly what the Instant Pot was after seeing so many Instant Pot recipes over on Pinterest, Facebook, and Instagram. I noticed so many delicious and interesting looking recipes on Pinterest that I decided to create my own Pressure Cooker Recipes Board. If you spend any time on social media, I am quite sure you've seen Instant Pot recipes here and there too.
I had no clue what all the fuss was about with this new pressure cooker. All my fellow bloggers have been raving about this thing. I thought it was just another small kitchen appliance that was going to be a quick craze. I figured it would be another gadget that would be collecting dust in the pantry after just a few uses. Since I already have a slow cooker, and I have been happy with it, I did not think I need yet another new kitchen appliance. So I decided not to buy one. Since the Instant Pot seems to be here to stay, and everyone is sharing recipes and commenting about how wonderful as well as versatile this thing was, I figured it was time to finally purchase one.
I headed on over to Amazon to start researching reviews, comparing models and pricing of all the Instant Pots available. After all, the Instant Pot has many different models to choose from. On Amazon, you will find the basic model Instant Pot Lux that is available in a 3, 6, or 8 quart. It will most likely do everything you need. You can step up to the next level, the Instant Pot Duo that is available in a 3, 6, or 8 quart and it has a few additional features not found on the base model. Then you will find the more extravagant and more expensive models that have all those extra bells and whistles. They do a little bit more than your average model. Those are the Instant Pot Ultra and the Instant Pot Smart Bluetooth . I like some bells and whistles when I purchase items for my kitchen. I figured if this thing was going to occupy space on my shelf or countertop, it best be able to have more features than just the basic model. After scouring through the various models, reading all of their specifications and the reviews for each of them, I settled on the Instant Pot Ultra 6 Quart 10 in 1 Pressure Cooker.


I am absolutely loving it so far. The Instant Pot turned this skeptic into a believer. This isn't your grandmother's old style pressure cooker! I started out with simple recipes and have been making a bit more complicated recipes these past couple of weeks. We have cooked in it so many times already. The dishes that we can cook in it are endless. I find myself brainstorming of what recipe to try next. I have started purchasing some additional accessories since I like this so much. Here are a few that I like so far…
If you are someone that has a lot of small appliances like a slow cooker, a rice cooker, or even an oven in some circumstances, you could potentially replace several of your small appliances with just the Instant Pot. I would highly recommend it. I will be sharing many Instant Pot recipes here on the blog. So be sure to subscribe to my email list or drop by the blog often.