Taco Casserole is a delicious way to mix things up on Taco Tuesday night. This ground beef taco casserole makes for an easy dinner idea.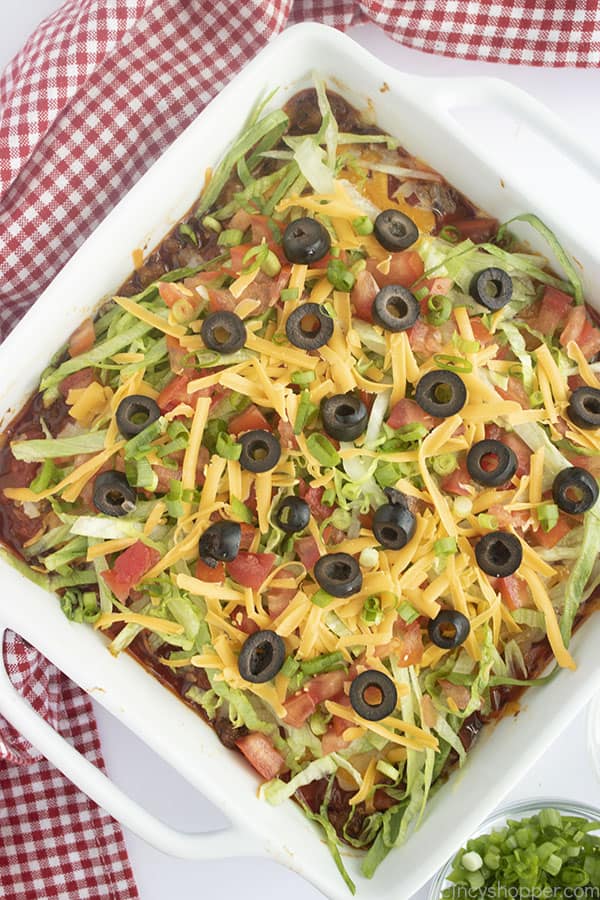 Taco Casserole
Despite what the name says, you don't have to serve tacos every single Taco Tuesday night. As delicious and easy to make simple tacos are, they can get a little played out week-after-week. Like any weekly tradition, you might want to mix things up every now and then, and this Taco Casserole recipe is a tasty way to make Taco Tuesday fun again!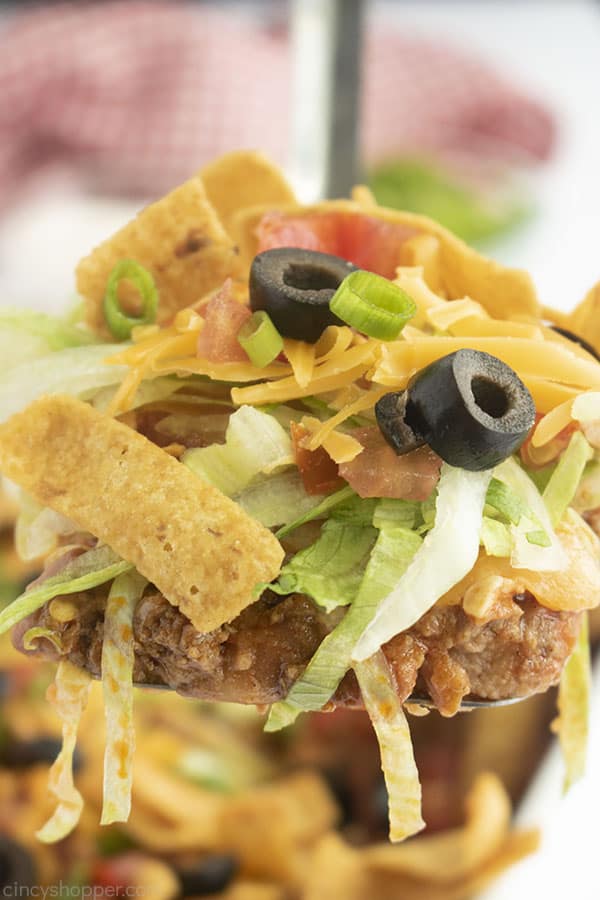 Our layered taco casserole recipe here gets packed and topped with all the usual taco fixings. Obviously, our ground beef taco meat gets cooked up easily and seasoned to perfection. After that, we add in everything this casserole needs to taste amazing- beans, salsa, and certainly don't forget the cheese! All of this comes together to make for an easy weeknight- or taco night- dinner idea.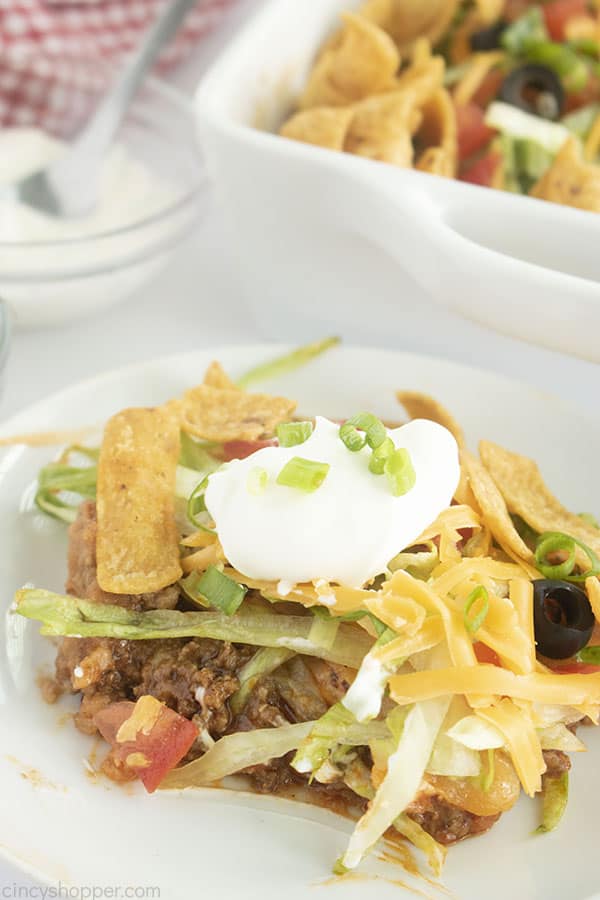 We have tons of other great recipes to spice up taco night. Here some to check out!
Another delicious taco dish we have is a fast-food favorite: a

Copycat Taco Bell Mexican Pizza Recipe

. Even though this long-time menu item is going away, you can still enjoy it at home! Stuffed with taco meat, olives, and beans, it's clear to see why this is a fan favorite.

Dinner isn't complete without sides, and for this casserole, nothing works better than

Easy Spanish Rice

.

Simple to make with all sorts of delicious added tomato and spice flavor- the perfect thing to serve your Taco Casserole with

!

Finish Taco Tuesday with a delectable little dessert by whipping up a batch of

Caramel Apple Taquitos

.

Made easy with simple ingredients, this dessert recipe get spiced

perfectly

with cinnamon and nutmeg

.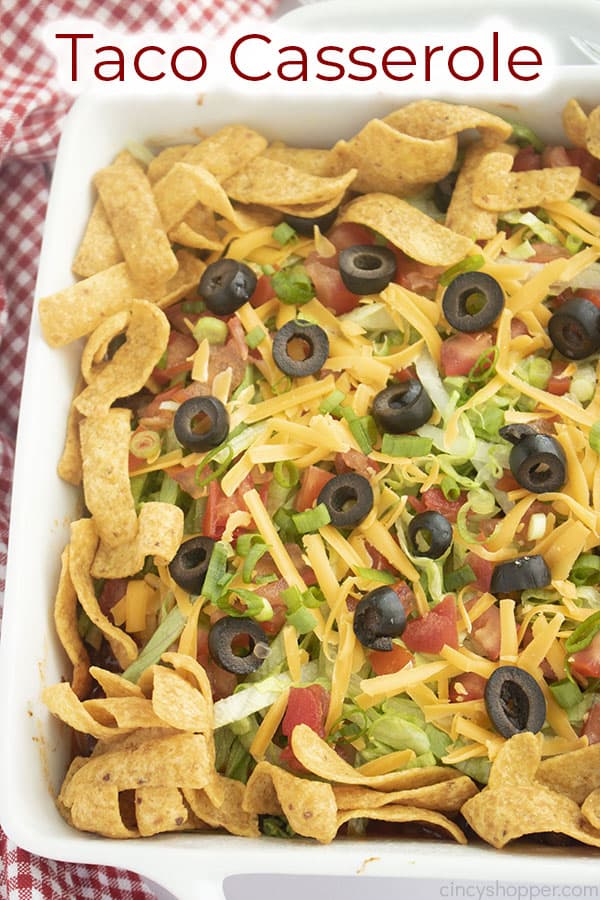 With all the right ingredients, it's not hard to make this taco casserole recipe easy. The best part is, you could have this all ready in less than an hour! Grab your favorite casserole or baking dish and follow along- Taco Tuesday's about to get interesting!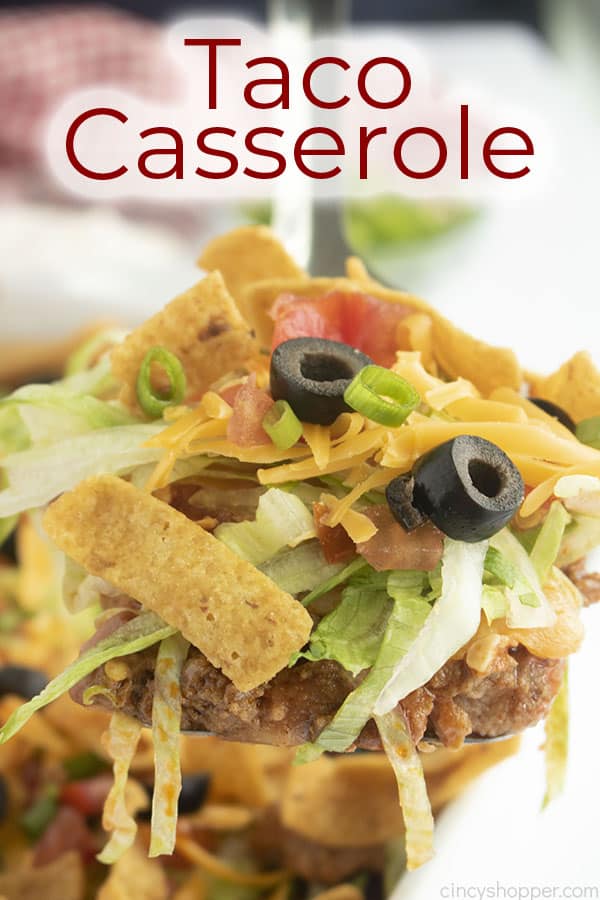 Ingredients for Mexican Casserole
Onions – White for our taco meat.

Salsa – Go for something like a Picante sauce- something either chunky or semi-chunky.

Cheese – Either go with all cheddar here or mix things up with a blend of cheddar and pepper jack. It's best to shred your cheese instead of using the pre-shredded packages. 

Garnishes – We'll discuss this near the end…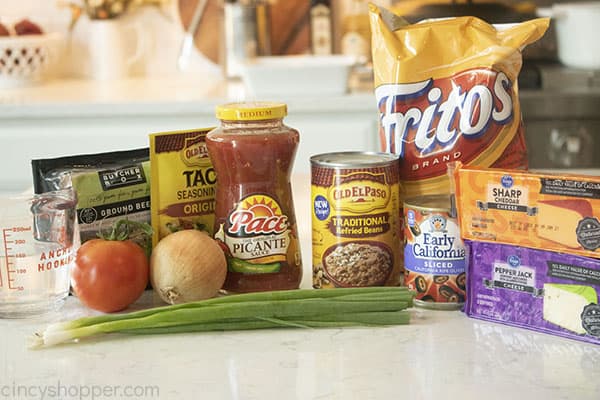 How to prepare our Mexican Taco Bake
To prepare for our recipe, you'll want to get 8×8 baking dish heavily greased and an oven warming up to 350 degrees. With that out of the way, you can grab a skillet and get some taco meat cooking. For that, start by browning some ground beef and cooking some onions over a couple teaspoons of olive oil.
Once your beef has browned up and your onions have softened, carefully drain off any fat or grease that has cooked off of your meat. Once drained, add in your taco seasoning along with about 2/3 cups of water. Let that simmer for a little bit so the beef can pick up the flavors from the seasoning.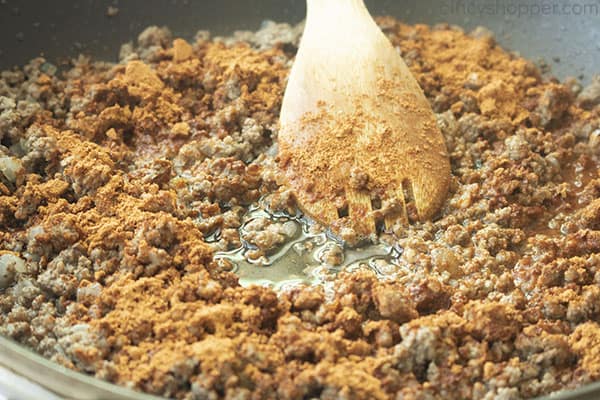 With our taco meat prepped, we can start resembling our casserole. Start with a bottom layer of refried beans. Feel free to also add a layer of tortilla chips on top of that- though, these may become soggy during cooking. We prefer to add them at the end.
Next up, we're going to add our layer of onions and taco meat.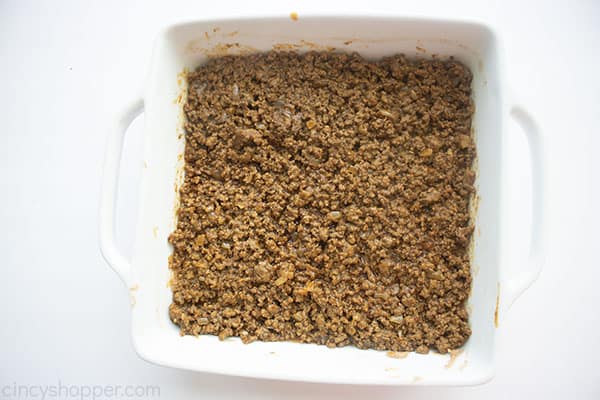 After that, our layer of salsa. Again, we went with a Picante sauce here- you can see why you might want to go with at least a semi-chunky salsa here.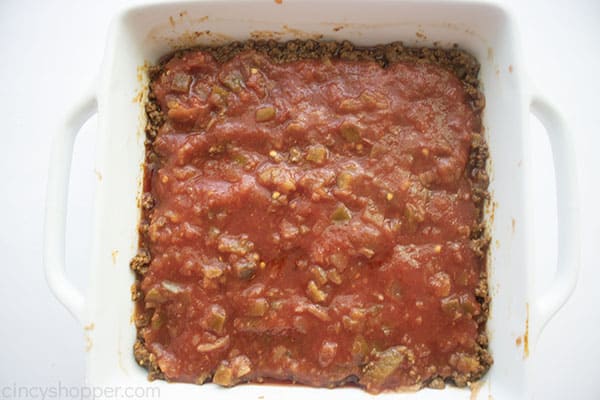 Finally, we're at our top layer of cheese. For this layer, you'll want to hit it with about a 1/2 cup of each cheese- or 1 cup of cheese total.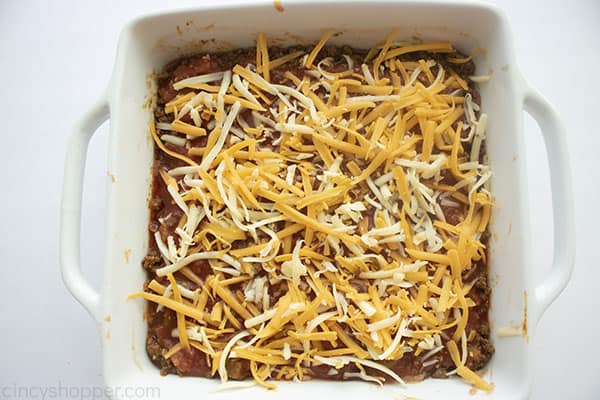 From here, all that's left is to get our taco casserole baked. Pop your baking dish into the oven and allow it to cook for about 15 minutes. You'll know it's done when that top layer of cheese is nice and melty!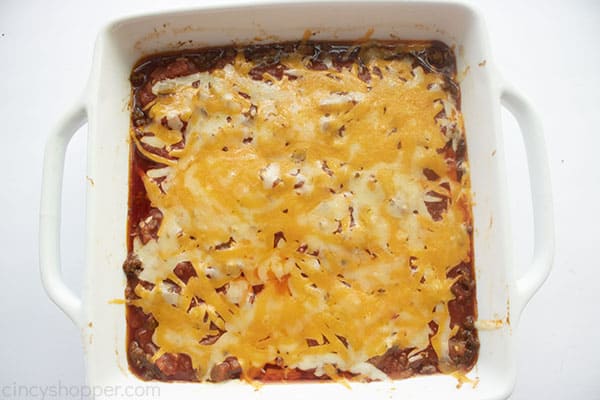 Only thing left to do is to garnish our casserole with any number of taco fixings. Again, we'll put a big list of these at the very end- you probably have a good idea of what'll work here but we'll go over it!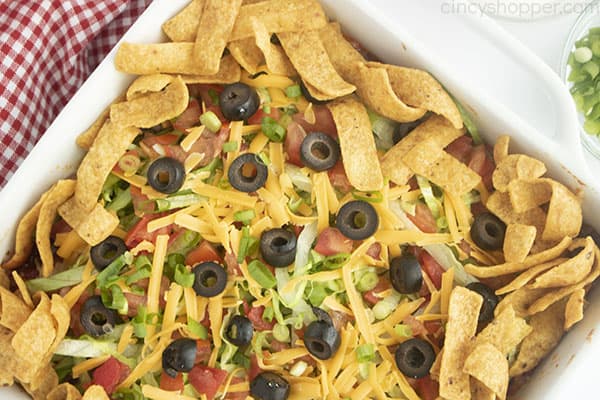 Once you've garnished your taco casserole, you can start scooping out servings using a spoon or spatula. Using a spatula especially helps maintain all the layers we made and ensures that you get a little bit of everything on your plate. Whatever the case, fix up a plate of this delicious casserole and enjoy!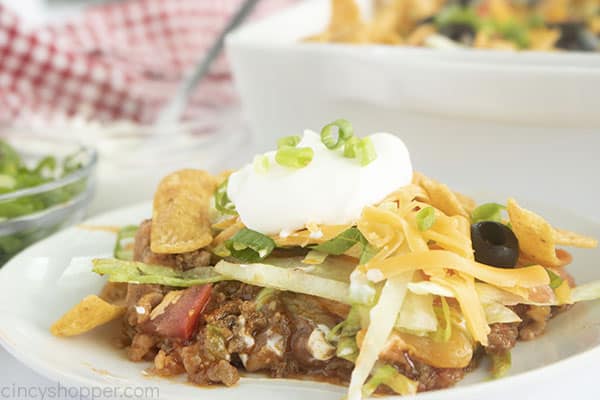 Taco Casserole Garnishes
Onions – Green for garnishing.

Tortilla Chips and/or Corn Strips – Feel free to mix things up here- try some corn tortilla chips, nacho-flavored Doritos or Frito snack chips, etc

.

More Cheese – An extra 1/4 cup of cheese on top works real well!

Sour Cream
Hot Taco Sauce to spice it up a bit more!
Taco Casserole
Taco Casserole is a delicious way to mix things up on Taco Tuesday night. This ground beef taco casserole makes for an easy dinner idea.
Ingredients
2

tbsp

Olive Oil

1

lb

Ground Beef

1/2

cup

diced Onion

1

pkg Taco Seasoning

2/3

cup

Water

16

oz

Refried Beans

10

oz

Salsa

3/4

cup

shredded Sharp Cheddar Cheese

divided

3/4

cup

shredded Pepper Jack Cheese

divided
Toppings
2 3/4

cup

Fritos

Lettuce

shredded

Tomato

diced

Sliced Black Olives

Green Onions

sliced
Instructions
Heavily grease an 8x8" casserole dish. Set aside.

Heat olive oil in skillet over medium heat.

Brown ground beef with onion over medium heat until no longer pink.

Drain grease.

Add water and taco seasoning and cook until sauce thickens.

Preheat oven to 350.

Spread beans in a layer in bottom of prepared casserole dish.

Top beans with the ground beef mixture.

Then top with a layer of salsa.

Top with 1/2 cup of each of the shredded cheeses and bake for 15 minutes until cheese is melted.

Top with Fritos, lettuce, tomatoes, olives, green onions and remaining cheeses.
Nutrition
Calories:
746
kcal
|
Carbohydrates:
46
g
|
Protein:
32
g
|
Fat:
48
g
|
Saturated Fat:
16
g
|
Cholesterol:
97
mg
|
Sodium:
1460
mg
|
Potassium:
526
mg
|
Fiber:
8
g
|
Sugar:
6
g
|
Vitamin A:
666
IU
|
Vitamin C:
2
mg
|
Calcium:
395
mg
|
Iron:
4
mg