S'mores Cookies taste just like the classic campfire dessert! These soft & chewy treats with delicious, gooey centers are a must-make.
Toasted marshmallows, delicious milk chocolate, and soft, chewy cookies- what's not to love? For some more of our favorite cookies, check out our Peanut Butter Blossom Cookies or The Best Oatmeal Raisin Cookies.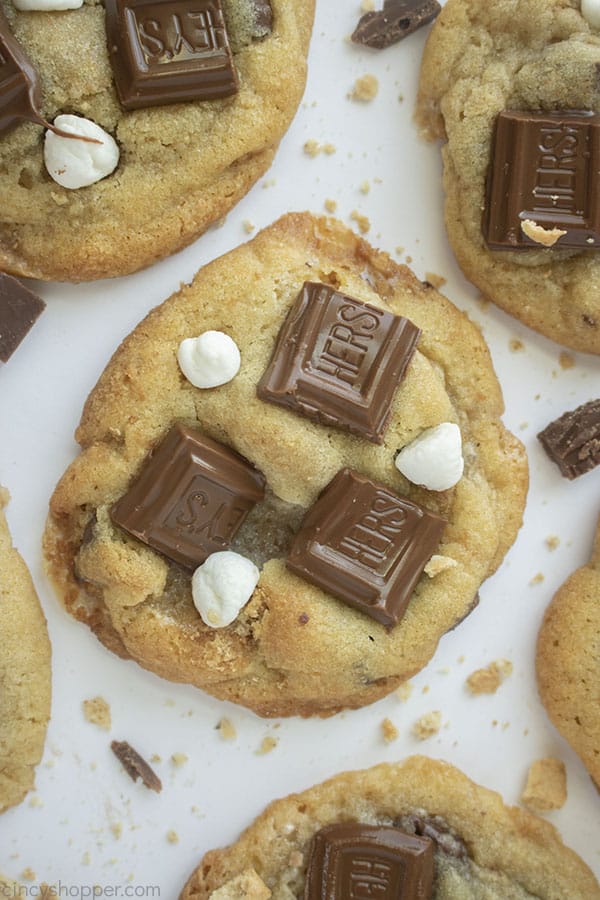 S'mores Cookies
Cookies aren't a hard sell for most people. Personally, I usually just need to hear the word "cookie" to get excited. Doesn't matter if it's chocolate chip, peanut butter, or snickerdoodles: I just love cookies! So, you can already imagine how excited I was when I started seeing recipes on the web for S'mores Cookies- a classic campfire dessert made into a cookie? Sign me up!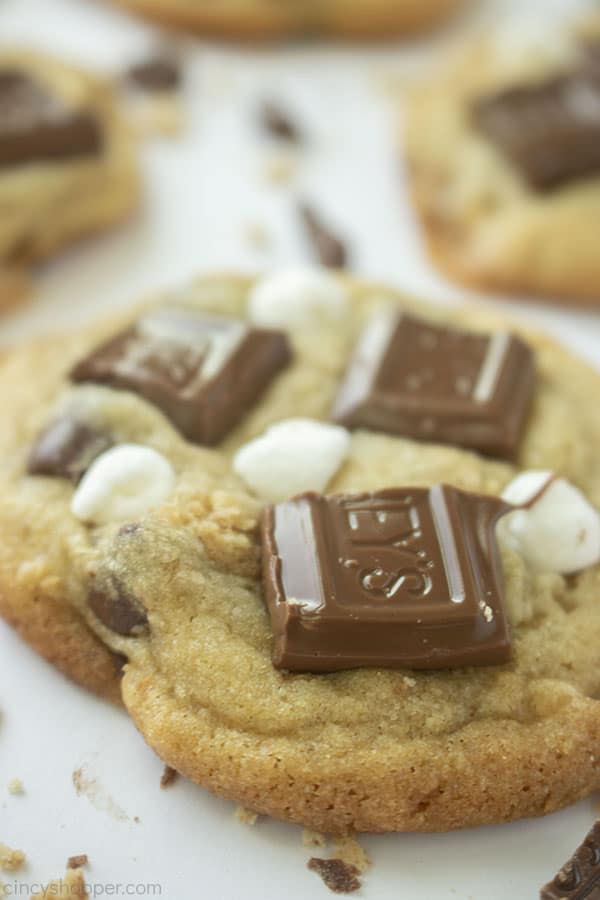 These cookies bring in everything you love about s'mores: we got the marshmallows, the graham crackers, and even those Hershey chocolate squares. On top of all of that, we also got a recipe that yields a perfect cookie with a soft & chewy center. As soon as we finished shooting these, everyone was eager to grab a couple. These cookies were a big hit!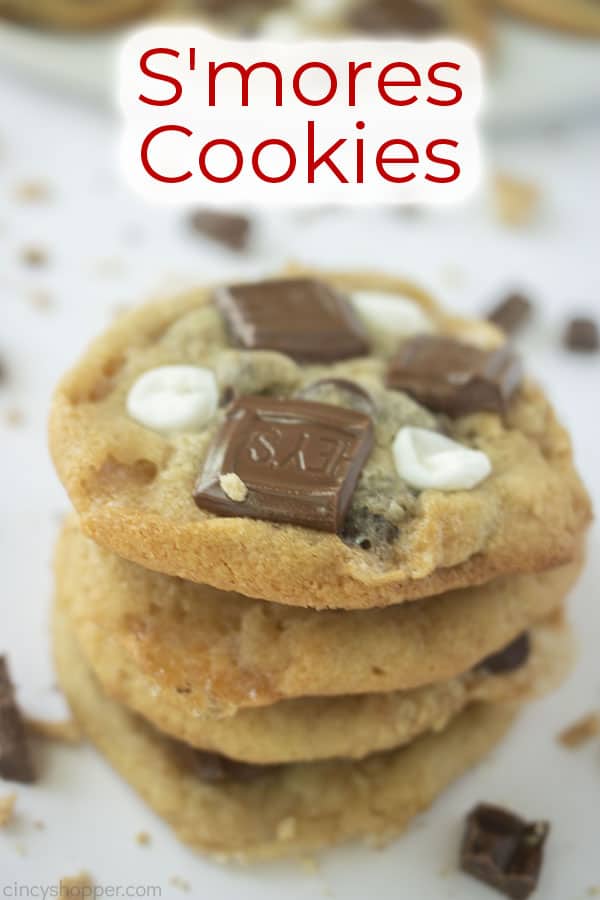 If you're looking for a new way to get your s'mores fix or maybe your evening by the campfire got rained out, these S'mores Cookies are the perfect backup recipe. They'd make for a nice treat at your next barbecue or grill-out or you could make a couple of batches for the kids to pack in their lunches when they head back to school! Really, I'll take any excuse to make more of these things- they're so good!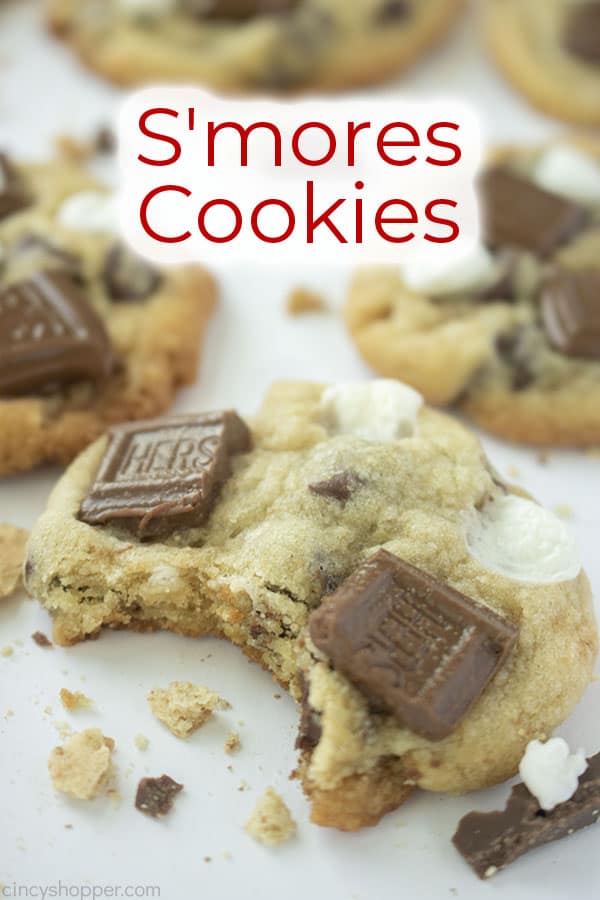 Enjoyed our cookies? Try these other s'mores recipes next!
If you're wanting all those delicious s'more flavors without all the cooking, then our

No Bake S'mores Cheesecake

is the perfect recipe for you

!

Besides a bit of time in the microwave, this recipe needs no cooking or baking at all-the fridge will do most of the work for you

.

It's worth the wait too: in the end, you get a delicious layered dessert loaded with marshmallow, chocolate, and graham cracker flavors

.

If you're looking to mix things up, try following along with our

S'mores Cups Recipe

. These delicious dessert cups are so easy to make and bake in almost no time at all! A great batch dessert that's perfect for making s'mores indoors.

For another fun, summertime dessert, give our

S'mores Cupcakes

a try.

An interesting take on the classic s'more: we start with a graham cracker crust, top that with a chocolate cupcake, and then fill and top the cupcake with marshmallow buttercream

. All the classic s'mores ingredients used in a new way that's still tasty!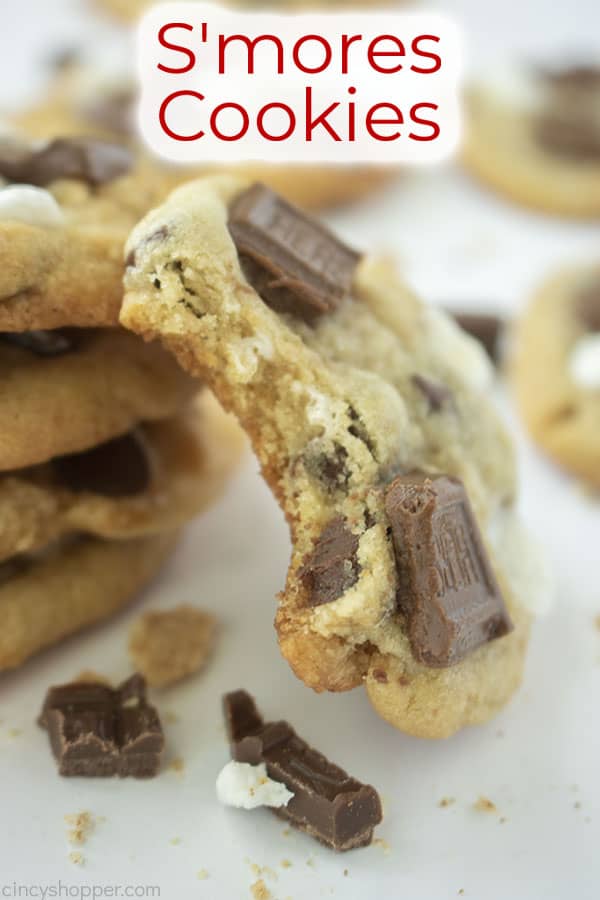 Ingredients for Smores Cookies
There are quite a few working parts to this recipe, but we'll try to make things simple and easy to follow. For our dry ingredients, you'll need…
Flour

Baking Soda

Baking Powder

Salt
The wet ingredients, meanwhile, are…
Butter

– Let this get to room temperature,

ideally

.

Light Brown Sugar

White Sugar

Egg

Vanilla Extract
Finally, for topping our S'mores Cookies, we'll use…
Chocolate Chips

– We use semi-sweet here.

Mini Marshmallows

Graham Crackers

Hershey Bars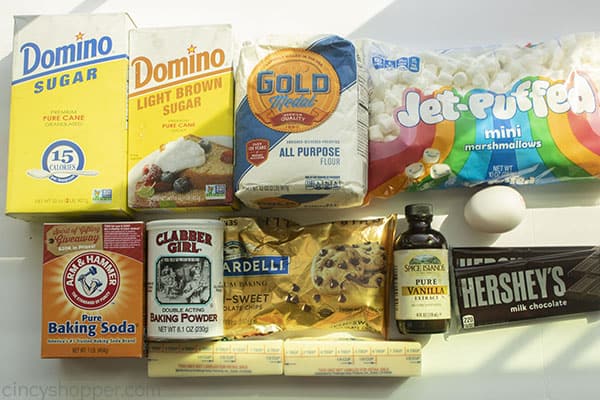 How to make Smores Cookies
Again, it all looks complicated but making these S'mores Cookies is actually very easy. Here's all you have to do:
Separately

prep your wet and dry ingredients

before

gradually

mixing both together

into a cookie dough

.

Gently

beat chocolate chips, graham crackers, and most of your marshmallows into the dough

.

Let the dough chill

before

portioning out onto a parchment-lined baking sheet

.

Bake your cookies at 350 degrees for about 8 minutes

before

topping with remaining marshmallows and Hershey pieces

. Let

bake for another 2-3 minutes

and let cool before serving.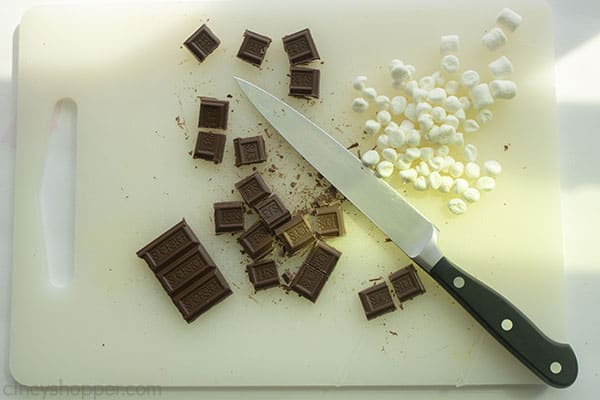 Before we get into the recipe proper, we're going to do a little prep work- mostly for our toppings and cookie fillings. Break the Hershey bars down into the little "mini-bars" that they're made from and then cut those in half. We'll also cut our mini marshmallows in half to keep them from blowing our cookies out too badly when they're in the oven later. Lastly, we're going to give our graham crackers a rough chop. There, that's all the toppings prepped- now let's get to making cookies!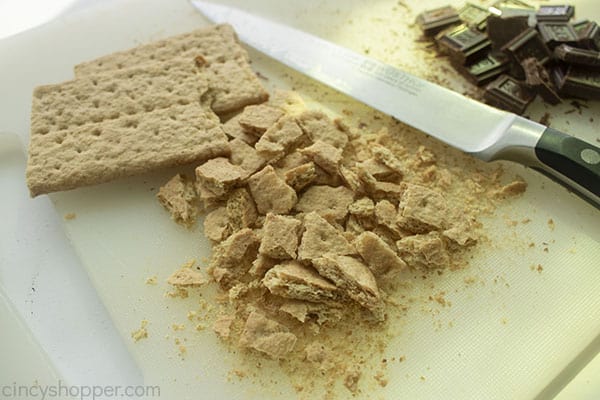 How to make cookie dough
Like most great cookie recipes, our S'mores Cookies really start with the dough. First, whisk together all the dry ingredients we mentioned before until they're all mixed up.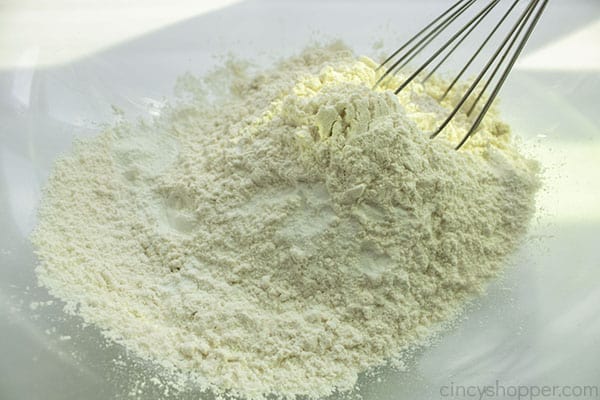 That's the dry stuff sorted out- set it aside for now. Move on to the wet stuff: start by beating together the butter and your sugars until they're nice and creamy.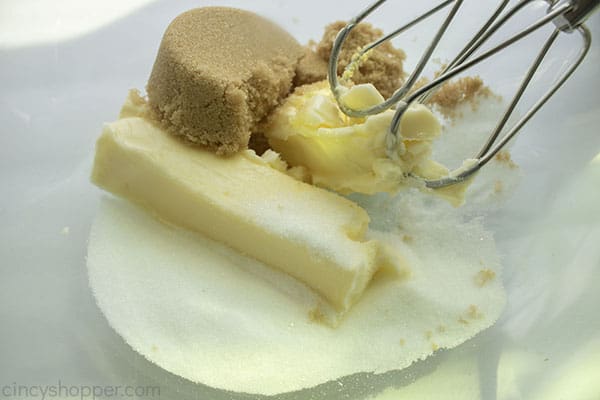 Crack in your egg and pour the vanilla extract before beating until combined. For good measure, feel free to scrape down the sides of the bowl and give everything one last good mixing before moving on.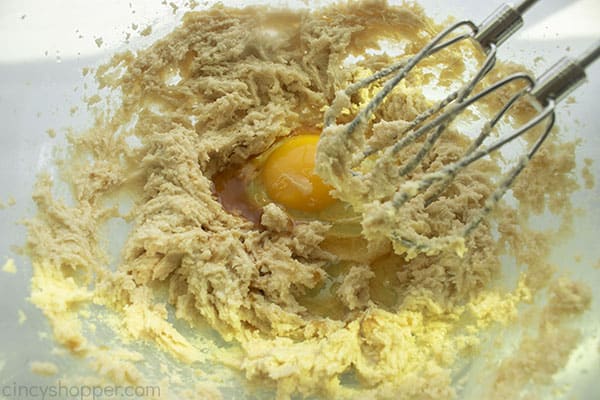 With the wet ingredients and dry ingredients prepped separately, we can finally introduce them to each other. Start gradually adding and mixing the dry ingredients into the bowl with the wet stuff. For best results, beat the dry ingredients in at a low speed until everything is just combined. That's our cookie dough done- now it just needs some fillings!
Making S'mores Cookies
For "filling" our cookies, we're going to start by beating in our chocolate chips, our chopped graham crackers, and all but a handful of our marshmallows. We don't use all the marshmallows for the same reason we cut them in half earlier- they tend to puff up too much and can blow out our cookies. Don't worry, we'll add some more later!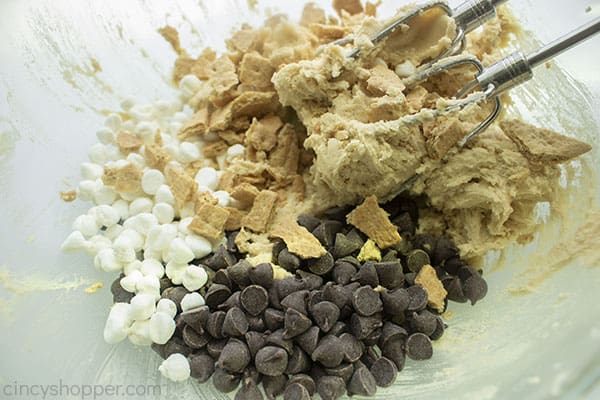 Beat all those in until just combined and- for best results- refrigerate your dough for at least an hour. This is going to help the cookies cook a little unevenly- giving us that soft and chewy center that we're after! Once the dough has cooled, start portioning it out into 1-2 inch balls and set a couple of inches apart on a parchment-lined baking sheet.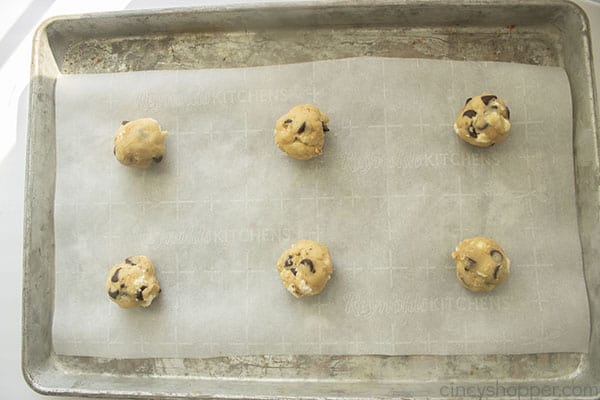 Transfer the baking sheet to an awaiting 350 degree oven and let your cookies bake for about 7-8 minutes. At that point, we'll briefly pull the cookies from the oven to top them with our remaining marshmallows and the Hershey pieces from earlier.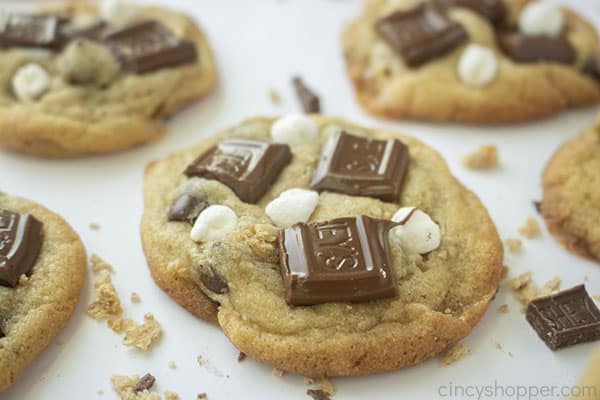 Put back in the oven for another 2-3 minutes to finish baking before pulling from the oven and letting cool in the pan completely. Once cooled, dig in! Any leftover S'mores Cookies will keep in an airtight container at room temp for up to 4 days so you have plenty of time to enjoy.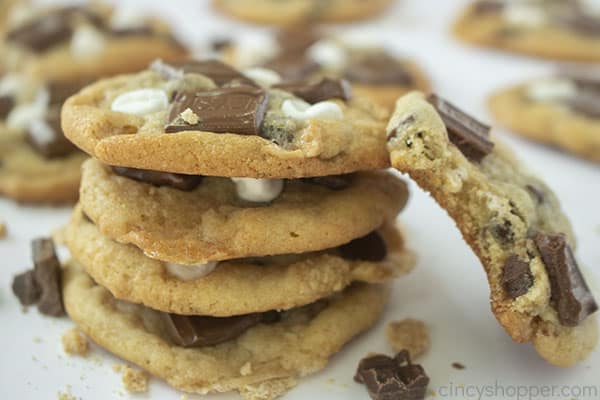 S'mores Cookies
S'mores Cookies taste just like the classic campfire dessert! These soft & chewy treats with delicious, gooey centers are a must-make.
Ingredients
1

cup

Mini Marshmallows

divided

1

bar

Hershey's Chocolate

4

Graham Crackers

1 1/2

cup

Flour

1/2

tsp

Baking Powder

1/2

tsp

Baking Soda

1/8

tsp

Salt

12

tbsp

Butter

room temperature

1/4

cup

Sugar

1/2

cup

Light Brown Sugar

1

Egg

1

tsp

Vanilla Extract

1

cup

Semisweet Chocolate Chips
Instructions
Break Hershey's bar into little bars and then cut those in half.

Cut mini marshmallows in half.

Roughly chop up graham crackers.

Whisk together the flour, baking powder, baking soda, and salt. Set aside.

In another bowl, beat together the butter, brown sugar, and sugar until blended.

Beat in the egg and vanilla and until incorporated, scraping down the sides.

Gradually add dry ingredients to the butter mixture, beating until just combined.

Add the chocolate chips, graham crackers and 1/2 of the marshmallows to the dough and mix until just combined.

Refrigerate dough for at least one hour.

Preheat oven to 350.

Form dough into balls about 1" to 1.5" and place on parchment-lined sheet about 2" apart.

Bake for 8 minutes then remove from oven.

Top cookies with the remaining marshmallow and chocolate bar pieces.

Return to the oven for 1- 2 more minutes to finish baking.

Allow to cool on baking sheet.
Notes
Allow cookies to cool completely before removing from the baking sheet. Also. allow to cool for a few hours before stacking.
Nutrition
Calories:
231
kcal
|
Carbohydrates:
26
g
|
Protein:
3
g
|
Fat:
13
g
|
Saturated Fat:
8
g
|
Trans Fat:
1
g
|
Cholesterol:
27
mg
|
Sodium:
140
mg
|
Potassium:
115
mg
|
Fiber:
2
g
|
Sugar:
14
g
|
Vitamin A:
228
IU
|
Calcium:
27
mg
|
Iron:
2
mg