Our Sloppy Joe Cornbread Casserole recipe is delicious hearty comfort food that can't be beat! A tasty recipe with simple ingredients. Since it is a 30 minute meal, it's great for busy weeknight dinners.
Casserole dishes are some of my favorite recipes to make- especially when I need a simple dinner recipe that's easy to make. I've been pretty happy with this Sloppy Joe Cornbread Casserole that we've made recently for those reasons and many more! Not only is it such a quick and simple casserole recipe that take about 30 minutes to make, but it's so delicious too. Sloppy Joes are one of our favorite comfort foods and with a simple cornbread topping to go with it, it's not hard to go back for seconds or thirds.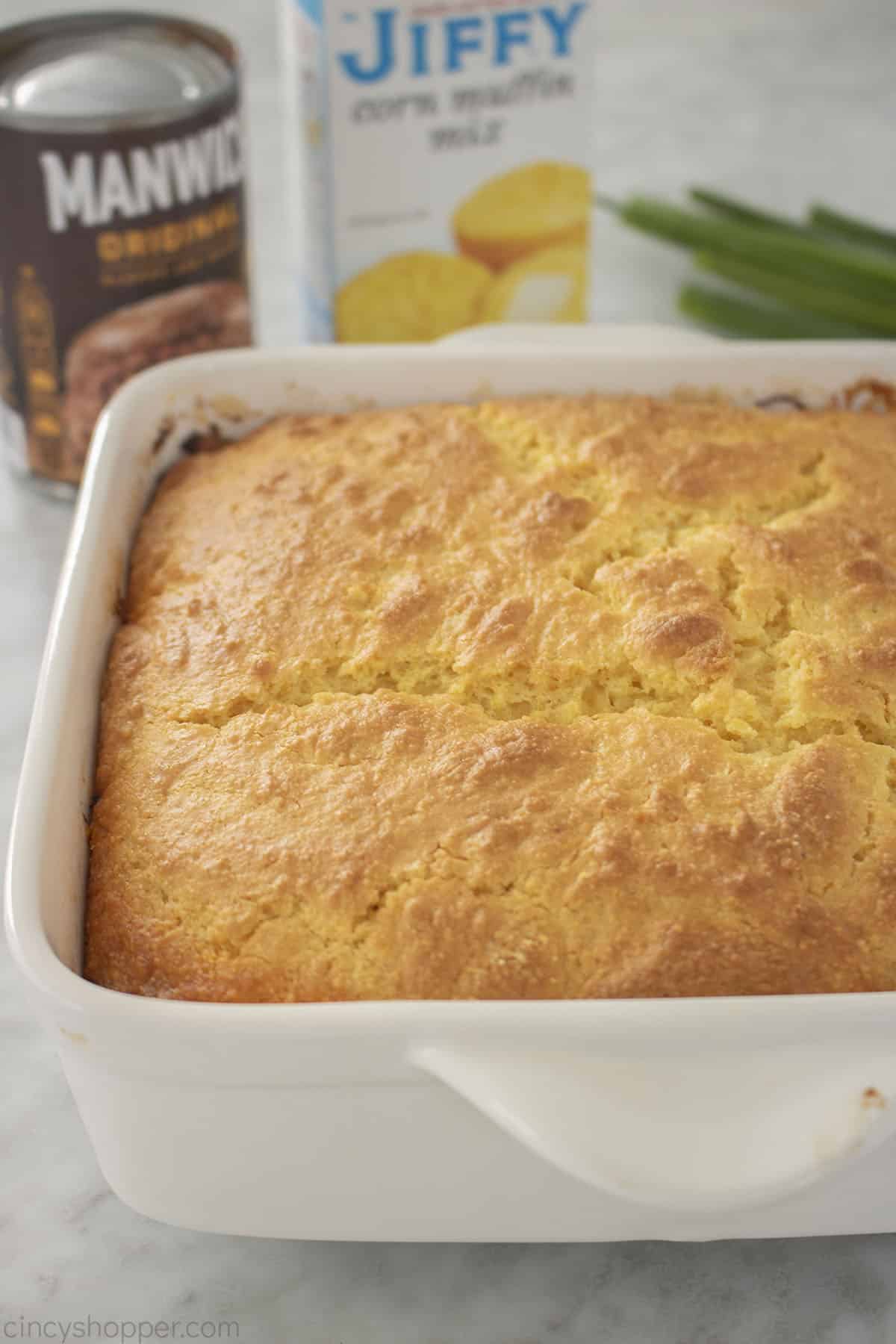 Jump to:
Why you'll love this recipe
With just five ingredients, this is a dead simple recipe to make!
The combo of two classic comforting dishes- Sloppy Joes and Cornbread- makes this a tasty recipe that everyone will love.
The recipe is easy to tweak and change to your liking: add in some peppers or onions with the meat, use one or two boxes or corn muffin mix, et cetera.
Ingredients to Make Sloppy Joe Cornbread Casserole
You're going to love this Sloppy Joe Casserole recipe because the ingredients list is super short! Even better, you probably have a few- if not, all- of these ingredients on hand already. Here's what you need: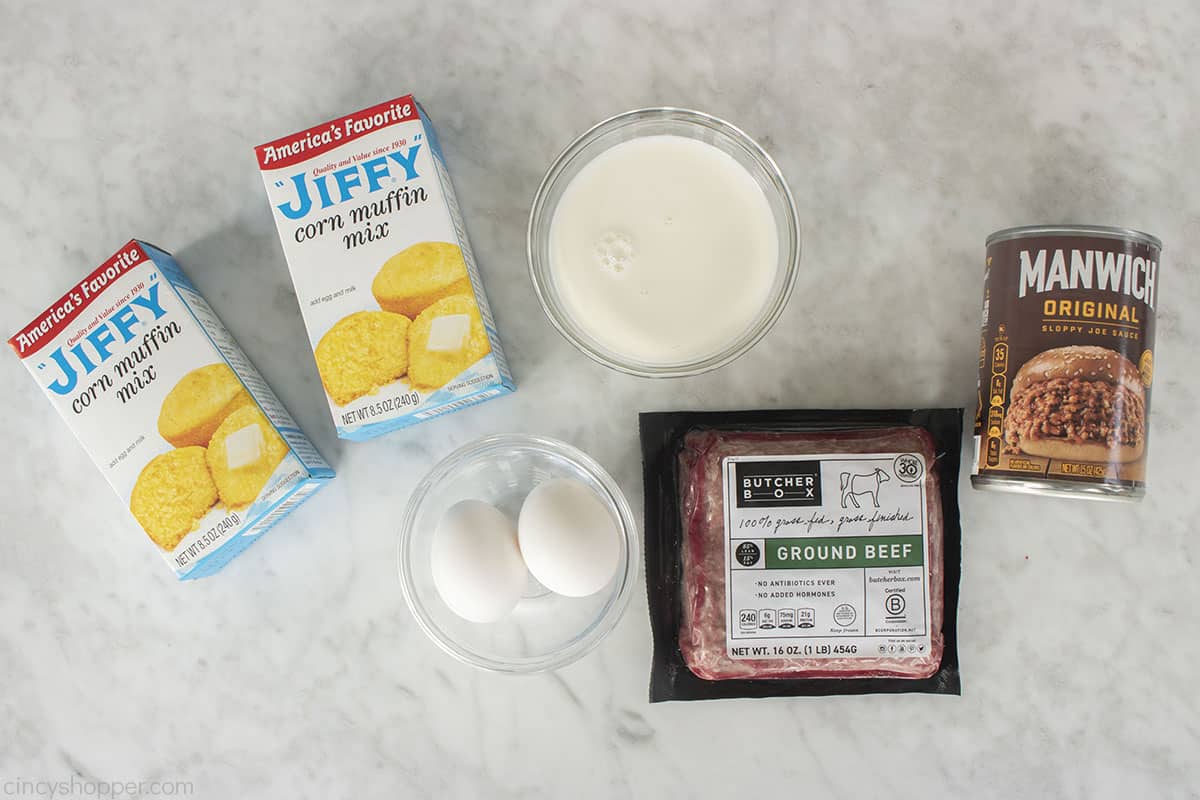 Jiffy Corn Muffin Mix – This is the kind of Jiffy Cornbread mix you'll probably find at the store. It typically comes in 8.5 oz packages. Our family likes their cornbread, so we use two packages but you could use just one if you'd like.
Eggs
Milk
Ground Beef – It's not too important to get a lean or fatty ground beef here. We'll be draining most of the fat off in the end.
Sloppy Joe Sauce – We use the Manwich Sloppy Joe Sauce.
If you'd like, you can also try subbing out the ground beef and Sloppy Joe sauce for some Homemade Sloppy Joes.
How to make Sloppy Joe Casserole with Cornbread
Since our Sloppy Joe Casserole recipe uses so few ingredients and some ready-made ingredients as well, making it is real easy. To make this easy casserole dish, here's all you need to do: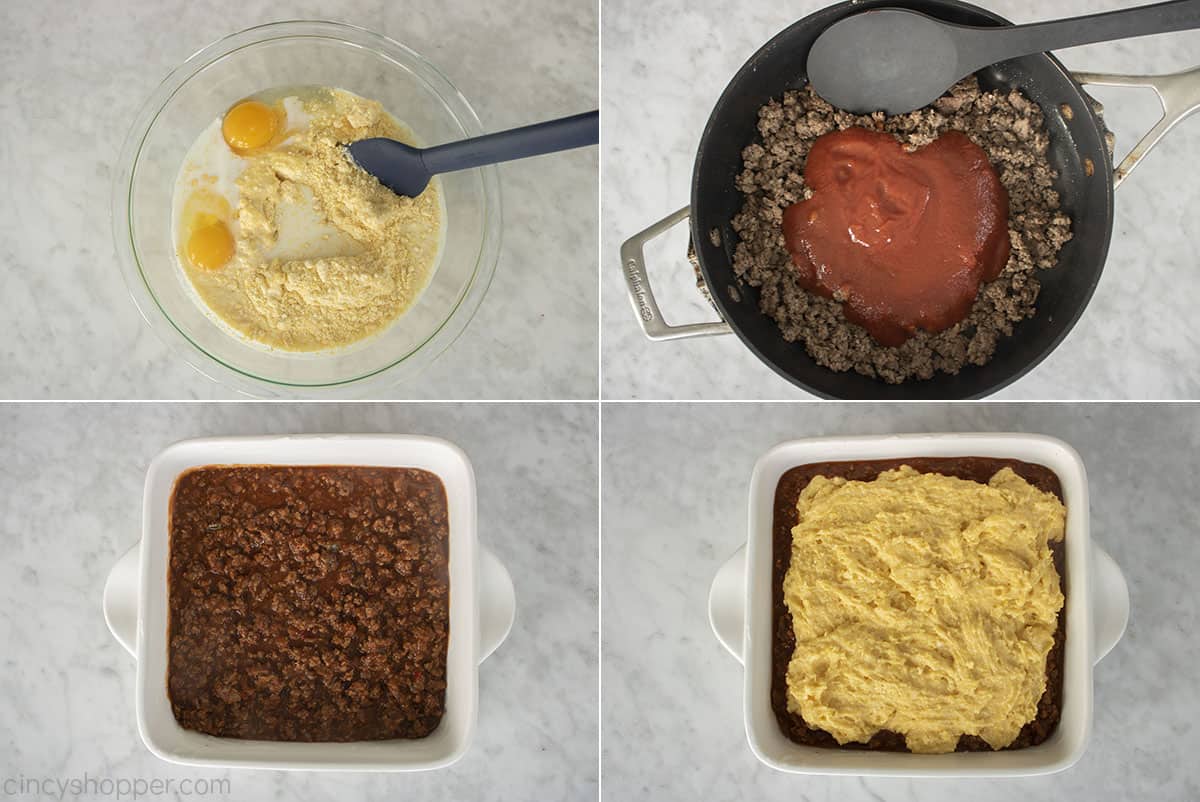 Add the Corn Muffin Mix, eggs, and milk to a large bowl. Stir together until blended well and set aside.
Brown ground beef in a large skillet over medium heat. Drain off grease before adding Sloppy Joe sauce and cooking another 5 minutes.
Pour prepared Sloppy Joe mixture into bottom of a 9×13 baking dish and evenly top with a layer of cornbread mixture. Bake at 400 degrees for 20 minutes. Casserole is finished when cornbread is golden and a toothpick inserted pulls clean.
Substitutions
If you're either trying to cut down on the calories or your missing some of the needed ingredients, there's a few substitutions you can make for this casserole recipe:
Protein – Sloppy Joe is usually made with ground beef but that's not the only meat you can use. Another popular pick is pork Sloppy Joe, made with either ground or shredded pork. You might even be able to get away with using ground turkey.
Sloppy Joe Sauce – Instead of using Sloppy Joe Sauce, you can try making a healthier homemade Sloppy Joe Sauce. Check out our link to Homemade Sloppy Joes up in the ingredients section. Sub out some of the ketchup with tomato paste and/or use some sugar-free ketchup. You can also reduce or omit the sugar entirely if you'd like.
Milk – For the cornbread mix, we really recommend using whole milk to keep the cornbread from being too dry and flaky. If you must, you can use a lower fat milk, sub some of the milk out for water, or use all water if you don't mind the cornbread layer being very dry and crumbly.
Variations
We also have a couple ways you can spice this Sloppy Joe Casserole up a little:
Homemade Sloppy Joes – Once again, you can follow along with our recipe posted above. At the very least, you can make your Sloppy Joe meat taste a bit more homemade by adding some onions and peppers in with the ground beef before adding the sauce.
Homemade Cornbread – If you have a favorite homemade cornbread recipe, you could try using it in place of the premade cornbread mix.
Toppings – Consider topping your baked casserole with shredded cheddar cheese, jalapeños, hot sauce, green onions, sour cream, or bacon.
Storage / Freezing
Let your sloppy joe casserole cool down to room temperature. Either cover the leftovers with plastic wrap in the baking dish or portion out into individual servings and store in an airtight plastic bag or container. Kept in the fridge this way, the Sloppy Joe Corn bread Casserole should keep for around 3-4 days.
You can also try freezing the casserole in much the same way. In the freezer, expect your casserole to keep for 3-6 months. After 3 months, the cornbread layer might not be as fresh after thawing but it should still be safe to eat.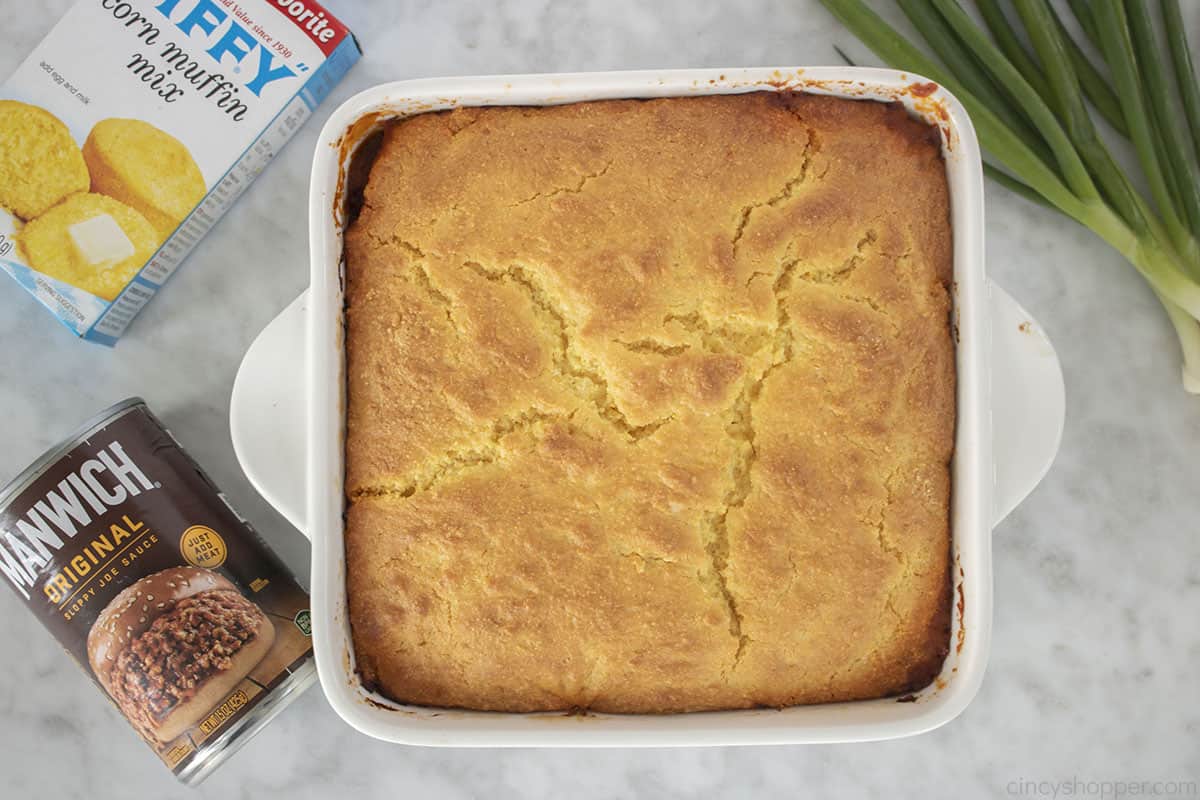 Top tip
We really liked how this casserole turned out using two packages of the corn muffin mix. Again, you can use just one package if that's all you have or prefer but we highly recommend using two and having that generous amount of cornbread on top.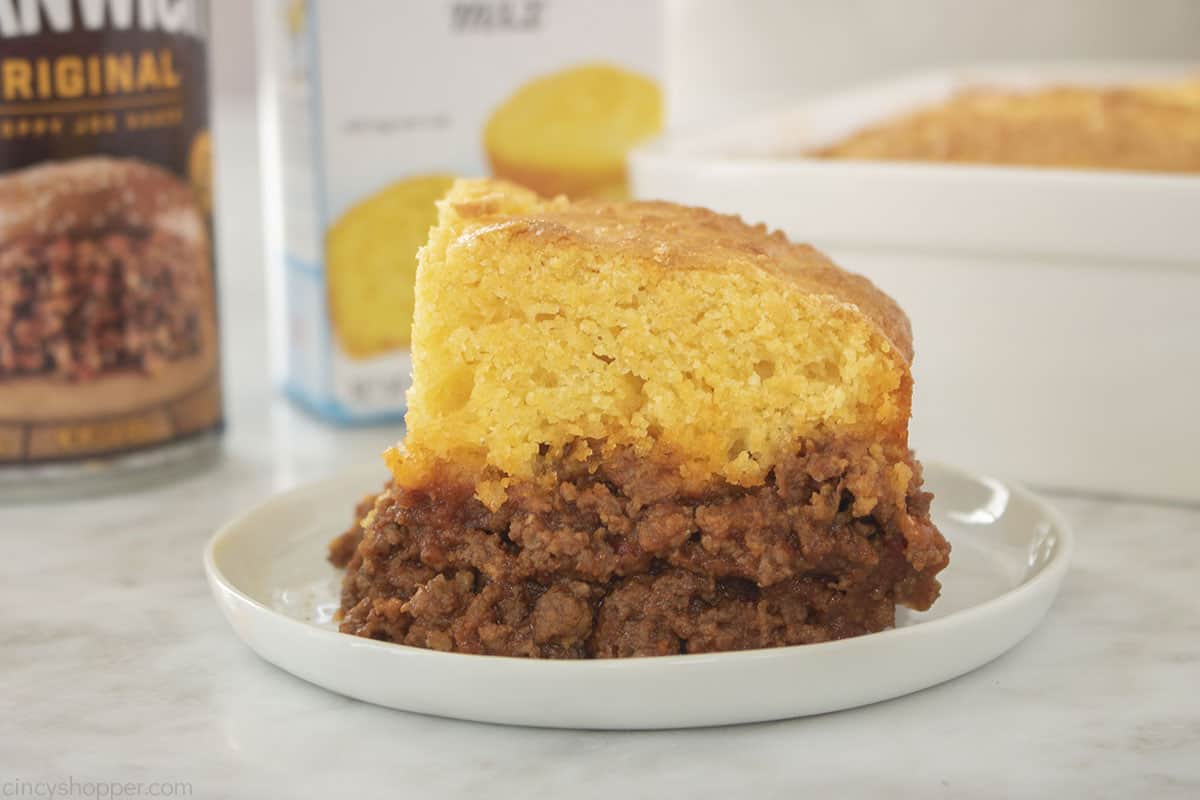 FAQ
Can I use a different type of ground meat instead of beef?
Yes, you can use ground turkey, chicken, or pork instead of beef if you prefer.
Can I add other vegetables to the sloppy joe mixture?
Yes, you can add your favorite vegetables. Onions, bell peppers, cream corn or whole kernel corn are some options to consider.
Can I make this casserole ahead of time and refrigerate it?
Yes, you sure can! Go ahead and assemble the casserole up to a day ahead of time. Then cover it with foil or plastic wrap, and refrigerate it. When you are ready to serve go ahead and bake it according to the recipe instructions.
Other Easy Casseroles
Looking for other casserole recipes that are easy to make? If so, consider these:
What to serve with this Casserole
These are my favorite dishes to serve with sloppy joe casserole: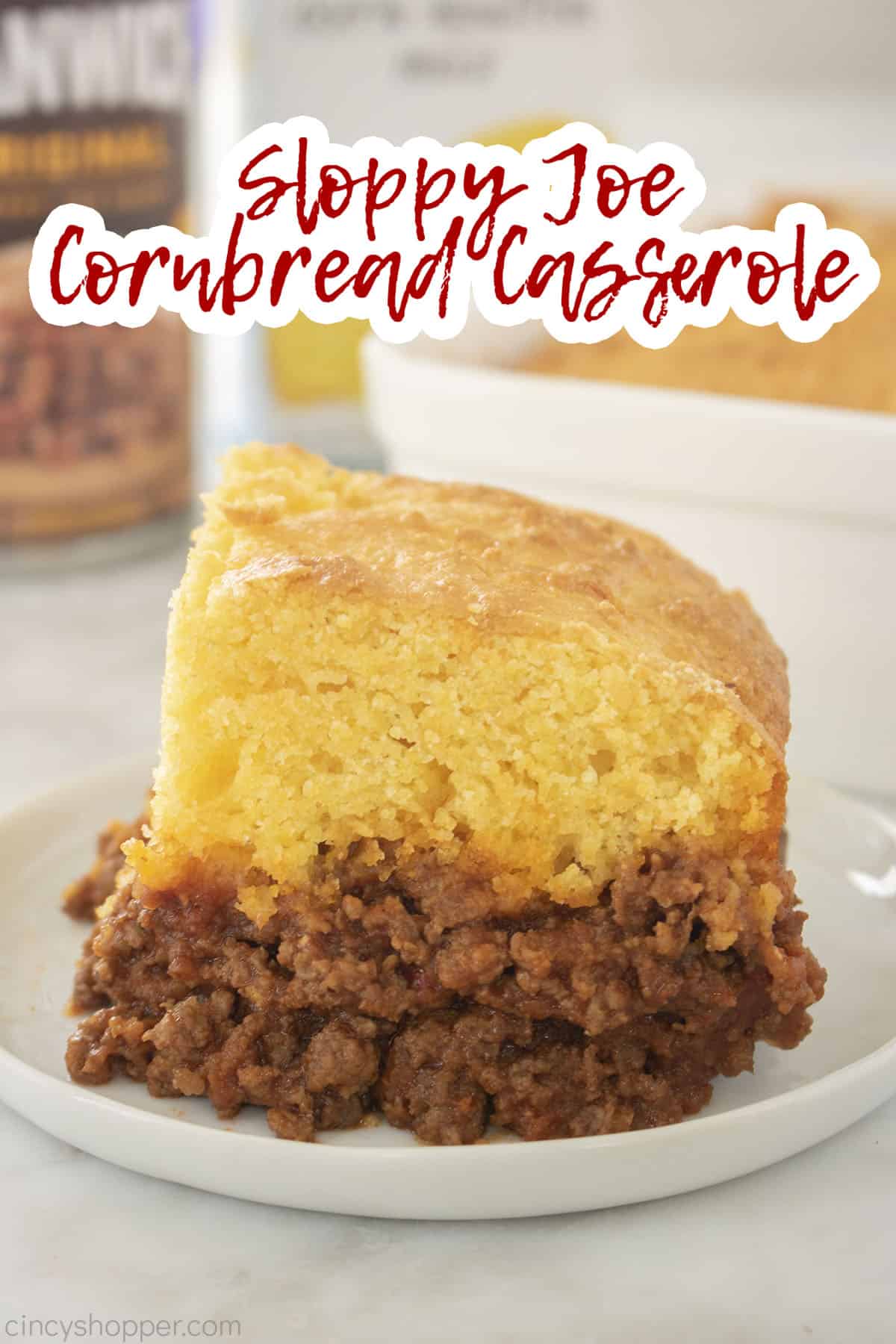 Sloppy Joe Cornbread Casserole
Our Sloppy Joe Cornbread Casserole recipe is delicious hearty comfort food that can't be beat! A tasty recipe with simple ingredients. Since it is a 30 minute meal, it's great for busy weeknight dinners.
Ingredients
17

oz

Jiffy Corn Muffin Mix

2 boxes

2

Eggs

2/3

cup

Milk

1

lb

Ground Beef

15

oz

Manwich Sloppy Joe Sauce
Instructions
Preheat oven to 400.

In a large bowl, combine muffin mix, eggs and milk. Stir until blended. Set aside.

Brown ground beef in a large skillet over medium heat.

Drain any excess grease.

Add Manwich sauce and cook for another 5 minutes.

Spread sloppy joe mixture over the bottom of a 9×13 baking dish.

Spread an even layer of the prepared cornbread mixture over top of the meat mixture.

Bake for 20 minutes, until cornbread is golden and a toothpick inserted in cornbread layer comes out dry.
Nutrition
Calories:
848
kcal
|
Carbohydrates:
106
g
|
Protein:
32
g
|
Fat:
41
g
|
Saturated Fat:
14
g
|
Polyunsaturated Fat:
3
g
|
Monounsaturated Fat:
19
g
|
Trans Fat:
1
g
|
Cholesterol:
170
mg
|
Sodium:
1882
mg
|
Potassium:
534
mg
|
Fiber:
10
g
|
Sugar:
42
g
|
Vitamin A:
323
IU
|
Vitamin C:
0.1
mg
|
Calcium:
151
mg
|
Iron:
7
mg