Pumpkin Crisp is an easy, baked fall dessert. With it's creamy filling and crumbly crisp topping, it's perfect for Thanksgiving.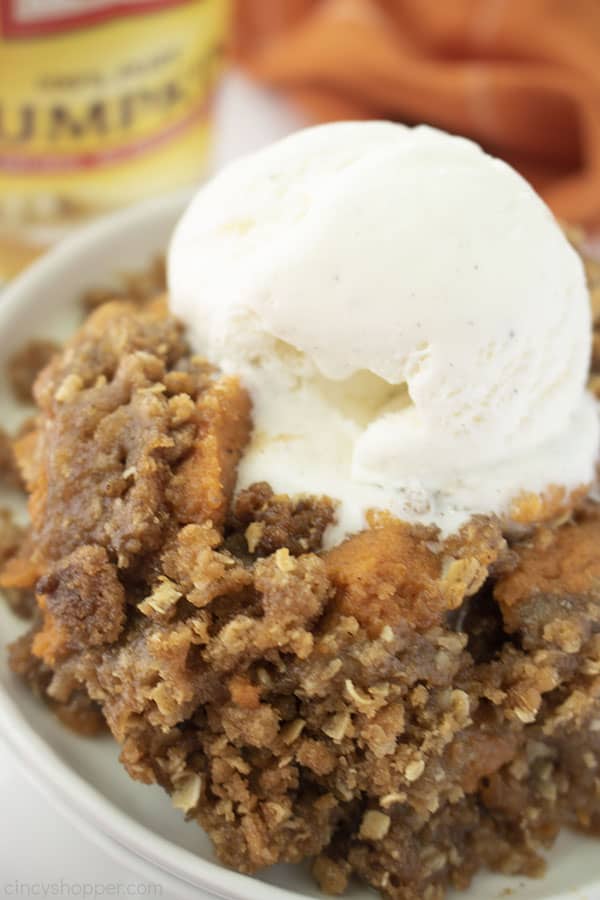 Pumpkin Crisp
More fall desserts for you folks today! Fall desserts are some of the best dishes to make- almost always, you know you're in for something delicious when you finish baking. Few desserts warm our hearts and get us excited quite like crisps: delicious, sweet fillings topped with crumbly crisp topping! After making plenty of batches of our Traditional Apple Crisp, I was wanting to make something with some pumpkin.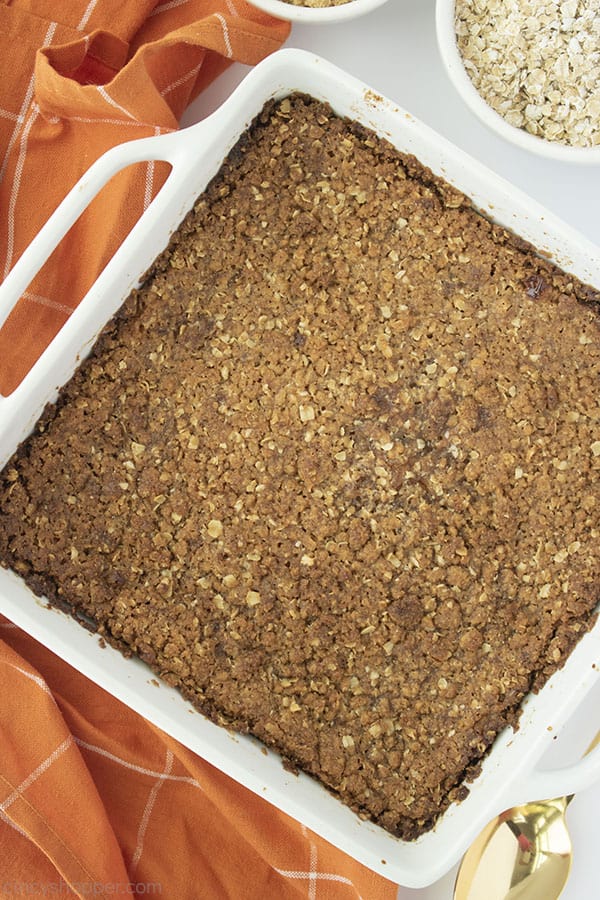 We have tons of pumpkin desserts here on the site for you to try out after this one:
For a interesting spin on a classic, our

Streusel Pumpkin Pie

tops a traditional pumpkin pie with a buttery crumble topping

.

Need a delicious fall dessert you'll make by the batch? Try some delicious

Pumpkin Cookies

– the browned butter frosting is to die for!

If you need a quick and easy pumpkin recipe, our

Pumpkin Dump Cake

is simple to make with boxed cake mix.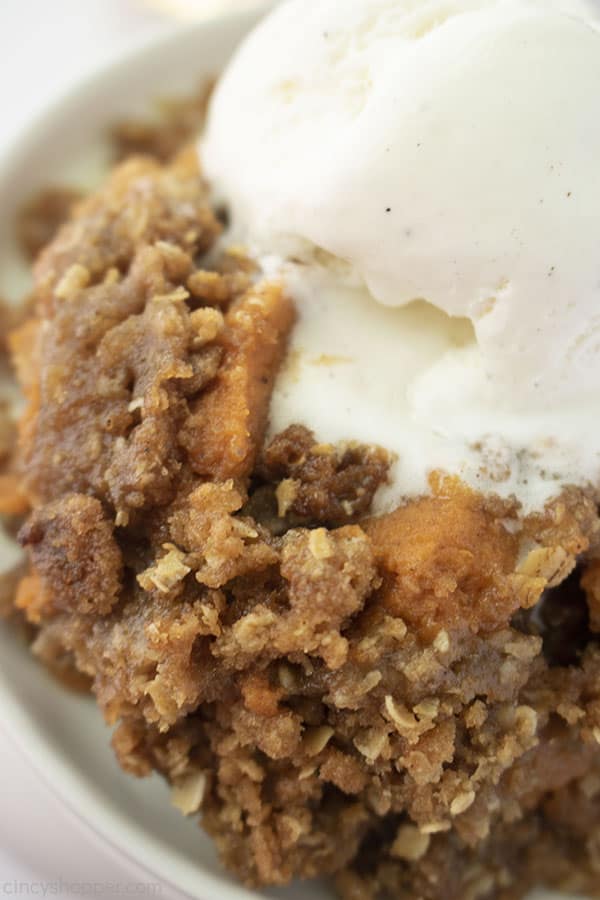 This time around, we tried our hand at making a pumpkin crisp! Plenty of recipes online will make theirs with some sort of cake mix- we went more in a "from scratch" direction. Even though we made it without cake mix, our recipe is still easy to make but still has plenty of delicious fall flavors that you folks will love!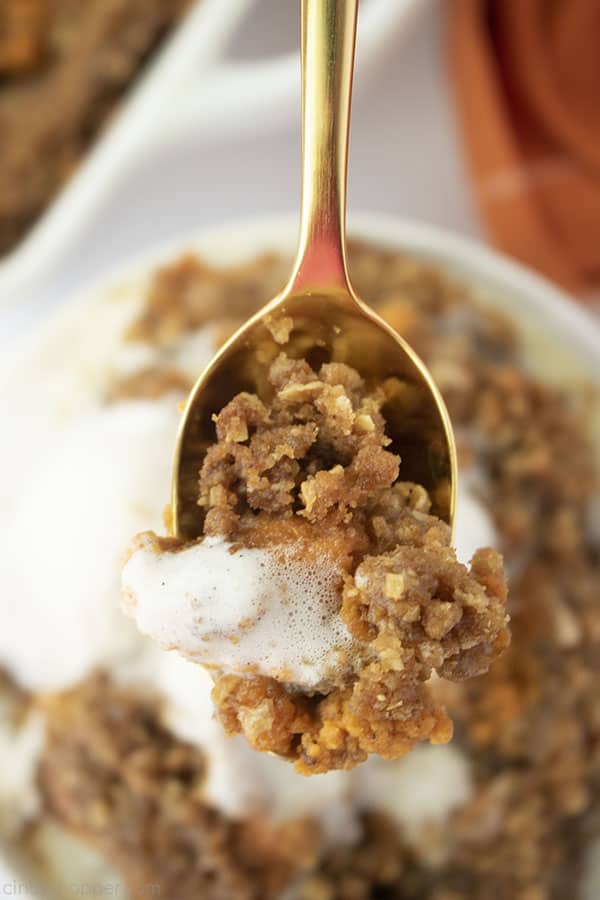 This baked dessert recipe is definitely one of the best you'll find on the internet. It's got all the best flavors of pumpkin pie and classic crisps that everyone loves. Cook up some of this delicious pumpkin crisp today- I'm certain you'll love it!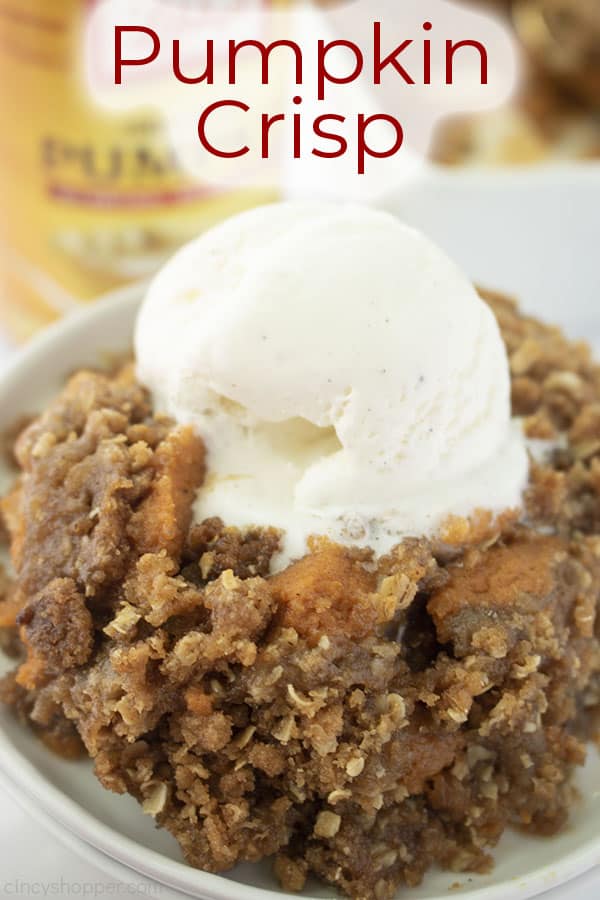 Ingredients for Autumn Crisp
Oatmeal – Quick oats work the best here.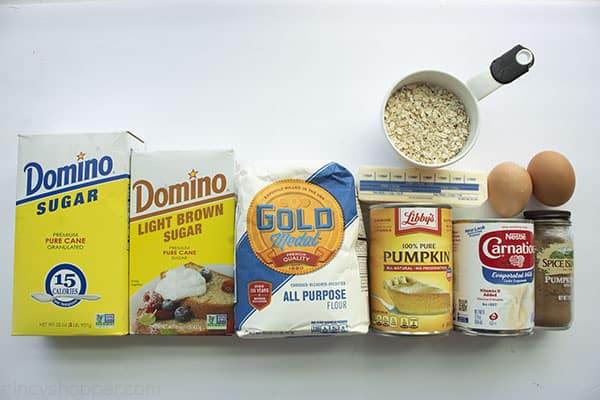 How to prepare our Pumpkin Dessert
To make our pumpkin crisp, you'll want to start by getting your oven preheating to 425 degrees. While that's preheating, get an 8×8 baking dish greased with something like shortening or cooking spray. After that, we're going to get our creamy filling ingredients mixed together. To a large mixing bowl, add your canned pumpkin, pie spice, sugar, and eggs.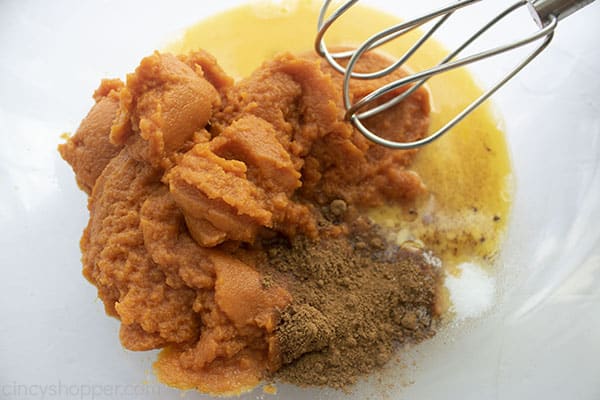 Beat those together until consistent. Once consistent, add in your evaporated milk and mix that in as well.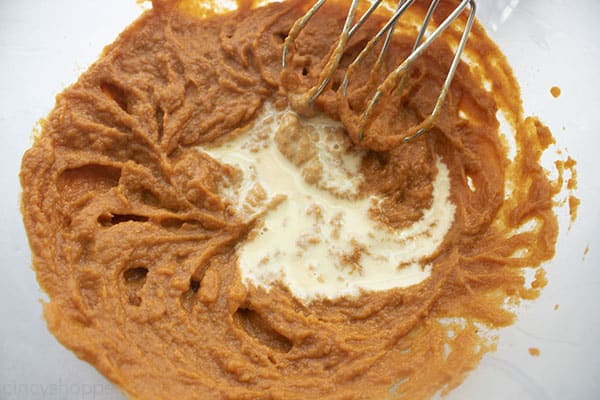 Once you've got those ingredients mixed together, you're going to transfer them over to your 8×8 baking dish. Once you've got that spread evenly through the baking dish, pop it into the oven. You'll pull it in about 30 minutes- just enough time to get our crisp topping ready! For the topping, add to a mixing bowl some oatmeal, pumpkin pie spice, flour, and brown sugar.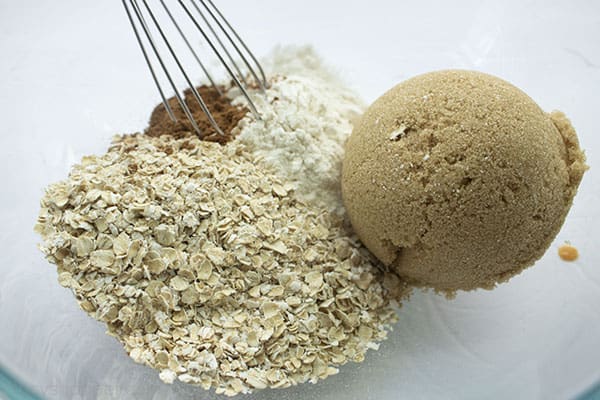 Mix those ingredients together thoroughly untill well-combined. Once combined, add in several pats of your butter. Using something like a dough blender, mix the butter in with your ingredients until a crumbly crisp topping forms.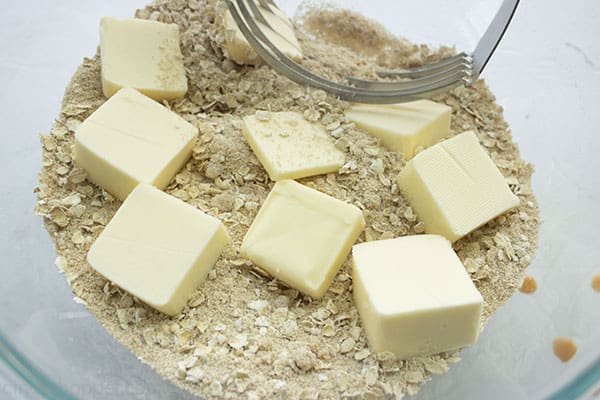 With your crisp topping ready, it's time to spread it over our pumpkin filling. Once you've pulled your filling from the oven, start sprinkling your crumb topping over it. You're aiming for as even coverage as possible.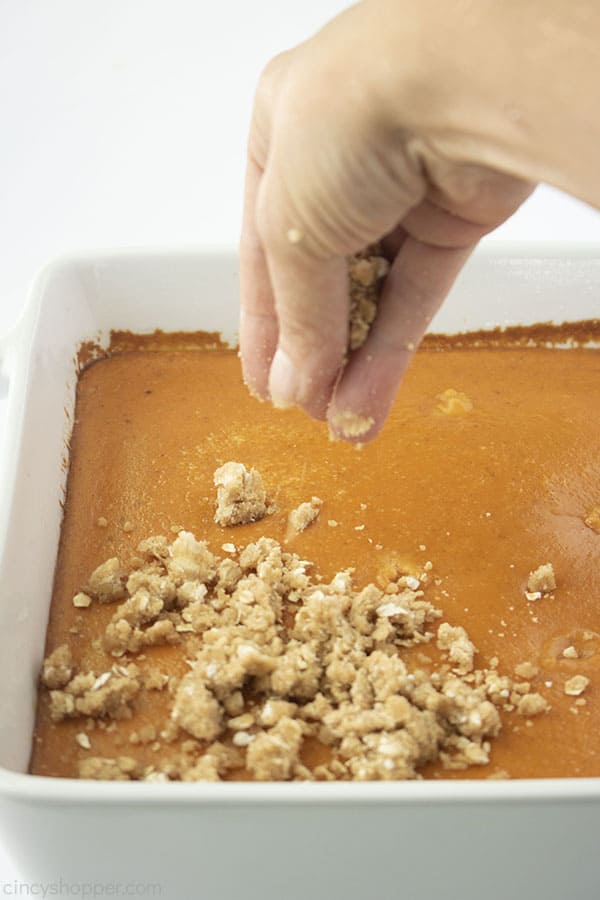 Now that you've got your crisp topping on your dessert, you need to send your crisp back into the oven. Set it back in, turn the oven down to 350 degrees, and let it cook for another 20-30 minutes. What you're looking for is a slight jiggle when you shake your pumpkin crisp. Once you see that jiggle and your crisp topping is a beautiful golden brown, you're ready to pull it from the oven. Let it cool for a few minutes before serving!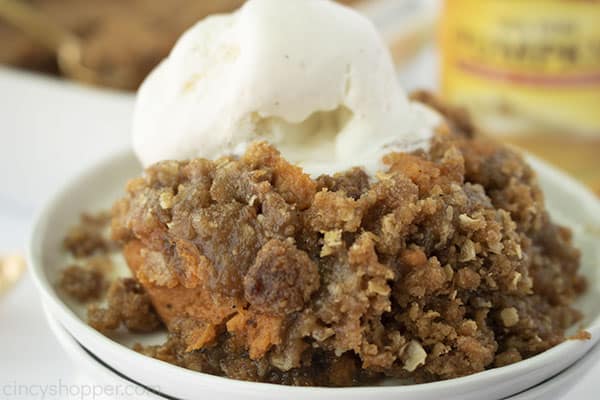 Can you freeze or refrigerate this crisp?
Once you've made your crisp, allow it to cool before prepping it for storage in the fridge. Keep it in an air-tight container and it should last for a few days,

maybe

around 2-3. To warm up, toss in a microwave- shouldn't take longer than a minute or two!

For long-term storage, you should be able to freeze this for a couple of months. Cover cooled crisp with aluminum foil and keep in freezer for 2-3 months. When it comes time to reheat it, I'd warm it back up in the oven- checking every few minutes to see if the inside's cooked.
Topping Ideas
There's plenty of things you can sneak into the crisp topping: add some crushed pecans or some graham crackers into your mix

.

Once it's out of the oven, you can top your pumpkin crisp with something like vanilla ice cream or some whipped cream

.

Finish your dessert up by dressing your pumpkin crisp with a drizzle of some chocolate or caramel sauce

.
Pumpkin Crisp
Pumpkin Crisp is an easy, baked fall dessert. With it's creamy filling and crumbly crisp topping, it's perfect for Thanksgiving.
Ingredients
2

Eggs

beaten

15

oz

Pumpkin Puree

3/4

cup

Sugar

1/2

tsp

Salt

1

tsp

Pumpkin Pie Spice

12

oz

Evaporated Milk

1/2

cup

Flour

1

cup

Brown Sugar

3/4

cup

uncooked Old Fashioned Oats

1

tsp

Cinnamon

1

tsp

Vanilla

1/2

cup

Butter cold
Instructions
Grease 8x8" casserole. Set aside.

Combine eggs, pumpkin, sugar, salt and pumpkin pie spice. Beat until blended.

Slowly mix in the evaporated milk.

Pour mixture into prepared dish.

Bake at 425 degrees for 30 minutes.

Mix together flour, brown sugar, oats and cinnamon in a bowl.

Add in vanilla and cut in butter with a pastry blender or fork.

Work until mixture forms large crumbs.

Set topping aside.

After the pumpkin has baked for 30 minutes, pull from the oven.

Sprinkle the prepared topping over dish.

Reduce heat to 350 and bake for addtional 20-30 minutes, until center is slightly jiggly.
Nutrition
Calories:
382
kcal
|
Carbohydrates:
59
g
|
Protein:
6
g
|
Fat:
15
g
|
Saturated Fat:
9
g
|
Cholesterol:
74
mg
|
Sodium:
283
mg
|
Potassium:
290
mg
|
Fiber:
2
g
|
Sugar:
46
g
|
Vitamin A:
7812
IU
|
Vitamin C:
3
mg
|
Calcium:
147
mg
|
Iron:
2
mg