This Homemade Pizza Dough Recipe is so easy, and I consider it to be no-fail! It results in a traditional crust that is both chewy and crisp. You will make it again and again!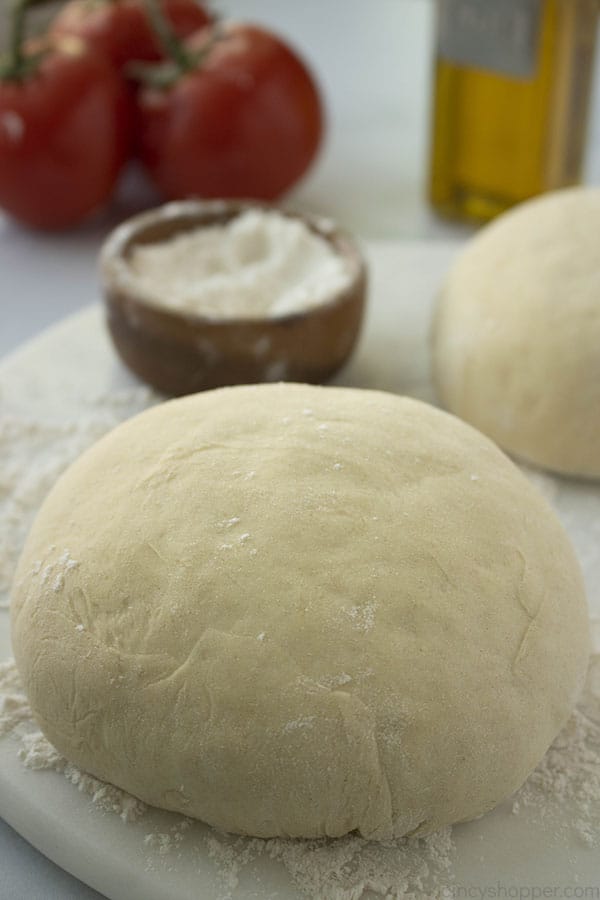 Homemade Pizza Dough Recipe
Friday nights are pizza night at our home. And it is for many other families too! We often make homemade pizza because we can customize our options, it's easier than many would think, and it's a bit more healthy than take-out or delivery.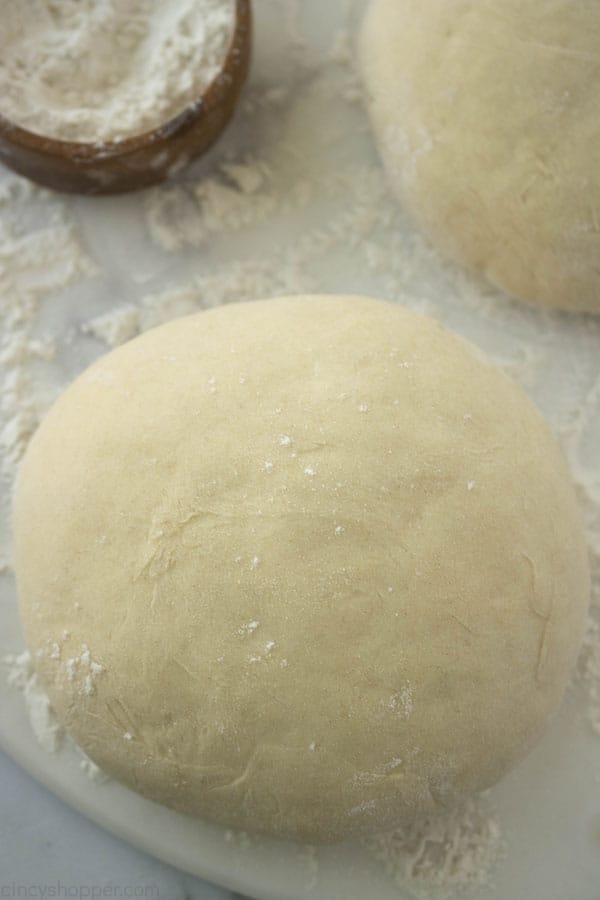 I have used this easy Homemade Pizza Dough Recipe so very many times over the years. Go ahead and use this recipe to make your favorite homemade pizza. We use this pizza crust along with our Easy Pizza Sauce to make the classics like pepperoni, supreme, veggie, and Pizza Margarete.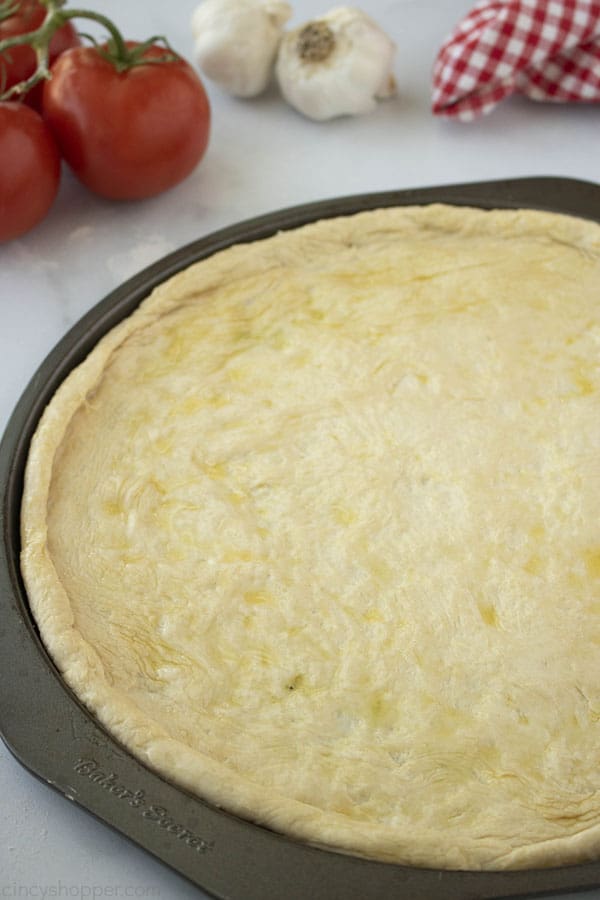 The Pizza Dough Recipe is so incredibly easy and results in a crust that is sturdy, chewy, and crispy. Since it only requires a handful of ingredients that you most likely have on hand, you can whip it up for dinner tonight.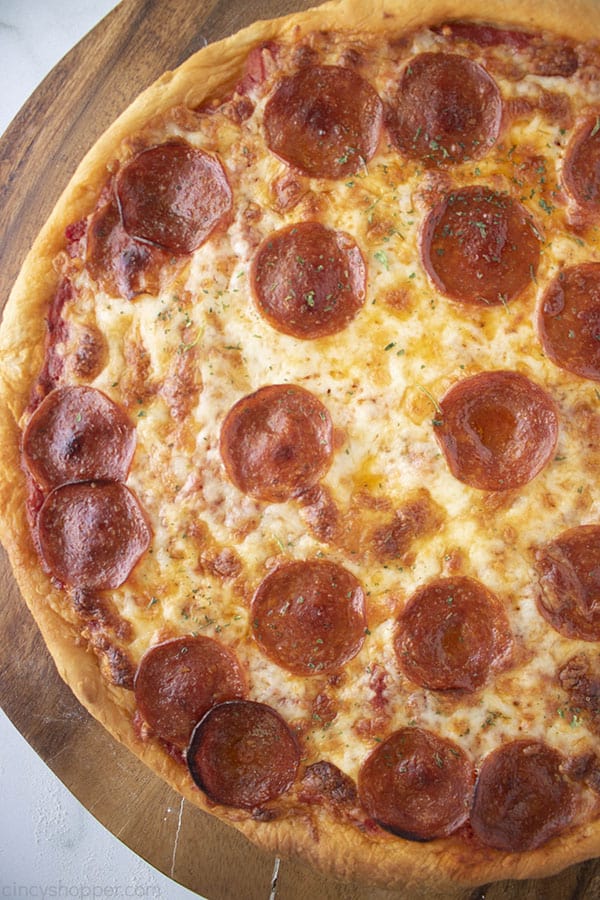 How to Knead Pizza Dough
Place the dough on a lightly floured surface. Knead the dough using two hands, push outward away from you and then turn it slightly and continue kneading. You will want to knead for about 5 minutes or so. Add additional flour to the surface of the dough feels a bit too tacky after the first few presses. But, be cautious as to much flour will result in a tough crust.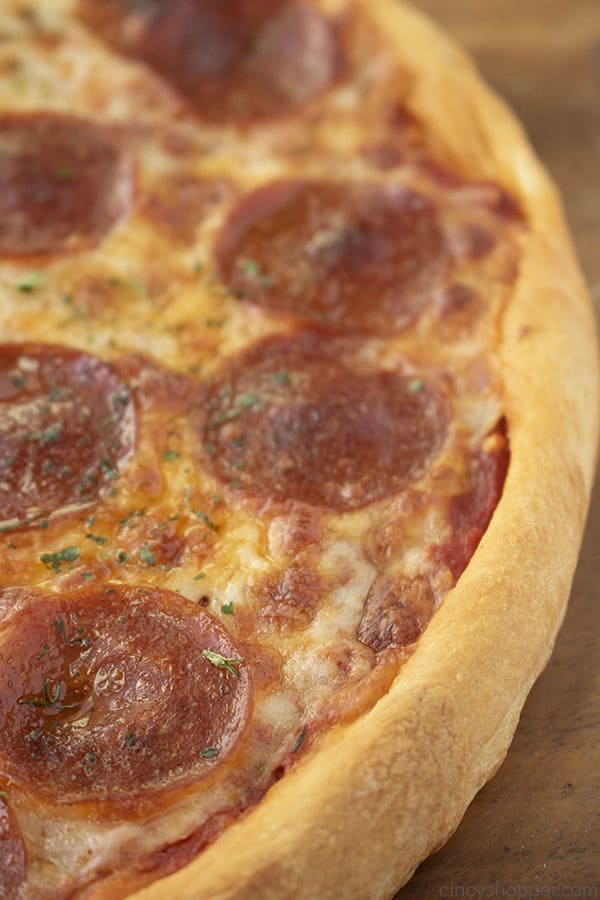 How long to let Pizza Dough Rise?
Letting this pizza dough recipe rise for about 30 minutes will result in the best homemade pizza crust. I will sometimes let mine go for an hour if I have time.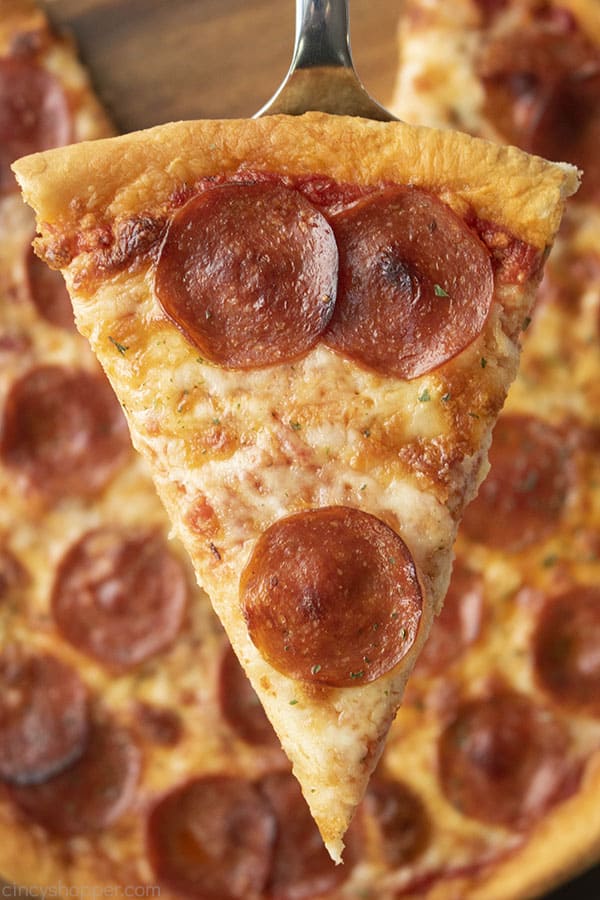 Can you make Homemade Pizza Dough ahead of time?
Yes, I do it often! Place the dough in a zippered bag and place it in the refrigerator for up to 2-3 days before using it to make homemade pizza.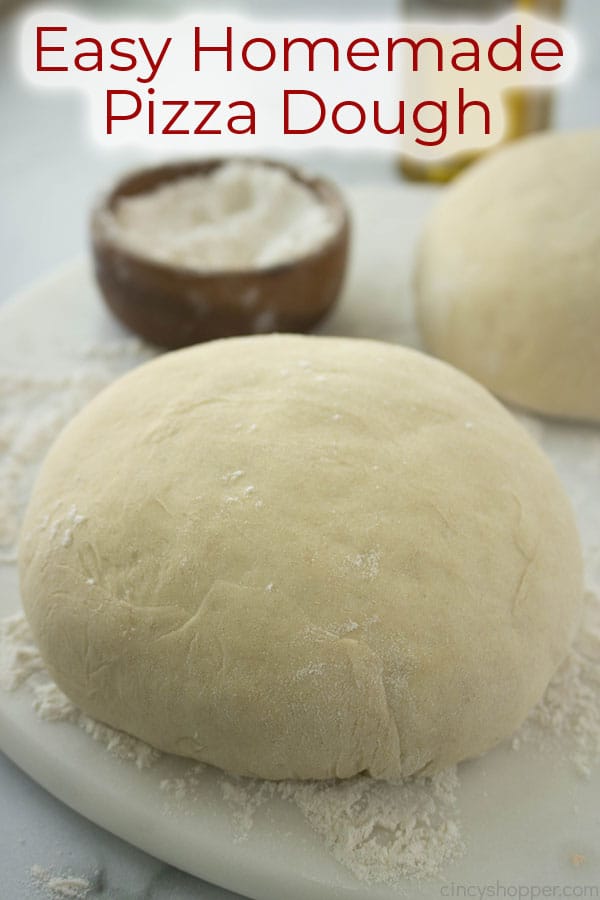 Can you Freeze Homemade Pizza Dough?
Yes, you can! Place the dough in a zippered bag. Frozen pizza dough balls will last for up to 6 months when frozen. When ready to use, thaw and knead slightly before stretching.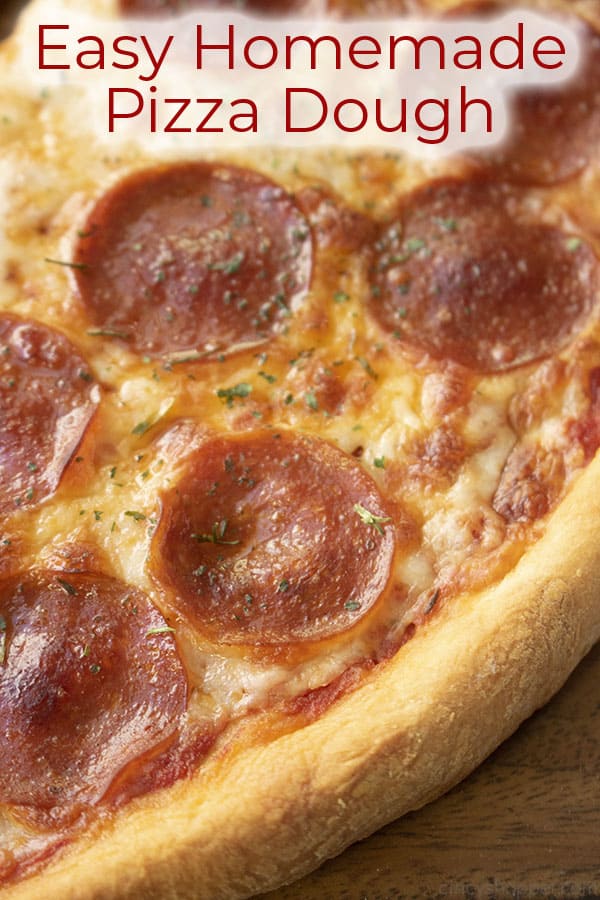 Ingredients to Make Easy Pizza Dough
All-Purpose Flour
Yeast
Sugar
Salt
Warm Water
Oil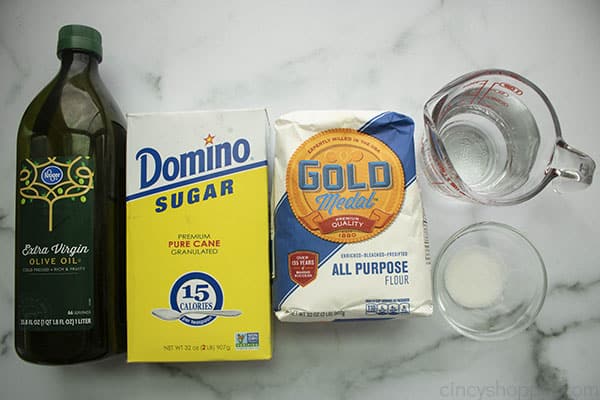 How to Make Homemade Pizza Dough
First, add the flour to a large mixing bowl. Make a small well in the center. Then, add the yeast, salt, and sugar.
Note: I used the yeast I had on hand, which was Fast-Rise. Any active yeast will work (about 2.5 teaspoons).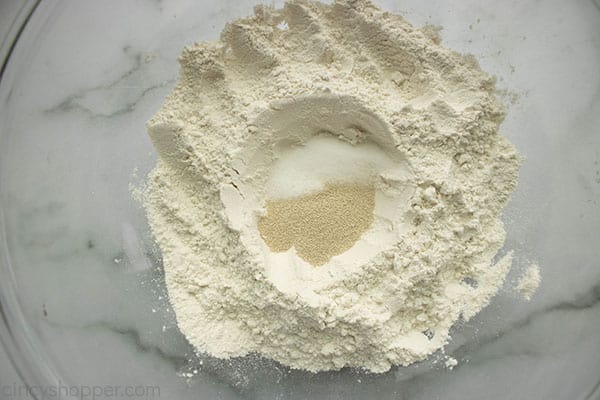 Now, add the warm water. Do not use boiling hot water. Tap warm works best. Mix with hands or spatula until combined.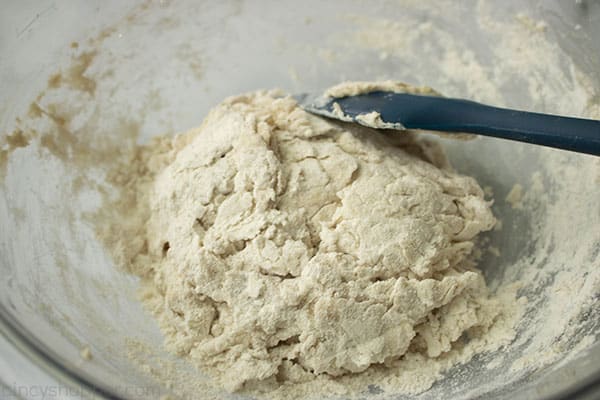 Next, place the dough on a floured surface. Then, knead the dough using the tips that I have mentioned above.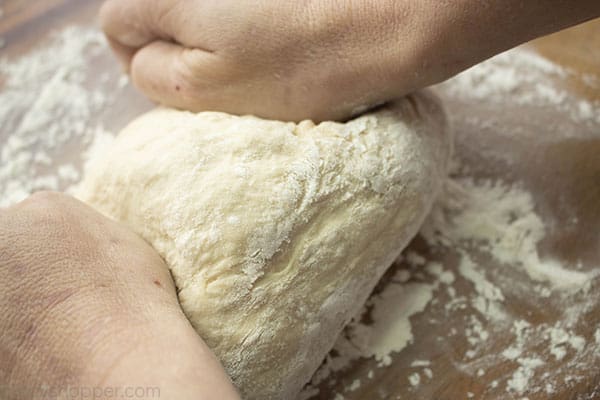 Place a small amount of oil in the bowl and use a paper towel to wipe it up the sides to coat. Place the kneaded dough ball into the prepared bowl. Cover with plastic wrap or a towel—place in a warm place. Let rise for at least 30 minutes. See my tip for rising pizza dough above.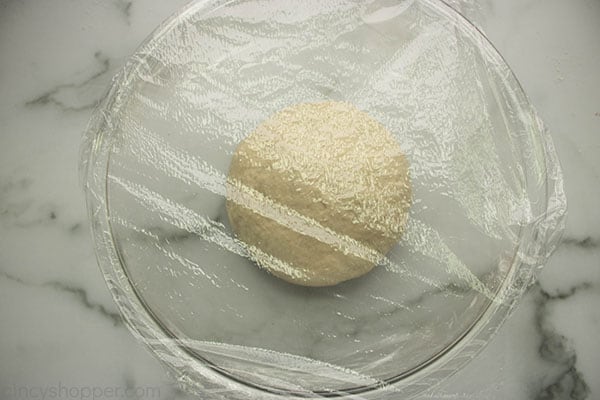 After you have let the pizza dough rise, put back on to the floured surface, and punch out the air. Knead it lightly and separate it into two pieces.
Then, stretch the dough. I like to work around the edges and slightly pull. You can also roll the dough with a rolling pin. Place on a 12-inch pizza pan. Brush with a small amount of olive oil. Add the toppings and bake for about 15 minutes. Note The more toppings that are on the pizza, the longer it will take to cook.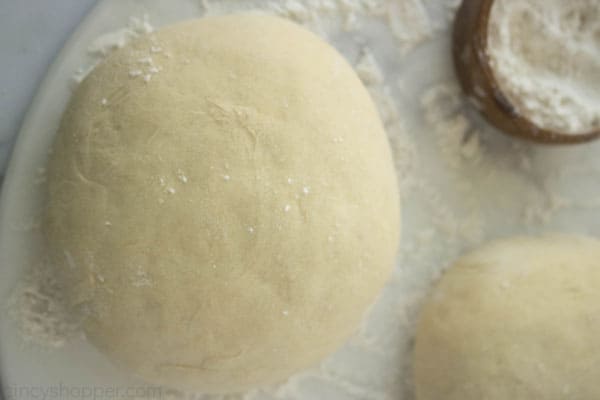 Pizza Dough
This Homemade Pizza Dough Recipe is so easy, and I consider it to be no-fail! It results in a traditional crust that is both chewy and crisp. You will make it again and again!
Ingredients
3

cup

Flour

1

packet Fast Rise Yeast

any yeast should work

1

tbsp

Sugar

2

tsp

Salt

1

tbsp

Olive Oil

1

cup

Warm Water
Instructions
Put flour into a large mixing bowl and make a well in the center.

Add yeast, sugar, salt, olive oil and water. Stir until combined.

Lightly oil a bowl. Set aside.

Lightly flour work surface.

Turn out dough and knead for 10 minutes or until a smooth ball forms.

Place dough ball into prepared bowl.

Cover with plastic wrap or clean cloth.

Set in a warm place for 30 minutes or until dough has doubled in volume.

Turn dough out on a floured surface and punch the dough to remove excess air, knead lightly.

Divide dough into 2.

Makes enough dough for 2 12" thin pizzas.

When ready to make pizza, stretch dough onto 12" pizza pan, being careful not to tear crust.

Brush crust with a little olive oil.

Cover with pizza sauce, cheese and toppings.

Bake about 15 minutes, until crust is browned an cheese is melted and lightly browned.
Nutrition
Calories:
769
kcal
|
Carbohydrates:
149
g
|
Protein:
20
g
|
Fat:
9
g
|
Saturated Fat:
1
g
|
Sodium:
2336
mg
|
Potassium:
201
mg
|
Fiber:
5
g
|
Sugar:
6
g
|
Calcium:
28
mg
|
Iron:
9
mg