A bearnaise sauce recipe is an essential technique for every home chef. This French sauce has a rich creamy flavor that can be used on nearly any dish.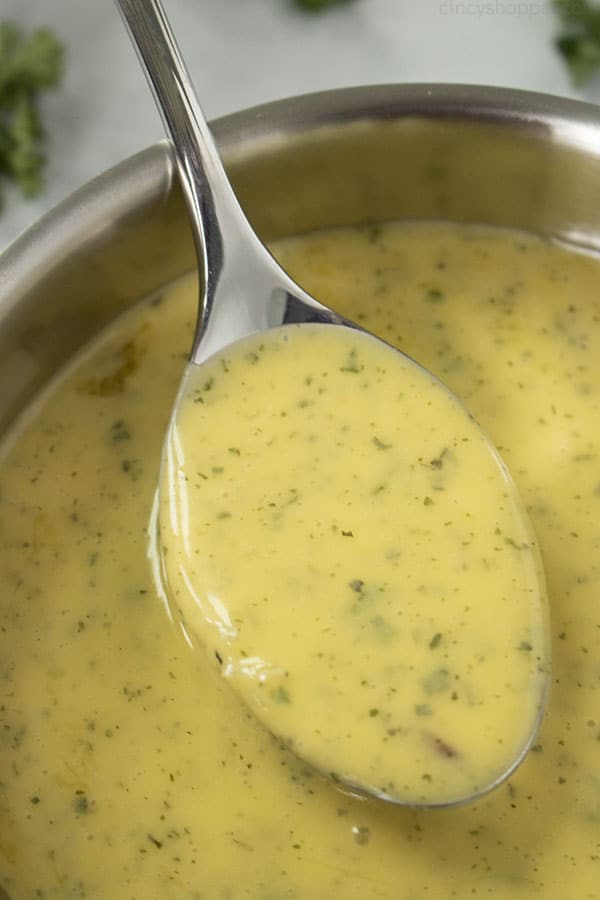 Like other French mother sauces, bearnaise sauce (sometimes incorrectly spelled bernaise sauce) requires attention to detail. There are very specific instructions for making this sauce to ensure that it fully emulsifies (or blends), but doesn't break. It's a fine line and even experienced chefs have to pay close attention.
However, once you learn the technique, this bearnaise sauce makes an elegant and impressive finish for any meal. While Bearnaise sauce for steak is very popular, it tastes great on any meat, seafood or veggie. It's versatility means you'll get lots of use out of this easy Bearnaise sauce recipe.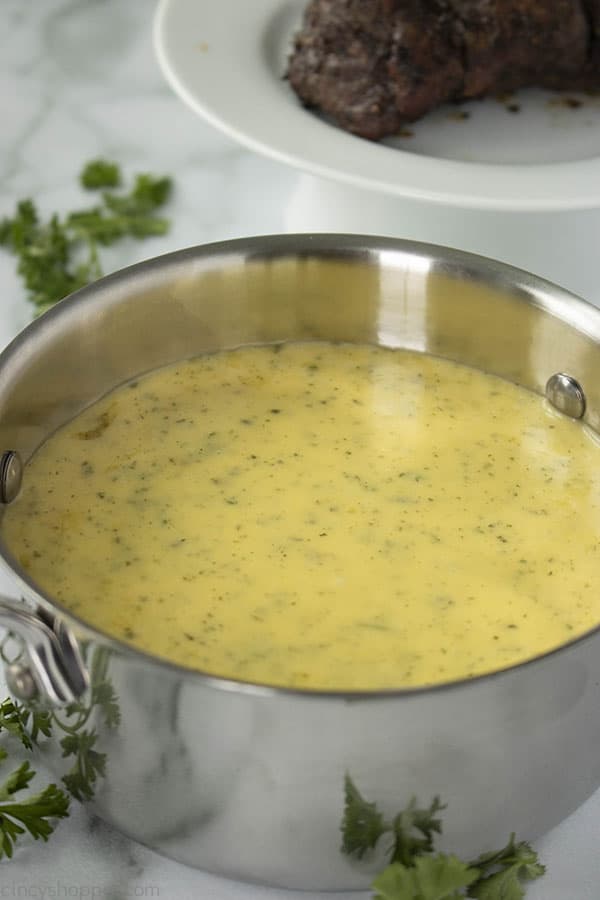 Where is bearnaise sauce from?
There are five "Mother Sauces" in the French haute cuisine répertoire:
Bechamel- a white sauce made of milk
Veloute- a white sauce made with chicken stock
Espagnole- a brown sauce made with beef stock
Hollandaise- similar to mayonnaise, but made with clarified butter
Tomato
These are considered the essential sauces to know in order to make any other sauce.
Hollandaise sauce is a combination of egg yolks, wine and lemon juice with some additional butter.
Bearnaise sauce is a derivative of the Hollandaise Mother sauce. It was developed by a chef just outside of Paris in the 1830s. He added shallots, tarragon and chervil to the original sauce recipe. For a more acidic tang, Bearnaise sauce also contains white vinegar instead of lemon juice.
Bearnaise sauce, when made correctly, is smooth and creamy. It will be pale yellow in color with flecks of green herbs.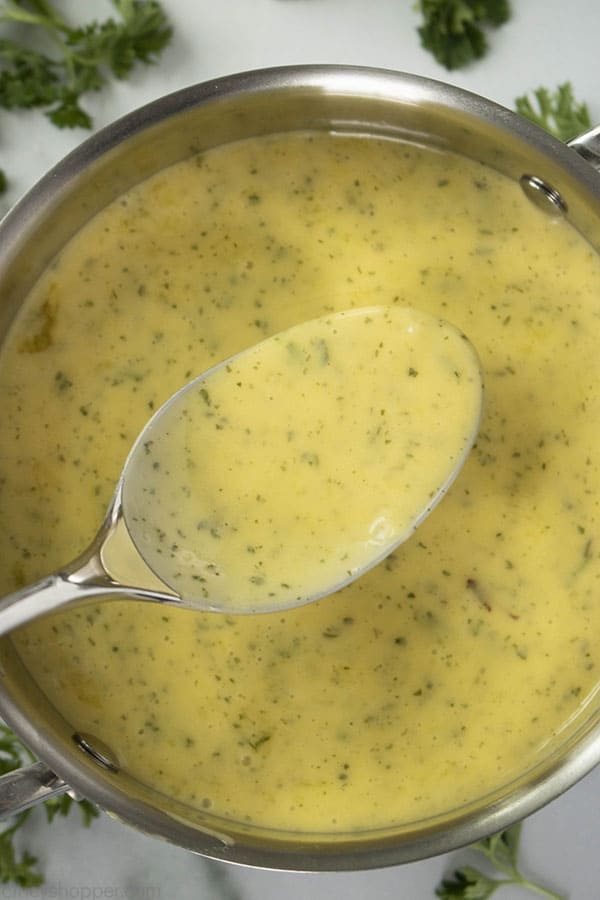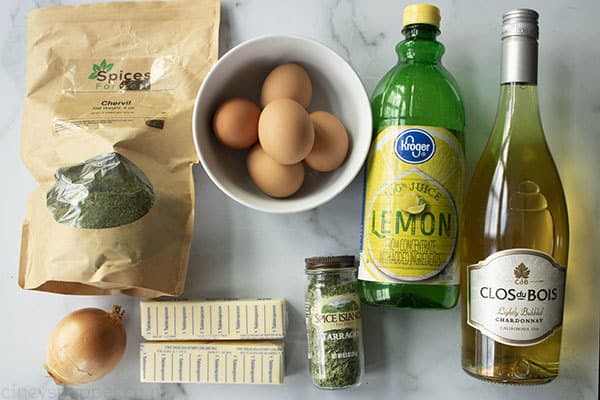 How to make bearnaise sauce recipe
Knowing how to make this elegant French bearnaise sauce recipe will not only impress your guests, but will enable you to have the perfect light compliment to heavy meats in just ten minutes.
Finely chop the onion
2. Soften the onion by microwaving it for one minute
3. Combine egg yolks and lemon juice in a saucepan. Some chefs use a double boiler to make this sauce to keep it from direct heat. It's very easy to get it too hot and curdled.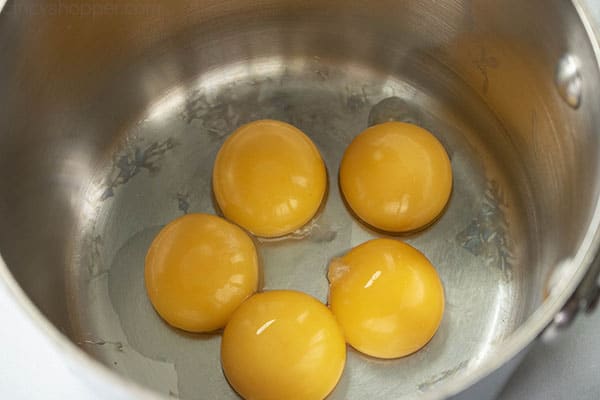 4. Slice one stick of butter into pats and add it to the saucepan. Cook over very low heat stirring constantly until it is melted. Some recipes call for clarified butter, but I've found that a good quality unsalted butter works just fine.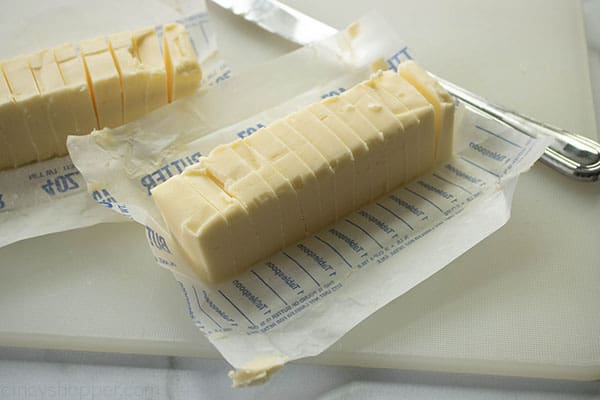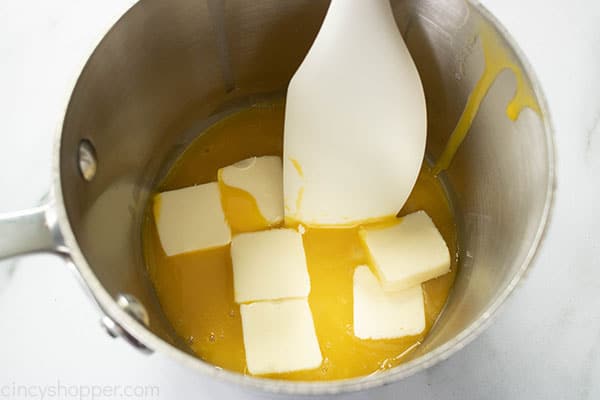 5. Do the same with the second stick of butter until it is thickened into the consistency of a thin pudding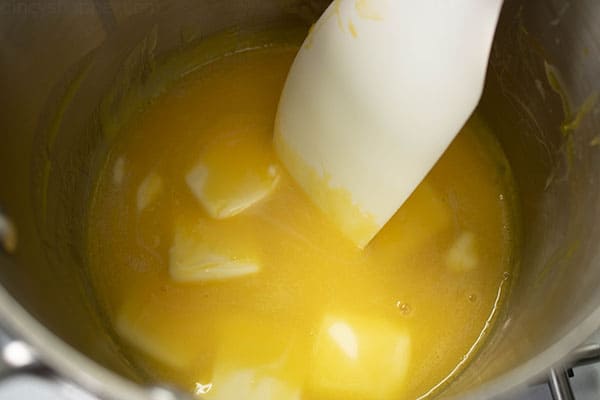 You'll see the line the spoon left after you drag it across the bottom.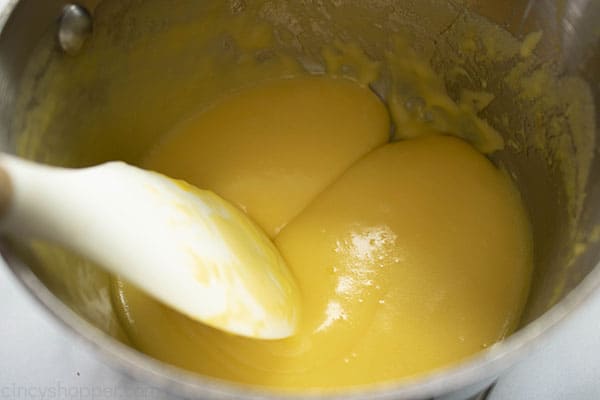 6. Remove from heat
7. Add onions, tarragon and chervil and mix well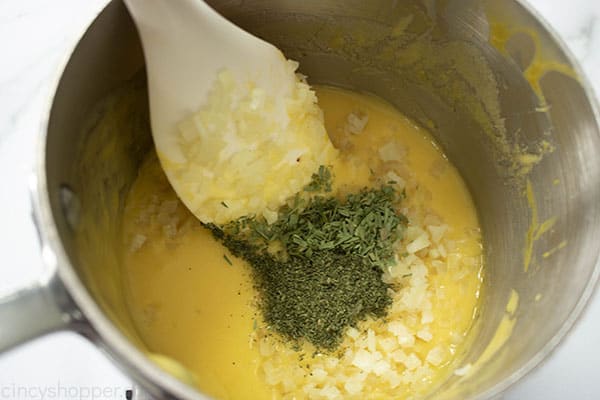 8. Add the wine and stir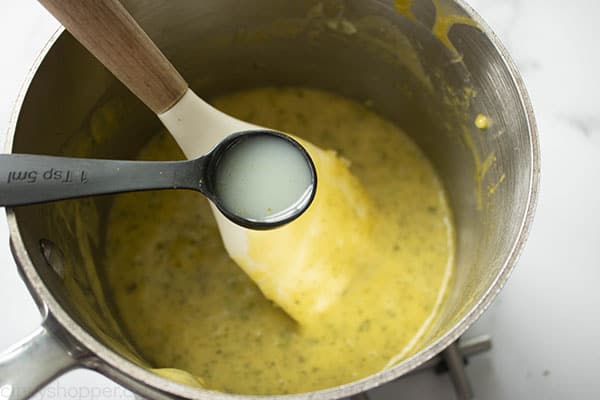 How do you separate eggs easily?
Using an egg separator is certainly the easiest way to separate your egg yolks from the whites. If you don't have one, you can still separate the eggs without the risk of dropping unwanted pieces into your sauce.
Use these tips for perfectly separated eggs:
Use cold eggs
Crack the eggs on a flat surface like a counter top instead of the edge of the bowl.
Separate the egg with your hands. Hold it over a bowl to catch the white while you allow it to drip through your fingers. You could also crack the eggs into a bowl and just pull out the yolk.
If you would rather not touch the raw egg, you can use the shell to separate it. Allow the yolk to settle on one side then dump out the white that is left in the other side. Pass it back and forth a few times to full separate the components.
What is a broken sauce?
Sauces are broken when butter separates from the sauce. If you see lumps or curdles in your bearnaise sauce, you know that it is broken.
The typical causes of breaking a bearnaise sauce recipe are heat that is too high or a lack of stirring. You also need to add the ingredients slowly and use fresh ingredients.
Bearnaise sauce is dependent on creating an emulsion. This is when one liquid is added to another liquid slowly and in small amounts. It should end up blended together, not as two separate ingredients.
A broken bearnaise sauce recipe can be fixed however.
Your first step would be to add boiling water a drop at a time, up to two teaspoons. If that doesn't work, you'll need a more intense method.
Put a single egg yolk in a clean bowl and whisk it.
Add the broken sauce drop by drop, continuously whisking.
You will know that it is fixed when it is again creamy and blended.
If the resulting sauce is too thick due to the extra egg yolk, you can thin it with water.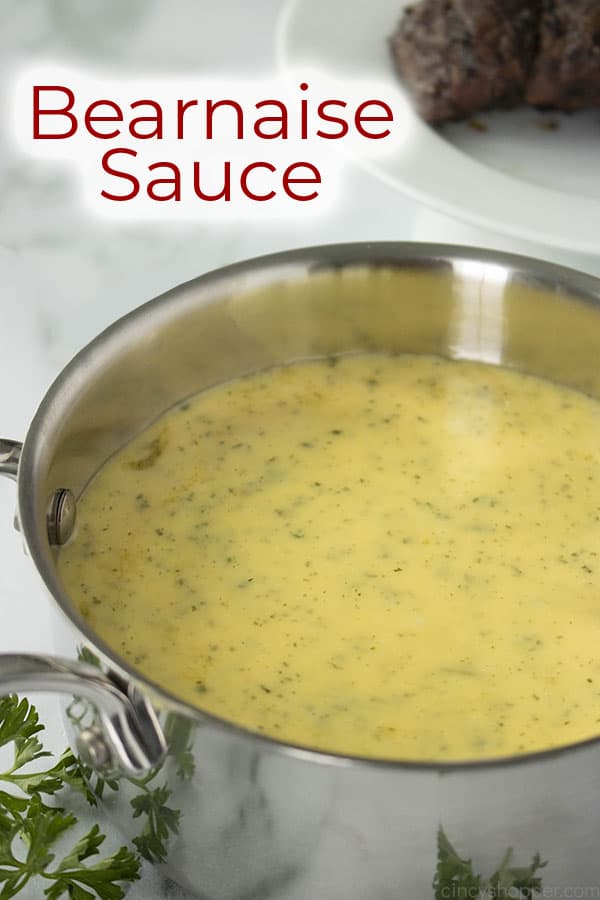 What do you do with bearnaise sauce?
Bearnaise sauce is creamy and rich. A common use is bearnaise sauce for steak. However, if you love this sauce, don't stop there. There are lots of ways you can use your new sauce recipe.
Veggies – It's delicious over Jamielyn's fresh Roasted Asparagus!
Fish
Eggs
Chicken
Pork
Lobster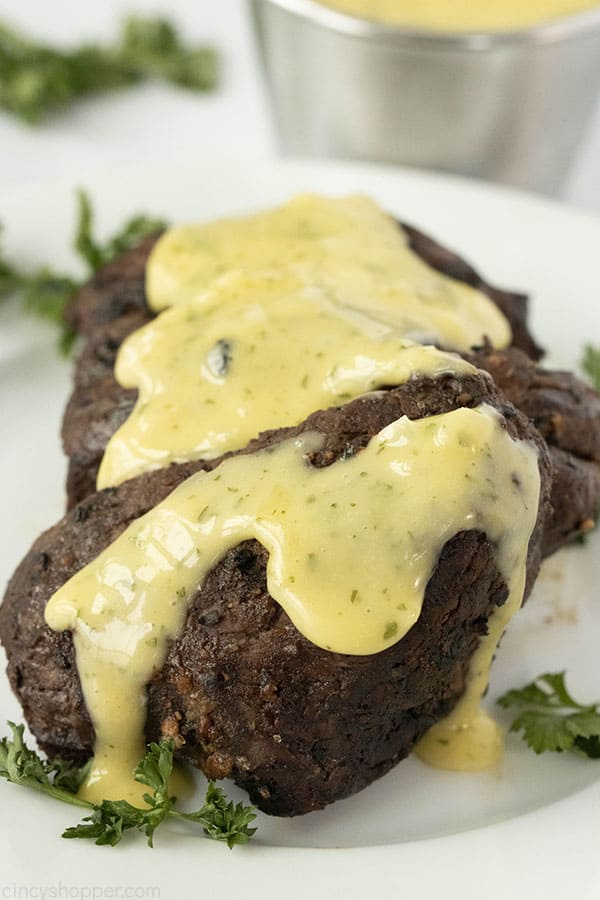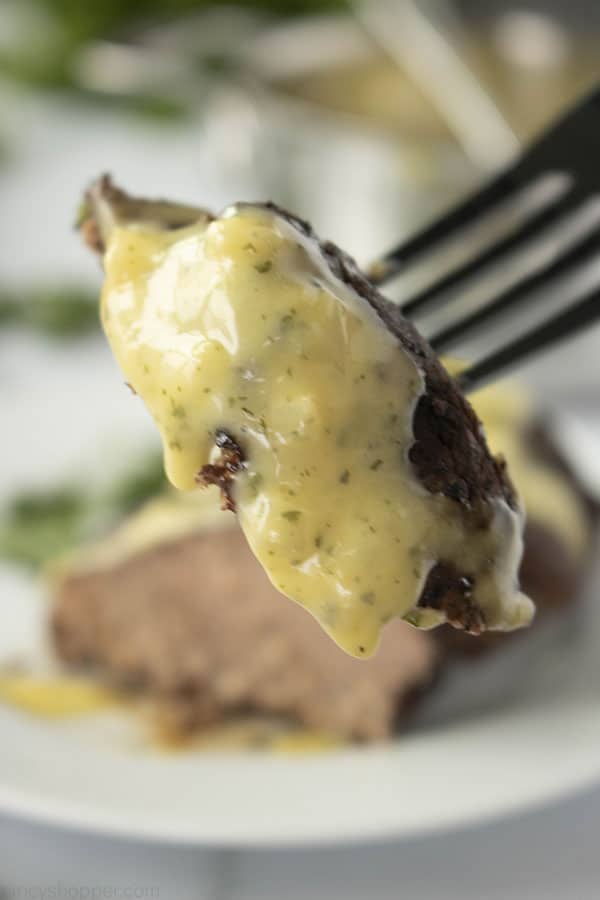 Can you make it ahead?
This is not a recipe that can be made in advance. It does not store well and should be eaten warm.
Keeping it at a warm enough, yet not too warm, temperature is challenging. If you make this bearnaise sauce recipe even a few hours in advance, you will need to keep it warm. If you refrigerate the sauce, it will solidify. Because of the eggs in it, it should not be kept at room temperature. Take twenty to thirty minutes right before serving the meal to make it. If you keep it on the stove top for awhile, you need to make sure to stir it regularly to keep it from breaking.
This recipe makes enough bearnaise sauce for seven servings. If that is more than you will use for one meal, cut the recipe in half.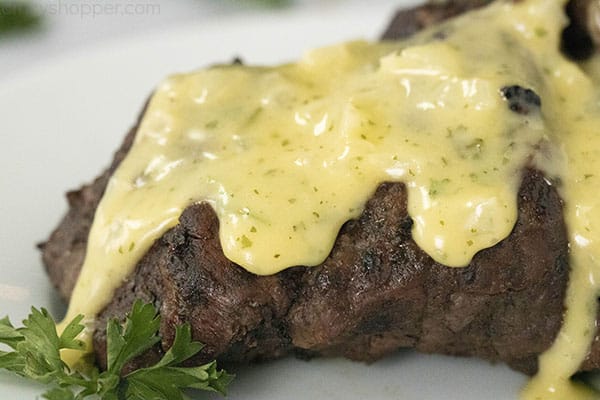 Bearnaise Sauce
A bearnaise sauce recipe is an essential technique for every home chef. This French sauce has a rich creamy flavor that can be used on nearly any dish.


Ingredients
1/2

Onion

finely diced

5

Egg Yolks

2

tsp

Lemon juice

2

sticks Butter

1

tsp

Tarragon

1

tsp

Chervil

3

tbsp

White Wine
Instructions
You need to finely chop the onion so that it doesn't overpower the sauce. You will also need to cook the chopped onion for 1 minute in the microwave to soften it.

Place the 5 egg yolks in a saucepan and add the lemon juice and stir until the mixture is blended.

Add the first stick of butter sliced into pats and cook over very low heat stirring constantly until melted in.

Then add the next stick in the same fashion continuing to stir constantly. This process takes a while because we want the egg butter mixture to cook together. If the heat is too high or you don't stir enough, the eggs will begin to cook on their own and the sauce will "break". You'll know if/when this happens because you'll see lumps or curdles forming in your sauce.

If all goes according to plan, your sauce will begin to thicken and reach the point where it begins to look like a thin pudding. You'll see the line the spoon left after you drag it across the bottom.

At this point take the sauce off the heat, add the onions, tarragon and chervil. and mix well.

Add the wine (if you don't have wine, you can substitute 2 tsp lemon juice and 2 tbsp water). Blend well and serve.
Notes
This makes quite a bit of Bernaise sauce (enough for 7), so feel free to cut the recipe in half. Unfortunately, Bernaise does not hold up well to refrigeration, so I am forced to make it from scratch whenever we are in the mood. It really is something you need to try at least once, so you can understand why us fanatics love the stuff.
Nutrition
Calories:
53
kcal
|
Carbohydrates:
2
g
|
Protein:
2
g
|
Fat:
4
g
|
Saturated Fat:
1
g
|
Cholesterol:
140
mg
|
Sodium:
9
mg
|
Potassium:
34
mg
|
Fiber:
1
g
|
Sugar:
1
g
|
Vitamin A:
197
IU
|
Vitamin C:
1
mg
|
Calcium:
22
mg
|
Iron:
1
mg