Easy Apple Danish makes for a sweet breakfast and dessert, especially in Fall! We used crescent roll dough and apple pie filling to make this easy treat.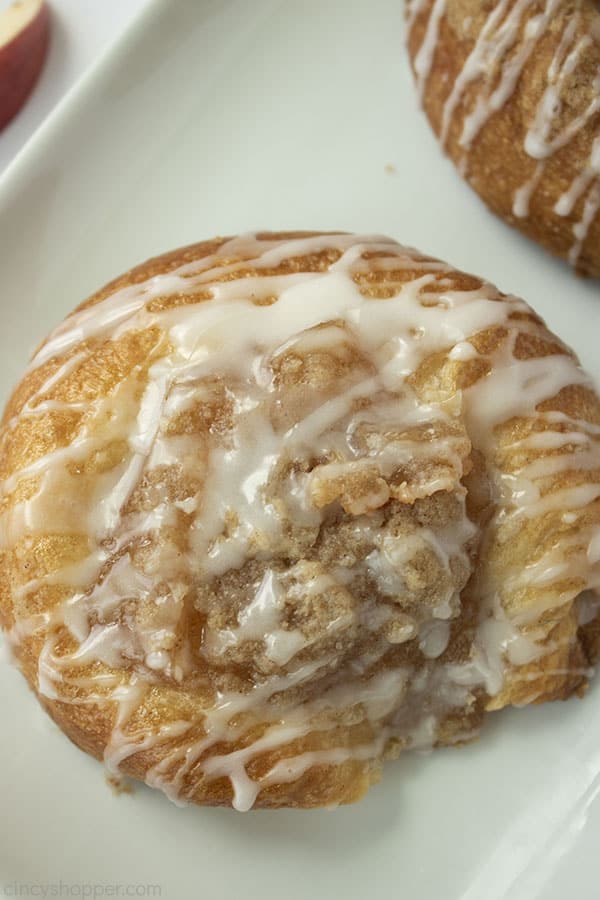 Easy Apple Danish
We're big fans of sweet apple treats here in our house. Especially so, we're big fans of sweet apple treats that are 1) easy to make and 2) convenient-or-bite-sized. We've made our fair share of Apple Pie Bites and Apple Dumplings since we've put those recipes out and I'd recommend giving them a look after this one.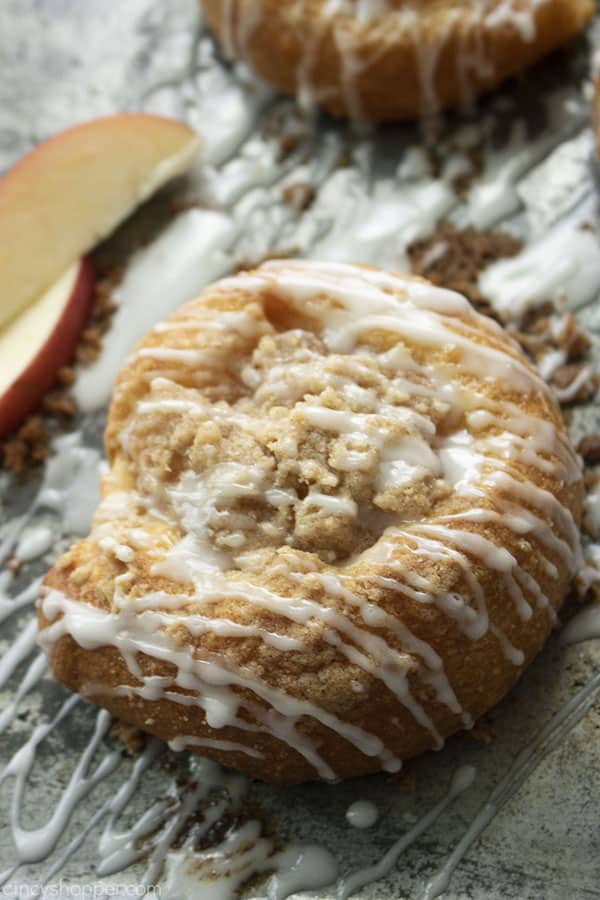 Another little breakfast/dessert recipe I've always been a fan of is our Easy Cream Cheese Danish. The danishes always felt a bit more substantial than something like the bites or dumplings. They were something you could grab and take out the door with you- not something you'd finish eating before you made it out the front door! So I wanted to make a conveniently-sized sweet breakfast treat that had plenty of apple flavor packed into it. So I came up with this Easy Apple Danish recipe!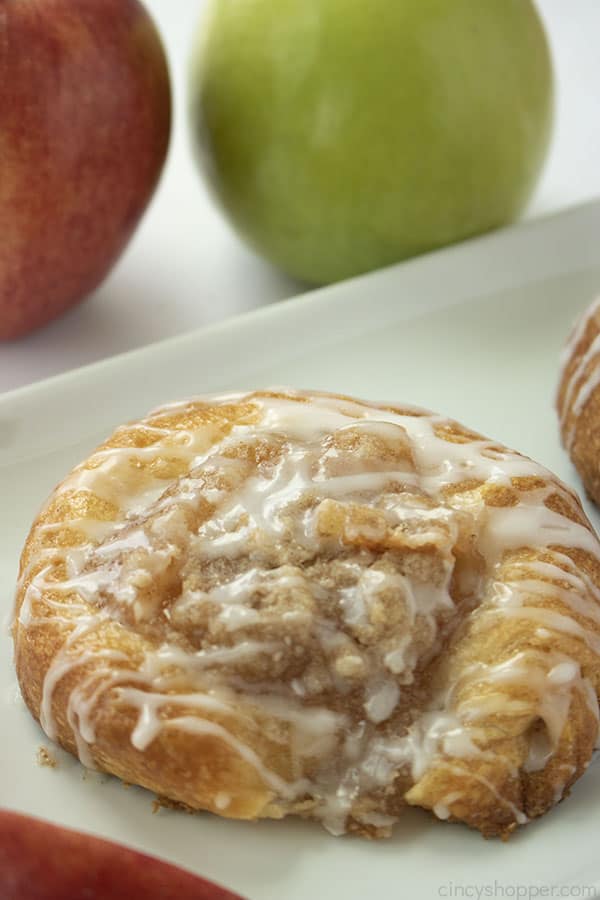 With just some crescent roll dough and apple pie filling- plus a few pantry/fridge staples you're certain to have on hand- I was able to make a batch of these. You better believe these little apple pie-flavored pastries are delicious! I've even thought about prepping a tray of them with our Homemade Apple Pie Filling next time I have some of it handy to make a delicious rustic batch.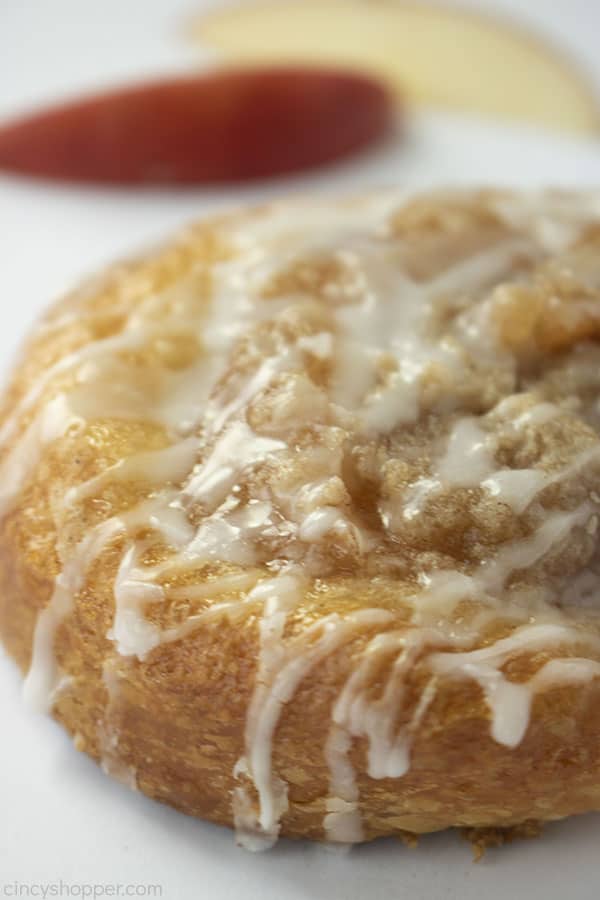 I'm confident you'll love these easy pastry treats. It's easy to find the right occasion for them: with fall right around the corner, these danishes are perfect as a sweet breakfast or as a dessert!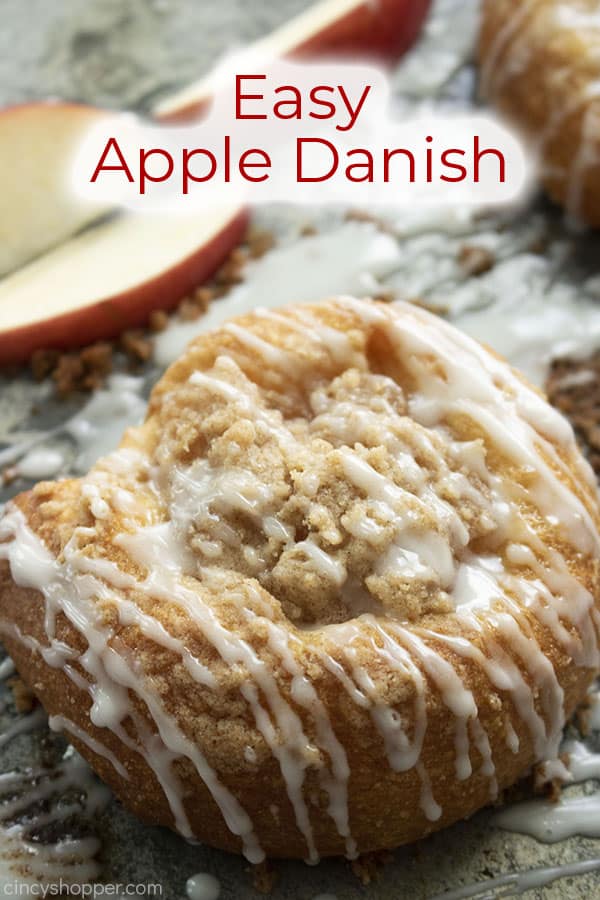 Ingredients for Easy Danishes
Butter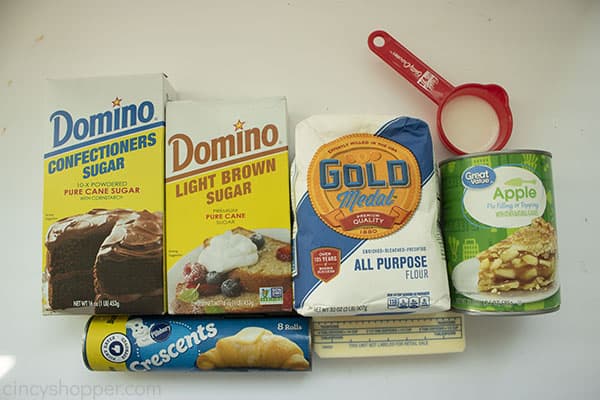 How to prepare our Apple Danishes
Set an oven to 350 degrees so it can preheat and start prepping your apple filling. So nobody's dealing with big chunks of apples, we recommend giving your apple filling a quick, rough chop.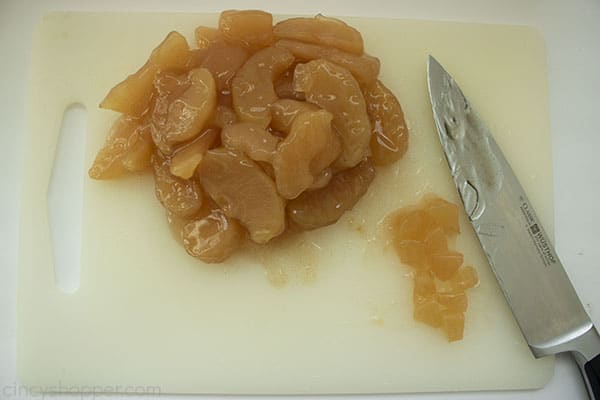 Set your chopped filling aside and get to work on your dough. Crack open your crescent roll dough cans and unroll the dough out into four rectangles. Before you do anything else, pinch any perforations running across the rectangle to seal them.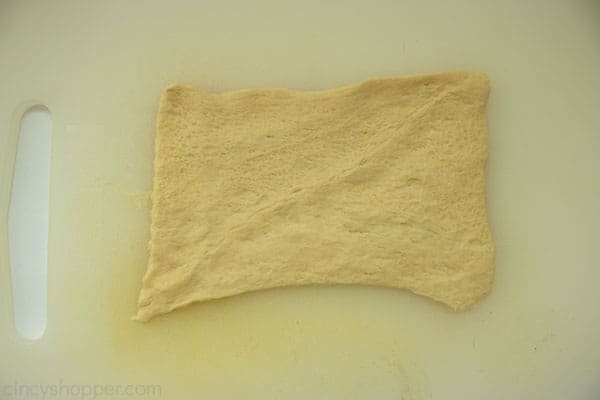 Now give your rectangles a quick brush with some melted butter.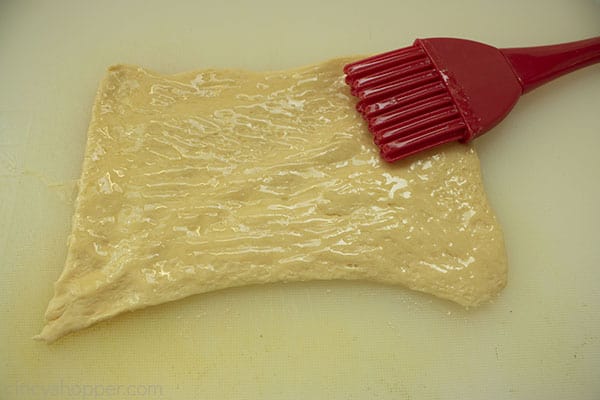 Sprinkle the dough with some sugar. You'll use about a tablespoon's worth.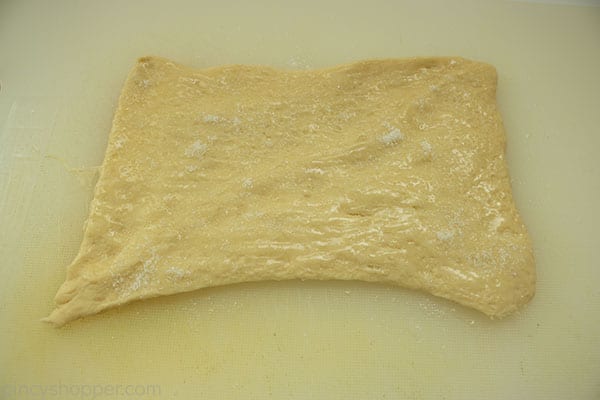 Now we get to roll our dough into shape. First, roll your dough up into a long, log shape. Then you're going to coil that log around into this spiral shape pictured below.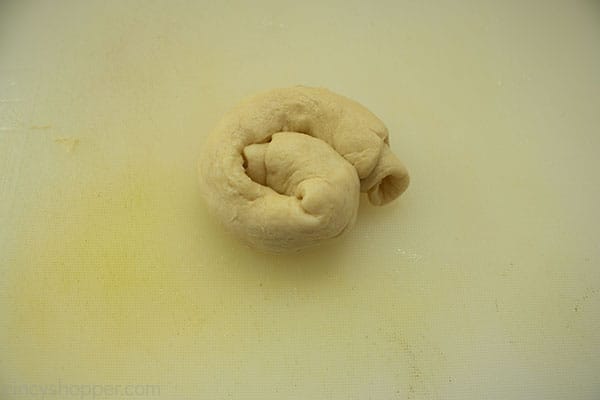 Once coiled up, you need to press a little divet in the middle of the dough so we have a place to put our filling from earlier. Once you've pressed the space in, add your filling- feel free to be generous!
Transfer your filled danishes over to a greased baking sheet. Before we send these beauties off to our warm oven, we have to get a sweet, crumble topping made.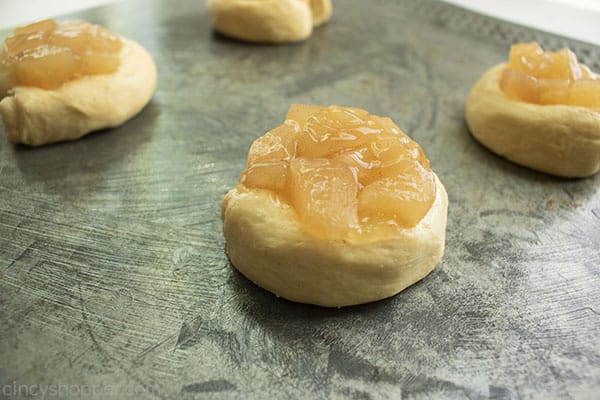 For our crumb topping, quickly mix together some flour, brown sugar, and cinnamon together in a bowl.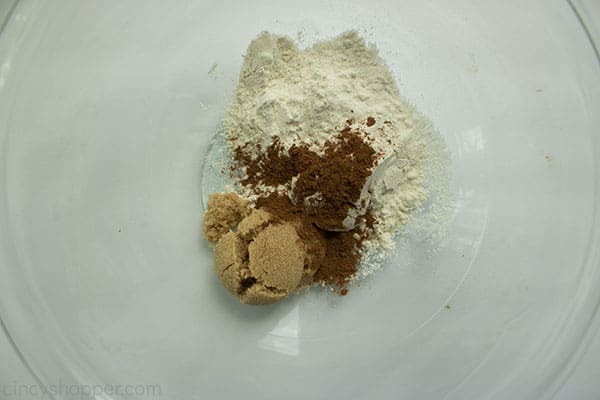 Once you've mixed those dry ingredients together, it's time to work some butter in there. Using something like a dough blender, chop your butter together with the dry stuff you get a topping that's thick and crumbly.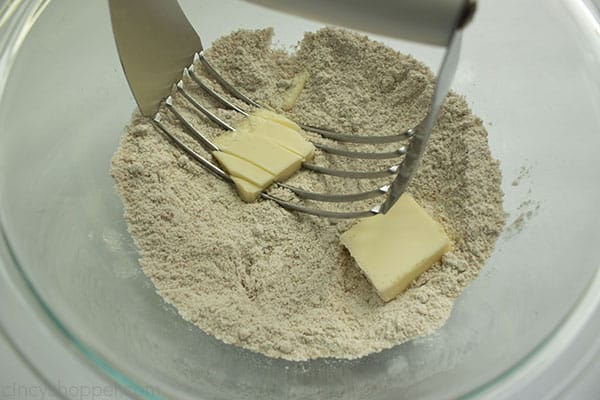 With your crumble topping ready, it's almost time to cook! First, give your danishes a generous pinch of that crumble topping right over the filling.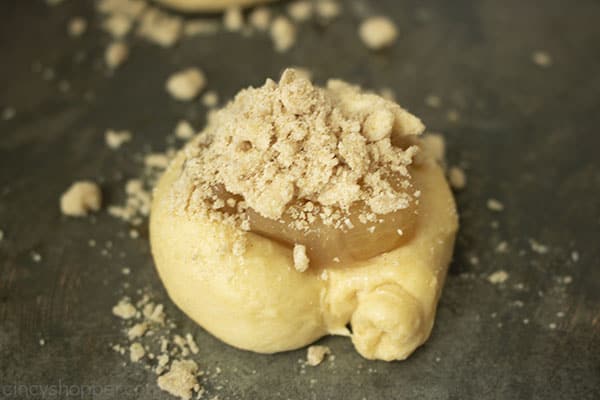 Now pop your danishes into the oven and let them bake. Baking should probably take a little longer than 15 minutes- just keep an eye on your treats and pull them when they're golden brown. The only missing piece left is a sweet glaze!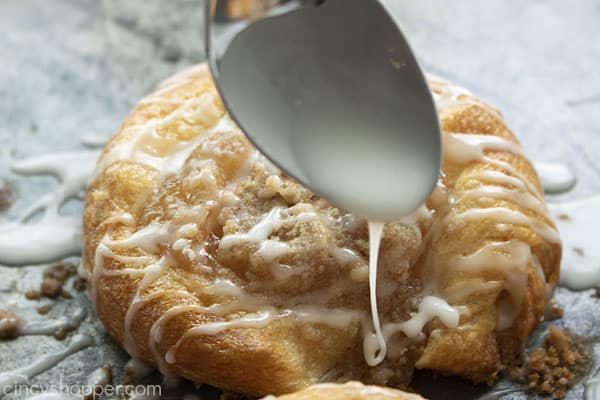 Making the glaze is simple enough: just combine some powdered sugar and milk with a bit of vanilla and stir until you reach a smooth consistency. I'd let the danishes cool for a few minutes before topping them with your glaze.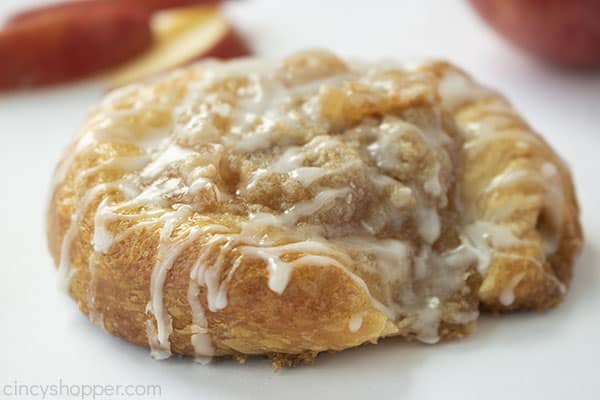 Once you've got the glaze on them, these danishes are ready to eat! You'll be in for a surprise when you realize just how delicious these easy pastries are when you take that first bite.

Easy Apple Danish
Easy Apple Danish makes for a sweet breakfast and dessert- especially in Fall! We used crescent roll dough and apple pie filling to make this easy treat.
Ingredients
10

oz

Apple Pie Filling

8

uncooked Crescent Rolls 1 large or 2 small cans

2

tbsp

melted Butter

2

tbsp

Brown Sugar

1/4

tsp

Cinnamon

1 1/2

tbsp

Butter

1/4

cup

Flour

1/2

cup

Powdered Sugar

2

tbsp

Milk

1/4

tsp

Vanilla
Instructions
Preheat oven to 375.

Grease a cookie sheet and set aside.

Dice apple pie filling into very small pieces. Set aside.

Unroll dough into 4 rectangles and seal perforations by pinching.

Brush each rectangle with melted butter and sprinkle with a tablespoon of sugar.

Roll each up log ways and pinch to seal.

Coil into a spiral and slightly press down middle to make room for apple filling.

Place on prepared cookie sheet.

Top each with about 1/4 of apple filling.

Mix the brown sugar, cinnamon, and flour together.

Cut in the butter until crumbles form.

Sprinkle evenly over each roll.

Bake until golden brown (about 16-18 minutes).

In a small bowl, combine powdered sugar, milk and 1/4 teaspoon vanilla and stir until smooth.

Drizzle over each roll.
Nutrition
Calories:
471
kcal
|
Carbohydrates:
68
g
|
Protein:
3
g
|
Fat:
23
g
|
Saturated Fat:
12
g
|
Cholesterol:
27
mg
|
Sodium:
567
mg
|
Potassium:
42
mg
|
Fiber:
1
g
|
Sugar:
36
g
|
Vitamin A:
328
IU
|
Vitamin C:
1
mg
|
Calcium:
16
mg
|
Iron:
1
mg