Crescent Wrapped Asparagus taste delicious with a buttery crescent shell. Made with parmesan cheese, these make for a great holiday appetizer!
Delicious roasted vegetables taste great on their own, but they're even better in a buttery crescent roll wrap. Serve with Slow Cooker Ham and a side of The Best Mashed Potatoes!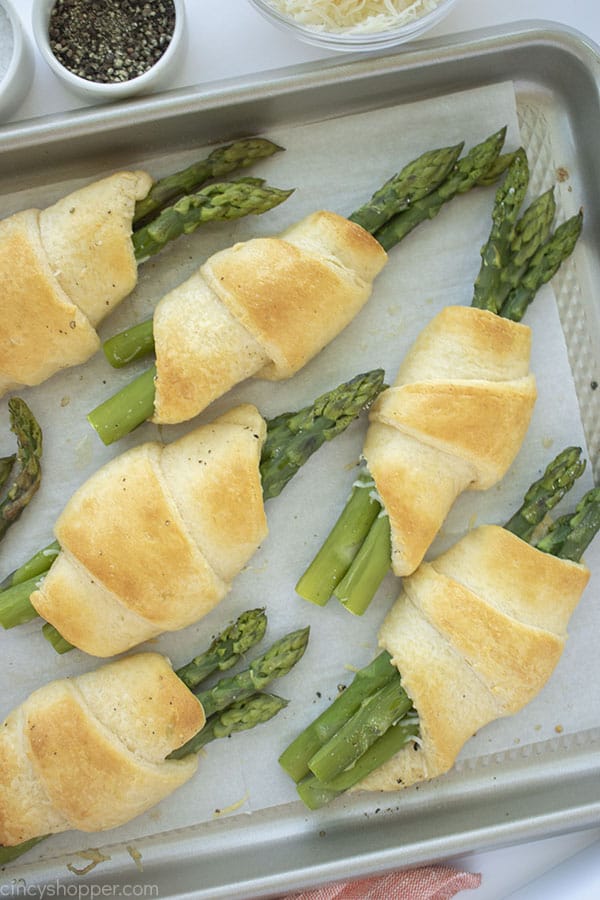 Crescent Wrapped Asparagus
Vegetables make for some of the best sides you can throw on your dinner plate. We've put out plenty of vegetable sides in the past but some of my favorites have been the ones that are easy to make but look great. Today's recipe is one of our new favorites: Crescent Wrapped Asparagus bundles!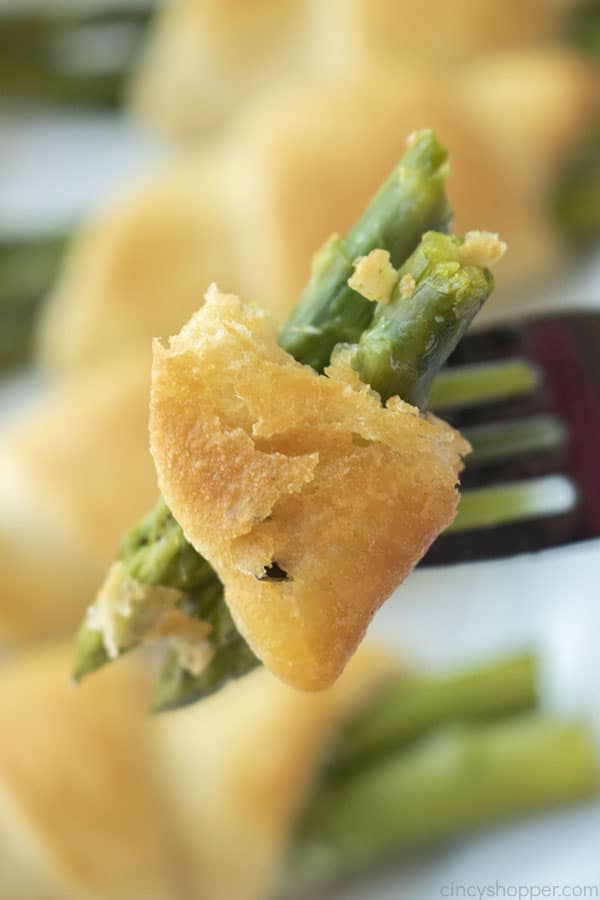 This recipe combines the delicious flavors of roasted asparagus with the simple, bready pleasure of a crescent roll. Of course, we had to make room for a few more goodies: there's a bit of parmesan tucked in there for some nice, cheesy flavor as well. A bit of easy garlic butter also adds that nice, savory flavor to the crescent rolls that really pulls this delicious appetizer or side dish together!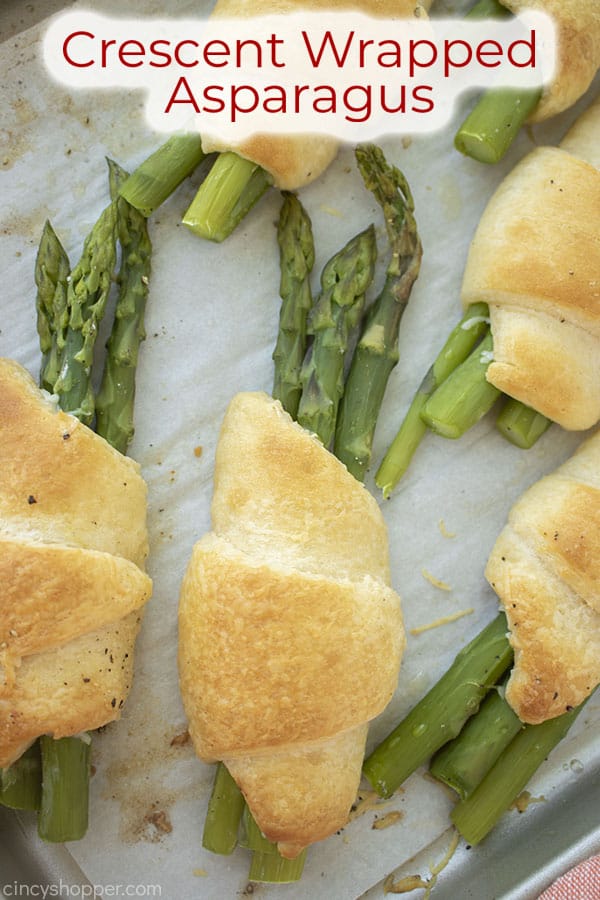 This recipe is great as a holiday appetizer or side dish. Of course, there's nothing wrong with serving it up for a Sunday dinner as well! We encourage you to give this recipe a try: it's a lot easier to make than it looks, it's packed with flavor, and it looks gorgeous on a plate. We know you'll love it!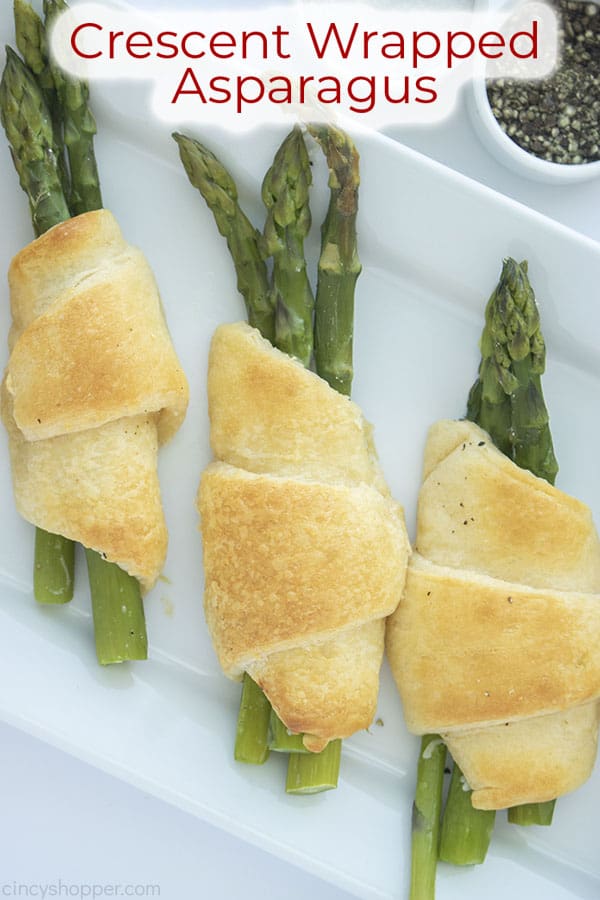 Loved our appetizer recipe? Try these Asparagus dishes next!
We're not sure which one we like more: the Crescent Wrapped Asparagus here or our

Bacon Wrapped Asparagus

?

Of course, everything's better with bacon and this delicious vegetable side dish is no exception

! What's even better is that these bundles are super easy to make and don't need many ingredients.

If you're looking to take your asparagus in a more creamy direction, we love our recipe for

Asparagus Casserole

! When you're needing a tasty holiday vegetable casserole, this dish will do the trick.

Between the cheesy and creamy bechamel sauce and the parmesan and breadcrumb topping, there are lots to love in this recipe

!

Of course, if you want to keep things simple, put one of our favorite kitchen gadgets to use by making some

Air Fryer Asparagus

.

This simple recipe for delicious roasted greens is a favorite of mine whenever I need a simple, easy-to-make side of bright greens

.

With a short ingredients list and a quick cook-time, this recipe is certain to be a dinnertime favorite

!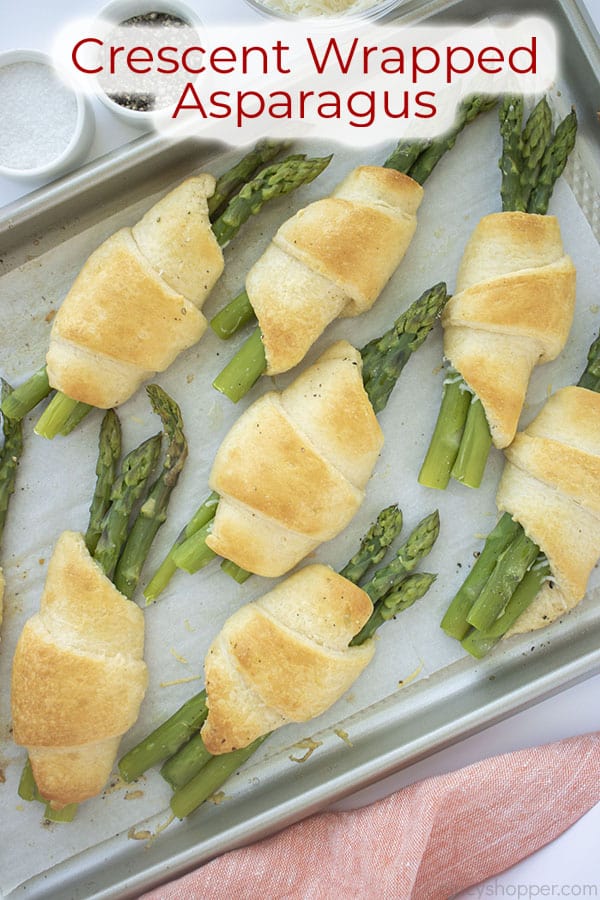 Ingredients for Crescent Wrapped Asparagus
Asparagus

– We use fresh for this recipe.

You might be able to use frozen but the cook times likely won't work out- asparagus might be too cold when the crescent roll dough

is cooked

.

Crescent Roll Dough

– We want this stuff cold when we use it. Up until it's time to use it, keep it in the fridge. Use kitchen shears to cut the dough to keep your hands from warming up the dough.

Parmesan

– We liked how the recipe turned out when we used freshly-grated parmesan. You could use pre-grated if you prefer.

Butter

Seasonings

– A bit of salt & pepper for the asparagus bundles and a bit of garlic powder in with the butter.
Also consider adding things like
ham, deli-meats,
and
other cheeses
to the inside of the rolls as well!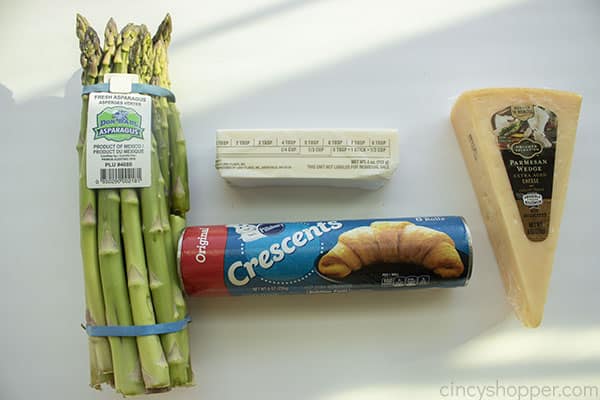 How to prepare our Asparagus Appetizer
This is a very easy appetizer recipe! Here's what you're going to do…
Boil your trimmed asparagus spears

before

shocking them in an ice bath.

Roll your asparagus bundles up with some crescent roll dough,

if desired

add parmesan or any other mix-ins.

Brush the crescent roll dough with melted garlic butter

before

baking until golden brown.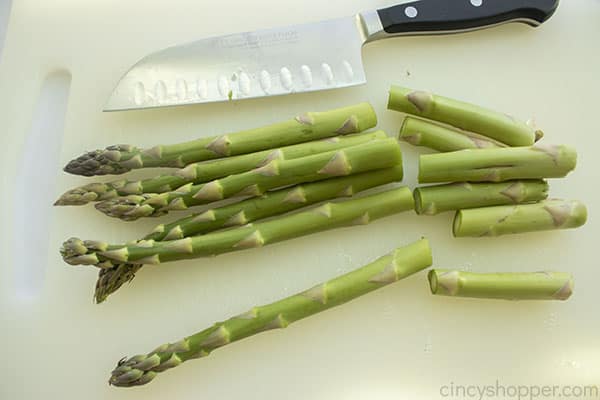 After trimming the woody ends of our asparagus, we're going to bring some water to a boil before dropping our asparagus in.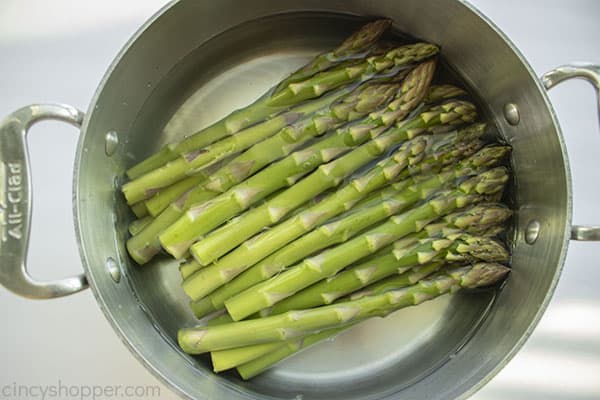 Let the spears boil for 5 minutes before cutting the heat. To "shock" the asparagus, we're going to hit it with plenty of ice.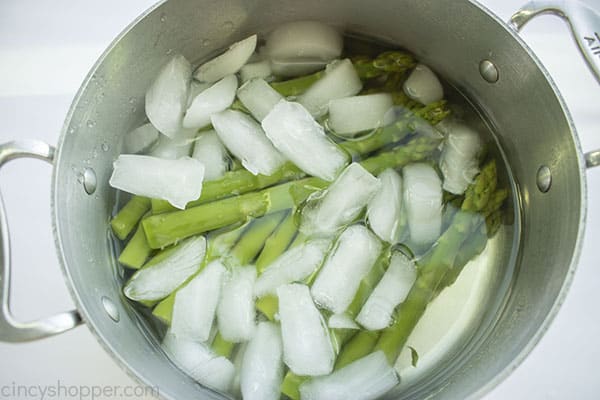 While the asparagus is chilling out, get your parmesan shredded if using freshly-grated. Take this time to grab any ham or bacon you want to add to your asparagus rolls as well.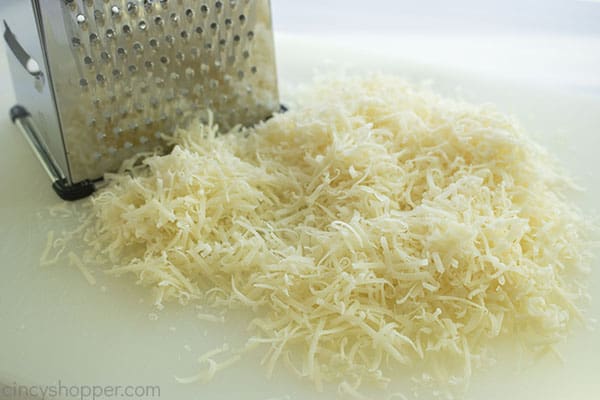 Finally, before we start assembling the rolls, pull your asparagus from the ice bath. Pat them as dry as you can before moving on.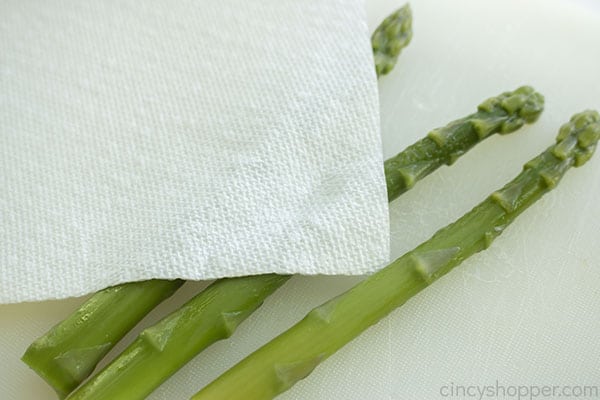 Assembly
Pop open your crescent roll dough and divide it into the perforated triangles. When ready, add a small pile of parmesan to the wide end. This is also where you'd add any ham or meats.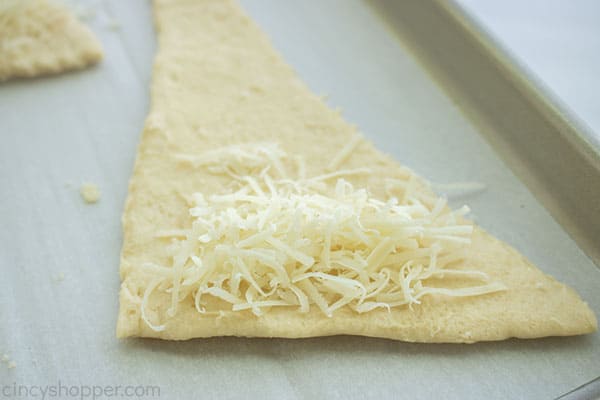 Set a small bundle of your asparagus spears next to the parmesan.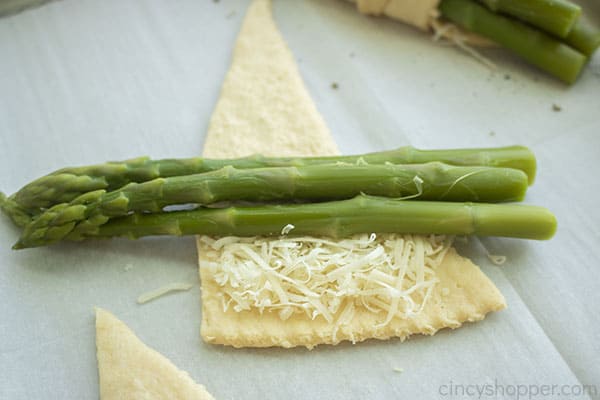 Before rolling up your bundles, we'd recommend seasoning the inside with a bit of salt and pepper.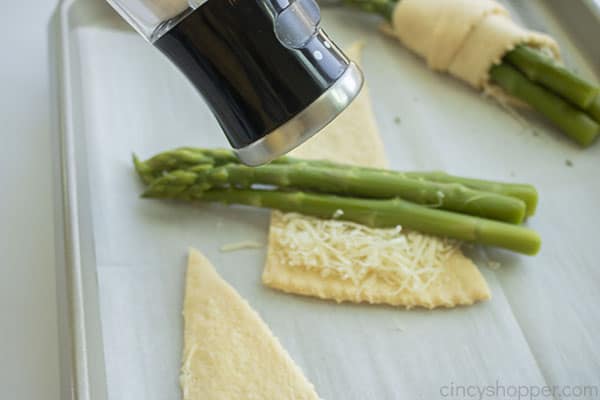 Roll the crescent roll dough around the asparagus, starting from the wider end. Roll it and tuck the ends of the crescent roll dough underneath your wrapped asparagus bundles. Before baking, we're going to melt a quick mixture of garlic powder and butter.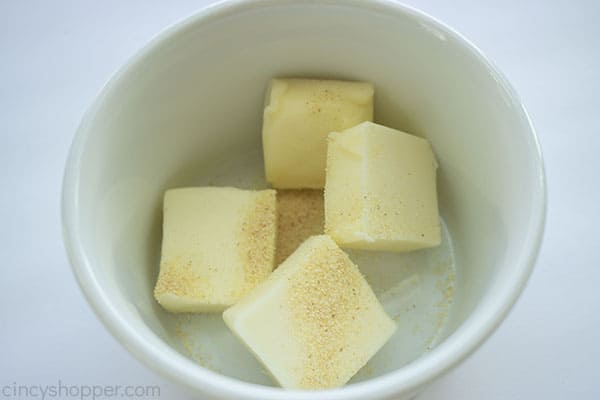 Once melted and mixed, brush down your crescent roll dough with the garlic butter. This is going to add just a bit more flavor before we get these things baking.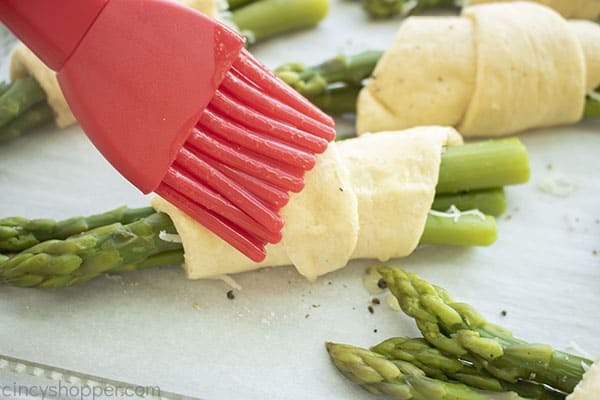 How long to bake Asparagus Wrapped in Crescent Dough?
Speaking of baking! We'd recommend baking these things on a parchment-lined baking sheet to minimize sticking. When your ready to bake, send these things into a waiting 400 degree oven.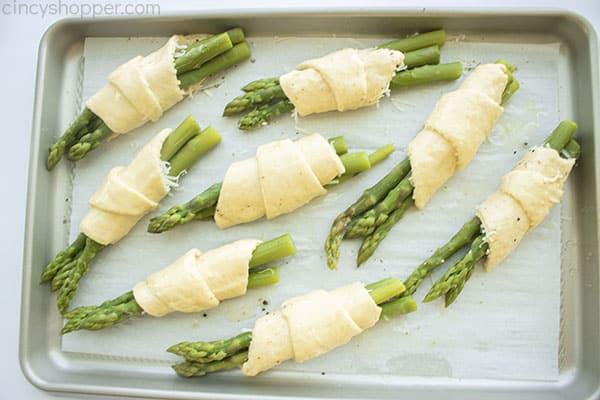 Depending on your oven, these may take anywhere from 10 to 15 minutes to fully bake. You'll know they're done when crescent roll dough has picked up that delicious, golden-brown color.
Once they've finished baking, pull your Crescent Wrapped Asparagus bundles from the oven. You can enjoy these hot or warm- whatever you're preference! However you decide to enjoy them, we hope you enjoy!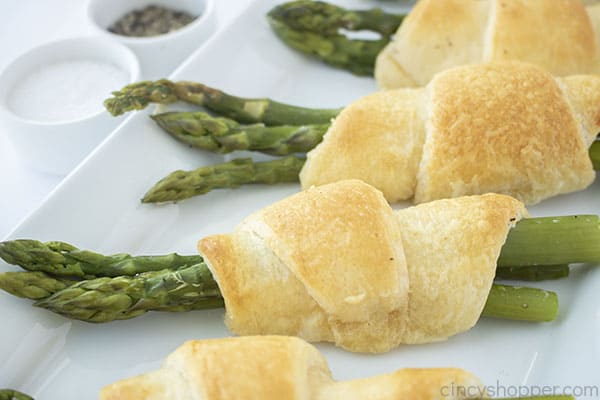 Storage & Freezing
This is an
incredibly
easy recipe, so we've never had the chance to try freezing these delicious appetizers
.
We're not sure if freezing them is the best idea: the crescent rolls would lose their flavor if kept frozen long enough and the asparagus would get wilty if reheated
. If you want to store your leftovers, keep them in an air-tight container in the fridge. Kept there, we'd expect them to stay good for another 4-5 days. Again, our Wrapped Asparagus Bundles are best enjoyed fresh!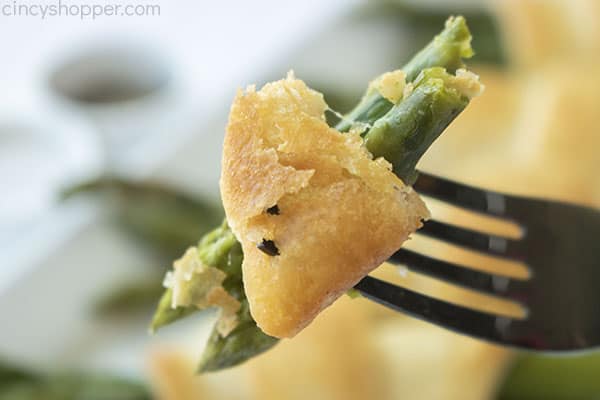 Crescent Wrapped Asparagus
Crescent Wrapped Asparagus taste delicious with a buttery crescent shell. Made with parmesan cheese, these make for a great holiday appetizer!
Ingredients
1

lb

Fresh Asparagus

1

can

Crescent Roll Dough

6

tbsp

shredded Parmesan

Salt and Pepper

to taste

4

tbsp

Butter

melted

1/8

tsp

Garlic Powder
Instructions
Line a baking sheet with parchment paper and set it aside.

Trim down the woody ends of the asparagus.

Bring a medium pan of water to a boil over high heat.

Place asparagus in water and boil for 5 minutes.

Remove from heat and add ice to the pan to stop the cooking process.

Remove crescent rolls from the refrigerator and separate them into triangles.

Place about 3/4 of a tablespoon of parmesan at the wide end of the triangle.

Place 3 asparagus spears next to the cheese.

Season with salt and pepper.

Roll dough around the spears and place on the prepared sheet.

Add garlic powder to melted butter and stir to combine.

Brush the tops of each crescent with butter.

Bake for 10-15 minutes until golden brown.
Notes
Use kitchen shears to cut the dough to keep your hands from warming up the dough.
Nutrition
Calories:
175
kcal
|
Carbohydrates:
14
g
|
Protein:
4
g
|
Fat:
13
g
|
Saturated Fat:
7
g
|
Trans Fat:
1
g
|
Cholesterol:
18
mg
|
Sodium:
333
mg
|
Potassium:
120
mg
|
Fiber:
1
g
|
Sugar:
4
g
|
Vitamin A:
633
IU
|
Vitamin C:
3
mg
|
Calcium:
60
mg
|
Iron:
2
mg