Creamy Swiss Chicken Casserole is as delicious as it is simple! This is a quick & easy dinner recipe that's perfect for a busy weeknight.
Chicken is great for easy weeknight dinners- especially when it's in a delicious, creamy casserole! Pair this dish up with some Roasted Cauliflower or maybe some Honey Garlic Roasted Carrots.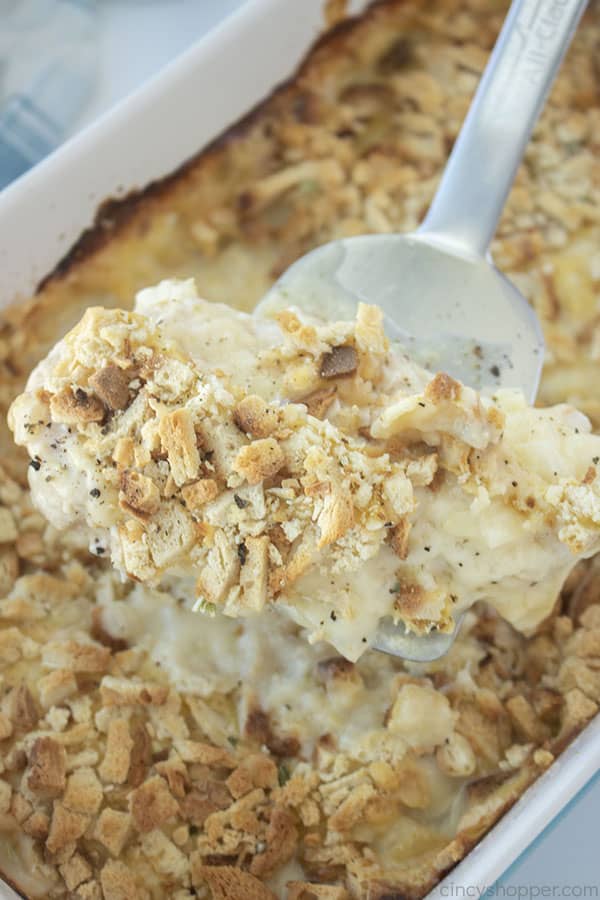 Creamy Swiss Chicken Casserole
When it comes to making up easy and filling weeknight dinners, I'm usually reaching for chicken. It's packed with protein and cooks fairly easy- especially with simple prep methods like casseroles or bakes. I usually end up making some variety of a Creamy Chicken Casserole. One of the new favorites that I've made recently was this Creamy Swiss Chicken Casserole.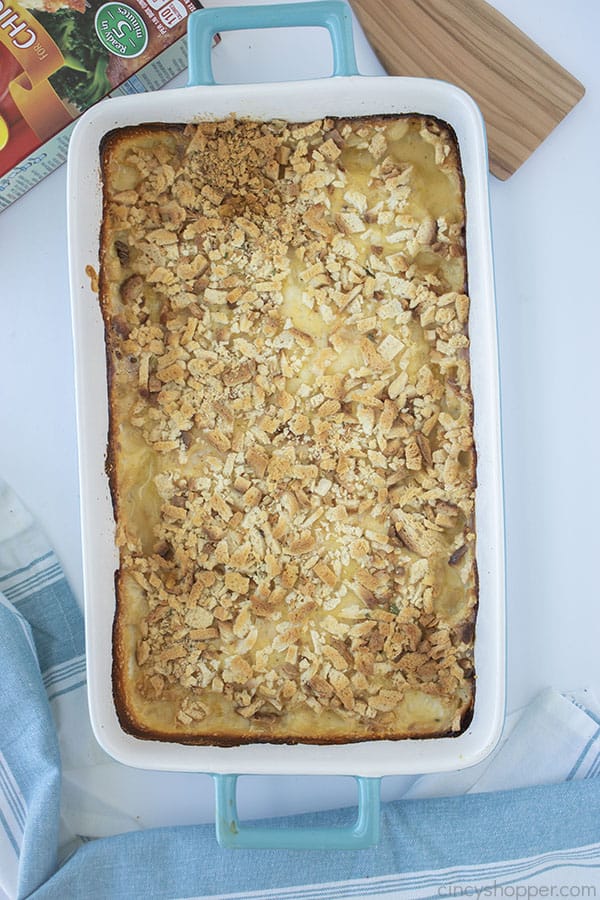 Chicken and Swiss is already a delicious combo that I love on something like a sandwich- it makes sense that they would work together in a casserole. Besides those two, I've also brought some go-to creamy casserole ingredients: cream of chicken and a bit of milk. All these come together to make a delicious casserole filling and some boxed stuffing mix makes for a great topping!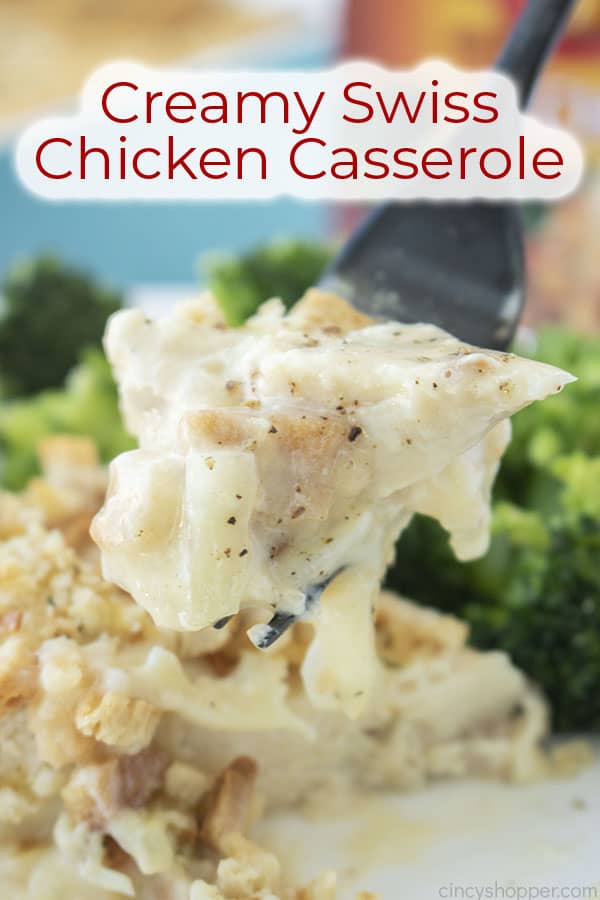 This Creamy Swiss Chicken Casserole was delicious! That creamy casserole filling came out perfectly, the chicken stayed nice and moist, and that stuffing crisped up great. It was almost shocking how delicious it turned out, considering how easy prep was. I'm definitely keeping this recipe on standby if I'm needing an easy dinner- give it a try and I'm certain you will too! Hope you enjoy it.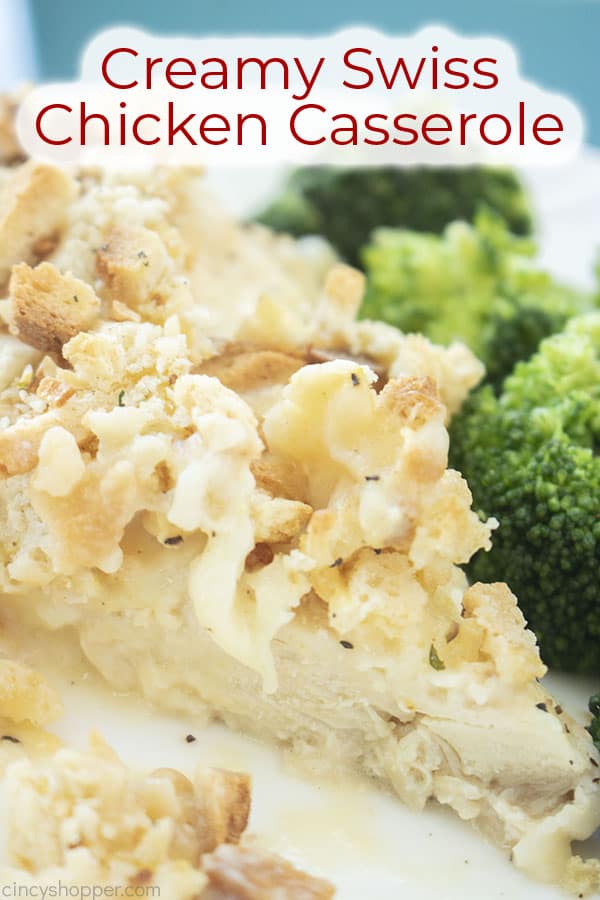 Enjoyed this quick chicken recipe? Give these chicken casserole recipes a try!
Our recipe for

Chicken and Stuffing Casserole

is quite

similar to

this one if that's what you're looking for

!

That casserole

is loaded

up with plenty of frozen veggies and makes use of pre-cooked rotisserie chicken

. Another quick and delicious dinner recipe!

If you're more in the mood for pot pie, try our

Chicken Pot Pie Casserole

. Crescent roll dough stands in as our pie crusts for this recipe that uses a quick and easy creamy pot pie filling. Once everything's assembled, it all bakes up in less than half-an-hour!

Our

Cheesy Chicken and Rice Casserole

is

just

a few steps away from being as simple as a dump-and-bake recipe!

Mix up the rice and veggie filling, top with some freshly-browned chicken, and bake for a bit before adding some cheese- that's it

. One of our favorites and a go-to for quick and easy comfort food!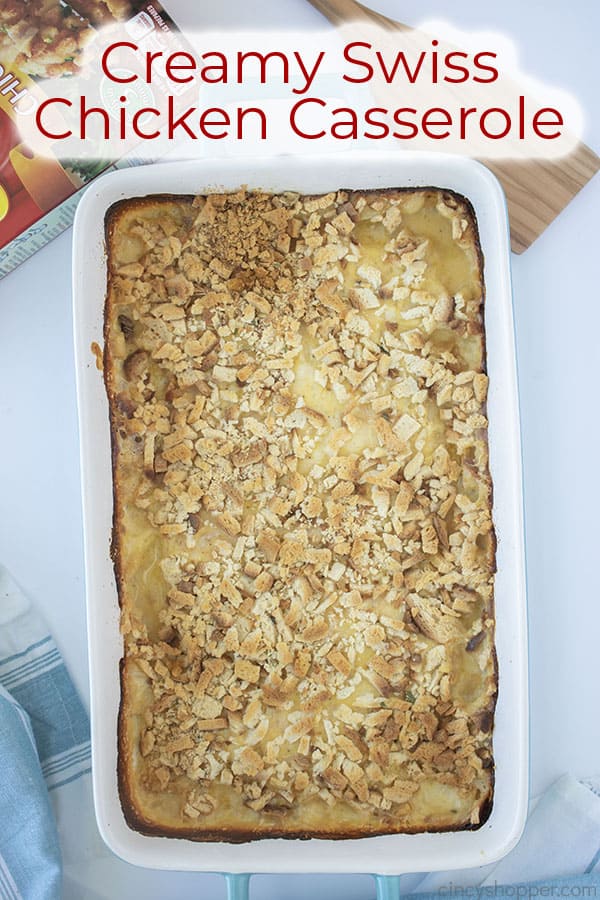 Swiss Chicken Bake Ingredients
Chicken Breast

Swiss Cheese

Cream of Chicken Soup

Milk

– You could sub this out for some chicken stock, or- in a pinch- some water.

Onion

Boxed Stuffing Mix

– We'd recommend going with a chicken flavor or a more neutral flavor.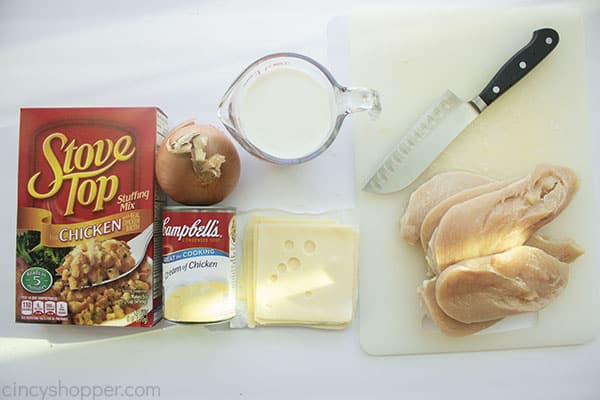 How to make Creamy Chicken Casserole
Prep for this dinner recipe is quick & easy! To put it all together, here's what you'll need to do:
Place your chicken in the bottom of a baking dish

and

top with swiss cheese slices.

Mix together the cream of chicken, milk, and onion

before

adding to the baking dish.

Top your Creamy Swiss Chicken Casserole with boxed stuffing mix

before

baking until chicken

is cooked

through and stuffing has browned

.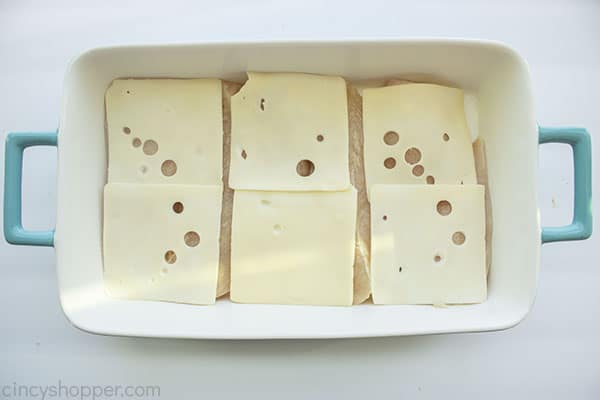 After spraying a baking dish with some nonstick spray, add your chicken breasts and top each breast with a slice of swiss cheese. Set aside and grab a mixing bowl. To it, add your cream of chicken soup and whatever liquid you're using- milk, broth, water, etc.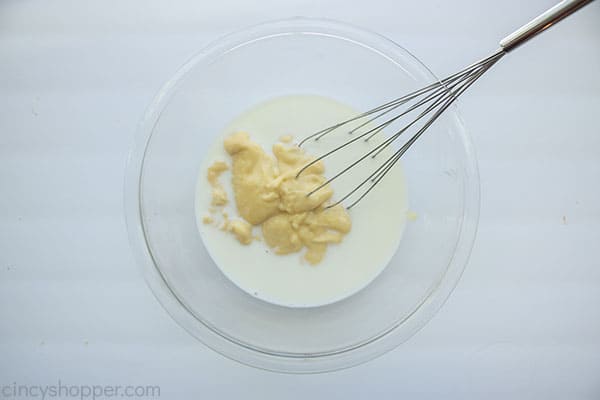 Mix those together until thoroughly combined into a smooth, consistent liquid. While this creamy broth would be good enough on its own, we're going to add onions. Give an onion a quick dicing.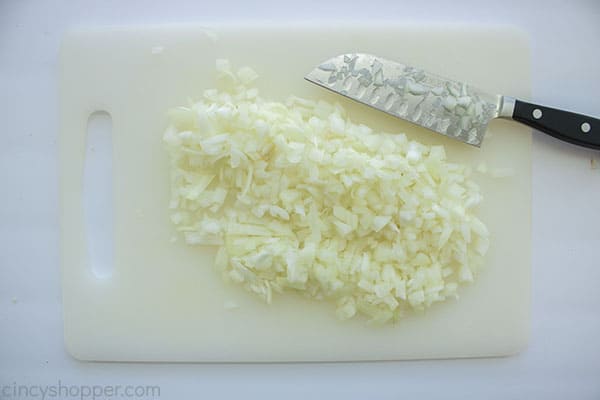 Whisk your chopped onion into your broth. Also consider adding in frozen vegetables like carrots, peas, or green beans for an entire meal.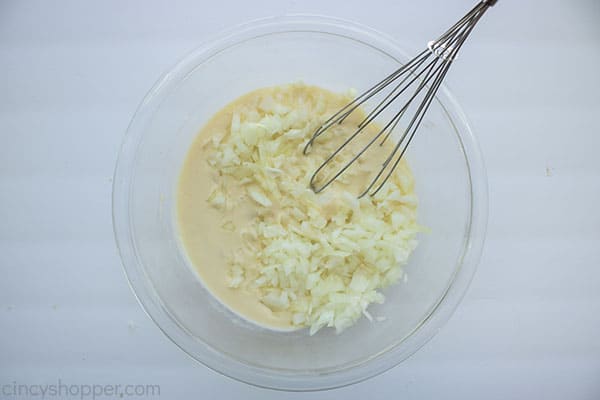 Now, pour your soup mixture over into the baking dish with our chicken and cheese.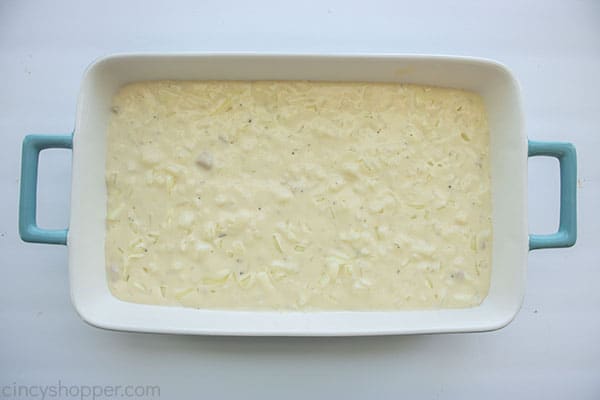 Now we're going to top our casserole off with some boxed stuffing mix. Sprinkle the dry stuffing over the casserole until you've got a consistent topping laid.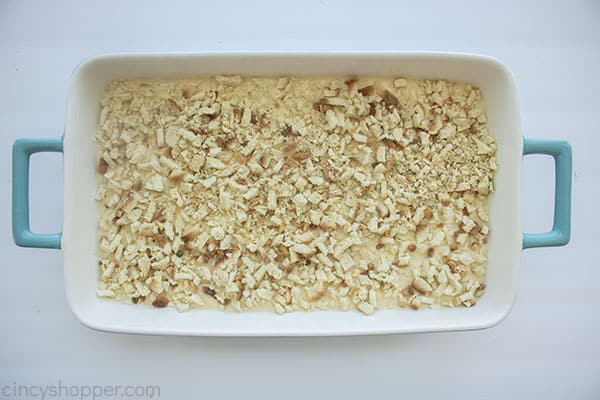 All that's left is to bake our Creamy Swiss Chicken Casserole. Cover and transfer to a 350 degree oven. Let that bake for 40-45 minutes before uncovering and letting bake for another 15-20 minutes. Removing the cover allows that stuffing to brown up real nice!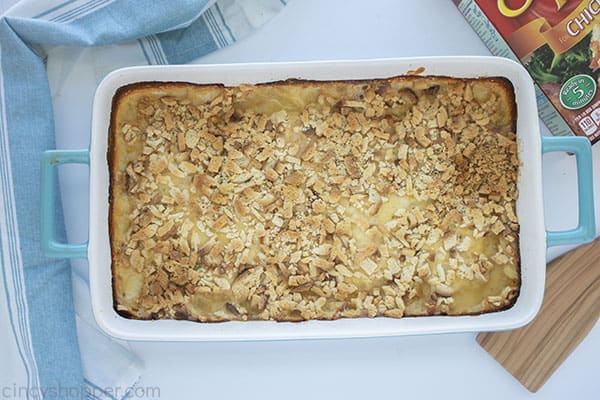 Once that stuffing has browned and the chicken is cooked through, the casserole is done! To check the chicken, poke a food thermometer down to the chicken at the bottom. Use a spatula to lift one of the chicken breasts out from the bottom. Top with a bit more of the casserole fillings and enjoy!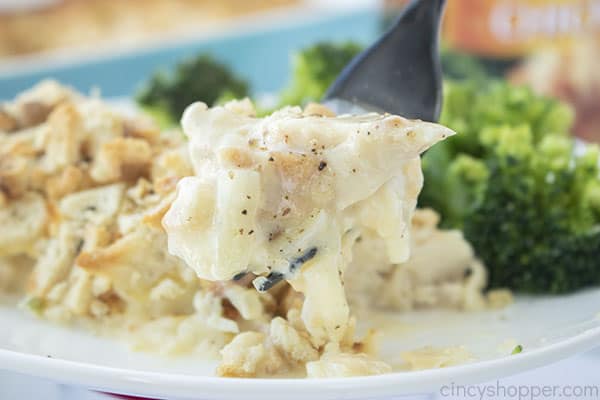 What to serve with our casserole?
We'd recommend keeping your sides simple to keep things low-stress and low-effort. Of course, we also have the sides recommended at the top- easy roasted sides that work perfectly with this dish! Besides those, maybe some simple steamed broccoli, canned veggies, or mashed potatoes?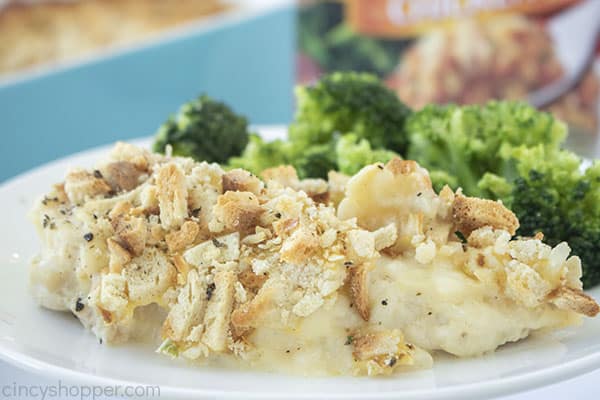 Make-Ahead Instructions and Suggestions
Since this recipe is so simple, you could
easily
whip it up whenever it's time for dinner. You can, if you want, do some of the prep ahead of time to save even more time. Follow the recipe up until it's time to add the stuffing topping. Don't add the stuffing and, instead,
tightly
cover your baking dish with some plastic wrap.
Your casserole filling should still be good for dinner later that evening or the following day
. When you're hungry, add the stuffing topping to your Creamy Swiss Chicken Casserole filling and continue following the recipe.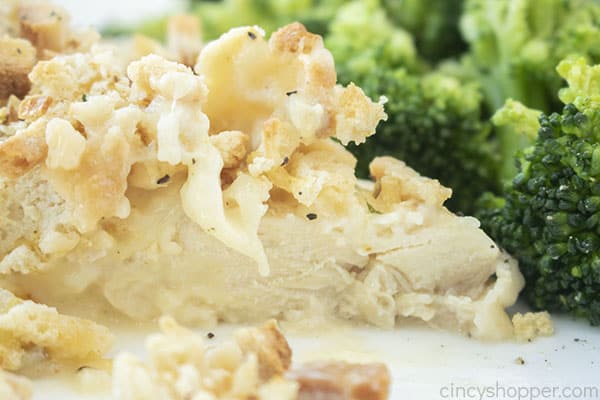 Creamy Swiss Chicken Casserole
Creamy Swiss Chicken Casserole is as delicious as it is simple! This is a quick & easy dinner recipe that's perfect for a busy weeknight.
Ingredients
3

large Boneless Skinless Chicken Breasts

6

slice

Swiss Cheese

10 3/4

oz

Cream of Chicken Soup

1 can

1

cup

Milk

1/2

Onion

diced

1 1/2

cup

Stuffing Mix

Stove Top
Instructions
Preheat oven to 350.

Grease a 9x13" baking dish and set aside.

Cut each breast in half to create a thinner cutlet.

Arrange the chicken in a layer at the bottom of the prepared dish.

Arrange the cheese in a layer on the chicken.

In a bowl, combine the soup and the milk.

Whisk until smooth.

Add onion and stir.

Pour mixture over the chicken and cheese.

Sprinkle the top with the dry stuffing mix.

Cover with aluminum foil and bake for 40 minutes.

Remove foil and cook for another 20 minutes, until stuffing is browned and chicken is cooked through (internal temperature of 165).
Notes
Consider adding in frozen vegetables like carrots, peas, or green beans for an entire meal.
Nutrition
Calories:
419
kcal
|
Carbohydrates:
54
g
|
Protein:
25
g
|
Fat:
11
g
|
Saturated Fat:
5
g
|
Trans Fat:
1
g
|
Cholesterol:
58
mg
|
Sodium:
1115
mg
|
Potassium:
742
mg
|
Fiber:
2
g
|
Sugar:
10
g
|
Vitamin A:
430
IU
|
Vitamin C:
1
mg
|
Calcium:
243
mg
|
Iron:
3
mg