Apple Dessert Pizza is an easy, homemade apple dessert made with pizza dough, pie filling, a delicious crisp topping, and a simple glaze.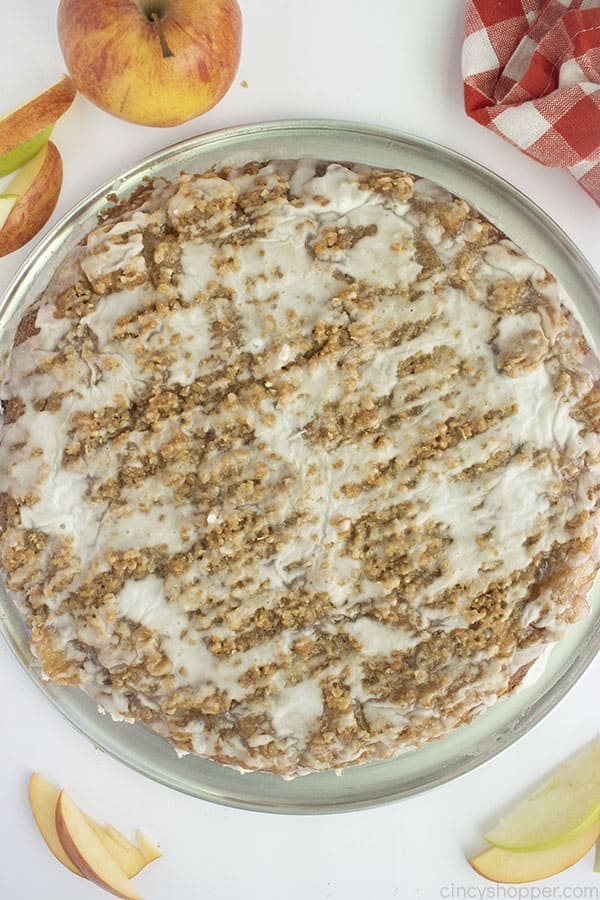 Apple Dessert Pizza
We've got another dessert recipe ready for you folks today. Chances are, if you've gone to some pizza places- namely Pizza Hut or Cici's- you've looked over their dessert menu once or twice. Without a doubt, one of the best desserts they've ever stocked was Apple Dessert Pizza. This stuff was a delicious, apple pie-like dessert with a tasty crisp or crumble topping, all topped with a sweet, sugary glaze. You're a bit hard-pressed to find it nowadays- Pizza Hut discontinued it and we're always having trouble finding places that still serve it! So, since I'm a fan of apple desserts and have never been one to back away from a challenge, I decided to make a homemade version.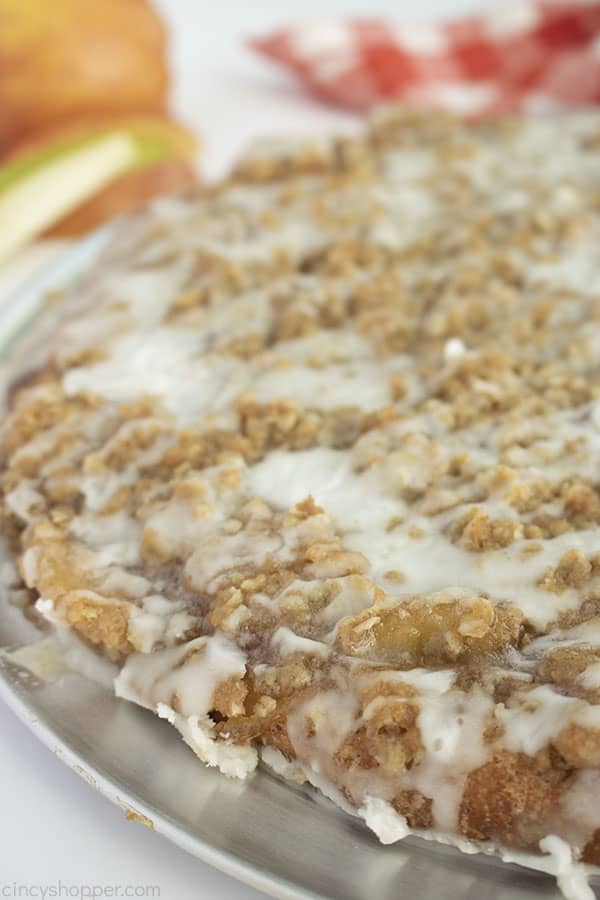 All of
these fall apple desserts are always such fun to make.
They also leave your house smelling wonderful with all the scents of your favorite fall spices
. For some more delicious apple desserts, give these recipes a look:
Some

Apple Fritters

make for a delicious snack for all the donut-lovers out there.

Apple Cobbler

is a warm, comforting fall dessert you're certain to love.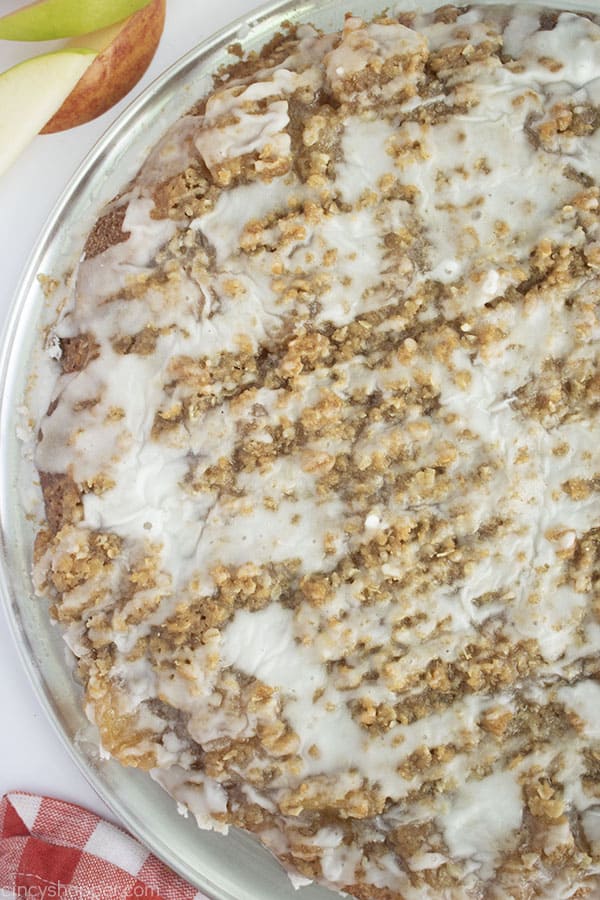 But back to our dessert pizza: we wanted to make our homemade version as good as- if not, better than- it's pizza place version. So we went the extra mile to try and pack as much fall and autumn dessert flavor into this as we could.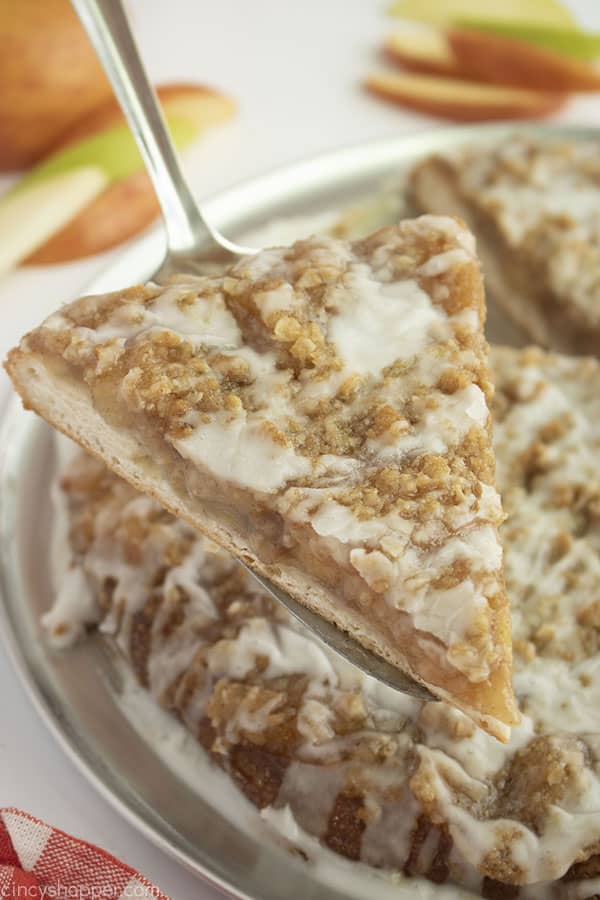 The result? Tons of seasonal flavor in every bite! Our pizza crust gets seasoned to perfection with a lovely spiced sugar mixture. We topped that crust with plenty of apple pie filling and topped that with a classic apple crisp topping. Finally, we finished it all of with an easy, sugary glaze that just pulls everything together.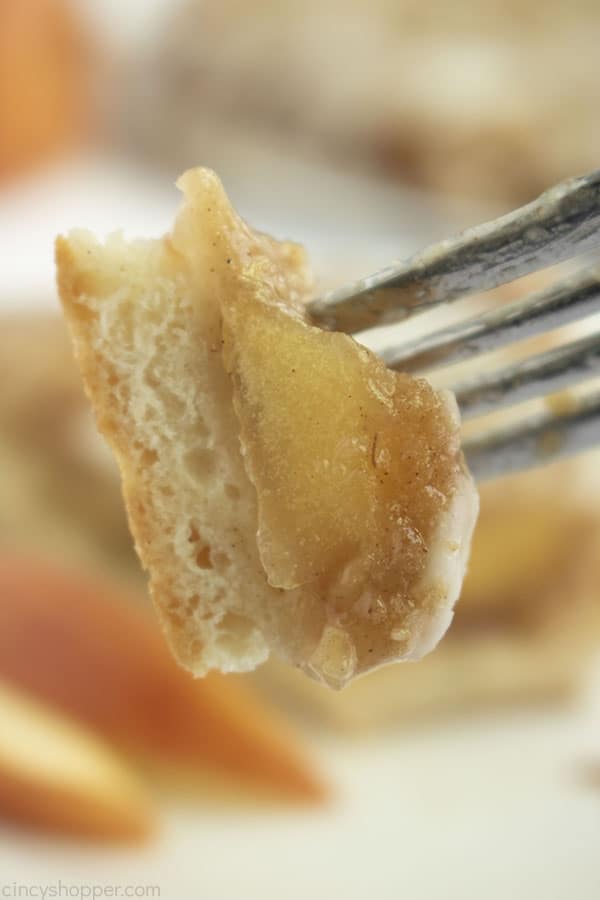 This dessert pizza is amazing- it's as simple as that. We baked one up and it was a a hit! We're already thinking about giving this another go with something like cherries or blueberries. We'll make sure to keep you all updated- in the meantime, give this delicious dessert pizza recipe a try!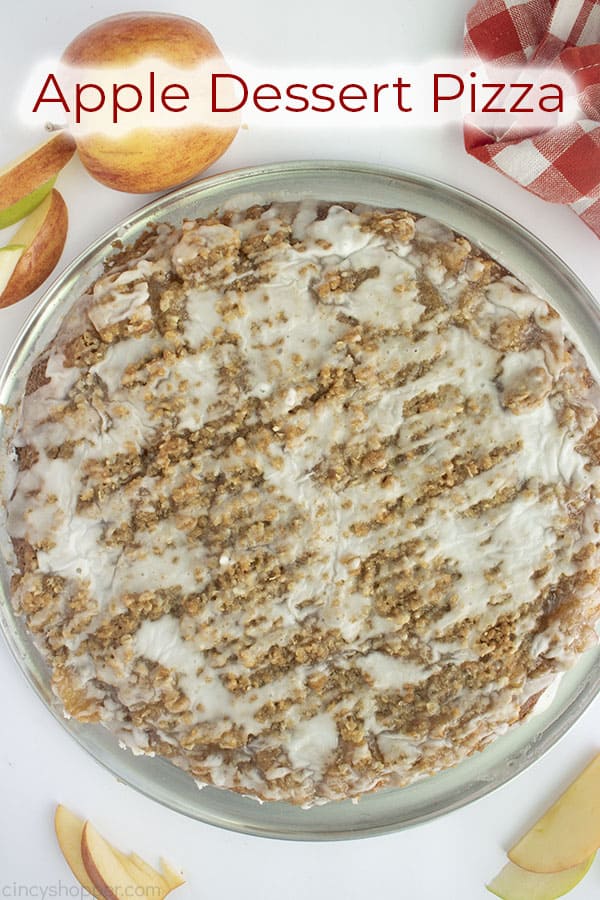 Ingredients for Dessert Pizza
Pizza Dough – We reached for some store-bought dough.

If you

really

want to make this recipe "from scratch" follow our

Homemade Pizza Dough Recipe

and use that instead

!

Spiced Sugar – This is

just

some plain white sugar mixed with some fall spices- cinnamon and nutmeg.

Crisp Topping – Our crisp topping is going to be a mixture of brown sugar, flour, cinnamon, and some quick oats- those work best in this recipe

.

Milk & Powdered Sugar for a glaze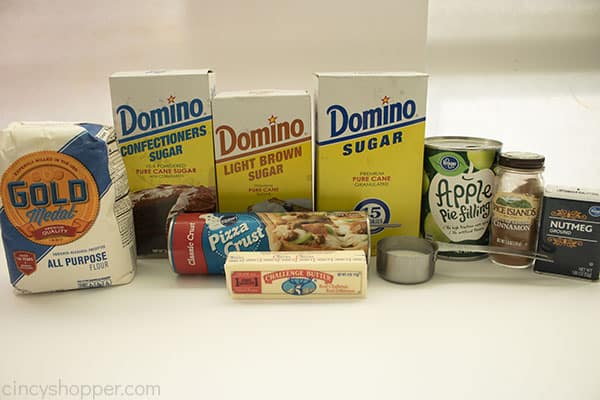 How to make Apple Dessert Pizza
For this recipe, you'll need to get a few things prepped and ready to go. To start, get an oven warming up to 400 degrees- should be up to temp by the time we need to bake. Now we'll get that spiced sugar ready to go: grab a small mixing bowl and mix the ingredients- the sugar, some cinnamon, and nutmeg- together.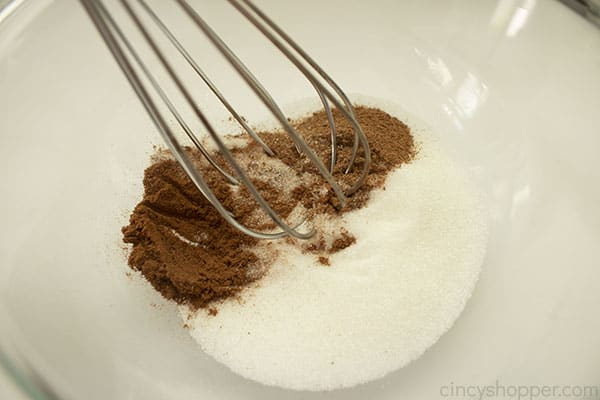 With that ready, we can get our pizza dough prepared. Grease up a 12-inch pizza pan with something like shortening or vegetable oil. Now, roll out your pizza dough and transfer it over to your pan. You'll need to coax it out to a round shape- if you find your dough keeps springing back, let it rest for a little bit so the gluten can relax. Your pizza might also not fit the entire pan- that's okay! Once you've gotten it stretched out into a circle shape, give it a quick docking with a fork. Poking all these little holes is going to keep your pizza dough from bubbling too much.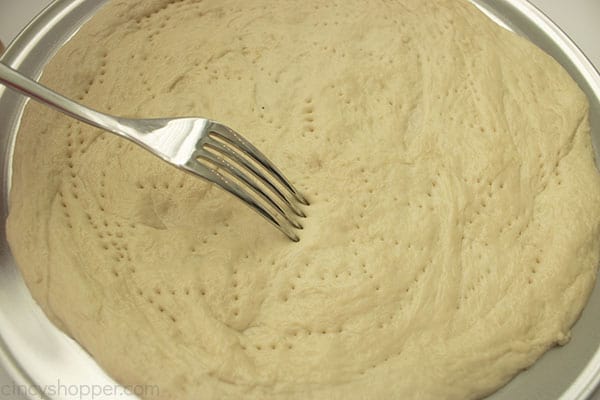 Once you've docked your dough, we're going to brush it down with some melted butter. This is going to help our spiced sugar mixture stick to the dough.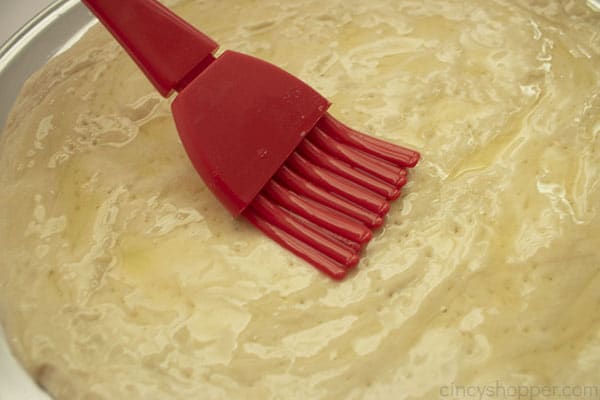 Speaking of the spiced sugar, let's get it on our pizza! Just try to make sure you get a nice, even dusting of it all over your pizza dough.
With our crust prepped and all spiced up, we can start focus on our pizza toppings. Instead of something like a chunky tomato sauce, our dessert pizza is going to use some sweet apple pie filling. Spread the filling like you would in any other pizza- leaving a border for your crust.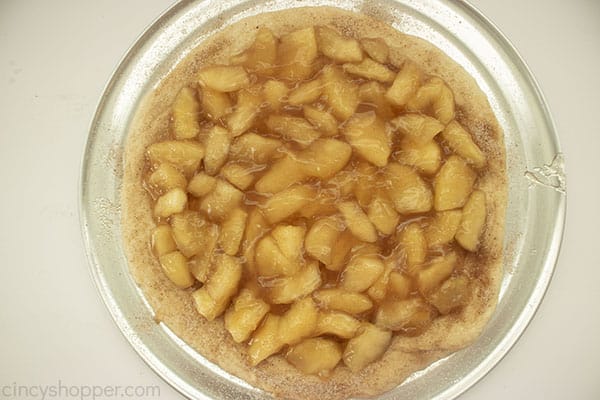 Instead of parmesan or mozzarella, this apple dessert is going to use some old-fashioned crisp topping. For that, you'll need to mix together your brown sugar, flour, cinnamon, and quick oats.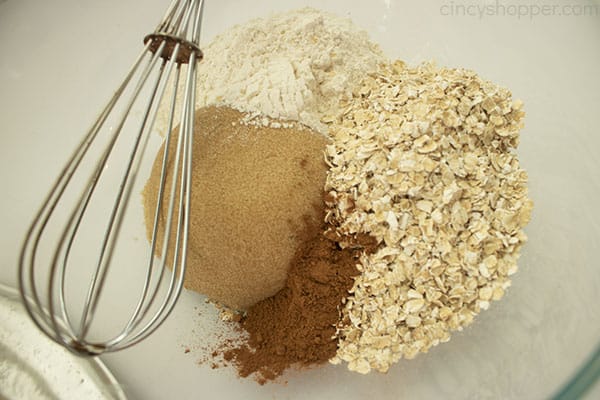 With all of your dry ingredients mixed, it's time to add your butter. After dropping several pats of your butter in, use something like a dough blender to work everything together into a crumbly topping.
You're crisp topping is ready to go! Spread it all evenly over your pie filling.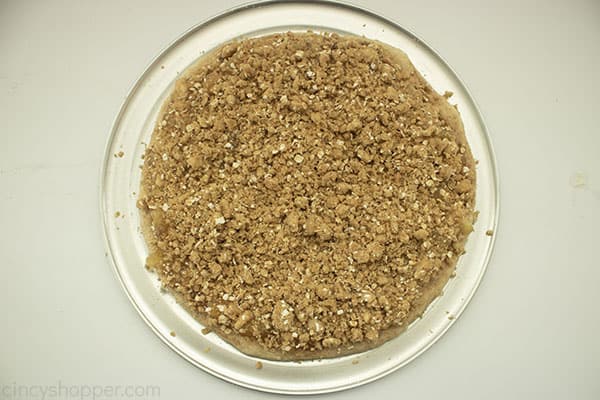 All that's left at this point is bake your pizza. With your oven preheated to 400 degrees, it should only need to bake for about 20-25 minutes. Just keep watch for when your crust and crisp topping turn a beautiful golden brown.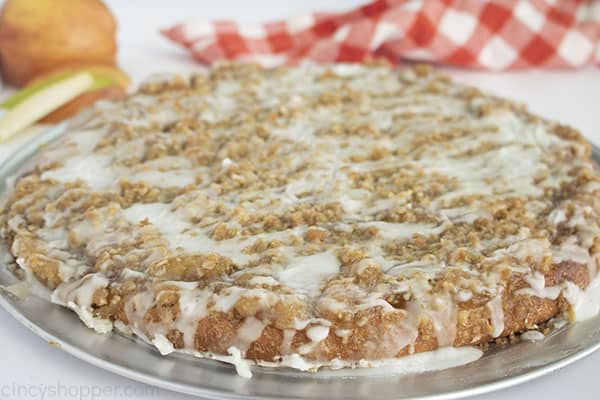 Once you've pulled your pizza from the oven, the only thing missing is a simple-but-delicious glaze. Just mix together some of your milk and powdered sugar until it reaches a drizzling-consistency. Get that drizzled over top your pizza while it's still warm. After that, let your pizza cool for a few minutes before slicing, serving, and enjoying!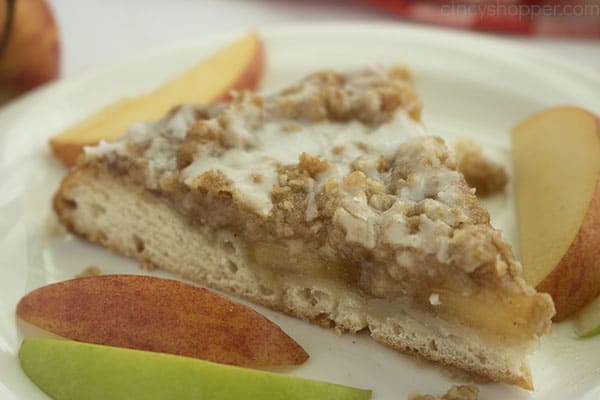 Possible Modifications
If you're not a real big fan of oats, you can omit them from the crisp topping without messing with any other measurements

.

Instead of glaze, you could top your finished pizza with a caramel drizzle- who doesn't love caramel apples

?

For serving, you can try topping each slice with either some whipped cream or whipped topping. For an extra delicious treat, top with a small scoop of ice cream!
Apple Dessert Pizza
Apple Dessert Pizza is an easy, homemade apple dessert made with pizza dough, pie filling, a delicious crisp topping, and a simple glaze.
Ingredients
2

tbsp

Sugar

1

tsp

Cinnamon

divided

1/4

tsp

Nutmeg

1

Refrigerated Pizza Crust

2

tbsp

melted Butter

20

oz

Apple Pie Filling

chopped

1/2

cup

Brown Sugar

1/2

tsp

Vanilla

1/3

cup

uncooked Old Fashioned Oats

1/4

cup

Flour

1/4

cup

Butter cold

1

cup

Powdered Sugar

1

tbsp

Milk
Instructions
Preheat oven to 400.

In a bowl, whisk together Sugar, 1/2 tsp Cinnamon and nutmeg. Set aside.

Greased a pizza pan or baking sheet and spread pizza dough out on pan.

Use a fork to "dock" pizza dough.

Brush dough with melted butter.

Sprinkle prepared cinnamon sugar mixture over dough.

Spread chopped apple filling in a thin layer over dough.

Mix together flour, brown sugar, oats and remaining cinnamon in a bowl.

Add in vanilla and cut in butter with a pastry blender or fork.

Work until mixture forms large crumbs.

Sprinkle over apples.

Bake 20-25 minutes or until topping and crust are golden brown.

In a small bowl combine powdered sugar and milk and stir to make glaze.

Drizzle on pizza.
Nutrition
Calories:
420
kcal
|
Carbohydrates:
79
g
|
Protein:
5
g
|
Fat:
11
g
|
Saturated Fat:
6
g
|
Cholesterol:
23
mg
|
Sodium:
468
mg
|
Potassium:
62
mg
|
Fiber:
2
g
|
Sugar:
44
g
|
Vitamin A:
283
IU
|
Vitamin C:
1
mg
|
Calcium:
23
mg
|
Iron:
2
mg