Go ahead and make this Traditional Thanksgiving Stuffing for the holidays. It's an easy recipe that can be stuffed in your turkey or baked in a casserole dish as dressing. We love this simple recipe with no out of the ordinary additions.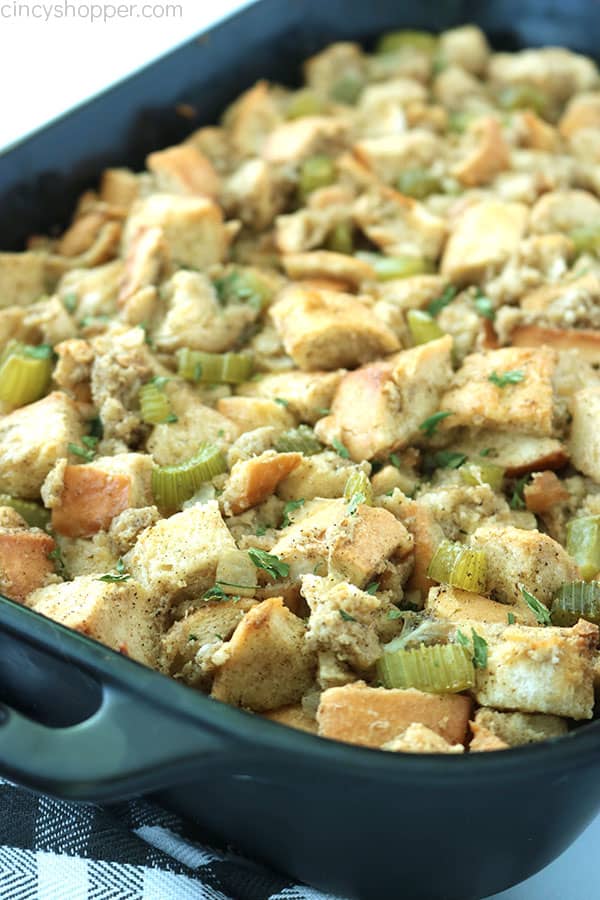 Thanksgiving Stuffing
I am so excited for the holidays, and they are just around the corner. Our Thanksgiving Stuffing always makes an appearance for Thanksgiving dinners. We find it to have a perfect amount of savory flavors from the spices, butter, celery, and onions.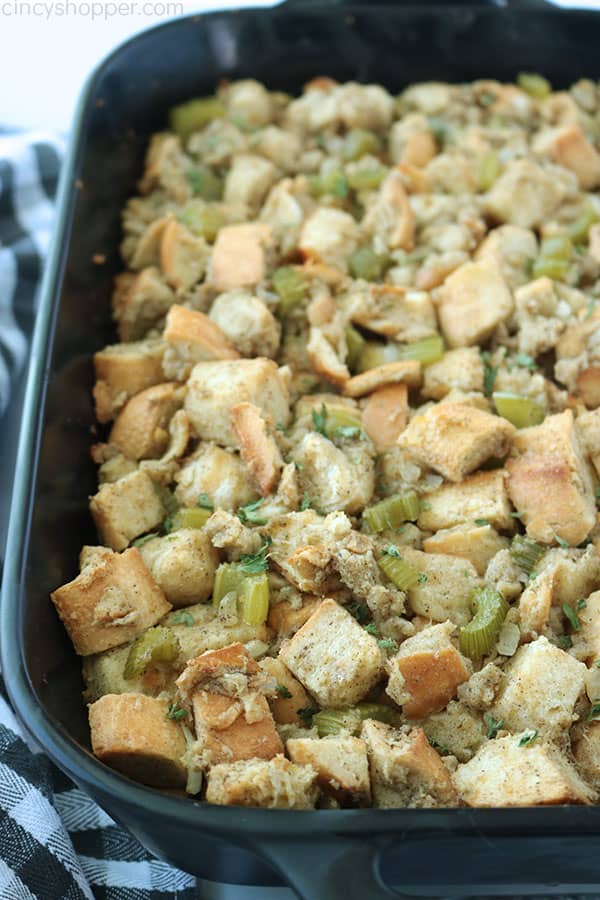 Thanksgiving stuffing is a classic, just like my Sweet Potato Casserole, Green Bean Casserole, Cranberry Sauce, and The Best Mashed Potatoes. The holidays would not be complete with any of the traditional side dishes missing.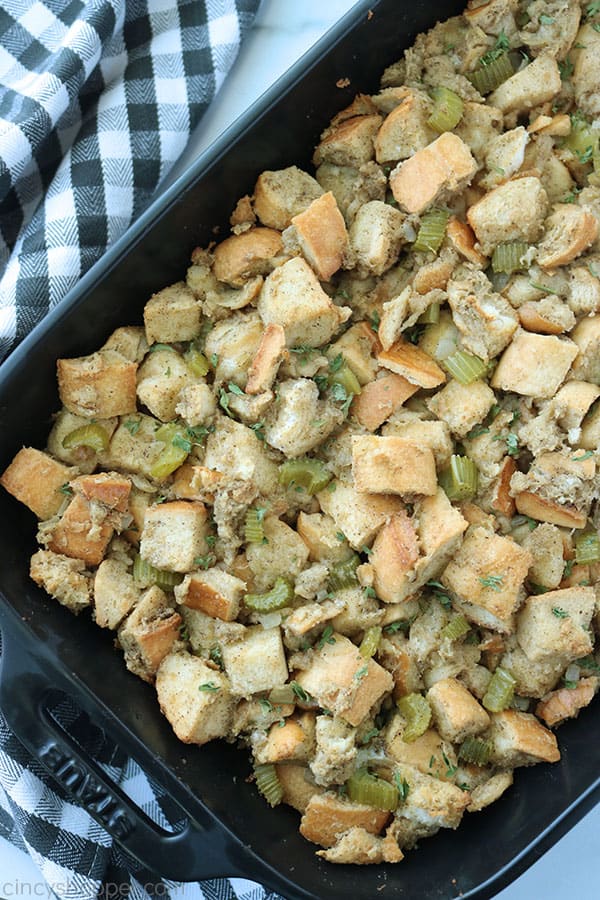 Do you stuff your turkey? Some years we do, some years we don't. My grandmother always stuffed her birds. My husband's mother never stuffed theirs. So, we waiver back and forth from year to year. Do we make Stuffing or dressing? That is always the debate at our house.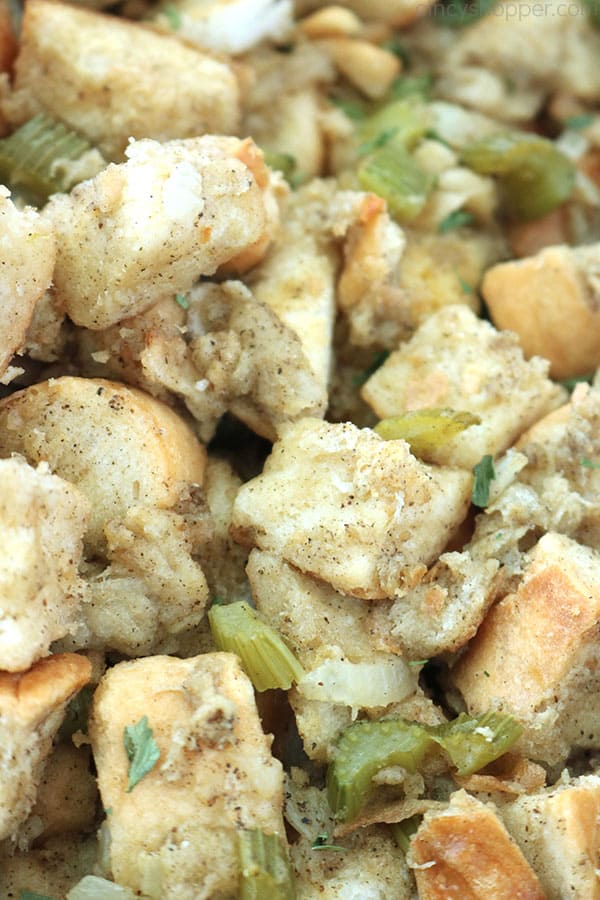 I am a fan of stuffing from the bird, but this recipe is technically a dressing because I did not stuff it in a bird. Call it stuffing if you stuff it, dressing if you make it in a casserole alongside. It's your choice, and this recipe is great either way.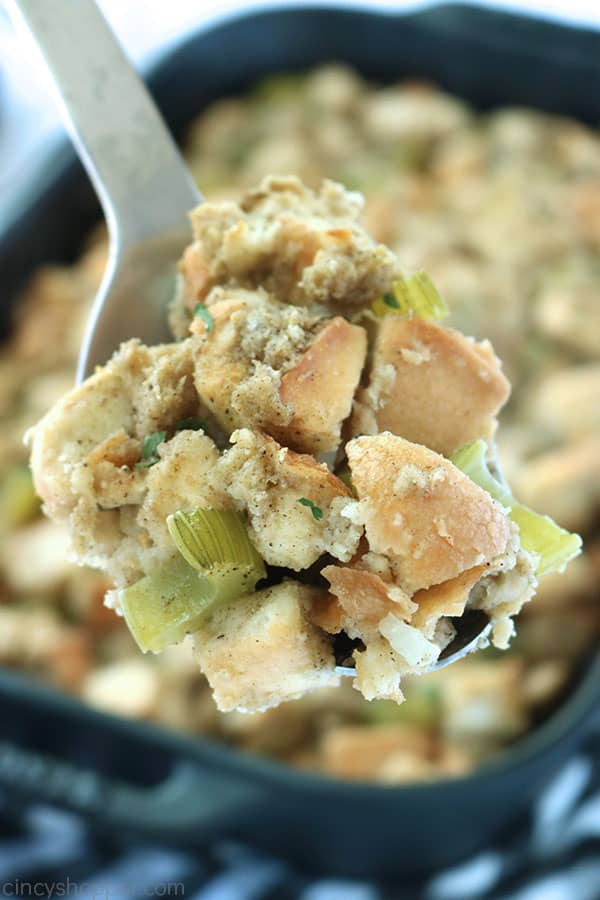 Most families have a favorite homemade stuffing recipe that they make. Many make theirs with Italian sausage or even oysters. Some add fruit as I have in the past with my Cranberry Apple Stuffing. Some make their dressing with turkey giblets, and some make it without them. My grandmother never used the giblets; my husband always does.
So, when we make this savory stuffing recipe during the holidays, we usually add about a cup of diced giblets for the added flavor. Additionally, we replace a little of the chicken broth with turkey drippings to add the additional turkey flavor.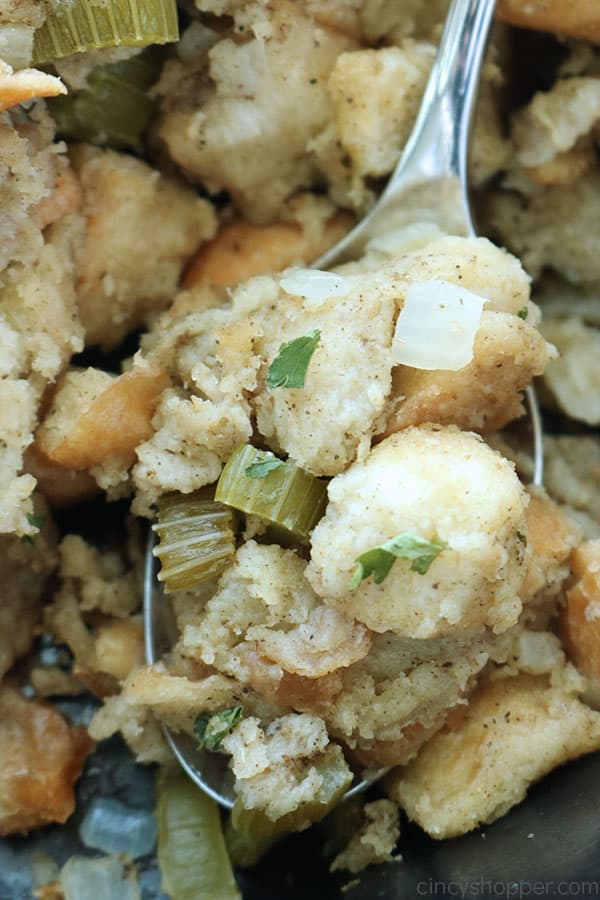 Do you typically add cornbread to your stuffing? My grandmother didn't, so that is what I like. My hubby loves his cornbread mixed in.. He's a southern boy, so I guess the cornbread is most likely common in the south. I didn't add it to this recipe because this is my favorite version, not his.
What type of bread is best for Thanksgiving Stuffing?
For this recipe, I use one 16 oz loaf of crusty French bread and one 16 oz loaf of softer French bread. You can make stuffing with just about any type, and even basic sandwich bread will work just as long as it is dried out. Stale or day-old is best. Be sure that it is firm enough to absorb all of the liquid that you add.
Can I make this dressing recipe without the egg?
Sure, you can. My husband never uses egg in his stuffing recipe. I like to add just one egg. The addition is not needed, but I find it helps bind the stuffing together a bit more.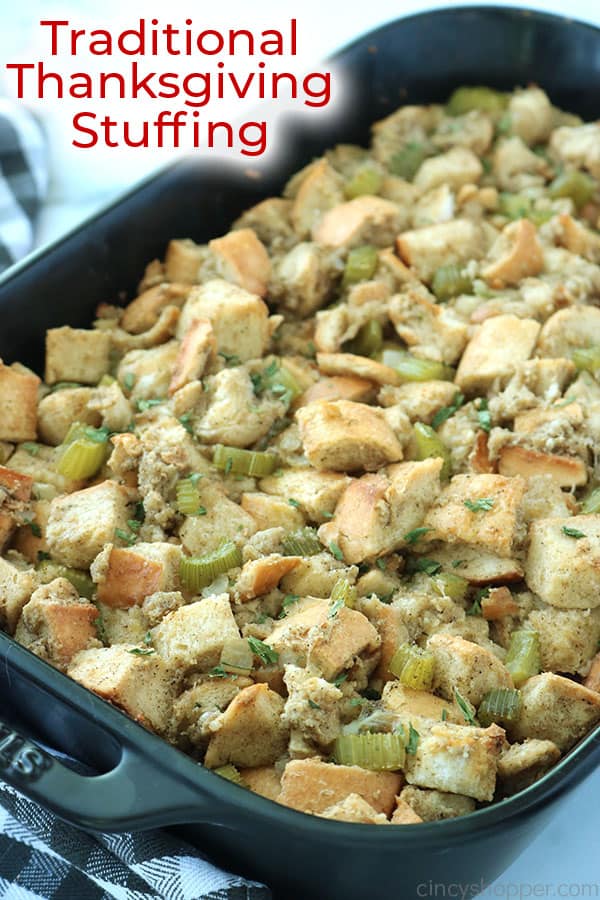 Ingredients to Make Thanksgiving Stuffing
Bread
Egg
Butter
Turkey or Chicken Broth
Onion
Celery
Poultry Seasoning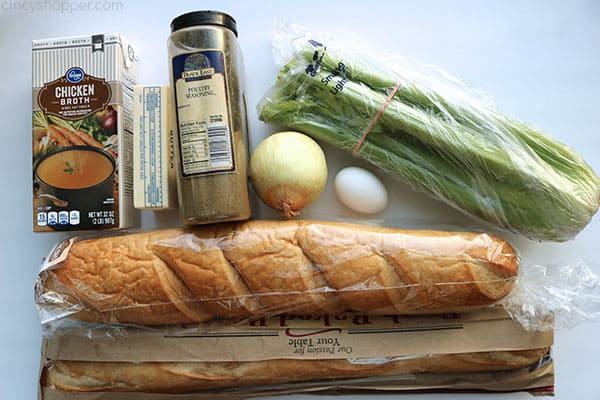 How to Make Thanksgiving Stuffing
First, you will need to cut your day-old stale dry bread into cubes. Then, add them to a large bowl. After, set it aside.
Next, dice the onion and celery. I use three stalks of celery and half of a large onion.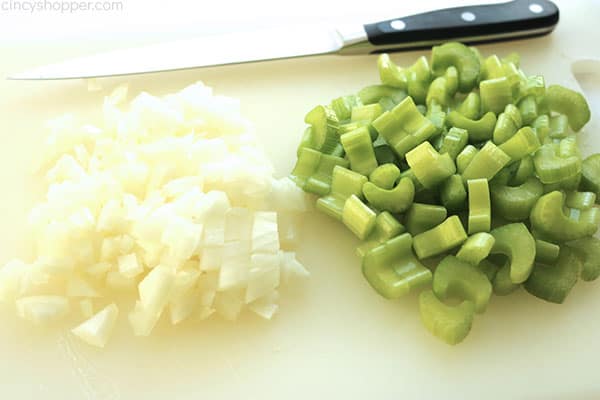 Now add the diced vegetables, butter, salt, and pepper to a medium-sized skillet. Then, cook over medium heat for about 10 minutes. You will know your veggies are ready when the onions have become translucent.
After they finish cooking, remove from heat and allow to cool for about 10 minutes.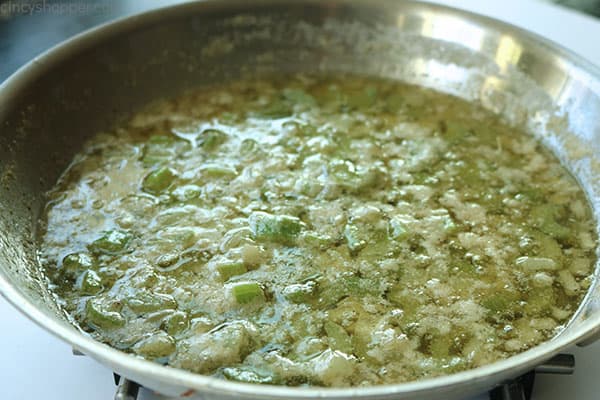 In a small bowl, beat one egg and set it aside.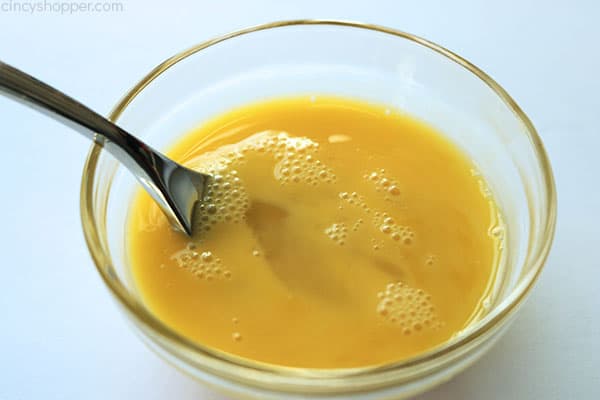 After the onions and celery have cooled slightly, add it to the bread cubes and mix well until combined.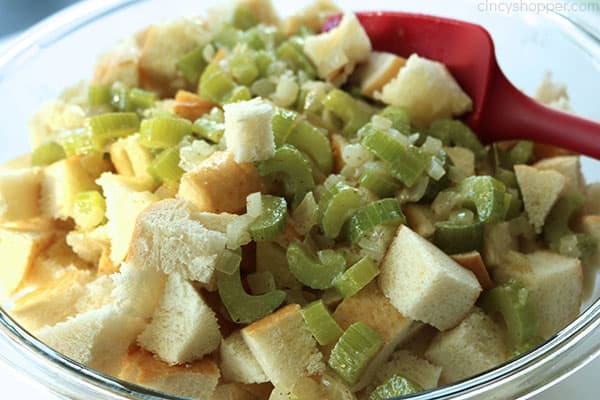 In a medium-sized bowl or measuring cup, whisk together the broth and poultry seasoning.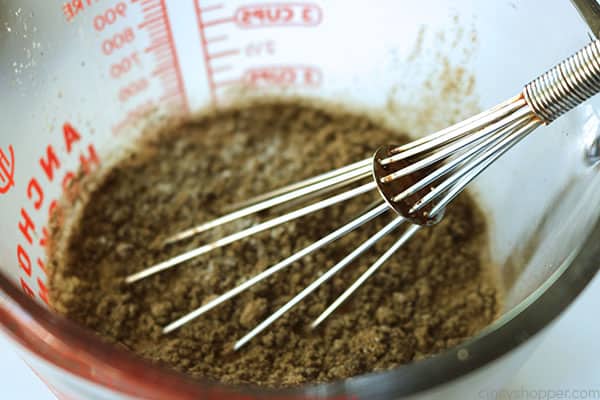 For the next step, pour the broth mixture over the bread mixture. Then, mix well. I often use my hands to work the liquid into the bread.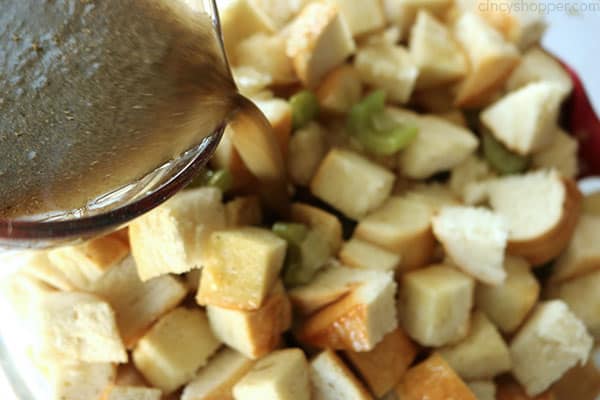 Add the egg and mix well again.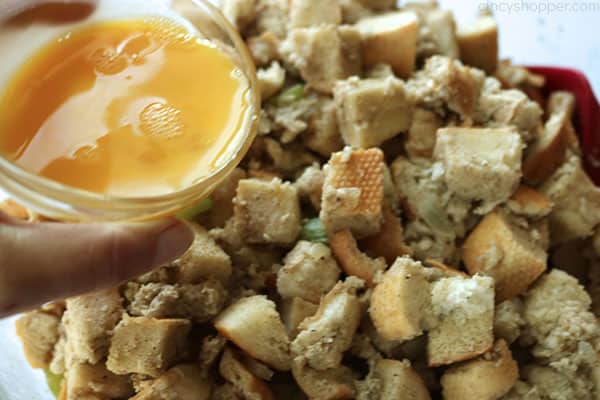 Finally, transfer the bread stuffing to a casserole dish and bake at 350 degrees for 35-40 minutes.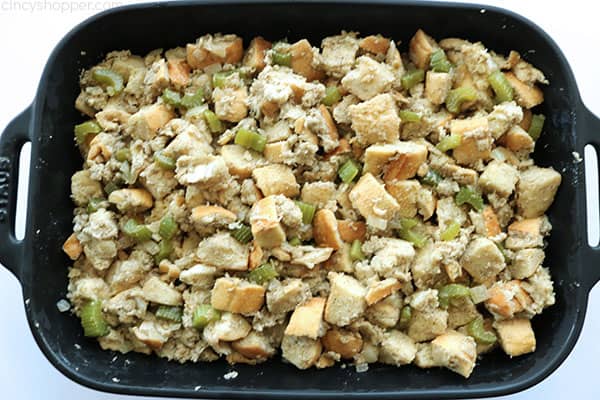 The benefits of cooking turkey stuffing in a casserole are the added crispness of the bread pieces. The bottom will be wetter than the top when baked outside of the turkey. Perfect if you ask me!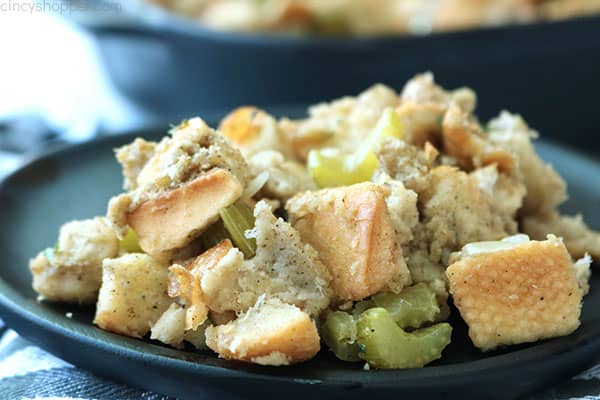 Traditional Thanksgiving Stuffing
Go ahead and make this Traditional Thanksgiving Stuffing for the holidays. It's an easy recipe that can be stuffed in your turkey or baked in a casserole dish as dressing.
Ingredients
2 16

oz

loaves day old Bread

1 1/2

cup

Butter

3

stalks Celery

chopped

1/2

large Onion

diced

2 1/2

tsp

Salt

1

tsp

Pepper

2

tbsp

Poultry Seasoning

2

cups

Chicken Broth

1

Egg
Instructions
Bread should be left open to dry out for a day.

Cut day old bread into 1/2" cubes.

If bread is still too soft, you can place on sheet pan and bake in 250 oven to further dry.

Place bread in a very large bowl and set aside.

Place butter, onion, celery, salt and pepper in medium skillet over medium heat.

Saute the onion and celery until tender (about 10 minutes).

Set aside to cool for about 10 minutes.

Preheat oven to 350.

Beat egg in a small bowl. Set aside.

Pour the vegetable mixture over the bread and mix well.

In a bowl or measuring cup, combine broth and poultry seasoning. Whisk to combine.

Pour broth mixture over bread mixture and mix well.

Pour egg over bread mixture and mix well.

Transfer stuffing to 9x13" baking dish.

Bake until golden brown (about 35-40 minutes).
Nutrition
Calories:
831
kcal
|
Carbohydrates:
77
g
|
Protein:
16
g
|
Fat:
52
g
|
Saturated Fat:
31
g
|
Cholesterol:
149
mg
|
Sodium:
2416
mg
|
Potassium:
284
mg
|
Fiber:
4
g
|
Sugar:
8
g
|
Vitamin A:
1505
IU
|
Vitamin C:
6
mg
|
Calcium:
432
mg
|
Iron:
6
mg