Stuffed Bell Peppers are a simple but filling recipe packed with beef, rice, and veggies. This easy weeknight dinner screams comfort food!
A comforting weeknight dinner is as easy as whipping up a batch of delicious stuffed peppers. Follow along for a recipe that's tasty, filling, and customizable!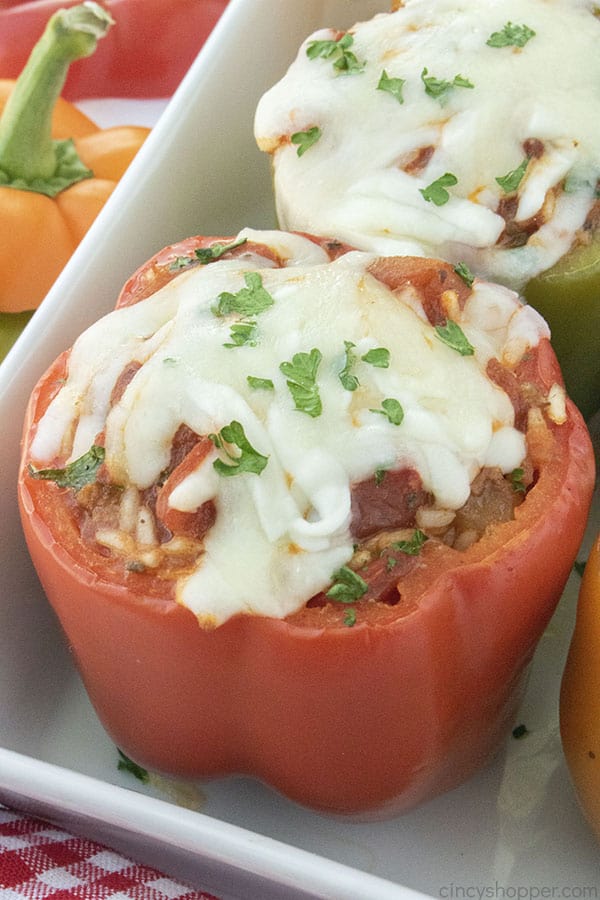 Stuffed Bell Peppers
What is it about Stuffed Peppers that makes them so great? I mean, it's just some filling in a cored-out pepper, right? While that is true, I also think that's why these delicious things are so good. It's hard to believe you can make something so tasty, so comforting, and also so simple!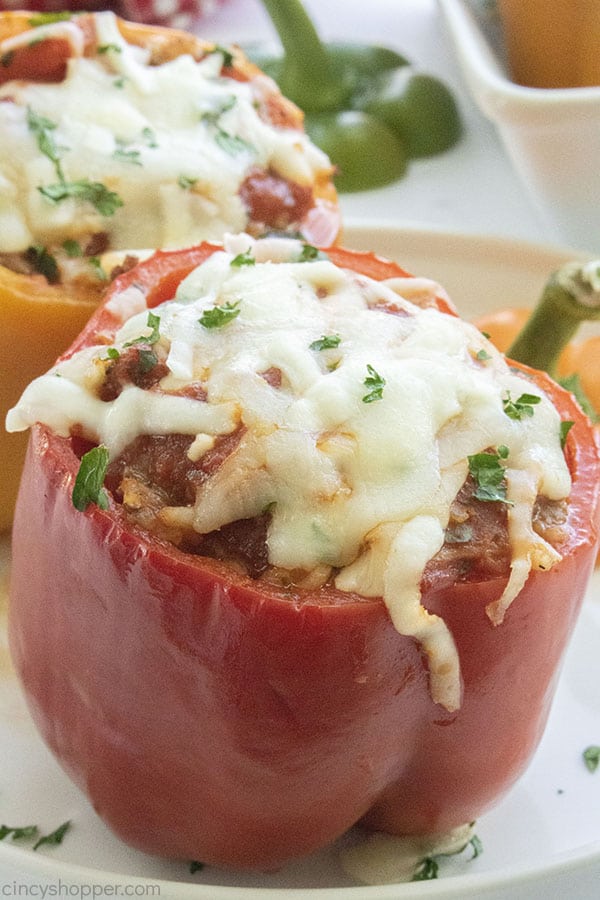 While you can throw all sorts of bells-and-whistles onto this recipe and really stuff your peppers, we try to keep things simple. Our filling is mostly beef, rice, and sauces- that's all your pepper needs to be delicious! However, we can't stop there so we also add on a decent sprinkling of cheese just to round these things off. Grab the right spices to add that last little touch of flavor, and you've got a perfect batch of stuffed peppers!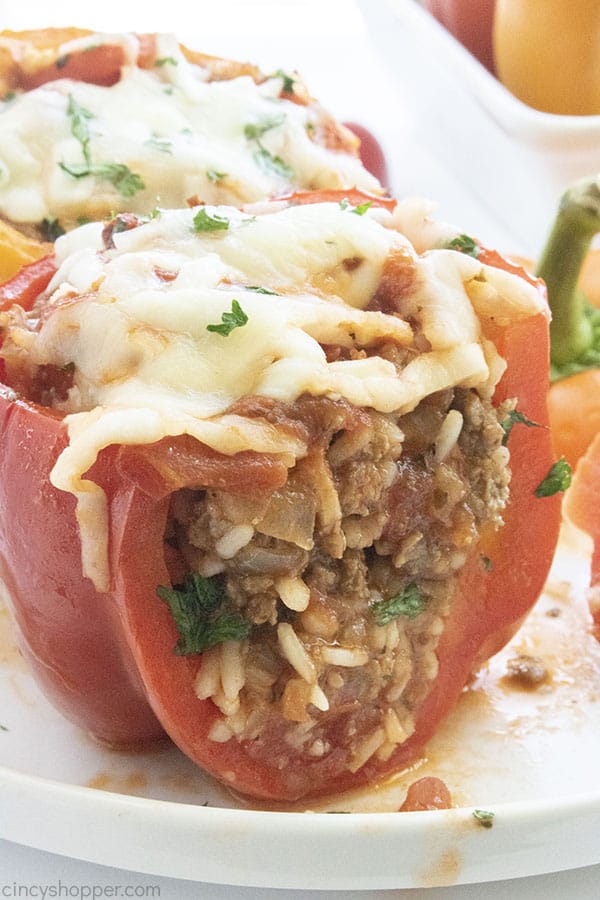 These stuffed peppers are going to be perfect for an easy weeknight dinner. They're so simple and so delicious- we don't doubt you'll be hopping back to this page again and again once you've tried them! We're certain you'll love our recipe here!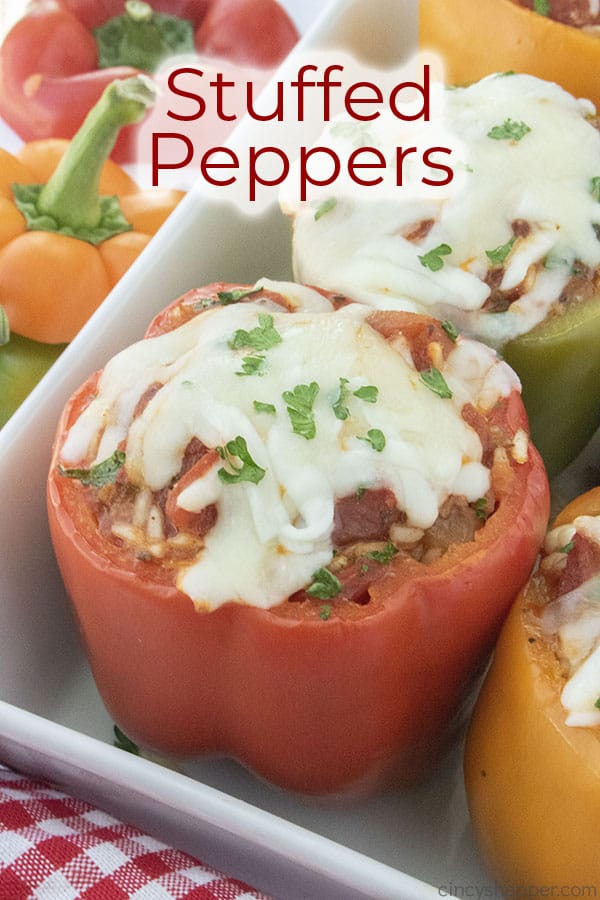 More Stuffed Pepper Recipes
Wanting all these delicious, stuffed pepper flavors without the hassle and fuss of prepping and filling

? You'll want to check out our

Slow Cooker Stuffed Pepper Soup

!

This easy Crockpot recipe has plenty of deep, roasted flavors to it and is perfect for dipping some nice, crusty bread into

. Delicious comforting soup!

For a more appetizer-sized stuffed pepper, nothing is better than our

Mini Stuffed Peppers Recipe

!

The mini peppers make for great little boats for our pepper fillings- load yours up with plenty of beef, rice, and cheese

. Great for parties!

Beef and peppers

just

scream "

Philly

" to me, so we have to recommend our

Philly Cheesesteak Stuffed Peppers

. We've got all those delicious cheesesteak ingredients loaded up into these stuffed peppers. Plenty of provolone, buttery onions, and tasty beef in our delicious pepper recipe!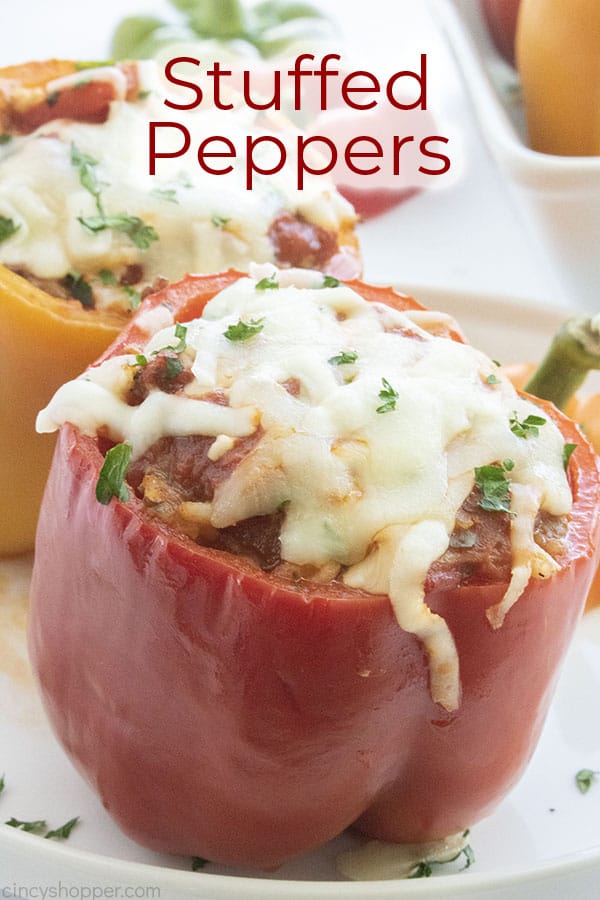 Stuffed Pepper Filling Ingredients
Bell Peppers – You'll need some peppers to put your filling into!

Rice, cooked – This recipe is a great way to use leftover rice.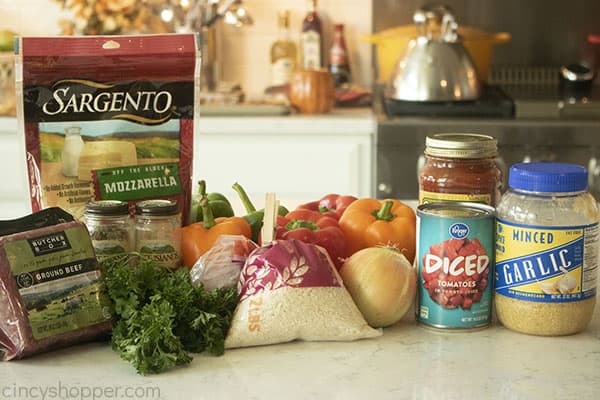 How to make our Stuffed Bell Pepper Recipe
In order to prep our peppers for stuffing and cooking, we need to steam them first. To do that, cut the tops off so you can scoop out the insides- clean out any stems and seeds. Grab a baking dish that'll hold all your peppers and fill it with less than an inch of water. Put your peppers into the dish, cut-side down, and tent with aluminum foil before tossing into a 400-degree oven.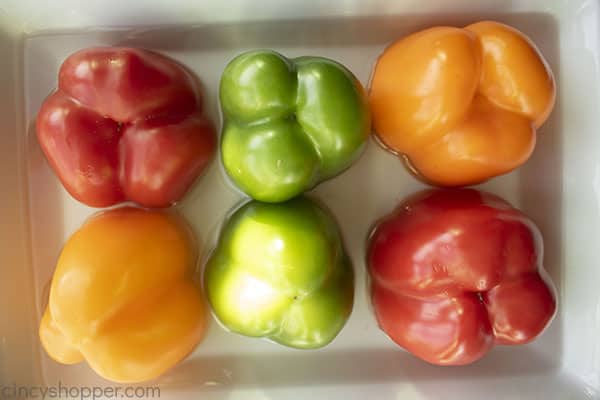 We don't want those to bake longer than 20 minutes. Next, we need to get our meat and onions cooked through. To start on that, first finely chop your onion before tossing it into a skillet with a bit of oil. Allow this to saute for a few minutes.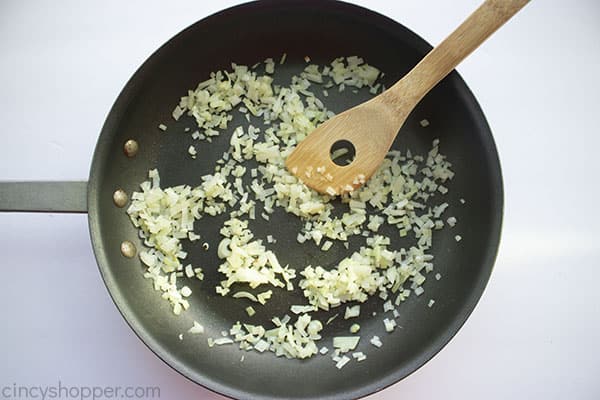 Move your onions off to the side of the pan before adding your ground beef to the pan. Start browning it and make sure to hit it with some salt and pepper. After a few minutes, when you beef has some color to it, mix those onions back in, cook for a couple of minutes, then add your garlic. Let this cook for another minute or two, until the beef's cooked through. Drain off any excess fat before moving on.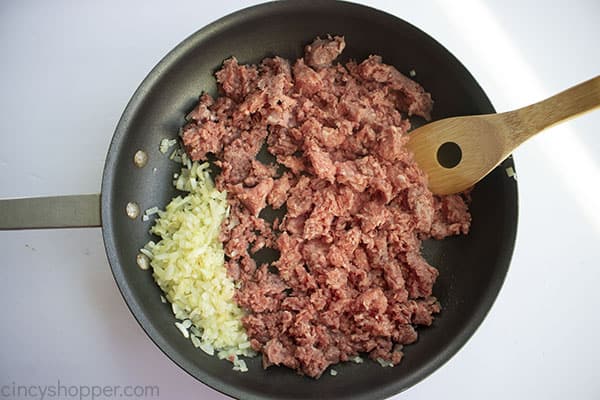 To the pan, we're now going to add rice, diced tomatoes, pasta sauce, and seasonings. Give this mixture a quick stirring- that's our filling all mixed up!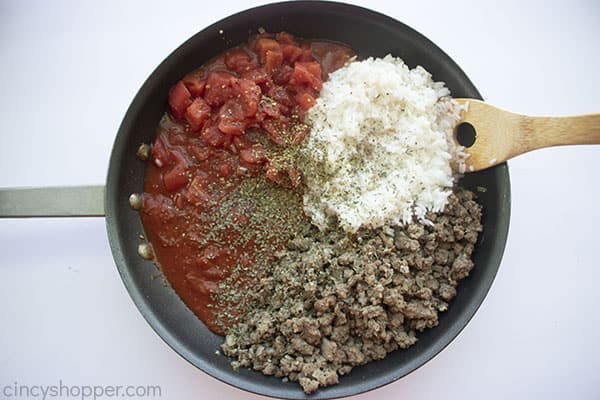 Pull your peppers from the oven and then turn the temperature down to about 350 degrees. You'll want to turn your peppers over- cut-side facing up- and start doling out your beef and rice filling. Be generous- no one likes an underfilled pepper!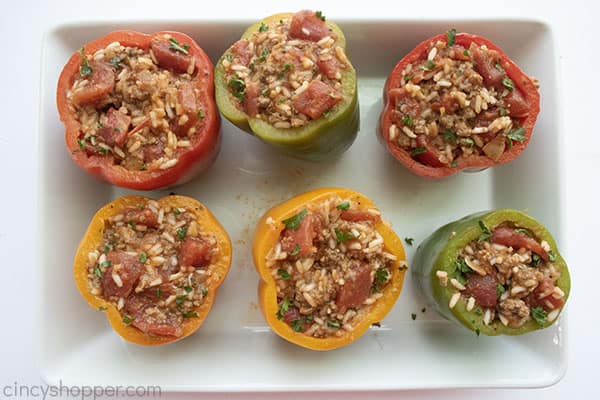 For a little chef's tip, top each pepper with another tablespoon of our pasta sauce. Recover the dish with foil and allow to bake for another 20 minutes.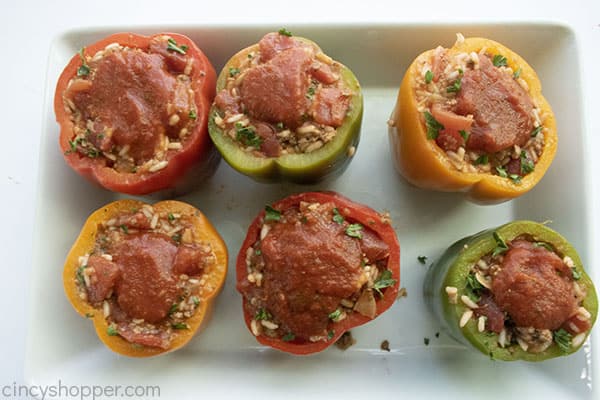 Once that 20 is through, pull your peppers again and hit them with your mozzarella cheese. Return to the oven without foil and allow to bake until the peppers are tender- 10, 15, maybe 20 minutes tops.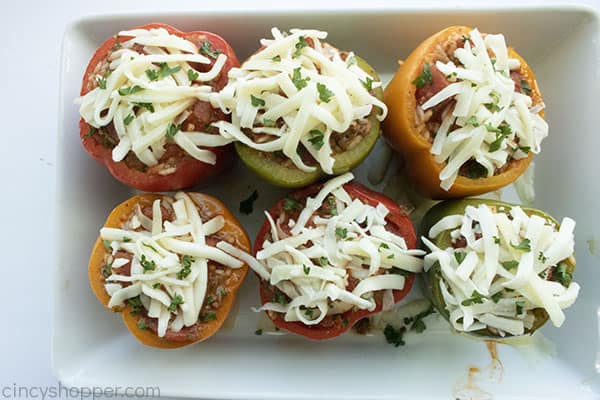 Once you've pulled them from the oven, garnish with some parsley before serving. Enjoy!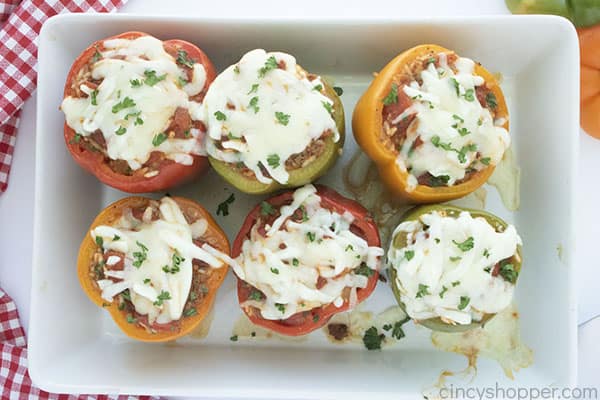 Stuffed Pepper Variants
This recipe is open to all sorts of customizations and modifications! If you want to take it in a more Mexican direction, make the ground beef in a more taco-style, and use recognizable Mexican spices and herbs. You're also welcome to use and experiment with all sorts of different cheeses: maybe try this recipe with a pepper jack! Keep folks updated on what changes you made down in the comments- we're curious to see what folks have come up with…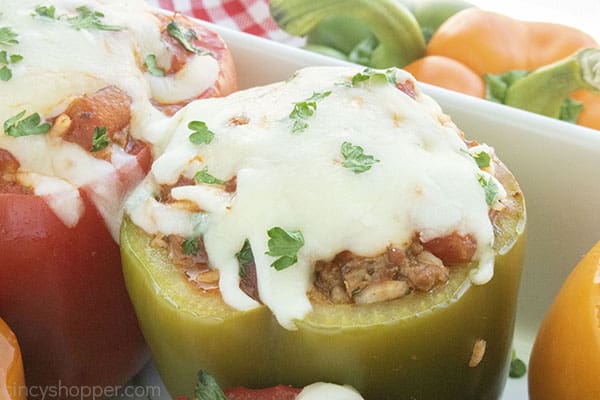 Can Stuffed Peppers be
made
ahead of time?
Yes, you can prep your peppers the day or night before you want to enjoy them!
The only change I'd recommend to the recipe is that initial steaming of the peppers- we don't want to soften them too much if we're making them ahead
. Instead of 20 minutes, cut back that first cook time to about 10 or 15 minutes. Once steamed, add your fillings and refrigerate.
When it comes time to cook, pull the peppers from the fridge and
optionally
let come up to room temperature before continuing the recipe
. You may also have to cook them longer!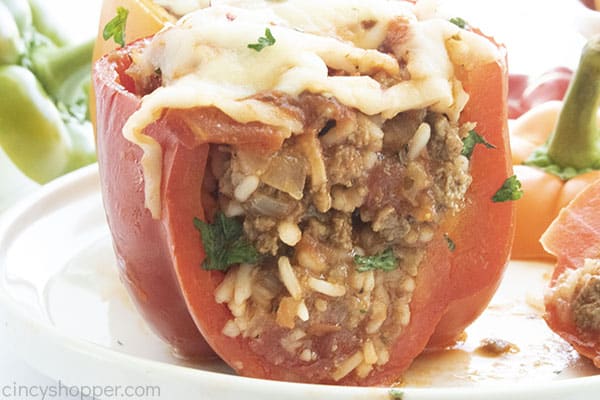 Stuffed Peppers
Stuffed Bell Peppers are a simple but filling recipe packed with beef, rice, and veggies. This easy weeknight dinner screams comfort food!
Ingredients
6

Bell Peppers

2/3

cup

uncooked Long Grain White Rice

1

tbsp

Olive Oil

1 1/4

lb

Ground Beef

1

small Onion

finely diced

1

tbsp

Minced Garlic

14.5

oz

can Diced Tomatoes

drained

3/4

cup

Pasta Sauce

3

tbsp

minced Fresh Parsley

1

tsp

Basil

1

tsp

Oregano

1

cup

Mozzarella Cheese

shredded
Instructions
Preheat oven to 400.

Cut off tops of peppers and remove seeds and ribs.

Place peppers upside down in a 9x13" baking dish.

Fill dish about 1/2" full of water.

Cover with foil and bake 20 minutes.

Cook rice according to package instructions (yield 2 cup cooked rice).

Heat olive oil in a large skillet over medium high heat.

Add onion and cook until translucent (3-4 minutes).

Add ground beef and cook until browned while breaking into crumbles.

Add garlic and cook another minute or two.

Drain off excess fat.

Add diced tomatoes. 1/2 cup pasta sauce, prepared rice. parsley,oregano and basil.

Salt and pepper to taste.

Stir in tomatoes, half of the tomato sauce (about 1/2 cup), cooked rice, parsley, Italian seasoning and season with salt and pepper to taste.

Reduce oven to 350.

Drain water from bell peppers and turn cut side up.

Fill each with beef/rice mixture.

Drizzle remaining pasta sauce on top of each.

Re-cover with foil and bake 20 minutes,

Remove foil and sprinkle with cheese and garnish with parsley.

Bake uncovered until cheese is melted.
Nutrition
Calories:
460
kcal
|
Carbohydrates:
31
g
|
Protein:
24
g
|
Fat:
26
g
|
Saturated Fat:
10
g
|
Cholesterol:
82
mg
|
Sodium:
447
mg
|
Potassium:
822
mg
|
Fiber:
4
g
|
Sugar:
9
g
|
Vitamin A:
4233
IU
|
Vitamin C:
165
mg
|
Calcium:
167
mg
|
Iron:
4
mg