Walnut Strawberry Salad is the perfect spring or summer salad! This easy salad recipe tastes great with our homemade strawberry vinaigrette.
A delicious, fruity salad recipe is a must for the warmer months, and we keep coming back to this Strawberry Walnut Salad. Give this tasty salad recipe a try- you'll love it and our homemade strawberry salad dressing! For some other salad dressing recipes, check out our Raspberry Vinaigrette and our Olive Garden Salad Dressing Recipe.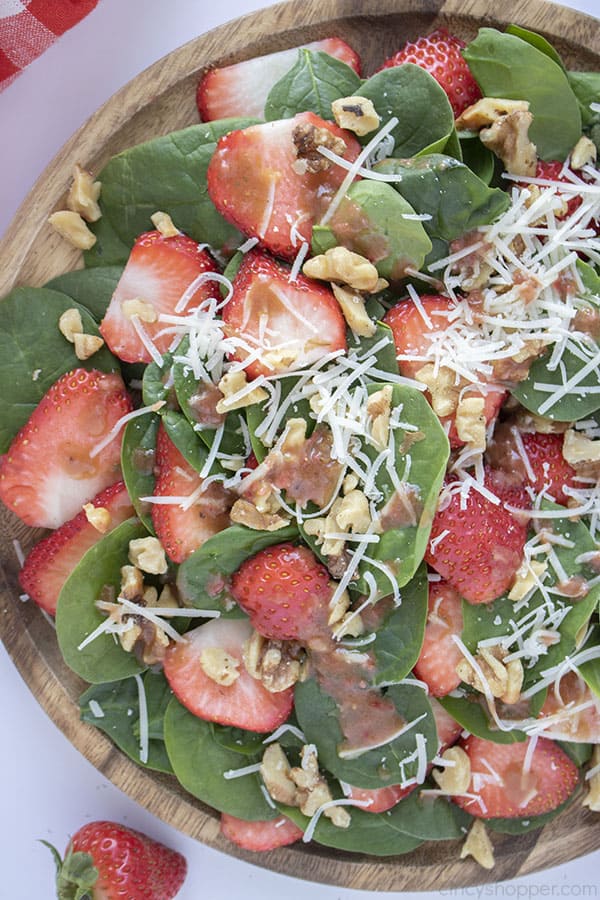 Walnut Strawberry Salad
There's always a point during the winter where I'm done with the season and eager to get to spring and summer. Winter, with all of it's stews and soups, is great and all but the warmer months mean I can get started on all sorts of grilled foods and cold desserts. It also means that I can make some of my favorite salad recipes, including this Walnut Strawberry Salad! I love this recipe so much, I'm usually making this summer salad during the winter just to give me a little taste of what's to come this summer.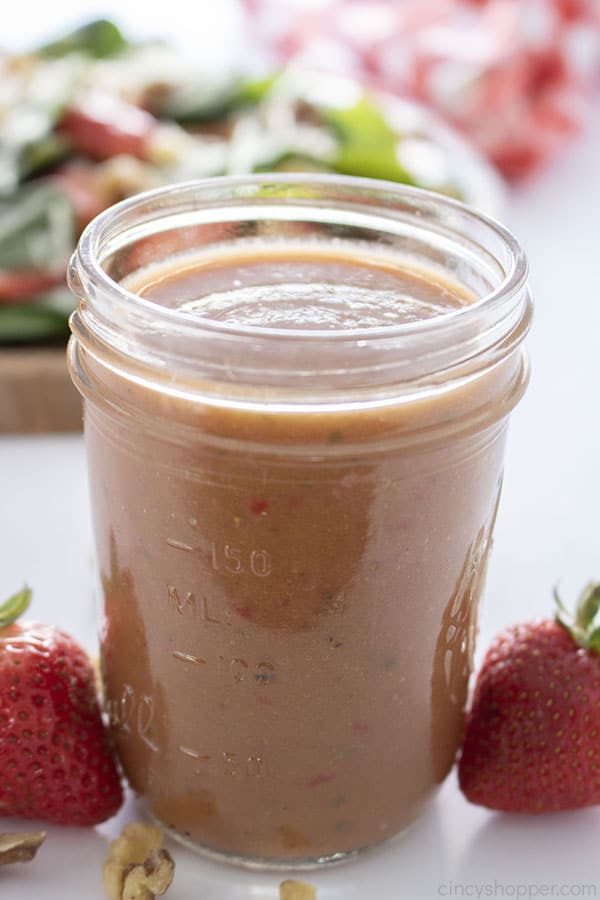 What's so special about this salad that it keeps me coming back? First off, it's so simple and easy to make with only 4 ingredients. But this easy 4 ingredient salad is perfect. Baby spinach makes a tasty green base, walnuts bring nutty flavor and crunch, strawberries are sweet and fruity bombs of flavor, and parmesan makes for a delicious salty topping. You'd be hard pressed to find a better combo of ingredients for a summer salad recipe- this little green salad with strawberries is tough to beat!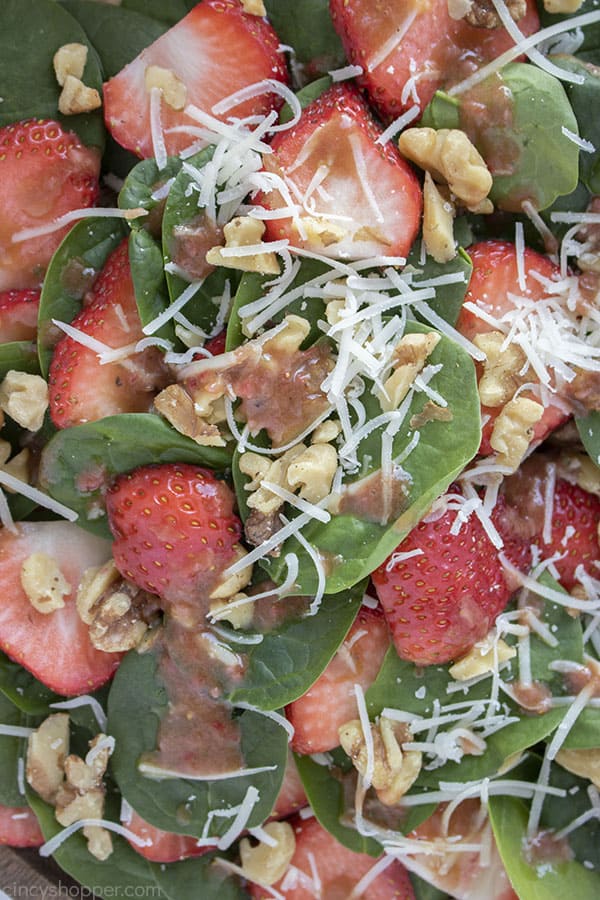 On it's own, this strawberry nut salad is great but it tastes even better with a quick strawberry vinaigrette! When it comes to sweet salad dressings, this homemade vinaigrette is my go-to and it's so easy to make in a food processor or blender. Blend it up real quick, top your salad with it, and get a little taste of summer whenever you need- even if it's the middle of January!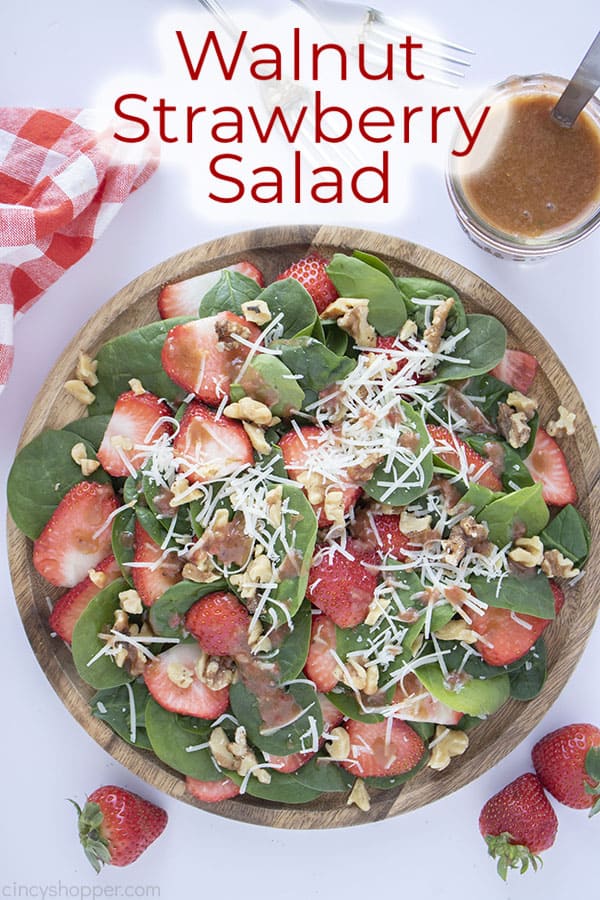 Liked this recipe? Try these other salad recipes next!
If you love keeping things easy, then you'll want to try our

Wedge Salad with Homemade Blue Cheese Dressing

. Wedge salad is so easy to make and works as a delicious starter or appetizer.

Topped with this easy blue cheese dressing, bacon, and tomatoes, it's a simple salad recipe you won't want to skip

!

When it comes to spring and summer salads, you

just

have to talk about

Caprese Salad

. This 3 ingredient salad has always been a perennial favorite across the globe and it's not hard to tell why! Easy to make, tastes delicious and fresh, and oh-so beautiful to look at. If you need a salad that's going to be a hit at your next lunch or dinner party, this

just

might be the one!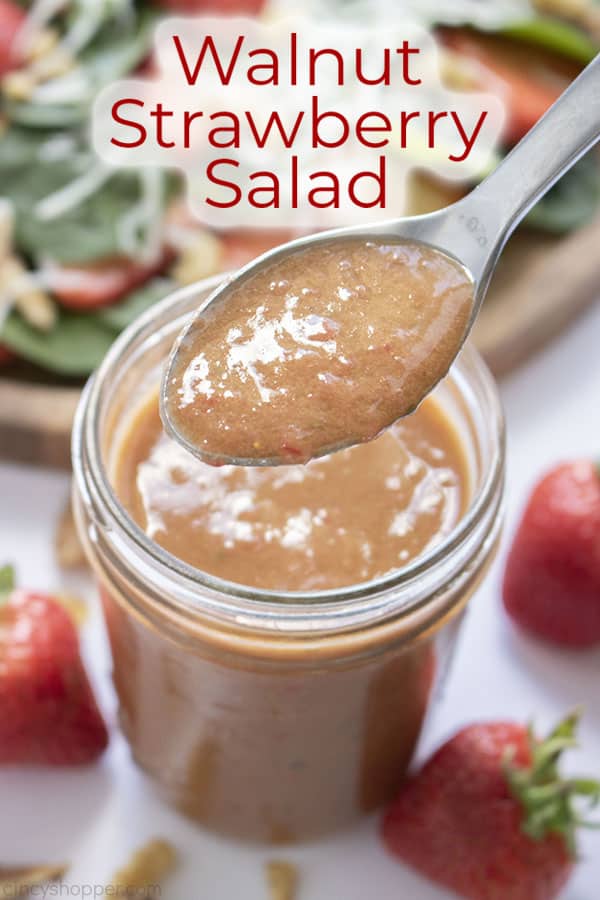 Strawberry Salad Ingredients
Strawberries

– Fresh, of course.

Walnuts – I've heard that pecan strawberry salad tastes great too! Try making this recipe with walnuts, pecans, or maybe a mix of the two.

Spinach

– Baby spinach usually tastes a little sweeter than normal spinach so use it if you have it!

Parmesan Cheese

– We prefer using shaved parmesan for this salad recipe. You might also want to try this strawberry salad with feta.
For our delicious Strawberry Vinaigrette dressing, you'll need…
Strawberries

– You can use fresh or frozen strawberries for making the vinaigrette.

Olive Oil

– Since there's so many ingredients in this dressing, I wouldn't use a premium olive oil here.

Balsamic Vinegar

Salt

Pepper

Tarragon

Sugar
If you want you, can also serve this strawberry salad with chicken for a bit of added protein! For an easy chicken recipe, go with something like our Baked Chicken Breast or just some grilled chicken.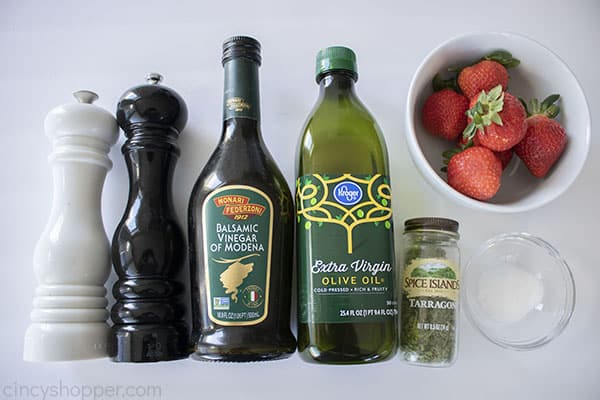 How to prepare Strawberry Walnut Salad
Making this Walnut Strawberry Salad is very easy- even the vinaigrette isn't all that difficult to make
! Here's what you need to do:
Prep your salad ingredients by toasting walnuts,

chopping strawberries

and

shredding parmesan

.

Assemble your salad

on the serving plate.

Add the vinaigrette ingredients to a food processor or blender and blend into a salad dressing

.

Top salad with vinaigrette

and enjoy.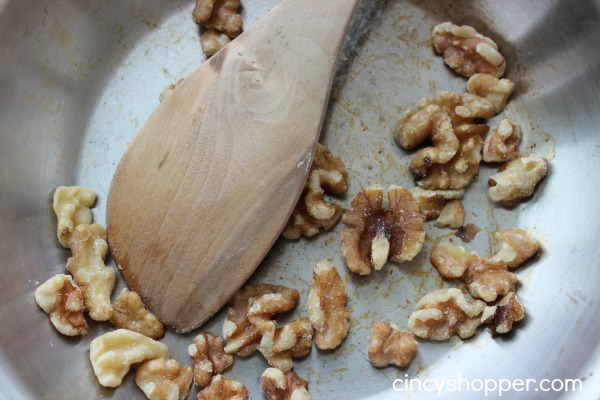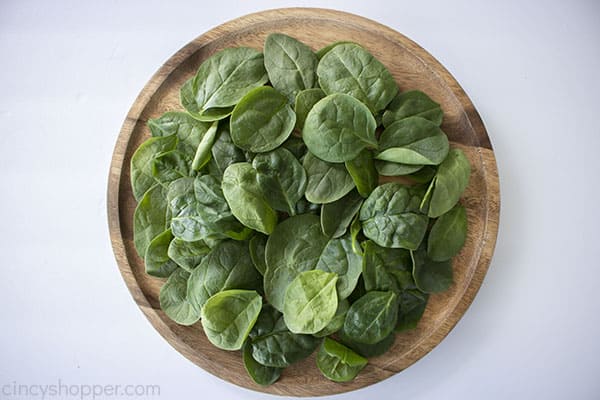 After building a little bed of spinach on your plate, you'll want to add your chopped strawberries. We like to chop ours into these flat planks.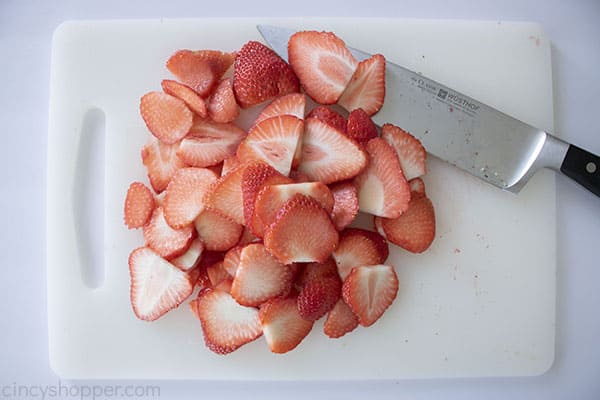 Once the berries are all chopped, add them to the salad and give it a little toss.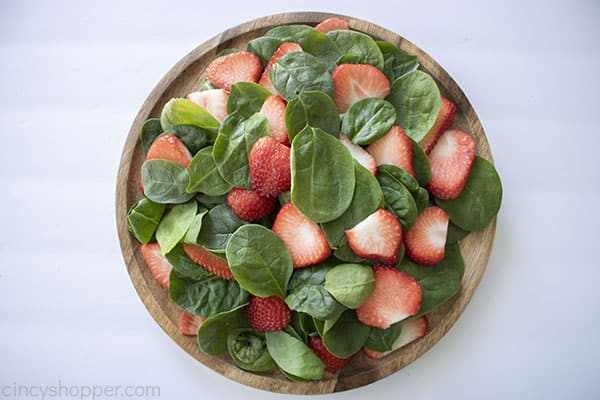 After the strawberries, we like to add our walnuts. If the walnut pieces are a bit to big, give them a quick crush in a ziploc bag to make them a bit finer.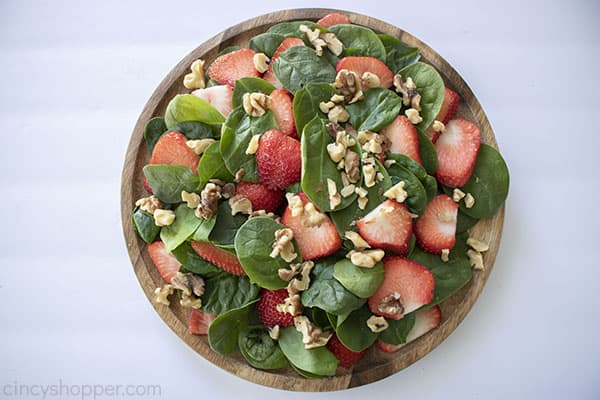 Up next, we've got parmesan. Whether your shredding, shaving, or grating it over top, this cheese makes for a wonderful topping- don't forget it!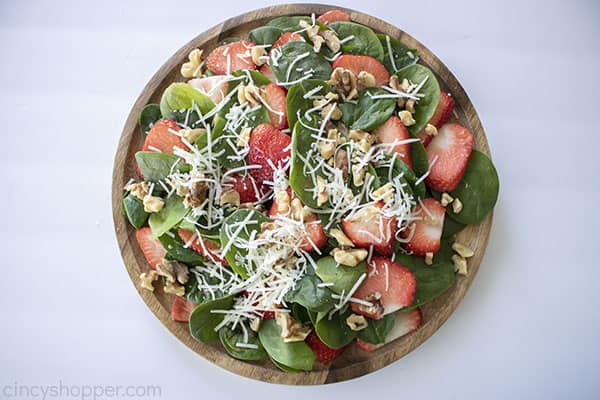 Finally, this salad goes great with some sweet dressing. We almost always make up a little homemade strawberry vinaigrette to go with it! Top with dressing to your taste, serve it up, and enjoy!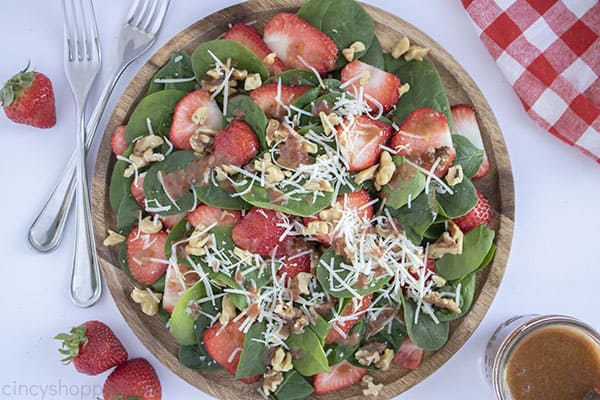 How to make Strawberry Vinaigrette
In most cases, making the strawberry vinaigrette for our Walnut Strawberry Salad is as simple as tossing everything into a blender. However, for best results, we recommend blending everything but the olive oil together first. When you blend olive oil at high speeds, it can sometimes end up tasting kind of metallic or extra-bitter. If this happens with you, blend all the other ingredients first and then blend in your olive oil at a lower speed. This should help your strawberry vinaigrette turn out great!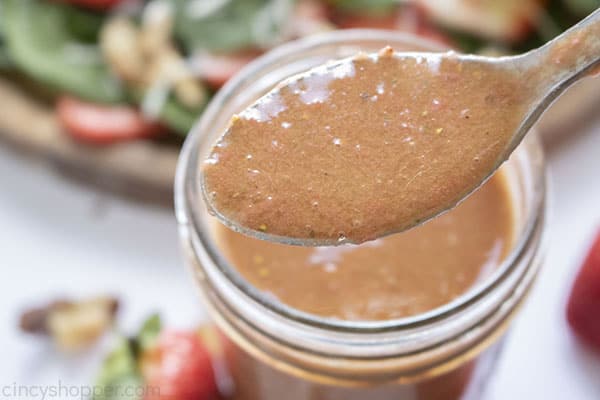 Walnut Strawberry Salad
Walnut Strawberry Salad is the perfect spring or summer salad! This easy salad recipe tastes great with our homemade strawberry vinaigrette.
Ingredients
Salad
1/2

lb

Strawberries

hulled and sliced

2

oz

Walnuts

5

oz

Fresh Baby Spinach

1 1/2

oz

Parmesan Cheese

shaved
Dressing
1/2

lb

Strawberries

hulled

3/4

cup

Olive Oil

2

tbsp

Balsamic Vinegar

1/2

tsp

Salt

1/4

tsp

Black Pepper

1/4

tsp

Tarragon

1/4

tsp

Sugar
Instructions
Toast walnuts over low heat until slightly brown.

Place Spinach on plates.

Top with strawberries and walnuts.

Add shaved Parmesan cheese on top.

Add all dressing ingredients, except olive oil, to food processor or blender and blend until smooth.

Add olive oil to blended ingredients in food processor and blend on low just until incorporated.

Drizzle dressing over salad.
Nutrition
Calories:
546
kcal
|
Carbohydrates:
14
g
|
Protein:
8
g
|
Fat:
53
g
|
Saturated Fat:
8
g
|
Polyunsaturated Fat:
11
g
|
Monounsaturated Fat:
32
g
|
Cholesterol:
7
mg
|
Sodium:
493
mg
|
Potassium:
458
mg
|
Fiber:
4
g
|
Sugar:
8
g
|
Vitamin A:
3428
IU
|
Vitamin C:
77
mg
|
Calcium:
198
mg
|
Iron:
2
mg