Ranch Grilled Chicken Legs are delicious, juicy, and cooked perfectly. This is an easy grill recipe that's great for grill-outs and barbecues!
Ranch seasoning mix makes for a great all-in-one seasoning for chicken- perfect for making these Grilled Ranch Chicken Drumsticks! Serve up with some of our Macaroni Salad and our Instant Pot Baked Beans.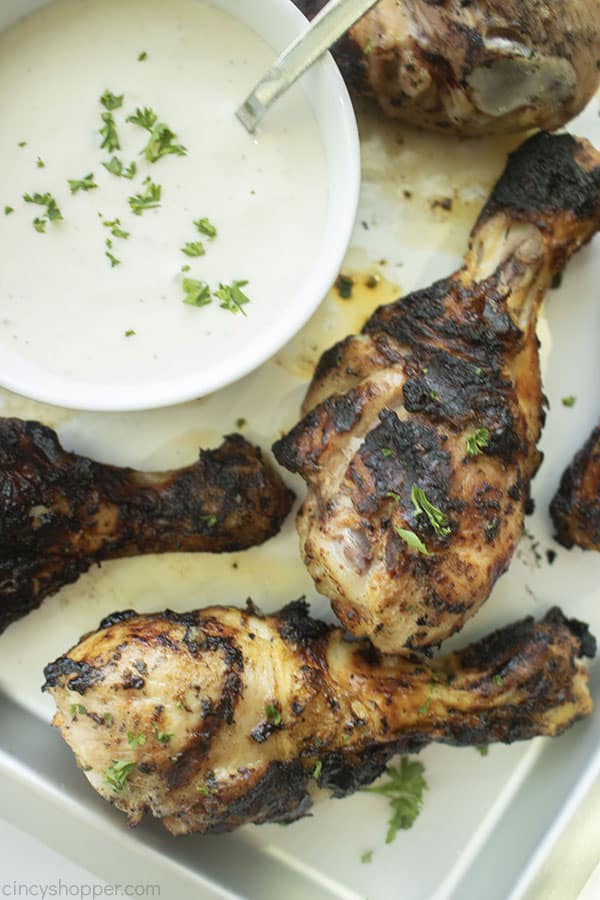 Ranch Grilled Chicken Legs
We've got another recipe for you all that's perfect for any grill-outs you've got coming up. Grilled Chicken is a barbecue staple that sits up there with burgers and hot dogs as an all-time favorite for many people. The issue with chicken, though, is that it can be quite bland if you don't season it right- not to mention how dry it can get if you cook it wrong. With today's recipe, we're going to deal with both of those problems by making some perfect Ranch Grilled Chicken Legs!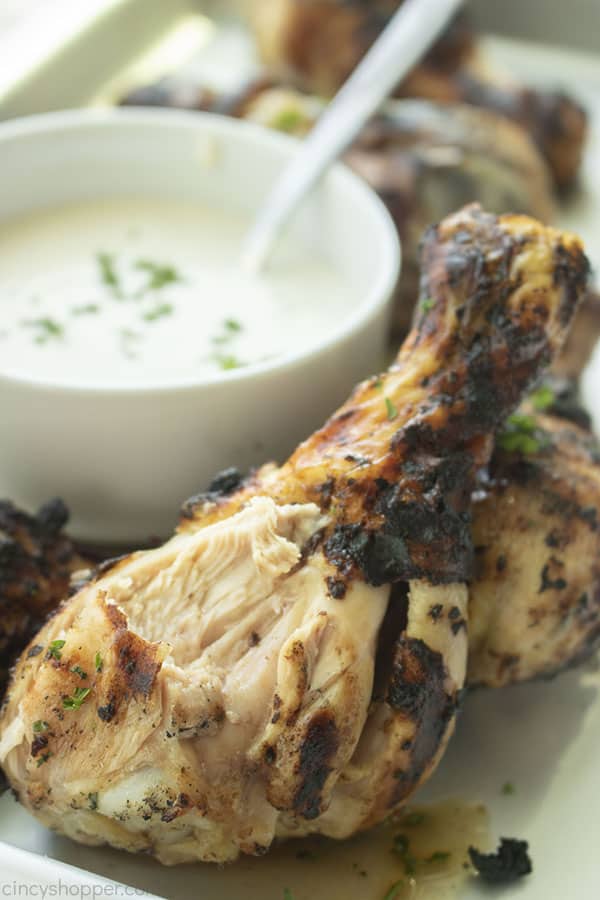 We keep things simple by using just one seasoning for our chicken: ranch seasoning mix. Usually, you'd use this stuff to make a ranch dip with some sour cream but it also makes for an easy all-in-one seasoning for chicken. Give your drumsticks a quick rub with this stuff and you're guaranteed to get some tasty chicken legs! A saltwater brine and perfect cook on the grill also guarantees some of the juiciest chicken you've ever made.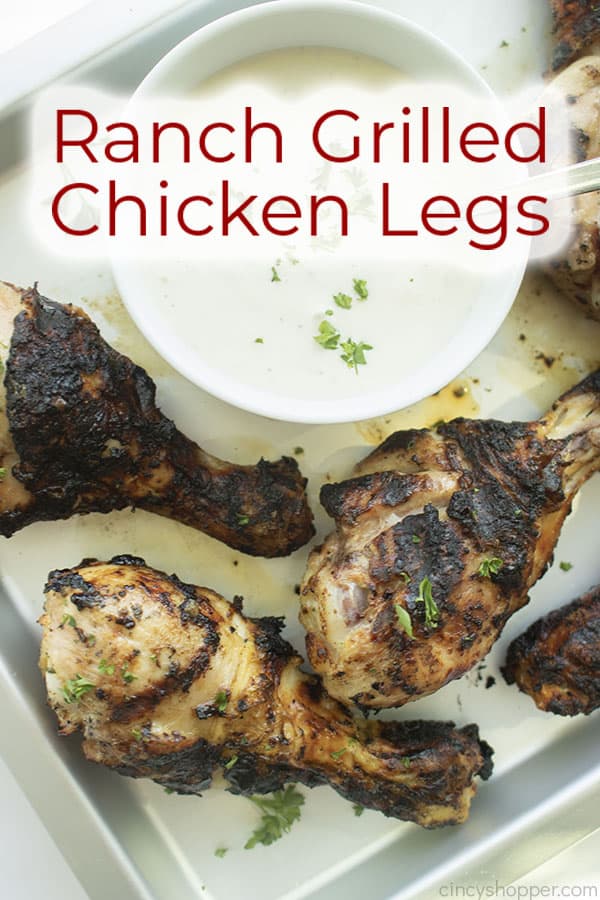 These Ranch Chicken Drumsticks are one of the easiest recipes you can make on the grill- and one of the tastiest as well! Perfect for barbecues, tail-gates, or anywhere you might be grilling out. A definite must-make for any big ranch fans!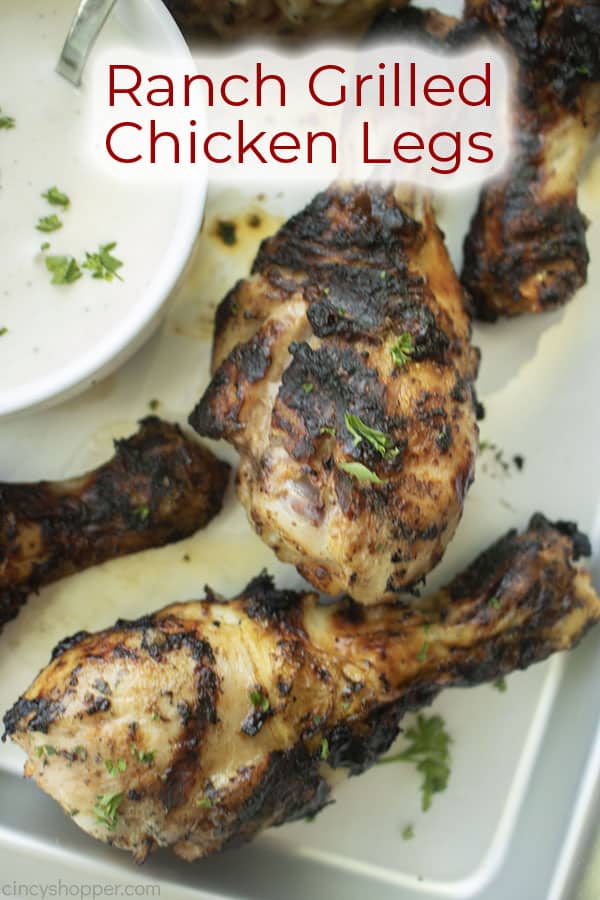 Enjoyed this recipe? Try these chicken recipes next!
Can't get enough grill food? Try some of our

Grilled Ranch Chicken

next!

Instead of seasoning with ranch seasoning mix, we flavor this chicken by marinating it in a mix of BBQ sauce, ranch dressing, and seasoning

. Cook it right on the grill, and you'll have perfect grilled chicken packed with flavor every time!

If you're looking for a good weeknight dinner recipe, our

Ranch Crusted Chicken

might be your new favorite

.

This recipe sees tenderized chicken breasts dredged in a ranch sour cream dip before

being coated

with bread crumbs

. Bake in the oven for amazing crunchy baked chicken that's so easy to make!

For all the casserole lovers out there, we've got

Chicken Bacon Ranch Casserole

for you to try.

This is another quick and simple dinner recipe that's packed with flavor- alfredo sauce, ranch dressing, and plenty of bacon

! Another recipe that might

just

be your new weeknight dinner favorite.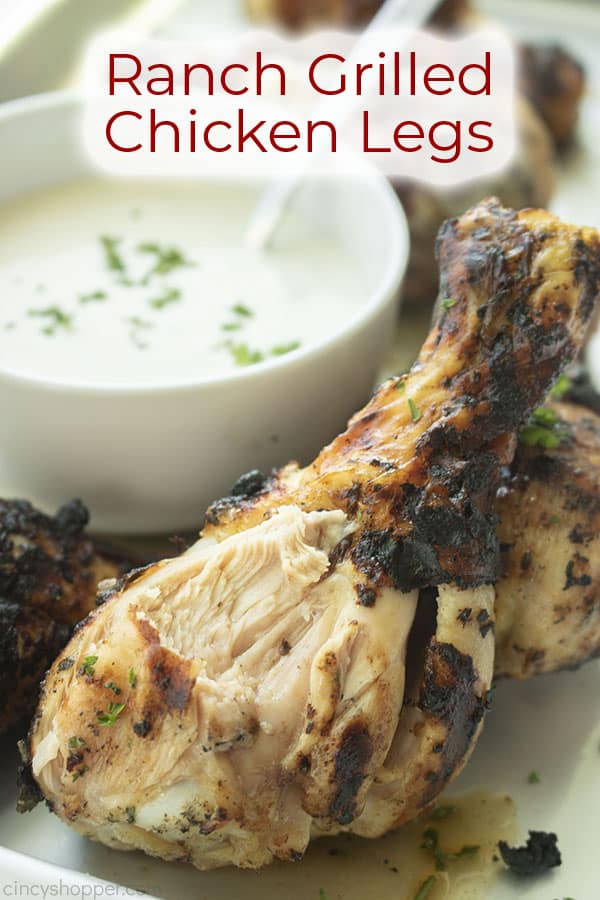 Ingredients for Ranch Chicken Drumsticks
Chicken Drumsticks

– If you want, you could try this recipe with other cuts of chicken.

Maybe

try it with thighs, wings, or even

just

chicken breasts.

Salt

– Mixed with some warm water, this will make a saltwater brine.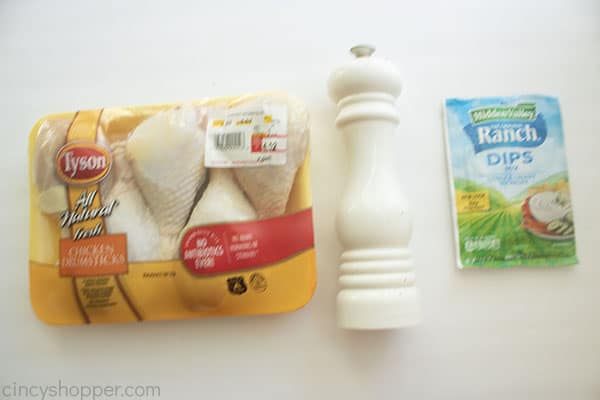 How to make Grilled Ranch Chicken Legs
Prepping and grilling these Ranch Chicken Legs is
really
very easy! Here's all you need to do:
Let your drumsticks brine for 30 minutes

before patting dry.

Rub the chicken legs with the ranch seasoning

, making sure you get generous and consistent coverage

.

Sear the chicken on both sides over high heat

before dropping the heat to low and

cooking another 15 minutes

, turning

regularly

.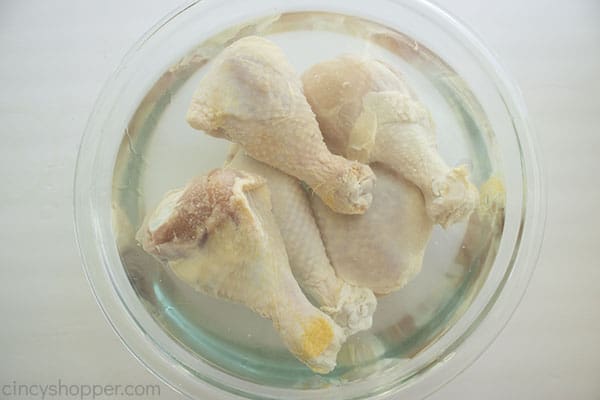 Start things off by mixing up a quick saltwater brine. Add your chicken drumsticks to this brine and let them soak for about 30 minutes. Why brine chicken legs before grilling? It's going to keep them nice and juicy- nobody likes dry grilled chicken! Once they've had a chance to soak, pull them from the brine and pat them dry.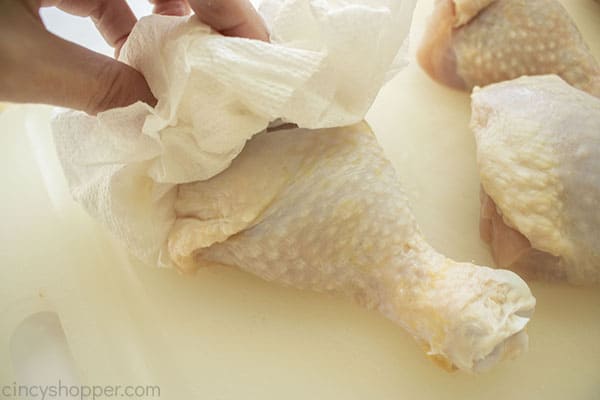 After drying the chicken off, hit each drumstick with a generous amount of ranch seasoning mix.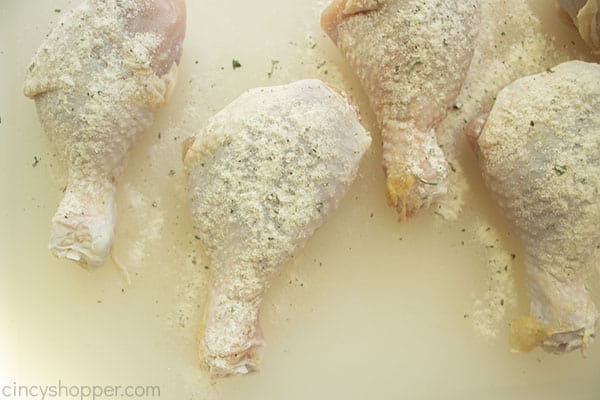 Feel free to get really involved here: rub that seasoning into the chicken to ensure plenty of flavors! Once the seasonings been added, we can get these drumsticks onto the grill.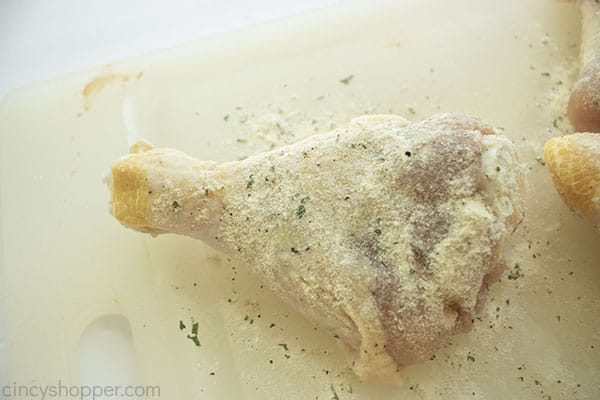 How to Grill Chicken Legs
The best way to grill chicken on the grill is to start with a sear. Let the grill preheat over high heat before tossing the chicken legs on. Those are gonna need about 4 minutes to sear on that first side.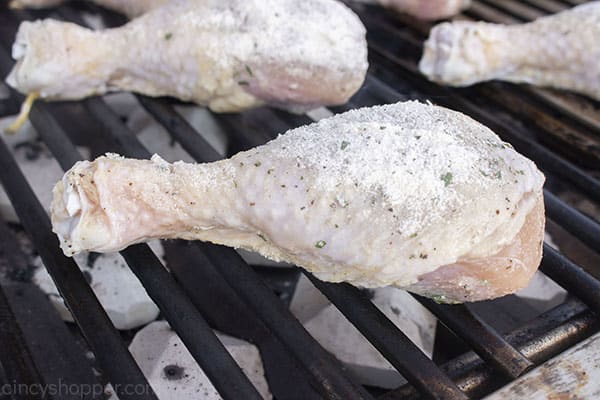 Once the first side has had a chance to sear, flip your drumsticks over and give them another 4 minutes to sear on the other side.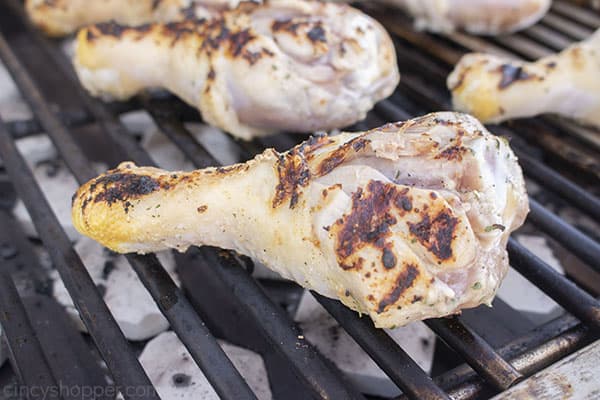 After you've got a good sear on both sides, turn the heat down to low. Your ranch chicken legs are gonna need another 15 minutes before they're safely cooked through. Make sure you turn them every 3-4 minutes or so and you should get a nice, even cook on them. After they've had time to cook, feel free to double-check them with a meat thermometer- you're aiming for 165 degrees. Once cooked, take your Ranch Chicken Legs off the grill, serve, and enjoy!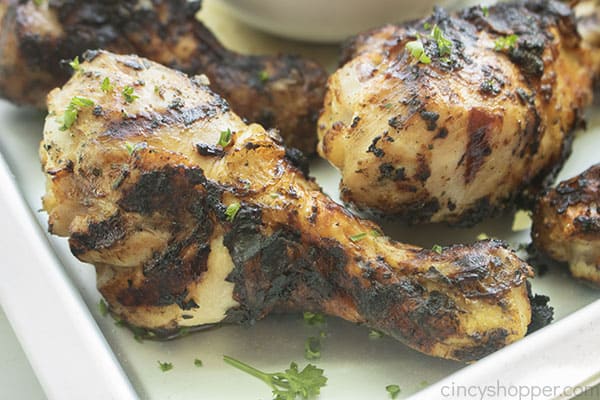 Grilling Tricks & Tips
Keep the grill lid closed when you can.

Keeping the lid closed traps all the heat inside the grill, sort of turning it into an oven. Doing this will help your chicken cook much more

evenly

.

Obviously

, keep the grill open while searing to make sure your chicken doesn't get burnt.

Consider a BBQ sauce baste.

We find that ranch and BBQ sauce pair

really

well when added to the chicken.

With that in mind, you can add a nice, sticky-sweet coating to your chicken by basting it with barbecue sauce near the end of cooking

. In the last 6-8 minutes of cooking, baste one side of the chicken and let it cook for a few minutes. Turn it over, baste the other side, and let it finish cooking.

Seriously

, cook your chicken

fully

!

While you can get away with rare steaks, you don't want to undercook chicken. All sorts of foodborne bacteria can survive in chicken even as you get up to 150 degrees. Cook your chicken to 165 degrees internal temp to stay safe.

If you see pink- especially near the bones- after cooking it, don't worry: your thermometer's working

!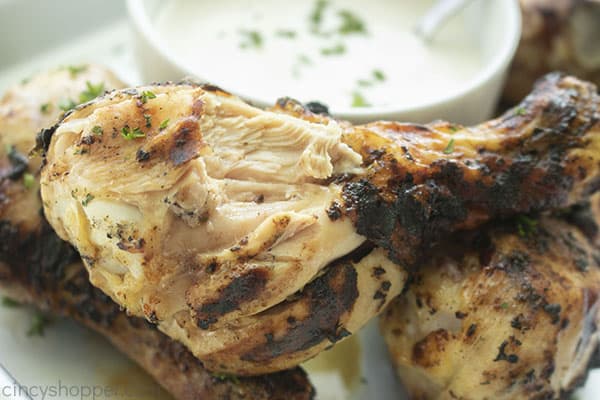 Ranch Grilled Chicken Legs
Ranch Grilled Chicken Legs are delicious, juicy, and cooked perfectly. This is an easy grill recipe that's great for grill-outs and barbecues!
Ingredients
1/4

cup

Kosher Salt

6

cup

Warm Water

5-6

Chicken Drumsticks

about 2 lbs

1

packet

Ranch Seasoning Mix

1 oz
Instructions
In a large bowl combine kosher salt and water to make brine.

Add chicken to a bowl and let sit for 30 minutes.

Remove chicken and pat dry. Set aside.

Turn the grill on high to preheat. If your grill tends to stick, grease with a little oil before starting.

Rub the seasoning mix into the drumsticks on all sides.

Place chicken on grill and sear for 4 minutes.

Turn chicken over and sear the other side for 4 minutes.

Reduce to low and cook for another 15 minutes, turning frequently.

Make sure the internal temperature is at least 165.
Notes
Be sure the internal temperature of the chicken reaches 165 degrees. You can serve with a ranch dressing for dipping if you like.
Nutrition
Calories:
340
kcal
|
Carbohydrates:
8
g
|
Protein:
33
g
|
Fat:
18
g
|
Saturated Fat:
5
g
|
Trans Fat:
1
g
|
Cholesterol:
174
mg
|
Sodium:
15429
mg
|
Potassium:
425
mg
|
Vitamin A:
87
IU
|
Calcium:
49
mg
|
Iron:
1
mg