Pumpkin Cheesecake is an easy pumpkin dessert recipe. Enjoy this easy pumpkin pie cheesecake as a delicious Thanksgiving or holiday treat!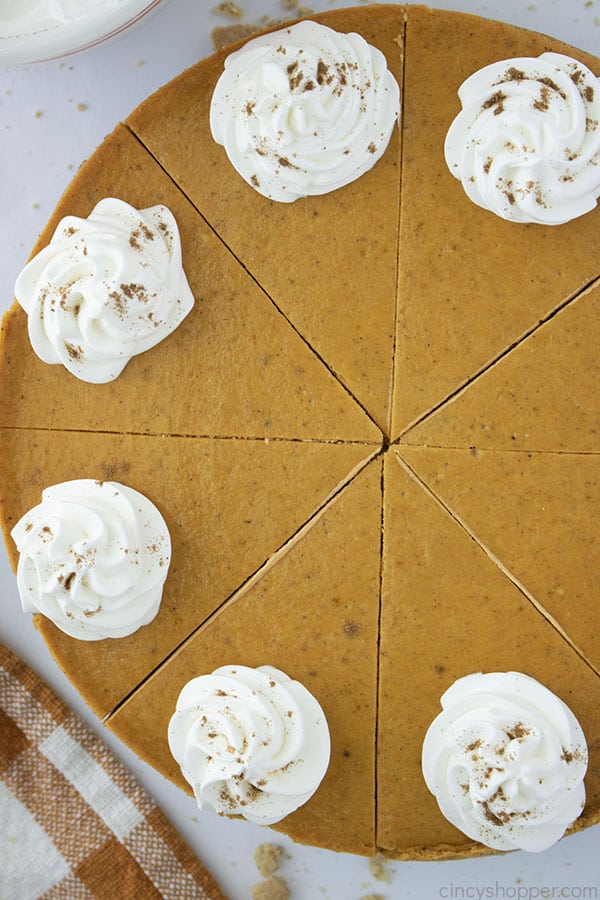 Pumpkin Cheesecake
Cheesecake has to be- without a doubt- one of the tastiest desserts to ever hit restaurant menus. We're big fans of cheesecake here on the site- we've got all sorts of recipes for no-bake, easy, and simple cheesecakes. One of our favorites- and one of the most classic cheesecake recipes you can try- is New York Style Cheesecake. New York Style can be a little daunting: for one, it's a baked cheesecake. You can't just whip up the filling and toss it into a pre-bought crust and let it sit in the fridge overnight. You've got to get down and dirty to make it! Second, it uses an intimidating-looking water bath technique that seems difficult but, really, it's not too hard!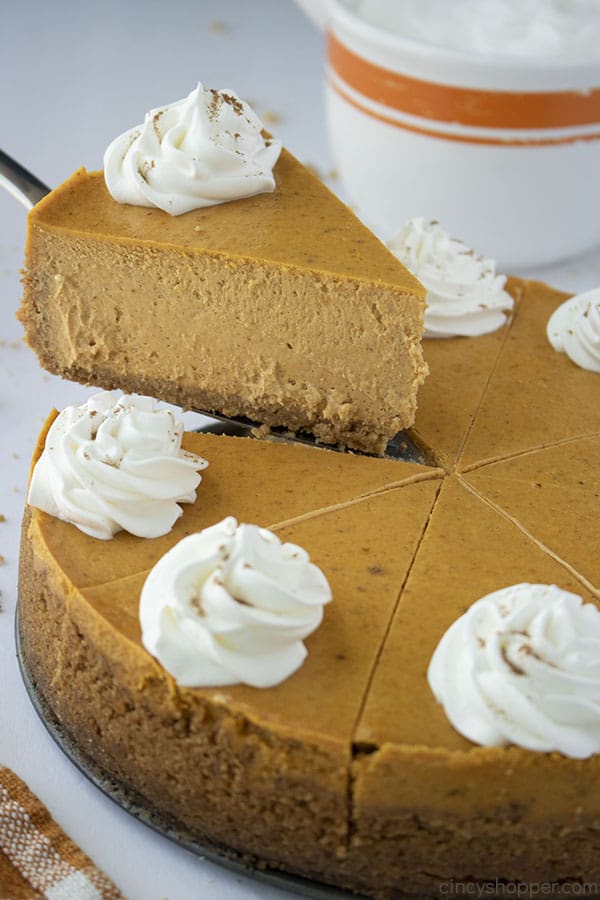 With the fall season upon us, we wanted to reimagine that New York style of cheesecake by adding some delicious pumpkin flavors to it. That's how we found this recipe: a bit of spice added to the crust and a helping of canned pumpkin to the filling makes this fall dessert delicious! Again, that water bath might be scary, but this Pumpkin Cheesecake recipe is going to be incredibly easy to make.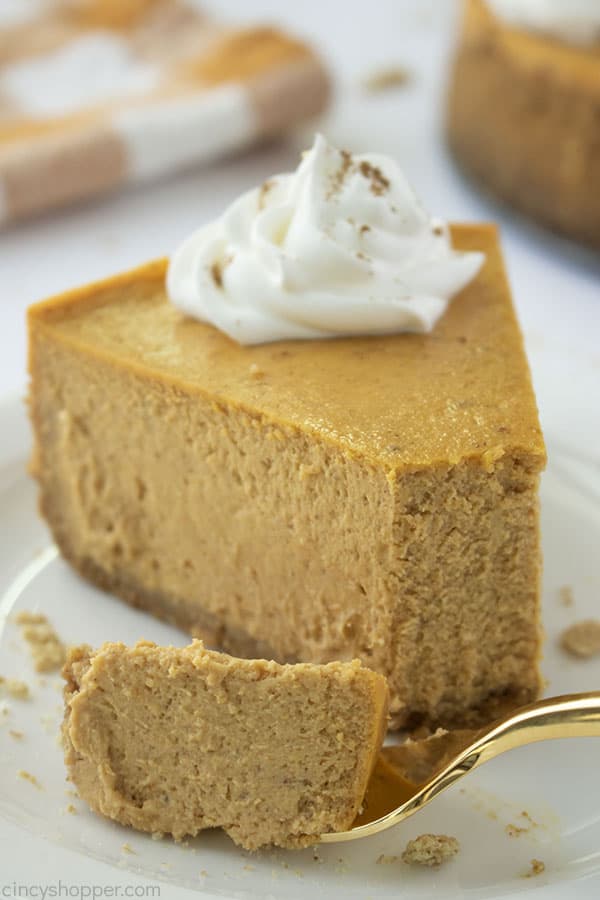 We've got plenty of pumpkin-inspired cheesecake desserts you need to check out after this one
!
If baking cheesecakes isn't your forte- or you

just

want to try something no-bake instead-

No Bake Pumpkin Cheesecake

is for you

!

This super easy fall or holiday dessert uses a short list of ingredients and sets up in the fridge in as little as 2-3 hours

!

For the perfect, mini-sized treat, you'll want to sneak a peek at our

Mini Pumpkin Swirl Cheesecakes

. These cute, muffin-sized desserts might be small but they're packed with pumpkin flavor! Perfect for parties or entertaining guests.

You might never go back to pumpkin pies after trying our

Swirled Pumpkin Cheesecake Bars

!

Perfect with a cup of coffee, packed in a lunch, or even served as a Thanksgiving dessert- you won't be able to resist these pumpkin dessert bars

.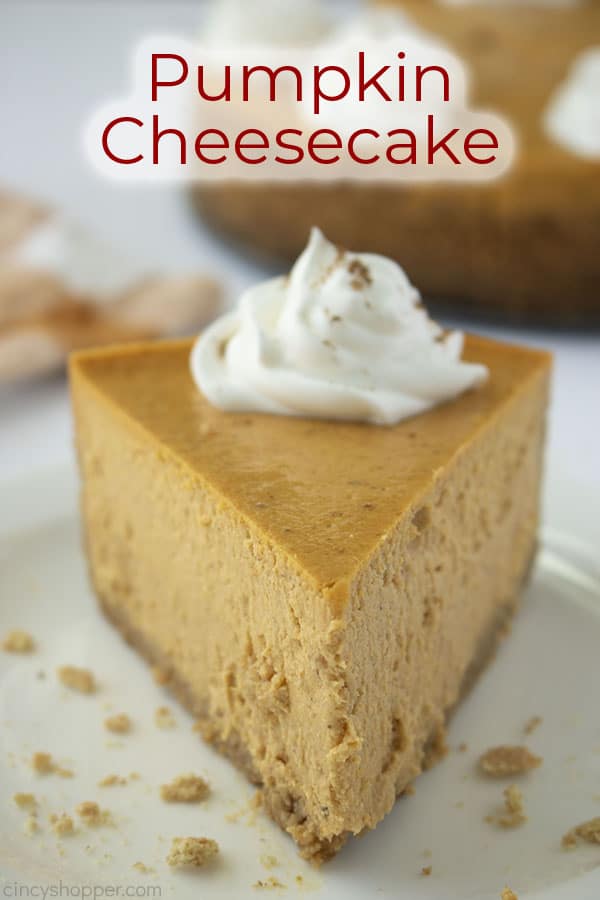 Want something that's certain to impress future dinner guests or you want to give the family something new to try? Then you have to give these pumpkin dessert recipes a shot! You can't have pumpkin pies or crisps all the time- so have a taste of these delicious cheesecake recipes. We know you'll love 'em!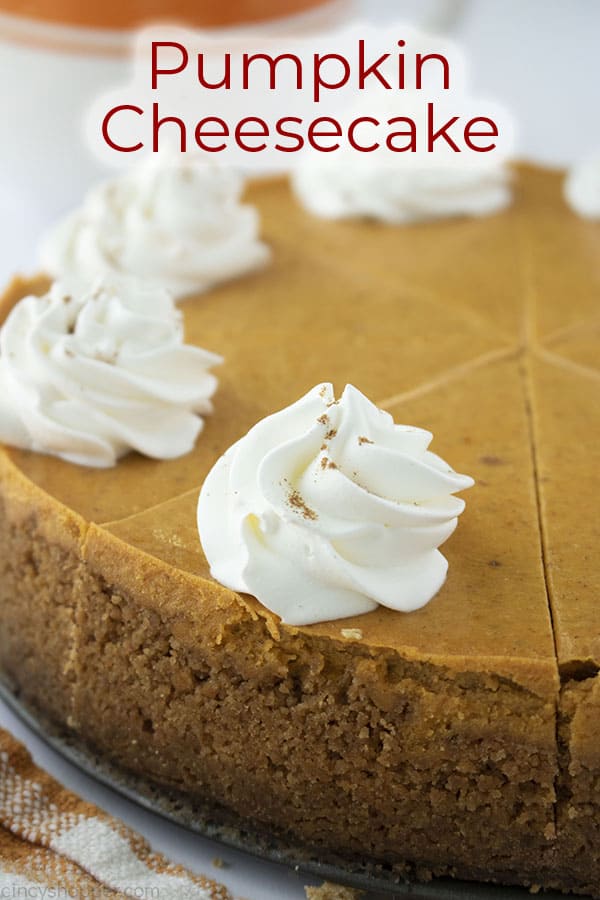 Ingredients for Pumpkin Cheese Cake
For the cheesecake crust, you'll need…
Pumpkin Pie Spice – Don't worry if you don't have any in the spice cabinet! We've got a recipe for

Homemade Pumpkin Pie Spice

here.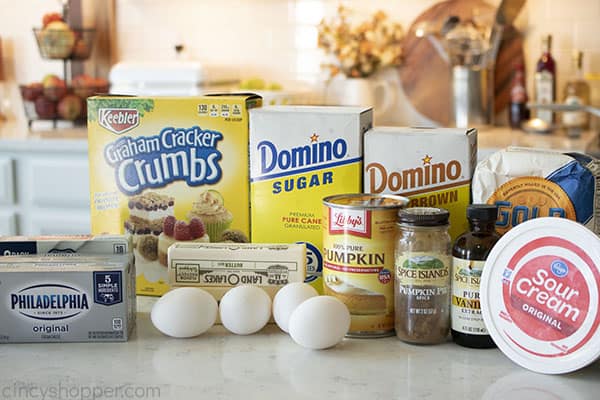 How to make Pumpkin Cheesecake Easy
To start this cheesecake recipe, we'll first want to get our crust made. For that, we're going to combine all of our crust ingredients together in a mixing bowl. Mix until it reaches the consistency of something like wet sand.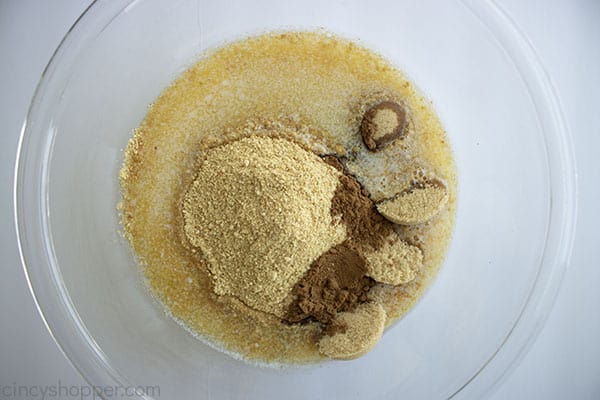 We're going to press this graham cracker crust mixture into the bottom of a 9-inch springform pan. Before pressing it in, make sure to heavily grease the bottom and sides with something like shortening. Once you've prepped your pan, press your crust mix into the bottom and slightly up the sides of the pan. Using something like a metal measuring cup helps make things even.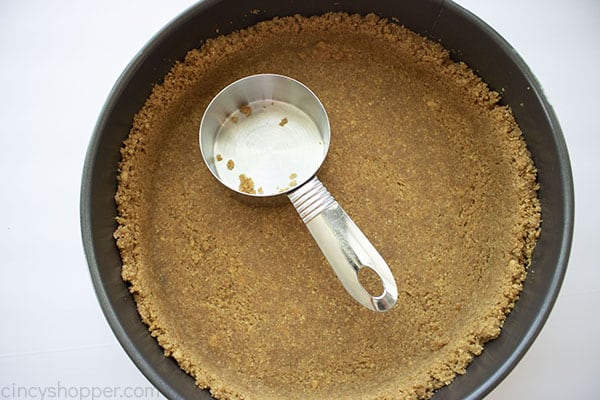 We're going to pop the crust into the freezer for 10 minutes or so to set. While that sets, we can get started on our cheesecake filling. For that, first, beat the cream cheese in a medium to large bowl. Then add sugar and some flour to a mixing bowl. Beat this all together until well combined- using something like a stand or hand mixer on low speed will help things here!
Once you've mixed those ingredients together well, we can then add our canned pumpkin, pumpkin spice, sour cream, and vanilla extract. Once again, a mixer at low speed will make quick work of mixing all these together.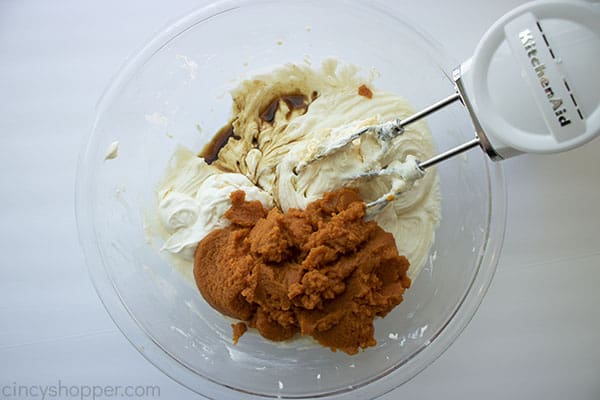 From here, we're going to start adding our eggs. Add them one at a time- scraping down the sides of the bowl between each egg. Make sure each egg is thoroughly mixed in before adding the next!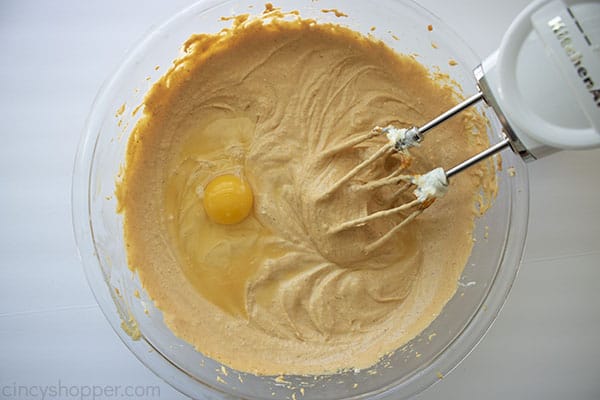 Now comes the tricky part: we're going to make this cheesecake in a hot water bath inside our oven. For that, we'll first want to take our springform pan with our crust in it from earlier. We'll want to wrap that with a few layers of aluminum foil- we went with about three- to make sure no water leaks in. Make sure that foil is running under the bottom and well up the sides of the pan- you can't be too safe here!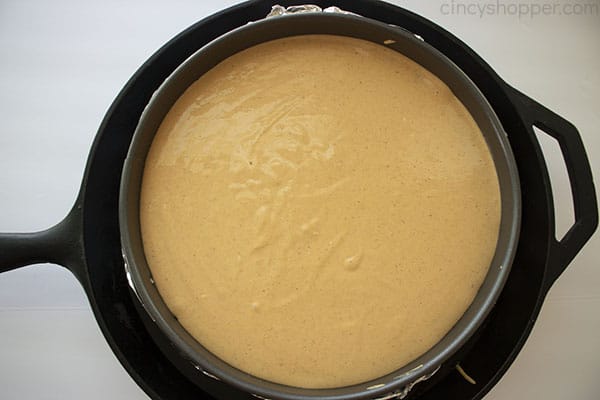 Once you've prepped your pan, place it in something like a cast-iron skillet. Fill your pan up with your cheesecake filling and then fill your skillet up with enough water so that it runs halfway up the sides of the springform pan. From here, carefully transfer your water bath and pan to a 300 degree oven and allow to bake for around an hour and 40-45 minutes.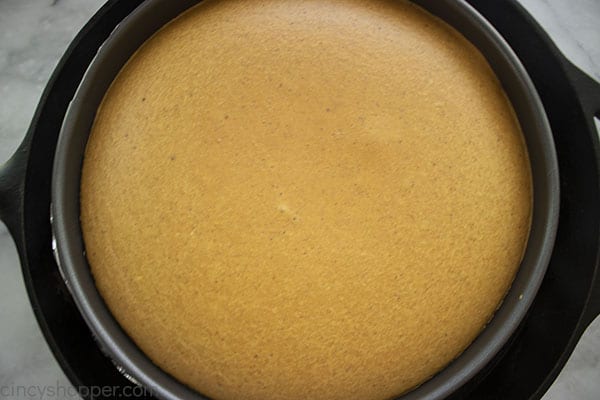 Once that cook time is over, you'll want to turn off the oven, but leave the cheesecake in there for another little bit- maybe 15-20 more minutes. Feel free to crack the oven open to check on your cheesecake- what you're looking for is a slight jiggle to it when gently shaken. Once it's reached that point, pull it from the oven and allow to cool in the springform pan on the counter.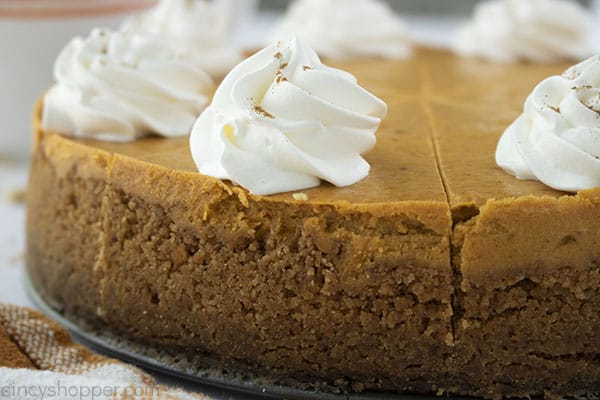 After it's cooled to room temperature on the counter, you can transfer it to the fridge to chill. We recommend letting it chill overnight, but we imagine it should be ready to serve in as little as 3 hours! Whatever the case, wait until you've finished chilling it before removing the springform pan!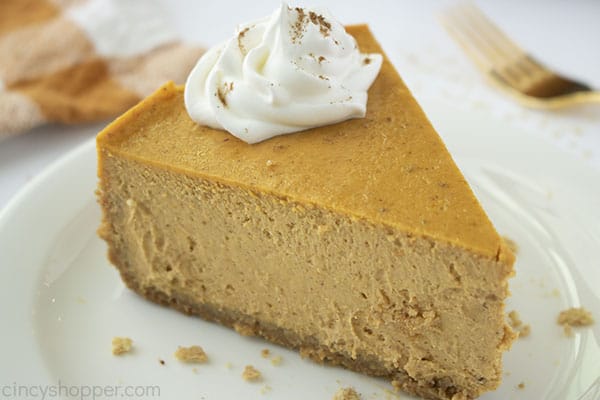 From here, all that's left is topping. We, personally, enjoy a simple presentation of a small dollop of whipped cream for each slice. Hit that cream with a little sprinkling of pie spice and it's just perfect! Cut off a slice and enjoy!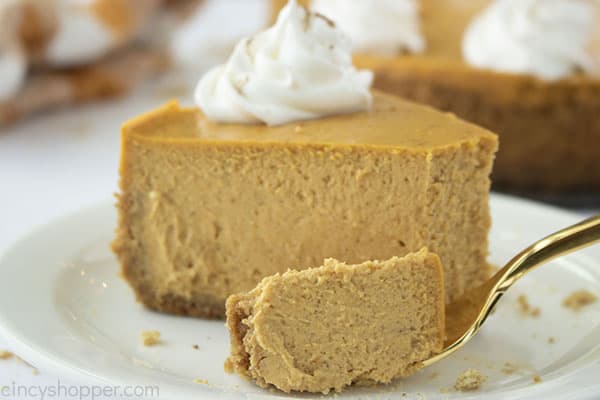 Pumpkin Cheesecake
Pumpkin Cheesecake is an easy pumpkin dessert recipe. Enjoy this easy pumpkin pie cheesecake as a delicious Thanksgiving or holiday treat!
Ingredients
CRUST
2 1/4

cup

Graham Cracker Crumbs

10

tbsp

Butter

melted

3

tbsp

Brown Sugar

1

tsp

Pumpkin Pie Spice
FILLING
24

ounces

Cream Cheese

room temperature

1

cup

Sugar

3

tbsp

Flour

15

oz

Pumpkin Puree

1/4

cup

Sour Cream

1/2

tbsp

Vanilla

2

tsp

Pumpkin Pie Spice

4

large Eggs

room temperature
Instructions
Combine crust ingredients in a mixing bowl and mix until it reaches consistency of wet sand.

Heavily grease sides and bottom of 9" springform pan.

Press crust mixture into bottom and slightly up the sides of the pan.

Place crust in the freezer for 10 minutes.

Preheat oven to 300.

Beat the cream cheese in a large bowl.

Add the sugar and flour and beat until combined.

Add pumpkin, pumpkin pie spice, sour cream and vanilla. Mix until combined.

Add eggs one at a time, make sure each in blended in and scraping down sides.

Wrap pan with crust inside in 3 layers of aluminum foil. We need to make this watertight because it will bake in a water bath.

Place pan in the center of a large cast- iron skillet or pan of similar size.

Pour filling into springform pan.

Carefully pour enough water into skillet outside of springform to cover about half way up.

Bake for 1 hour and 45 minutes.

Turn off oven and leave cheesecake in oven for 15-20 minutes.

Remove from oven and allow to cool to room temperature on counter.

Refrigerate, ideally overnight, before serving.
Nutrition
Calories:
710
kcal
|
Carbohydrates:
58
g
|
Protein:
11
g
|
Fat:
50
g
|
Saturated Fat:
28
g
|
Cholesterol:
217
mg
|
Sodium:
597
mg
|
Potassium:
315
mg
|
Fiber:
3
g
|
Sugar:
40
g
|
Vitamin A:
10022
IU
|
Vitamin C:
2
mg
|
Calcium:
148
mg
|
Iron:
3
mg