Homemade cheesecake is a rich and creamy dessert with a classic flavor. Try this New York style recipe to impress your friends and family!
Making cheesecake can seem intimidating, but it's really quite simple. Making the crust and filling is straightforward, and then you just bake and cool.
The most important part of the process is using a water bath. It may sound complicated and technical, but it just means the pan with the cake sits inside a larger pan filled with hot water.
If you're still concerned about the process, there are some tips and tricks in the recipe below to help you. Before you know it, you'll be making a delicious, creamy NY style cheesecake that looks like it came from a professional bakery.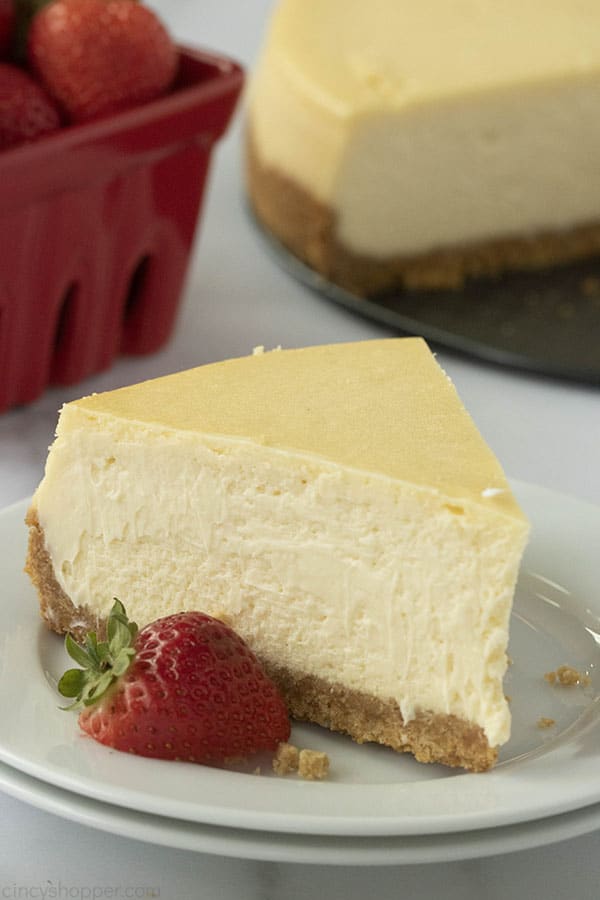 What's the difference between cheesecake and NY style cheesecake?
Most cheesecakes have a base of cream cheese and eggs. They are either baked in a water bath to prevent cracks, or refrigerated until set, also known as the no-bake method.
New York style cheesecake has a cream cheese base, plus the addition of sour cream or heavy cream. As a result, it is dense, smooth, and creamy in consistency, making it much richer than other cheesecakes.
Also, it is baked in a springform pan. This gives the cake more height and allows for a more even bake.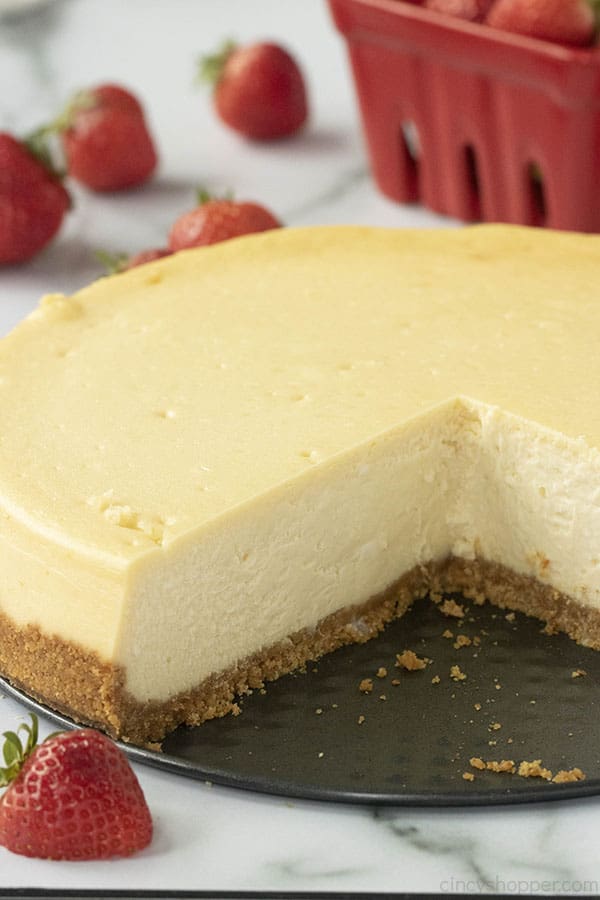 Making graham cracker crumbs
Making homemade graham cracker crust isn't necessary, but they are easy to make! You can purchase a premade crumbs if you prefer.
How to make graham cracker crumbs
If you can't find ready-made graham cracker crumbs, you can purchase a box of regular graham crackers and use them to make the crust.
You will need about 16 full sheets of graham crackers to get 2 cups of crumbs.
Break the graham cracker sheets into a food processor or high-speed blender, making sure there are no large chunks. Then, just pulse until you have fine crumbs.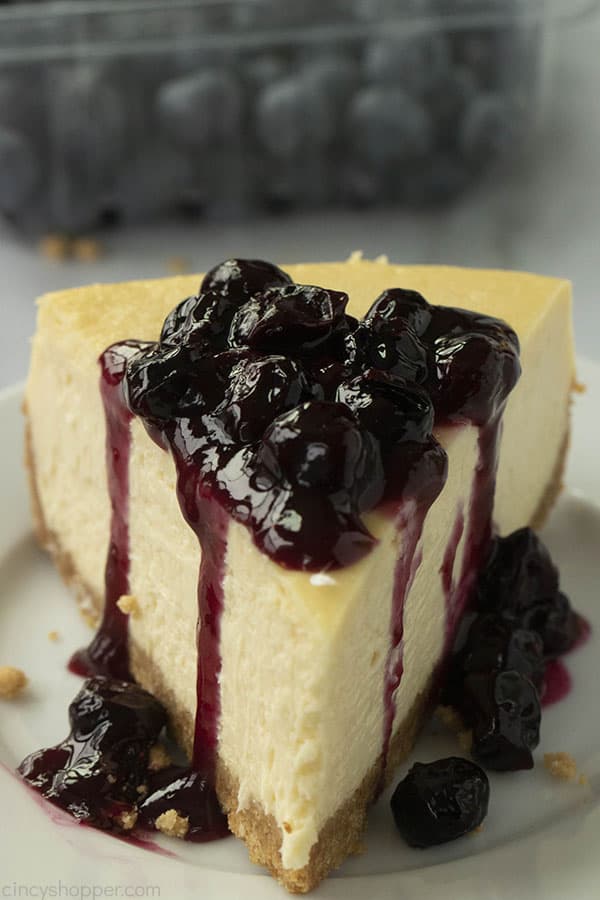 Baking notes:
Do I have to use a springform pan?
Yes, a springform pan is essential for this recipe and is one of the things that makes it an authentic NY style cheesecake.
A springform pan gives height to your cheesecake and prevents cracks. Because the outer ring is separate from the base, the sides stay smooth when you release it after cooling.
There's also no way to get a cheesecake out of a regular pan without it falling to pieces. A springform pan allows for that classic presentation without any cracks.
Is a water bath necessary for homemade cheesecake?
While it's possible to make a cheesecake without it, a water bath prevents a lot of problems with the baking process. If you skip the water bath, the cheesecake will most likely be dry, have an uneven bake, and fall in the center while cooling
Plus, the steam from the hot water also lifts the cheesecake slowly. As a result, you are less likely to have cracks on the surface.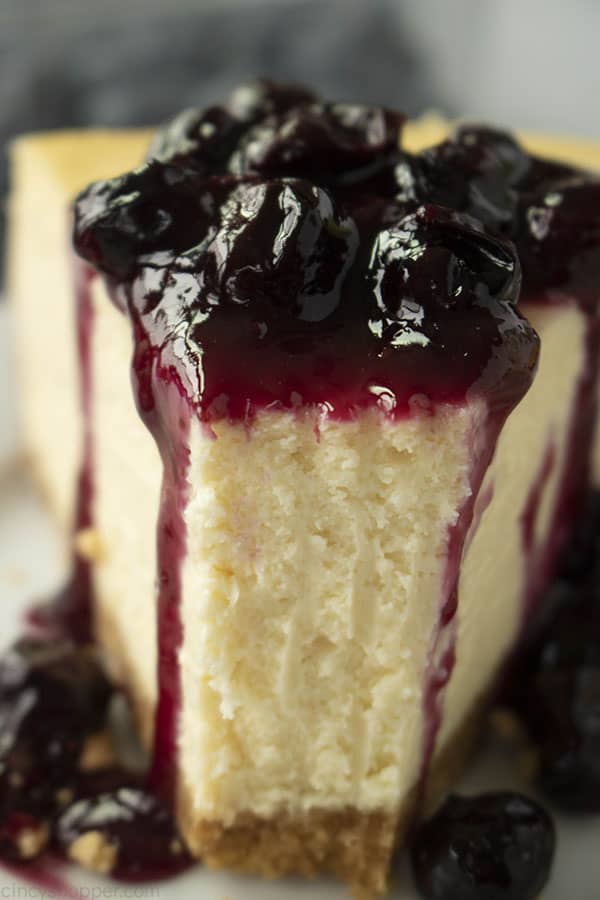 If you would prefer easy no-bake cheesecakes, here are a few of those that I have shared: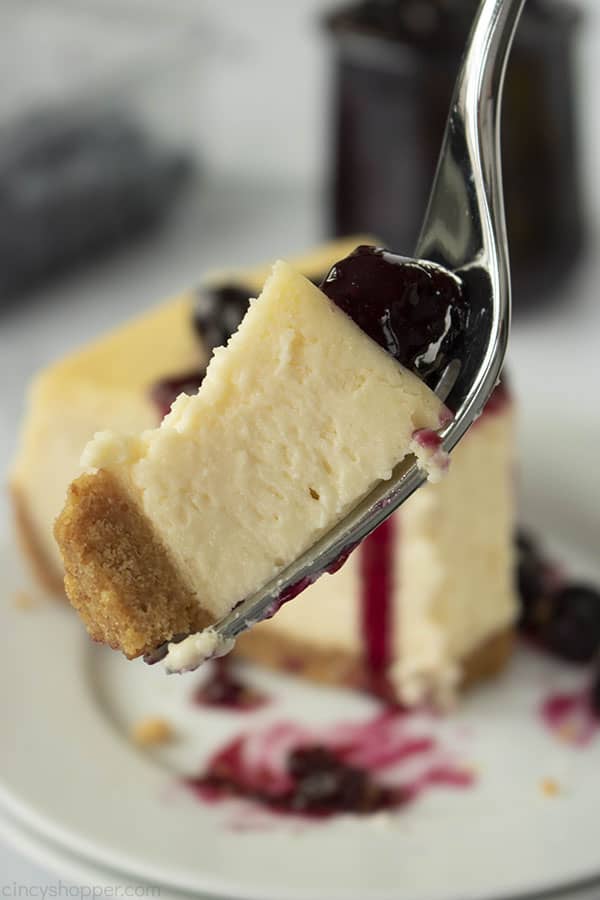 Homemade cheesecake is delicious when topped with: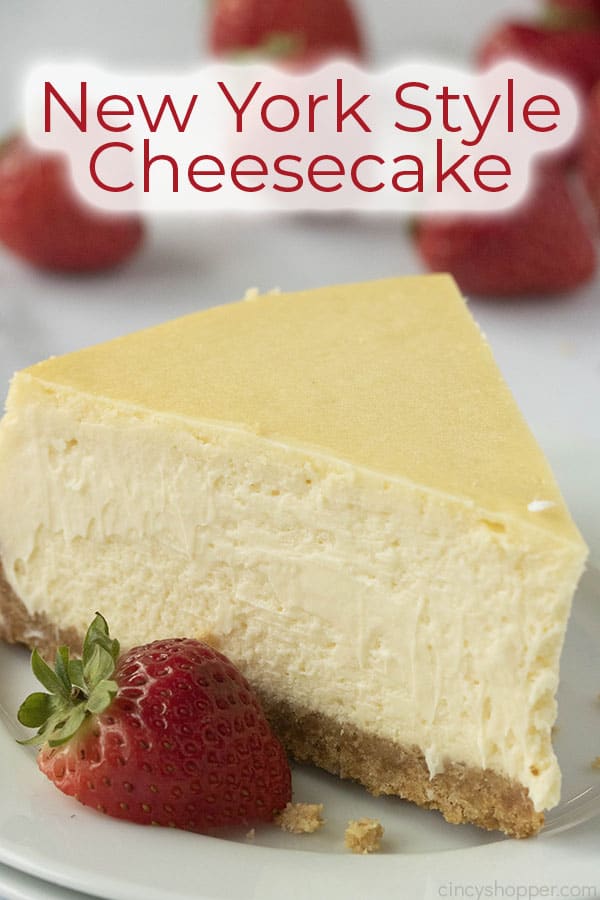 Ingredients and supplies for homemade cheesecake
Springform pan: for baking the cheesecake
Large deep pan: for the water bath
Heavy-duty aluminum foil: this keeps the water out of the springform pan.
Stand or handheld mixer: for whipping up the filling
Wire rack: for cooling the cheesecake
Graham cracker crumbs: to make the crust
Cream cheese: always use full-fat and make sure it's softened before using
Sour cream: adds richness and a slightly tangy flavor
Sugar: can't have dessert without a sweetener
Eggs: helps thicken the batter and binds it together
Vanilla: just a little bit to enhance the other flavors
Cornstarch: to thicken the batter and help it set
Melted butter: binds the graham cracker crust together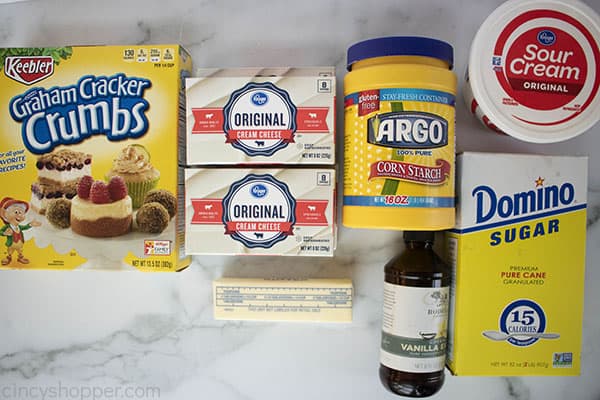 How to make New York style cheesecake:
Gather all of the ingredients you will need for this recipe. Cream cheese should be softened. Using graham cracker crumbs will save you time and ensure that your crust comes out even.
Stir together the graham cracker crumbs, melted butter, and sugar until well combined.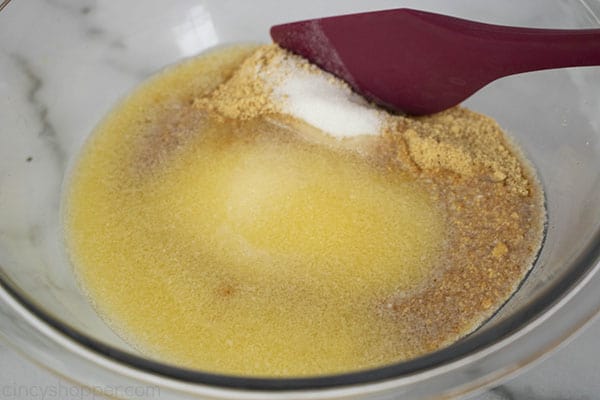 Press the crust mixture onto the bottom and up the sides of a heavily greased springform pan.
Use a measuring cup to make sure it's packed tightly. Place in the freezer while you prepare the cheesecake filling.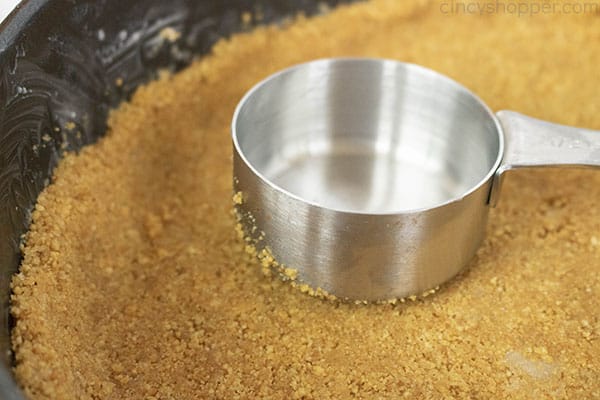 Add the cream cheese to a large bowl and beat on medium-high until fluffy.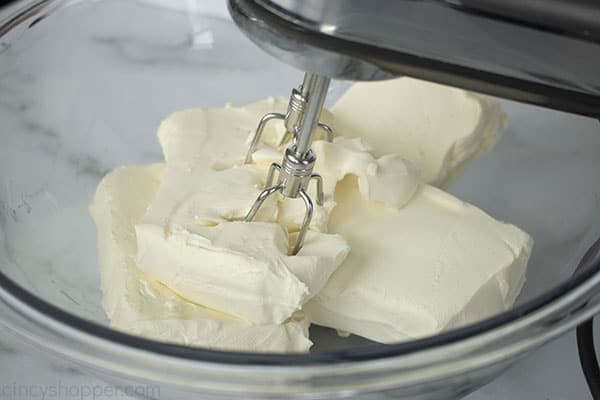 Add the remaining sugar, cornstarch, and vanilla extract. Beat until combined.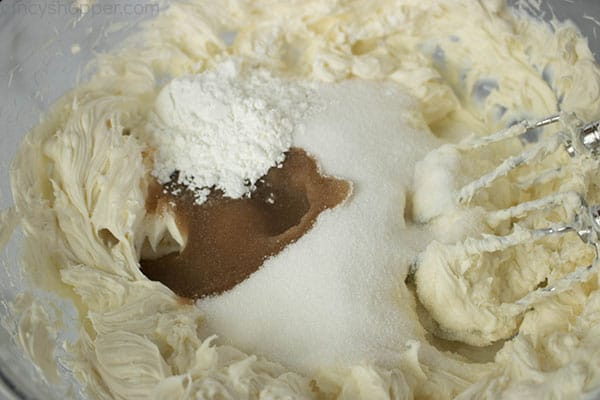 Add the eggs one at a time, beating until incorporated.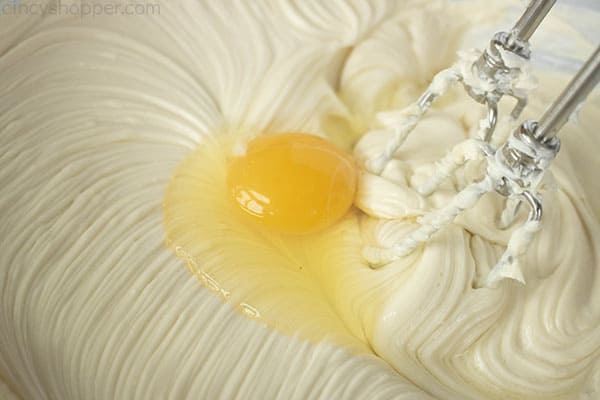 Stir the sour cream into the filling with a spatula until well blended.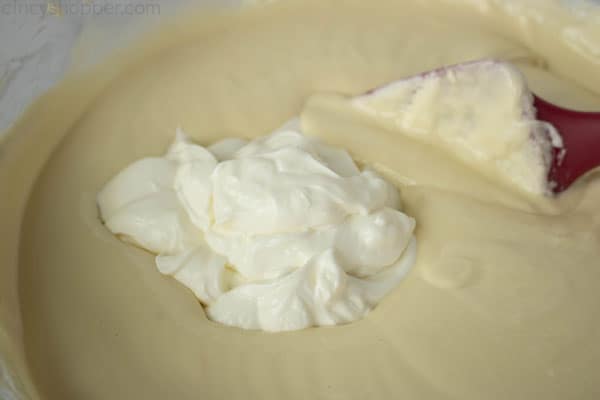 Remove the pan with the crust from the freezer and cover the outside in a single sheet of heavy-duty foil.
NOTE: Make sure there are no seams in the foil, or water from the water bath could seep into the cheesecake while baking. You may even want to use two layers of foil, just to be safe.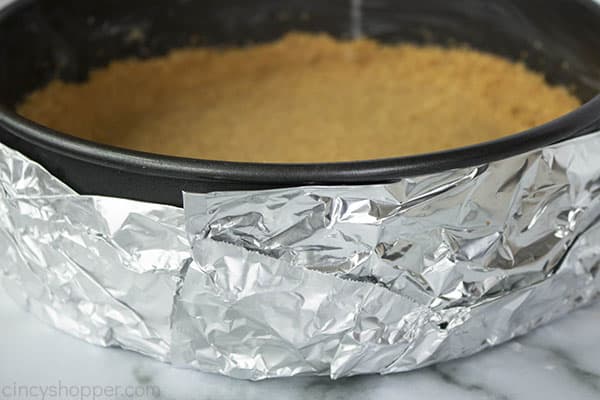 Pour the filling on top of the crust and smooth out the top.
Place the cheesecake into a large, deep pan. Add hot water to the pan until it is halfway up the side of the springform pan.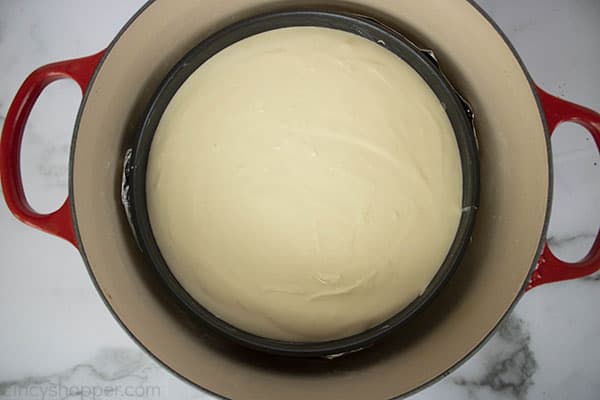 Bake at 325 degrees for about 75 minutes. Remove the springform pan from the water bath and place on a wire rack. Cool for about 15 minutes before releasing the springform.
Finish cooling on a wire rack, then refrigerate for at least 3 hours.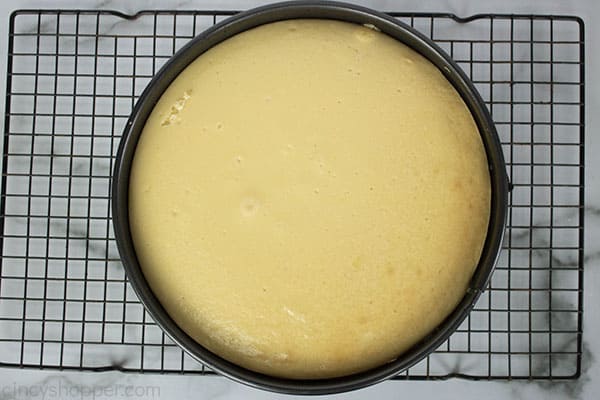 When you're ready to serve, cut the slices using a large, sharp knife.
NOTE: To get beautiful, clean slices, dip your knife into hot water before cutting each slice. Use paper toweling to clean off the knife in between each slice.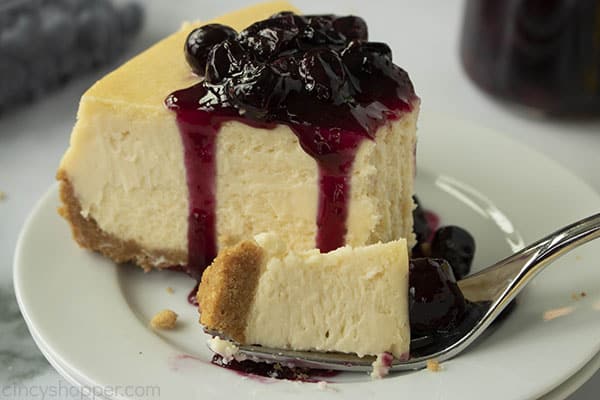 NY Style Homemade Cheesecake
Homemade cheesecake is a rich and creamy dessert with a classic flavor. Try this New York style recipe to impress your friends and family!
Ingredients
Crust
2

cup

Graham Cracker Crumbs

1/2

cup

melted Butter

3

tbsp

Sugar
Filling
32

oz

Cream Cheese

softened

1 1/4

cup

Sugar

3

tbsp

Cornstarch

1

tbsp

Vanilla

4

Eggs

1

cup

Sour Cream
Instructions
Heavily grease a springform pan.

Combine graham cracker crumbs, butter snd 3 tablespoons of sugar. Mix well.

Press mixture onto bottom and up sides of prepared pan.

Place in freezer while preparing filling.

In a large bowl, beat cream cheese with mixer until fluffy.

Add remaining sugar, cornstarch and vanilla. Beat until combined.

Add eggs one at a time, beating to incorporate.

Add sour cream and stir until blended.

Preheat oven to 325.

Pour filling into crust.

Place the cheesecake pan into a large, deep pan.

Fill the pan halfway up with hot water. This is your water bath and will help ensure your cheesecake comes out crack free.

Bake for 75 minutes, until center is nearly set.

Remove springform pan from bath and place on wire rack.

Allow to cool 15 minutes before releasing spring form.

Allow to finish cooling before refrigerating for at least 3 hours.
Nutrition
Calories:
547
kcal
|
Carbohydrates:
40
g
|
Protein:
8
g
|
Fat:
40
g
|
Saturated Fat:
22
g
|
Cholesterol:
168
mg
|
Sodium:
439
mg
|
Potassium:
176
mg
|
Fiber:
1
g
|
Sugar:
30
g
|
Vitamin A:
1450
IU
|
Vitamin C:
1
mg
|
Calcium:
117
mg
|
Iron:
1
mg