Learn how to caramelize onions using this step by step guide. You can use the onions to make French onion soup, appetizers, sandwiches, sauces, and so much more!
If you enjoy onions, this technique is one you should definitely learn. Learning how to caramelize onions isn't difficult, but it does take quite a while. The time investment is worth it though, because the flavor is amazing!
What kind of onions are best for cooking?
When you caramelize onions, you can use any type of onion. They cook for a long time over low heat, until the moisture cooks out almost entirely. As a result, the onions take on a rich but sweet flavor.
Yellow or white onions are what the majority of restaurants use when they caramelize onions for a recipe.
That being said, sweet red onions taste almost like candy when they cook down. They are fantastic to use in Tex-Mex recipes and in puff pastry appetizers. You can even caramelize pearl onions.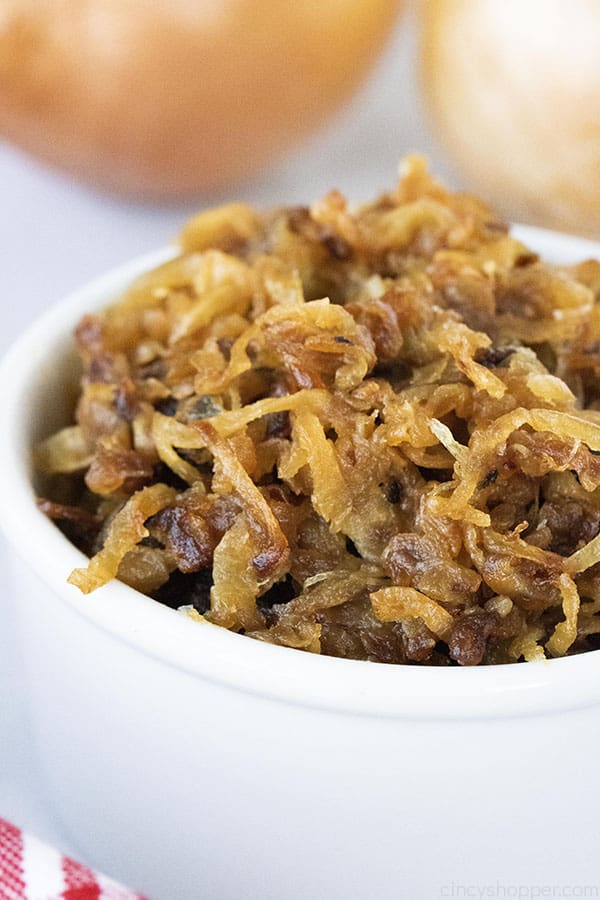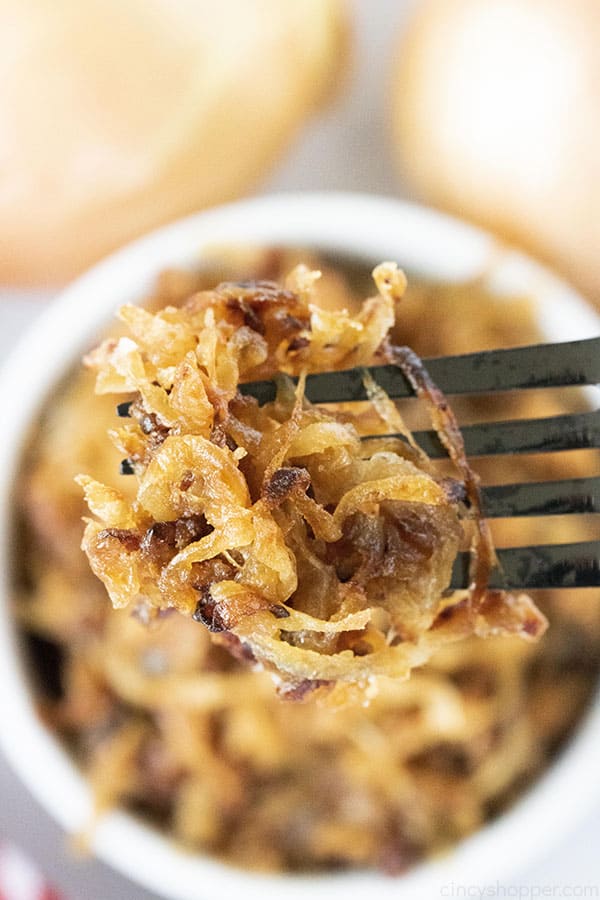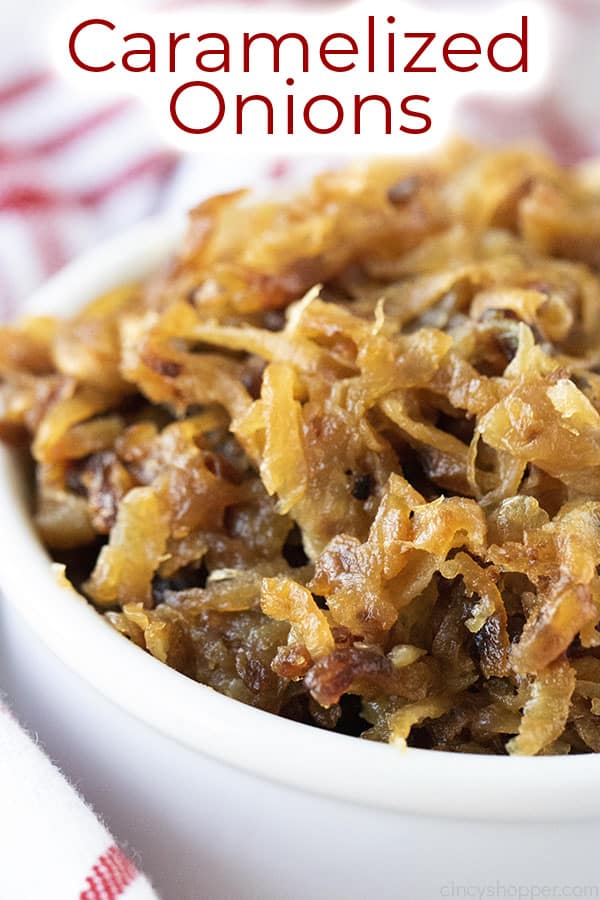 Ingredients for caramelized onions recipe
Before you can learn how to carmelize onions, you will need the following ingredients:
Good quality olive oil (extra virgin is best)
Unsalted butter
Onions
Keep in mind that the onions will reduce by about 75 percent as they cook. This means, if you start with 4 cups of sliced onions, you will end up with about 1 cup of caramelized onions.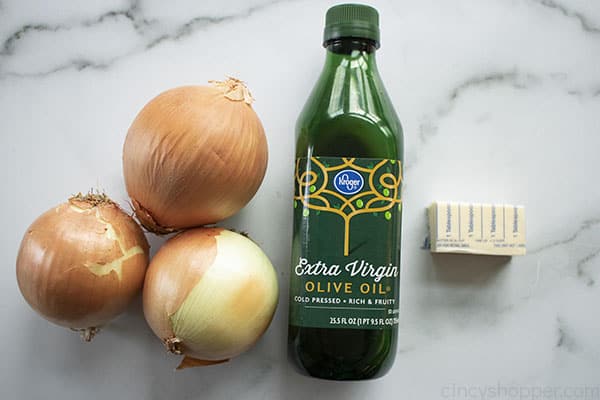 How do you cut onions for caramelizing?
So that the onions are able to cook down and caramelize, they need to be sliced very thinly. The best and easiest way to do this is by using a mandoline slicer.
Important note: For safety purposes, a food holder should always be used when you use a mandoline.
If you don't have access to a mandoline, you can use a food processor or even a very sharp chef's knife to cut the onions into very thin slices. Also, to avoid cutting yourself, it is important to take your time and work slowly. This is especially true for firm vegetables such as onions and carrots.
Use a knife to slice the onions in half, straight through the root, then remove and discard the peels.
Press the prongs of the food holder firmly into the rounded end of one half of an onion.
Placing one hand on top of the food holder, run the onion slowly up and down across the blade of the mandoline. I like to place a plate at the bottom of the mandoline to catch the onions as they fall.
If you are going to slice the onions with a knife, be sure to use a large cutting board and sharp chef's knife. Placing a damp towel underneath the cutting board will prevent it from slipping around as you work.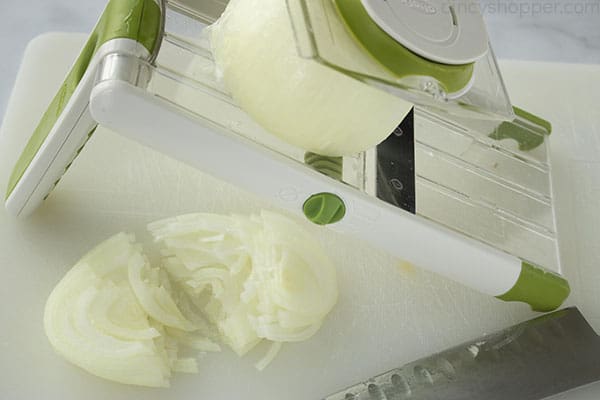 How to caramelize onions
Equipment
You just need a couple of things to make this recipe:
Heavy-bottomed skillet with a wide surface – Stainless or cast iron are best. A non-stick skillet will not work because in order to brown, the onions need to stick to the pan slightly. If you don't have a large skillet, you can use a large pot with high sides.
Large wooden spoon or a pair of cooking tongs
 Add the oil and butter to your large skillet or pot and set it over medium heat.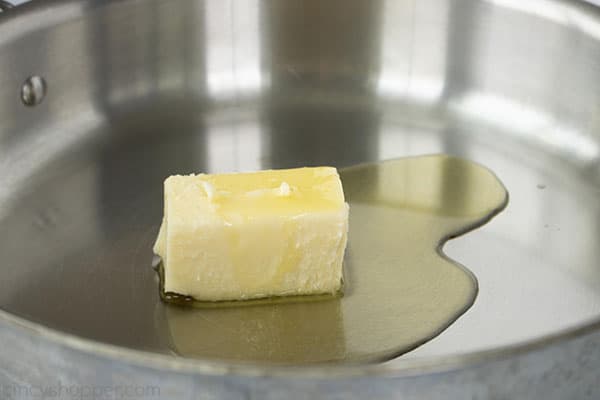 When the butter is melted and the oil is hot, add about half of the sliced onions to your pan. If you add them all at once, they will most likely pile above the top of the pan. As a result, they may be difficult to stir. Also, any onions touching the bottom of the pan may burn.
Stir them every couple of minutes until they become translucent and soft, about 4 minutes. Then, add the remaining onions to the pan. Don't worry that some are partially cooked already; everything will cook down and you will have beautiful caramelized onions soon!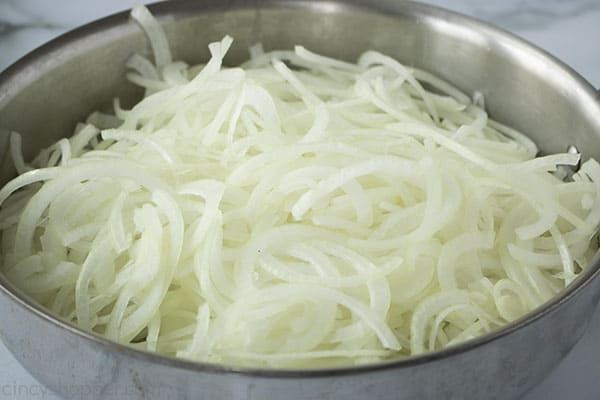 Continue to cook the onions uncovered over medium heat, stirring every few minutes to prevent any from burning. Allow the onions to cook until they are reduced in volume by about 75 percent.
Note: If the pan becomes too dry or you notice that the onions are becoming too brown, turn down the heat slightly. If desired, drizzle a tiny bit of additional oil (a teaspoon at most) into the pan. You can use water or vegetable broth, but that will cause the onions to steam rather than caramelize. As a result, they may not brown as well.
After about 15 minutes, the caramelized onions should be slightly moist, with a golden blonde color. Some people prefer them this way, especially in things like French onion soup. At this stage, the taste will be slightly sweet.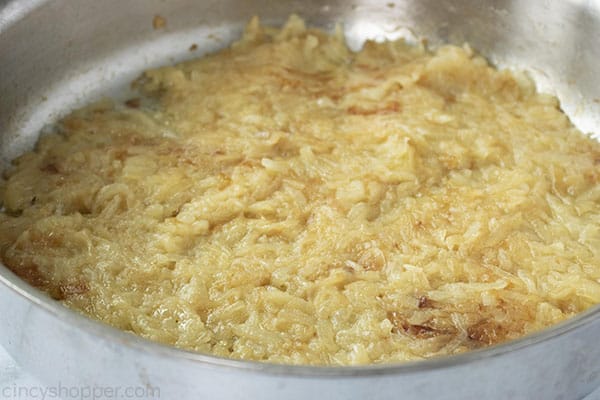 Or, continue to cook and stir for another 15 minutes or so. At this point, the color will be golden brown and the caramelized onions will have a rich, nutty taste. This is when they are fantastic in French Dip sandwiches and burgers, or for French onion chicken or a grilled steak.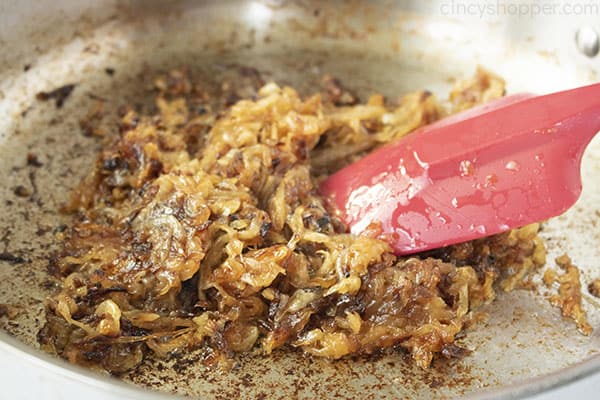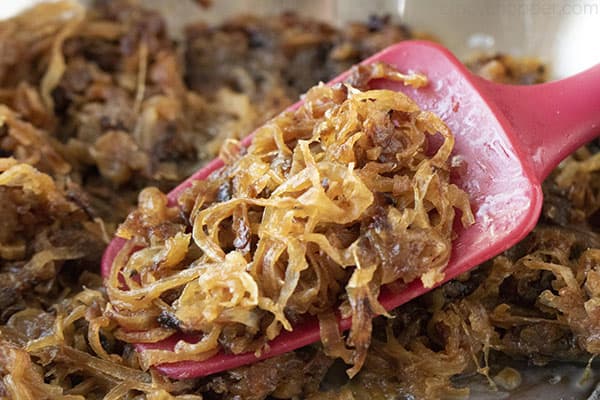 If you prefer to caramelize onions even more, you can continue stirring and cooking for another 15 minutes. However, if you do so, be aware that nearly all of the water will evaporate from the onions. So, be sure to watch them very carefully and stir often to prevent them from burning.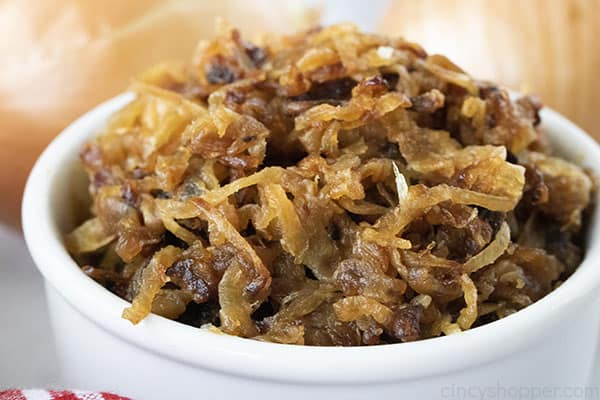 Storage and shelf life
Now that you know how to caramelize onions, you may realize that it is not a quick process. The good news is, you can make a large batch and store leftovers in the refrigerator for up to a week. Just be sure to keep them in an airtight container so your fridge won't smell like onions.
Caramelized Onions
Learn how to caramelize onions and then use the onions to make French onion soup, appetizers, sauces, patty melts, and so much more!
Ingredients
1

tbsp

Olive Oil

3

tbsp

Butter

3

medium

Onions

thinly sliced

1/4

Water

if needed
Instructions
Add oil and butter to a large skillet over medium heat.

Once melted and oil is hot, add onions.

Cook over medium heat for 45-60 minutes, stirring every few minutes to prevent burning.

If pan becomes too dry, add a little more oil and slightly reduce temperature.

Cook until onions are browned with a rich caramelized flavor.
Nutrition
Calories:
94
kcal
|
Carbohydrates:
5
g
|
Protein:
1
g
|
Fat:
8
g
|
Saturated Fat:
4
g
|
Cholesterol:
15
mg
|
Sodium:
53
mg
|
Potassium:
80
mg
|
Fiber:
1
g
|
Sugar:
2
g
|
Vitamin A:
177
IU
|
Vitamin C:
4
mg
|
Calcium:
14
mg
|
Iron:
1
mg