Homemade Peach Pie Filling is a sweet and simple recipe you can use in all kinds of desserts. With just one easy change, you can even can it!
Homemade Peach Pie Filling
Despite only being 4th in peach production, Georgia is without a doubt the "Peach State-" at least according to Georgians. Few states can claim they love these fuzzy little fruits as much as Georgia does. Can you blame them: peaches are definitely one of the tastiest fruits out there!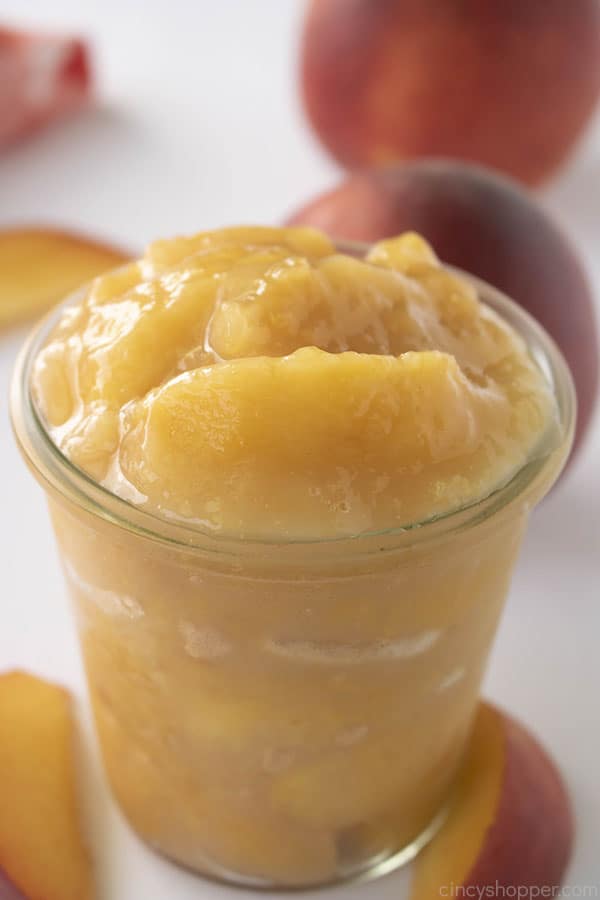 This isn't even scratching the surface of all the different recipes that Georgians have for their state fruit. A quick look through the Georgia Peach Council website will give you plenty of meal/dessert ideas. We've even done a few stand-by peach desserts: go check out our Easy Peach Cobbler or our Custard Peach Pie for some tasty peach dishes!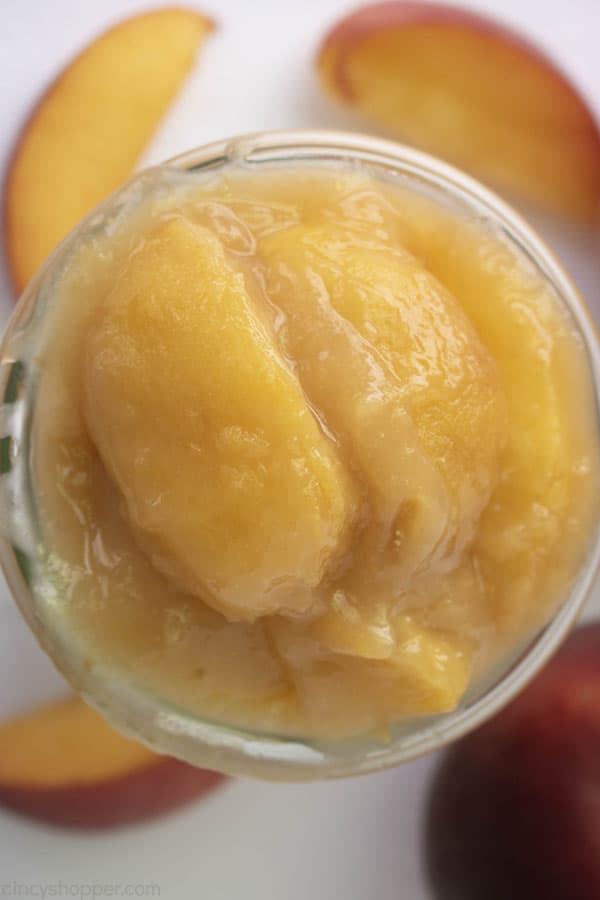 If you're a real "peach freak," you might have plenty of supermarket peach pie filling sitting in the pantry. Here at CincyShopper, we know that homemade is usually better than whatever's in that tin can. So let's make pie filling from scratch!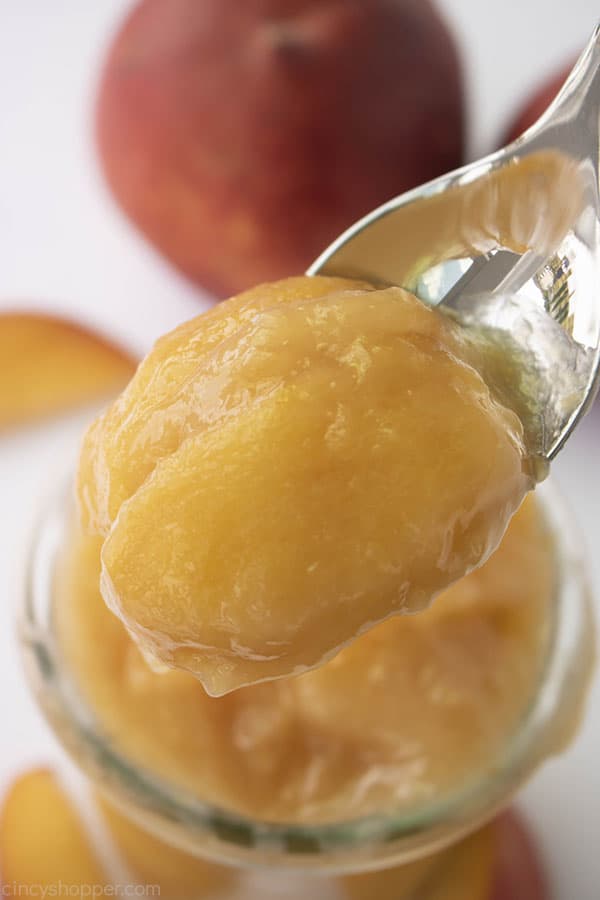 Once you get this homemade pie filling made, you can use it a wide variety of classic peach desserts. Try some classics like Peach Pie or Peach Crumble!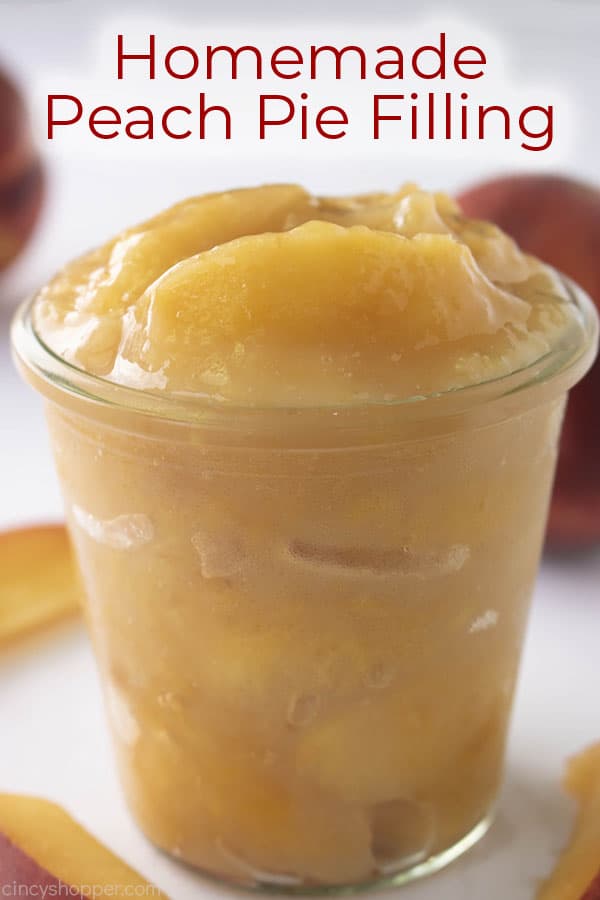 Ingredients to Make Peach Pie Filling
Peaches – You can reach for fresh peaches or- if you're having trouble sourcing fresh- frozen ones. About 5-6 cups frozen slices should work!

Other Additions – We

just

added some vanilla extract to our filling for a bit of extra flavor. Other possible additions could be a little touch of nutmeg and/or some cinnamon!
A NOTE ON CANNING:
From what I understand, you can't use cornstarch in anything you're canning. If you want to be able to can your homemade pie filling, you have to substitute in "Clear Jel." For each 1/4 cup of cornstarch, replace with 1/4 cup plus 1 tablespoon of "Clear Jel."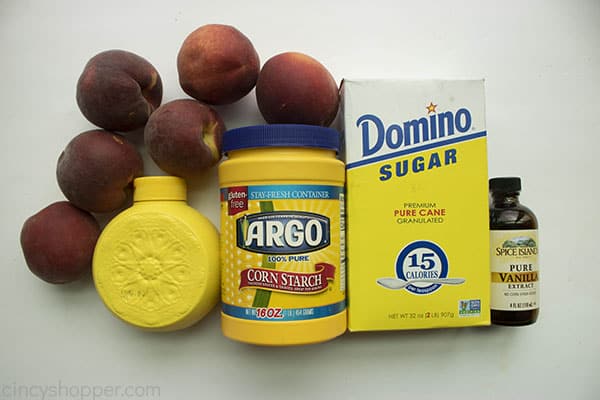 How to Prepare Our Homemade Pie Filling
Our pie filling recipe is very simple! To start, you're going to put your lemon juice, sugar, and cornstarch into a medium pan with some water.
Put this over medium-high heat and stir
constantly
until the mixture thickens- about 8 minutes
.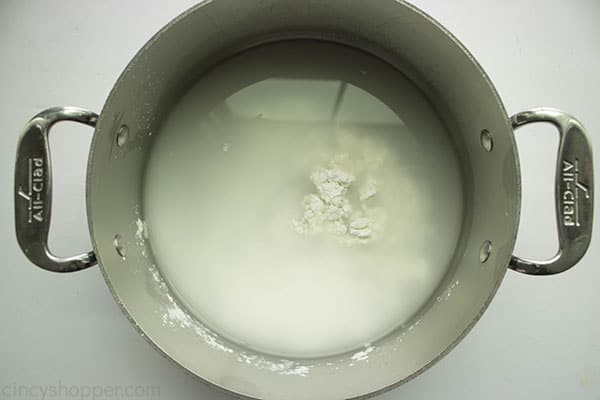 Once your mixture thickens, you can add your peaches. At this point, you'll also mix in whatever other additions you had in mind- we added our vanilla.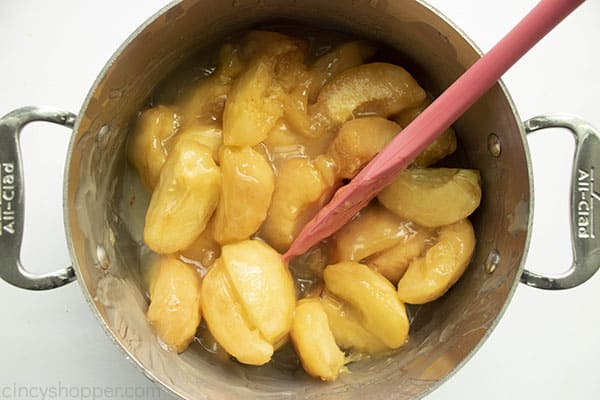 Mix your peaches in with your sugar mixture and allow to cook for another 20 minutes. Remember to stir occasionally to keep those peaches from burning up!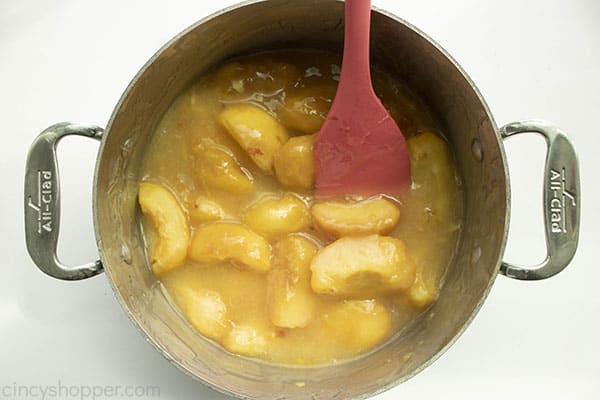 Once you've let this mixture cool completely, you can either put it to use immediately or pop it into the fridge. Depending on how well you keep it, it could last for up to two weeks refrigerated.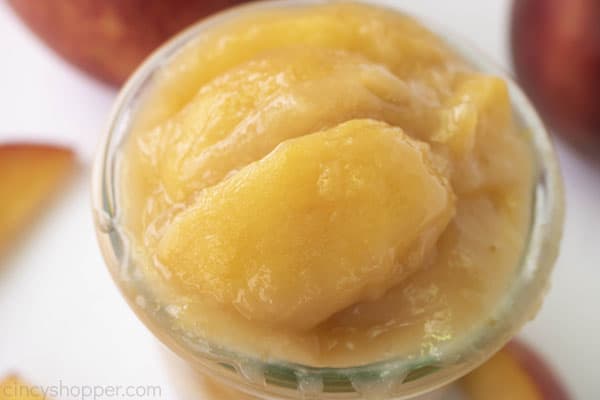 For more long-term storage, you can either can your filling if you used the "Clear Jel" earlier. You can also freeze this filling and keep it in the freezer where it can last for several months! Just make sure to thaw it out the night before using.
Peach Pie Filling
Homemade Peach Pie Filling is a sweet and simple recipe you can use in all kinds of desserts. With just one easy change, you can even can it!
Ingredients
1

cup

Water

1

tbsp

Lemon Juice

1

cup

Sugar

1/4

cup

Cornstarch

1

tsp

Vanilla

7

Peaches

peeled, pitted and sliced.
Instructions
Add water, lemon juice, sugar and cornstarch to a large pan.

Cook over medium high heat for 8 minutes or until mixture thickens, stirring constantly.

Add peach slices and vanilla.

Cook for another 20 minutes until peaches are tender.

Allow to cool completely before refrigerating.
Nutrition
Calories:
1321
kcal
|
Carbohydrates:
331
g
|
Protein:
10
g
|
Fat:
3
g
|
Saturated Fat:
1
g
|
Sodium:
17
mg
|
Potassium:
1995
mg
|
Fiber:
16
g
|
Sugar:
289
g
|
Vitamin A:
3423
IU
|
Vitamin C:
75
mg
|
Calcium:
63
mg
|
Iron:
3
mg