Green Onion Dip is an easy 4-ingredient dip perfect for chips and veggies. Our homemade recipe tastes way better than store-bought!
This delicious chip dip is one of the best things to make with green onions- it's an amazing appetizer you just have to try. It's perfect for serving up at your next game day or Super Bowl watch party!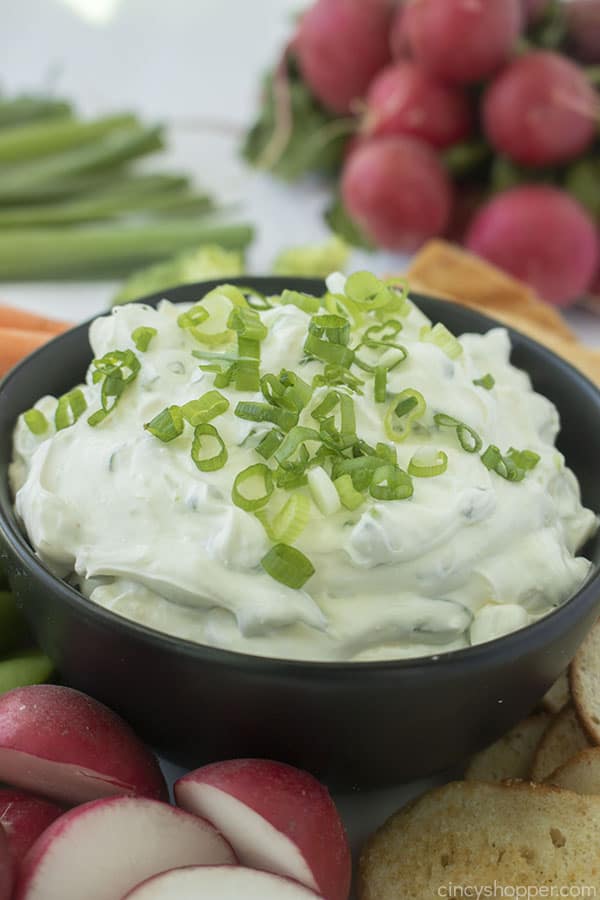 Green Onion Dip
Whether you're throwing a party, having a grill-out, or curling up for a nice movie night, things can always get better with some chips and dip. There's something about some crisp, salty chips- or vegetables, if that's your thing- and a nice, creamy chip dip that's just so comforting. We've put out a few chip dip recipes before but I recently made up some homemade Green Onion Dip that blows the store-bought stuff out of the water!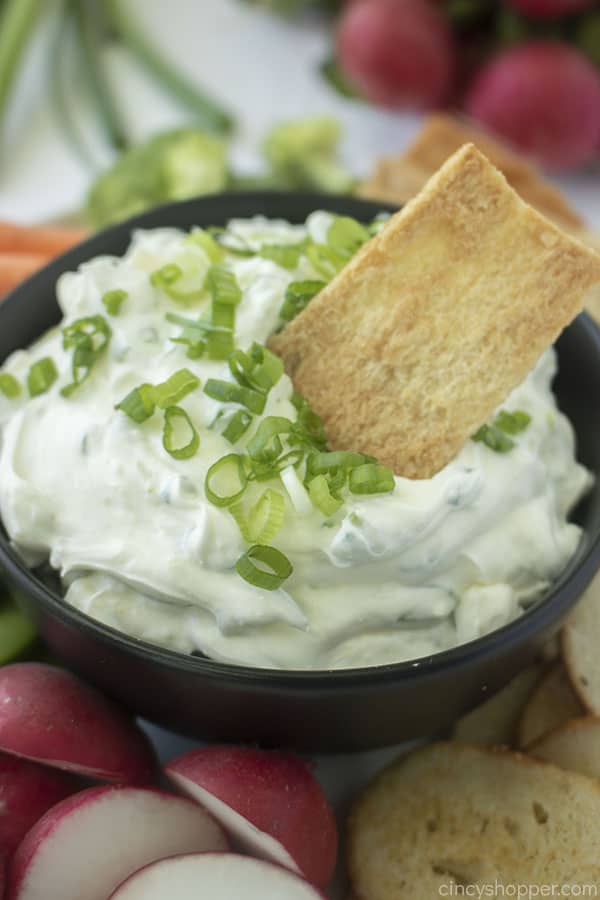 We made our Green Onion Dip with cream cheese and sour cream as the base. These two ingredients come together to form a dip that's rich and creamy with a slight sour tang that goes perfect with some thin-sliced green onions! Add in a shake of garlic powder and maybe some optional dijon and parsley and you've got an Onion Chip Dip that's hard not to love. If you've got plenty sitting around and you're looking for recipes for green onions, our dip is a must-make.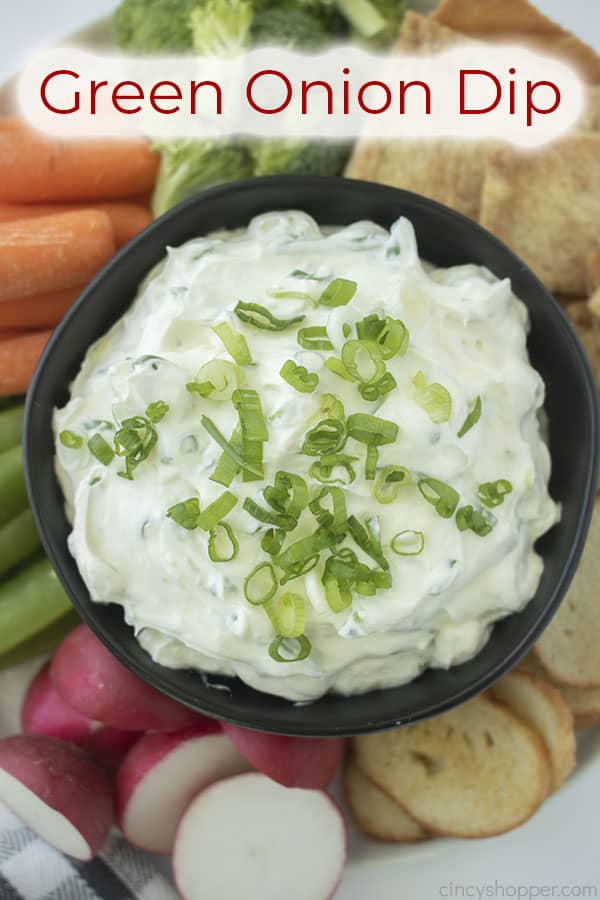 If you're into easy chip dips and spreads, this is the best homemade dip recipe for you! All you need is 4 ingredients for a creamy, tangy dip that goes great with all sorts of chips and veggies. Try it with some radishes, broccoli, carrots, and celery or keep it classic with some nice, thick potato chips. Whatever you serve it up with, we're certain you're going to love this stuff- you'll never want to go store-bought ever again!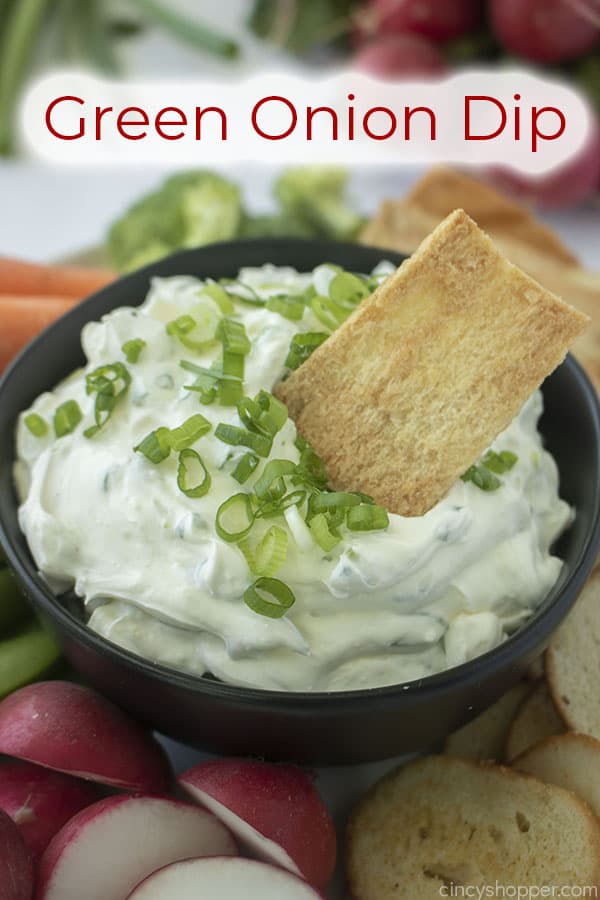 Liked our recipe? Try these other dip recipes next!
Another one of our simple, go-to chip dips is our

Easy Chip Dip

. All you need are 5 ingredients for this creamy and delicious homemade dip! Goes great with chips- like some Ruffles- or all your favorite veggies.

We're big fans of this

Pub Style Beer Cheese Dip

as well!

Our recipe for this classic dip ends up somewhere between a dip and a beer cheese spread, which makes it perfect for spreading on crackers and bread

. Serve it up at your next game day or party- your guests will love it!

You should also give our

Homemade Onion Dip Recipe

a try while you're at it.

If you're a big fan of French onion soup, then you'll love this dip- sweet caramelized onions folded together with some tangy sour cream

!

Between this recipe and the Green Onion Dip you're seeing now, you'll never want anything store-bought ever again

.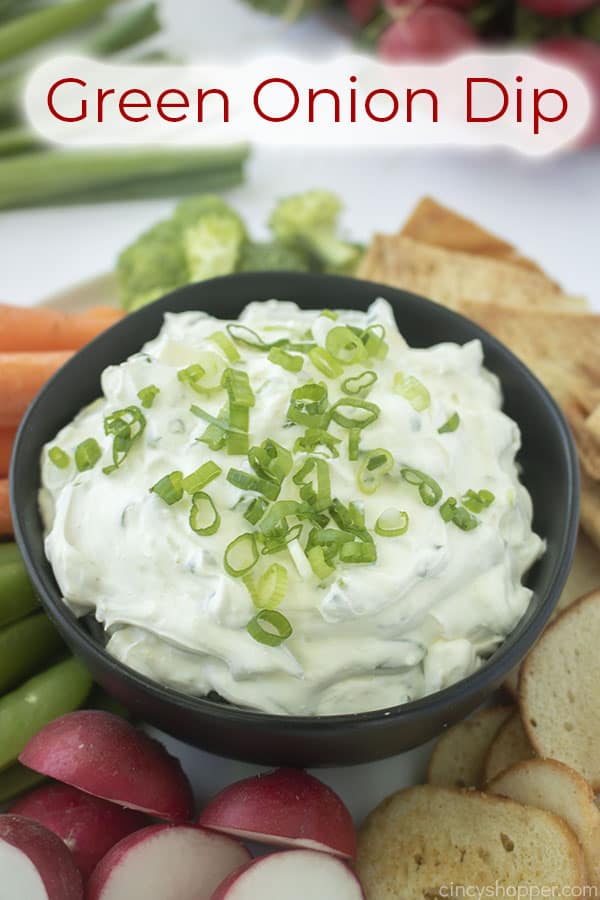 Ingredients for our Green Onion Dip recipe
Sour Cream

Cream Cheese

– Softened. This and the sour cream will form the base of our dip.

Green Onion

– As thinly-sliced as you can manage!

Garlic Powder
Besides those ingredients, a touch of
Dijon Mustard
would taste great and you can also add some
Parsley
as well
. Don't forget to serve up with some
Chips
or some
Vegetables
!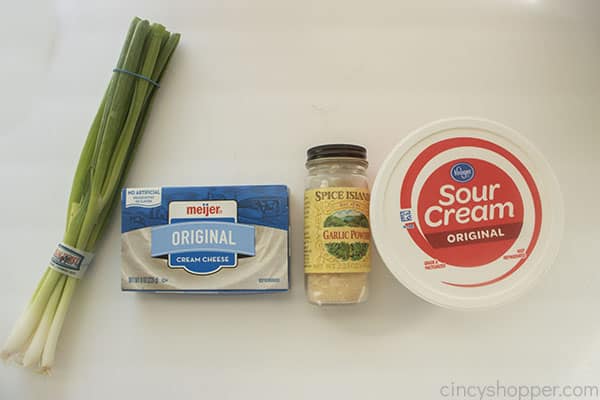 How to make Green Onion Dip
This 4-ingredient Green Onion Dip is so easy to make! To get it made here's all you have to do:
Beat softened cream cheese until fluffy

before

mixing with sour cream

until

fully

combined

.

Combine the dip base with thin-sliced green onions, garlic powder

, and optional Dijon mustard and parsley

.

Refrigerate your finished dip

until ready to serve. Serve up with chips or vegetables.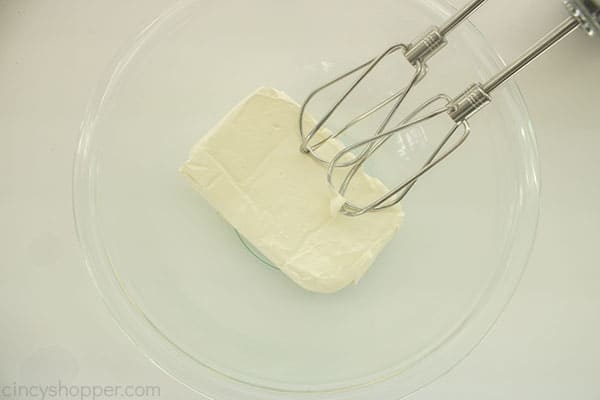 Start off by dropping your softened cream cheese into a large mixing bowl. Using a hand or stand mixer, beat the cream cheese until it's fluffy. Once that's beaten, add in the sour cream and mix the two together until fully combined.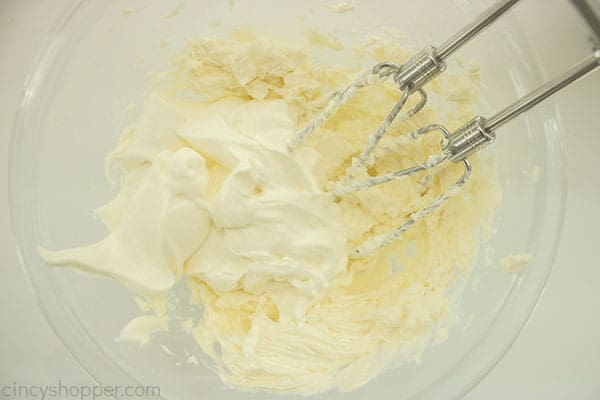 This forms the base of our Green Onion Chip Dip- all that's really left is to add the onions! We also add a bit of garlic powder to the dip- garlic and onions are a perfect combo, after all.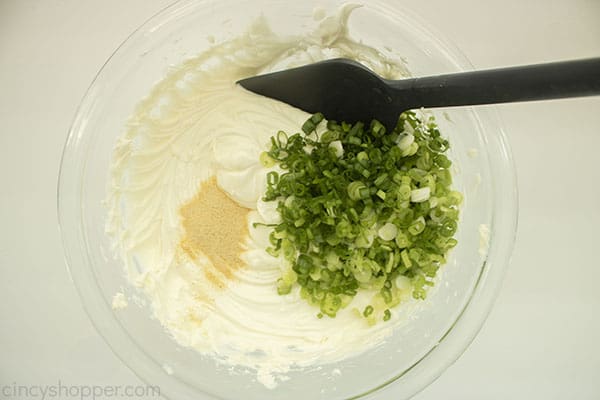 At this point, you can also add in a bit of dijon mustard as well- about a teaspoon- or some freshly chopped parsley. After adding in any extra ingredients, cover the dip and put it in the fridge.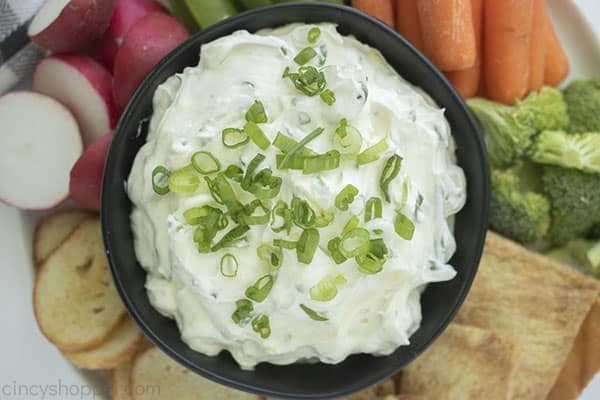 Let your onion dip cool in the fridge until you're ready to serve it up. Feel free to transfer it over to a serving bowl and garnishing with some leftover green onion slices if you have any! Like we said before, this dip is perfect for potato chips, pita chips, bagel chips, and all sorts of veggies. Hope you enjoy!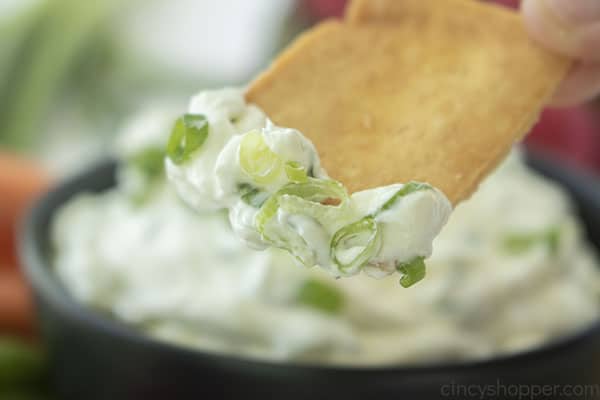 How long does homemade dip last?
Once you've made this Onion Chip Dip up, you'll want to keep it in the fridge since it's a dairy-based dip. With that in mind, expect your Green Onion Dip to last about 3 or 4 days if kept covered in the refrigerator.
We wouldn't recommend freezing this stuff: sour cream, cream cheese, and other dairy-based products tend to not freeze well
.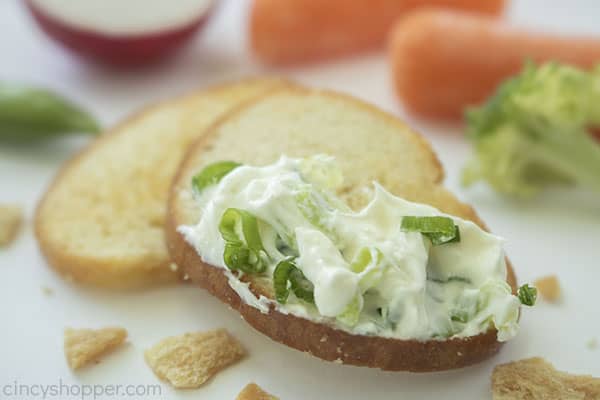 Green Onion Dip
Green Onion Dip is an easy 4-ingredient dip perfect for chips and veggies. Our homemade recipe tastes way better than store-bought!
Ingredients
8

oz

Cream Cheese

softened

1

cup

Sour Cream

1/2

tsp

Garlic Powder

1

cup

Green Onion

diced finely

1

tsp

Dijon Mustard

optional

Parsley

chopped for garnish optional
Instructions
Beat cream cheese until fluffy.

Add sour cream and beat until blended.

Add garlic powder and green onions and mix until combined.

Refrigerate until ready to serve.
Notes
Serve with potato chips, pita chips, bagel chips, or vegetables like celery, carrots, radish, parsnips, broccoli.
Nutrition
Calories:
65
kcal
|
Carbohydrates:
1
g
|
Protein:
1
g
|
Fat:
6
g
|
Saturated Fat:
4
g
|
Polyunsaturated Fat:
1
g
|
Monounsaturated Fat:
2
g
|
Cholesterol:
21
mg
|
Sodium:
61
mg
|
Potassium:
26
mg
|
Sugar:
1
g
|
Vitamin A:
254
IU
|
Calcium:
19
mg
|
Iron:
1
mg