Greek Tzatziki Sauce is zesty condiment perfect for plenty of Greek recipes. This is a quick & easy recipe for a tasty dip or salad dressing!
This easy-to-make Tzatziki Sauce is the perfect introduction to Greek cooking and the flavors it uses. This sauce is great as a chip dip, a salad dressing, or for serving with grilled or spiced meats.
Greek Tzatziki Sauce
Greek foods are a bit of an unexplored territory for me. Sure, I've had a couple gyros here or there and my daughter loves baklava. Outside of that, I'm mostly a total stranger. Recently, I decided to try branching out and trying new things and Greek food was one of the first things on the menu. If you want a good idea of what Greek cooking is all about, try starting with this Tzatziki Sauce!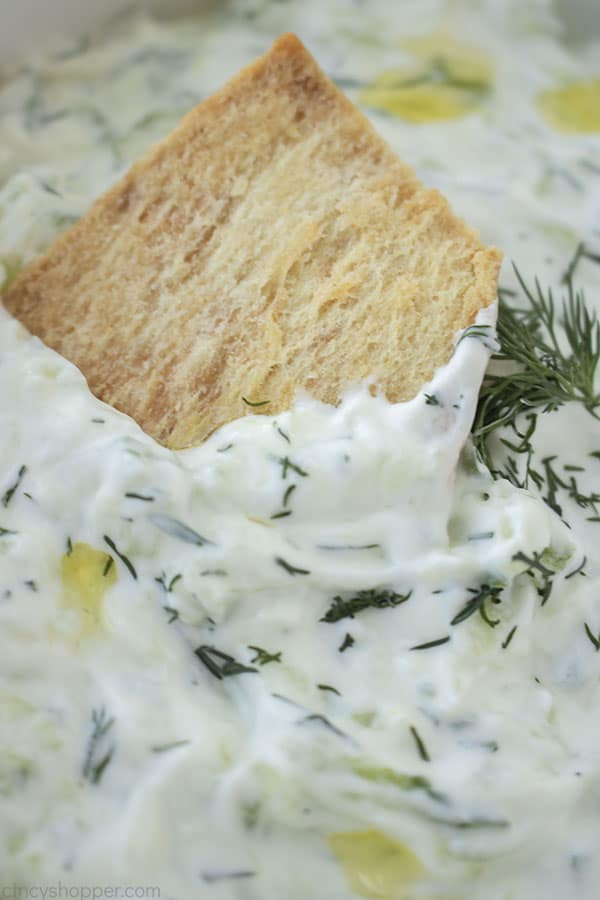 This Greek Sauce contains a few of the hallmark flavors of their cooking: a touch of lemon juice, plenty of Greek yogurt, olive oil, and some choice herbs! What it results in is a nice, creamy sauce with a healthy zest and twang to it. I've heard this stuff is perfect for spiced or grilled meats- maybe as a gyro sauce, as well- and I'm eager to try it!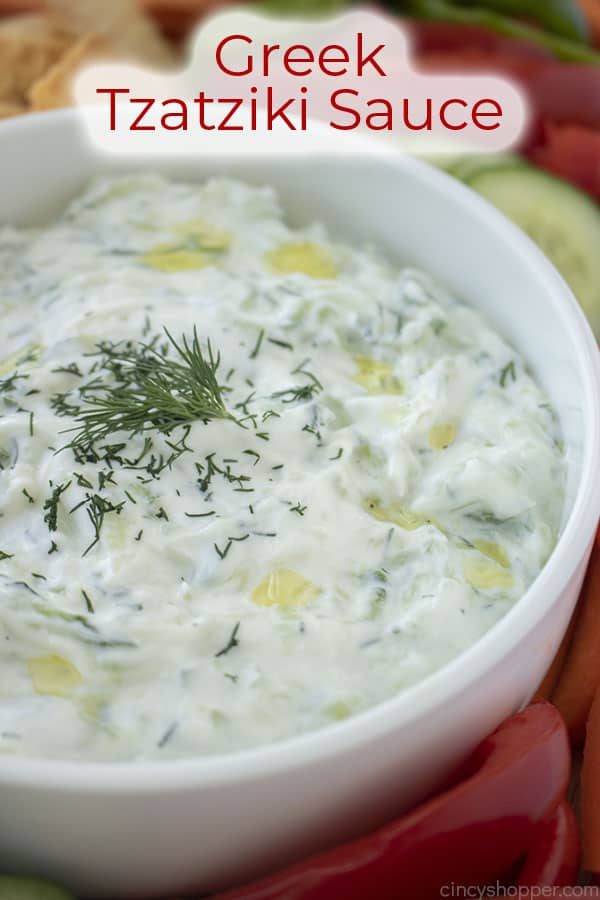 In the meantime, I've found this stuff also makes for a wonderful dip and salad dressing. We set up a little snack tray with some carrots, cucumbers, some peppers, and some pita chips and enjoyed a good amount of it! When all was said and done, we tried it on a simple tomato and cucumber salad and it tasted amazing. Chip dip, salad dressing, or as a gyro sauce- however you use this stuff, we know you'll love it!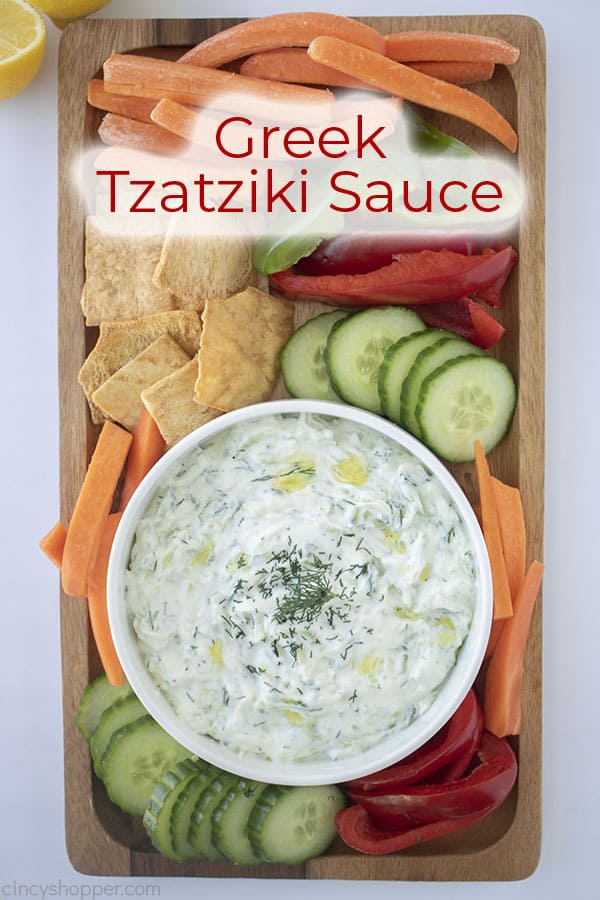 Enjoyed this recipe? Try these other condiment and dip recipes next!
If you loved the cucumber in this Tzatziki Dip,

maybe

try it's pickled cousin in our

Dill Pickle Dip

next? This dip is quite

similar to

the dip shown here- if toned down a bit.

Sour cream and cream cheese form a delicious dip base we flavor with zesty dill pickles, a bit of garlic, and some dill weed

. Great for chips or veggies!

Having folks over for a watch party or game night? They'll love our

Bacon Cheddar Ranch Dip Recipe

! Sour cream and some ranch mix make a base that we add plenty of sharp cheese and bacon to for a delicious and filling dip. Serve up with chips, crackers, or veggies and enjoy!

Of course, we can't talk about dips without mentioning

Easy Pico de Gallo

. This delicious dip and condiment is a must-have for Taco Nights and any sort of Mexican cooking! It's also perfect for serving up with some good tortilla chips for dipping. Very easy to whip up- all you need is onion, jalapeno, tomatoes, and some cilanto, lime, and salt for seasoning!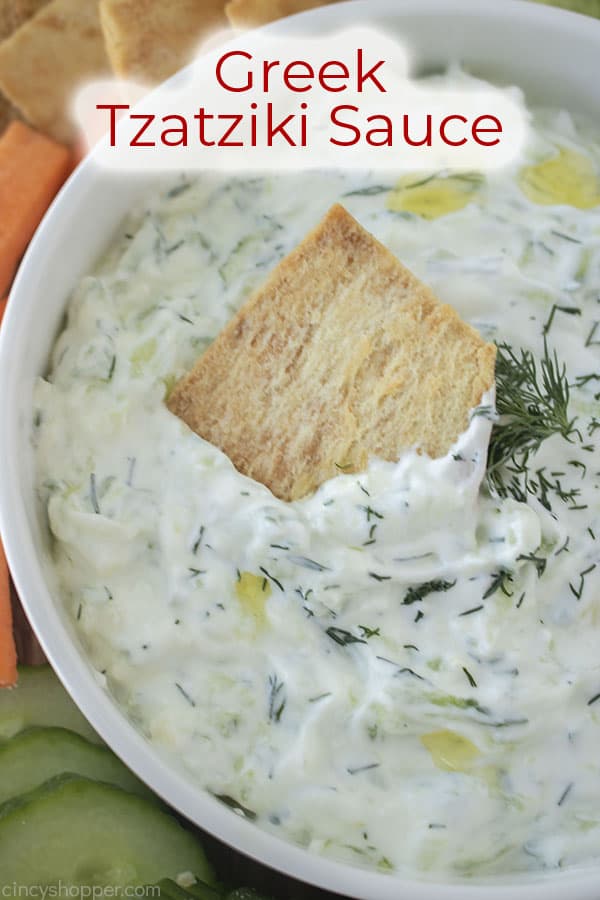 Tzatziki Sauce Ingredients
Cucumber

– English cucumber, slicing cucumber- go with your favorite.

Greek Yogurt

Olive Oil

Lemon Juice

Garlic

Herbs

– The two classic picks here are dill or mint- pick one or the other. A bit of oregano might also work here as well!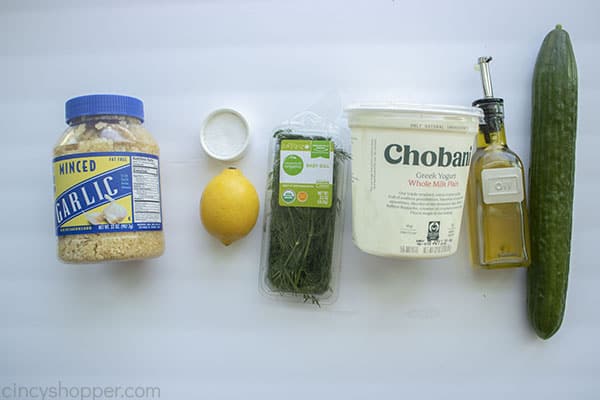 How to make Tzatziki Sauce
Making this Greek Sauce is very easy, but there are a few important steps you need to remember. Here's a quick rundown…
Half-peel a cucumber

before

shredding it

using the large holes on a box grater.

Drain off the grated cucumber

and

squeeze out any excess moisture

.

Add the cucumber to a bowl with the other sauce ingredients

and

mix into a consistent sauce

.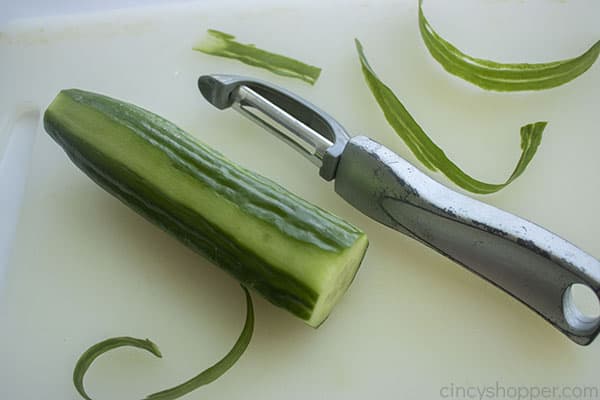 The trick to making a good Tzatziki Sauce is prepping the cucumber right. First, half peel the cucumber- basically, "skipping" every other peel like we did in the picture above. Once peeled, run the cucumber through the large or coarse holes on a box grater.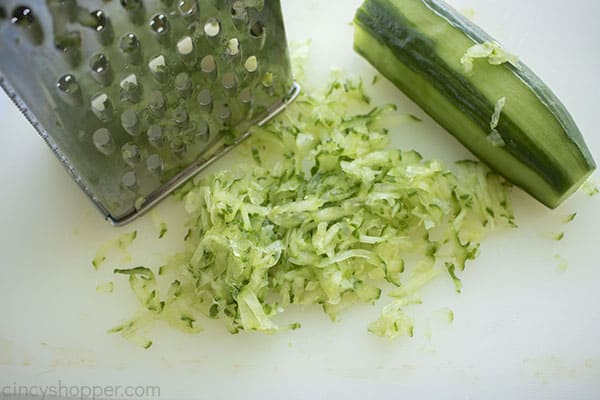 Before adding the cucumber to a sauce, we want the excess liquid off of it. You deal with it by either placing in a fine-mesh sieve and pressing the liquid out that way or by drying the grated cucumber thoroughly with paper towels. Once drained, add to a bowl with the other sauce ingredients.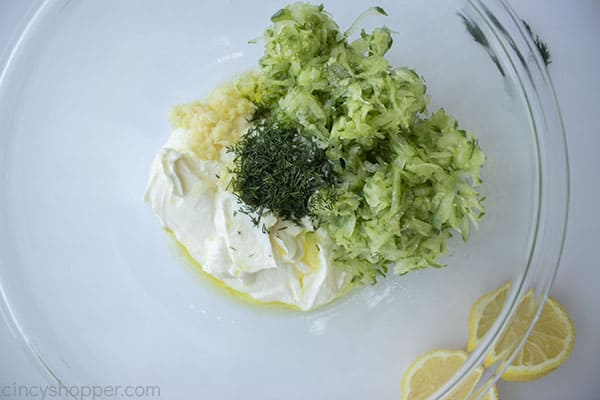 With all your ingredients in the bowl, mix however you please- hand mixer, stand mixer, or a bit of elbow-grease and a spoon. Mix until you have a nice, cohesive sauce. If using as a dip, garnish with a few extra drops of olive oil and some more herbs.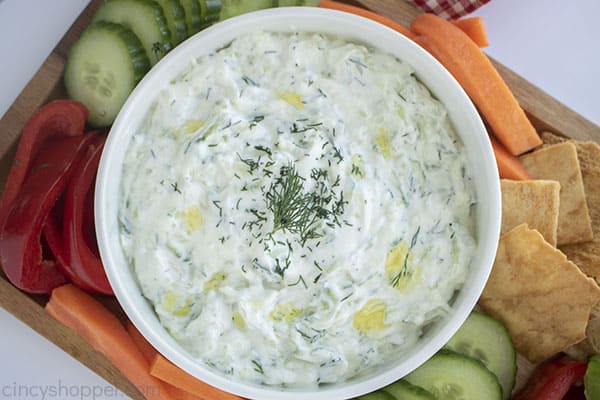 At this point, the Tzatziki Dip or Sauce is done! You can use it to top salads, dress sandwiches, or for dipping. However you use it, we hope you enjoy!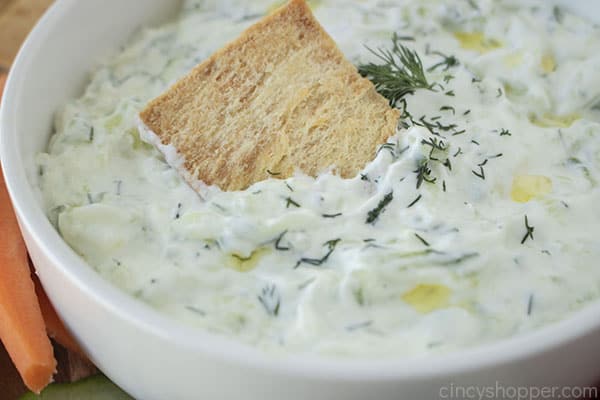 Can you freeze this Sauce?
Kept in the fridge, your Tzatziki Sauce will last around 4 days. For longer term storage, you can actually freeze it!
This Greek Sauce has much less water content than other dairy products that wouldn't freeze
terribly
well
. To freeze your sauce, store it an airtight container and place in the freezer. Kept frozen, the sauce will stay good for another 3 months. When it comes time to defrost, allow it to thaw in the fridge.
If you can, drain off the excess water that's seperated from the Tzatziki before giving everything a quick mix and serving
.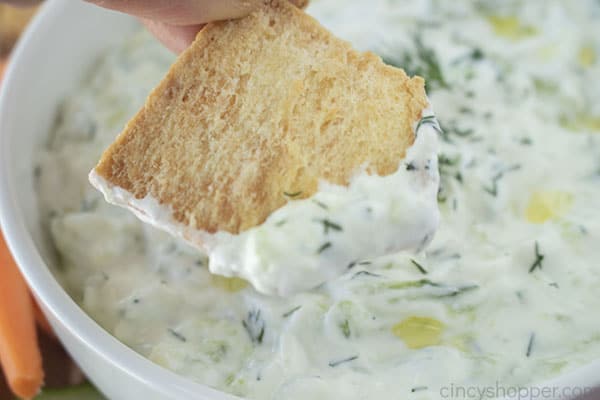 Tzatziki Sauce
Greek Tzatziki Sauce is zesty condiment perfect for plenty of Greek recipes. This is a quick & easy recipe for a tasty dip or salad dressing!
Ingredients
1 1/2

cup

Cucumber

grated

1

cup

Greek Yogurt

plain

1

tbsp

Virgin Olive Oil

1

tbsp

Dill

chopped

2

tsp

Lemon Juice

2

tsp

minced Garlic

1/4

tsp

Coarse Salt
Instructions
I use a vegetable peeler to remove about half of the peel.

I then grate on large holes of a box grater.

Squeeze out as much moisture as possible from the grated cucumber.

Place all ingredients in a large bowl and stir until well mixed.

Use right away or refrigerate until ready to serve.
Notes
Cover and refrigerate for up to 4 days.
Nutrition
Calories:
141
kcal
|
Carbohydrates:
8
g
|
Protein:
11
g
|
Fat:
8
g
|
Saturated Fat:
1
g
|
Trans Fat:
1
g
|
Cholesterol:
5
mg
|
Sodium:
330
mg
|
Potassium:
303
mg
|
Fiber:
1
g
|
Sugar:
5
g
|
Vitamin A:
92
IU
|
Vitamin C:
7
mg
|
Calcium:
134
mg
|
Iron:
1
mg