Frito Pie Casserole is a melty mix of corn chips, homemade chili, and cheese! An easy recipe that's great as a bake or as a "walking taco."
This dish is a Southern favorite- and it's easy to tell why! Delicious Tex-Mex flavors with that tasty mix of chili and cheese and the right amount of crunch from the Fritos.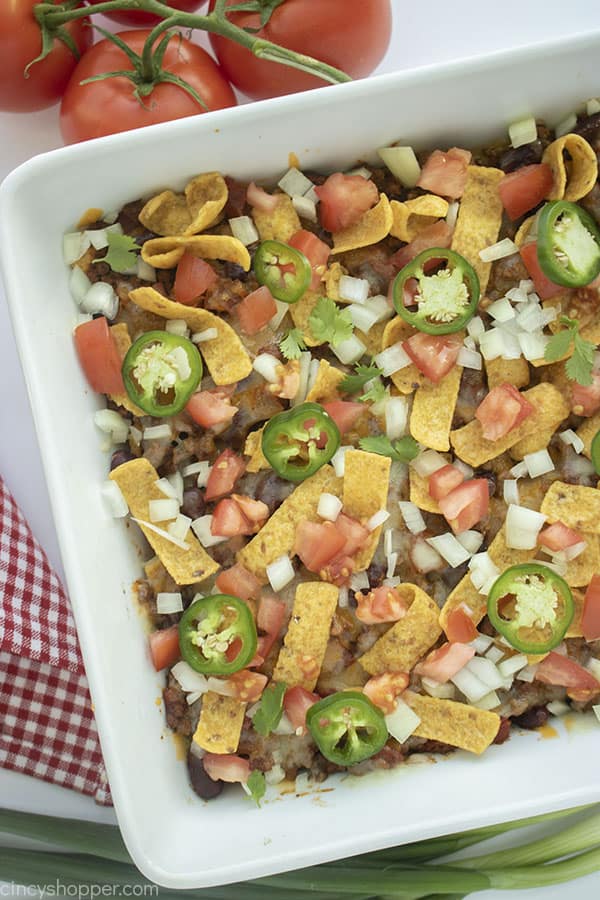 Frito Pie Casserole
If you love delicious, melty casseroles, today you're in for a treat! There's plenty of fine casserole recipes out there on the web, but this Southern favorite in a more "Tex-Mex" style is one of my new favorites! You might see where this is going: if you've never tried Frito Pie before, this is your chance to see what all the fuss is about.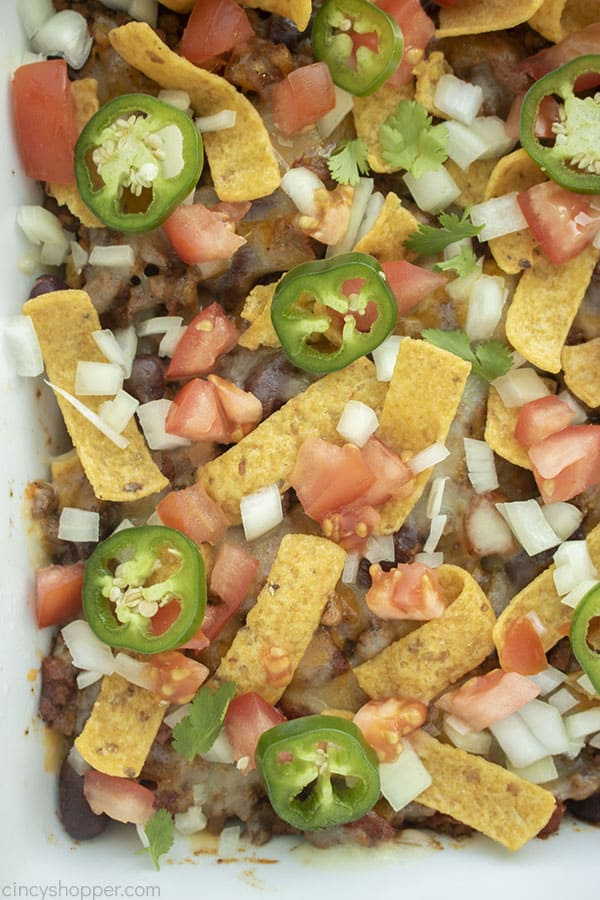 This Frito Pie can be made in a casserole style- like we've done today- or served as a sort of "walking taco." Whichever way you serve it up, the flavors are where this recipe shines!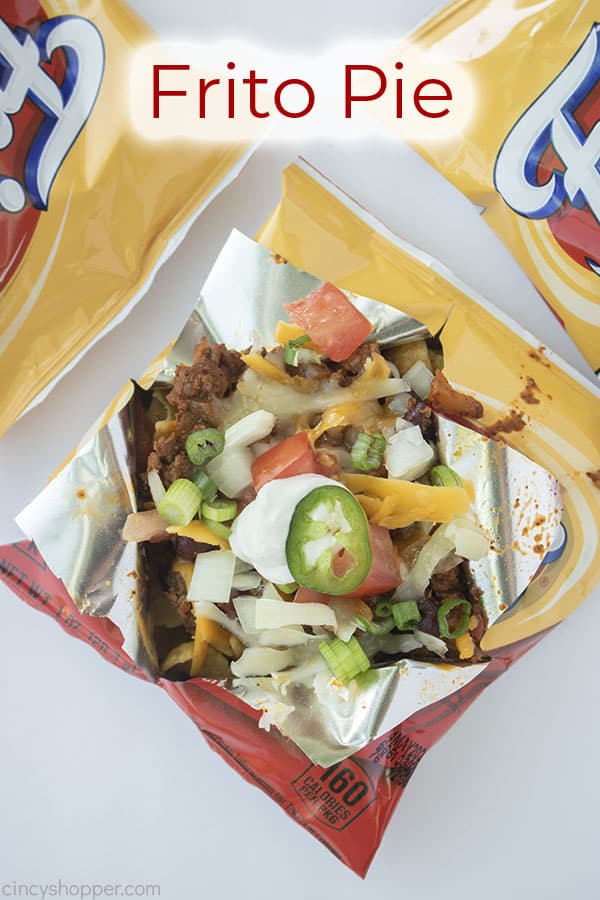 It's a simple mix of homemade chili, a two-cheese blend, and some corn chips for a bit of crunch. Simple ingredients but they all come together perfectly in this Frito Bake!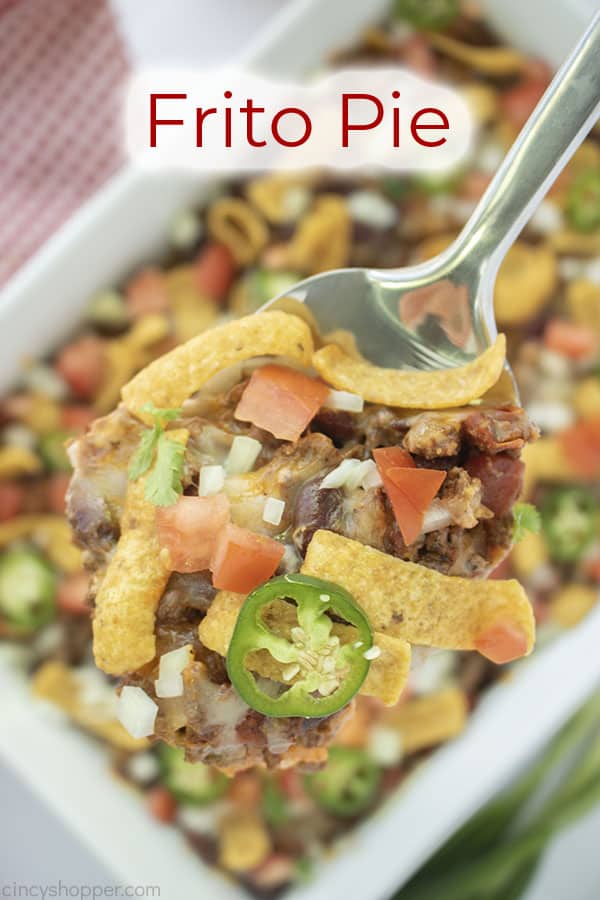 This casserole would be great as an easy weeknight dinner, an interesting spin on taco night, or as a fun dish to bring to a potluck or picnic! Wherever you serve it, it's certain to be a big hit- we know you're gonna love it.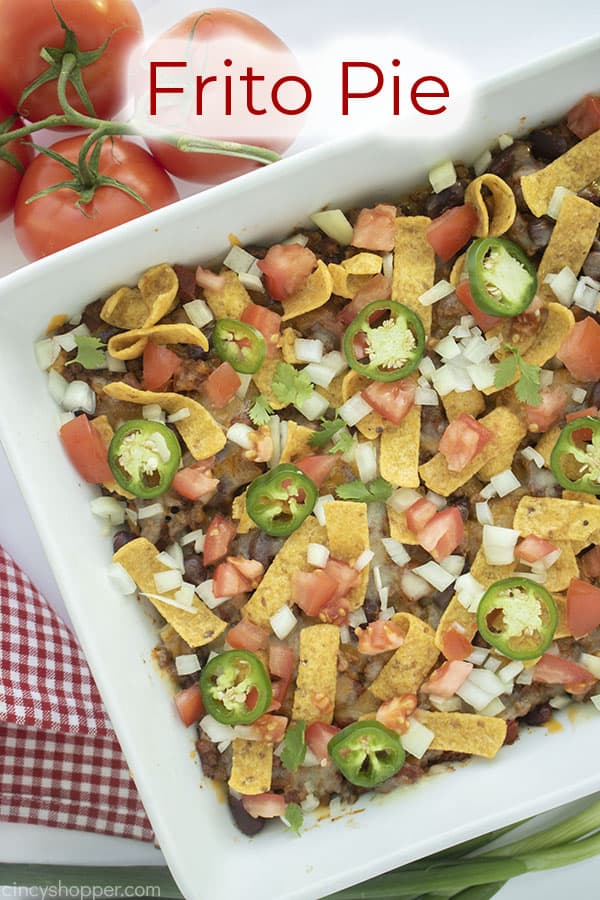 Liked this recipe? Try these Tex-Mex-inspired dishes next!
If you liked this Frito Pie served up in a bag, you'll enjoy our

Walking Tacos Recipe

as well. This classic fair food favorite is perfect for picnics and grillouts. Simple to make, tastes great, and easy to clean up!

For all those delicious Taco Tuesday flavors, make up some

Taco Casserole

. What's better than a nice, melty mix of beef, beans, and cheese? This easy dinner idea is a great way to mix things up on your next taco night!

The big chili fans are going to love our recipe for

Chili Pot Pie Casserole

. This dish is easy to make with canned chili, crescent roll dough, and plenty of cheddar cheese! Makes for a great weeknight meal or for feeding a big family.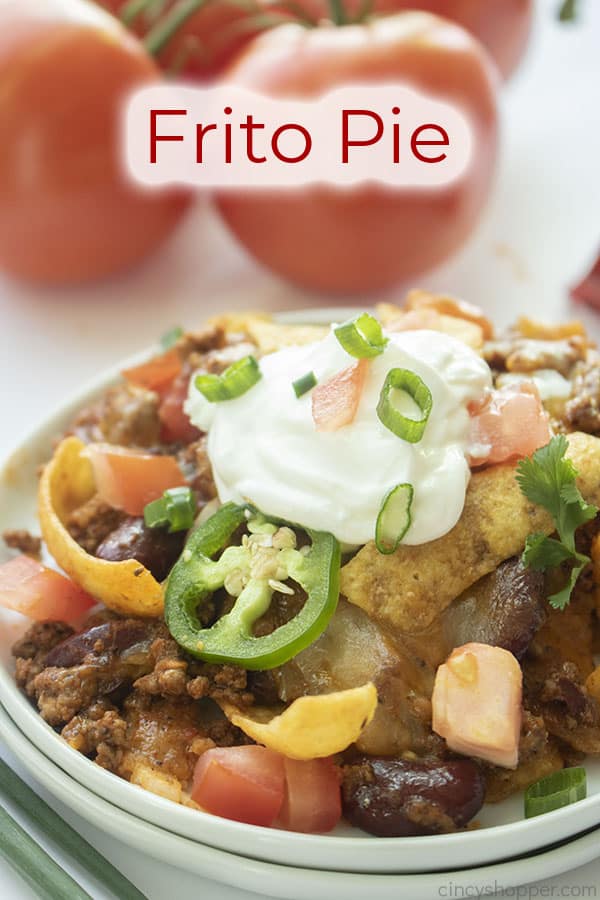 Ingredients for Frito Taco Casserole
Ground Beef

Onion

Rotel Tomatoes

– Or any other canned diced tomatoes and chiles.

Tomato Sauce

– We happened to have this El Pato hot tomato sauce, which brought a bit of extra heat.

Chili Powder

Garlic Powder

Kidney Beans

Cheese

– We used a blend of Monterey jack and some extra sharp cheddar.

Toppings

– We topped our casserole with some sliced jalapeno, sliced green onions, and some sour cream

.
In a pinch, you could use a couple of cans of
Hormel Chili
instead of making your own.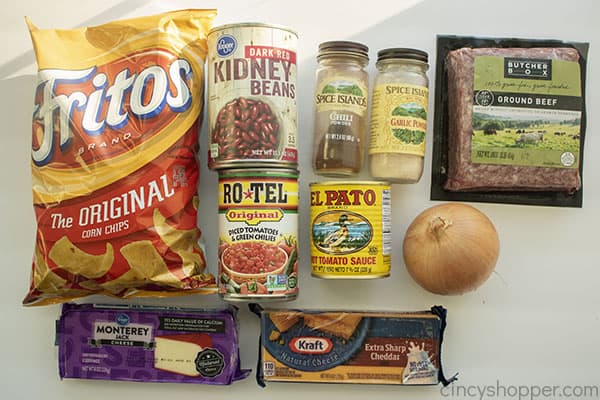 How to make Frito Pie
We've kept our Frito Casserole recipe very simple. Here's all you'll need to do…
Make some chili using your beef, onion, tomatoes, sauce, powders, and beans.

Layer your casserole ingredients in a dish

before

baking for about 10 minutes.

Top your finished casserole with some extra fritos, remaining onions, and any other preferred toppings

.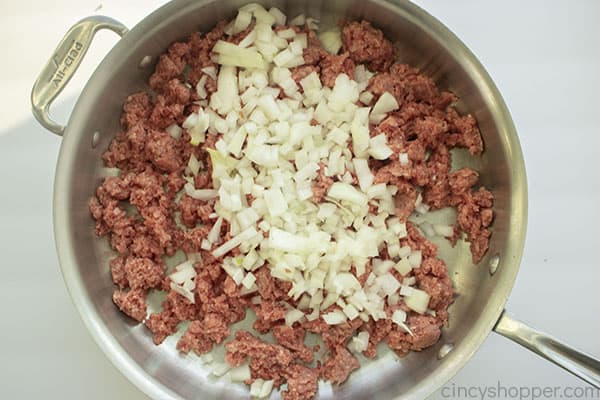 Our Frito Pie is going to need some chili- and plenty of it. We could used canned chili, but we'll make some chili from scratch! To start, brown some ground beef and half of your onion, chopped, in a large pan.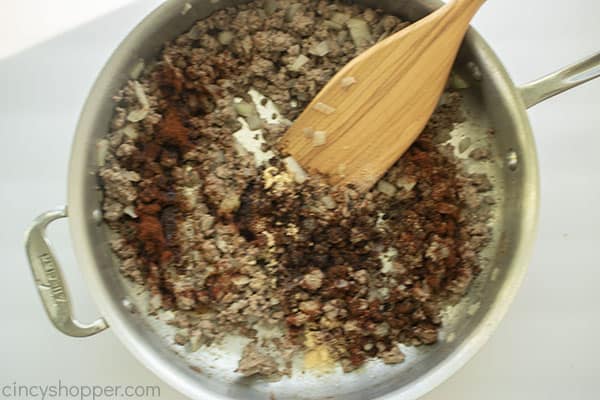 Once browned through, drain off any excess fat and turn the heat to medium-low. Add in your tomatoes, sauce, garlic & chili powders, and kidney beans.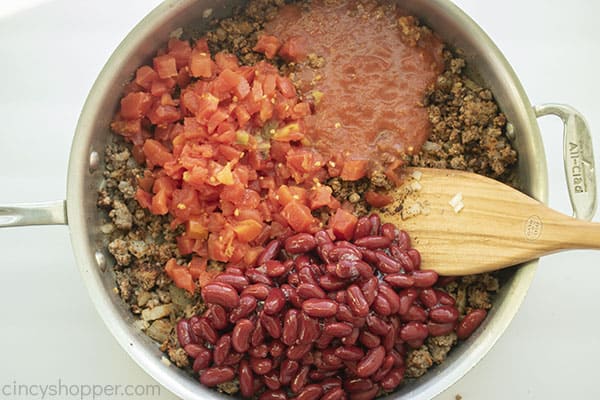 Let those simmer together for 10-15 minutes, stirring occasionally. After that, your chili's ready! For serving in a casserole, first layer about 5 oz of your Fritos in the bottom of a greased 13×9 dish.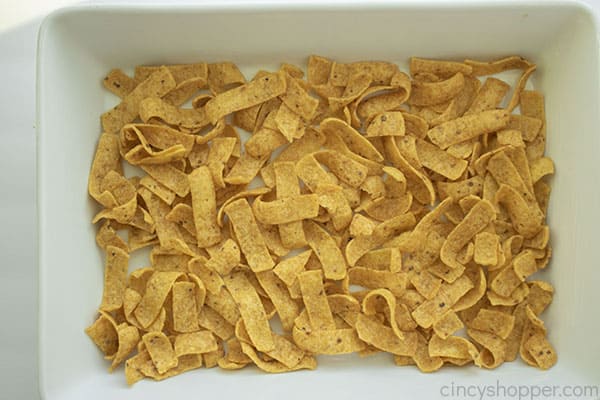 Top those with some cheese…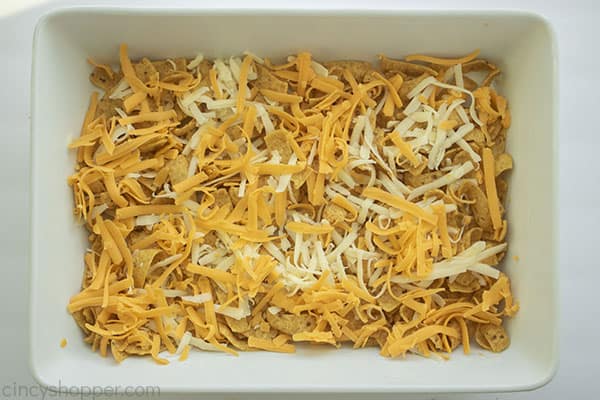 Then top with your homemade chili…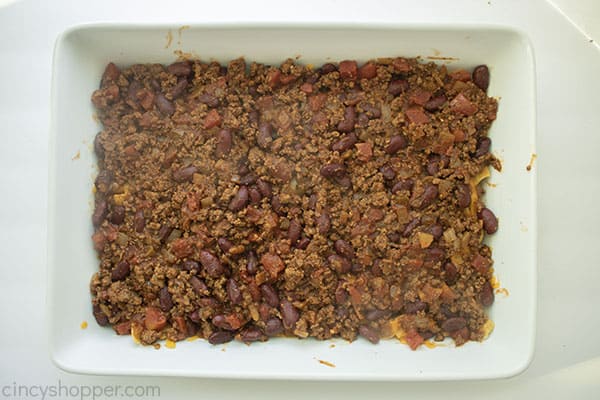 Add more cheese on top of that…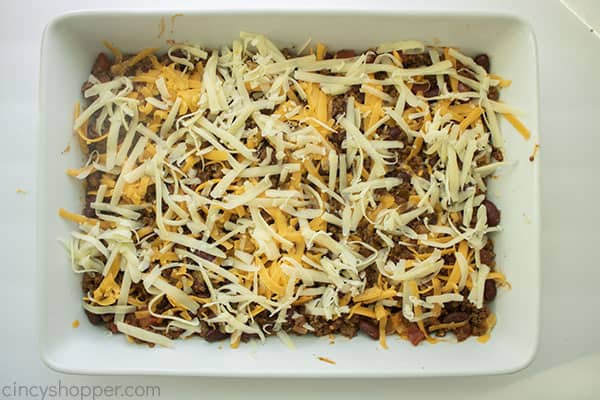 …And now it's time to bake! Transfer your casserole to an awaiting 300 degree oven and let bake until melty and bubbly.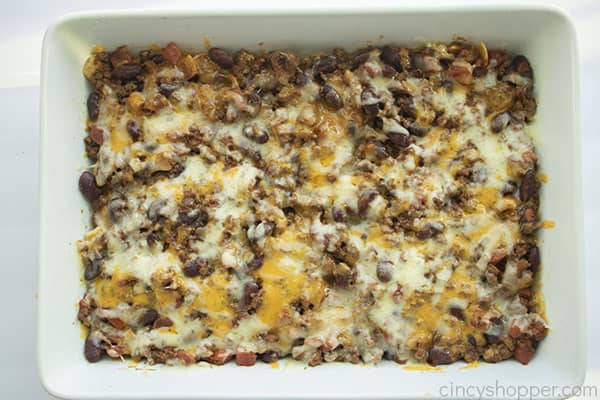 All that's left is to top our Frito Pie. At least top with some more Fritos and the other half of your onion.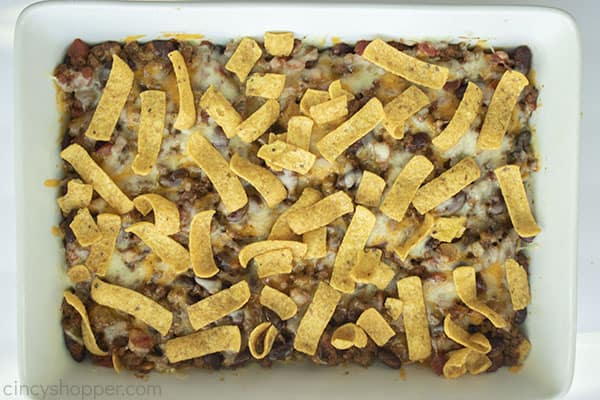 If using them, also top with your jalapeno, green onion, and some sour cream. Once topped, scoop out a portion and enjoy!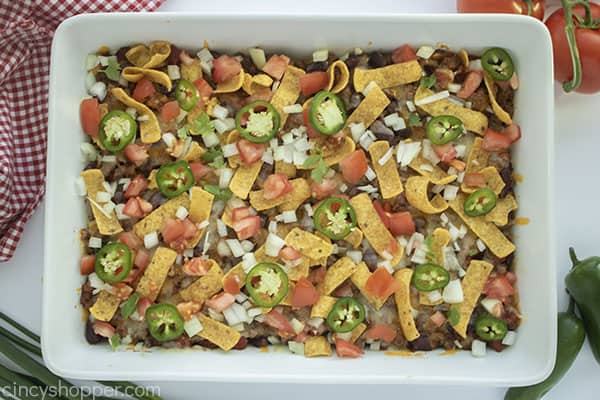 More Pie Toppings
Sliced Black Olives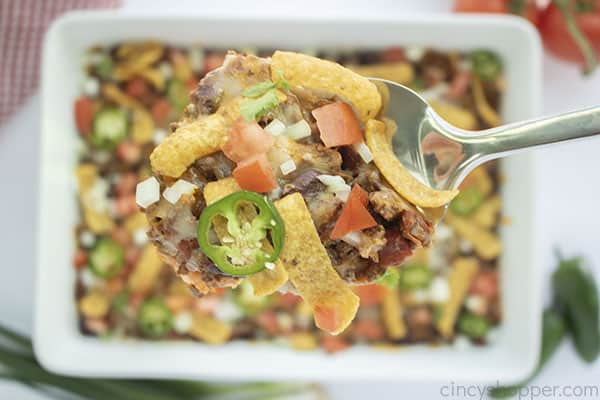 How to make Frito Pie in a bag
Prep for the bagged Frito Pie is even simpler than the casserole!
Split open your Fritos bag- we did ours from the side- and cover the Fritos inside with the chili, cheese, and all the toppings
.
It
certainly
won't be as melty and gooey as the baked casserole, but all the flavors are still there and it's
just
as enjoyable
! Made this way, it's a nice variation on a Walking Taco- if you've ever had one of those.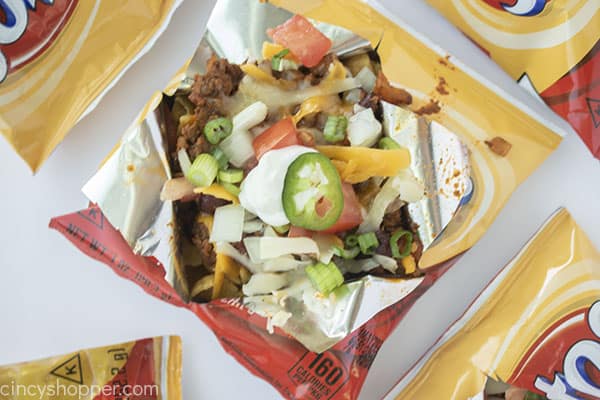 Frito Pie
Frito Pie is a melty mix of corn chips, homemade chili, and cheese! An easy recipe that's great as a casserole bake or as a "walking taco."
Ingredients
1

lb

Ground Beef

1

Onion

diced and divided

10

oz

Diced Tomatoes and Chiles

7

oz

Tomato Sauce

1

tbsp

Chili Powder

1

tsp

Garlic Powder

15

oz

Kidney Beans

drained

6

oz

Fritos

4

oz

Cheddar Cheese

shredded

4

oz

Monterey Jack Cheese

shredded

1

Jalapeno Pepper

sliced (optional topping)

2

Green Onions

sliced (optional topping)

2

tbsp

Sour Cream

optional topping
Instructions
In a large skillet over medium heat add ground beef and 1/2 of the onion.

Cook until no pink remains.

Drain excess grease and reduce heat to medium-low.

Add diced tomatoes, tomato sauce, chili powder, garlic powder, and kidney beans.

Simmer stirring occasionally for 10-15 minutes.

You can either serve as a casserole or in individual bags.
If serving in bags:
Split each and cover with chili, shredded cheese, remaining diced onions, and any optional toppings.
If serving in a casserole:
Grease a 13x9" casserole dish.

Place about 5 ounces of Fritos in a layer at bottom of the dish.

Sprinkle with 1/2 of each of the cheeses.

Layer with the remaining cheeses.

Bake for 10 minutes until cheese is melted and bubbly.

Top with 1 ounce of Fritos, remaining diced onions, and any optional toppings.
Notes
In a hurry, use 2 cans of Hormel Chili instead of making your own.
Nutrition
Calories:
614
kcal
|
Carbohydrates:
41
g
|
Protein:
32
g
|
Fat:
37
g
|
Saturated Fat:
15
g
|
Trans Fat:
1
g
|
Cholesterol:
92
mg
|
Sodium:
630
mg
|
Potassium:
841
mg
|
Fiber:
9
g
|
Sugar:
4
g
|
Vitamin A:
1019
IU
|
Vitamin C:
12
mg
|
Calcium:
393
mg
|
Iron:
5
mg