Easy Pickled Eggs are a delicious snack with the perfect balance of salty, sweet, and sour. This is a simple recipe with no canning required!
Pickled Eggs are tasty served up on their own for an appetizer or used in a number of hard boiled egg recipes. A great way to use our Perfect Instant Pot Hard Boiled Eggs!
Easy Pickled Eggs
There's a definite appeal to a recipe where you sit back and let Mother Nature do most of the work. We use the term "set it and forget it" a lot, but few recipes really mean that quite like pickling. Pickling is a fun, hands-off process that imparts all sorts of interesting sweet and sour, and salty flavors onto foods. While the classic pick is cucumbers, plenty of folks also enjoy making Easy Pickled Eggs!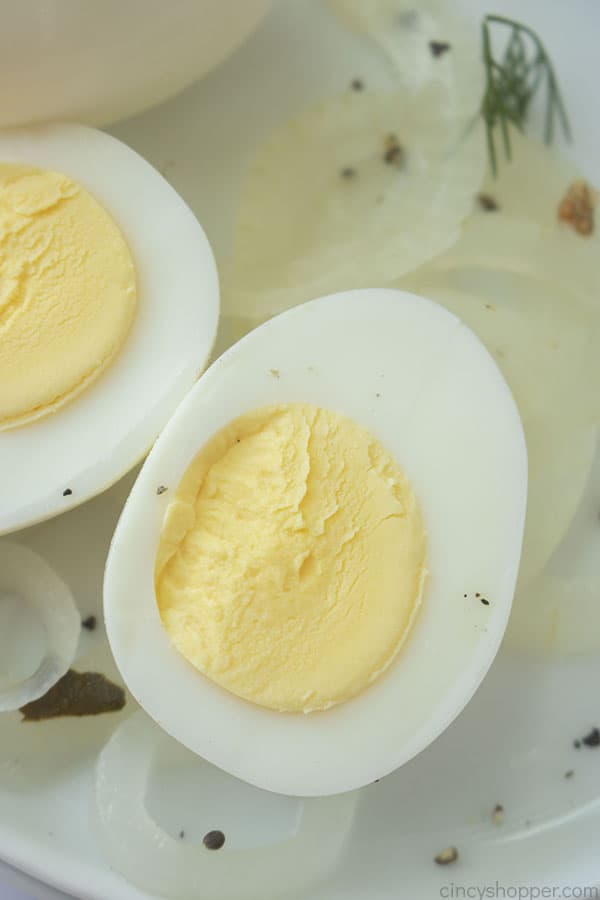 Pickled Eggs are an easy way to make the humble hard boiled egg into a more interesting snack. Let's be honest: hard boiled eggs are kind of bland- even turning them into something like Classic Deviled Eggs isn't enough for some folks. Pickling them turns them into a zesty, sour, and salty snack. They're not just a snack though: once they're pickled, you could use these eggs in all sorts of hard boiled egg recipes to add some fun pickle flavors!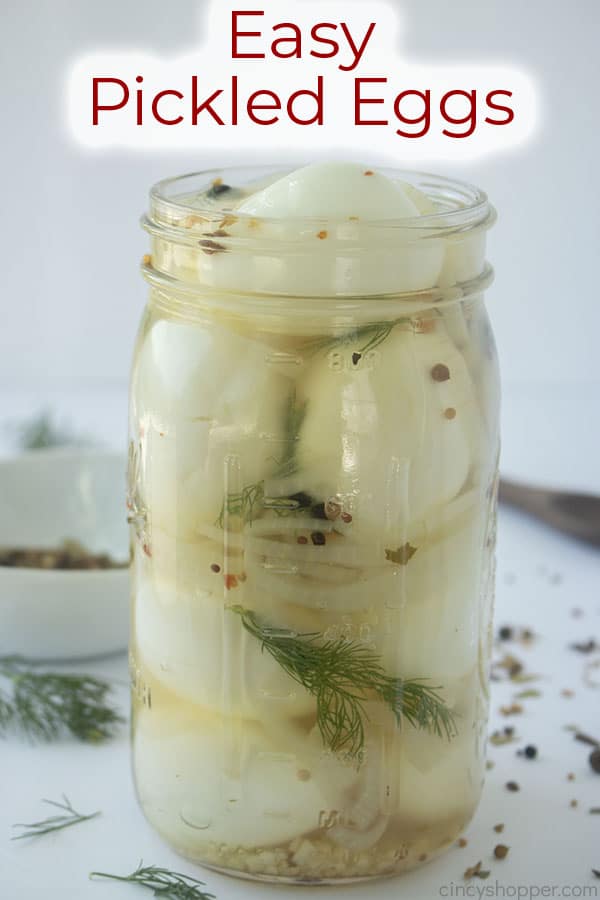 This is an incredibly easy recipe to follow along with. The process is super simple and there's no canning required! Whip up a brine, soak your eggs for a week or so, and dig in. We loved this tasty Pickled Egg Recipe and we're certain you will too!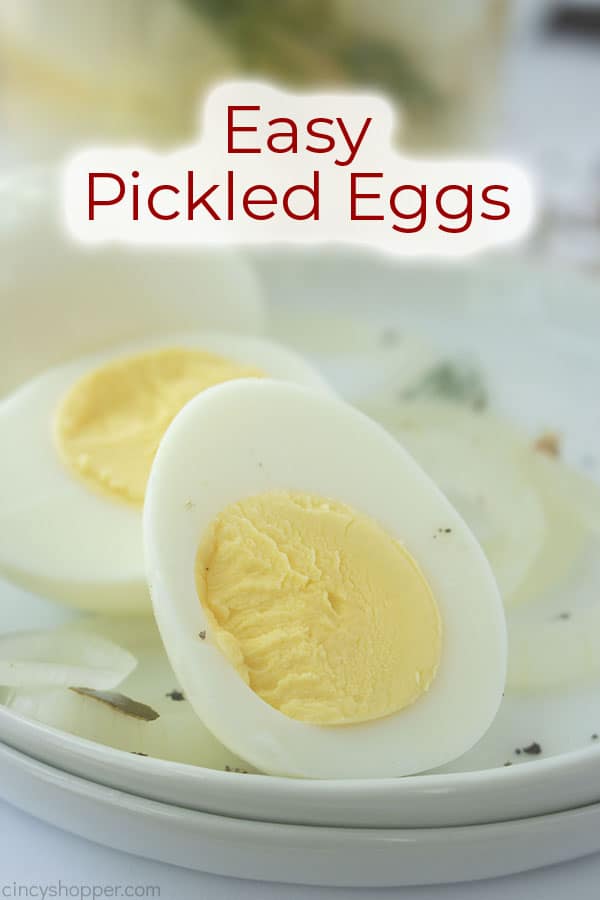 Liked our eggs? Serve them up with our favorite BBQ recipes!
Our

Creamy Broccoli Salad

is one of our go-to salad recipes for barbeques and get-togethers

!

Broccoli is such a tasty and nutritious green and it pairs

perfectly

with some bacon and onion in this cheesy and creamy salad

. Let that dressing soak in for about an hour- it's delicious!

Tuna Pasta Salad

is another favorite of ours. We load ours up with plenty of macaroni, canned tuna, peas and celery, and some hard boiled eggs. Great as a side or served on it's own-

maybe

try making it with our pickled eggs recipe here?

With summer picnics

just

around the corner, you can bet I'm excited to make some

Creamy Dill Cucumber Salad

!

Cucumbers and Vidalia onion make for a nice, fresh veggie base that a tangy and creamy salad dressing pairs

perfectly

with

. An

incredibly

easy salad that's perfect for the season!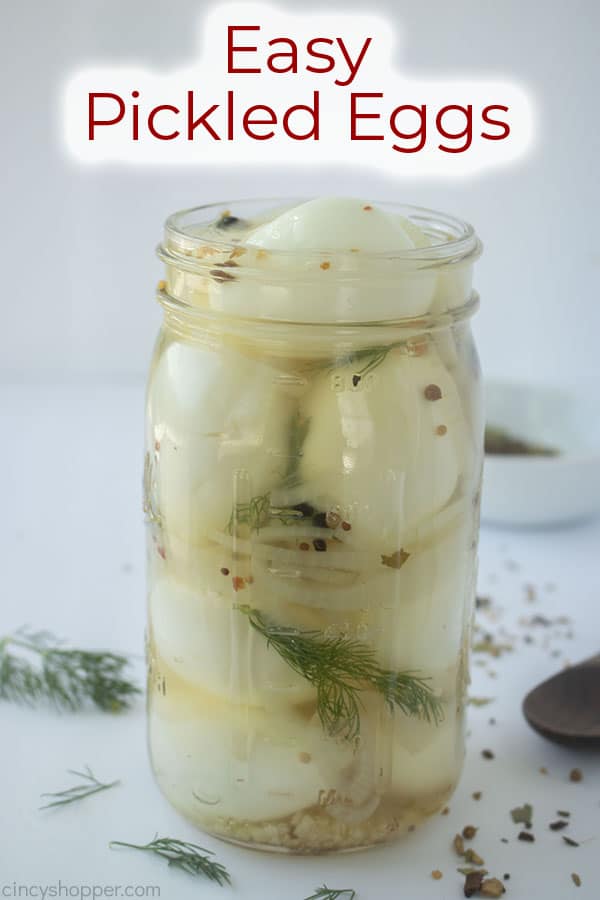 Ingredients for this Recipe
Vinegar

– White vinegar is

typically

used here.

Optionally

, you could substitute in apple cider vinegar if you enjoy the stronger taste

!

Salt

–

Ideally

, you'll use Canning & Pickling Salt. In a pinch, coarse kosher salt will work.

Sugar

Mixed Pickling Spice

– This is usually a blend of different seeds like mustard and coriander and other aromatics

.

Red Pepper Flake

(Optional) – If you want a bit of heat, add a touch of red pepper flake to your pickling brine.

Onion

Garlic

Eggs

– This recipe is perfect for a dozen hardboiled eggs.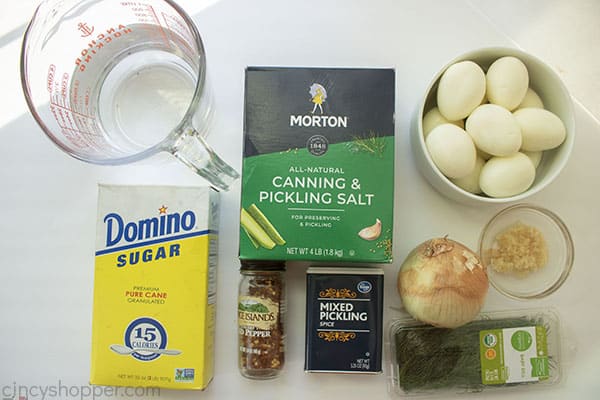 How to make Pickled Eggs
Pickling eggs is very easy- a bit of up-front prep but most of it is
just
waiting. Here's a quick rundown of the recipe:
Combine your pickling brine ingredients

and

bring to a boil

. Simmer for 5 minutes before removing from the heat.

Add your garlic, onion, dill, and eggs to a cleaned jar

before

covering with pickling liquid and sealing

.

Allow to refrigerate and pickle for 3-7 days

before enjoying.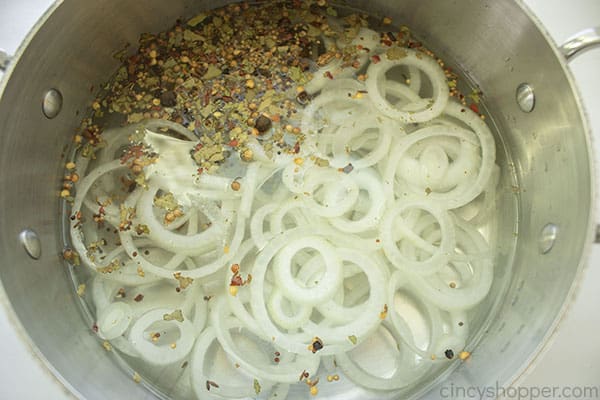 The only real "hard part" of this recipe is making the pickling brine or juice. Even that is as simple as adding some water, vinegar, salt, onion, sugar, pickling spice, and optional red pepper flake to a pot and bringing to a boil. Once that gets to boiling, turn the heat down and let the liquid simmer for about 5 minutes before removing from the heat entirely.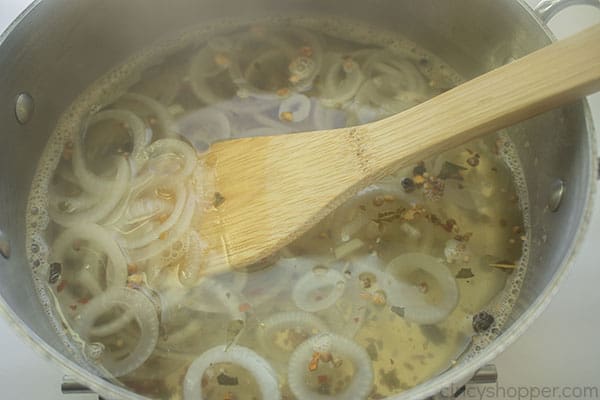 Now it's time to start filling up our jar. Make sure the jar is thoroughly cleaned and rinsed before starting this recipe. If you can, use some sort of food-safe sanitizer: we want to prevent any unsafe bacteria from building up in our jar while it pickles. So, in a clean jar, first add your garlic.
On top of that, add a few of the eggs.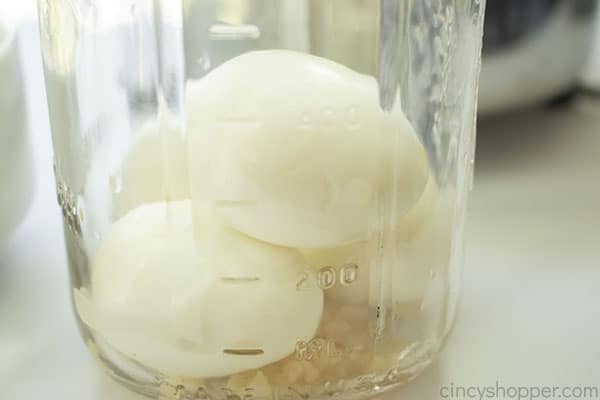 Grab some onions from our pickling liquid and add those.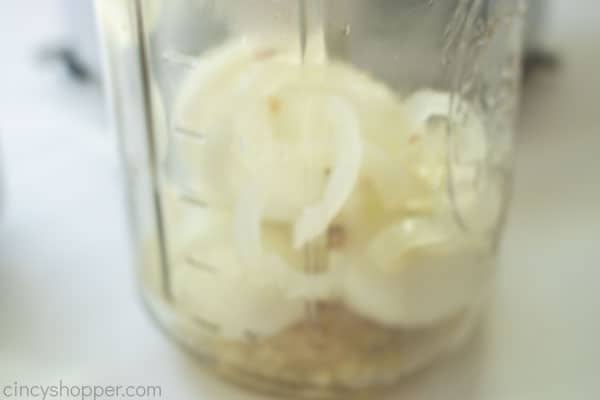 Finally, some dill- it's a wonderful flavor for pickled foods. Repeat those layers until the jar is full and then add your now-cooled pickling juice to the jar. Make sure all the eggs are fully covered before sealing and putting in the fridge.
How long
are Pickled
Eggs good for?
Those eggs are going to need at least 3-7 days before the pickling solution really starts to flavor them. Keep them stored in the fridge at all times and they should last 3-4 months! Chances are, you'll eat them all up well before then…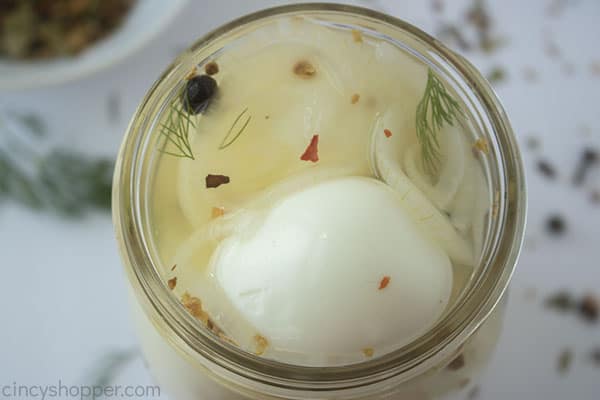 Are pickled foods good for you?
In most cases, you can benefit greatly from adding more pickled foods to your diet. Pickled foods often contain plenty of "good" bacteria which can help improve gut health- like probiotics. Oftentimes, pickled foods also contain healthy amounts of salt and vinegar, which can help with hydration and blood sugar respectively. Don't go too pickle-crazy though: too much salt can be bad for you! In short, enjoy responsibly.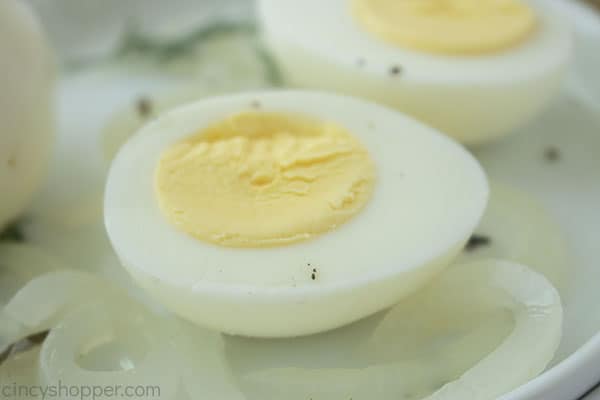 Pickled Eggs
Easy Pickled Eggs are a delicious snack with the perfect balance of salty, sweet, and sour. This is a simple recipe with no canning required!
Ingredients
3

cup

White Vinegar

1

cup

Water

1

tsp

Canning & Pickling Salt

you can use coarse salt

1

large Onion

thinly sliced

1/3

cup

Sugar

4

tsp

Mixed Pickling Spice

1/4

tsp

Red Pepper Flake

optional

12

Hard Boiled Eggs

peeled and cooled

1

tbsp

Minced Garlic

2-3

sprigs

Fresh Dill
Instructions
Wash and thoroughly rinse a quart (32 oz) jar. Set aside.

In a medium pan, add vinegar, water, salt, onion, sugar, pickling spice and, red pepper flake.

Reduce heat and simmer for 5 minutes.

Remove from heat and allow to cool for 30 minutes.

Add the garlic to the prepared jar.

Add eggs to the jar intermixing with onions and dill sprigs.

Pour liquid over eggs and seal jar.

Refrigerate 1 week (3 days minimum) before eating.

Refrigerate any remaining.
Notes
You can substitute apple cider vinegar for the white if you would like a stronger flavor.
These will last several weeks in the refrigerator.
Nutrition
Calories:
118
kcal
|
Carbohydrates:
8
g
|
Protein:
7
g
|
Fat:
5
g
|
Saturated Fat:
2
g
|
Cholesterol:
187
mg
|
Sodium:
260
mg
|
Potassium:
91
mg
|
Fiber:
1
g
|
Sugar:
7
g
|
Vitamin A:
279
IU
|
Vitamin C:
1
mg
|
Calcium:
39
mg
|
Iron:
1
mg