Baked chicken cordon bleu is crispy on the outside while tender and juicy on the inside. Make this recipe for a delicious dinner in just under an hour!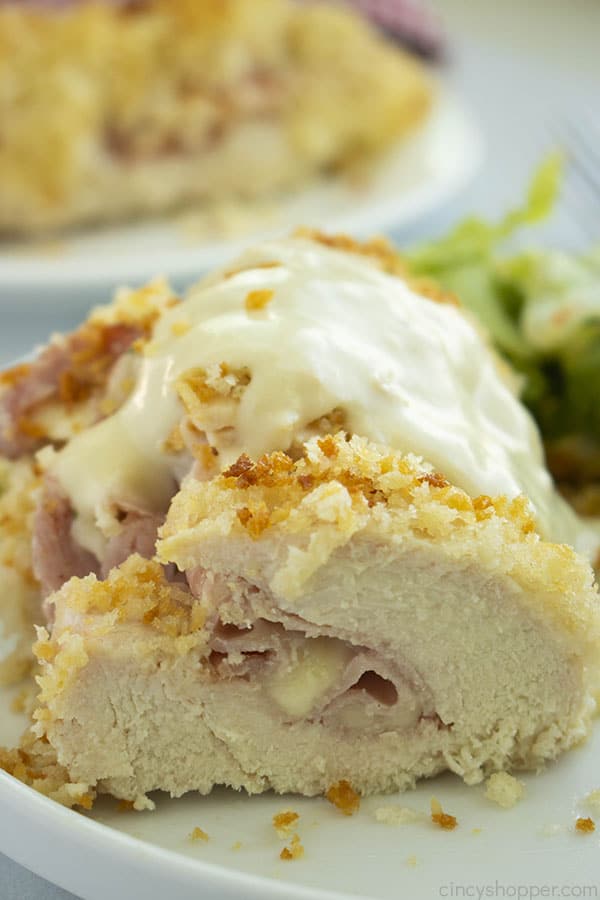 What is chicken cordon bleu?
It's based on a dish created in Switzerland where meat was wrapped with cheese, then breaded and fried.
Chicken breasts are pounded into thin pieces and rolled up with slices of ham and cheese. Then they are breaded and pan-fried until golden brown.
Finally, the chicken is topped with a creamy Dijon sauce before serving.
What about the name?
Cordon bleu is a French term meaning "blue ribbon." It was originally a wide blue sash given to the highest order of knights in France.
Later, this title was given to dishes that were cooked to a high standard by outstanding chefs. Often those chefs wore aprons with blue ribbons, similar to the original sashes.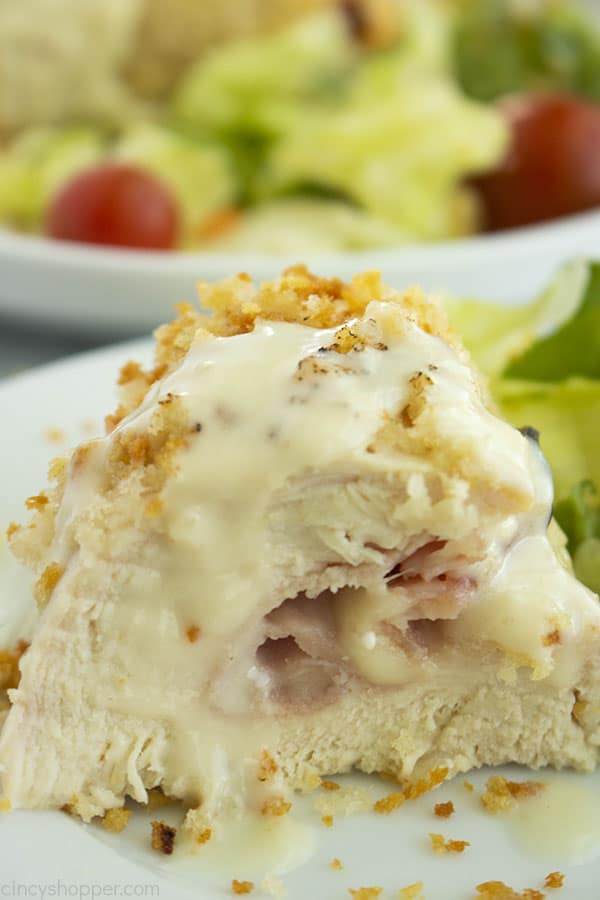 Making it simpler
For an easy chicken cordon bleu, cut a pocket in the chicken breasts to stuff them.
Baking instead of pan-frying lets you make a large batch at once and makes it easier to know that the chicken is cooked all the way through.
This baked chicken recipe is a family favorite, along with the Best Chicken Parmesan and my Parmesan Crusted Chicken.
What is in chicken cordon bleu sauce?
The base of the sauce is a white sauce, or bechamel, which is made by combining a roux of butter and flour with milk.
Dijon mustard is then added, along with freshly grated Parmesan cheese and spices.
This makes a creamy, tangy sauce that perfectly compliments the flavors of the chicken.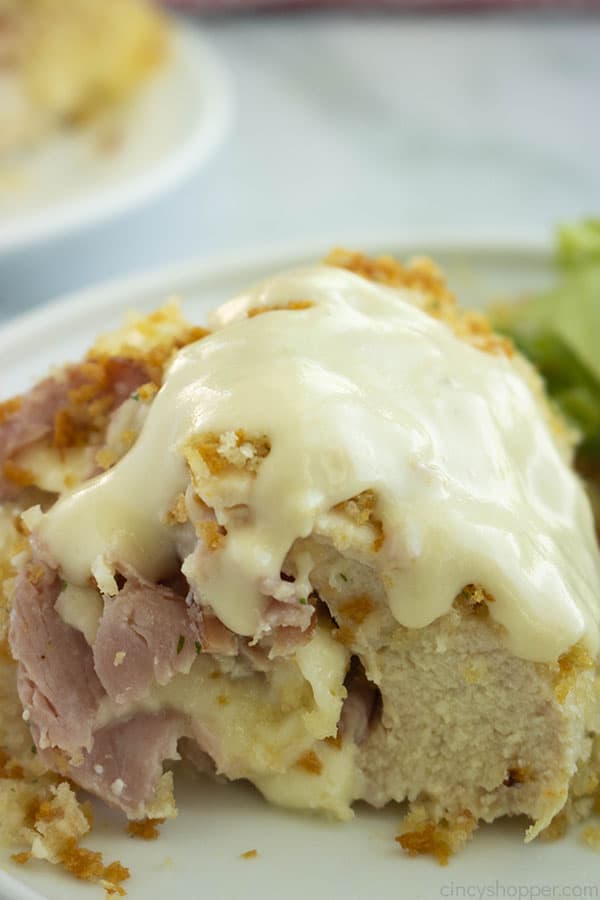 It might seem intimidating, but this recipe is actually quite simple to make.
Just stuff and bread the chicken, then pop it in the oven to bake. While that's happening, whisk together a simple cream sauce to spoon over the top.
You'll even have plenty of time to make any side dishes you want to serve alongside the meat.
How to make baked chicken cordon bleu
INGREDIENTS
Boneless skinless chicken breasts
Sliced deli ham and Swiss cheese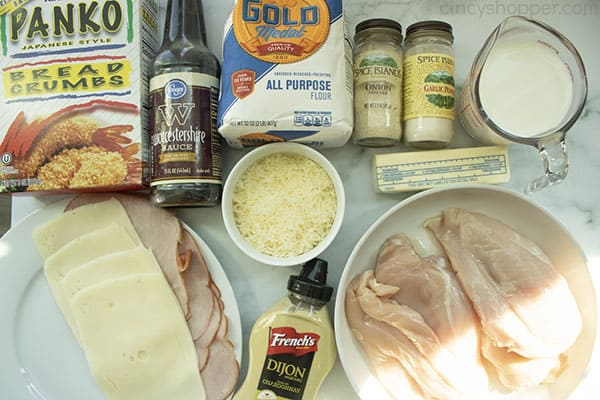 STEP BY STEP INSTRUCTIONS
First, preheat your oven to 350 degrees F and grease your baking dish.
Slice each chicken breast in half lengthwise, stopping before cutting all the way through. This will form the pocket to hold the ham and cheese.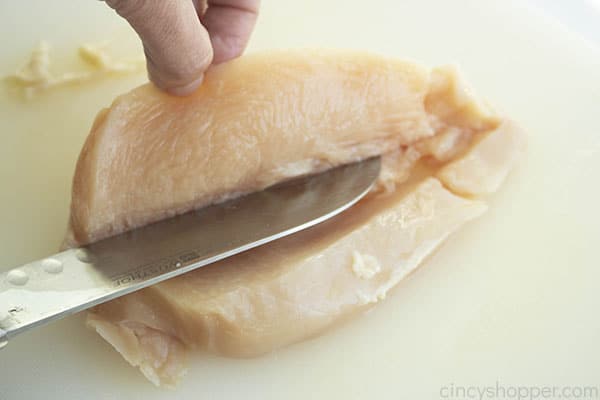 Stir together the melted butter and Panko breadcrumbs until well combined.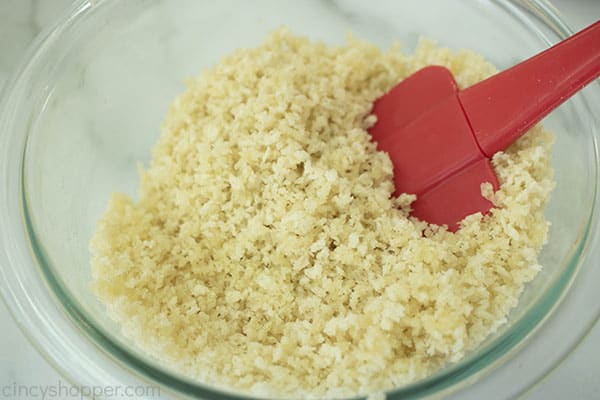 Remove about ¼ of the breadcrumb mixture and sprinkle it along the bottom of the baking dish.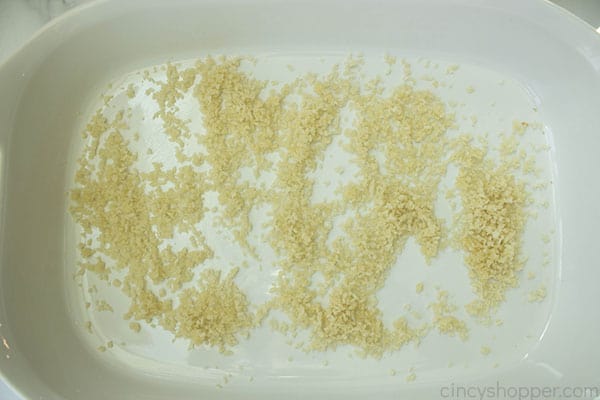 Next, place the sliced chicken breasts in the pan on top of the breadcrumb mixture.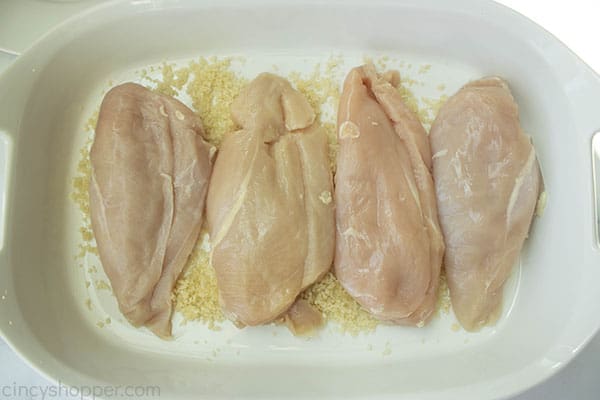 Open up the pockets you created in the chicken and add a slice of ham and cheese to each breast.
Then close them all up so the slices are held inside.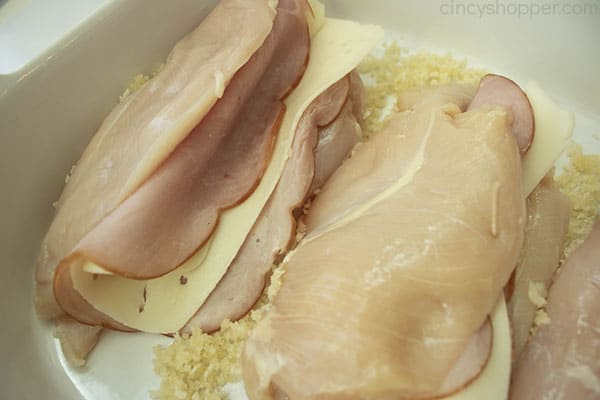 Now, sprinkle the remaining breadcrumb mixture evenly over the top of the stuffed chicken breasts.
Place the pan in the oven and bake until the chicken is cooked all the way through.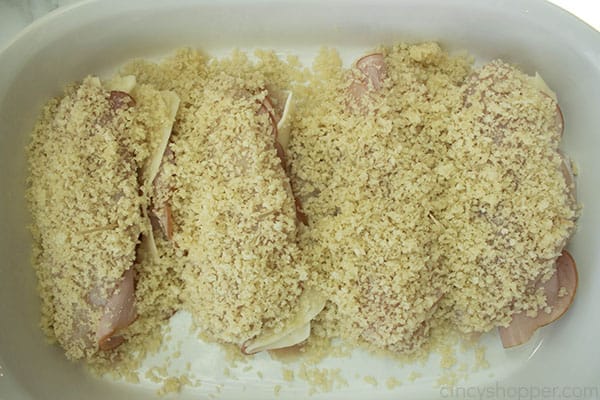 While the chicken is cooking, start the chicken cordon bleu sauce.
Melt butter in a pan over medium heat. Whisk in the flour and stir constantly until the mixture is bubbly and has darkened in color.
Next, slowly pour in the milk while whisking constantly. Then add the onion and garlic powders.
Continue mixing until everything is fully combined and the sauce starts to thicken.
Remove the pan from the heat and add the cheese, mustard, and Worcestershire sauce.
Stir until the cheese has fully melted.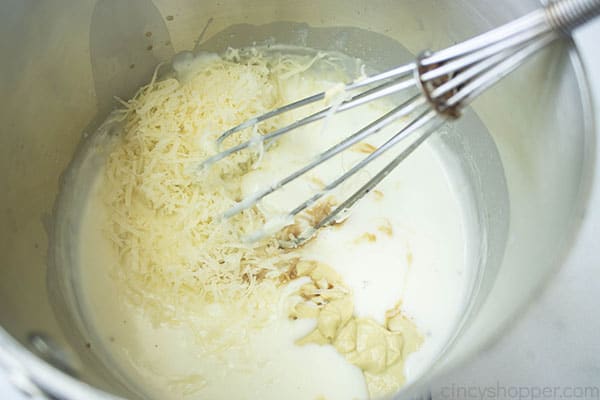 Remove the chicken from the oven when fully cooked.
When sliced, there should be no pink in the middle and the juices should run clear.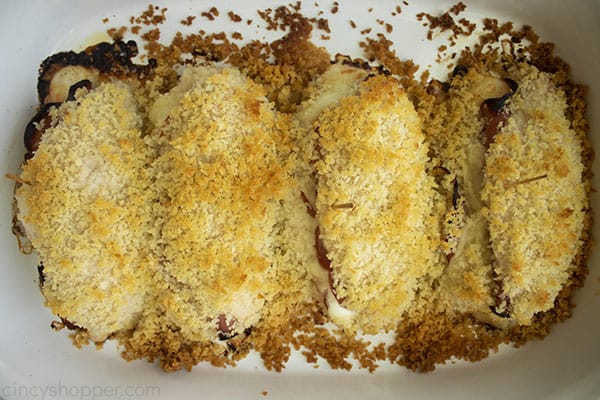 Plate the chicken and spoon warm sauce over each piece before serving.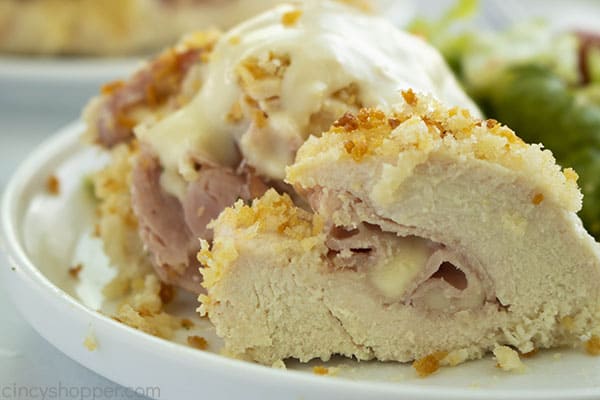 Q&A
What are Panko breadcrumbs?
They are a Japanese breadcrumb made from crustless white bread. The texture is flakier than normal breadcrumbs, which means they stay nice and crispy when cooked.
What should I serve with chicken cordon bleu?
Make the chicken the star of the show by keeping your sides simple. Some ideas are:
Green salad
Orzo or rice
Sauteed vegetables
How do I store leftovers?
Store this easy chicken cordon bleu in an airtight container and refrigerate up to 4 days.
Reheat in the microwave, sprinkle some water over the top first to add moisture.
Or reheat in the oven at 300 degrees F. Cook for about 20 minutes or until warmed all the way through.
Can I freeze baked chicken cordon bleu?
I wouldn't recommend freezing the cooked dish, as the textures will be unpleasant when thawed and reheated.
You could, however, make this a freezer meal by freezing the uncooked chicken.
Follow the steps up until baking, then cover the pan tightly with plastic wrap and foil and freeze for up to 3 months. Thaw in the refrigerator overnight, then bake as directed.
It may be best to add the breadcrumbs just before baking – either way is fine, but the texture might change when frozen and thawed.
Definitely make the sauce fresh while the chicken is baking. Cream sauces do not freeze well.
Can I substitute some of the ingredients?
Yes, you can with certain things. The overall recipe is pretty simple, but a few changes can be made if needed.
Cheese: Replace the Swiss with Gruyere or Havarti for a bolder flavor.
Breadcrumbs: Feel free to substitute regular toasted breadcrumbs for a more classic texture.
Milk: Make an even richer, creamier sauce by replacing the milk with equal parts chicken broth and heavy cream.
Easy Chicken Cordon Bleu
Baked chicken cordon bleu is crispy on the outside while tender and juicy on the inside. Make this recipe for a delicious dinner in just under an hour!
Ingredients
CHICKEN
4

Boneless Skinless Chicken Breasts

2

cup

Panko Bread Crumbs

4

tbsp

melted Butter

4

slice

Deli Ham

4

slice

Swiss Cheese
SAUCE
2

tbsp

Butter

2

tbsp

Flour

1

cup

Milk

1/8

tsp

Onion Powder

1/8

tsp

Garlic Powder

1

tbsp

Dijon Mustard

1/2

tsp

Worcestershire Sauce

1/2

cup

Grated Parmesan cheese
Instructions
Preheat the oven to 350.

Lightly spray a 9X13" baking dish with cooking spray. Set aside.

Butterfly chicken breasts to create a pocket in each.

In a medium bowl combine bread crumbs and melted butter. Stir to mix.

Sprinkle about 1/4 of the bread crumb mixture in prepared dish.

Lay the cut chicken breasts in prepared dish.

Open each breast an place slice of ham and slice of cheese. Close fold.

Sprinkle remaining bread crumb mixture over the top.

Bake for 40-45 minutes until internal temperature 165.

Start sauce whrn chicken is nearly complete.

In a medium pan, over medium heat, melt butter.

Whisk in flour, stirring constantly, for 2 minutes to make a roux.

Gradually add the milk while whisking constantly.

Add in the onion powder and garlic powder.

Whisk mixture constantly for sauce thickens.

Remove from heat and add Worcestershire sauce, Dijon and Parmesan cheese.

Stir until the cheese melts.

Reduce heat.

Plate each chicken breast serving and drizzle with warm sauce.
Nutrition
Calories:
641
kcal
|
Carbohydrates:
29
g
|
Protein:
46
g
|
Fat:
37
g
|
Saturated Fat:
20
g
|
Cholesterol:
168
mg
|
Sodium:
1135
mg
|
Potassium:
666
mg
|
Fiber:
2
g
|
Sugar:
5
g
|
Vitamin A:
914
IU
|
Vitamin C:
1
mg
|
Calcium:
406
mg
|
Iron:
2
mg