Cube Steak is an inexpensive cut of beef perfect for an easy weeknight dinner recipe. Enjoy with onion gravy for a delicious and savory dish!
Cube steaks are hearty, comforting, and cook perfectly! Goes great with a side of The Best Mashed Potatoes and some Garlic Green Beans.
Cube Steak
I've always been big on delicious, comforting meals that aren't hard to make or hard on the wallet. Stuff like liver and onions and pot roasts are so simple to cook up but taste so good that you wonder how something this delicious can be so cheap to make. We've tackled these kinds of recipes before and today we've got another one for you all to try!
Cubed Steak, if you've never heard of it, is that stuff on the grocery shelves that looks really similar to ground beef. Don't be fooled though, because cubed steak is way different: these are actual steaks- usually from cheaper parts of a cow- that have been tenderized. Just because cube steak is cheap doesn't mean it's not good and there's plenty of cube steak recipes online that make good use of it!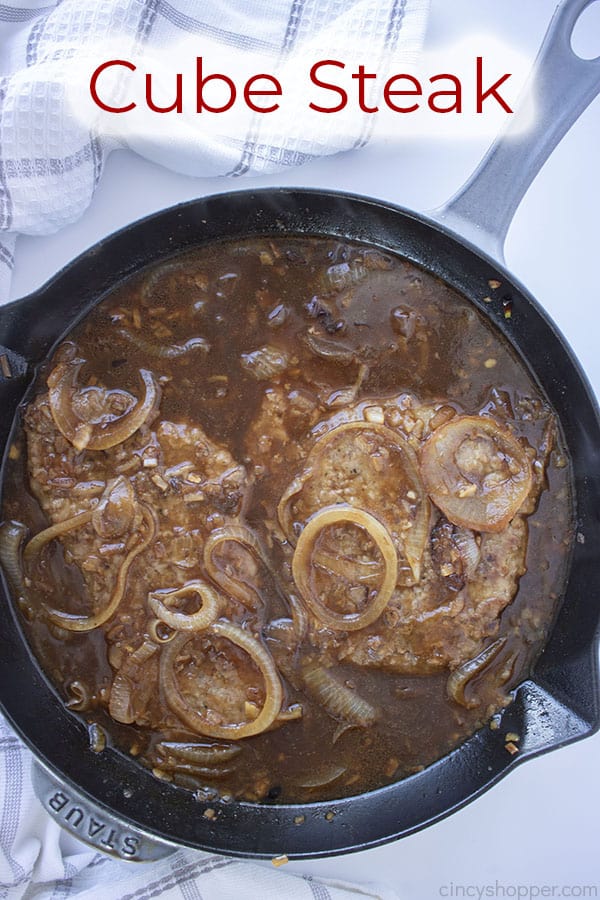 You could do cube steak country fried steak or baked cube steak but the best way to cook cube steak is Fried Cube Steak with Onion Gravy like we're doing today. Beef and onions is a timeless combo that only gets better with a thick beef gravy to go with it! It's simple to make and works as an easy weeknight dinner recipe. Give it a try- and don't forget to make some mashed potatoes and veggies to go with it.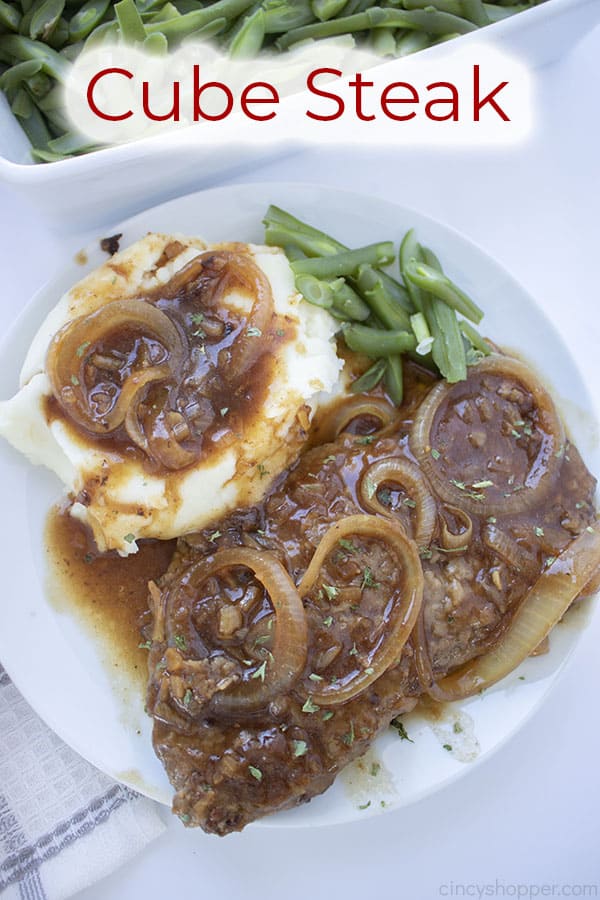 Loved this simple recipe? Try some easy ground beef dinner recipes next!
Few things are as comforting and filling as

Simple Salisbury Steak

.

This has always been one of our go-to dinner recipes because it's so easy and the steaks always turn out juicy and delicious

! Inexpensive, tasty, and goes great with a side of mashed potatoes and some veggies.

Skillet Ground Beef and Biscuits

is another comfort food dish that's perfect for those busy weeknights

.

All you need is some ground beef, gravy, canned biscuits, and some frozen veggies to make this family favorite recipe

! Keeping it all in one skillet also keeps the clean-up quick and easy.

Who doesn't love some

Classic Meatloaf

?

Meatloaf is such a classic dish and it's easy to see why: ground beef cooked

perfectly

with plenty of tasty fillings and topped with a tangy ketchup glaze

. It's so easy to make and it should be a go-to recipe for anyone looking for a simple dinner recipe.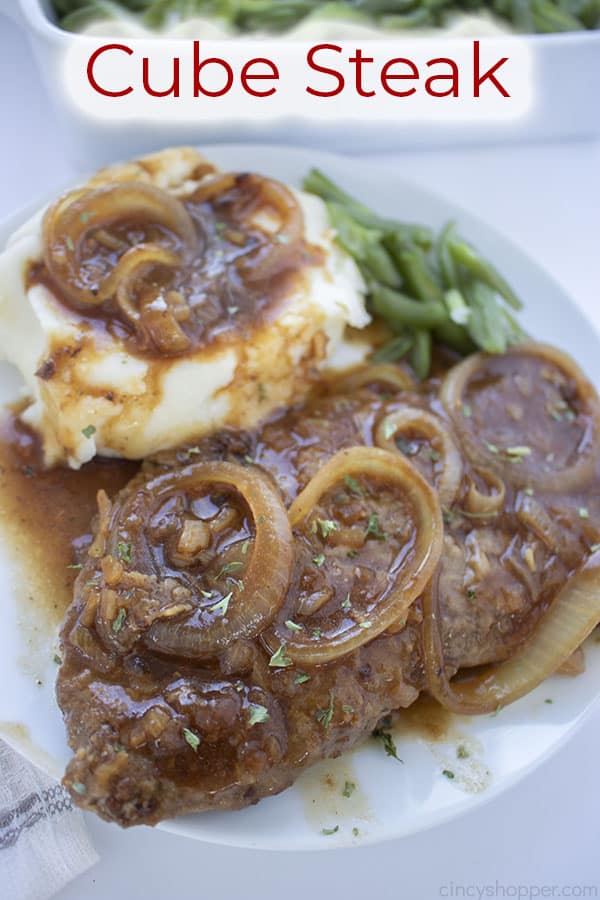 Ingredients for Cube Steak with Onion Gravy
Cubed Steak

– When we're talking about cube steak vs ground beef, there are a few key differences. For one, cube steak isn't actually ground- it's

just

been tenderized

a lot

.

Just

make sure you're buying cubed steak and not ground beef- they look very similar but they cook very

differently

!

Flour

Garlic Powder
Salt & Pepper

Onion

– Some sort of yellow or sweet onion

preferably

. White onions might work but avoid red ones.

Beef Stock

Lipton Soup Mix

– Using a packet of this Lipton onion soup mix definitely adds something to this dish! If you don't have one on hand, don't worry: here's our

Copycat Lipton Onion Soup Mix Recipe

!

Worcestershire Sauce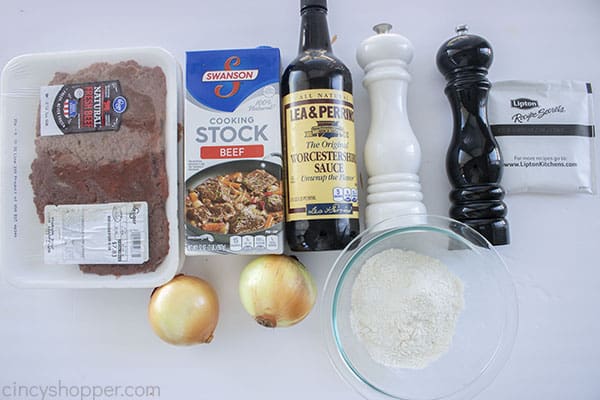 How to cook Cube Steak
We love this cubed steak recipe so much because it's so easy to make for something so delicious! Here's all you have to do to make some yourself:
Cook chopped onions in pan

before setting aside and

pan-frying coated and seasoned steaks

. Remove from pan and set aside.

Make a quick gravy in the pan

with beef stock, soup mix, and Worcestershire sauce before

adding onions back to the pan

.

Add steaks back to pan

to warm through and

coat with gravy before serving

.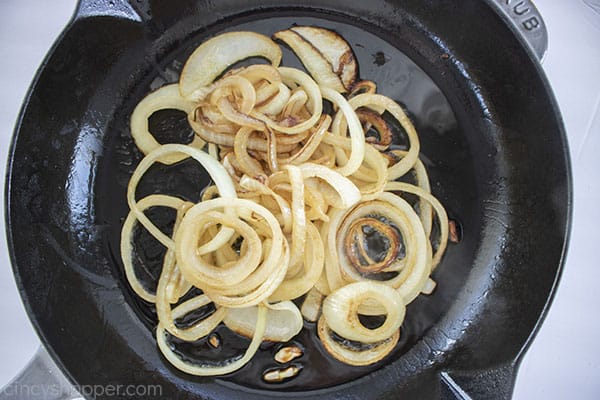 We usually start by cooking our onions first. This helps us cook them to whatever "doneness" we want. At the very least, cook them until they're soft, but feel free to get some color on there. After that, whisk together the flour, salt, pepper, and garlic powder in a shallow dish. Take your steaks and coat them in this flour mix.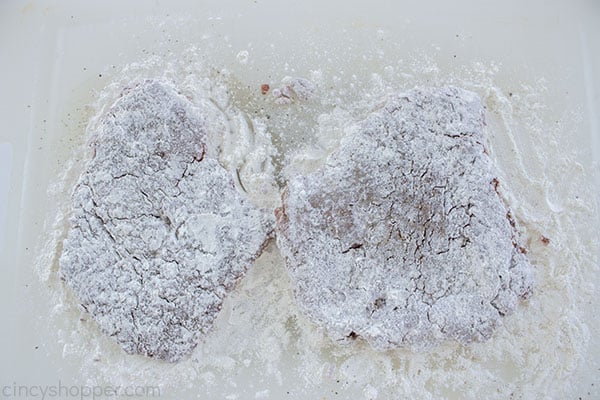 Get some oil in a pan and set it over medium to medium-high heat. When it's warm, gently set the steaks into the pan to avoid splashing hot oil. You're going to cook your steaks for about 5 minutes on each side.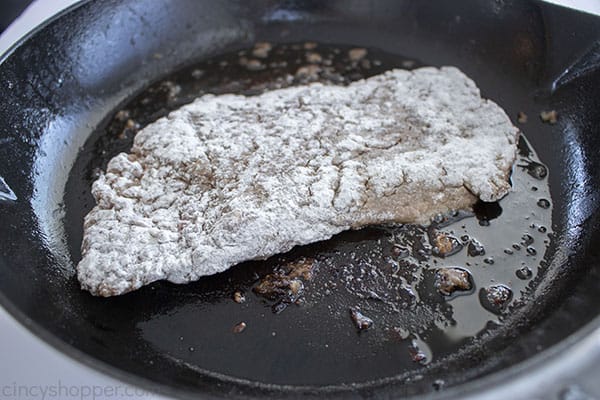 Once the steaks are cooked, remove them from the pan and maybe keep them warm in a low oven. Now we're making our gravy: start by adding the beef stock to the pan and using a wooden spatula or something similar to work up all the crispy bits the steak left behind. Turn the heat down- medium to medium-low- and add the soup mix.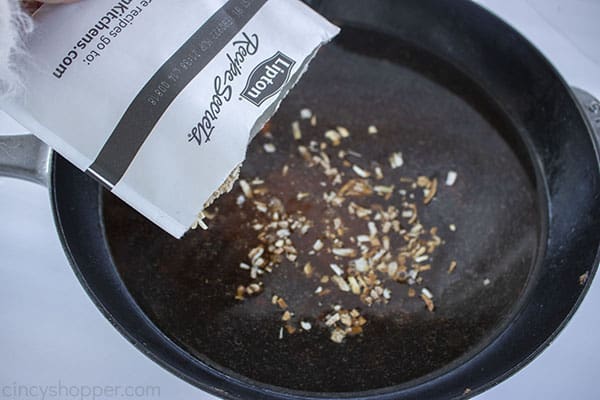 Add a touch of Worcestershire sauce…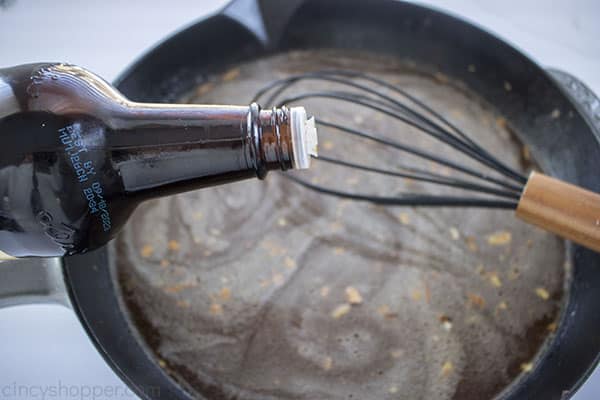 …and then return the onions to the pan.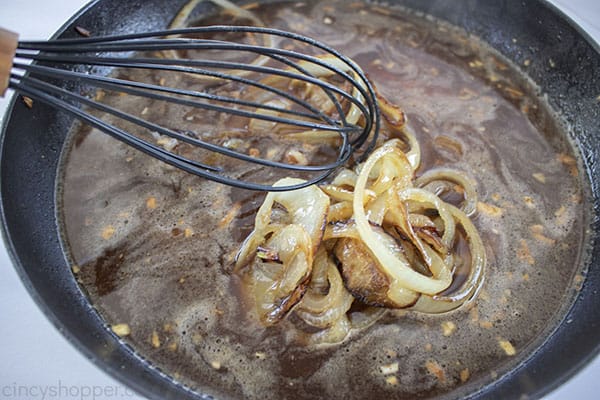 Finally, add the steaks back to the pan, coat with gravy, and let warm through before plating and enjoying!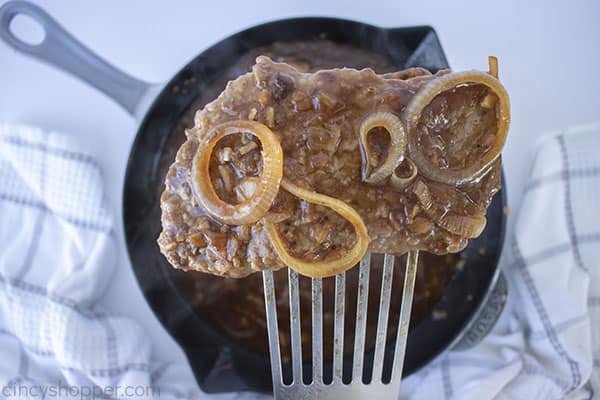 How to thicken gravy
This recipe works best if you have a thicker gravy that
really
clings to your steaks and mashed potatoes. If you're making the gravy and find that it's looking very thin, you have a couple options:
Cook and reduce it down

– If the gravy is looking too watery and thin,

just

cook off the water. Turn the heat up to medium to medium-high again and

carefully

simmer some of that extra water out of your gravy.

Add a slurry

– The go-to option here is cornstarch slurry: mix 1-2 tablespoons cornstarch with an equal amount of

cold water

. Add to the gravy until thickened to your liking. If you don't have cornstarch, you could also use some of that leftover flour instead of throwing it all out! Add and mix your flour mix with some

hot water

until you get a slurry and then

gradually

add to your gravy.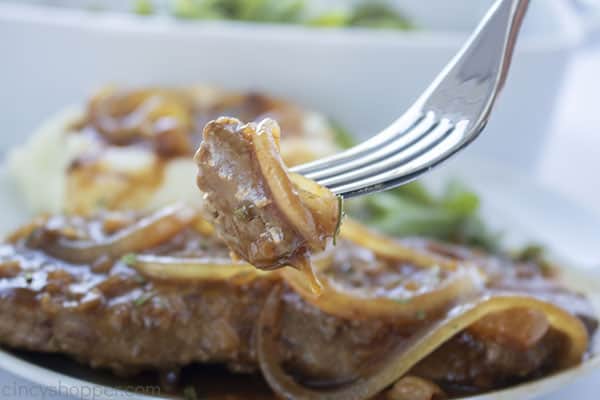 Cube Steak with Gravy
Cube Steak is an inexpensive cut of beef perfect for an easy weeknight dinner recipe. Enjoy with onion gravy for a delicious and savory dish!
Ingredients
1/2

cup

Vegetable oil

1

large onion

sliced

1/3

cup

Flour

1/2

tsp

Garlic Powder

1/2

tsp

Salt

1/2

tsp

Pepper

1 1/2

lbs

Cubed Steak

14

oz

Beef Broth

1

packet

Lipton Onion Soup Mix

1

tbsp

Worcestershire Sauce
Instructions
Heat about 2 tablespoons of oil in large skillet over medium heat.

Break onion sliced into rings and sautee until onions are lightly browned.

Remove from pan and set aside.

In a shallow dish, whisk together flour, garlic powder, salt and pepper.

Coat both sides of each cubed steak in flour mixture.

Add more oil to skillet over medium heat.

Cook each steak about 5 minutes for each side (until no longer pink inside).

Remove from skillet and set aside.

If you want a thicker gravy, add 2 tablespoons of flour dredge to skillet and stir into grease to make a roux.

Use a whisk and add about 1/2 of the broth to deglaze the bits stuck to the bottom of the pan.

Add onion soup mix, remaining broth and fried onions.

Cook until hot and thickened.

Return cubed steaks to pan to warm through.
Nutrition
Calories:
408
kcal
|
Carbohydrates:
18
g
|
Protein:
39
g
|
Fat:
19
g
|
Saturated Fat:
7
g
|
Polyunsaturated Fat:
1
g
|
Monounsaturated Fat:
8
g
|
Cholesterol:
122
mg
|
Sodium:
1608
mg
|
Potassium:
789
mg
|
Fiber:
2
g
|
Sugar:
2
g
|
Vitamin A:
7
IU
|
Vitamin C:
3
mg
|
Calcium:
73
mg
|
Iron:
4
mg