Chicken casserole with noodles is an easy, family friendly, comfort food dinner. To save time, make this casserole recipe with rotisserie chicken!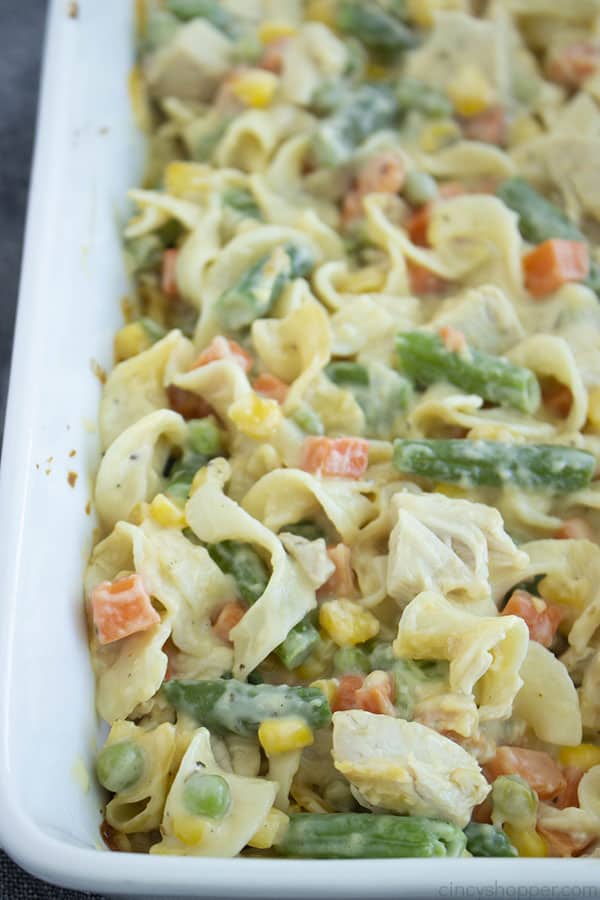 Because they are so easy to prepare ahead of time, casseroles are a great option for busy families.
Meal prep can save you a lot of time! When you get home after a long day and cooking is the last thing you want to do, just pop a premade chicken casserole into the oven.
As a result, your dinner will be hot and ready to serve before you even have time to wrangle everyone around the dinner table.
Plus, chicken noodle casserole is a cozy comfort food dinner that reminds me of my childhood. Everyone loves creamy chicken casserole with noodles!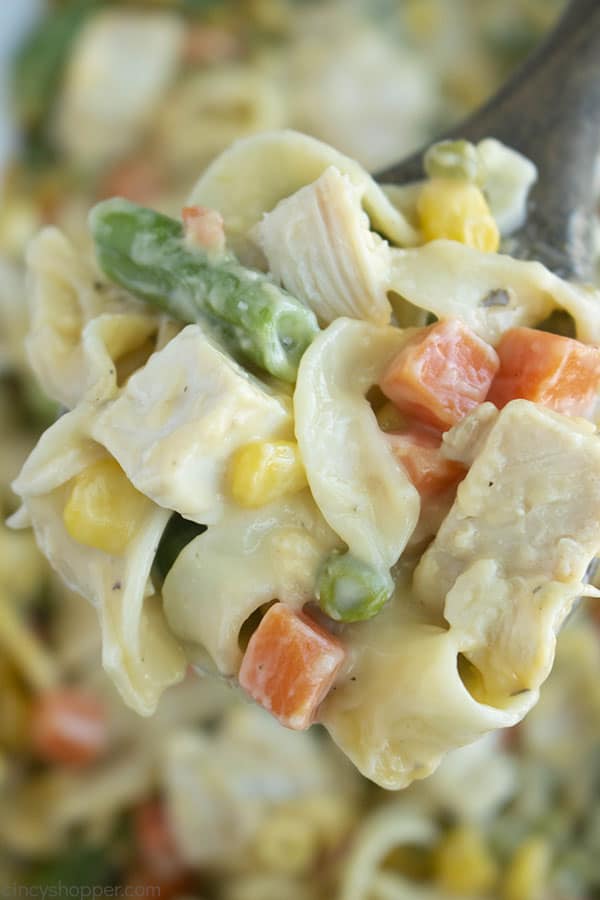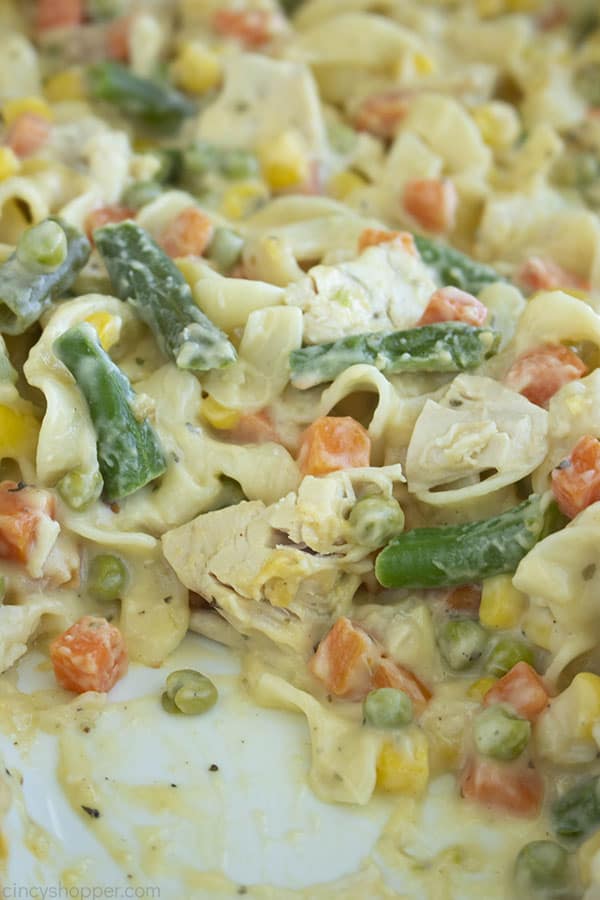 Great recipes using rotisserie chicken
Rotisserie chicken is a delicious meal on its own, but it can be so much more than that simple chicken dinner!
When you make a chicken casserole with noodles and vegetables, the chicken needs to be cooked. What could be easier than bringing home a ready-to-eat bird, chopping it up, and tossing it into a casserole?!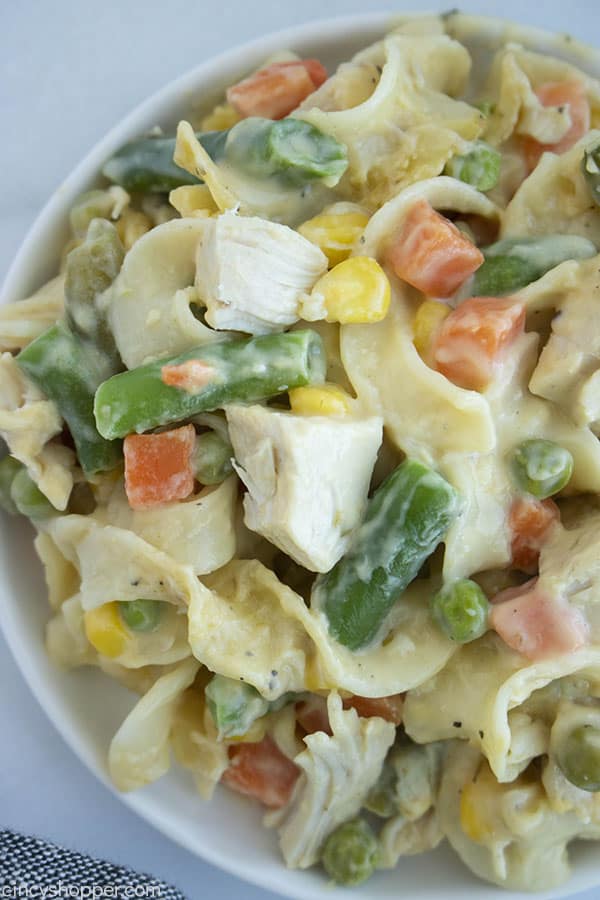 What to serve with chicken noodle casserole:
This casserole is rich and filling. As a result, you really don't have to make side dishes. Some soft
breadsticks
or dinner rolls might be nice, or maybe even a simple garden salad.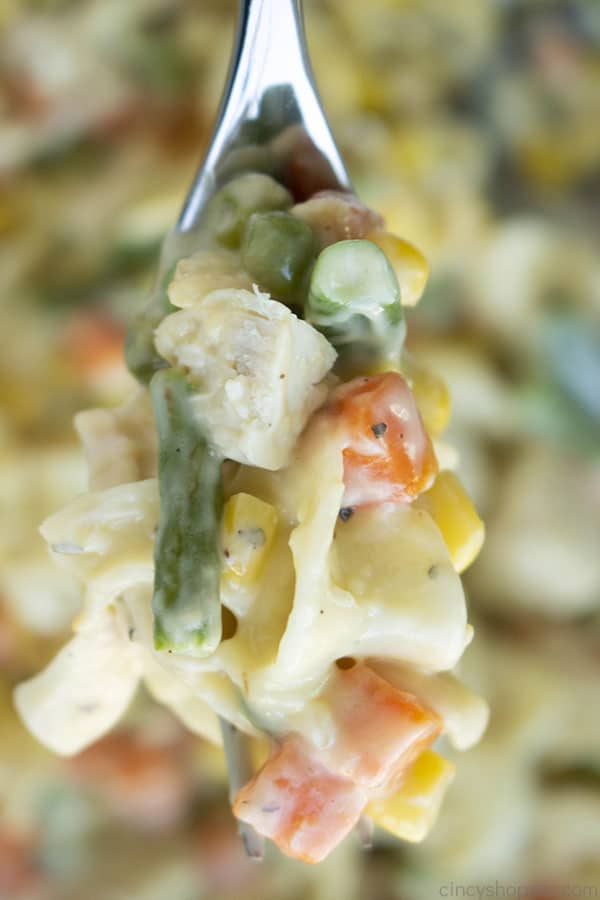 How to make chicken casserole with noodles
The complete instructions for making the dish are in the recipe card below. But for now, these step by step photos will help you see how easy it is to assemble.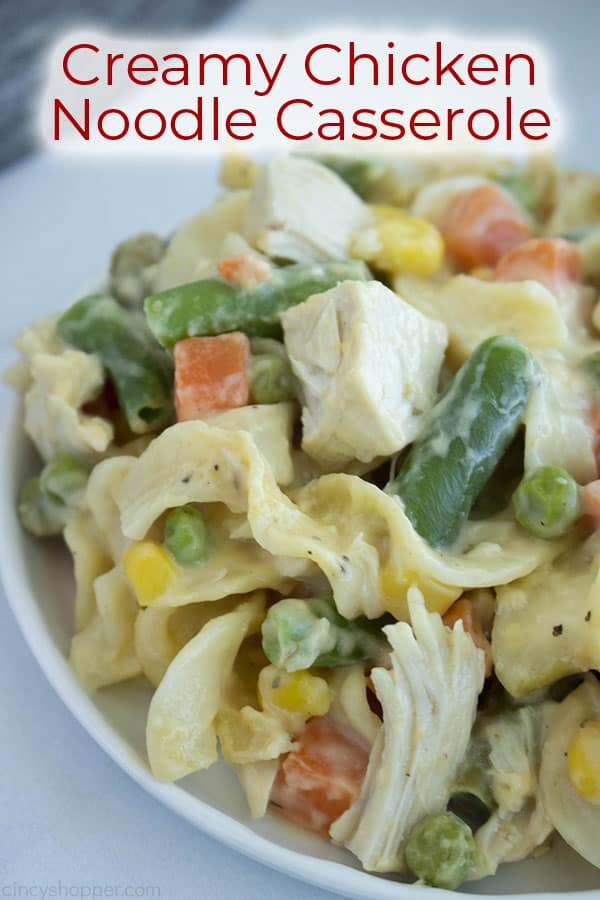 First, gather all of your ingredients and get your oven preheating.
I like to use rotisserie chicken so all I have to do is shred what I need for the recipe. Measure out the spices and get some water boiling on the stove.
This way, the noodles will be cooking while you assemble the rest of the chicken casserole.
INGREDIENTS
Milk – Any type will work except for coconut milk (it's too thick)
Condensed cream of chicken soup
Frozen Vegetables – I use a mix of carrots, peas, beans, and corn
Egg Noodles – You can use any other pasta shape, as long as it isn't too small or thin in size
Cooked chicken – white or dark meat, or a combination of both. It's a great use for leftovers!
Spices – Salt and black pepper, onion and garlic powder, plus dried basil and oregano
Butter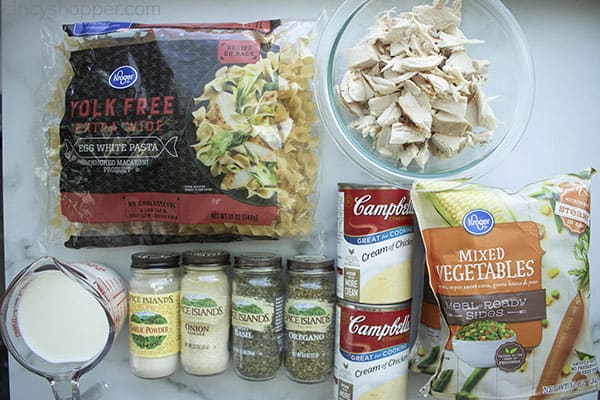 Combine soup and milk in a large bowl.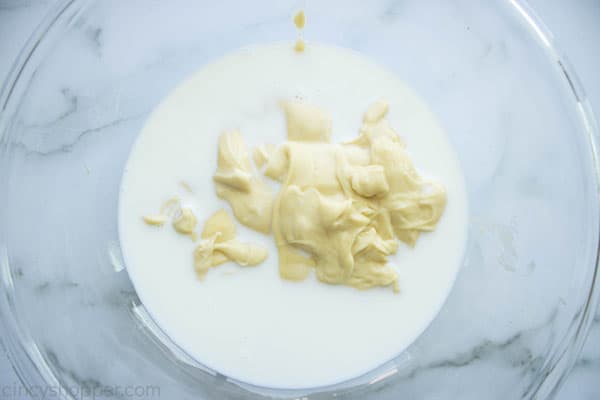 Whisk in all of the remaining ingredients, including the cooked noodles.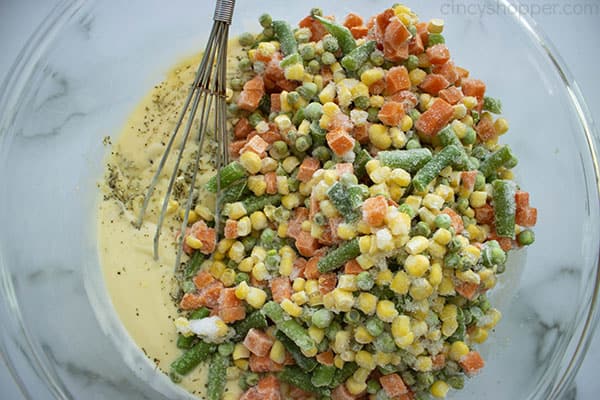 Grease a casserole dish and spread the chicken casserole evenly into the dish.
Cover the casserole dish with foil. Place the chicken casserole with noodles into the oven and bake for 30-35 minutes, or until it's hot and bubbly.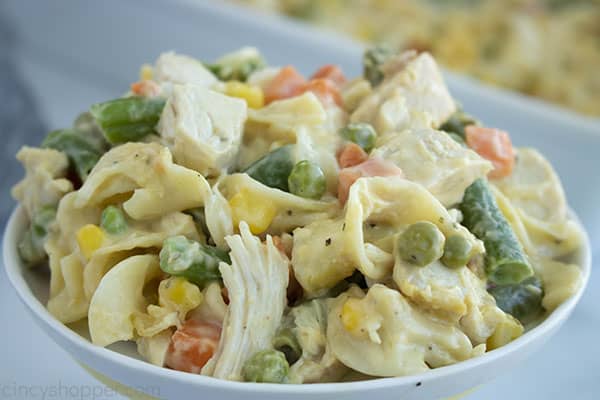 TIME-SAVING TIPS
Pre-Cooked Chicken – If you make a lot of recipes with chicken, a great time-saver is to buy a rotisserie chicken. If you want to cook the chicken yourself, buy a package of chicken breasts in bulk and cook them in a big batch.
Using a slow cooker or electric pressure cooker (Instant Pot) is the simplest way to cook a large quantity at one time. Then, shred or cube the chicken and freeze it in batches. Whenever you need chicken, just thaw the amount the recipe calls for.
Pre-Cooked Noodles – If you want a firmer pasta or are in a time crunch, you can find bags of pre-cooked pasta at the store. They usually come in forms like penne or rotini, but all you have to do is toss them in the microwave for a minute and they're ready to use.
If you want to use egg noodles, you can cook them up to 2 days ahead of time. Then, put them in a food storage bag with a tiny bit of oil to prevent the noodles from sticking together.
Then all you have to do is follow the recipe and add the cooked noodles when the recipe calls for them.
How to store the casserole
Store leftover chicken casserole with noodles in the refrigerator for up to 5 days. If you don't think you will eat all of the leftovers before that time, you should freeze them.
You can freeze the casserole (baked or not) for up to 3 months.
Creamy Chicken Noodle Casserole
Chicken casserole with noodles is an easy, family friendly, comfort food dinner. To save time, make this casserole recipe with rotisserie chicken!
Ingredients
2

cup

Milk

2

10 oz can Cream of Chicken Soup

24

oz

Frozen Mixed Vegetables

2

cup

Egg Noodles

uncooked

2

cups

Cooked Chicken

diced

1/2

tsp

Salt

1/2

tsp

Black Pepper

1/2

tsp

Onion Powder

1/2

tsp

Garlic Powder

1/4

tsp

Basil

1/4

tsp

Oregano

2

tbsp

Butter

melted
Instructions
Preheat oven to 350.

Grease a 9x13" baking dish.

Boil egg noodles according to package instructions.

Drain water and set aside.

Combine soup and milk in a large bowl.

Whisk until blended.

Add all remaining ingredients.

Stir until mixed.

Add cooked noodles.

Stir again to combine.

Transfer to prepared dish.

Cover with foil.

Bake 35-45 minutes or until heated through.
Nutrition
Calories:
285
kcal
|
Carbohydrates:
29
g
|
Protein:
20
g
|
Fat:
11
g
|
Saturated Fat:
5
g
|
Cholesterol:
64
mg
|
Sodium:
356
mg
|
Potassium:
486
mg
|
Fiber:
5
g
|
Sugar:
4
g
|
Vitamin A:
6028
IU
|
Vitamin C:
12
mg
|
Calcium:
130
mg
|
Iron:
2
mg