Chicken and Biscuits are a comforting and easy weeknight dinner. Make this classic dish as a casserole and top with buttery Pillsbury Grands!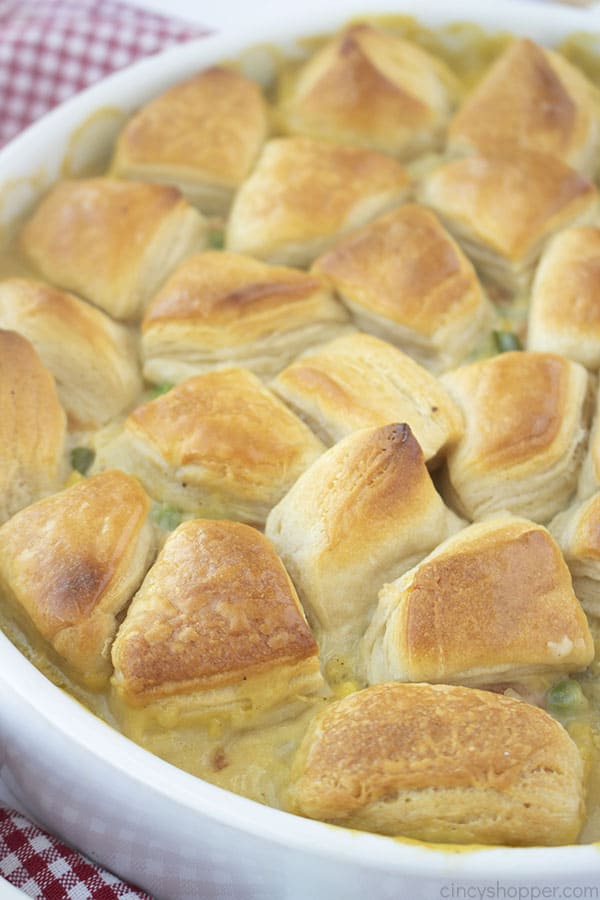 Chicken and Biscuits
Chicken and Biscuits are one of the quickest and most comforting dishes you can whip up in the kitchen. When all else fails for dinner, we can usually muster up a good skillet full of this delicious, creamy goodness! Everyone has their method for this classic recipe and we've found that making it a Chicken and Biscuit Casserole is the way to go.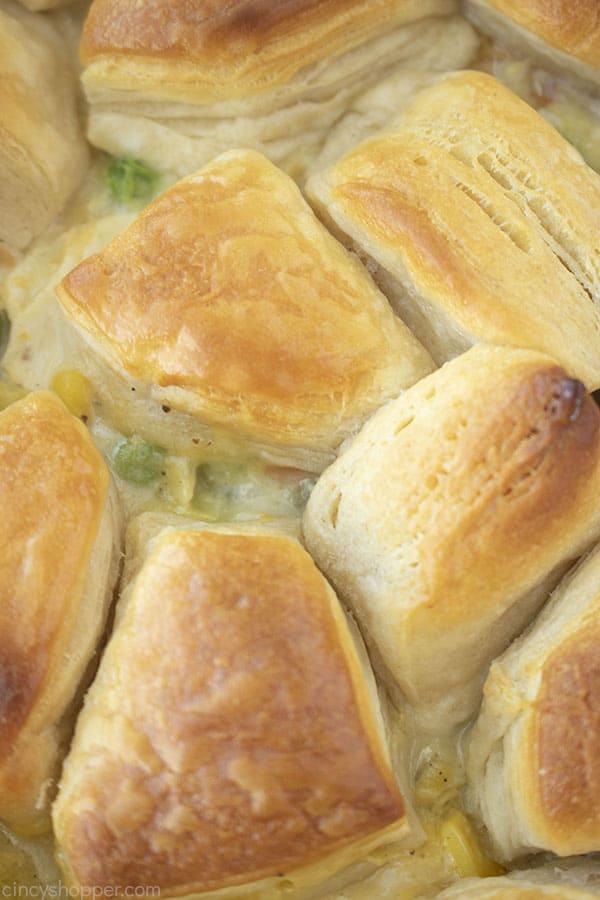 You have to be careful with other chicken and biscuit preparations. Cook it too long and you overcook your chicken or turn your biscuits into a mush. Making it a casserole with a delicious Pillsbury Grands top layer keeps your biscuits firm, flakey, and buttery! The casserole form also makes it easy to get a little bit of everything in each scoop, which is always a plus.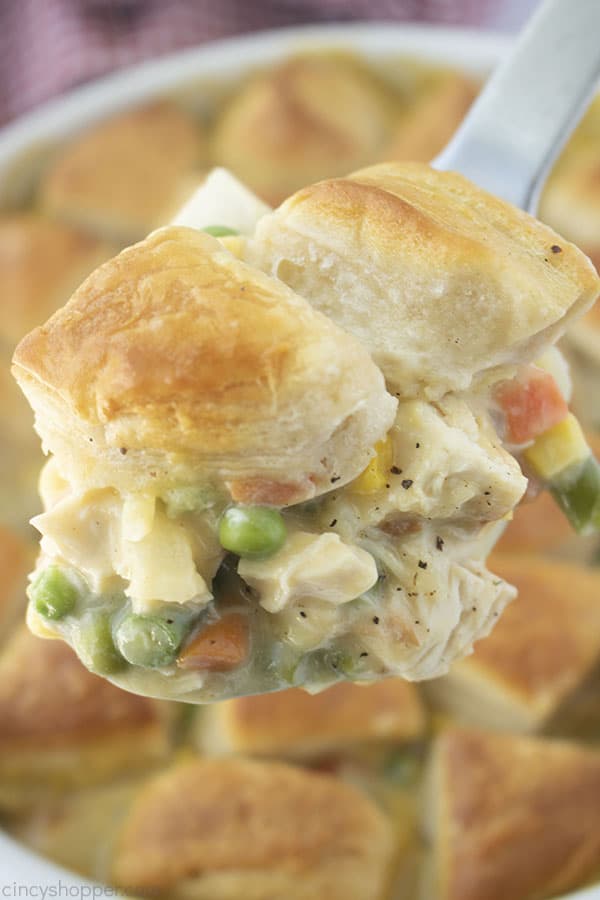 If you enjoyed this chicken casserole recipe, we have a few more here on the site you'll want to check out. Take a peek!
If you're a fan of chicken pot pie, you'll love this

Chicken Pot Pie Casserole

.

Using some buttery crescent roll dough for our crusts, we made this warm, comforting dish that's perfect for a family dinner

!

Our

Chicken Bacon Ranch Casserole

has this perfect sauce- it's got alfredo sauce, ranch, and two different cheeses

! Loaded up with plenty of bacon and rotini pasta, it's certain to fill you and any guests up come dinnertime.

For some simple comfort food, you can't go wrong with our

Cheesy Chicken and Rice Casserole

.

We spruced up this usually-plain dish by loading it up with veggies, cheese, and some cream of chicken soup to

really

amp up the flavor

!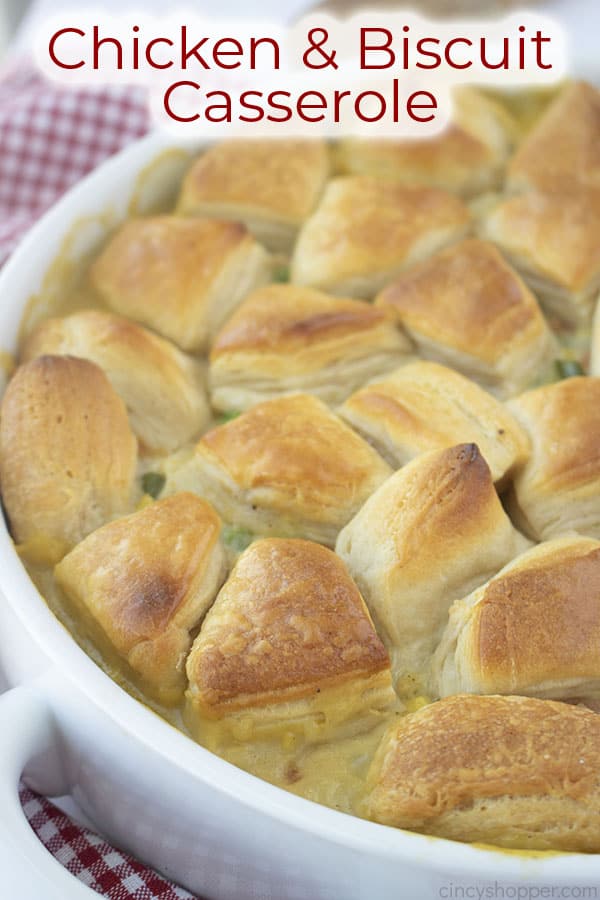 We hope these casserole recipes keep you company through the fall season. Casseroles seem to be big favorites- especially when it's something warm and comforting like Chicken and Biscuits!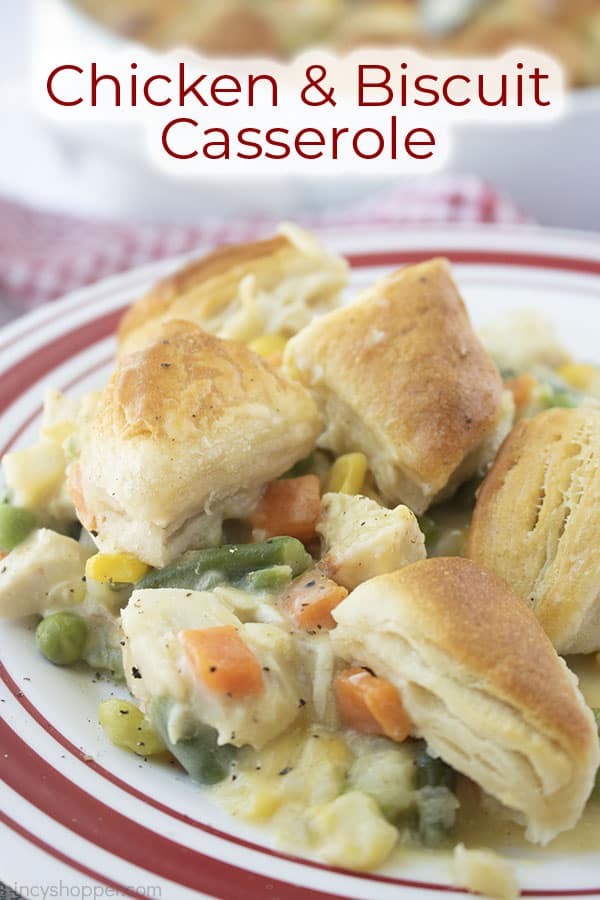 Ingredients for our Pillsbury Chicken Biscuit Casserole
Chicken Breast – This is the perfect recipe for leftover chicken breasts if you have any! If not, we have a few quick prep methods that'll give you some delicious chicken that's perfect to use in this recipe:

Poultry Seasoning

Biscuits –

Naturally

, we had to go with Pillsbury biscuits. These buttermilk Pillsbury Grands were perfect for this Chicken Biscuit Casserole!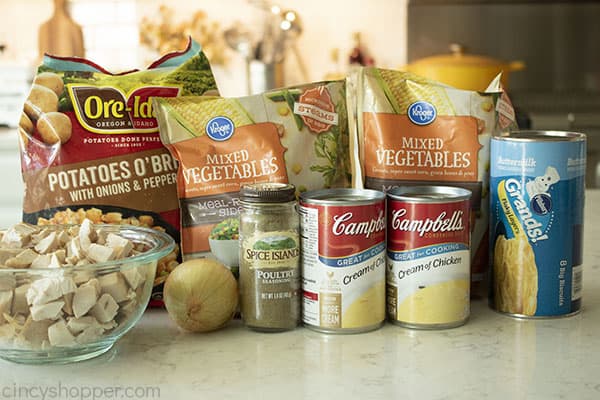 How to prepare our Chicken and Biscuits recipe
Get your frozen ingredients thawing on the counter. While those are getting to room temp, take the time to cut your chicken and dice your onions.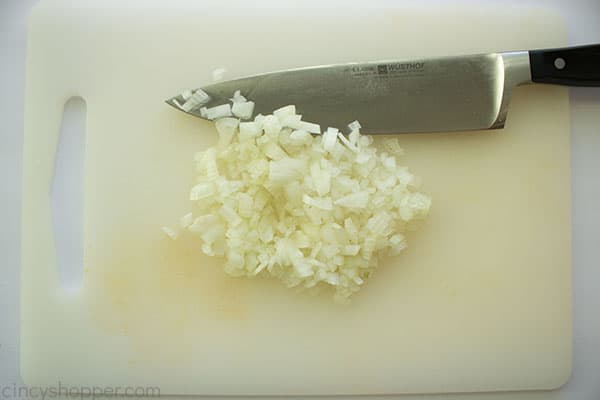 When everything's thawed and prepped, we can properly get started! First, optionally melt a little pat of butter in a saute pan before tossing your diced onions.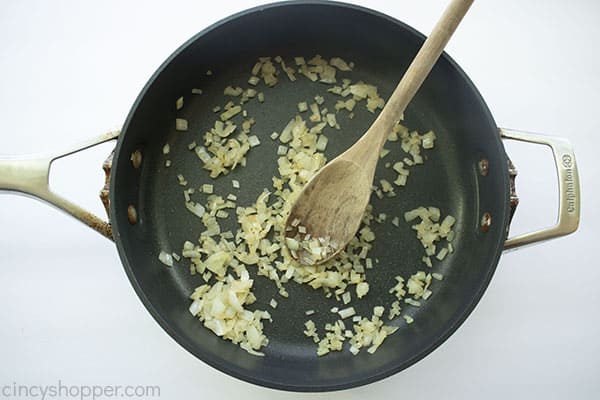 Once those have softened up and picked up some color, you can add the rest of our casserole fillings. Toss your frozen veggies and potatoes, chicken pieces, and poultry seasoning into the pan along with a little splash of water. Allow these ingredients to warm through for about 5-10 minutes before adding the cream of chicken soup. Cook for another 5 minutes before setting aside.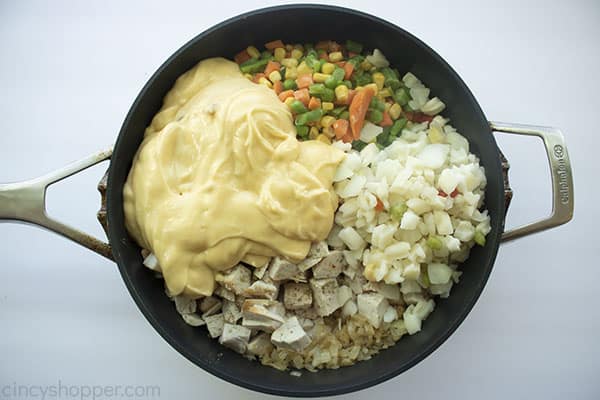 That's our filling dealt with: now, we have to deal with biscuits. Instead of putting whole biscuits on top of our casserole, we're going to quarter our biscuits and use those instead.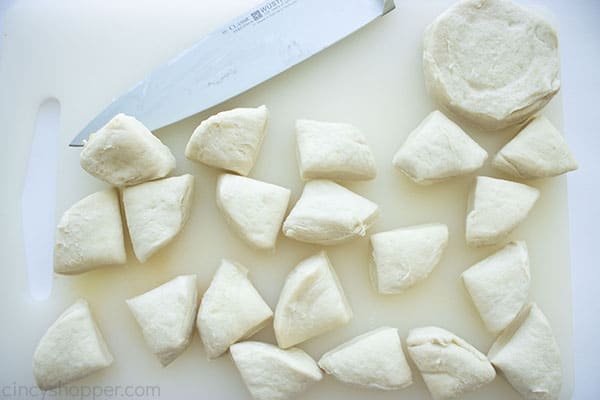 With everything all ready, we can do our final casserole assembly. First, pour your chicken filling into a casserole dish.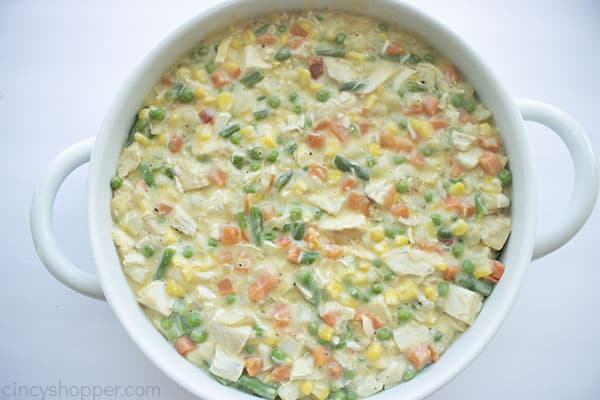 Then, put your biscuit quarters in a single layer on top of the filling.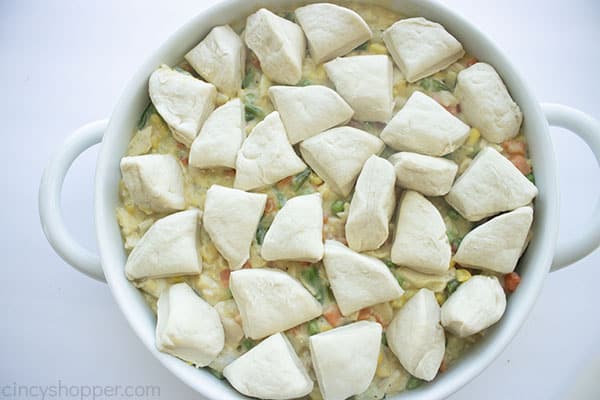 Give your Pillsbury Grands a quick brush with some melted butter. Just a bit more delicious, buttery flavor!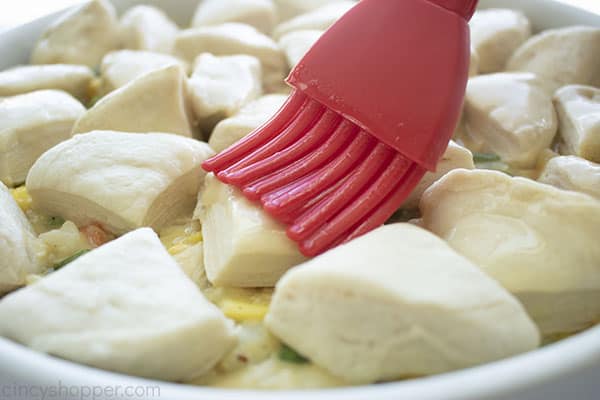 From here, all that's left is to bake. Put your Chicken and Biscuits Casserole into a 400 degree oven and allow to bake for 10 minutes.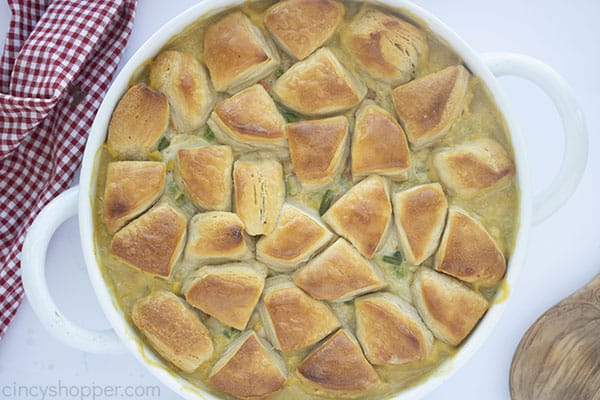 Once those 10 minutes are through, cover the top of your casserole with some aluminum foil. Allow the Chicken and Biscuits to cook for another 15 or so minutes.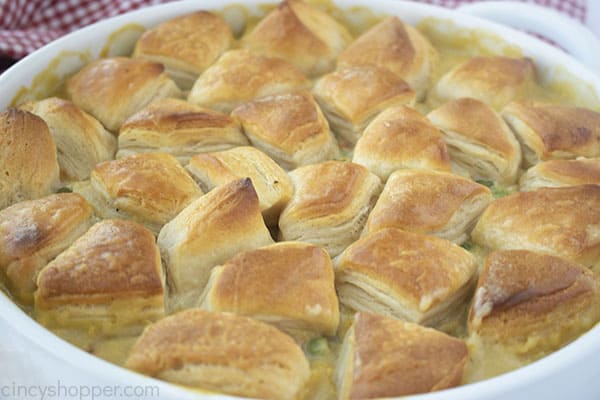 Once those 15 minutes are through or your biscuits are a lovely golden brown, your casserole is ready! Optionally give your biscuits one last brushing of melted butter before scooping out a portion and enjoying it!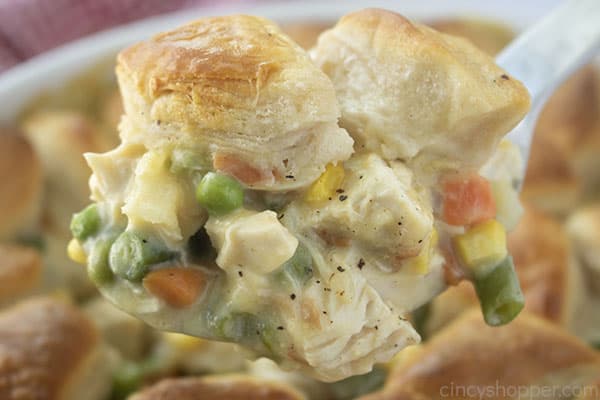 Chicken and Biscuits
Chicken and Biscuits are a comforting and easy weeknight dinner. Make this classic dish as a casserole and top with buttery Pillsbury Grands!
Ingredients
1

lb

Chicken Breast grilled or meat from 1 Rotisserie Chicken

1

tbsp

Butter

1

Onion diced

12

oz

Frozen Peas and Carrots thawed

2

cup

Frozen Diced Potatoes thawed

2

can Cream of Chicken Condensed Soup

1

cup

Water

1/8

tsp

Poultry Seasoning

Salt and Pepper to taste.

1

can Grands Flaky Buttermilk Biscuits

2

tbsp

melted Butter
Instructions
Preheat oven to 400.

Grease a small casserole dish.

Dice chicken into 1/2" cubes.

In a large skillet, melt butter over medium heat.

Cook diced onions until transparent.

Add chicken, water, potatoes, soup, poultry seasoning and peas and carrots.

Stir and cook over medium heat until ingredients are warm (10-15 minutes). If mixture looks too thick, slowly add a little more water until desired consistency is reached.

Cut biscuits into quarters.

Transfer chicken mixture to prepared dish.

Place biscuit pieces over chicken mixture.

Brush tops of biscuits with melted butter.

Bake for 10 minutes.

Cover with aluminum foil and bake for 15 more minutes until golden brown.
Nutrition
Calories:
359
kcal
|
Carbohydrates:
30
g
|
Protein:
27
g
|
Fat:
15
g
|
Saturated Fat:
5
g
|
Cholesterol:
86
mg
|
Sodium:
1098
mg
|
Potassium:
396
mg
|
Fiber:
3
g
|
Sugar:
1
g
|
Vitamin A:
5629
IU
|
Vitamin C:
13
mg
|
Calcium:
43
mg
|
Iron:
3
mg