Cheeseburger Macaroni is like Hamburger Helper and just as easy! This homemade ground beef and pasta recipe gets packed with tons of extra cheese flavor.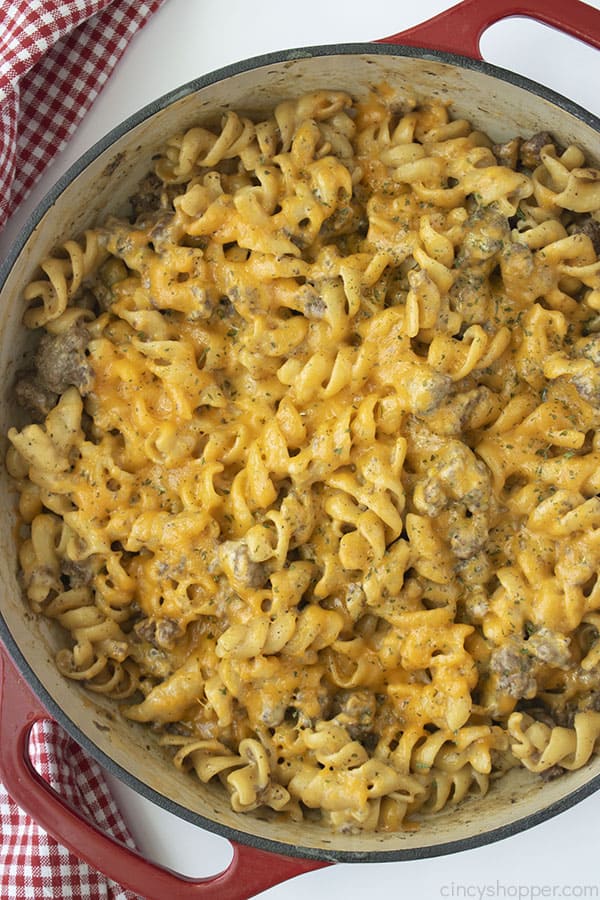 Cheeseburger Macaroni
I'm curious about which mad food scientist was the first person to pair hamburger meat with some mac-and-cheese. Anyone whose had a plate of Hamburger Helper knows exactly what I'm talking about- it's such an obvious and crazy-delicious pairing!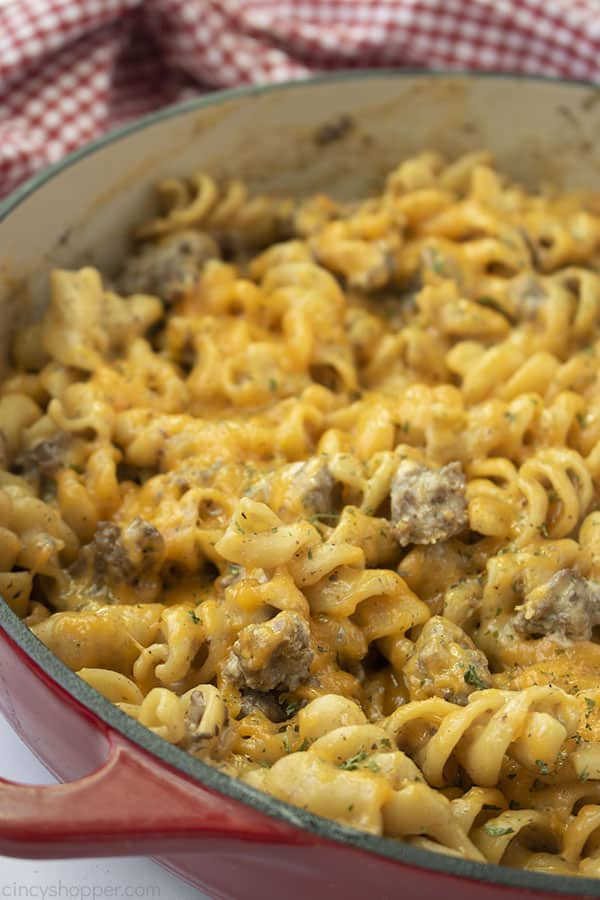 We have a dinner night for Hamburger Helper every now and again- it's a tasty and surprisingly quick option. As plenty of you know, we're always looking for ways to make our favorite dishes all from scratch. On that note, I've come up with something for everyone's favorite beef-and-cheese dish.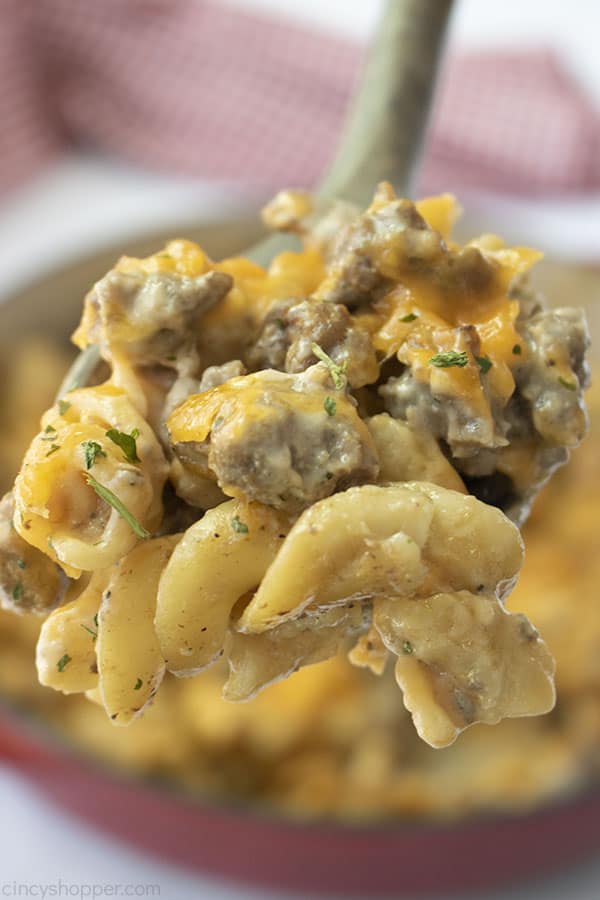 At it's core, this recipe is reminiscent of our Homemade Hamburger Helper Beef Noodle recipe. That recipe is fairly simple, and- with a few minor tweaks on top of it- you can make it creamy and even more delicious. All you need is some of our Cheese Dipping Sauce! Mixed with our Beef Noodle dish, you get hot, flavorful dish I'm certain everyone at the dinner table will love!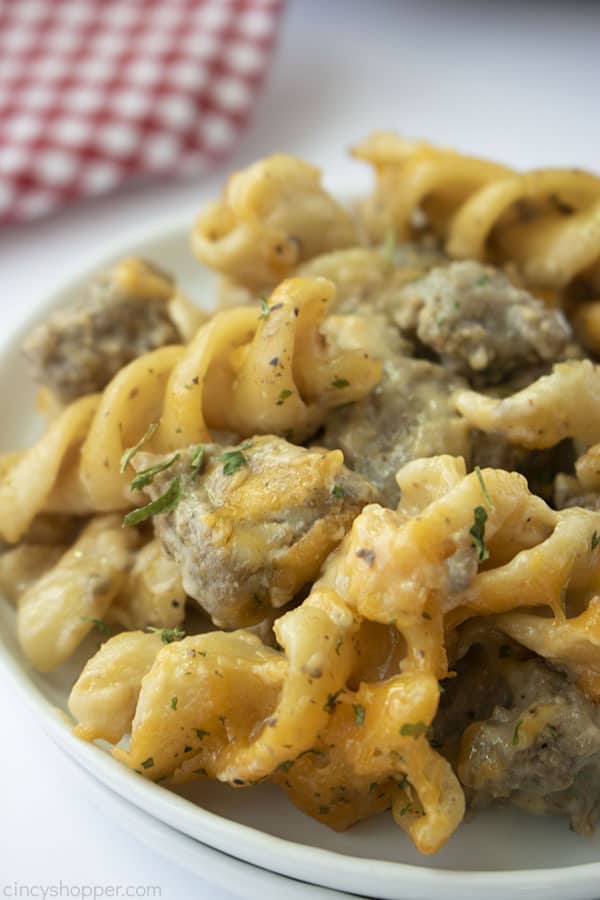 If this is sounding like too much cheese flavor- or you're wanting a more beef-y tomato recipe- I'd recommend our One Pot American Goulash. It's just as simple- if not, easier- to make than our recipe here, and it's perfect for big crowds/families. I would recommend you give our Cheeseburger Macaroni a try, however– you'll find it's just as filling as it is flavorful!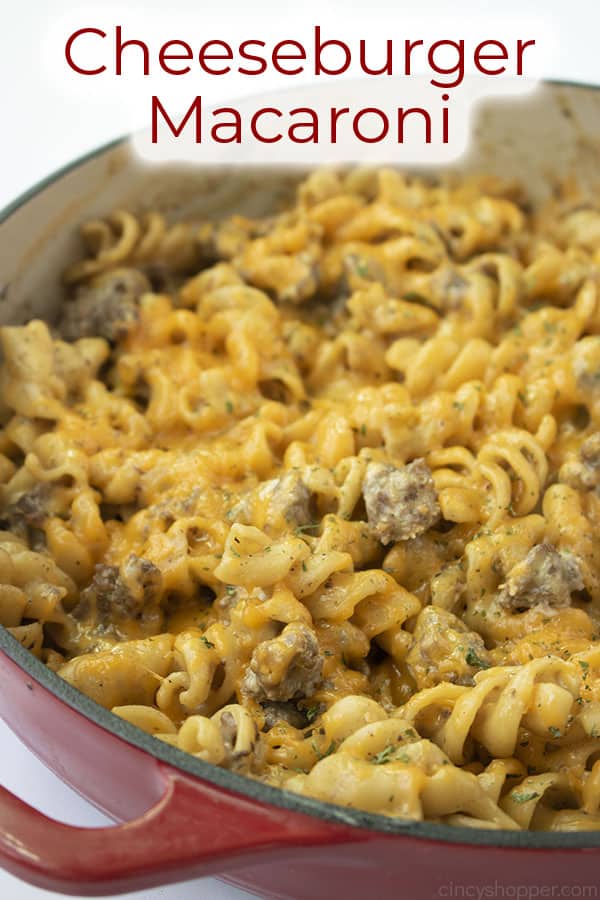 Ingredients for Cheeseburger Pasta
Pasta – The sauce is going to be

exceptionally

creamy. I would hesitate to grab some flimsier pasta for this recipe- our fusilli seemed to be a perfect choice!

Beef Stock – Plenty of ways to make some beef stock. While you can always buy the cartons of it from the grocery, we prefer using beef base/bouillon cubes and water.

Seasoning Mix – We use cornstarch, garlic and onion powders, some sugar, salt, and pepper. Feel free to tweak with the amounts to taste.

Flour & Butter –

Just

some ingredients for the

roux

we'll use to make our cheese sauce.

Shredded Cheese – The safe bet here is sharp cheddar but experiment a little!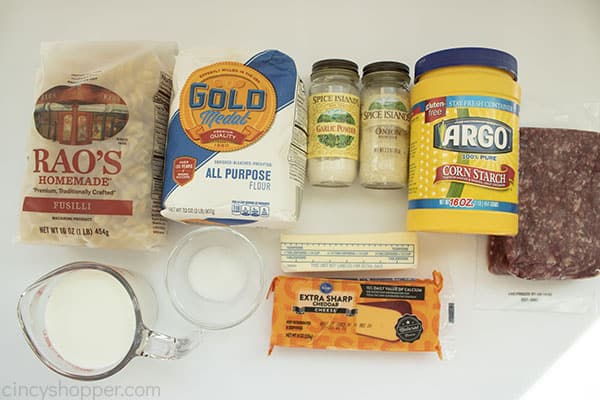 How to prepare Copycat Hamburger Helper
Just so you're not scrambling to get your spices ready later, you should start this recipe off by getting them mixed real quick. Mix your onion & garlic powders, cornstarch, sugar, salt, and pepper together in a small bowl and set aside.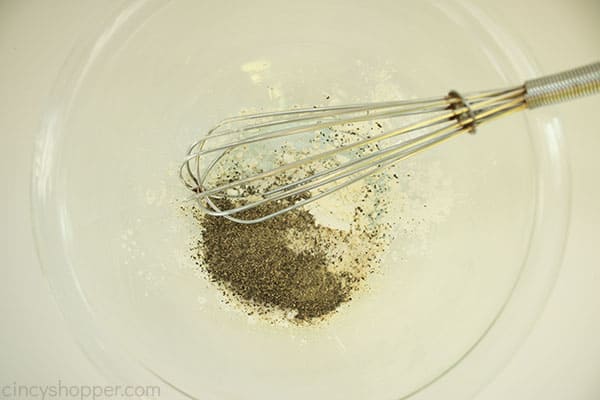 Now you should start on your beef. Grab a large skillet for this recipe and get it warming up on the stovetop. Drop your ground beef in and let it brown before draining off any excess fat that cooks off. Chop it into small or large pieces. I typically break mine up smaller. My daughter prepared my beef and left it in a bit bigger chunks and it still was super tasty.
At this point we need to add our beef stock. Should be easy to get some ready- we put some water in a microwave-safe bowl and brought it to a boil in our microwave. Once that's boiling, drop some beef base/bouillon cubes and stir until everything's dissolved. Once that's all mixed together, carefully pitch your beef stock into the skillet and stir that to incorporate.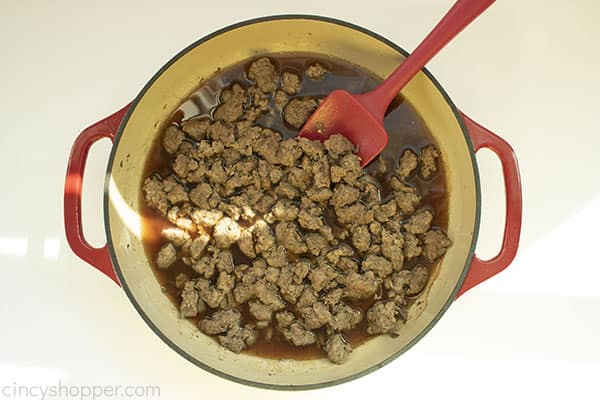 With our beef stock mixed in, now we can add some milk. Measure out your milk, add to the skillet, and similarly stir to incorporate.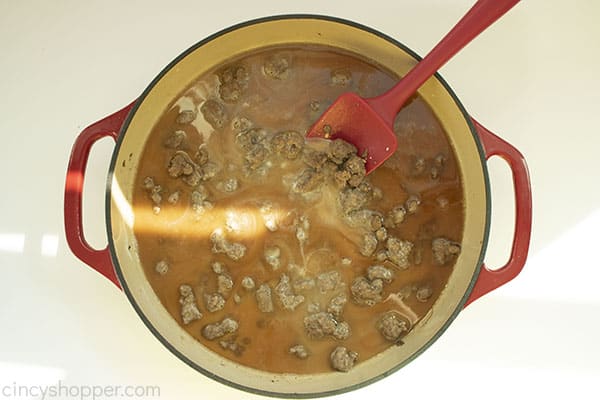 Now it's time for the seasonings. Grab your bowl of mixed spices and add to your skillet. Stir until well-blended.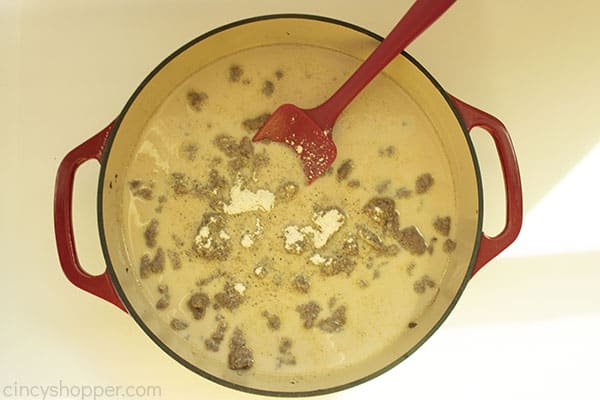 Pasta time! Grab your pasta of choice- we reached for this fusilli- and simply add to the skillet before stirring until well incorporated. Bring that up to a boil before reducing the heat to low, covering, and letting simmer for about 15 minutes- until the pasta is tender.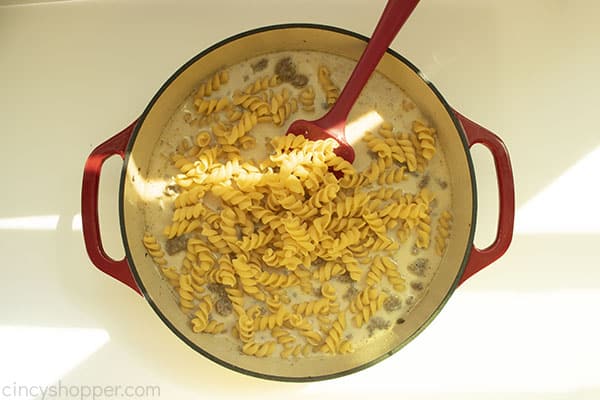 In the meantime, we can start on the cheese sauce. We're looking at a basic prep for a béchamel sauce. That means getting some butter melted in the bottom of a saucepot over medium heat before tossing an equal amount of flour in.
Mix the flour and melted butter together and let cook until it starts smelling kind of nutty. At that point, you'll want to start slowly streaming some room-temperature milk into the pot. As you're doing this, make sure you're constantly whisking to keep your sauce well-blended.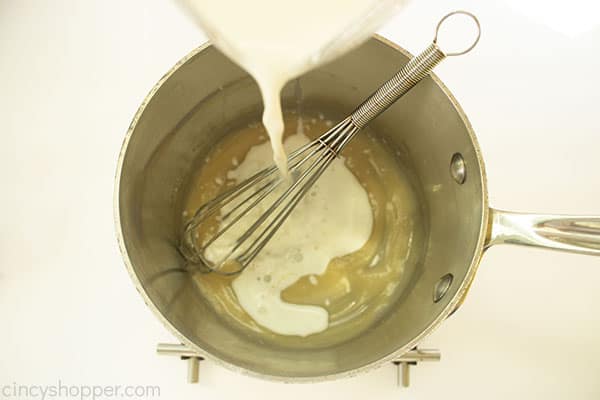 Once you've got all the milk added, let your sauce cook for about 5 minutes to thicken up a little bit. After that point, you can start gradually adding most of your cheese. Stir constantly to keep your sauce melted and smooth. You might also want to sneak a bit of heat in at this point by adding a touch of hot sauce and a sprinkle of chili powder…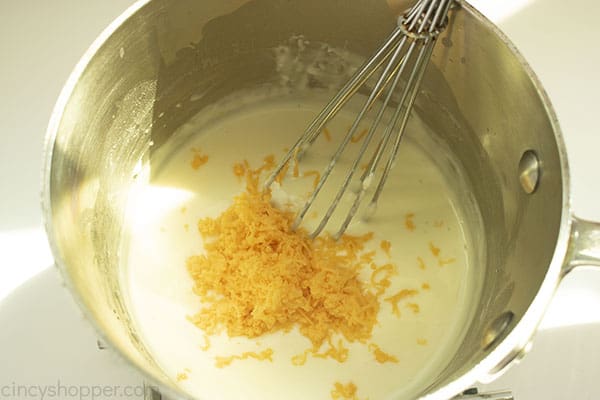 Your pasta's probably getting tender at around this point, so it's time to shift our attention back to it. After checking pasta and ensuring it's tender, add your cheese sauce to your beef and pasta in the skillet. Mix in until everything is well combined.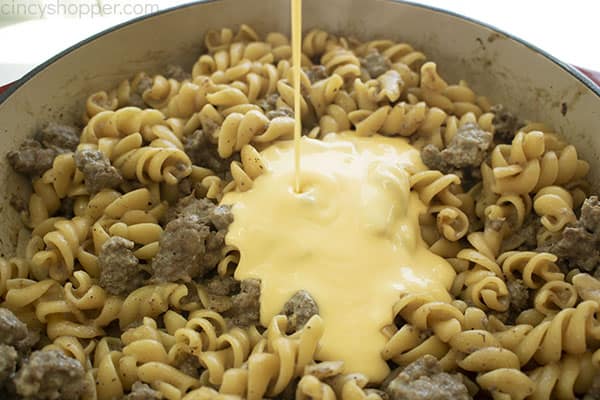 Take your leftover shredded cheese and sprinkle that over top your cheesy pasta before covering your skillet back up. We're just going to let that simmer for another 5 minutes.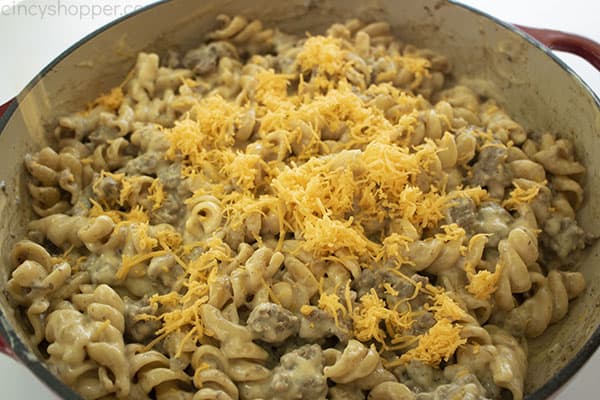 Once those few minutes are up, remove your skillet from the heat. You could dive right in at this point, but you'll get a better, thicker product by letting the skillet sit for several minutes.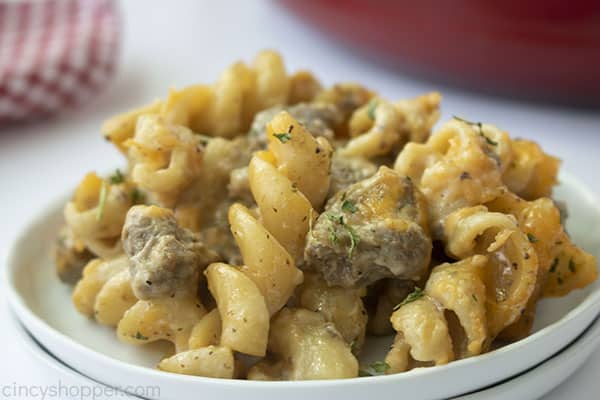 Whether or not you let it sit, the end product is great on it's own but is definitely helped with some sides. Either fix up some Garlic Green Beans, peas, or broccoli if that's your jam. Any of those might work with this spectacular and extra-cheesy dish!
Homemade Cheeseburger Macaroni
Cheeseburger Macaroni is like Hamburger Helper and just as easy! This homemade ground beef and pasta recipe gets packed with tons of extra cheese flavor.
Ingredients
1

lb

Ground beef

2

cup

Wide Egg Noodles

1 1/2

cup

Water

2 1/2

cup

Milk

divided

3

Beef Bouillon Cubes

1

tbsp

Cornstarch

1

tsp

Garlic Powder

1/2

tsp

Onion Powder

1

tsp

Sugar

1/2

tsp

Black Pepper

1

tsp

Salt

2

tbsp

Flour

2

tbsp

Butter

2

cup

Shredded Sharp Cheddar Cheese

divided
Instructions
In a small bowl, mix together cornstarch, sugar, onion powder, garlic powder, salt and pepper. set aside.

Brown ground beef in a large skillet and drain excess fat.

Boil water in microwave safe bowl.

Add bouillon cubes and stir until dissolved.

Add bouillon mixture to skillet and stir to incorporate.

Add 1 and 1/2 cups of milk and stir to incorporate.

Allow remaining milk to come to room temperature.

Add seasoning mixture and stir until blended.

Add egg noodles, stir and bring to a boil.

Reduce heat to low, cover and simmer for 12-15 minutes or until noodles are tender.

Remove from heat and let stand for several minutes to thicken.

Melt butter in a saucepan over medium heat.

Sprinkle flour over melted butter and stir to combine.

Gradually add remaining 1 cup of milk whisking to blend.

Cook for about 5 minutes until thickened.

Gradually add in 1 cup of shredded cheese while whisking until smooth.

Add cheese sauce to hamburger noodle mixture ans stir to blend.

Sprinkle remaining cheese over top and cover.
Nutrition
Calories:
767
kcal
|
Carbohydrates:
29
g
|
Protein:
42
g
|
Fat:
53
g
|
Saturated Fat:
27
g
|
Cholesterol:
186
mg
|
Sodium:
1854
mg
|
Potassium:
631
mg
|
Fiber:
1
g
|
Sugar:
10
g
|
Vitamin A:
991
IU
|
Calcium:
609
mg
|
Iron:
3
mg