Salmon patties are crispy outside, tender inside, and a fresh option for lunch or dinner. Make this canned salmon recipe today, and I promise you'll make it again and again.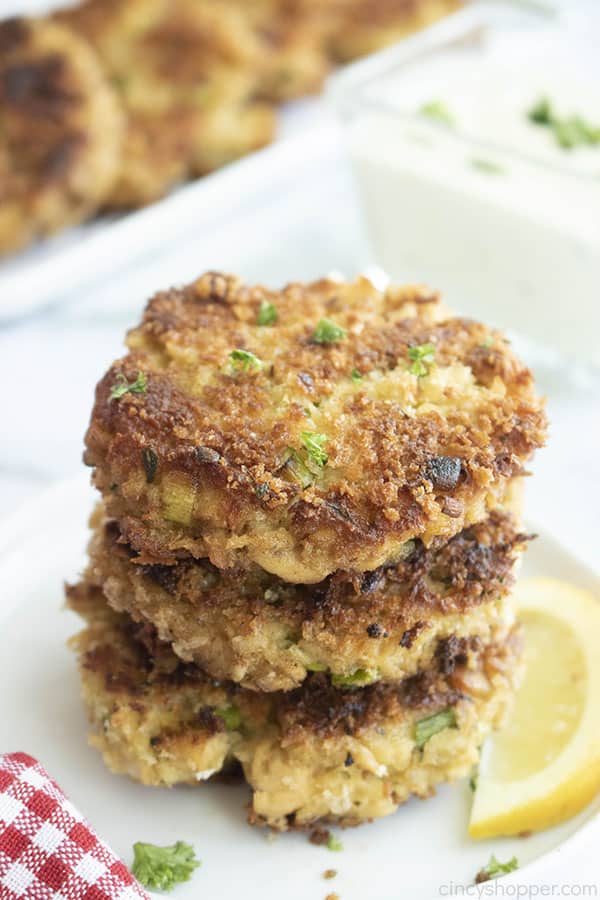 Salmon Patties have a long history of inclusion in frugal meal plans. For those watching their pennies, canned fish is always a win! It costs pennies on the dollar compared to fresh, but still packs tons of nutrients and flavor. Plus, canned fish is pre-cooked, so putting together dinner is super fast!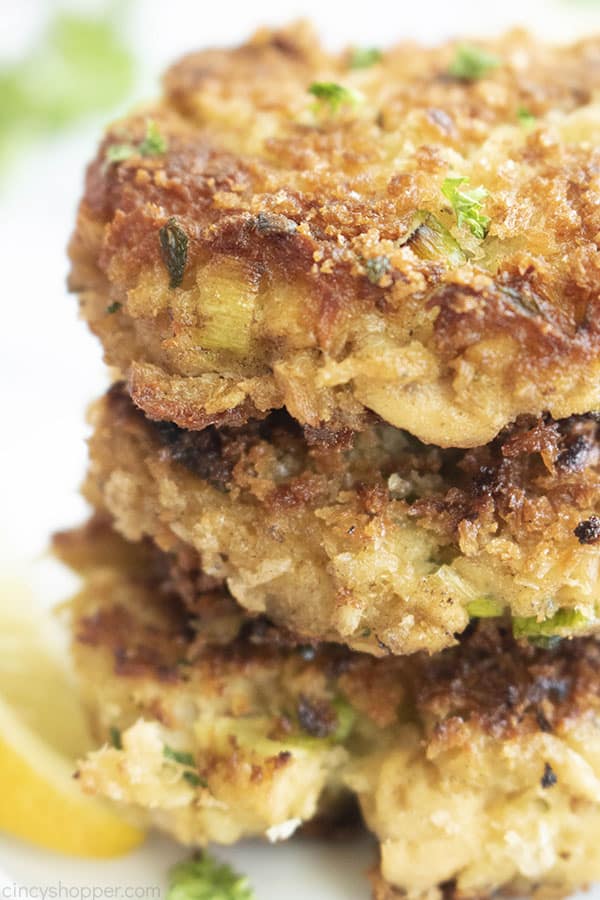 These fish cakes are made with easy-to-find and inexpensive ingredients. They're full of fun textures, bright flavor, and tons of protein. And while making them is so easy that the kids can help, eating them is even easier! As a bonus – they can be made ahead and frozen for simple meal prep and time-savings.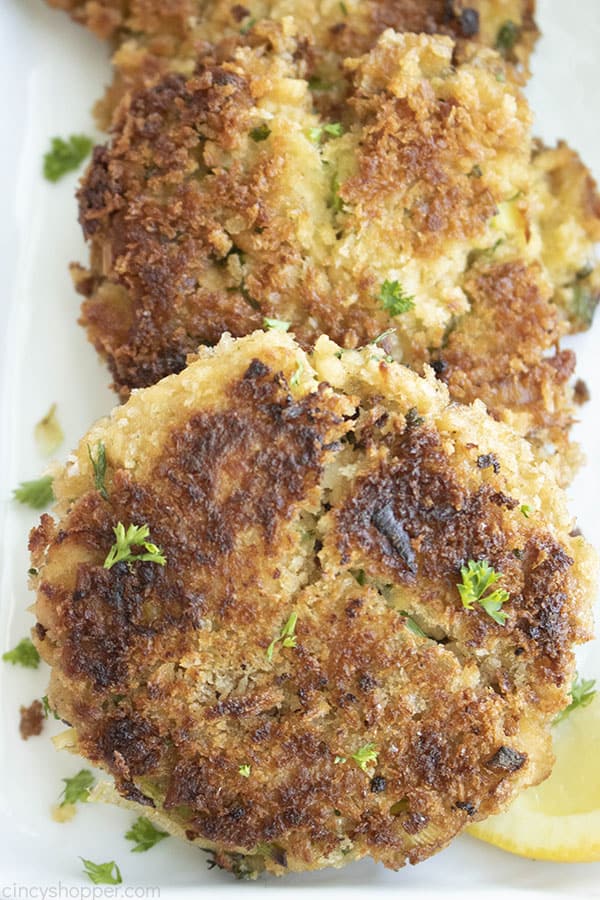 What to serve with them?
They pair great with a fresh green salad if you're trying to be healthier, or some crispy french fries if you're going for a fish and chips vibe.
They can also be served up on buns like burgers. Any way you do it, you'll definitely want to squeeze fresh lemon juice over them. And don't forget the homemade tartar sauce!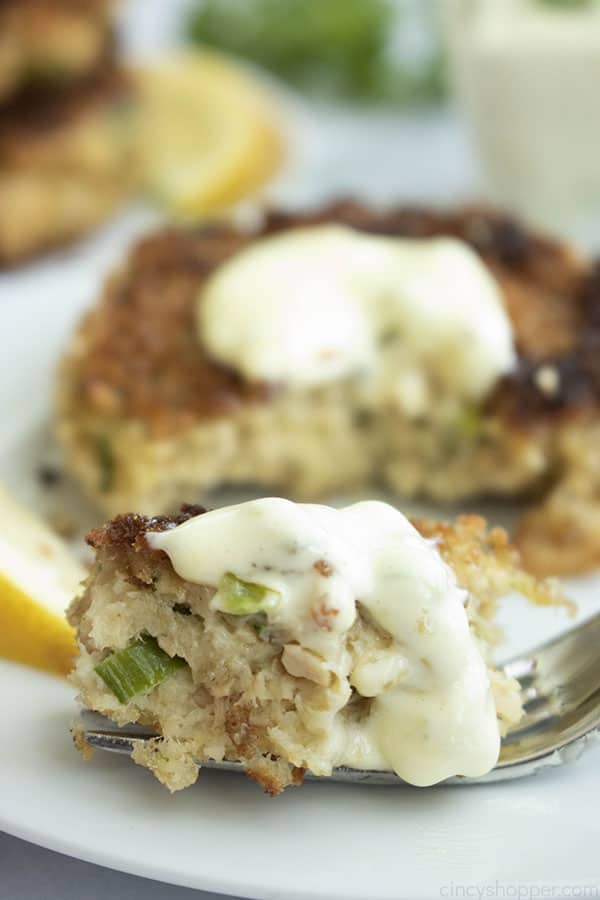 Can you freeze them?
Yes! You can freeze them before or after cooking.
If you want to freeze them first, form the patties and place them on a parchment-lined baking tray in the freezer. Give them an hour to solidify, then pack them into freezer safe containers or freezer bags. By freezing them on the tray first, this will keep them from sticking together in the freezer!
They will keep well in the freezer for up to three months.
If you want to cook them first, let them cool completely after making the recipe. Then follow the same procedure as above.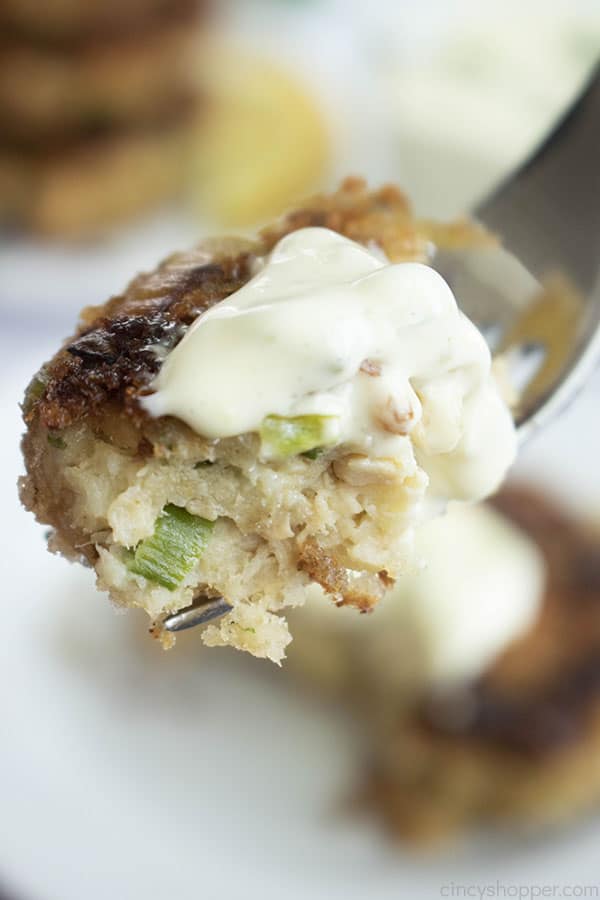 To thaw them, put the container in the refrigerator overnight. This isn't necessary, though. You can cook the patties directly from frozen!
For meal prep, you can make the patties and keep them in the fridge for up to 24 hours. They actually hold together better after being in the fridge.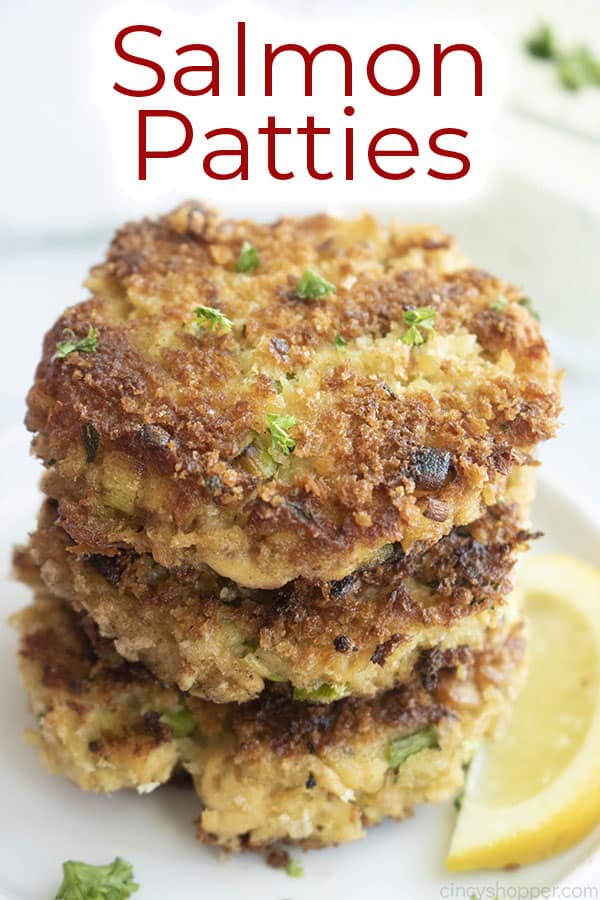 Ingredients for this canned salmon recipe
The ingredients are simple, inexpensive, and easy to find.
Canned Salmon
Panko Bread Crumbs
Eggs
Green Onions
Mayonnaise
Onion Powder
Garlic Powder
Yellow Mustard
Parsley
Oil
Butter
How to make salmon patties
Beat your eggs together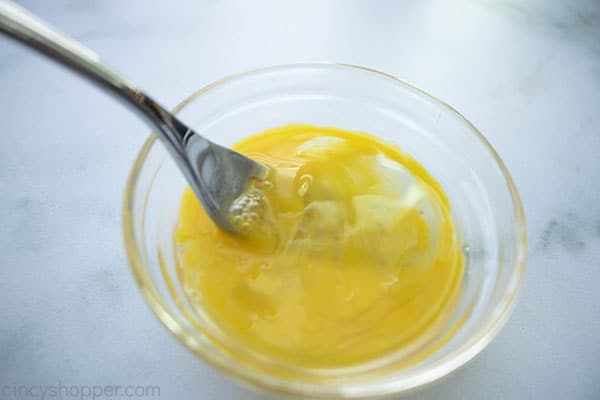 2. Mix everything except for one cup of the Panko, the butter and oil. Be sure to combine it well. Place the remaining cup of Panko into a shallow dish.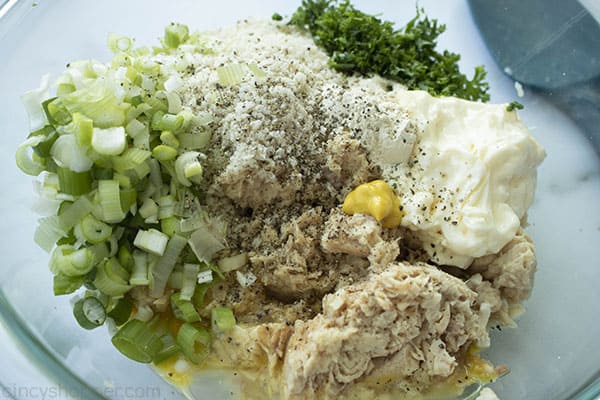 3. Scoop out about 1/2 cup of the mixture and form it into a patty. Gently press it into the Panko crumbs, then flip it over to cover the other side. Keep making patties until all of the mixture is gone.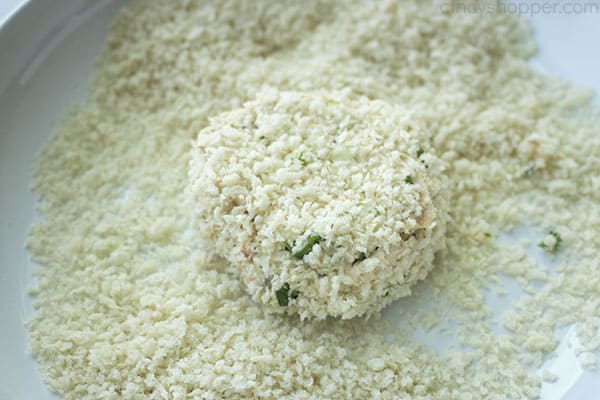 4. Melt and heat your butter and oil in a large skillet.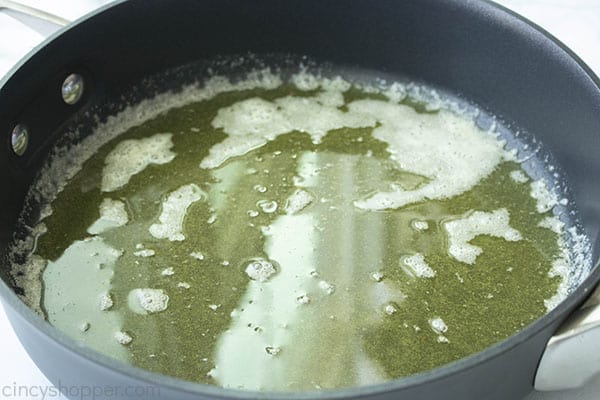 5. Cook the patties on each side for about three minutes, or until they're nice and golden brown.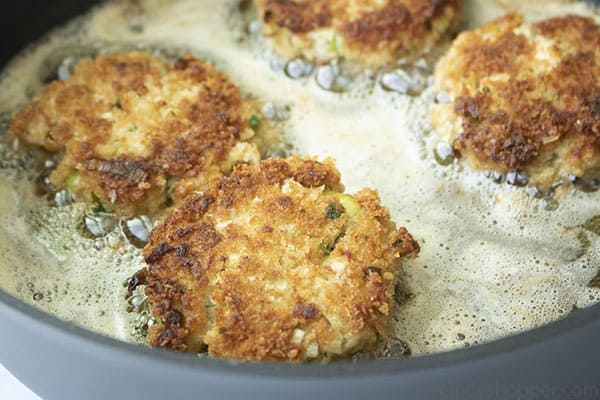 6. Serve and enjoy!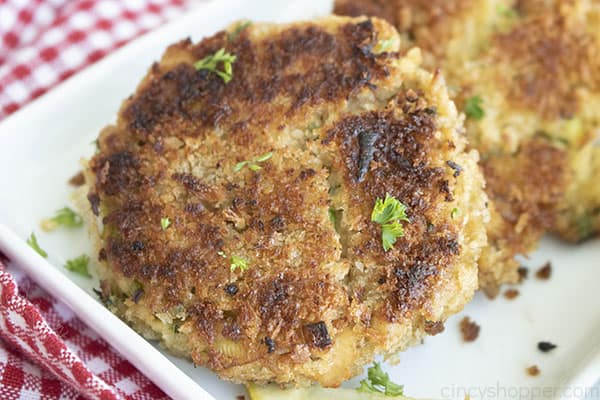 How do you use canned salmon?
If you're not familiar with canned salmon, here is a quick intro and some pointers: 
Salmon in a can is ready to eat and doesn't require cooking, which is what helps this to be a quick recipe.
You can use fresh salmon, but if you do, make sure to cook it first.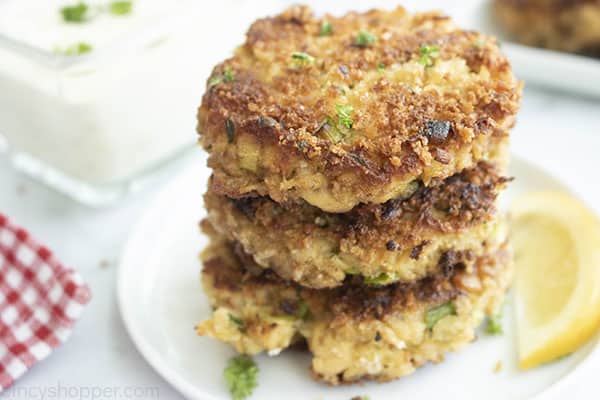 To use canned salmon:
Drain the liquid off after opening the can

Break the salmon into smaller pieces with your fingers or a fork

You can take off the skin if you want, but it's totally edible!

You'll see bones in the can, but don't worry. They are soft and have the same texture as the fish! Just mash them with a fork and no one will ever know. Plus, you'll be getting extra calcium!
Feel free to try different kinds of seafood for this meal. Tuna patties are a great choice!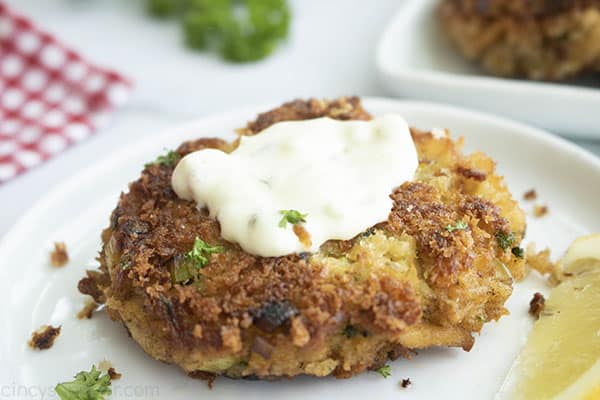 Salmon Patties
Salmon patties are crispy outside, tender inside, and a fresh option for lunch or dinner. Make this canned salmon recipe today, and I promise you'll make it again and again.
Ingredients
15

oz

Salmon

3 cans drained

1 1/2

cup

Panko Breadcrumbs

divided

2

Egg

beaten

3

Green Onions

diced

1/4

cup

Mayonnaise

1/2

tsp

Onion Powder

1

tsp

Garlic Powder

1/2

tsp

Yellow Mustard

1/4

cup

Parsley

minced

2

tbsp

Oil

2

tbsp

Butter
Instructions
In a large bowl combine salmon, egg, green onions, mayonnaise, onion powder, garlic powder, mustard, parsley and 1 cup panko breadcrumbs.

Mix until well combined.

Place remaining breadcrumbs in a shallow plate. Set aside.

Portion into approximately 1/2 cup patties.

Place each patty in breadcrumbs and cover with breadcrumbs, gently pressing.

In a large skillet heat oil and butter over medium heat until a drop of water sizzles when dripped in pan (about 400).

Cook on each side for about 3 minutes, until golden brown.
Nutrition
Calories:
244
kcal
|
Carbohydrates:
9
g
|
Protein:
14
g
|
Fat:
17
g
|
Saturated Fat:
4
g
|
Cholesterol:
81
mg
|
Sodium:
197
mg
|
Potassium:
325
mg
|
Fiber:
1
g
|
Sugar:
1
g
|
Vitamin A:
372
IU
|
Vitamin C:
3
mg
|
Calcium:
39
mg
|
Iron:
1
mg