Lipton Onion Soup Pot Roast is an easy way to make a juicy, tender roast in the oven. This old fashioned recipe is great for Sunday dinner!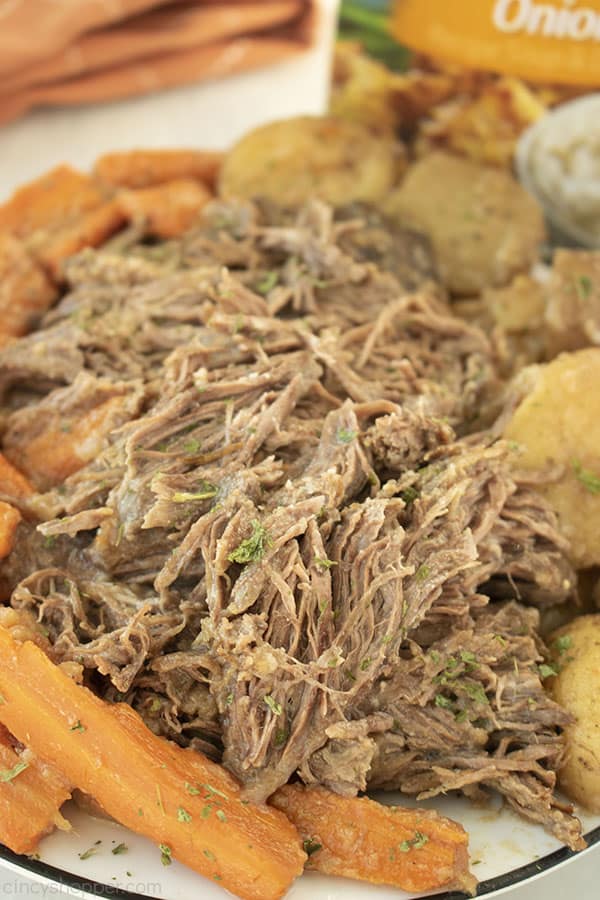 Lipton Onion Soup Pot Roast
There are all sorts of neat little tricks that people have to add all sorts of rich, delicious flavor to their favorite pot roasts. Browning, Worcestershire, and soy sauce- chances are, you've heard them all. What you might not be too familiar with is using some Lipton onion soup mix in your pot roast! This special little ingredient not only helps make juicy, tender pot roasts but it makes them super flavorful!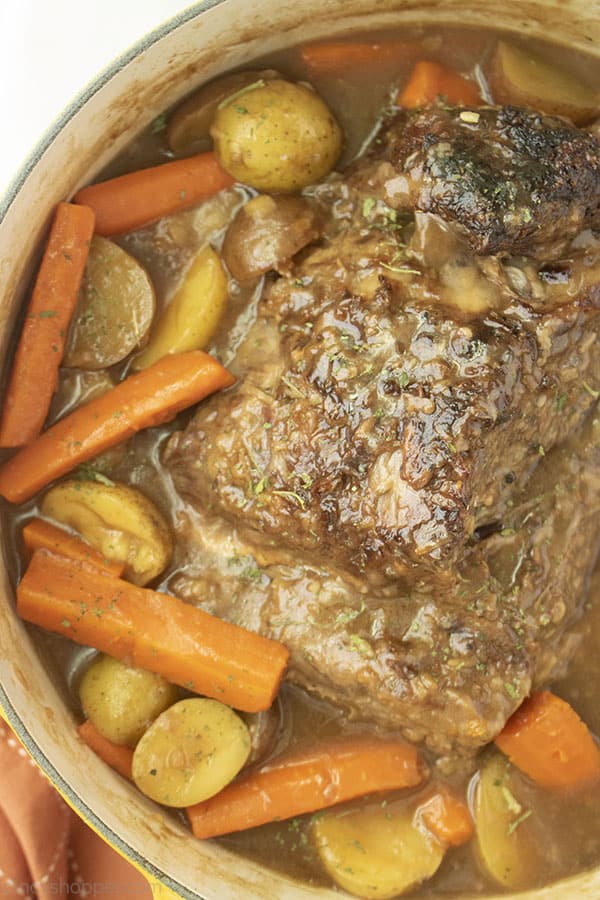 We also went out of our way to make this pot roast in the oven- while slow cooker pot roasts are super easy and delicious, ovens still work. Some of us also might not have slow cookers or instant pots on hand- but I imagine most of you have ovens! Besides, there's a certain charm to pulling a well-cooked pot roast from the oven- especially when it's one this tasty!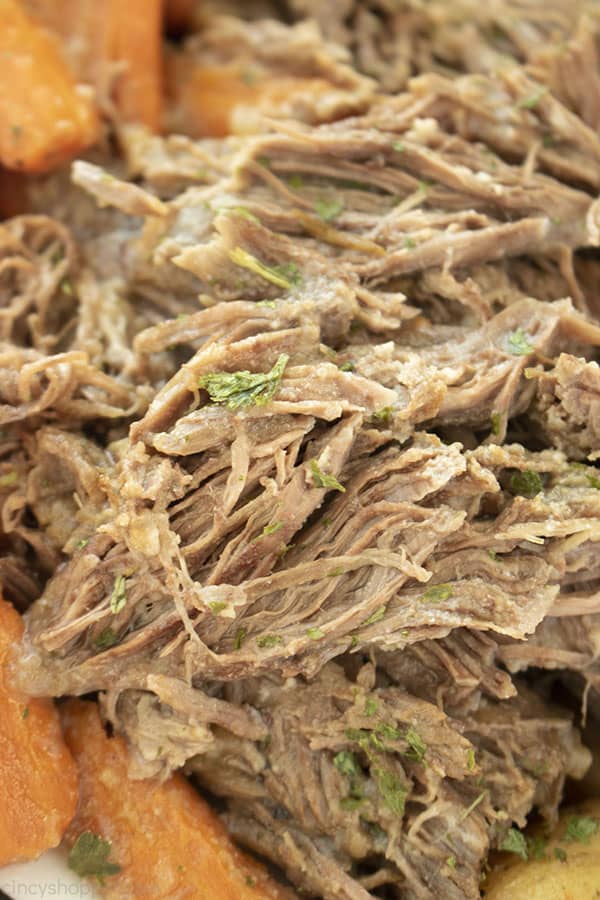 This oven pot roast recipe is especially easy to make. If you're wondering how to make a tender beef roast in the oven, our instructions here are the answer you're looking for. So grab your favorite dutch oven and get to cooking! You're going to love making this juicy pot roast in the oven.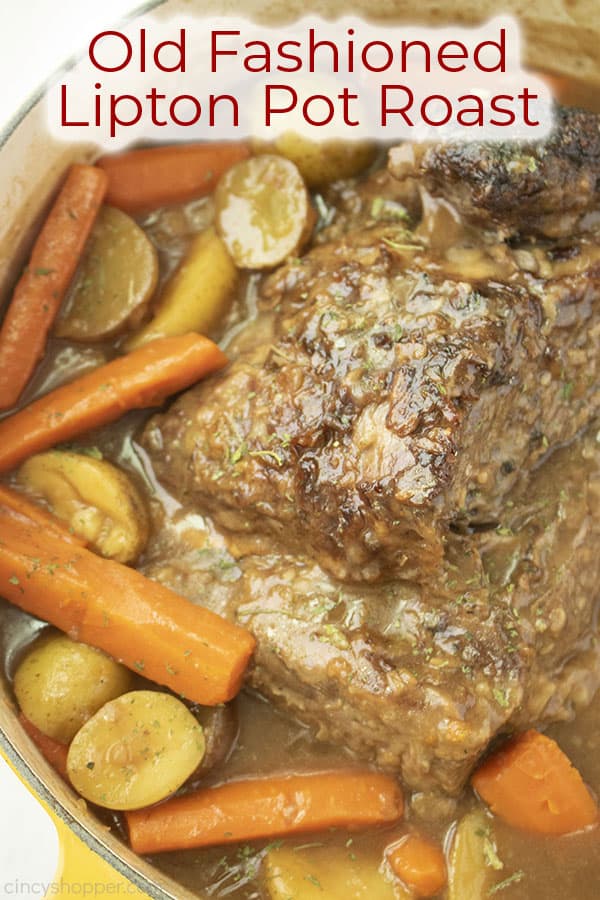 More Pot Roast Recipes
There's plenty of other pot roast recipes here on the site you'll want to give a taste! Here's a couple to try after our roast here.
There's nothing quite as classic and easy as

Slow Cooker Pot Roast

.

Our version of this popular recipe yields tender and delicious beef that's perfect for tonight's dinner

!

If you're looking for a tasty, fall-apart-tender roast beef recipe that's juicy as all get-out, check out our

Slow Cooker Mississippi Pot Roast

. Serve over mashed potatoes- no gravy needed, not with all the juices from this amazing roast!
Ingredients for Onion Soup Roast
Roasting Meat – We went with a chuck roast, but you could try this recipe with any of your favorite roasting meats.

Lipton Onion Soup Mix – If you don't have any of this on hand, we have a

Copycat Lipton Onion Soup Mix Recipe

you can follow. It uses some spice cabinet ingredients you

probably

already have on hand!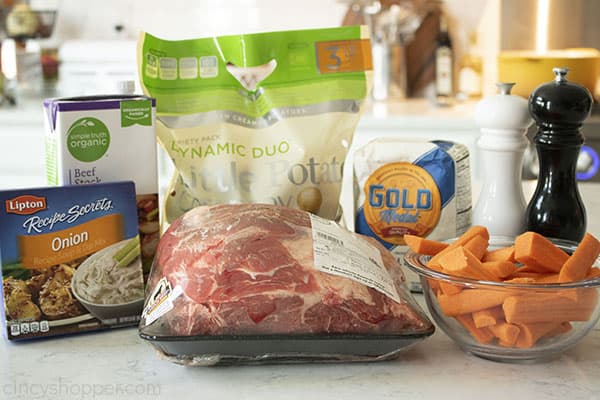 How to make Beef Roast with Onion Soup Mix
While our roast is going to pick up plenty of flavors during it's long roast time in the oven, a little salt and pepper will go a long way! Give your roast a quick hit of salt and pepper- make sure you pat it in real well.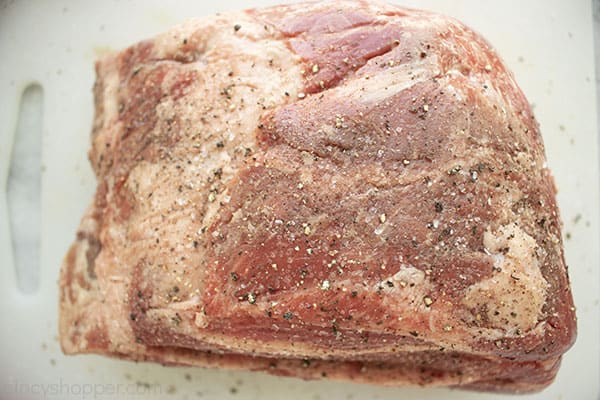 Additionally, we're going to give our roast a quick coating of flour as well. This will help with browning once you start searing it.
You'll then want to roast this in a large pan or dutch oven. Make sure to brown it on all sides.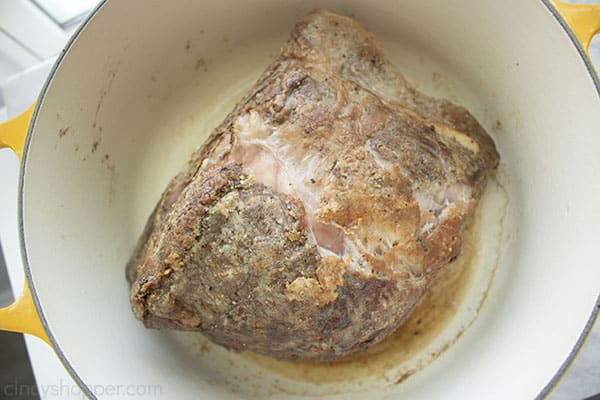 Remove your beef roast from your pan but leave any drippings in the pan. We're going to add some flour to our roast juices here to make a quick roux.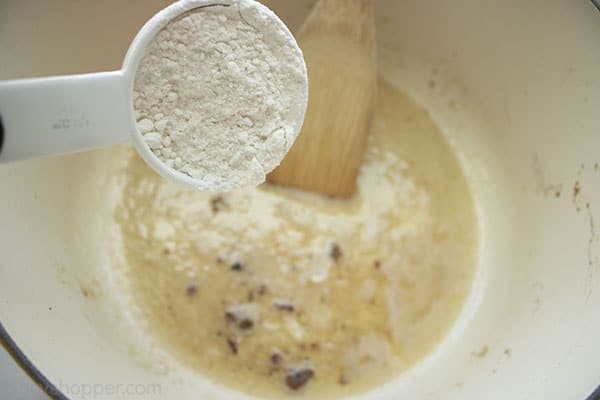 Allow that roux to cook for a little bit. Once the raw flour smell to cook off and your roux has cooked to a nice, rich brown, you'll want to add a packet of your onion soup mix. If you're making a smaller roast, you'll likely want to use just half a packet- you can use the other half here in a little bit. Mix that in and allow it to bubble a little bit before moving on to the next step.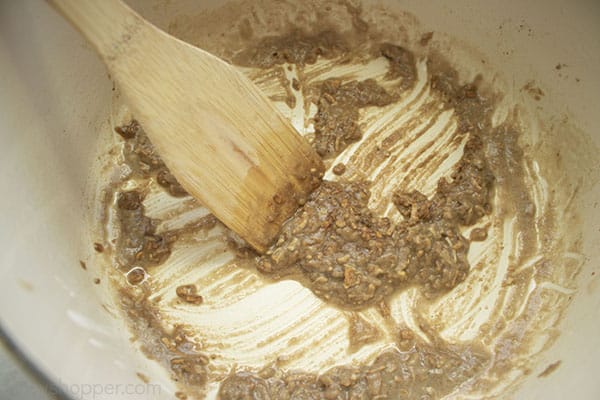 We are going to need some more liquids in the pot for this roast. Stir some stock in gradually, making sure you're stirring constantly the entire time. This is going to make a sort of gravy-like sauce that's going to make our beef roast taste amazing!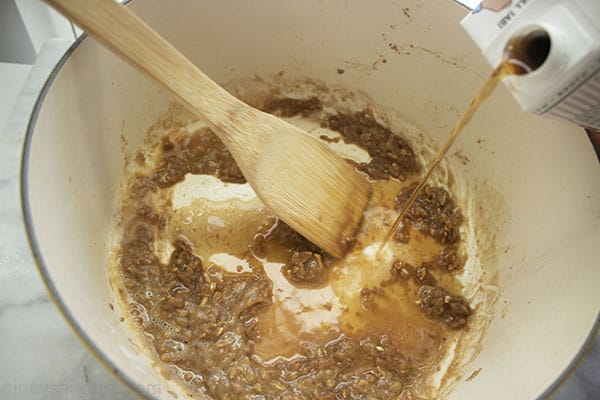 After letting this sauce come up to a boil, we're finally going to add our roast back to the party. Put it back in your cooking vessel of choice and top it with an extra packet of our onion soup mix.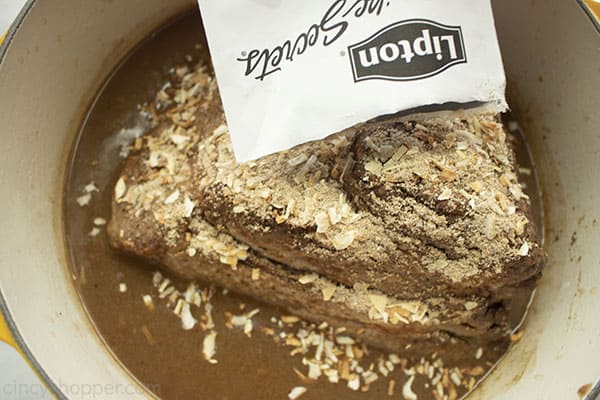 Now we need to let our pot roast cook in the oven for a couple of hours. Let your oven warm up to 350 degrees before closing up your dutch oven and tossing it in to roast for 2 hours.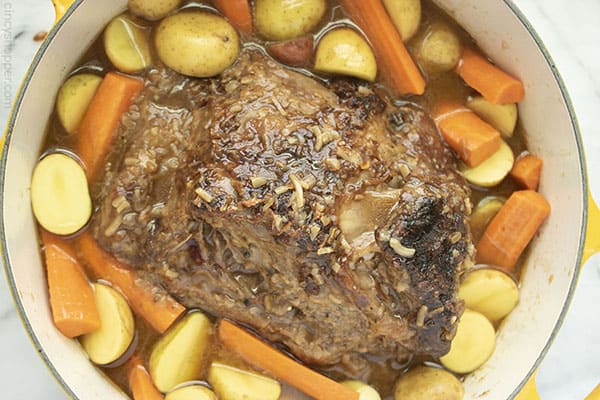 Once that initial 2 hours cook time is through, we're going to pull our roast from the oven. Here, you're going to add your veggies to the pot. Once you've added those in, pop your roast back into the oven and allow to cook for an additional 2 hours.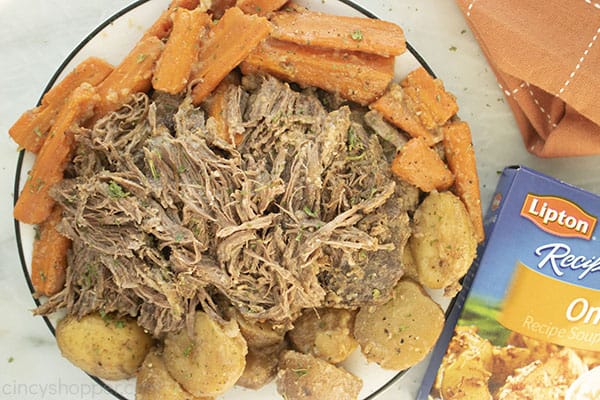 When those last 2 hours are through, your roast is ready to pull from the oven. You're going to want to let it cool for a little bit before fixing up any plates- that sauce in there is hot! Once it's cooled though, feel free to hack off some beef, grab a few of those veggies, plate up, and enjoy!
Onion Soup Pot Roast
Lipton Onion Soup Pot Roast is an easy way to make a juicy, tender roast in the oven. This old fashioned recipe is great for Sunday dinner!
Ingredients
3-5

lb

Chuck Roast

1/4

tsp

Salt

1/2

tsp

Black Pepper

1/2

cup

Flour

divided

1-2

packets Lipton Onion Soup Mix

32

oz

Beef Stock

1

lb

Carrots

peeled and cut in sticks

1

lb

small Potatoes

cut in half
Instructions
Preheat oven to 350.

Salt and pepper all sides of the roast.

Put 1/4 cup of flour in a shallow plate and coat roast on all sides.

Place dutch oven on burner over medium high heat and add 2 tablespoons of vegetable oil.

Brown roast on all sides.

Remove roast from pan and set aside.

Add remaining 1/4 cup flour to drippings and stir to form a roux.

Cook roux over medium for 2-3 minutes.

If cooking a small roast add 1/2 packet of onion soup otherwise use whole packet.

Gradually add beef stock while stirring to blend into the roux.

Bring sauce to a boil.

Remove from heat and add back roast.

Top with rest of soup packet, if only half was used earlier or with a second packet if a whole was used earlier.

Cover and cook in oven at 350 for 2 hours.

Add poattoes and carrots to dutch oven and cook and additional 2 hours or until meat is fork tender.
Nutrition
Calories:
556
kcal
|
Carbohydrates:
30
g
|
Protein:
50
g
|
Fat:
27
g
|
Saturated Fat:
12
g
|
Cholesterol:
156
mg
|
Sodium:
650
mg
|
Potassium:
1604
mg
|
Fiber:
4
g
|
Sugar:
5
g
|
Vitamin A:
12659
IU
|
Vitamin C:
19
mg
|
Calcium:
85
mg
|
Iron:
6
mg