Apple Cake is delicious, moist, and packed with apples- the perfect Thanksgiving dessert! It only gets better with our sweet, caramel glaze.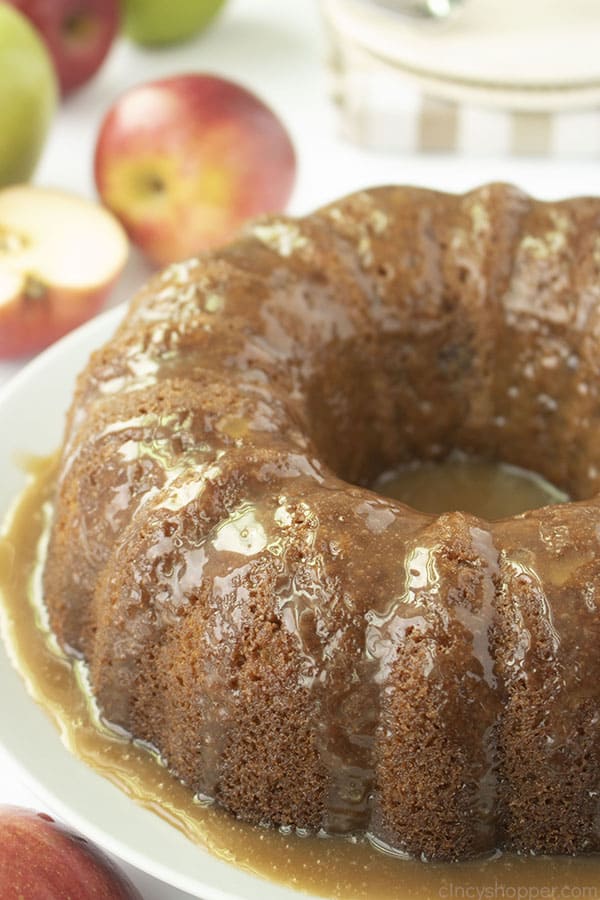 Apple Cake
Few things in the kitchen feel as fulfilling as making a cake from scratch! It's easy to just run to the store and let the boxed mix do the job for you, but it doesn't take much extra effort to just make it yourself! Besides, I doubt you could get an apple cake that's as moist and delicious as the one we've made here today with the boxed stuff.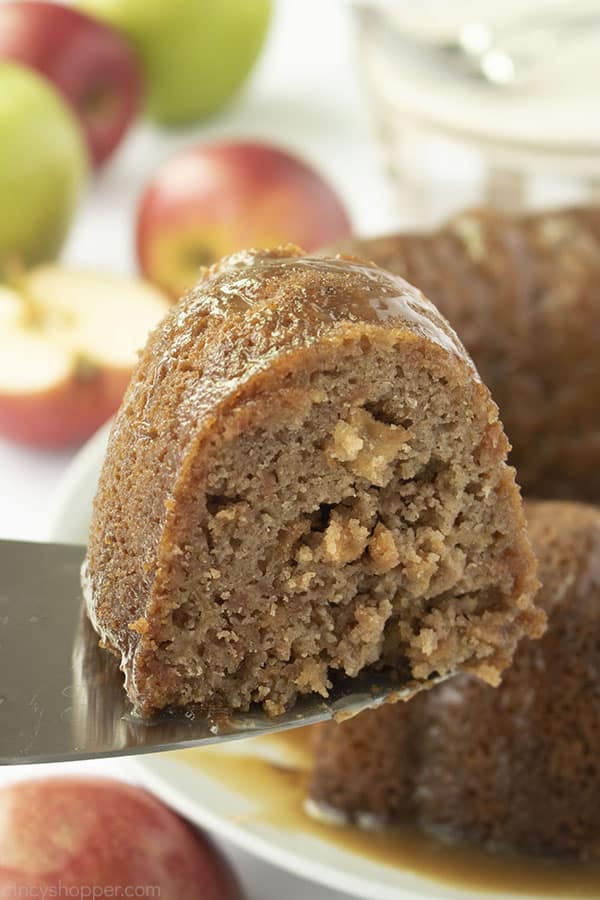 If you're willing to make our apple cake from scratch, you'll get one of the tastiest, moistest cakes you'll ever try. It's all thanks to the fact that our homemade batter is filled with apples! All those apples keep the moisture content high, giving you a decadent dessert.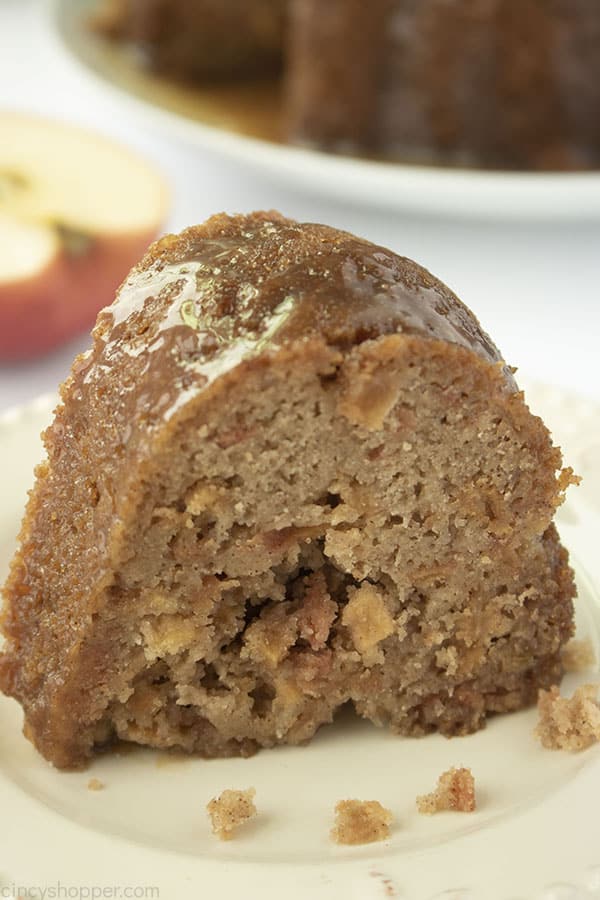 The fresh apples are great, but we still haven't even talked about this rich, caramel glaze we poured over top! This glaze is simple and easy to make- cook it up while your cake's baking in the oven. It's the perfect topping for the best apple cake you've ever had!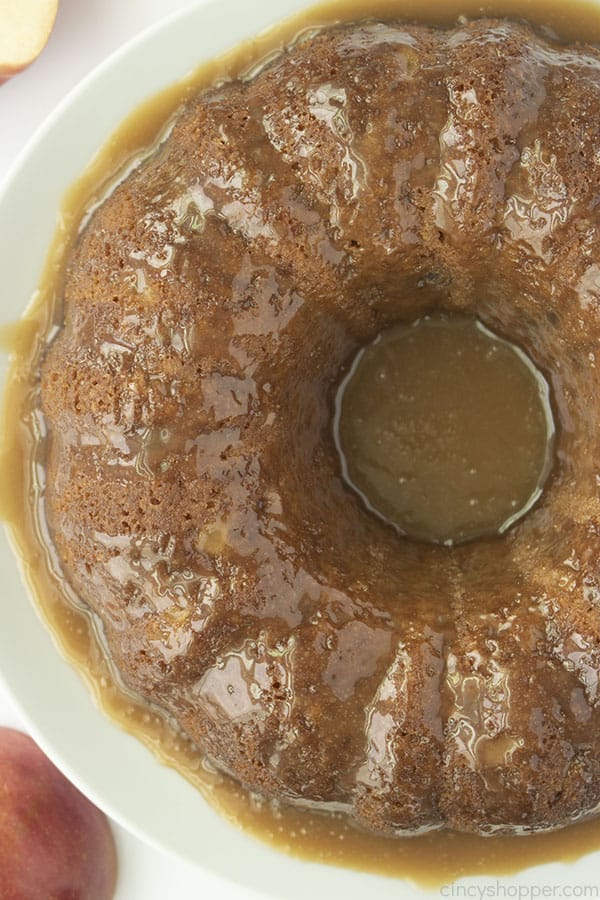 We have plenty of other apple desserts here on the site you might want to take a peek at!
If our apple cake here seems a little daunting, we have an

incredibly

easy

3 Ingredient Apple Cake

.

We take a few shortcuts- using spice cake mix, and apple pie filling- that make this cake easy to make but still

totally

delicious

!

If you've got a craving for caramel apples, our

Slow Cooker Caramel Apple Dump Cake

is going to be perfect for you! Warm, delicious cake made

simply

in the slow cooker- don't forget a scoop of ice cream!

Serving a crowd or

just

need your apple desserts by-the-batch? Apple Pie Cupcakes are

just

what you're looking for!

Pie-filled cupcakes topped with a delicious brown sugar cinnamon frosting- what's not to love

?!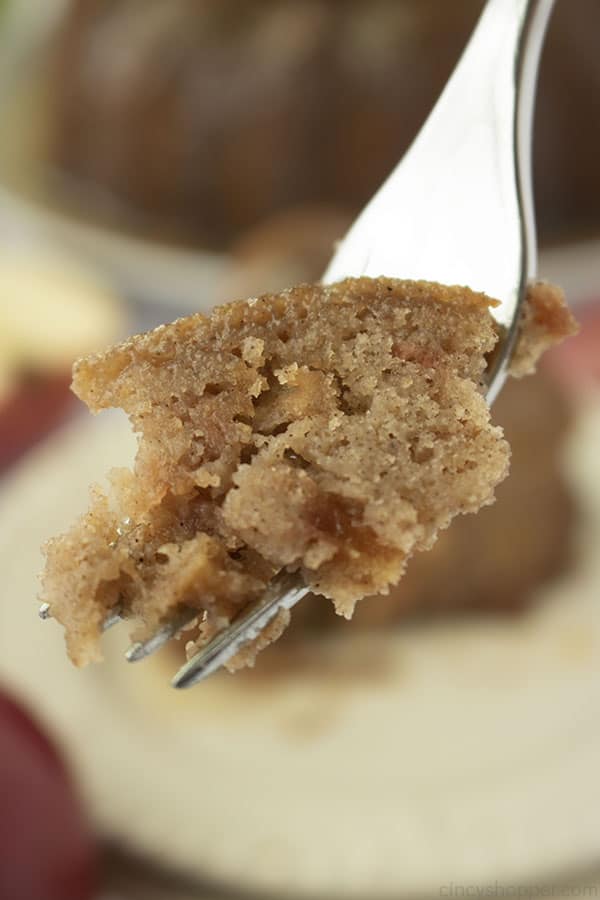 Get that oven warming up- the sooner it's warm, the sooner you can make this amazing dessert! Whether you're making this cake for your family, for friends, or for a party we know you'll love it! This cake is certain to be your favorite dessert recipe this fall season!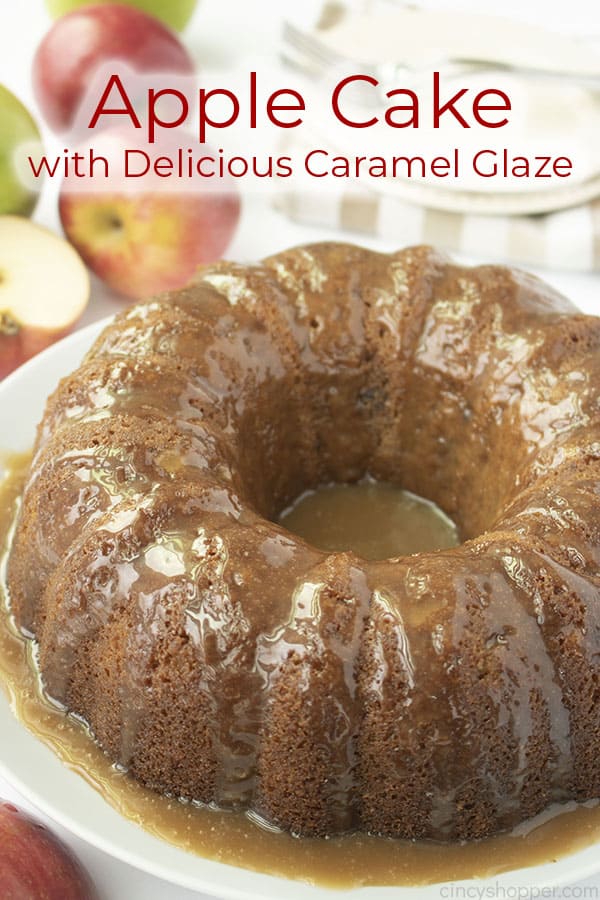 Ingredients for Fall Dessert Cake
For the cake, you're going to need…
Apples – We used Granny Smiths in our cake, but feel free to try this recipe with your favorite apples instead.
The caramel glaze, meanwhile, needs…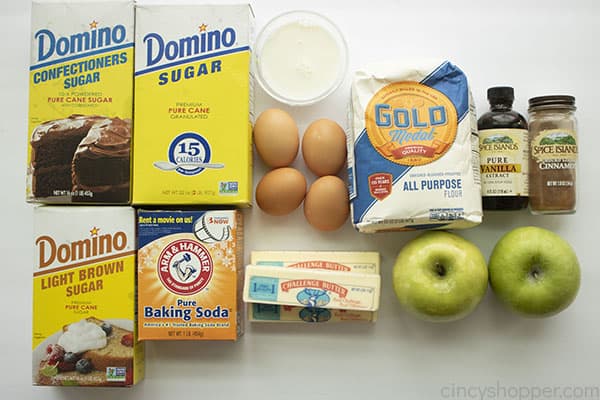 How to prepare our Apple Bundt Cake
While you have your oven preheating to 350 degrees, get your cake pan greased up in whichever way you prefer. Once it's ready, we can properly start making this cake! First, toss your some butter and sugar into a mixing bowl. Using a hand or stand mixer, whip them together on medium speed until they're creamy.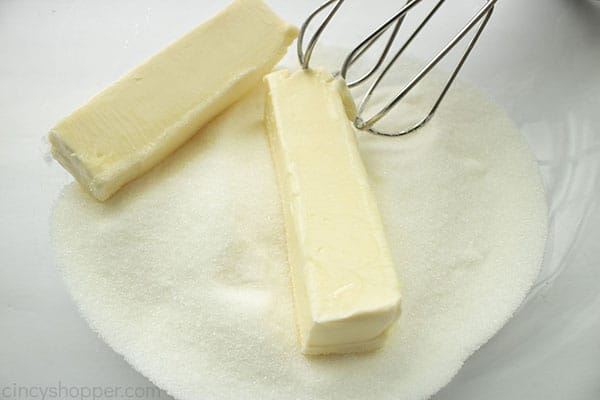 Next comes the eggs. For the best cake, add in beat in each egg one-at-a-time. Don't worry, it won't take too long!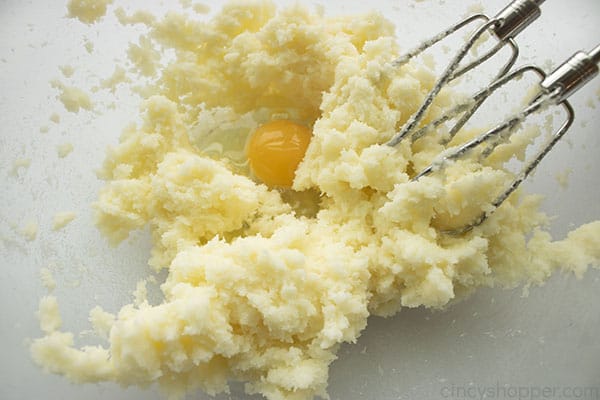 From here, you can add most of your other ingredients. Toss in your vanilla, flour, baking soda, cinnamon, and salt to the bowl and mix it all together. The only thing left to add is our apples!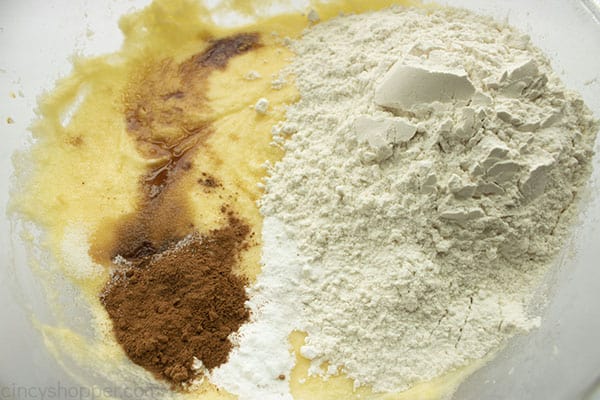 Grab your favorite cutting board and your apples of choice. Dice them to your preference- if you mind big chunks of apple in your cake, it'll be worth it to dice them real fine.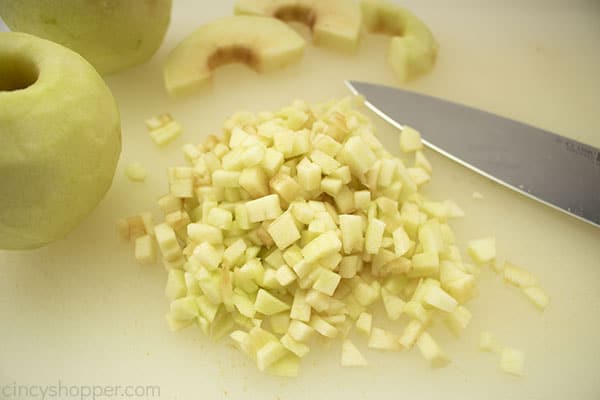 However you slice your apples, once they're cut you'll want to toss them into your cake batter. Fold them in until they're consistently spread throughout your batter.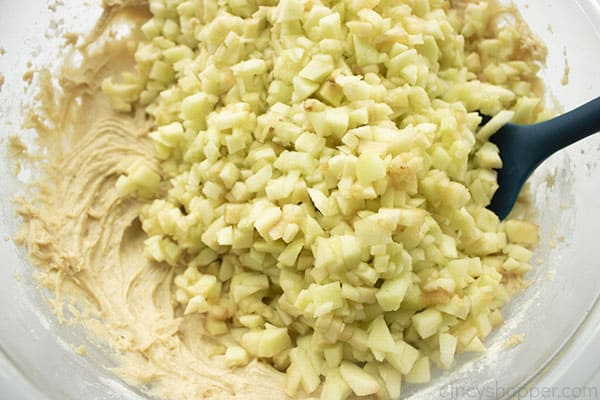 That's your batter! Now transfer that over to your cake pan and toss it into the oven. That'll need around 45 minutes to fully bake… which gives us enough time to make our delicious caramel glaze! For that, you'll want to add some brown sugar, butter, and some milk to a small saucepot. Get that warming up over medium heat and mix constantly until it all starts boiling.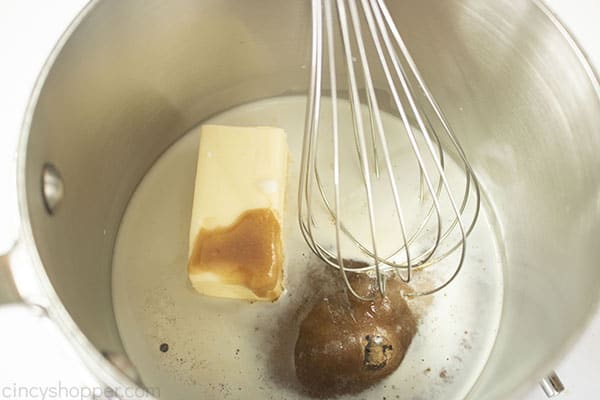 Once it starts boiling, pull it from the heat and allow it to cool for a little bit. Once cooled down a bit, we can add some vanilla extract and some powdered sugar to it to make our caramel glaze.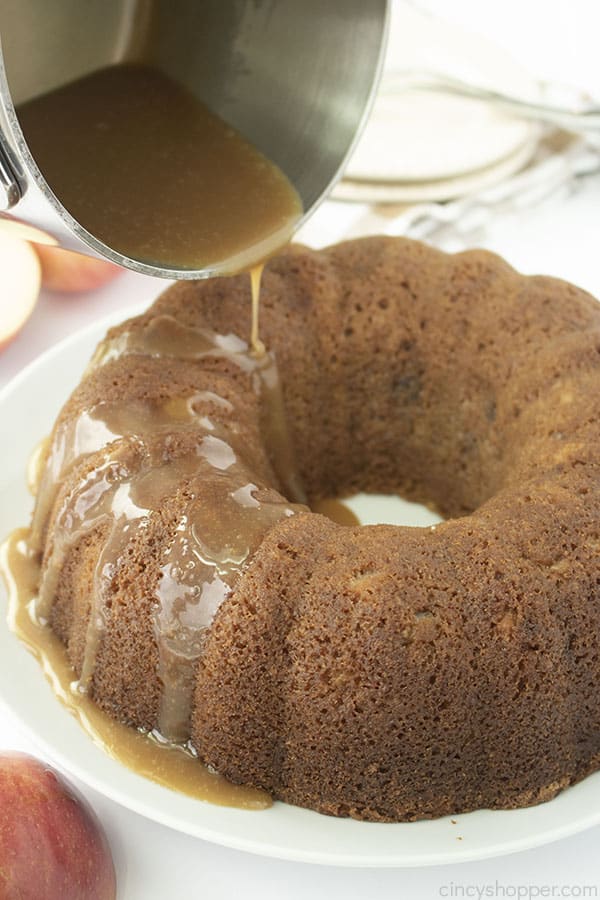 Getting back to our cake, it's probably done baking by now! To check if it's done cooking, do the toothpick test- poke a toothpick into the center of the cake. If it pulls out clean, the cake's done! If not, let it bake a little while longer. When it's done, you'll want to pull it from the oven and allow to cool for a bit before removing it from the pan.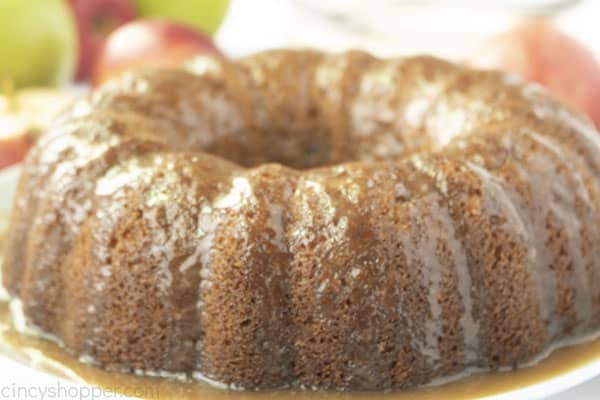 After removing it from the pan, you can hit it with your glaze. From there, all that's left is to cut yourself off a slice and enjoy!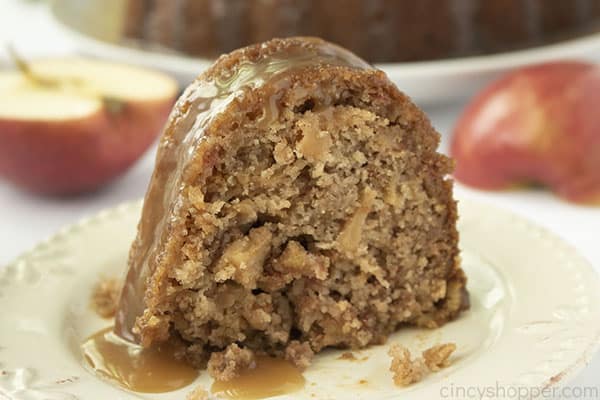 Tips for making your Cake
We used a bundt cake pan when we made our cake, but you could- and, in some cases, should- use different pans for different occasions

. Making this cake for a party? You should

probably

reach for a 9×13 baking dish or a sheet pan instead.

In addition

to trying this recipe with different apples, try cutting your apples in different ways

. Instead of dicing, try shredding, roughly chopping, or

maybe

even grating your apples. See how different methods affect the end product- keep us updated in the comments!
Apple Cake
Apple Cake is delicious, moist, and packed with apples- the perfect Thanksgiving dessert! It only gets better with our sweet, caramel glaze.
Ingredients
Cake
1

cup

Butter

softened

2

cup

Sugar

4

Eggs

1/2

tsp

Vanilla

2 1/2

cup

Flour

2

tsp

Baking Soda

2

tsp

Cinnamon

1/2

tsp

Salt

2

medium Apples

peeled cored and diced
Glaze
1/4

cup

Butter

1/2

cup

Brown Sugar

3

tbsp

Milk

1

cup

Powdered Sugar

1

tsp

Vanilla
Instructions
Preheat oven to 350.

Heavily grease a bundt pan.

In a large bowl, cream together butter and sugar.

Beat in eggs, one at a time.

Add vanilla, flour, baking soda, cinnamon and salt.

Beat until blended

Stir in apples.

Pour batter into prepared pan.

Bake 45-50 minutes or until toothpick inserted in center comes out clean.

Cool in pan for about 10 minutes before turning out onto plate.

In a small saucepan combine butter, brown sugar and milk.

Cook over medium heat, whisking constantly, until mixture boils.

Immediately remove from heat and allow to cool for about 10 minutes.

Add vanilla and powdered sugar and whisk until blended.

Pour over cake, allowing it to run down the sides.
Nutrition
Calories:
763
kcal
|
Carbohydrates:
116
g
|
Protein:
7
g
|
Fat:
32
g
|
Saturated Fat:
19
g
|
Cholesterol:
159
mg
|
Sodium:
753
mg
|
Potassium:
153
mg
|
Fiber:
2
g
|
Sugar:
83
g
|
Vitamin A:
1039
IU
|
Vitamin C:
2
mg
|
Calcium:
54
mg
|
Iron:
2
mg