Chicken Spaghetti is a hearty, delicious casserole you can make with rotisserie chicken! Make this recipe tonight, and your family will be asking for seconds!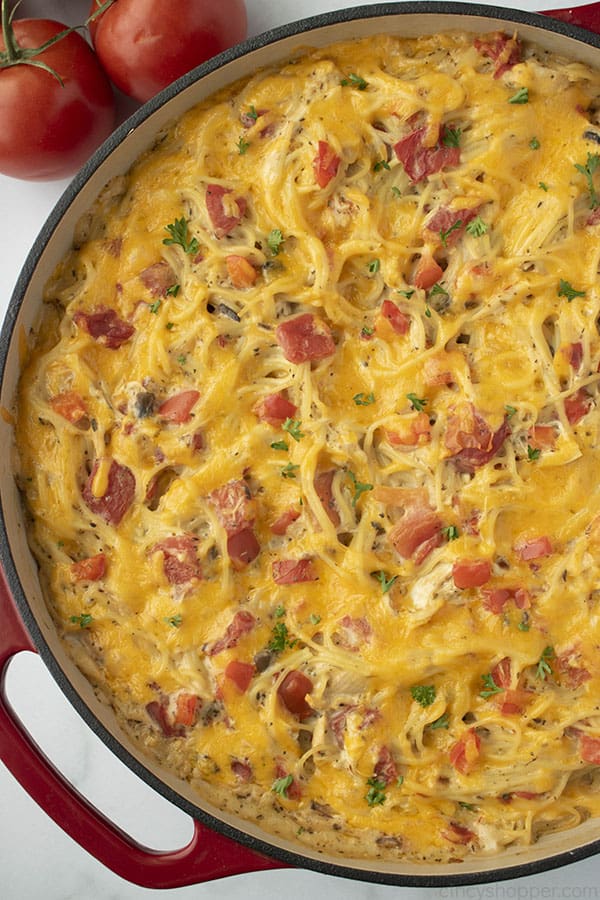 Casserole dishes are a great option for busy weeknights because they can feed your whole family and are easy to make.
Also, they allow you to work on other tasks around the house while they are in the oven, which is helpful when you've got lots to do. Chicken Spaghetti lets you combine the ease of a casserole's preparation with a different flavor than more common recipes.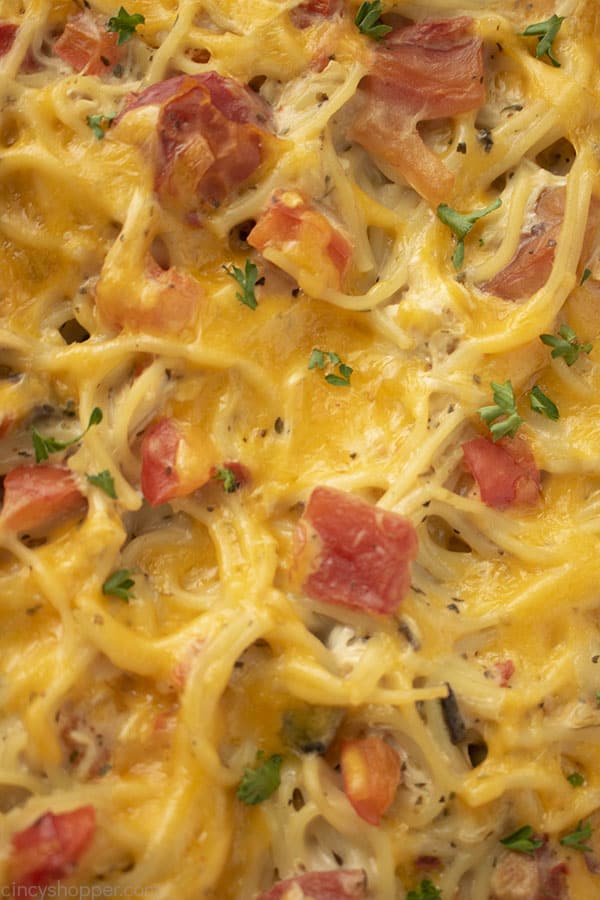 Cheesy pasta casserole – with a twist!
At first glance, you may think that there is no way chicken with spaghetti will taste good. Surprisingly, the flavors pair perfectly together, and the sauce it makes is deliciously rich and creamy. A side benefit is that by using chicken in spaghetti, it doesn't sit quite so heavily as traditional recipes that use ground beef or sausage.
Other recipes often call for broth and cream as the base for the sauce, but this recipe uses cream of mushroom soup and milk instead. The soup gives it a little extra flavor without needing more ingredients, and it helps to give the sauce an extra creamy texture. Milk is also something people already have on hand, so using that instead of cream means one less thing to add to your grocery list.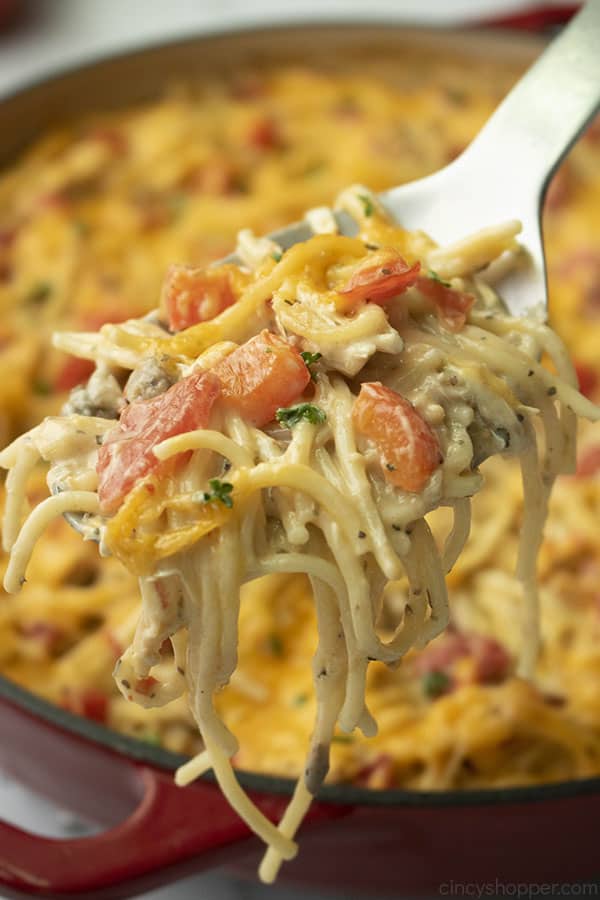 What to serve with chicken spaghetti
Because this pasta casserole is rich and filling, you really won't need much in the way of side dishes. Something like dinner rolls or garlic bread and a basic green salad are perfect choices.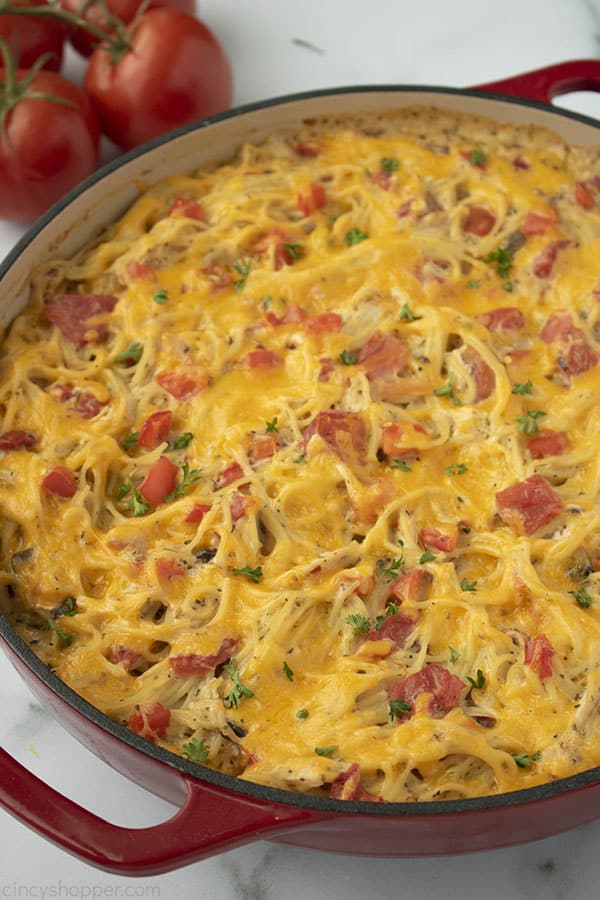 Can I make this ahead of time and freeze it?
The great thing about chicken spaghetti is that it holds up very well in the freezer. Once it's in a casserole dish it can go straight into the freezer without baking. If you freeze it in the casserole dish, however, you'll want to let it thaw before baking so your dish doesn't crack.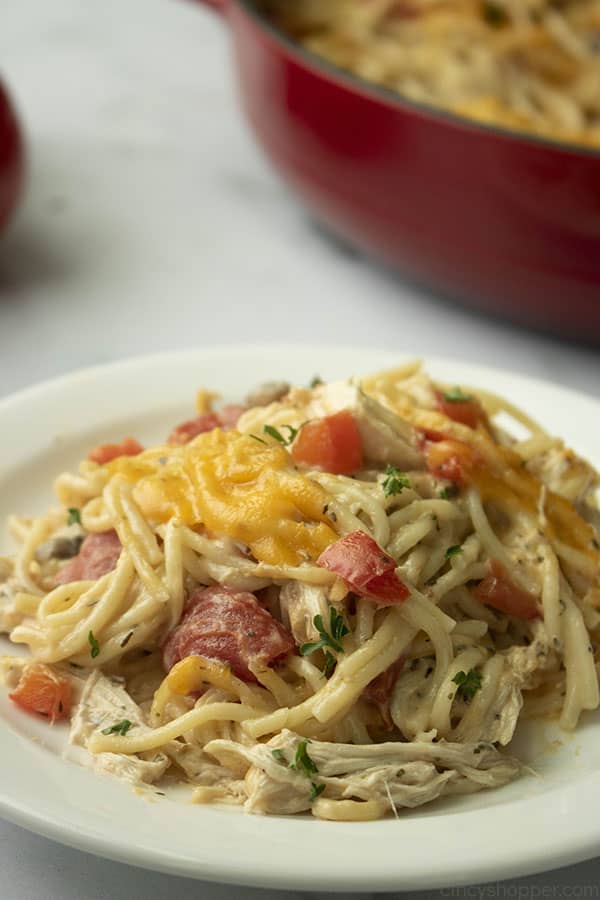 KITCHEN TIP! Line your casserole dish with parchment paper before assembling the casserole. Once it's frozen, you can transfer the chicken spaghetti to a large freezer bag to save space (and free up your casserole dish!). Then, when you're ready to bake, just pop the frozen meal back into the casserole dish.
You can bake it from frozen, but you will need to increase the cooking time to about 80-90 minutes. Cover with foil to prevent the cheese from burning during the extended cook time, then remove the foil for the last 15 minutes. As a result, the cheese will get nice and bubbly hot.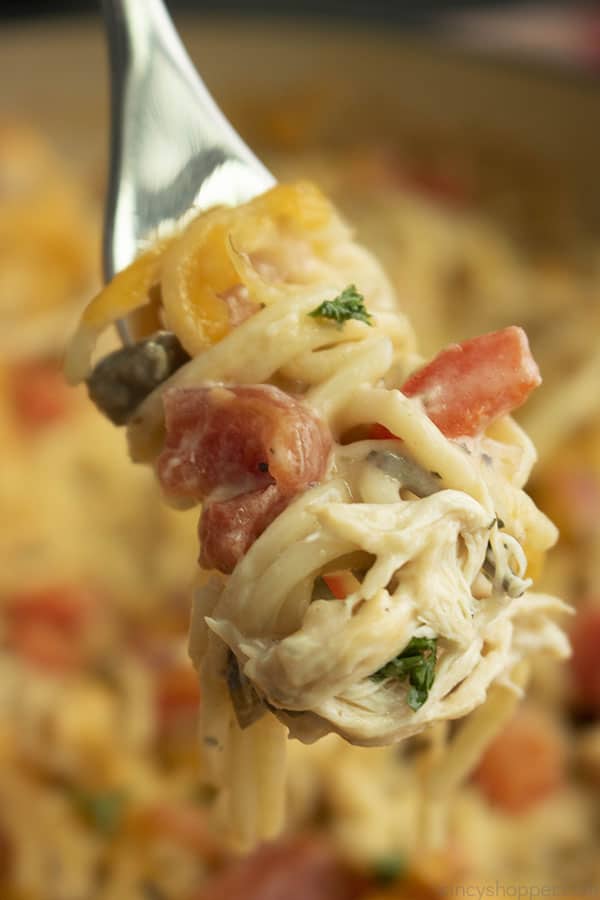 How to make chicken spaghetti casserole
First, gather all your ingredients. A rotisserie chicken is perfect to use for this recipe. This way, all you have to do is shred what you need. Dice a red bell pepper and an onion, and mince some fresh garlic. Then get the spaghetti on to boil so it can cook while you work on everything else.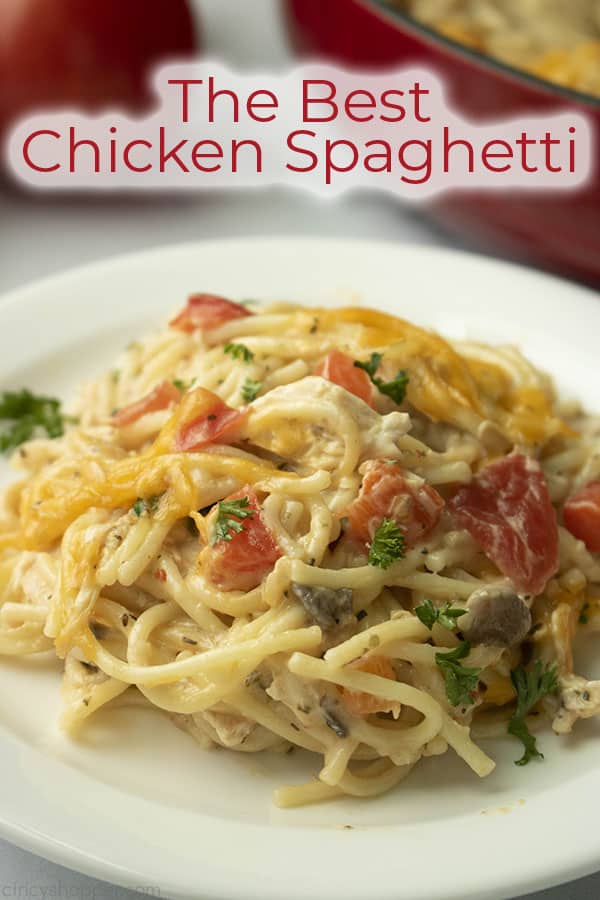 Ingredients for chicken with spaghetti
Here's what you'll need to make the recipe:
Spaghetti – You can use linguine or fettuccine instead of spaghetti if you want to
Olive Oil
Red bell pepper
Medium white or yellow onion
Condensed Cream of Mushroom Soup
Canned diced tomatoes
Minced garlic – fresh or from a jar
Seasonings: – Crushed red pepper flakes, dried basil, and dried oregano
Milk – any variety
Shredded cooked rotisserie chicken
Shredded cheddar cheese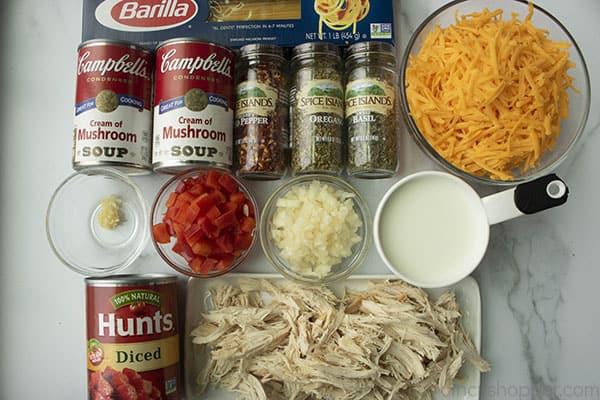 Heat the olive oil in a skillet and add the onion and peppers, cooking until tender.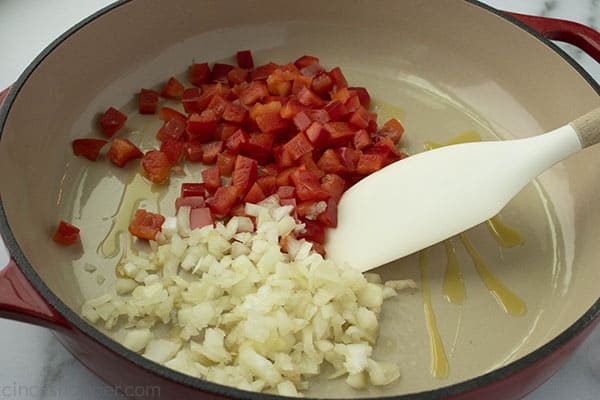 Next, add the condensed soup, milk, tomatoes, garlic, and spices. Whisk until everything is blended together.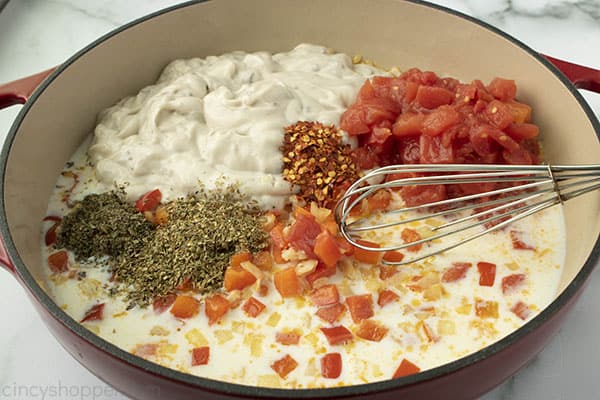 Add the shredded chicken and half of the shredded cheese (we'll use the rest of the cheese at the end). Mix everything together really well.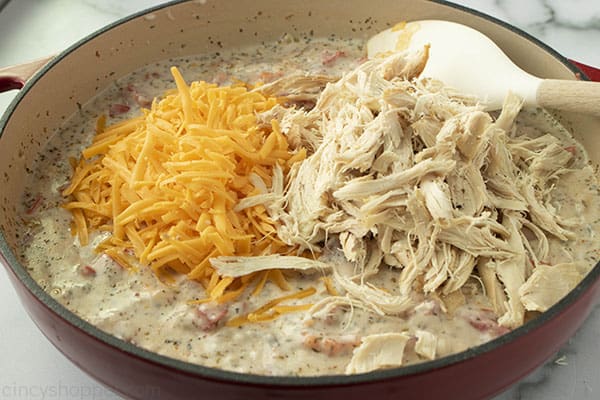 Your spaghetti should be al dente by now. Drain and add to the pan, mixing to combine with the rest of the ingredients.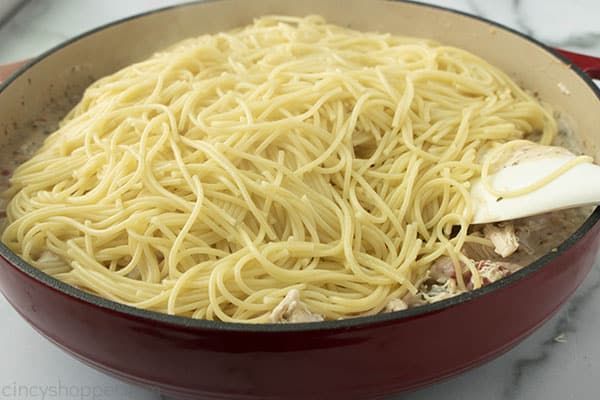 Top with the remaining shredded cheese and bake for at least 40 minutes, or until cheese is browned and bubbly on top.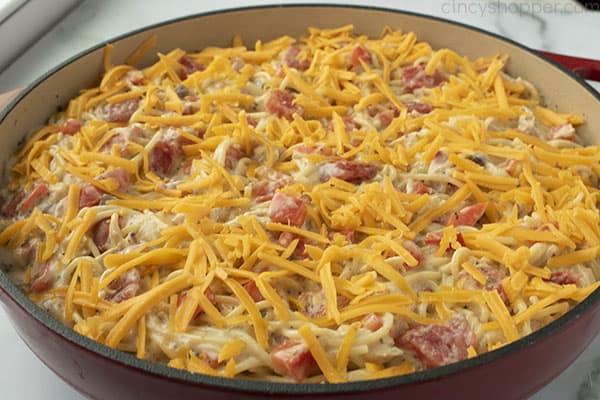 If you have an oven-safe skillet, it's the perfect vessel to make the chicken spaghetti recipe in. Otherwise, you can use a casserole dish.
Time-Saving Tips:
Pre-Cooked Chicken – If you make a lot of recipes with chicken, a great time-saver is to buy a whole chicken or chicken breasts in bulk and cook them in a big batch. Using a slow cooker or countertop pressure cooker is easiest, then shred or cube and freeze in batches. Whenever you need chicken, just thaw the amount the recipe calls for.
Pre-Cooked Pasta – If you want a firmer pasta or are in a time crunch, you can find bags of pre-cooked pasta at the store. They usually come in forms like penne or rotini, but all you have to do is toss them in the microwave for a minute and they're ready to use.
If you still want to use spaghetti, you can make it the morning of and put it in a freezer bag with a little oil so the noodles don't stick together. Then all you have to do is follow the stovetop portion of the recipe and add your pre-cooked spaghetti at the end.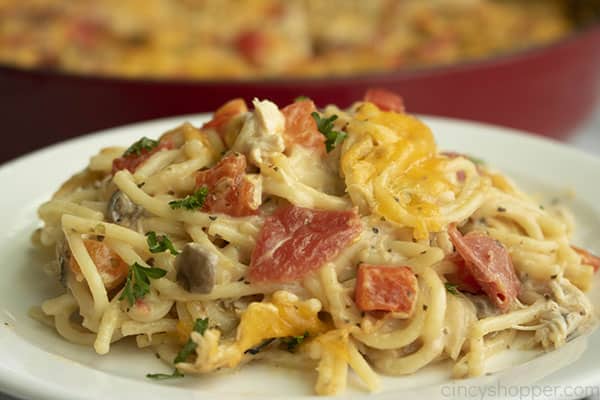 Other family favorite casserole recipes:
Chicken Spaghetti
Chicken Spaghetti is a hearty, delicious casserole you can make with rotisserie chicken! Make this recipe tonight, and your family will be asking for seconds!
Ingredients
1/3

lb

Spaghetti

1

tbsp

Olive Oil

1/2

Red Pepper diced

1/2

Medium Onion diced

2

can

10.5 oz Cream of Mushroom Soup

1

can

10 oz Diced Tomatoes

1

tsp

Minced Garlic

1/8

tsp

Crushed Red Pepper

1

tsp

Basil

1

tsp

Oregano

3/4

cup

Milk

2

lb

Shredded Chicken

8

oz

Cheddar Cheese

shredded and divided
Instructions
Cook spaghetti to according to box directions to al dente stage. Drain and set aside.

Preheat oven to 350.

Add oil to large oven-safe pan over medium heat.

Add onion and peppers. Cook until tender.

Add condensed soup, milk, tomatoes, garlic, oregano, basil, and red pepper.

Whisk until blended.

Add shredded chicken and 1 1/2 cups cheese and mix well.

Add al dente spaghetti and stir until combined.

Top with remaining cheese and bake at 350 degrees for at least 40 minutes.
Nutrition
Calories:
551
kcal
|
Carbohydrates:
23
g
|
Protein:
52
g
|
Fat:
27
g
|
Saturated Fat:
12
g
|
Cholesterol:
156
mg
|
Sodium:
364
mg
|
Potassium:
514
mg
|
Fiber:
1
g
|
Sugar:
3
g
|
Vitamin A:
831
IU
|
Vitamin C:
14
mg
|
Calcium:
335
mg
|
Iron:
3
mg