Toll House Chocolate Chip Cookies are crispy on the outside, and chewy on the inside. Everyone will love this classic cookie recipe!
Few cookie recipes are as timeless as Nestle Chocolate Chip Cookies. Best enjoyed with a tall glass of milk!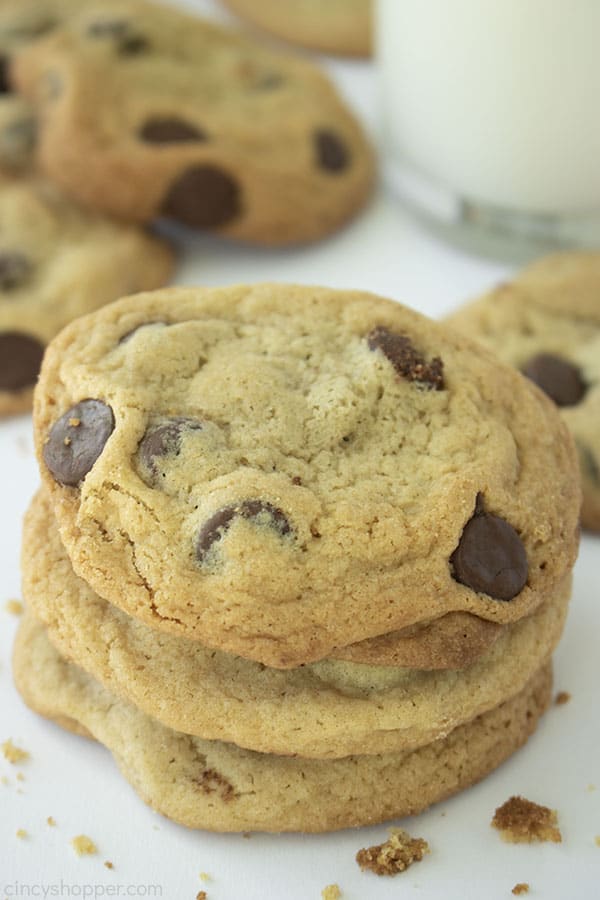 Toll House Chocolate Chip Cookies
You'd be hard-pressed to find a dessert as iconic and comforting as the chewy, melt-in-your-mouth chocolate chip cookie. This has to be one of the most popular types of cookies in the world- sugar cookies need not compete. With a cookie so popular, there are tons of recipes for them online, ranging from legendary to mediocre. Few are as timeless and tasty, however, as the Nestle Toll House cookie.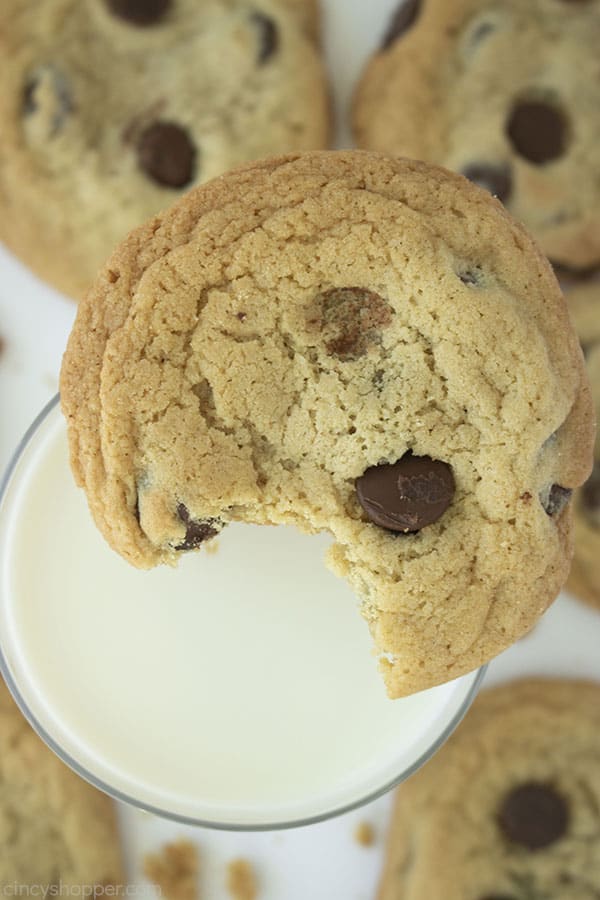 Nestle has seemingly perfected the easy and delicious chocolate chip cookie. While you could go and buy the tub of dough straight from the source, cookies are best when they're homemade! Thankfully, making this classic cookie recipe couldn't be easier- it's deceptively easy for a cookie that's so tasty!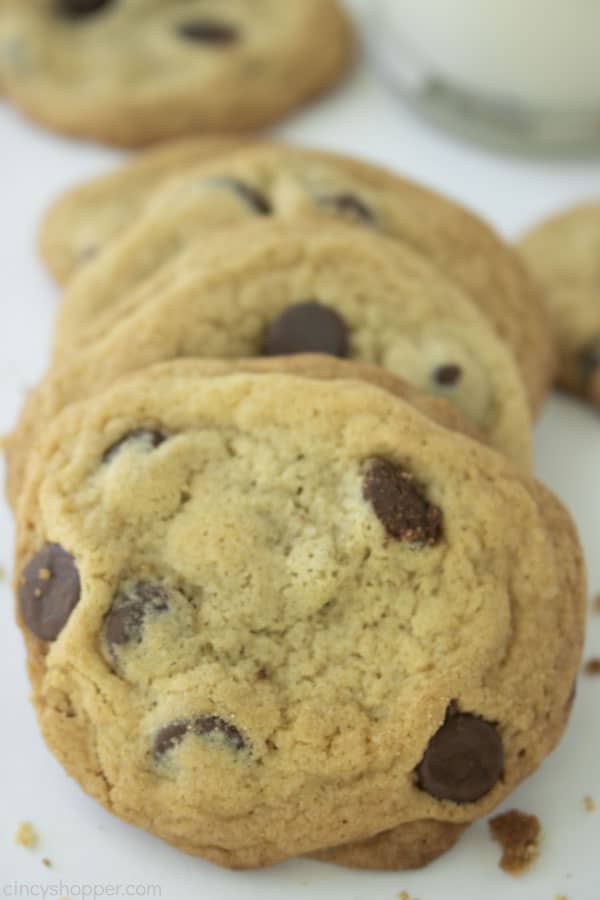 This cookie recipe, when followed right, yields one of the best chocolate chip cookies you'll ever enjoy. The crisp on the exterior is perfect, the inside gets warm, gooey chewy. The Toll House Chocolate Chip is the measuring stick by which most cookies get judged by- and for good reason. Get that oven warming up so you can bake up a batch of these timeless cookies today!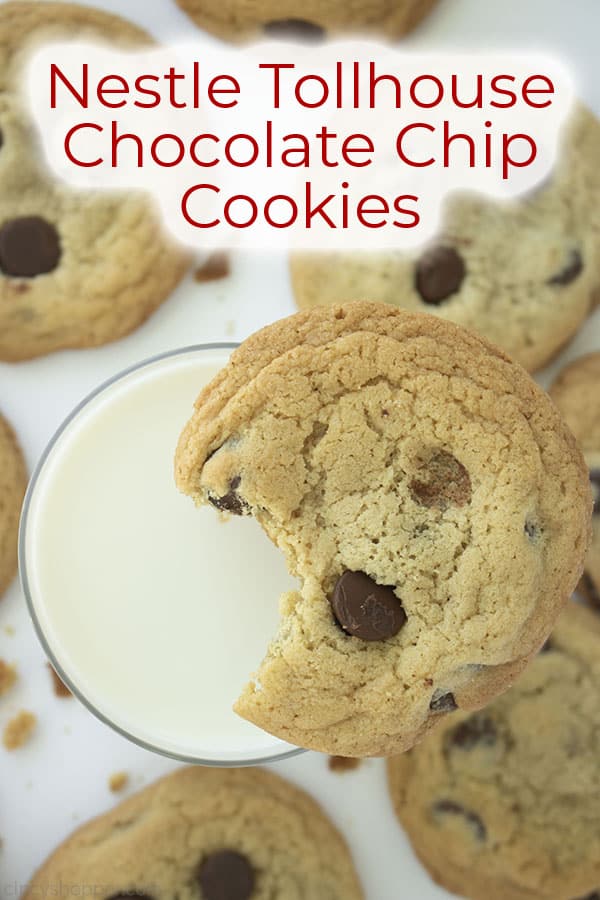 More Tasty Cookie Recipes
Have a craving more chocolate chip cookies? Give our

Chewy Pumpkin Chocolate Chip Cookies

a try! A great seasonal cookie to enjoy this fall- still great with a cup of milk or some coffee.

For another classic cookie recipe, we've also got

The Best Oatmeal Raisin Cookies

!

Loaded up with oats and flavored with plump raisins, these cookies turned out soft, chewy, and

perfectly

moist

. Great for Christmas or any time of the year!

Peanut Butter Blossom Cookies

are another big favorite on our site.

These recognizable treats use a sweet, peanut butter cookie dough indented with that iconic Hershey's Kiss in the center

! Easy to make for the holidays or any day.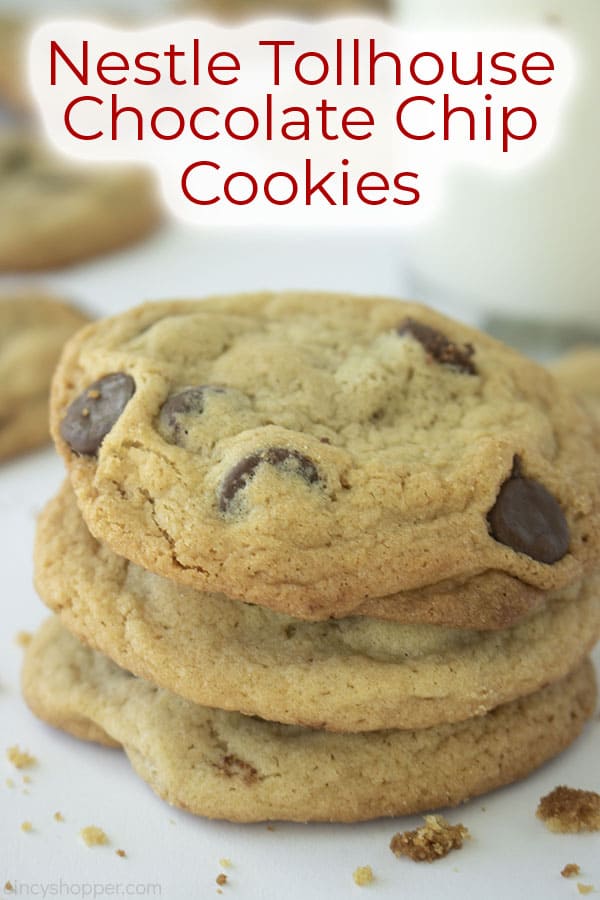 Ingredients for Nestle Cookies
We make our cookie dough by combining a mixture of wet and dry ingredients. For the dry mix, you'll need…
For the wet ingredients, you'll need…
Outside of this, you'll also need…
Chocolate Chips –

Obviously

! Go with your preferred chip of choice- we went with a semi-sweet, but feel free to experiment.

Maybe

try a batch with bittersweet chips or some sweet milk chocolate chips instead?
How to make Chocolate Chip Cookies
First things first, start by getting your dry ingredients whisked together real quick. Again, this is going to be your flour, baking soda, and salt.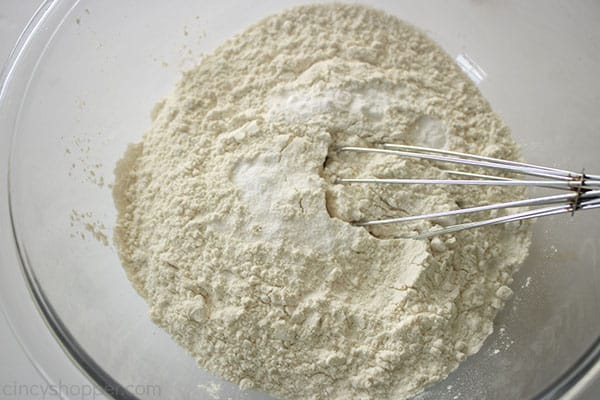 Set that aside and get to work on your wet ingredients. Start mixing those by beating together your butter, sugars, and vanilla extract in a separate bowl. A stand or hand mixer will get this done quickly!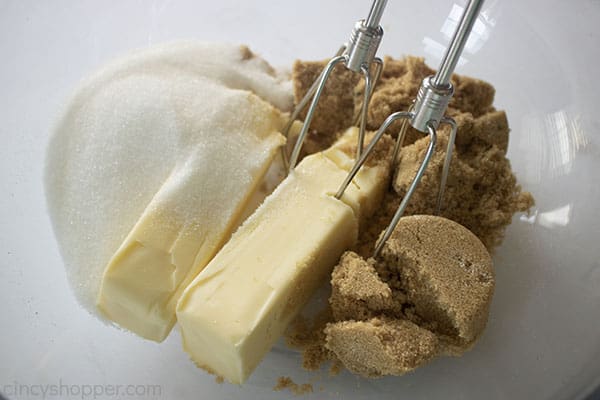 With those mixed up, we can start adding our eggs. Beat those in one at a time, making sure the previous one gets mixed in well before adding the next.
Our dry mix is ready and we've prepped our wet ingredients. Now it's time to combine them! Gradually, in small amounts, add your dry ingredients to the wet. Make sure no dry clumps remain before moving on!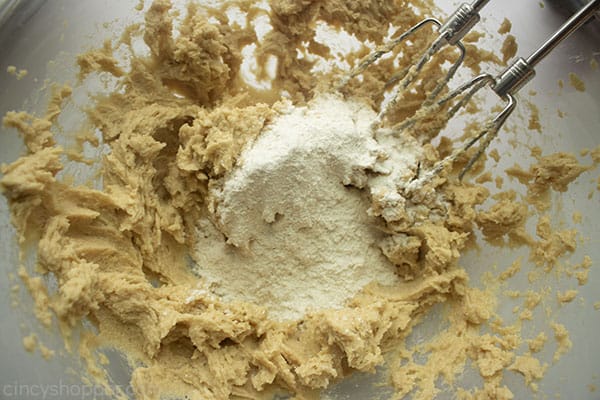 With that, all your dough needs are the chocolate chips. Fold those into the dough- feel free to go crazy and make these double chocolate chip cookies if you want!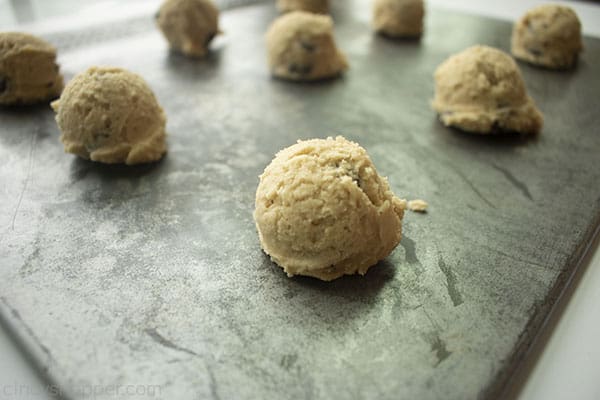 Now that we've prepped the dough, we can finally get to baking. First, get several balls of cookie dough made. Use something like a cookie scoop or a tablespoon to get this done. On a good baking sheet, you should be able to fit 9 of these dough balls with plenty of space for them to flatten out while they bake.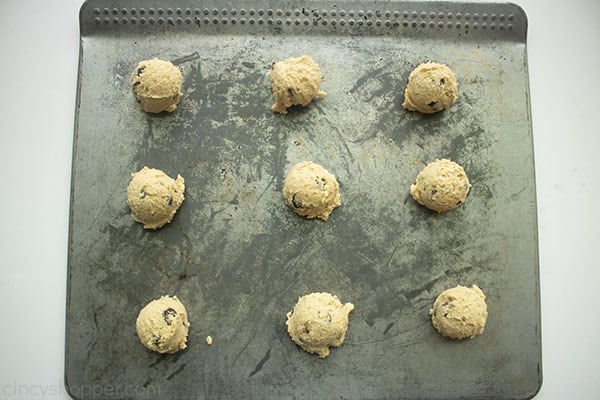 Speaking of baking: let's bake! Set your baking sheet into a 375 degree oven and let bake. It should take about 10 minutes- give or take- for your cookies to reach a nice, golden brown color. Once they've finished baking, allow to cool- first on baking sheet for a few minutes, then on a cooling rack- completely before enjoying!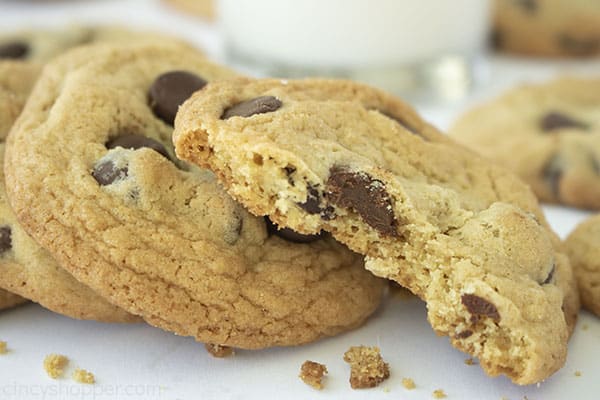 Nestle Toll House Chocolate Chip Cookies
Toll House Chocolate Chip Cookies are crispy on the outside, and chewy on the inside. Everyone will love this classic cookie recipe! Few cookie recipes are as timeless as Nestle Chocolate Chip Cookies. Best enjoyed with a tall glass of milk!
Ingredients
2 1/4

cup

Flour

1

tsp

Baking Soda

1

tsp

Salt

2

stick Butter softened

3/4

cup

Sugar

3/4

cup

Brown Sugar

1

tsp

Vanilla Extract

2

large Eggs

1 3/4

cup

Chocolate Chips
Instructions
Preheat oven to 375.

In a medium bowl, whisk together flour, baking soda and salt. Set aside.

In a large bowl beat together butter, sugar, brown sugar and vanilla extract until creamy.

Beat in eggs one at a time.

Gradually beat in flour mixture.

Fold in the chocolate chips.

Form into balls using cookie scoop or tablespoon and put on ungreased cookie sheet (make sure to leave space for the to spread while cooking.

Bake for about 10 minutes or until edges are golden brown.

Leave on baking sheet to cool for several minutes before moving to wire rack to finish cooling.
Nutrition
Calories:
80
kcal
|
Carbohydrates:
11
g
|
Protein:
1
g
|
Fat:
4
g
|
Saturated Fat:
2
g
|
Cholesterol:
16
mg
|
Sodium:
104
mg
|
Potassium:
14
mg
|
Fiber:
1
g
|
Sugar:
6
g
|
Vitamin A:
122
IU
|
Calcium:
6
mg
|
Iron:
1
mg